18 August 1945: Guards Captain Mariya Ivanovna Dolina, Deputy Commander, 125th Guards Bomber Aviation Regiment,  is named Hero of the Soviet Union. She is also awarded the Order of Lenin and Gold Star medal.
Comrade Mariya was one of the Soviet Union's "Night Witches," squadrons of women pilots who flew combat missions against the German invaders during hours of darkness. Captain Dolina flew the Petlyakov Pe-2, a twin-engine light bomber.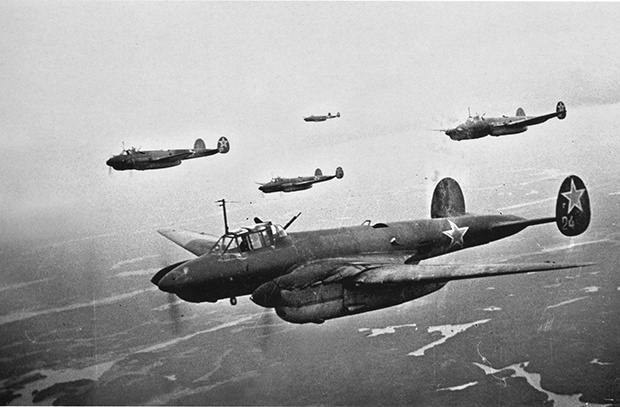 Mariya Ivanovna Dolina was born 18 December 1922 ¹ at Sharkova, Poltva, Omsk. She was  the oldest of 10 children; the daughter of Red Army soldier who lost a leg during the civil war. The family emigrated from Ukraine to Siberia for work, but returned to the Ukraine in 1934. Mariya attended various schools, at one point having to drop out of high school to find work to help support her family. Eventually, Mariya Ivanovna graduated from high school at Dnepropetrovsk, near the confluence of the Dneiper and Samara rivers in the eastern Ukraine. She attended the Kherson aviation School, then worked as a flight instructor.
In 1941, Comrade Mariya joined the 269th Fighter Regiment, flying 200 missions with the U-2, a biplane trainer used as a light bomber. In 1942 she graduated from Engels military aviation school and transitioned to the Pe-2 with the 587th Dive Bomber Regiment.
Mariya Ivanova was awarded Order of Red Banner, 1 June 1943, and again, 28 July 1944. In January 1945, she was promoted to the rank of Guards Captain, and assigned as deputy commander, 125th Guards Bomber Aviation Regiment. She flew another 72 combat missions.
Captain Dolina married a navigator in her unit, named Mel'nikova. He died in 1972. She then married Litosh Vasily, who had been a mechanic in her regiment. They would have two children.
Guards Captain Dolina transferred to the air force reserve in 1950.
She died 3 March 2010 at the age of 88 years, and was buried at Baikovo.
¹ As she was not old enough to enter the Kherson Aviation School, Mariya Ivanova changed her date of birth to 1920.
© 2021, Bryan R. Swopes