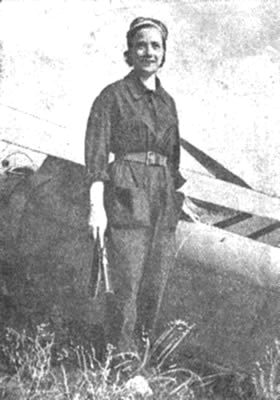 6 July 1939: Ольга Васильевна Клепикова (Olga Vasil'yevna Klepikova) flew an Antonov RF-7 glider from Tushino airport, Moscow, to Mikhaylovka, in the Stalingrad region of the Russian Soviet Federative Socialist Republic. She set two Fédération Aéronautique Internationale (FAI) World Records for Distance at 749.203 kilometers (465.533 statute miles).¹
Klepikova's glider was towed aloft by a Polikarpov P-5 biplane, and then released at an altitude of 1,000 meters (3,281 feet). She circled overhead for approximately an hour, gaining altitude, before heading toward Stalingrad. The total duration of the flight was 8 hours, 25 minutes.
Once she landed near Mikhaylovka, Tovarisch (Comrade) Klepikova was captured by "vigilant farmers" who presumed that she was a German spy. They turned her over to the NKVD (Narodnyy Komissariat Vnutrennikh Del), the infamous predecessor to the KGB.
Olga Vasil'yevna Klepikova was born at Tula, about 120 miles (193 kilometers) south of Moscow, on 10 October 1915.
Gospohzha Klepikova studied at the Tula FZU (Fabrichno-Zavodskoe Uchilishe), an industrial technical school, and she then worked as a lathe operator in an armaments factory.
Comrade Klepikova joined the Tula Aero Club in 1930, where she was taught to fly. In 1933, she was sent to Moscow as an instructor for the Central Aero Club at Tushino.
During the Great Patriotic War, Comrade Klepikova served as a flight instructor at Stalingrad. She worked as a test pilot at Kazan and then Rostov on Don from the end of the War until 1953.
Gospohzha Klepikova married a fellow test pilot, and they had two daughters. The family relocated to the area of Kiev, Ukraine. As of 2002, she lived in Vasiljena, Kiev, Ukraine, with a pension equivalent to $20 per month.
Olga Vasil'yevna Klepikova, an Honored Master of Sports of the USSR, died at Kiev, 27 July 2010, at the age of 95 years. Her remains were interred at the Baikove Cemetery in Kiev.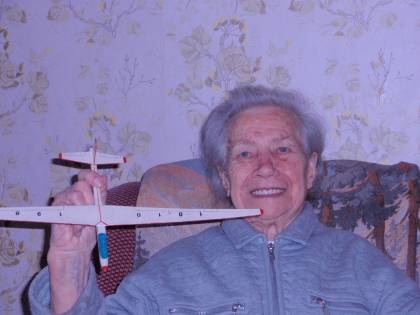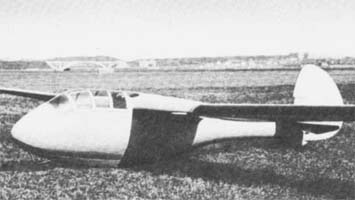 Gospohzha Klepikova's glider was a Рот-Фронт-7 (Rot-, or Roth-Front 7), designed by Oleg Konstantinovich Antonov. It was one of five built at the Moscow Glider Factory. The Rot-Front 7 was a single-place, high wing monoplane glider, constructed primarily of wood. It was covered with 1.5–3.5 millimeter thick plywood. Wing flaps allowed the glider to land in fairly small areas. The RF-7 was 5.00 meters (16 feet, 4.9 inches) long, with a wingspan of 16.24 meters (53 feet, 3.4 inches), and height of 1.55 meters (5 feet, 1.0 inches). The wings had a total area of 12.5 square meters (134.6 square feet), with an aspect ratio of 22.5. As much as 120 liters (31.7 gallons) of water ballast was carried in a tank behind the pilot. There was a single, retractable wheel under the ballast tank, which was enclosed by two aluminum doors.
The RF-7 had a best cruise speed of 85 kilometers per hour (52.8 miles per hour), and it had a maximum speed of 88 kilometers per hour (54.6 miles per hour).
The Rot-Front 7 was considered to be the best aerobatic glider of its time, and was designed to withstand a load factor of 8 gs.

¹ FAI Record File Number 4386: World Record for Distance, Class D, Feminine: 749.20 kilometers (465.53 statute miles); and FAI Record File Number 13606: World Record for Distance, Class D, General: 749.203 kilometers (465.533 statute miles).
© 2018, Bryan R. Swopes