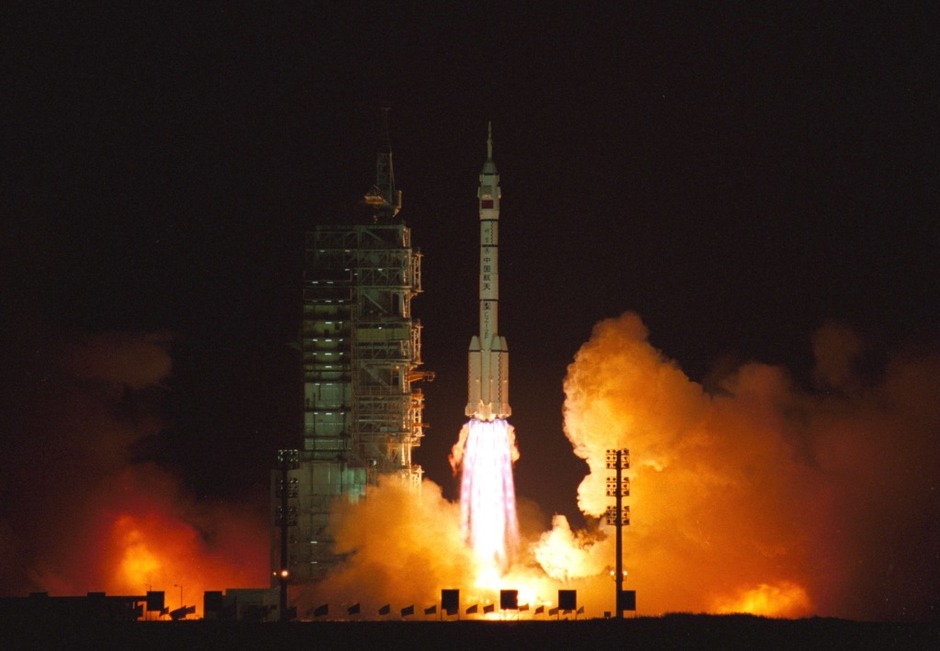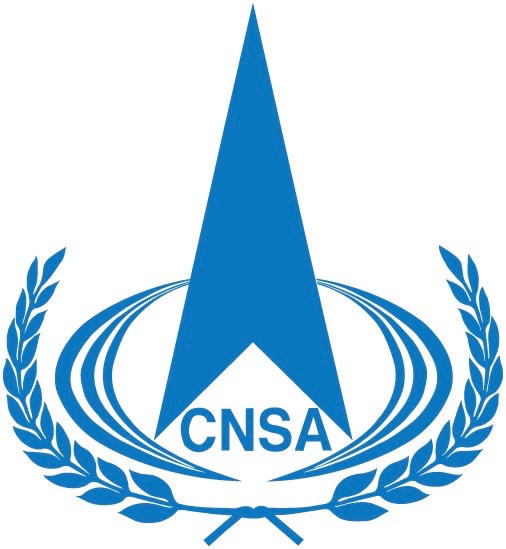 19 November 1999, 22:30 UTC (20 November, 6:30 a.m., CST): The China National Space Administration ( 国家航天局 ) launched 神舟一號 (Shenzhou 1), an unmanned Project 921-1 spacecraft, from the Jiuquan Satellite Launch Area aboard a 长征二号F火箭, (Changzheng or "Divine Arrow") two-stage rocket. Shenzhou 1 was placed into a Low Earth Orbit ranging from 195 kilometers (121 miles) to 315 kilometers (196 miles).
The vehicle completed 14 orbits. It successfully deorbited and reentered Earth's atmosphere. The Shenzhou reentry module landed in Inner Mongolia, 20 November at 19:41 UTC. The duration of the flight was 21 hours, 11 minutes.
The Shenzhou 1 spacecraft was not fully operational and it differed in several ways from the manned space vehicles that followed. The primary purpose of this flight was a test of the man-rated Long March 2F rocket.
The Shenzhou spacecraft is similar to the Russian Federation's Soyuz from which it was developed, although it is larger. Shenzhou vehicles are 9.25 meters (30 feet, 4.2 inches) long and 2.80 meters (9 feet, 2.2 inches) in diameter. The spacecraft has a mass of 7,840 kilograms (17,284 pounds). There are three modules: the orbital module, reentry module and service module. The vehicle is designed for three people for flights of up to 20 days duration.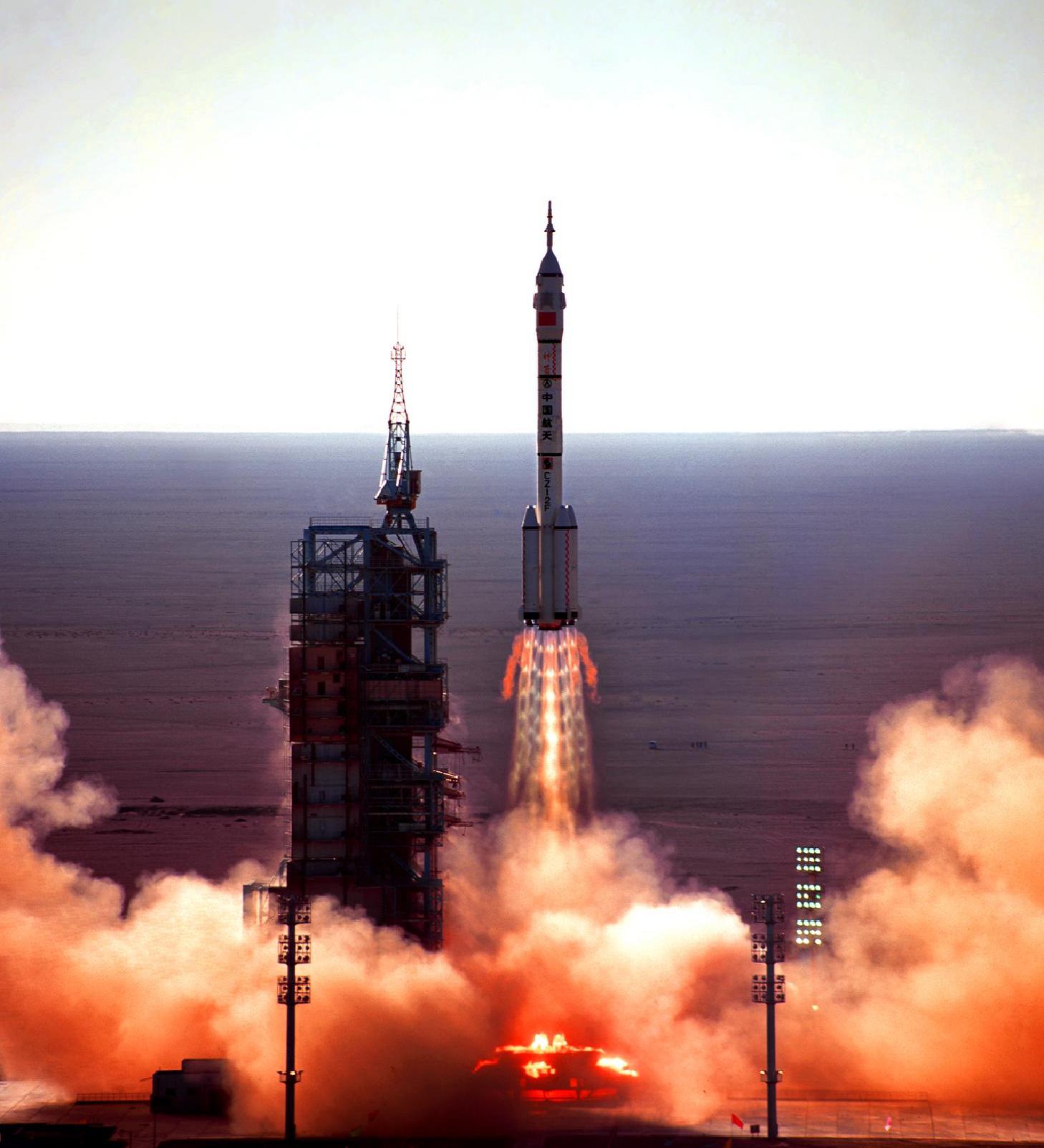 The Changzheng is known as the Long March 2F in the West. It is a two-stage liquid-fueled rocket with external boosters.
The first stage is 23.7 meters (77 feet, 9.6 inches) long with a diameter of 3.35 meters (10 feet, 11.9 inches). It is powered by four YF-20B engines (clustered as a YF-21B unit) which use hypergolic fuels. The four "strap-on" boosters use the same engines. The boosters are 15.6 meters (51 feet, 2.2 inches) long and 2.25 meters (7 feet, 4.6 inches) in diameter. With all eight engines running, the total rated thrust is 1,331,140 pounds (5,921.206 kilonewtons) at Sea Level. The boosters' burn time is 2 minutes, 8 seconds, while the primary engines burn for 38 seconds longer.
The second stage is 15.52 meters (50 feet, 11 inches) long and the same diameter as the first stage. It uses one YF-24B unit, consisting of one YF-22B and four YF-23B engines. The second stage uses the same hypergolic fuel as the first stage. This stage is rated at 177,240 pounds of thrust (788,403 kilonewtons) at Sea Level and burns for 5 minutes. The Long March 2F is capable of lifting a 8,400 kilograms (18,519 pounds) payload into Low Earth Orbit.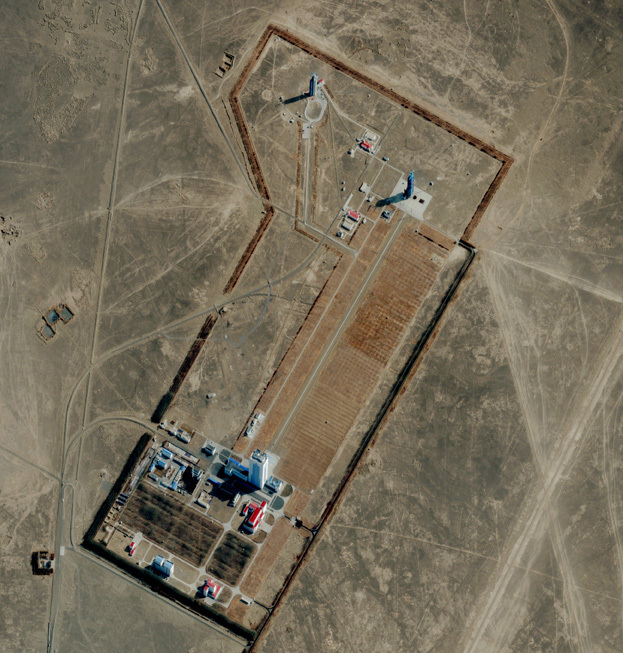 © 2018, Bryan R. Swopes