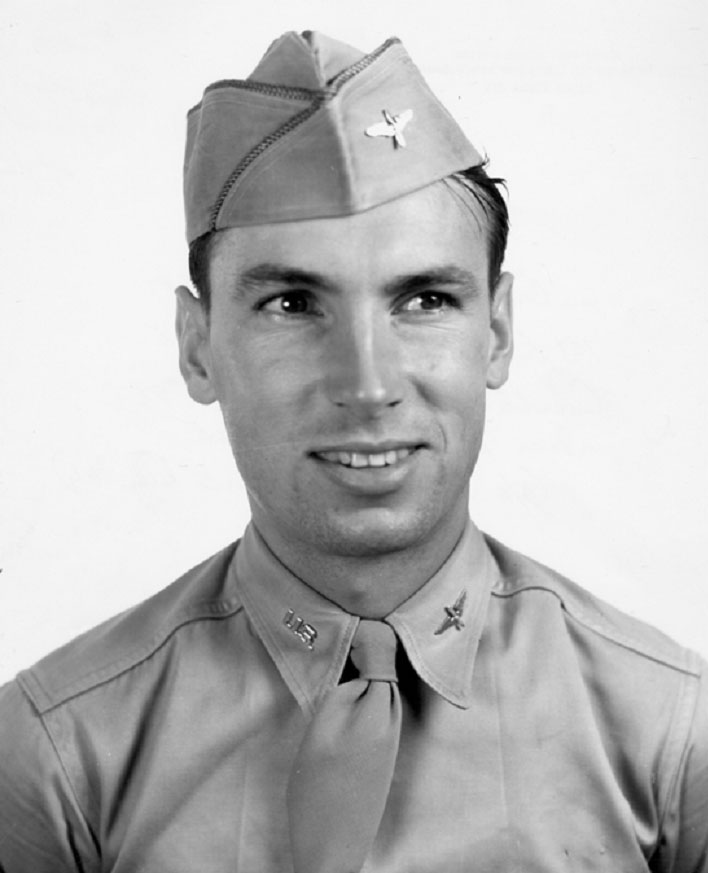 MEDAL OF HONOR
RAYMOND L. KNIGHT
Rank and organization: First Lieutenant, U.S. Army Air Corps.
Place and date: In Northern Po Valley, Italy, 24-25 April 1945.
Entered service at: Houston, Texas. Born: Texas.
G.O. No.: 81, 24 September 1945.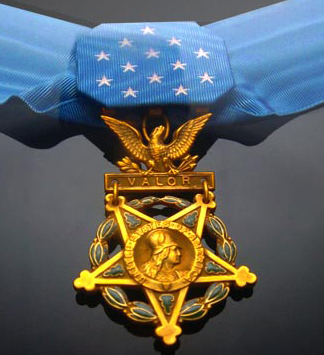 Citation: First Lieutenant Raymond L. Knight on 24 and 25 April 1945 in the northern Po Valley, Italy, piloted a fighter-bomber aircraft in a series of low-level strafing missions, destroying 14 grounded enemy aircraft and leading attacks which wrecked 10 others during a critical period of the Allied drive in northern Italy. On the morning of 24 April, he volunteered to lead two other aircraft against the strongly defended enemy airdrome at Ghedi. Ordering his fellow pilots to remain aloft, he skimmed the ground through a deadly curtain of antiaircraft fire to reconnoiter the field, locating eight German aircraft hidden beneath heavy camouflage. He rejoined his flight, briefed them by radio, and then led them with consummate skill through the hail of enemy fire in a low-level attack, destroying five aircraft, while his flight accounted for two others. Returning to his base, he volunteered to lead three other aircraft in reconnaissance of Bergamo Airfield, an enemy base near Ghedi and one known to be equally well defended. Again ordering his flight to remain out of range of antiaircraft fire, Lieutenant Knight flew through an exceptionally intense barrage, which heavily damaged his Thunderbolt, to observe the field at minimum altitude. He discovered a squadron of enemy aircraft under heavy camouflage and led his flight to the assault. Returning alone after this strafing, he made 10 deliberate passes against the field despite being hit twice more by antiaircraft fire, destroying six fully loaded enemy twin-engine aircraft and two fighters. His skillfully led attack enabled his flight to destroy four other twin-engine aircraft and a fighter airplane. He then returned to his base in his seriously damaged airplane. Early the next morning, when he again attacked Bergamo, he sighted an enemy plane on the runway. Again he led three other American pilots in a blistering low-level sweep through vicious antiaircraft fire that damaged his airplane so severely that it was virtually nonflyable. Three of the few remaining enemy twin-engine aircraft at that base were destroyed. Realizing the critical need for aircraft in his unit, he declined to parachute to safety over friendly territory and unhesitatingly attempted to return his shattered airplane to his home field. With great skill and strength, he flew homeward until caught by treacherous air conditions in the Apennine Mountains, where he crashed and was killed. The gallant action of Lieutenant Knight eliminated the German aircraft which were poised to wreak havoc on Allied forces pressing to establish the first firm bridgehead across the Po River. His fearless daring and voluntary self-sacrifice averted possible heavy casualties among ground forces and the resultant slowing of the drive which culminated in the collapse of German resistance in Italy.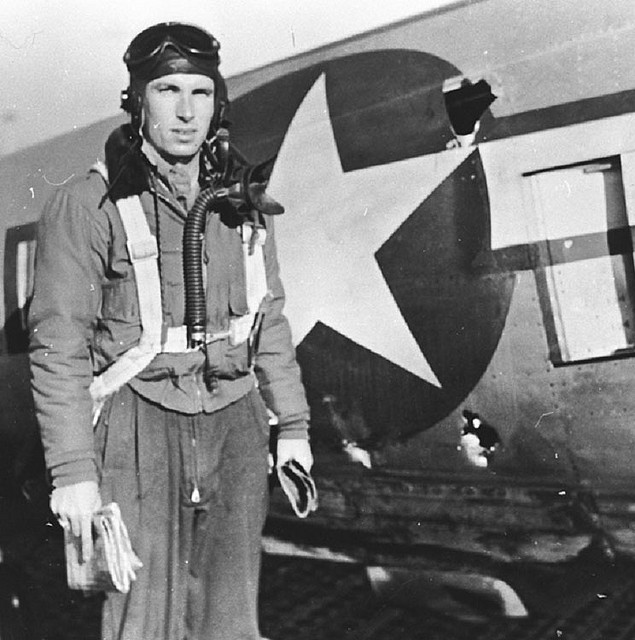 Raymond Larry Knight was born 15 June 1922 in Houston, Texas. He was the third child of John Franklin Knight, a clerk, and Sarah Francis Kelly Knight. He attended John H. Reagan Senior High School in Houston, graduating in 1940.
Knight married Miss Johnnie Lee Kinchloe, also a 1940 graduate of Reagan High School, 5 June 1942. They had one son, Raymond Jr.
Knight enlisted as an aviation cadet in the United States Army Air Corps, 10 Oct 1942, and trained as a fighter pilot at various airfields in Texas. He graduated from flight school and was commissioned as a second lieutenant, May 1944. After advanced training, Knight was assigned to the 346th Fighter Squadron, 350th Fighter Group, 12th Air Force, at Tarquinia Airfield, Italy, in November 1944. He was promoted to first lieutenant in March 1945.
Lieutenant Knight flew 82 combat missions. He is credited with 14 enemy aircraft destroyed.
The Medal of Honor was presented to Mrs. Knight by Major General James Pratt Hodges at a ceremony at John H. Reagan Senior High School, 23 October 1945.
In addition to the Medal of Honor, Lieutenant Knight was also awarded the Distinguished Flying Cross, and the Air Medal with five oak leaf clusters (six awards).
The remains of 1st Lieutenant Raymond Larry Knight, United States Army Air Corps, are interred at the Houston National Cemetery, Houston, Texas.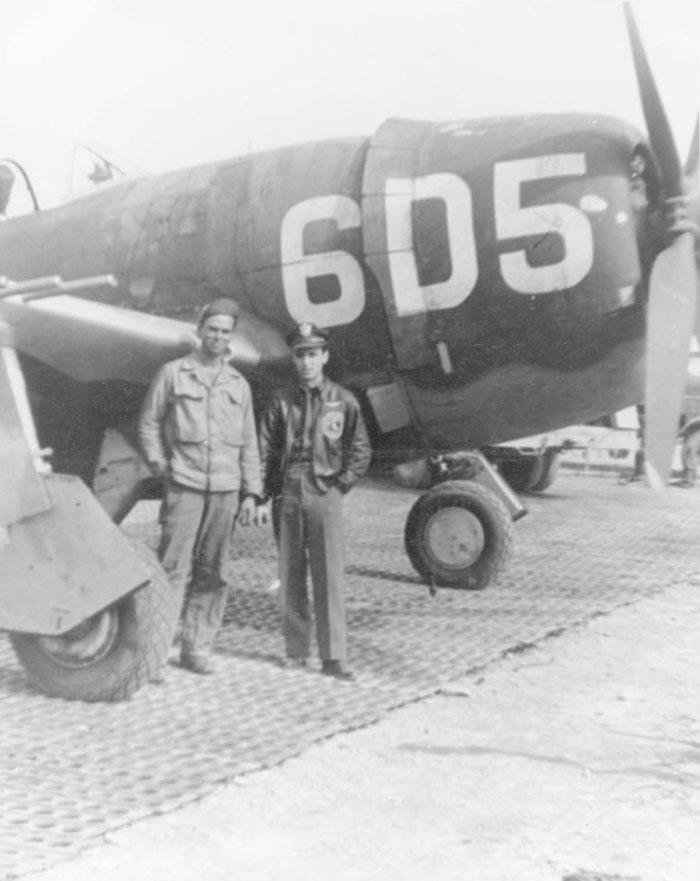 The Republic P-47 Thunderbolt was the largest single-engine fighter that had yet been built. The first P-47D variant was very similar to the preceding P-47C. The Thunderbolt which Raymond Knight flew on his final mission was a P-47D-27-RE, serial number 42-26785. He had named it OH JOHNNIE after his wife. The Thunderbolt's bubble canopy had been introduced with the Block 25 series, and Block 27 added a dorsal fillet to improve longitudinal stability which had been diminished with the new aft fuselage configuration.
The P-47D-27-RE was 36 feet, 1¾ inches (11.017 meters) long with a wingspan of 40 feet, 9-3/8 inches (12.430 meters) The overall height was 14 feet, 7 inches (4.445 meters). The fighter's empty weight was 10,700 pounds (4,853 kilograms) and maximum gross weight was 17,500 pounds (7,938 kilograms).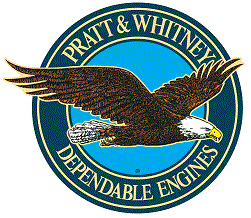 The P-47D-27-RE was powered by an air-cooled, supercharged and turbocharged 2,804.4-cubic-inch-displacement (45.956 liter) Pratt & Whitney Double Wasp TSB1-G (R-2800-59) two-row, 18-cylinder radial engine with a compression ratio of 6.65:1. The R-2800-59 had a Normal Power rating of 1,625 horsepower at 2,550 r.p.m. to 25,000 feet (7,620 meters) and a Takeoff/Military Power rating of  2,000 horsepower at 2,700 r.p.m. to an altitude of 25,000 feet (7,620 meters).¹ A large General Electric turbosupercharger was mounted in the rear of the fuselage. Internal ducts carried exhaust gases from the engine to drive the turbocharger. This supercharged air was then carried forward through an intercooler and then on to the carburetor to supply the engine. The engine's mechanical supercharger further pressurized the air-fuel charge. The engine drove a 13 foot, 0 inch (3.962 meter) diameter four-bladed Curtiss Electric or Hamilton Standard Hydromatic propeller through a 2:1 gear reduction. The R-2800-59 was 6 feet, 3.72 inches (1.923 meters) long, 4 feet, 4.50 inches (1.340 meters) in diameter, and weighed 2,290 pounds (1,039 kilograms).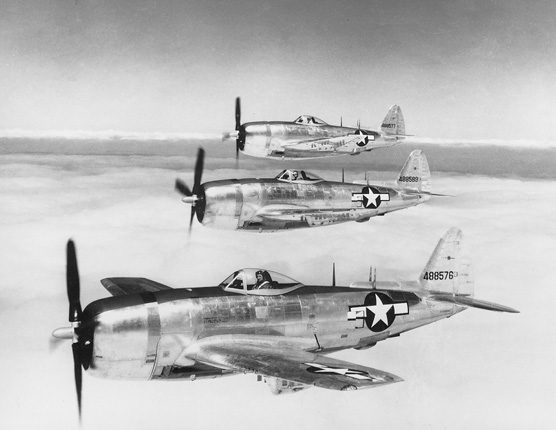 The P-47D had a maximum speed in level flight of 444 miles per hour (715 kilometers per hour) at 23,200 feet (7,071 meters) with 70 inches Hg manifold pressure (2.37 Bar), using water injection. The service ceiling was 40,000 feet (12,192 meters). It had a maximum range of 950 miles (1,529 kilometers) with internal fuel, and 1,800 miles (2,897 kilometers) with external tanks.
The Thunderbolt was armed with eight Browning AN-M2 .50-caliber machine guns, four in each wing, with 3,400 rounds of ammunition. It could also carry external fuel tanks, rockets and bombs. The structure of the P-47 could be described as "robust" and it was heavily armored. The amount of damage that the airplane could absorb and still return was remarkable.
A total of 15,683 Thunderbolts were built; more than any other Allied fighter type. In aerial combat, it had a kill-to-loss ratio of 4.6:1. The P-47, though, really made its name as a ground attack fighter, destroying aircraft, locomotives, rail cars, and tanks by the many thousands. It was one of the most successful aircraft of World War II.
¹  A rebuilt R-2800-63 was run at War Emergency Power (2,600 horsepower at 2,700 r.p.m.) for 7½ hours on a test stand, and was in running condition when the test was completed.
© 2018, Bryan R. Swopes