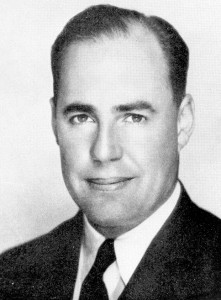 19 August 1940: At Mines Field (now known as Los Angeles International Airport), the first North American Aviation B-25 twin-engine medium bomber, serial number 40-2165, took off on its first flight with test pilot Vance Breese at the controls and engineer Roy Ferren in the co-pilot's position.
The airplane, North American model NA-62, serial number 62-2834, was developed from two earlier designs which had been evaluated by the U.S. Air Corps but rejected, and it was ordered into production without a prototype being built.
The first few B-25s built—sources vary, but 8–10 airplanes—were built with a constant dihedral wing. Testing at Wright Field showed that the airplane had a slight tendency to "Dutch roll" so all B-25s after those were built with a "cranked" wing, with the outer wing panels having very slight dihedral ¹ and giving it the bomber's characteristic "gull wing" appearance. The two vertical stabilizers were also increased in size.
40-2165 was retained by North American for testing while the next several aircraft were sent to Wright Field.
The B-25 was named Mitchell in honor of early air power advocate Brigadier General Billy Mitchell. A total of 9,984 B-25s, F-10 reconnaissance variants and U.S. Navy and Marine Corps PBJ-1 patrol bombers were built by North American Aviation at Inglewood, California and Kansas City, Kansas. The last one, a TB-25J, remained in service with the U.S. Air Force until 1960.
Twenty-three B-25s were built before the B-25A Mitchell went into production. The B-25 was operated by a crew of five. It was 54 feet, 1 inch (16.485 meters) long with a wingspan of 67 feet, 6.7 inches (20.592 meters) and overall height of 16 feet, 4 inches (4.978 meters). The empty weight was 17,258 pounds (7,828 kilograms) and the maximum gross weight was 28,557 pounds (12,953 kilograms).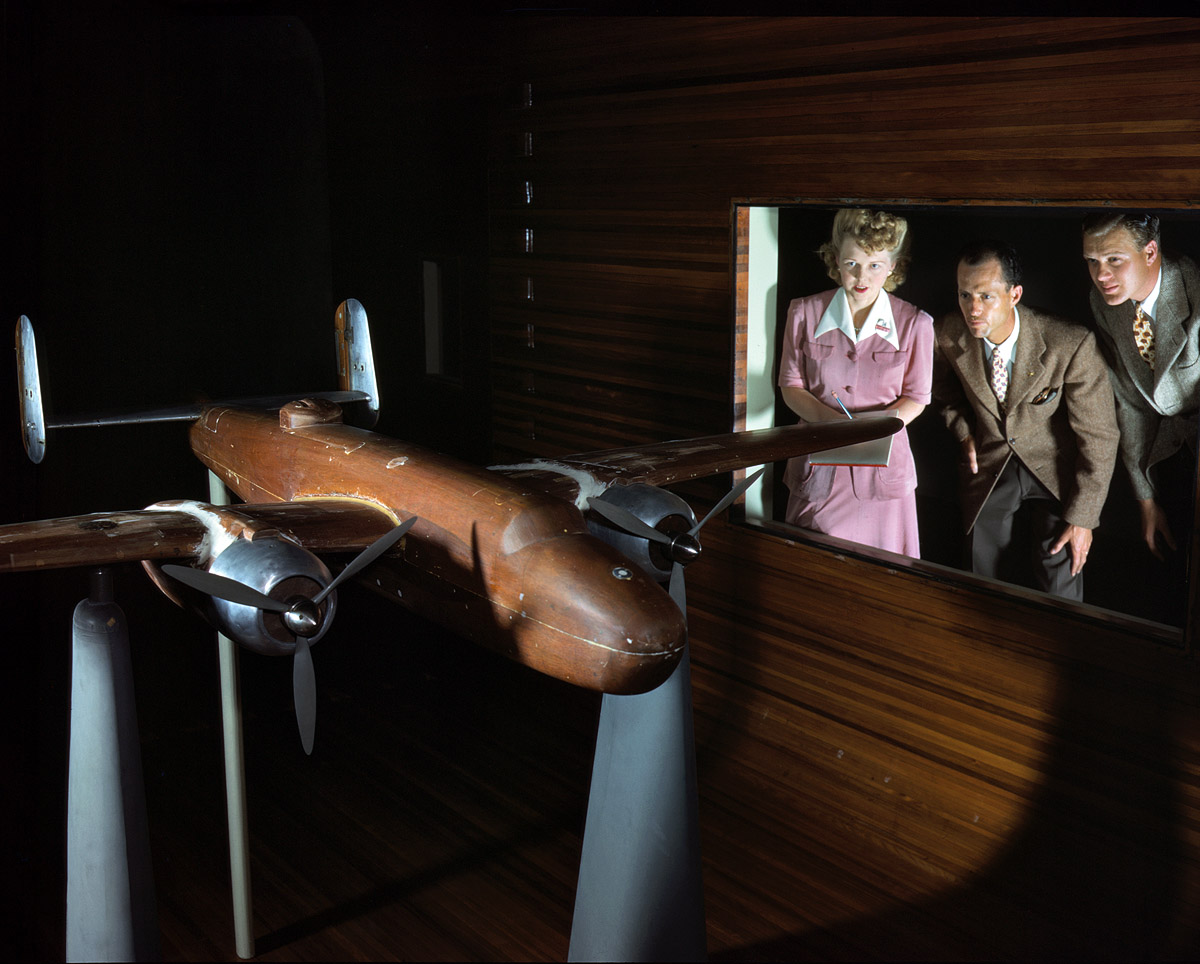 The B-25 was powered by two air-cooled, supercharged, 2,603.737-cubic-inch-displacement (42.688 liter) Wright Aeronautical Division Cyclone 14 GR2600B665 (R-2600-9) two-row 14-cylinder radial engines which were rated at 1,500 horsepower at 2,400 r.p.m., and 1,700 horsepower at 2,600 r.p.m. for takeoff. These engines (also commonly called "Twin Cyclone") drove three-bladed Hamilton Standard Hydromatic variable-pitch propellers through 16:9 gear reduction. The R-2600-9 was 5 feet, 3.1 inches (1.603 meters) long and 4 feet, 6.26 inches (1.378 meters) in diameter. It weighed 1,980 pounds (898 kilograms).
The medium bomber had a maximum speed of 322 miles per hour (518 kilometers per hour) at 15,000 feet (4,572 meters) and a service ceiling of 30,000 feet (9,144 meters). It could carry a 3,000 pound bomb load 2,000 miles (3,219 kilometers).
Defensive armament consisted of three air-cooled Browning M2 .30-caliber aircraft machine guns and one Browning AN-M2 .50-caliber machine gun.
After testing was completed, B-25 40-2165 was retained by North American and modified as a company transport. On 8 January 1945, flown by Edgar A. Stewart, the airplane suffered an engine failure and made a forced landing at Mines Field—the location of its first flight. The prototype B-25 was damaged beyond repair.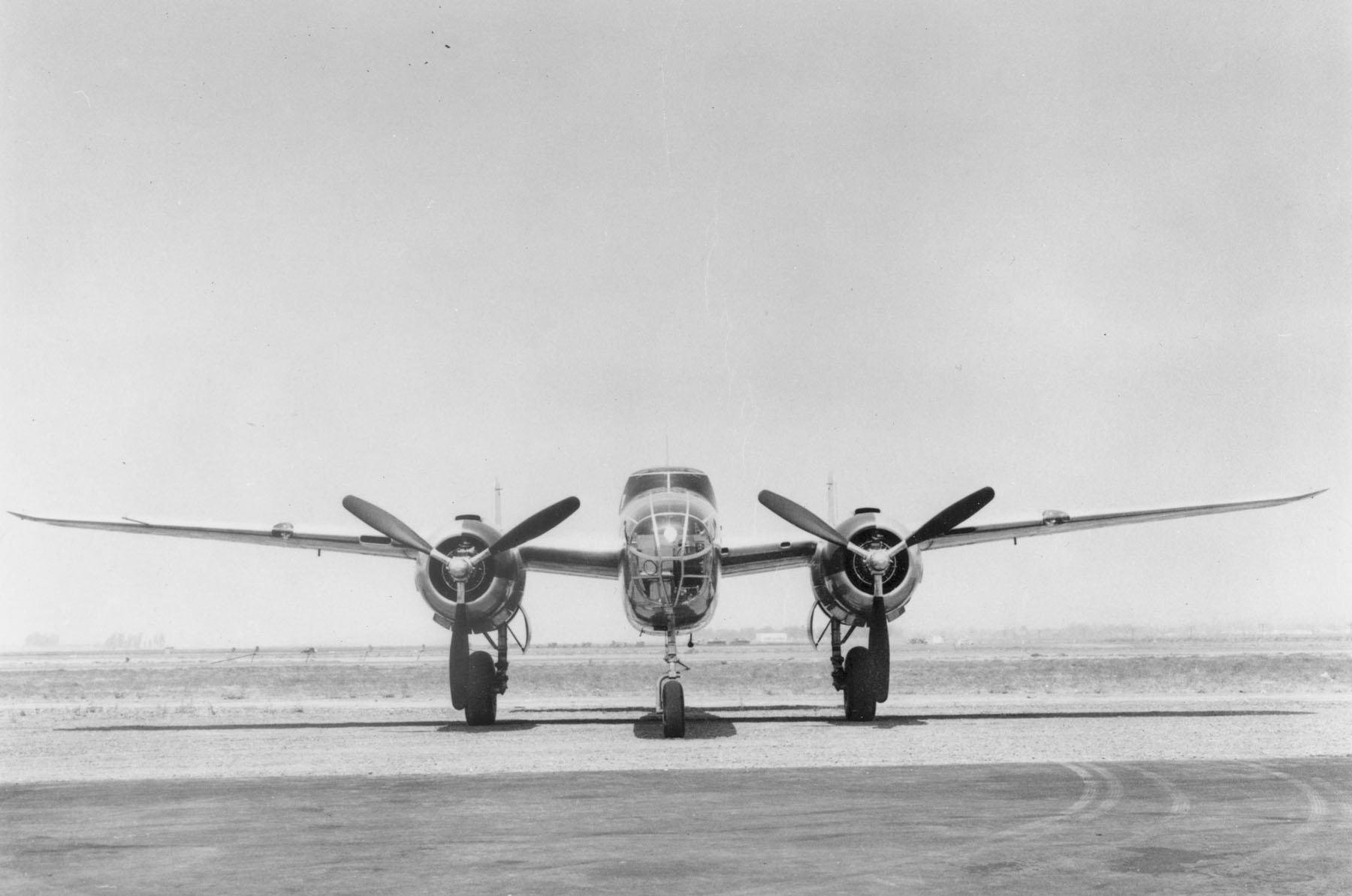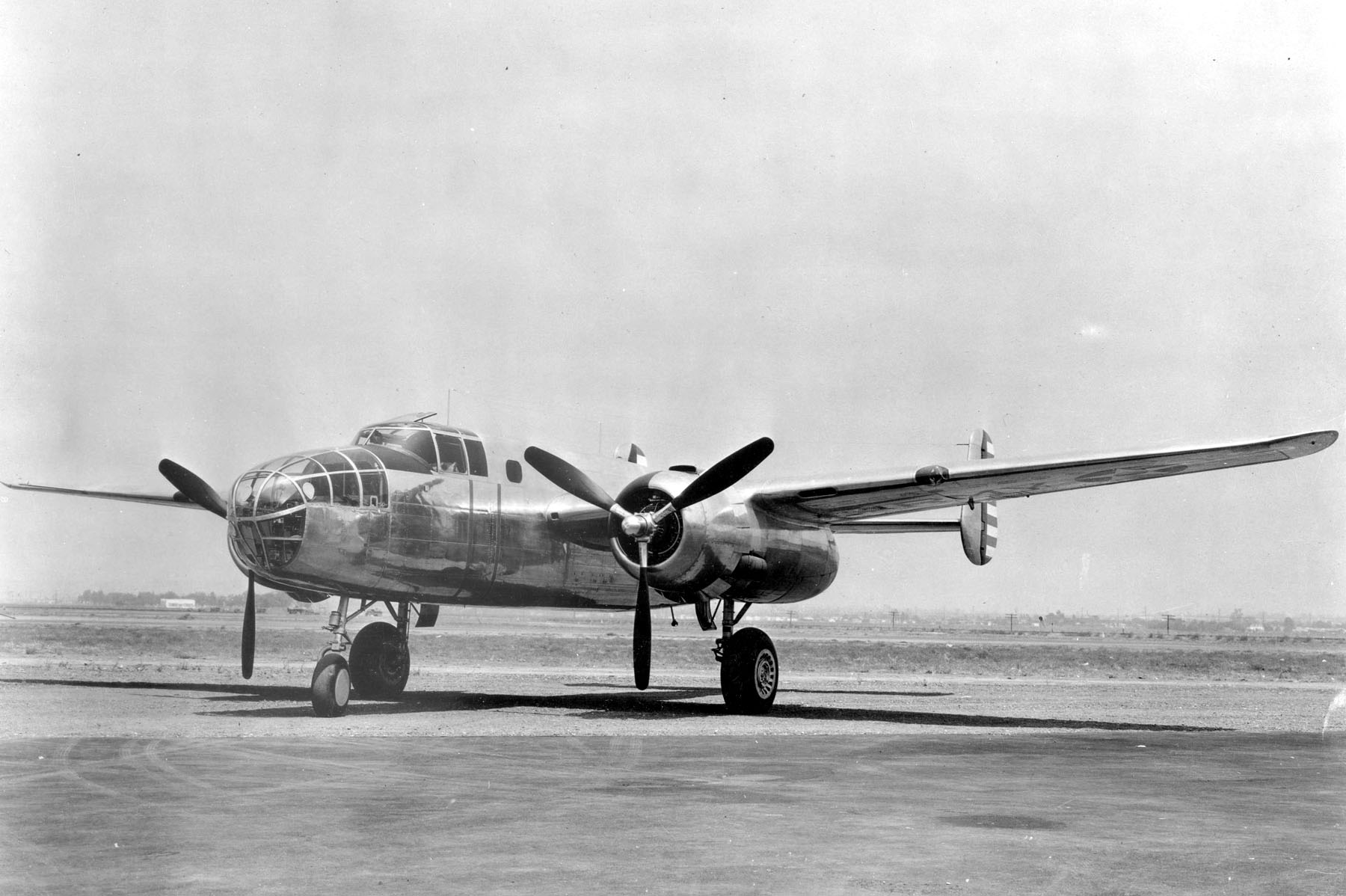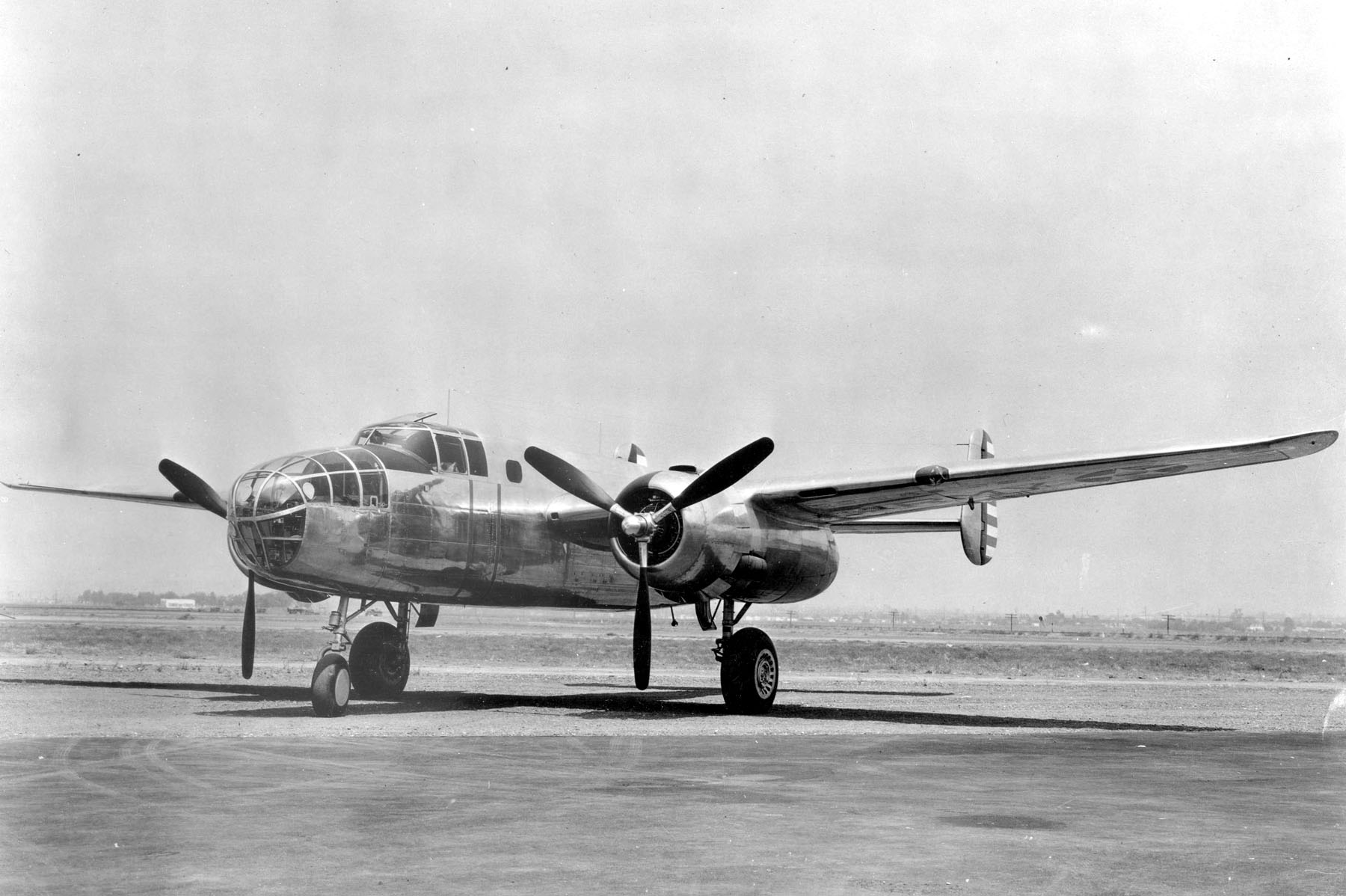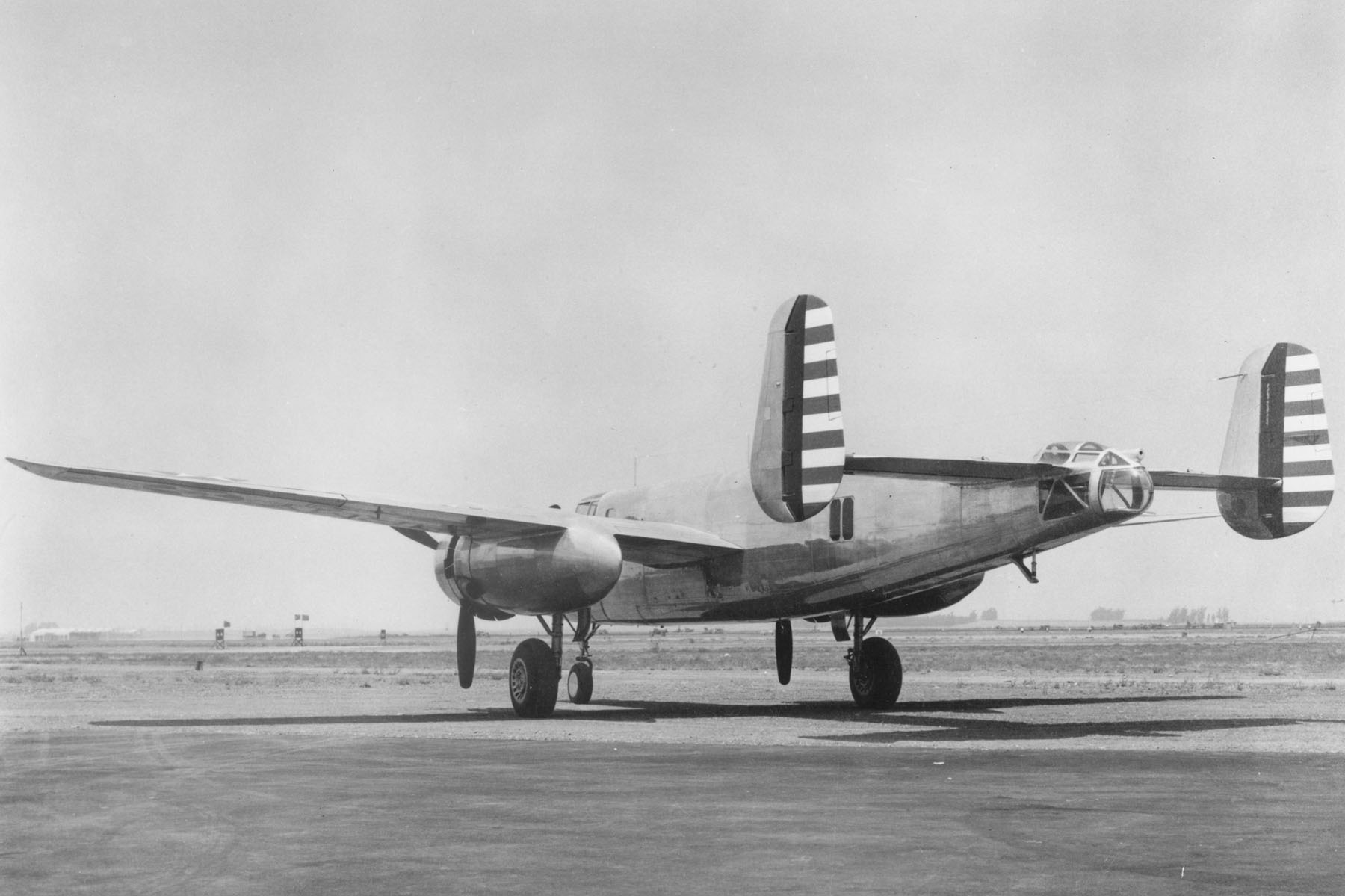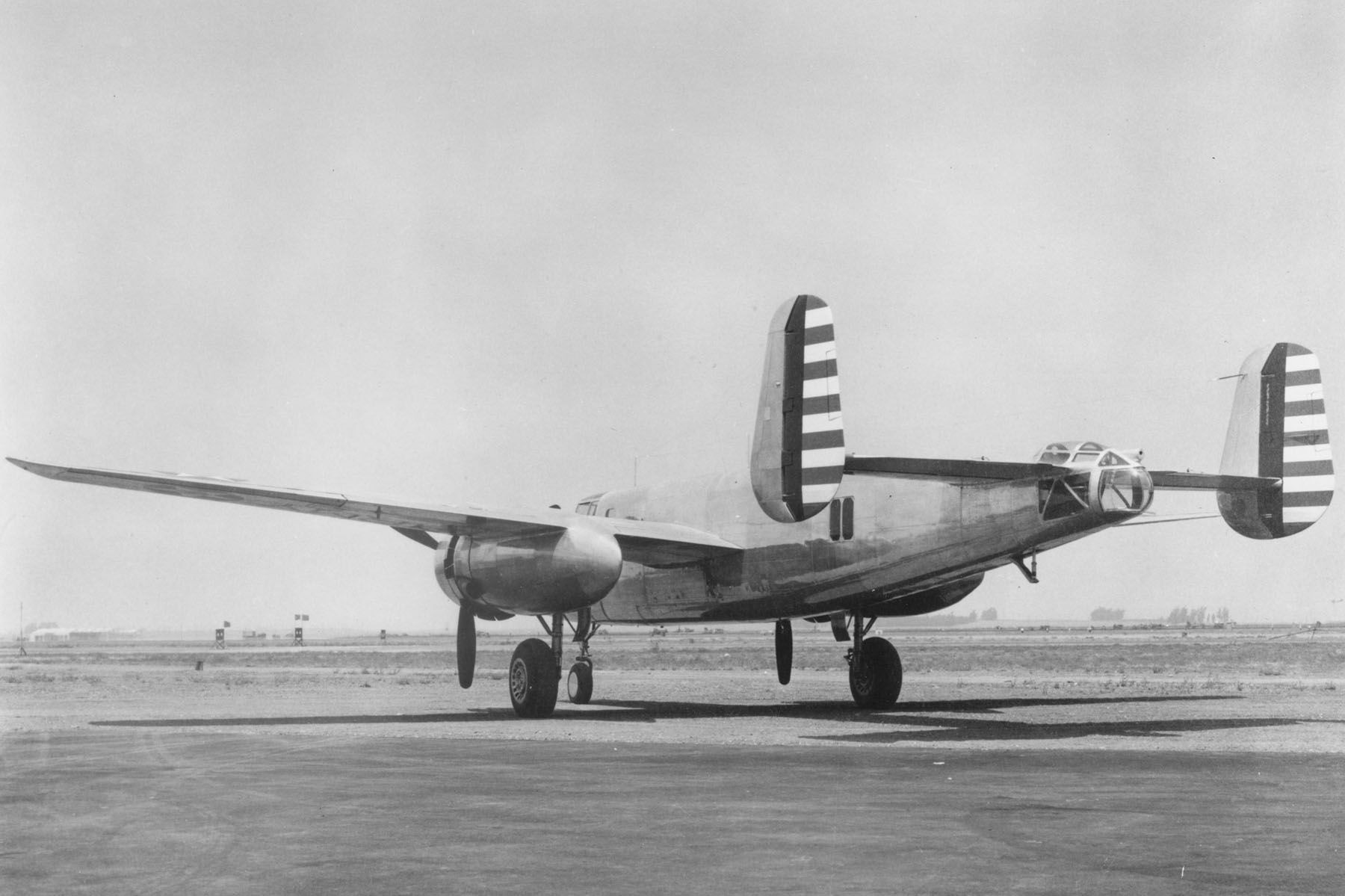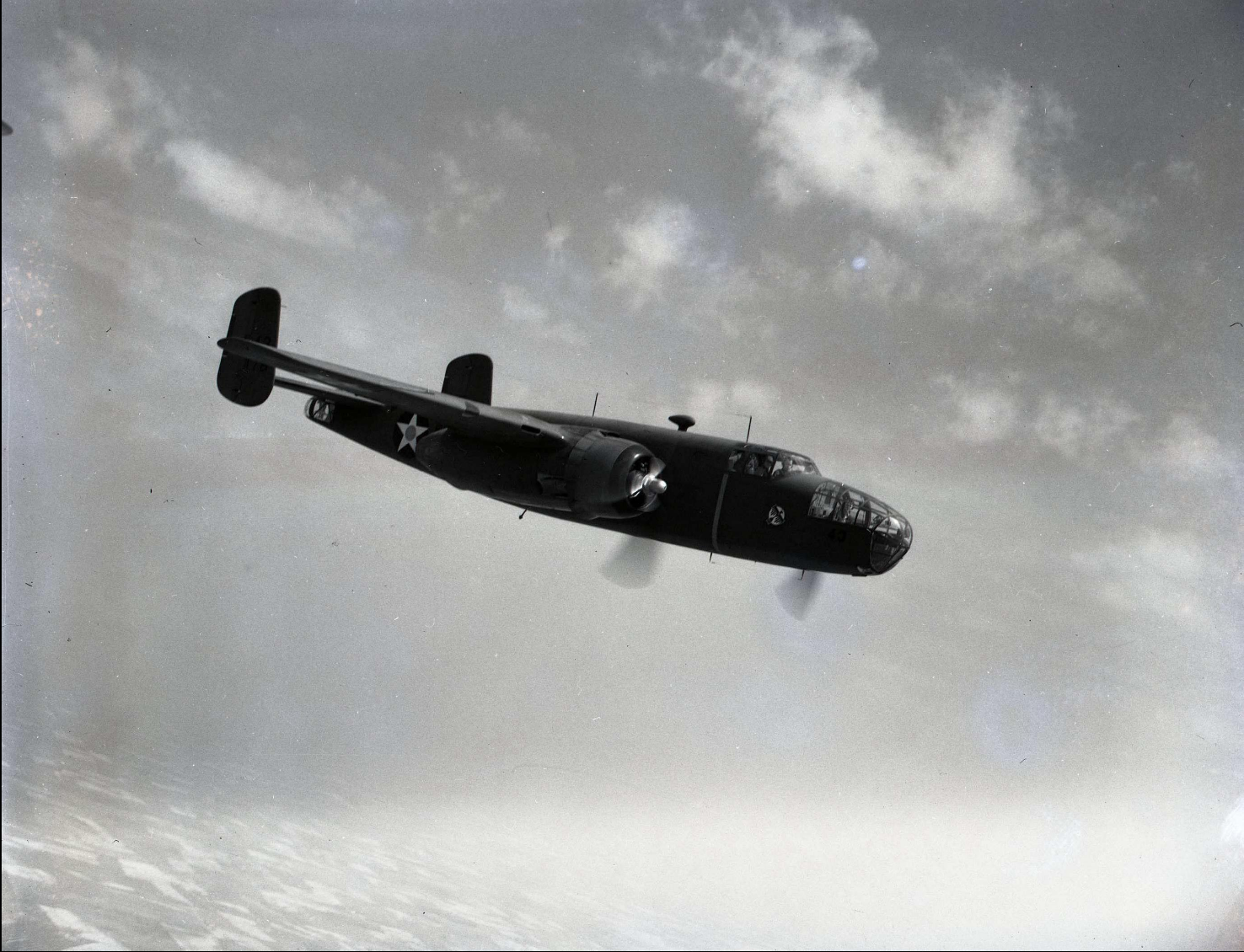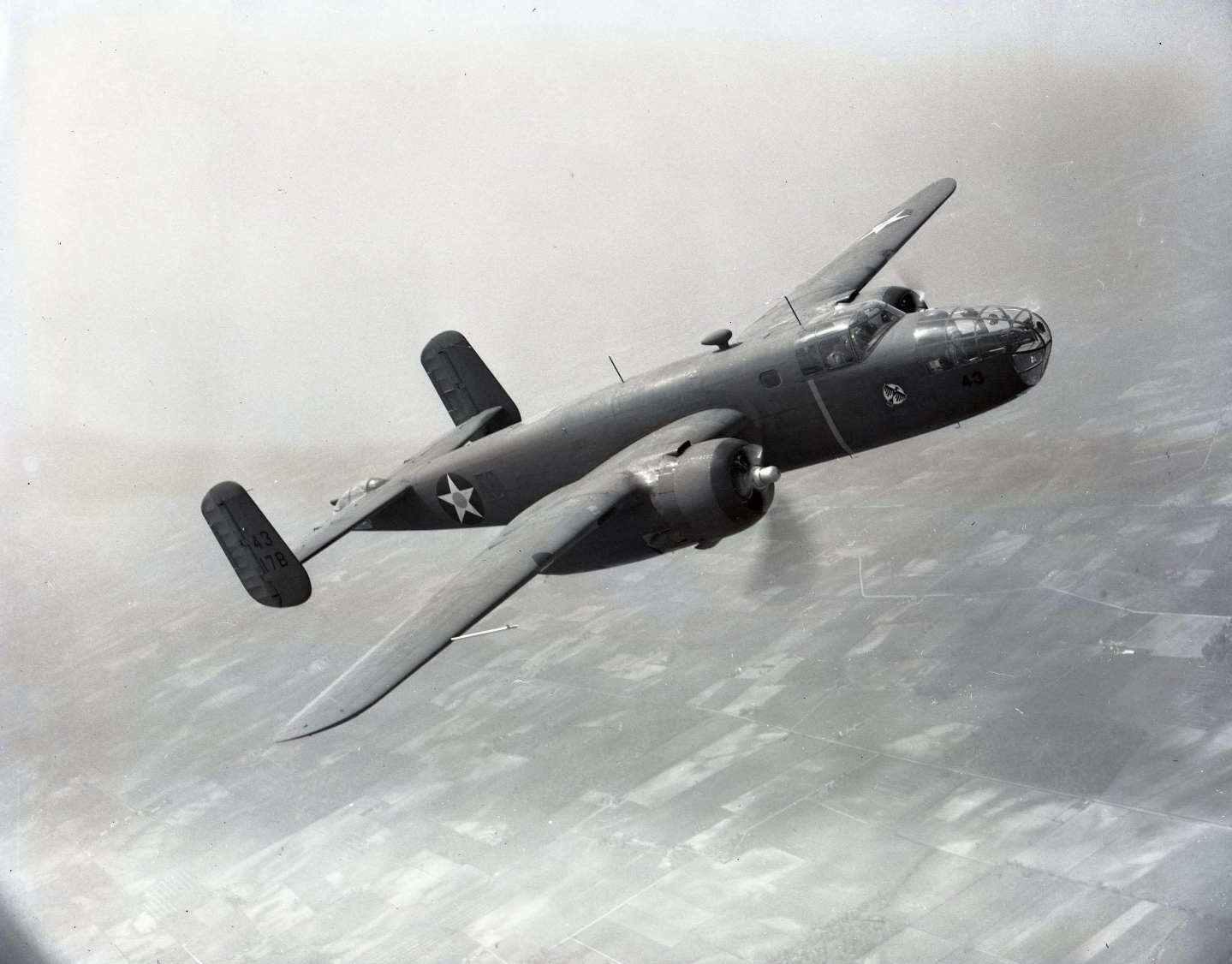 ¹ The wing center section of the B-25H and B-25J has 4° 38′ 23″ dihedral. The outer sections have 0° 21′ 39″. The wing has 2° 29′ 37″ negative twist.
© 2019, Bryan R. Swopes