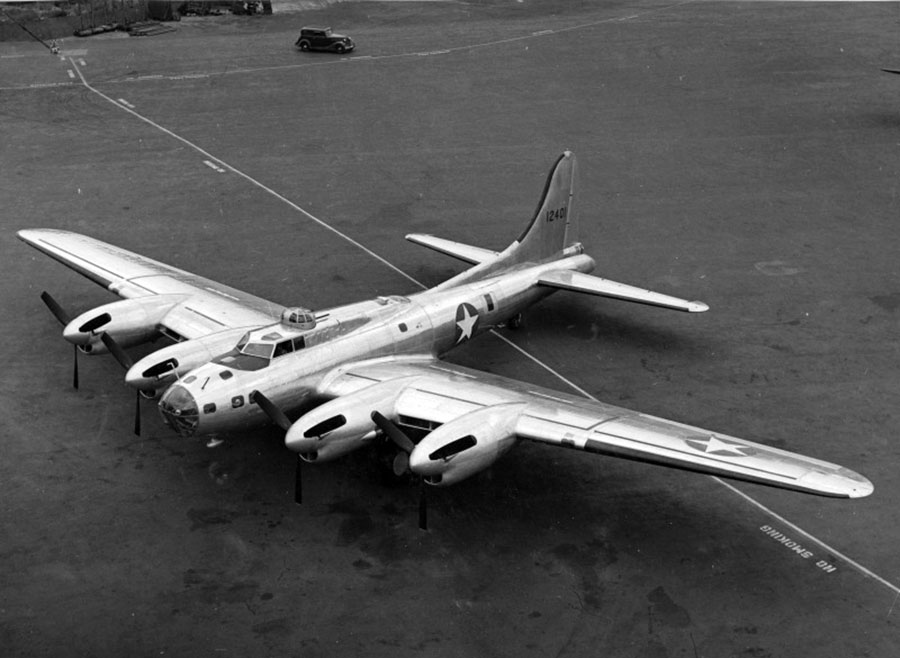 16 June 1943: The Boeing B-17E, F and G Flying Fortress heavy bomber was produced by a consortium of three aircraft manufacturers: Boeing in Seattle, Washington; the Douglas Aircraft Company at Long Beach, California; and the Vega Aircraft Corporation (a subsidiary of the Lockheed Aircraft Corporation) at Burbank, California. Exemplars of production B-17s were provided to Douglas and Vega.
The Flying Fortress that was sent to Vega was the ninth production B-17E, serial number 41-2401.
The U.S. Army Air Corps asked Vega to convert 41-2401 by installing liquid-cooled Allison V-12 engines. By replacing the air-cooled Wright Cyclone R-1820-65 nine-cylinder radial engines it was hoped that more streamlined configuration would produce better performance in the same way as had modifying the Curtiss P-36 to the Allison-powered P-40.
Engine coolant radiators were placed in the leading edge of each wing between the inboard and outboard engines. The engines were the same variant as used for the starboard engine of the Lockheed P-38 Lightning.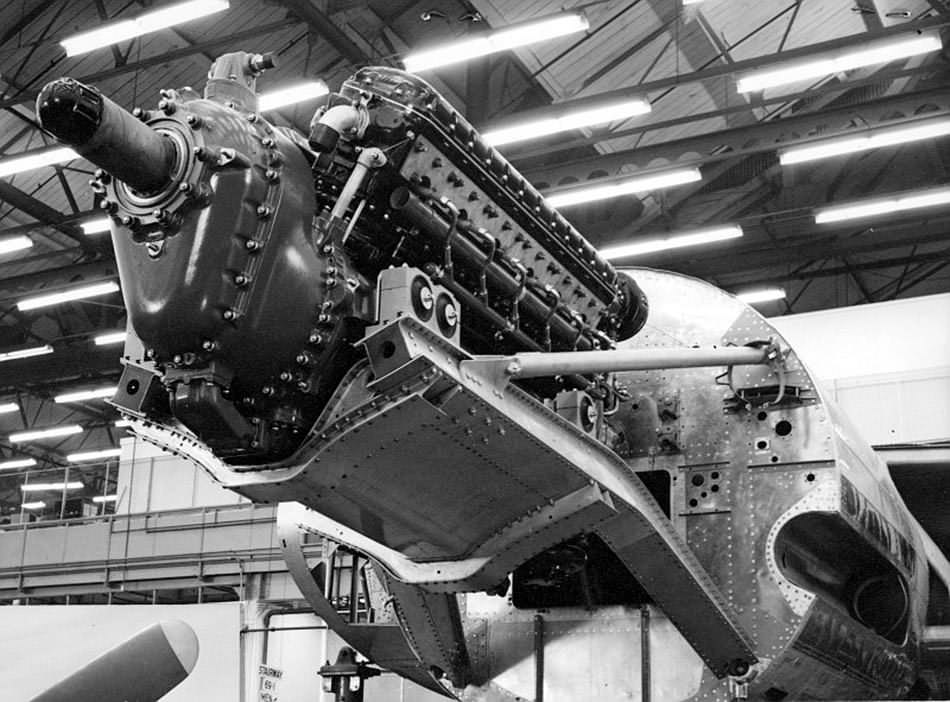 The Vega XB-38 was powered by four liquid-cooled, turbosupercharged 1,710.597-cubic-inch displacement (28.032 liter) Allison Engineering Company V-1710-F-17R (V-1710-89) single overhead cam (SOHC) 60° V-12 engines. These had a continuous power rating of 1,100 horsepower at 2,600 r,p.m., to 30,000 feet (9,144 meters), and a takeoff/military power rating of 1,425 horsepower at 3,000 r.p.m. The engines drove three-bladed full-feathering constant-speed propellers through a 2.00:1 gear reduction. The engines were 7 feet, 1.34 inches (2.168 meters) long, 3 feet, 0.75 inches (0.933 meters) high, 2 feet, 5.28 inches (0.744 meters) wide, and weighed 1,350 pounds (612 kilograms).
The converted airplane was designated Vega XB-38. It made its first flight in the new configuration on 19 May 1943 with Vega's Chief Pilot Bud Martin in the cockpit.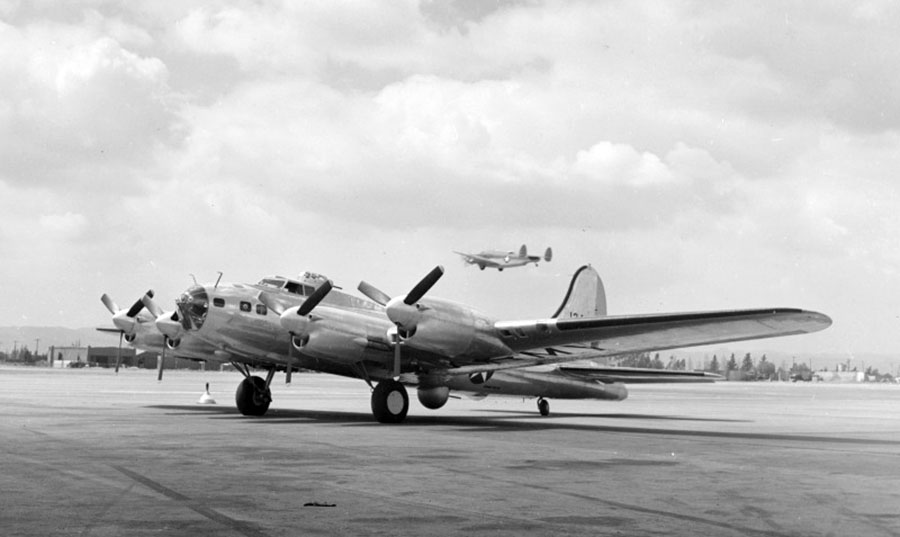 The XB-38 made its ninth test flight on 16 June 1943, with Bud Martin and former Naval Aviator George Archibald MacDonald on board. Flying over California's San Joaquin Valley, the experimental bomber's number three engine (inboard, starboard wing) caught fire.
When they were unable to extinguish the fire, Martin and MacDonald bailed out. MacDonald's parachute failed to open and he was killed. Martin's parachute opened improperly and he was severely injured when he hit the ground.
The Vega XB-38 crashed near Tipton, California, a small farming community on the valley floor, west of the Sierra Nevada Mountains. The bomber was destroyed.
Although the complete flight test program of the XB-38 was not completed, it was found that its performance increased only slightly over the B-17E. The project was cancelled.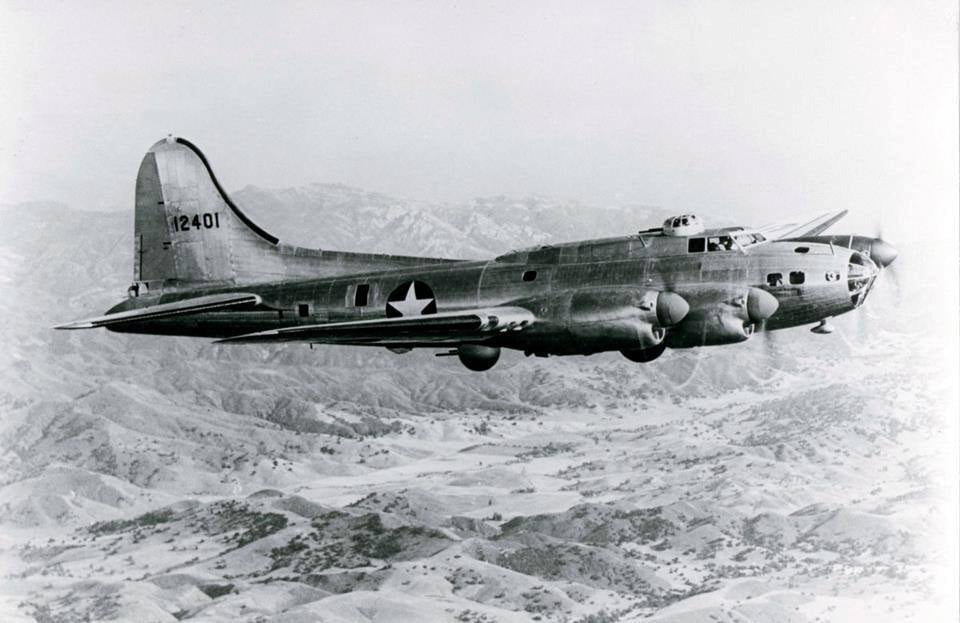 George Archibald MacDonald was born 7 August 1901 at Anaconda, Montana. He was the second son of Erwin H. MacDonald, a mining engineer, and Shuberta M. Swan MacDonald.
MacDonald served as an ensign in the United States Navy. In 1926, Ensign MacDonald was designated Naval Aviator #4331.
George Archibald MacDonald was buried at Forest Lawn Memorial Park, Glendale, California.
Bud Martin recovered from his injures and remained with Lockheed. On 3 December 1943, he took the PV-2 Harpoon for its first flight. He flew the first production C-130A Hercules at Marietta, Georgia, 7 April 1955.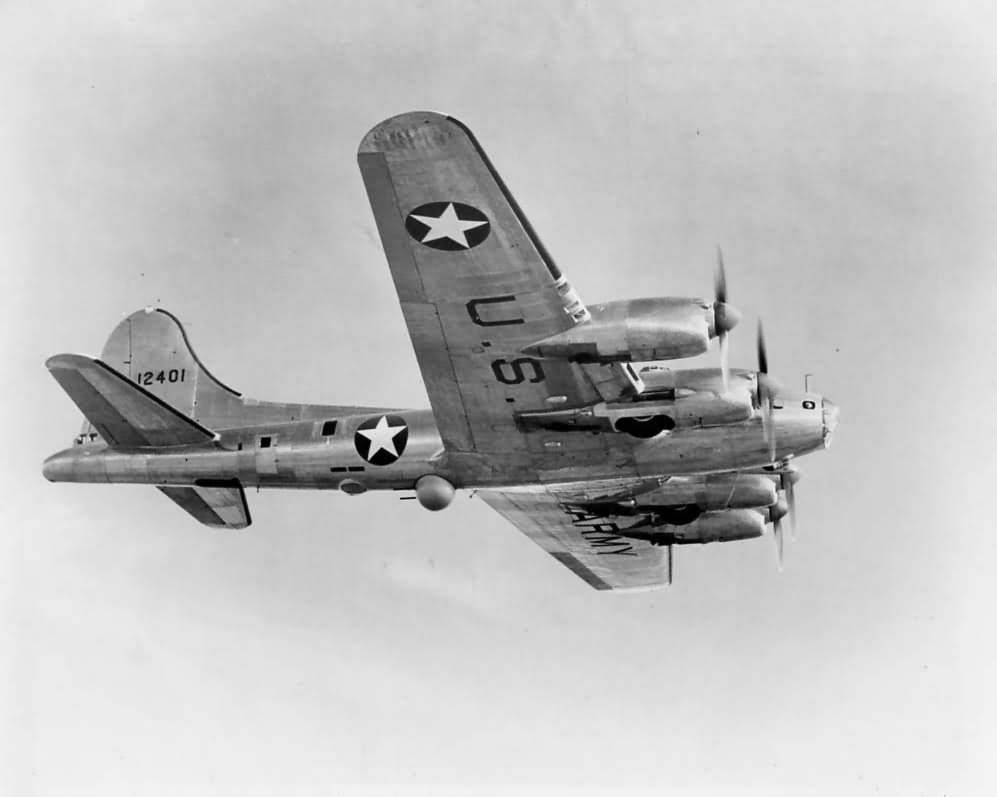 © 2018, Bryan R. Swopes