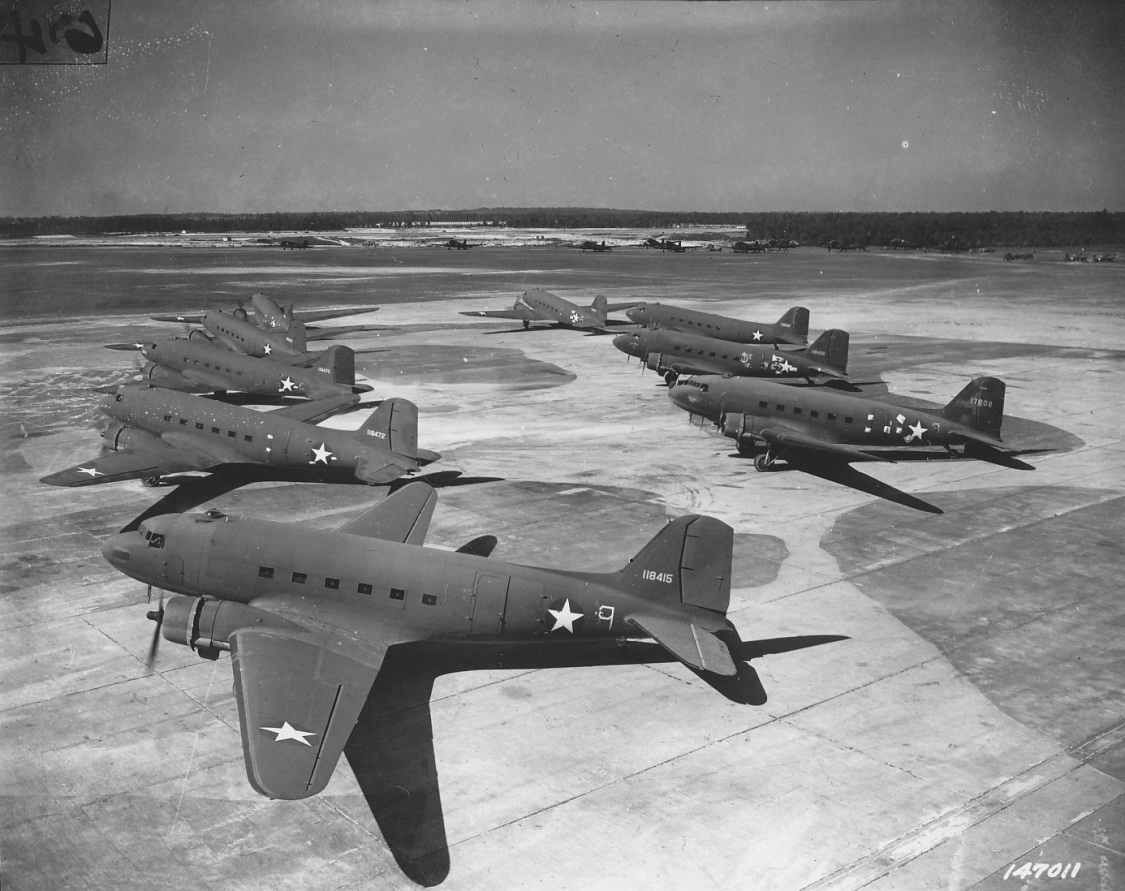 23 December 1941: Although hundreds of Douglas DC-3 commercial transports had been impressed into military service directly from the production line and designated C-48, C-49 and C-50, the first airplane of the type specifically built as a military transport, C-47 Skytrain 41-7722, made its first flight at Daugherty Field, Long Beach, California, on this date. More than 10,000 C-47s would follow. In service with the United States Navy, the Skytrain was designated R4D-1. In British service, it was called the Dakota Mk.I.
The primary differences between the civil and military airframes was the addition of a cargo door on the left side of the fuselage, a strengthened cargo floor, a navigator's astrodome and provisions for glider towing.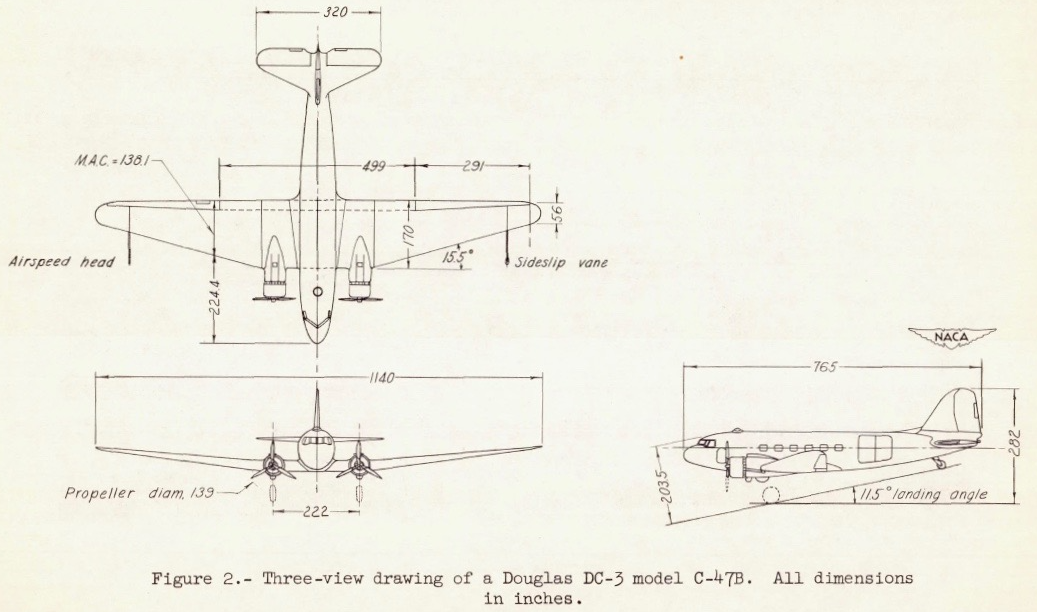 The Douglas C-47 Skytrain is an all-metal twin-engine, low wing monoplane transport with retractable landing gear. It was operated by a minimum flight crew of two pilots, a navigator and a radio operator. The wing is fully cantilevered and the fuselage is of semi-monocoque construction. Control surfaces are fabric-covered.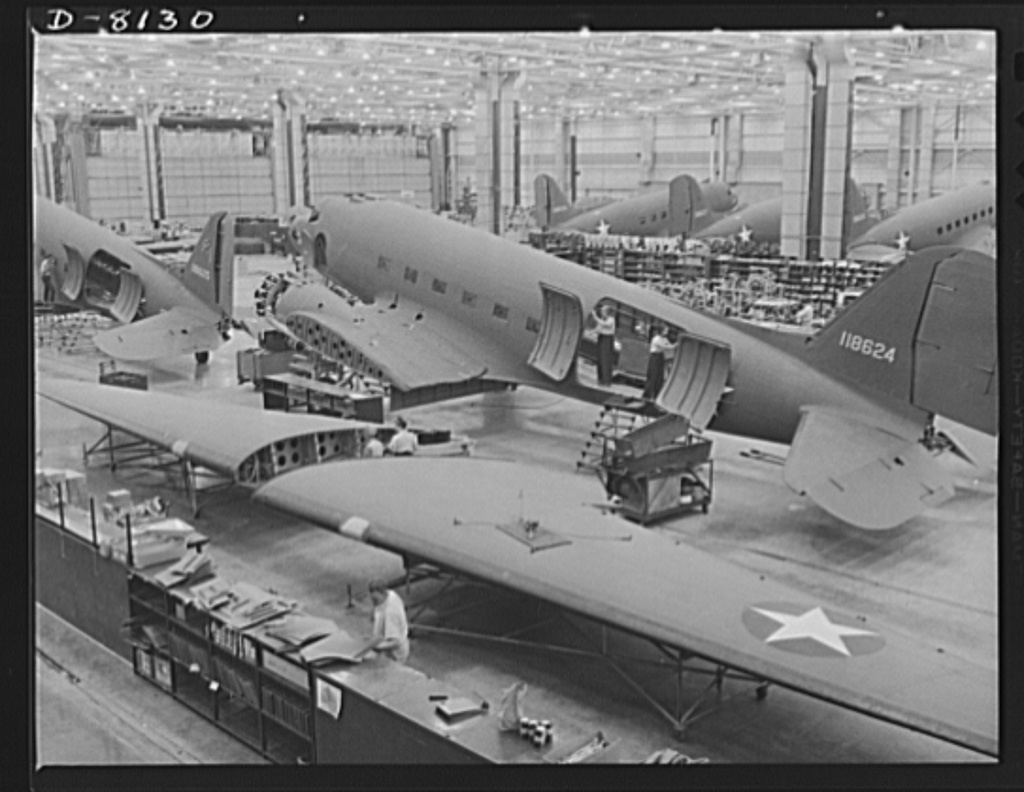 The C-47 is 64 feet, 5½ inches (19.647 meters) long with a wingspan of 95 feet (28.956 meters) and height of 17 feet (5.182 meters). The wing center section is straight, but outboard of the engine nacelles there is 5º dihedral. The wings' leading edges are swept aft 15.5°. The trailing edges have no sweep. Empty weight of the C-47A is 17,257 pounds (7,828 kilograms) and the maximum takeoff weight is 29,300 pounds (13,290 kilograms).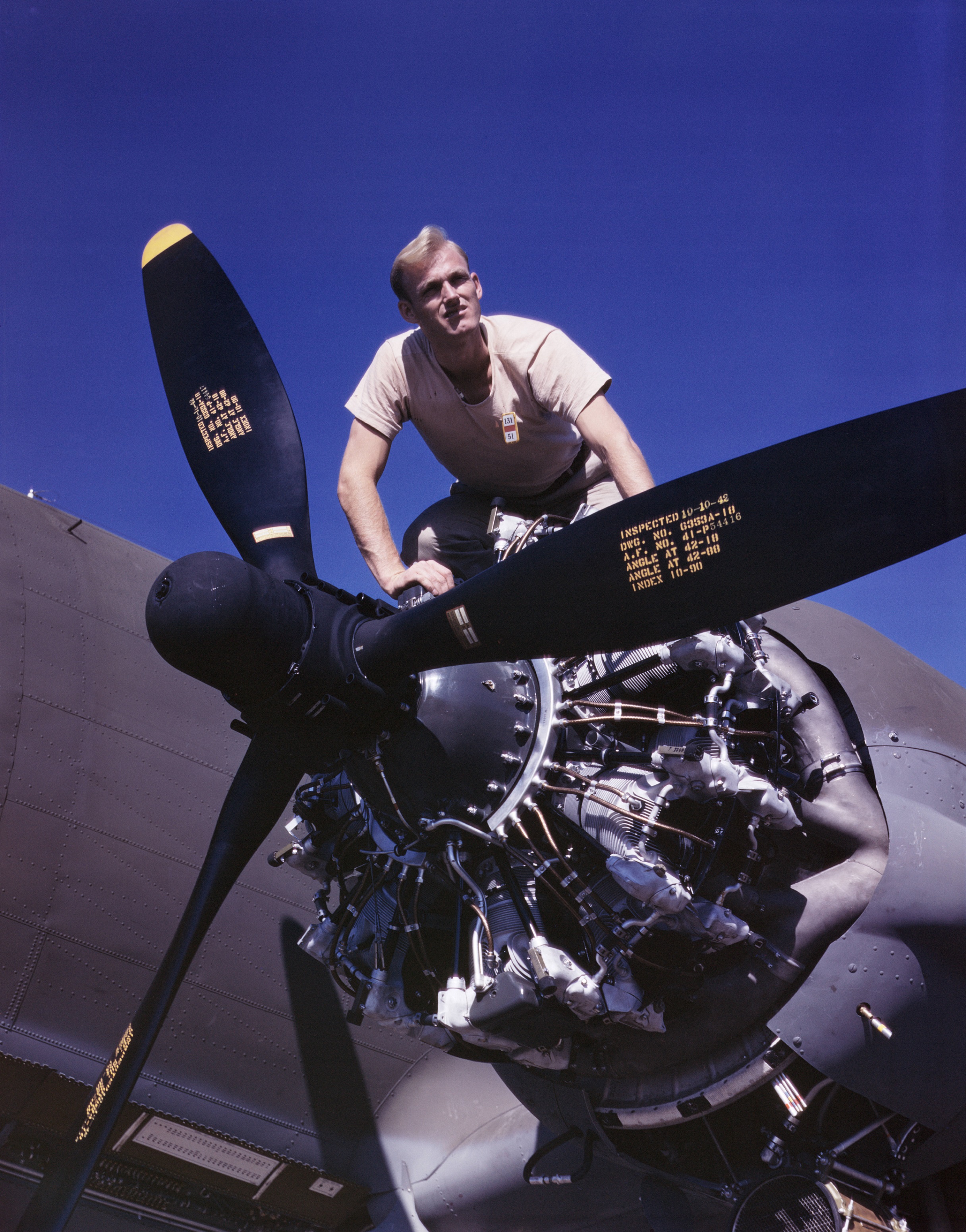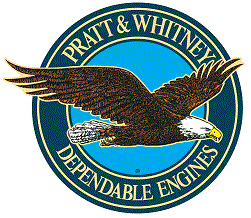 The C-47 is powered by two 1,829.4-cubic-inch-displacement (29.978 liter) air-cooled, supercharged R-1830-92 (Pratt & Whitney Twin Wasp S1C3-G) two-row 14-cylinder radial engines. These had a maximum continuous rating for normal operation was 1,060 horsepower at 2,550 r.pm., up to 7,500 feet (2,286 meters), and 1,200 horsepower at 2,700 r.p.m., at Sea Level, for takeoff. Each engine drives a three-bladed Hamilton Standard Hydromatic constant-speed full-feathering propeller with a diameter of 11 feet, 6 inches (3.505 meters) through a 16:9 gear reduction. The R-1830-92 is 48.19 inches (1.224 meters) long, 61.67 inches (1.566 meters) in diameter, and weighs 1,465 pounds (665 kilograms).
The C-47 has a cruising speed of 185 miles per hour (298 kilometers per hour) at 10,000 feet (3,048 meters) and service ceiling of 24,100 feet (7,346 meters).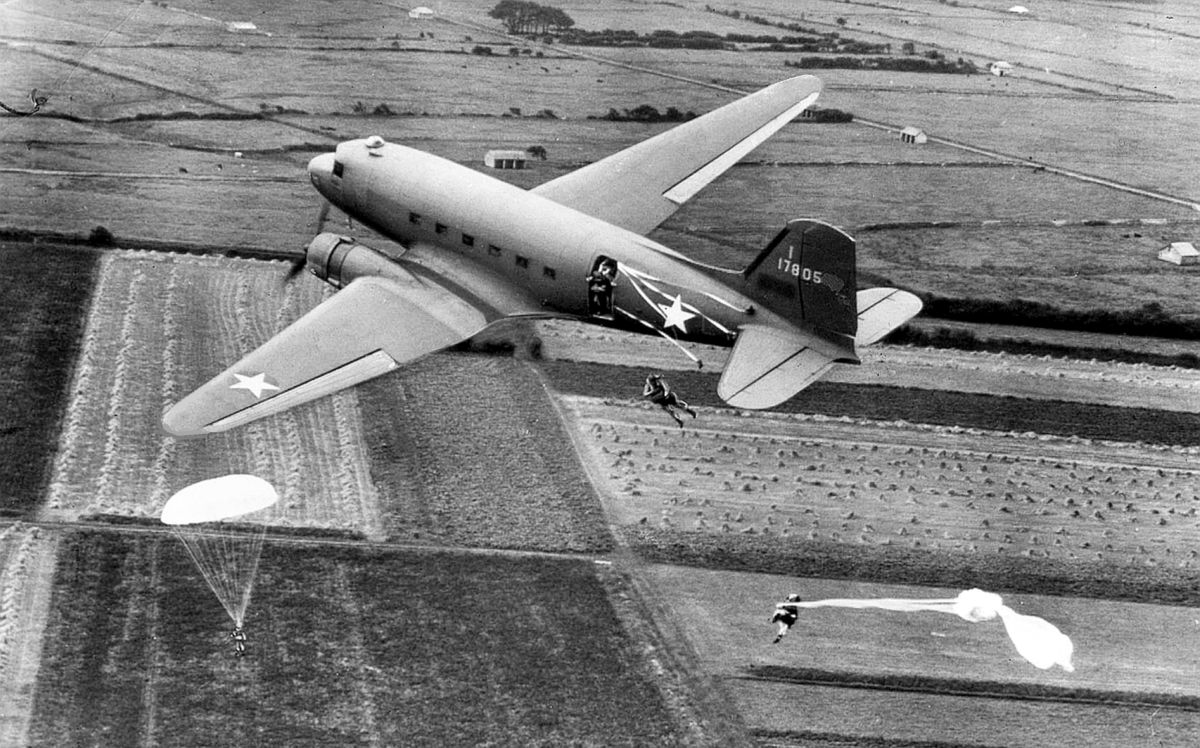 The C-47 could carry 6,000 pounds (2,722 kilograms) of cargo, or 28 fully-equipped paratroopers. Alternatively, 14 patients on stretchers could be carried, along with three attendants.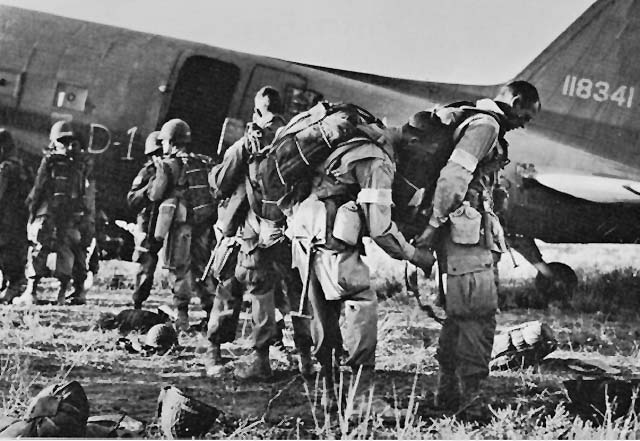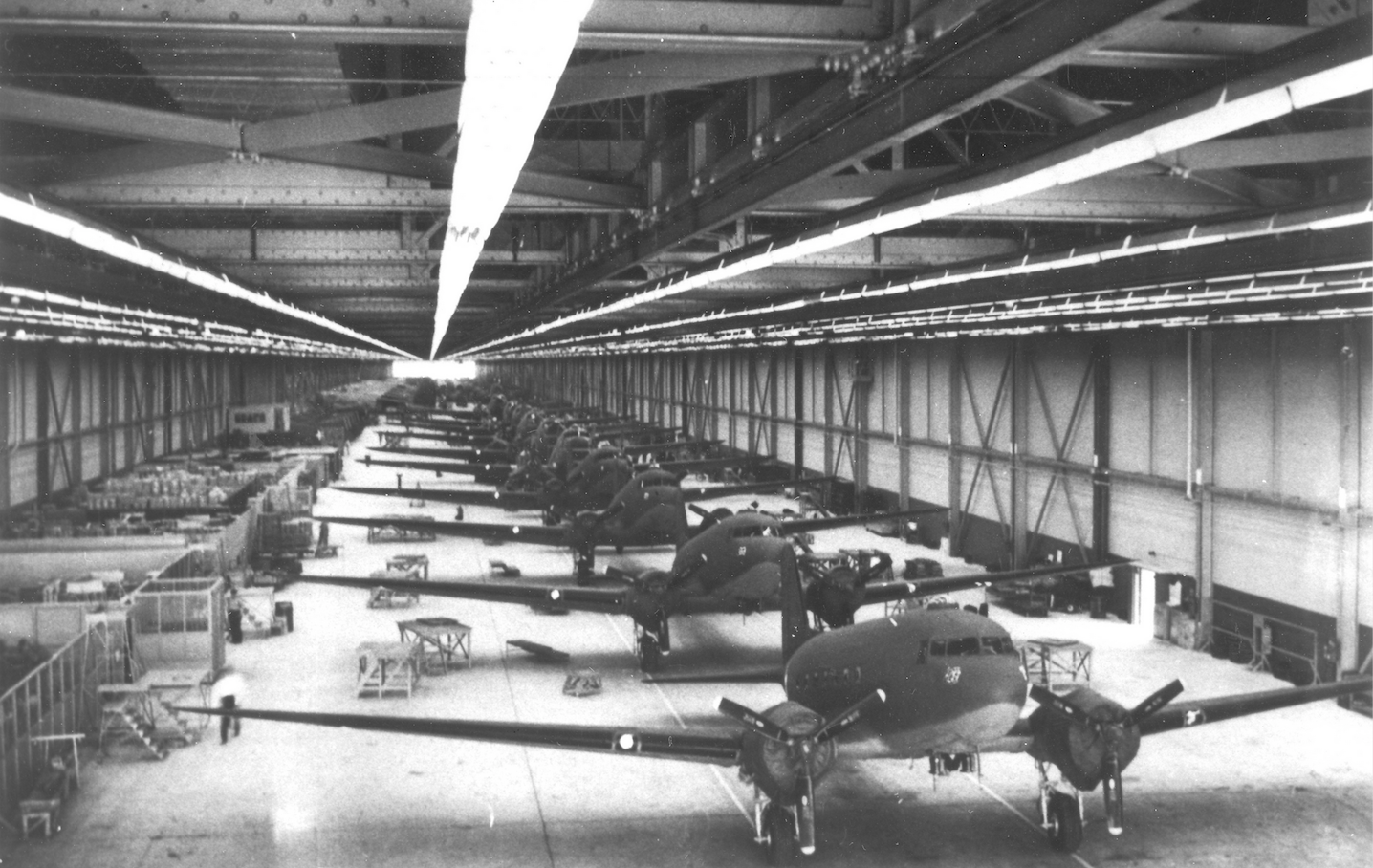 © 2018, Bryan R. Swopes