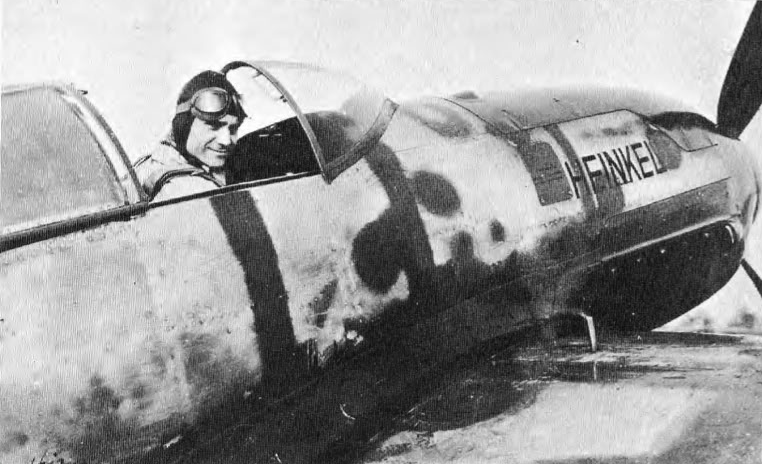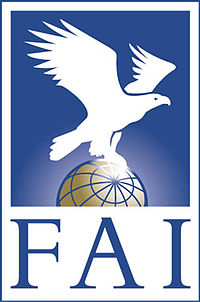 30 March 1939: At 5:25 p.m., Ernst Heinkel Flugzeugwerke GmbH test pilot Hans Dieterle, flying a high-performance prototype fighter, the Heinkel He 100 V8, D-IDGH, entered a measured 3 kilometer course near the factory's airfield at Oranienberg, Germany. He would attempt to set a new Fédération Aéronautique Internationale (FAI) World Record for Speed Over a 3 Kilometer Course.¹
FLIGHT described the record flight in its 20 April 1939 edition:
The F.A.I. regulations stipulate that for speed record purposes the flight must be made over a course 3 km. (1.86 miles) long. This is the distance over which the machine is timed, and while traversing it the aircraft must not exceed a height of 75 m. (264ft.). Before entering the 3,000 m. course the machine must pass through an approach 500 m. (1,640ft.) long, on which also the height must not exceed 75 m. The timing is done in two flights in each direction and the average speed of the four runs taken.
While turning at the end of of each run the pilot may fly as wide as he likes, i.e., any radius of turn may be used, but the machine must not at any time during the turn exceed a height of 400 m. (1,312ft.) Other aircraft flying at exactly 400 m. are used for checking that this stipulation is observed.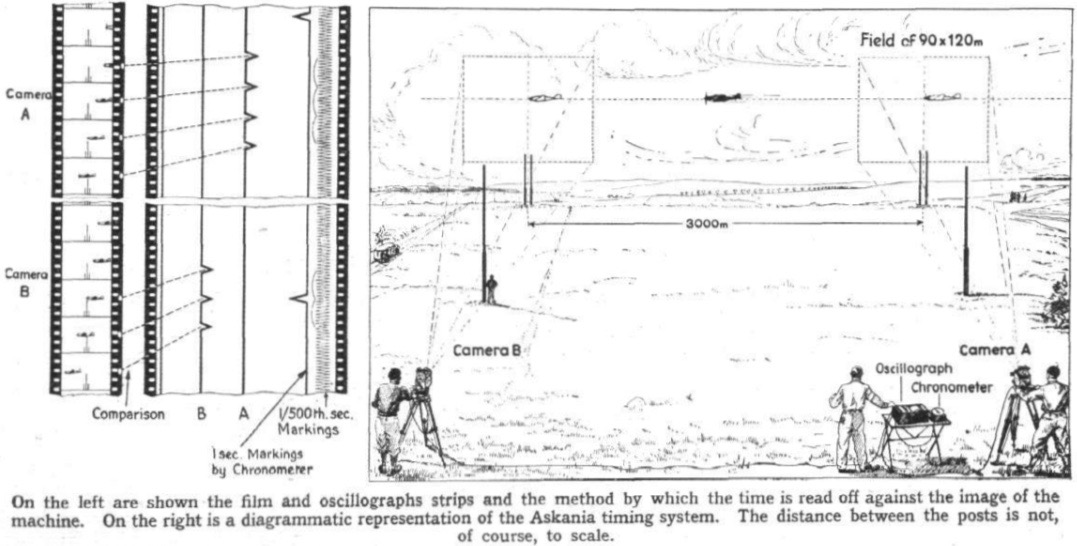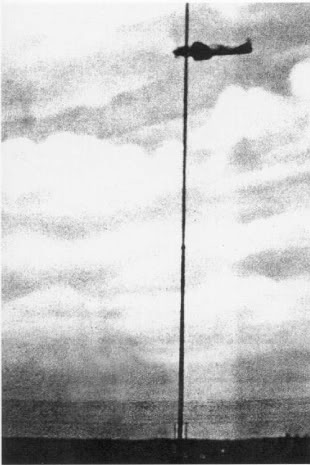 On the day of the record flight the preparations were completed at 5.15 p.m. and the aeroplanes carrying the official observers went up. Dieterle took off at 5.23 p.m. After completing his two runs in each direction he made a perfect landing 14 minutes after the start. Although the official speed of the runs could obviously not have been known to him, he must have been certain that he had beaten the record, for on leaving the machine he turned three handsprings in the exuberance of his youth (he is only 24). When the speeds had been worked out it was found that the average was 746.66 km./h (463.953 m.p.h.) The machine took only 14.464 sec. to cover the timed section.
Field Marshal Göring immediately promoted Herr Dieterle to Flight Captain: he is the youngest pilot to hold that rank in the German Luftwaffe.

—FLIGHT The Aircraft Engineer, No. 1582. Vol. XXXV., Thursday, 20 April 1939, at Pages 395–396.
Dieterle's officially-recognized World Record for Speed is 746.60 kilometers per hour (463.91 miles per hour). This exceeded the previous record which had been set by Dr.-Ing. Hermann Wurster on 11 November 1937,² flying a prototype Messerschmitt Bf 113R (Bf 109 V13), D-IPKY, by 135.65 kilometers per hour (84.29 miles per hour).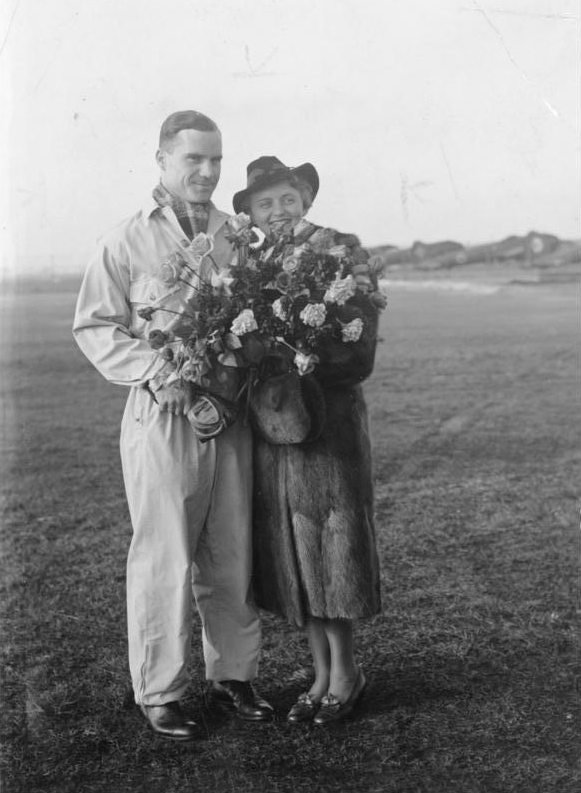 Dieterle's new record would last less than one month, however. On 26 April 1939, Fritz Wendel flew another Messerschmitt prototype, Me 209 V1 (D-INJR) to 755.14 kilometers per hour (469.22 miles per hour).³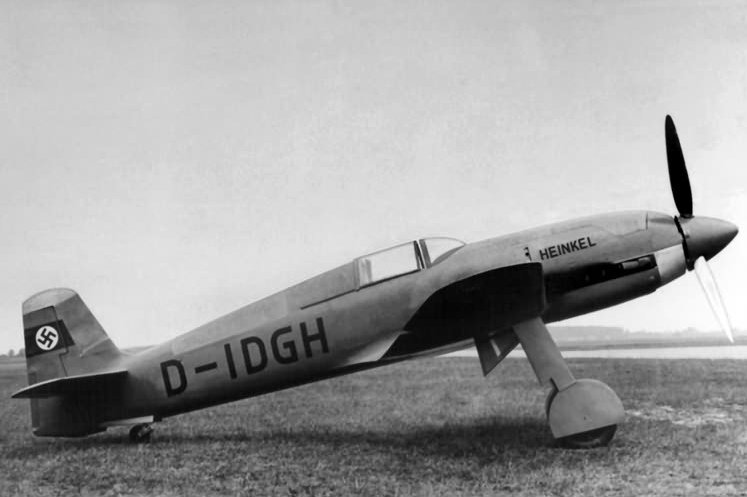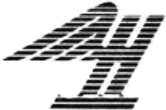 D-IDGH was the eighth He 100 prototype, V8 (Versuch 8). Two prototypes, V3 and V8, were modified for the speed record attempt. Their wingspan was shortened from the 30 feet, 10 inches (9.398 meters) of the earlier prototypes to 24 feet, 11½ inches (7.607 meters), with the wing area being reduced by about 25%. V3, D-ISVR, had a streamlined canopy, while V8 had a cut down windshield and canopy. V3 crashed during testing.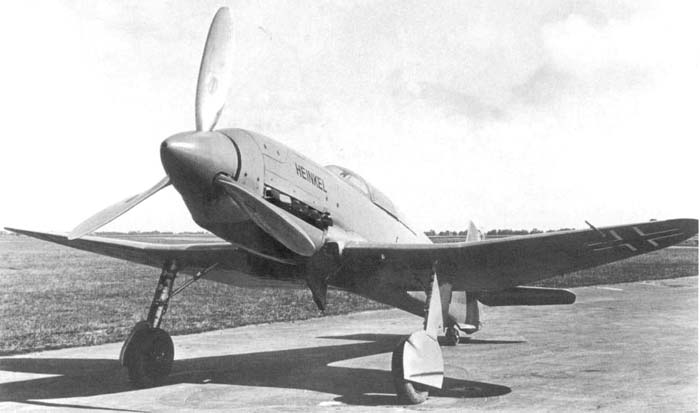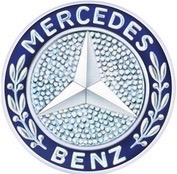 He 100 V8 was equipped with a highly-modified version of the Daimler-Benz DB 601A, a liquid-cooled, direct-injected and supercharged 33.929 liter (2,075.497-cubic-inches), inverted single-"underhead"-camshaft 60° V-12 engine with four valves per cylinder and a compression ratio of 6.9:1. The supercharger was driven hydraulically. The standard production engine was rated at 970 horsepower at 2,300 r.p.m. at 12,000 feet (3,658 meters), and 1,050 horsepower at 2,400 r.p.m. for takeoff (limited by a clockwork mechanism to 1 minute), using 87-octane gasoline. The propeller reduction gear ratio was 14:9. The DB 601A was 67.5 inches (1.715 meters) long, 40.5 inches (1.029 meters) high and 29.1 inches (0.739 meters) wide. It weighed 1,610 pounds (730.3 kilograms).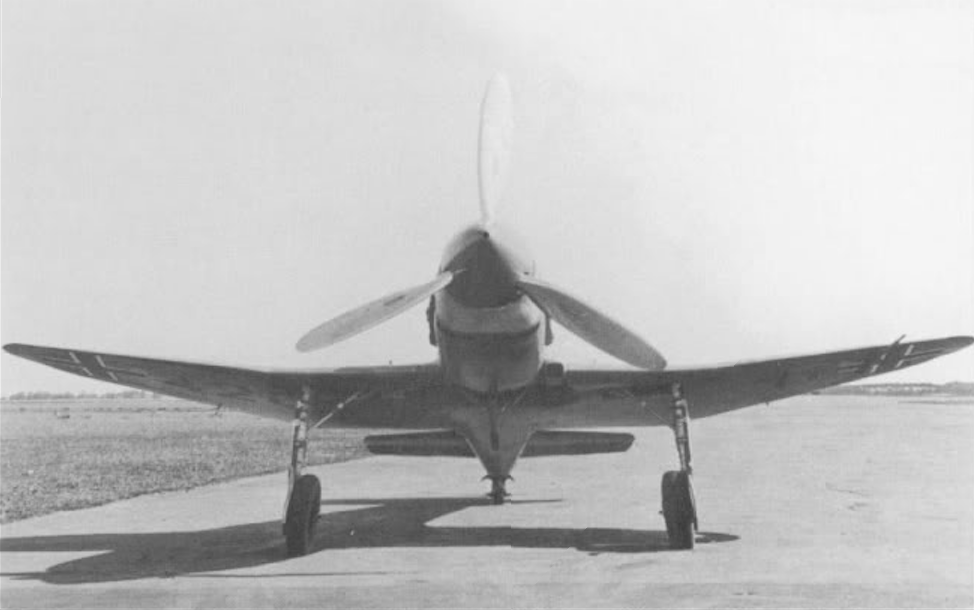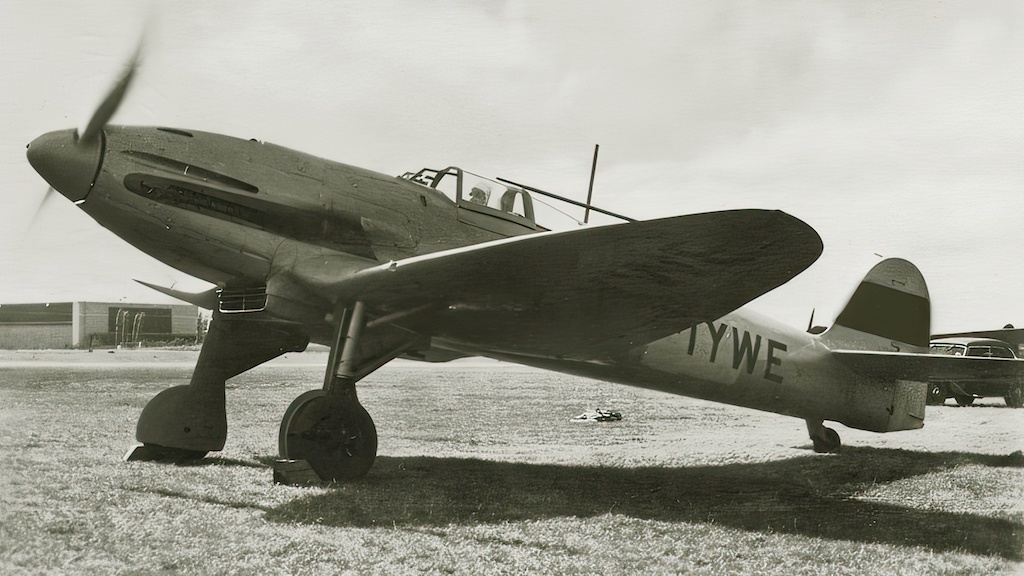 The modified DB 601A engine installed in D-IDGH used methyl alcohol injection and produced 1,800 horsepower at 3,000 r.p.m., although its service life was just 30 minutes. It drove a three-bladed Vereinigte Deutsche Metallwerke (V.D.M.) electrically-controlled, variable-pitch propeller through a 14:9 gear reduction.
He 100 V8 was painted overall gray and carried its civil registration as well as Balkenkreuz markings with identification 42C+11. It was later painted dark blue with gray undersides and Luftwaffe markings. D-IDGH was displayed at the Deutsches Museum, Munich, Germany.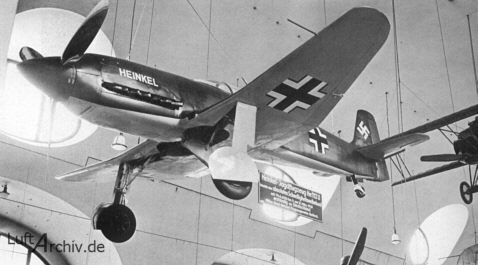 The Heinkel He 100 was a single-place, single-engine fighter which was produced in very small numbers. It was a more complex aircraft than the Messerschmitt Bf 109, which was already in production. For example, it used a system of surface-mounted evaporative coolers in the wings, rather than radiators, in an effort to reduce drag.
The production He 100D-1 was 26 feet, 11 inches (8.204 meters) long with a wingspan of 30 feet, 10 inches (9.398 meters) and overall height of 11 feet, 10 inches (3.607 meters). It was armed with one 20 mm autocannon and two 7.92 mm machine guns.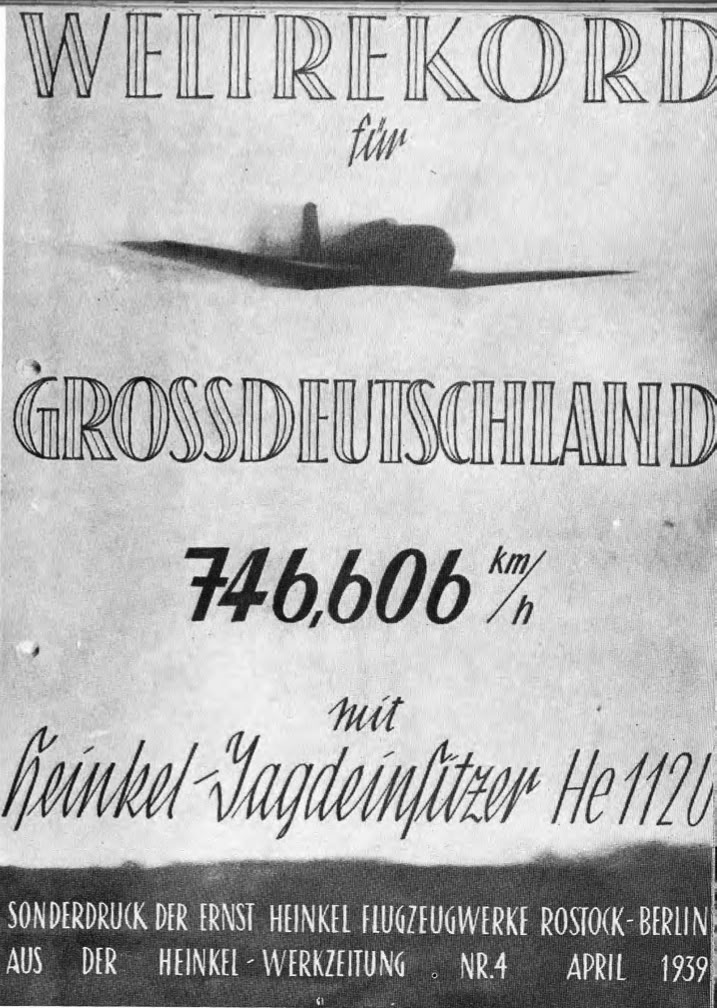 ¹ FAI Record File Number 8744
² FAI Record File Number 8747
³ FAI Record File Number 8743
© 2019, Bryan R. Swopes