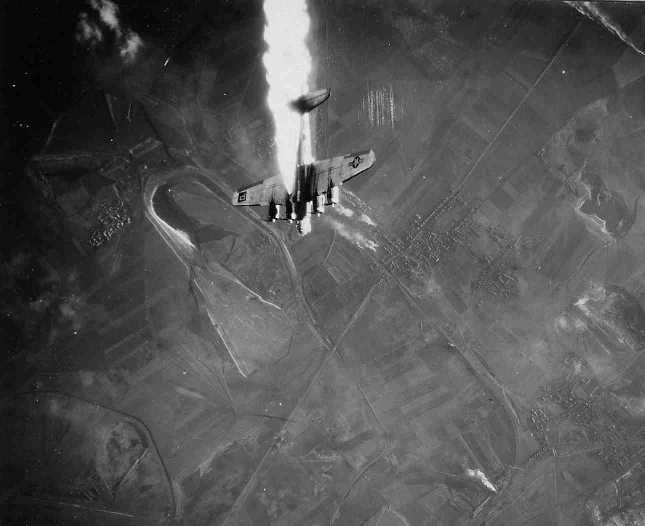 30 November 1944: In another iconic photograph from World War II, this Boeing B-17 Flying Fortress, B-17G-75-BO 43-37877, of the 836th Bombardment Squadron (Heavy), 487th Bombardment Group (Heavy), was hit by anti-aircraft artillery just after bomb release near Merseburg, Sachsen-Anhalt, Germany, at 1314 GMT, 30 November 1944.
43-37877 was crewed by 1st Lieutenant Lloyd W. Kersten, Pilot; 1st Lieutenant Henry E. Gerland, Co-Pilot; 1st Lieutenant James Hyland, Navigator; 1st Lieutenant Warren R. Ritchhart, Bombardier; Technical Sergeant Arnold R. Shegal, Flight Engineer/Gunner; Staff Sergeant Everett S. Morrison, Ball Turret Gunner; Staff Sergeant Joseph M. Miller, Gunner; Staff Sergeant Maurice J. Sullivan, Tail Gunner.
The B-17 crashed near Halle, Sachsen-Anhalt. Seven of the crew were killed. Two, Lieutenants Hyland and Richart, were captured and held as prisoners of war.
43-37877 was built by the Boeing Airplane Company at its Plant II, south of downtown Seattle, Washington. It was delivered to the United Air Lines Modification Center at Cheyenne, Wyoming, on 31 May 1944. After completion of modifications, on 12 June the B-17 was flown to Hunter Army Air Field at Savannah, Georgia, and then on 3 July, to Dow Army Air Field at Bangor, Maine, where it was positioned to be ferried across the north Atlantic Ocean to England.
On 19 June the new bomber was assigned to the 379th Bombardment Group (Heavy), which was based at RAF Kimbolton (U.S. Army Air Force Station 117), west of Huntingdon in Cambridgeshire. Then on 4 July 1944, B-17G 43-32877 was reassigned to the 836th Bombardment Squadron (Heavy), 487th Bombardment Group (Heavy) at RAF Lavenham (AAF-137), north of Sudbury in Suffolk, England..
43-37877 was not camouflaged. It was marked with a white letter P in a black square on the vertical fin, indicating the 487th Bomb Group, along with a partial serial number, 333787. The side of the fuselage was marked 2G ✪ E, indicating that it was assigned to the 836th Bomb Squadron. The wing tips, vertical fin and rudder, and horizontal stabilizer and elevators were painted yellow.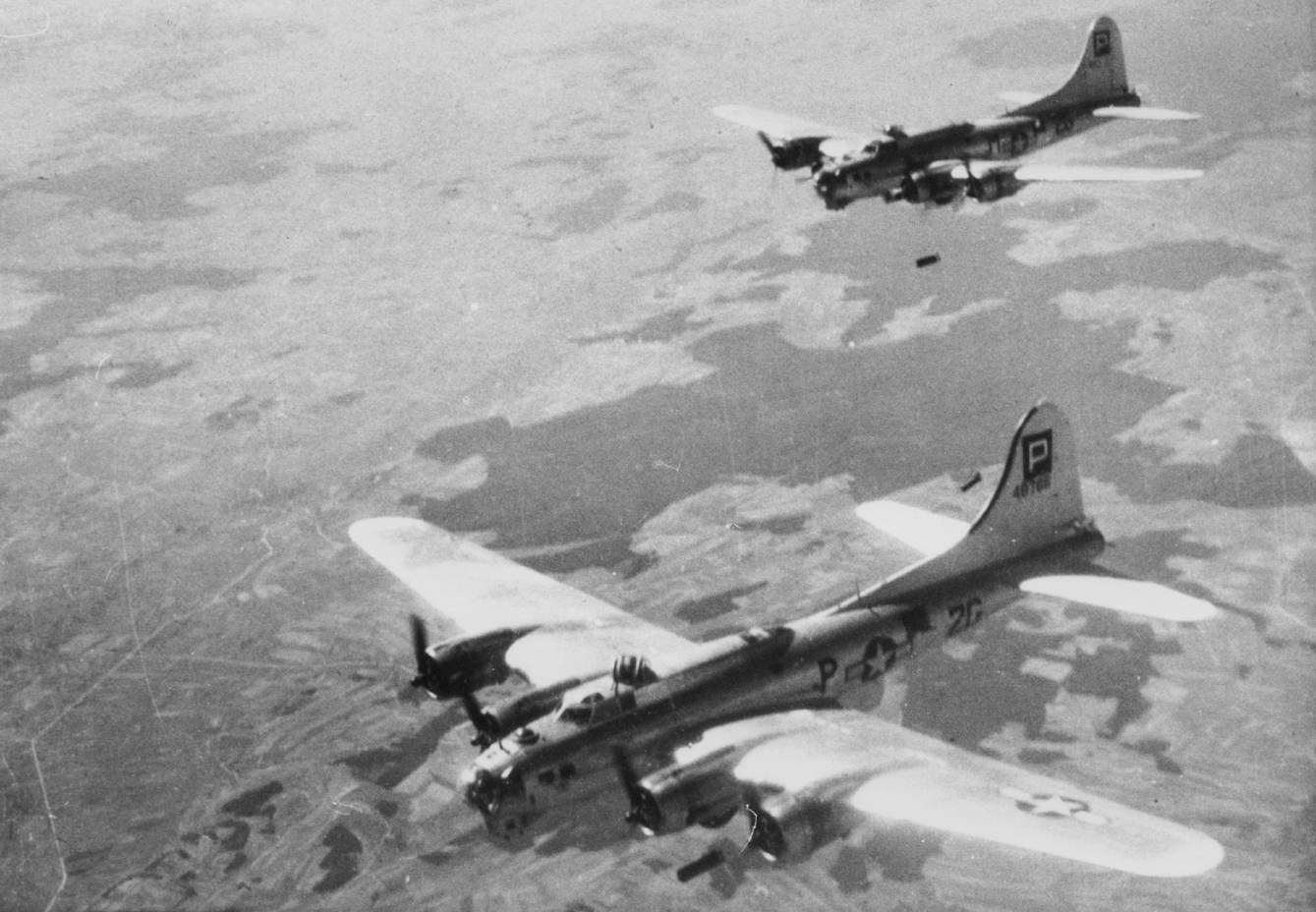 © 2018, Bryan R. Swopes