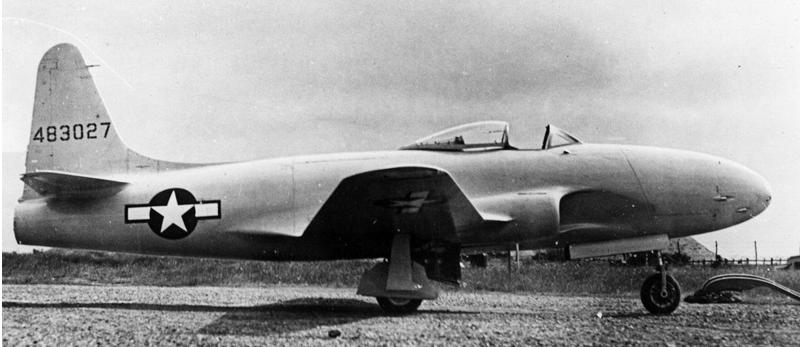 30 December 1944: Four service test Lockheed YP-80A Shooting Stars were sent to Europe in late World War II: Two, 44-83026 and 44-83027, arrived at RAF Burtonwood, Lancashire, England, 30 December 1944; and 44-83028 and 44-83029, were sent to Lesina, Italy, in late January 1945.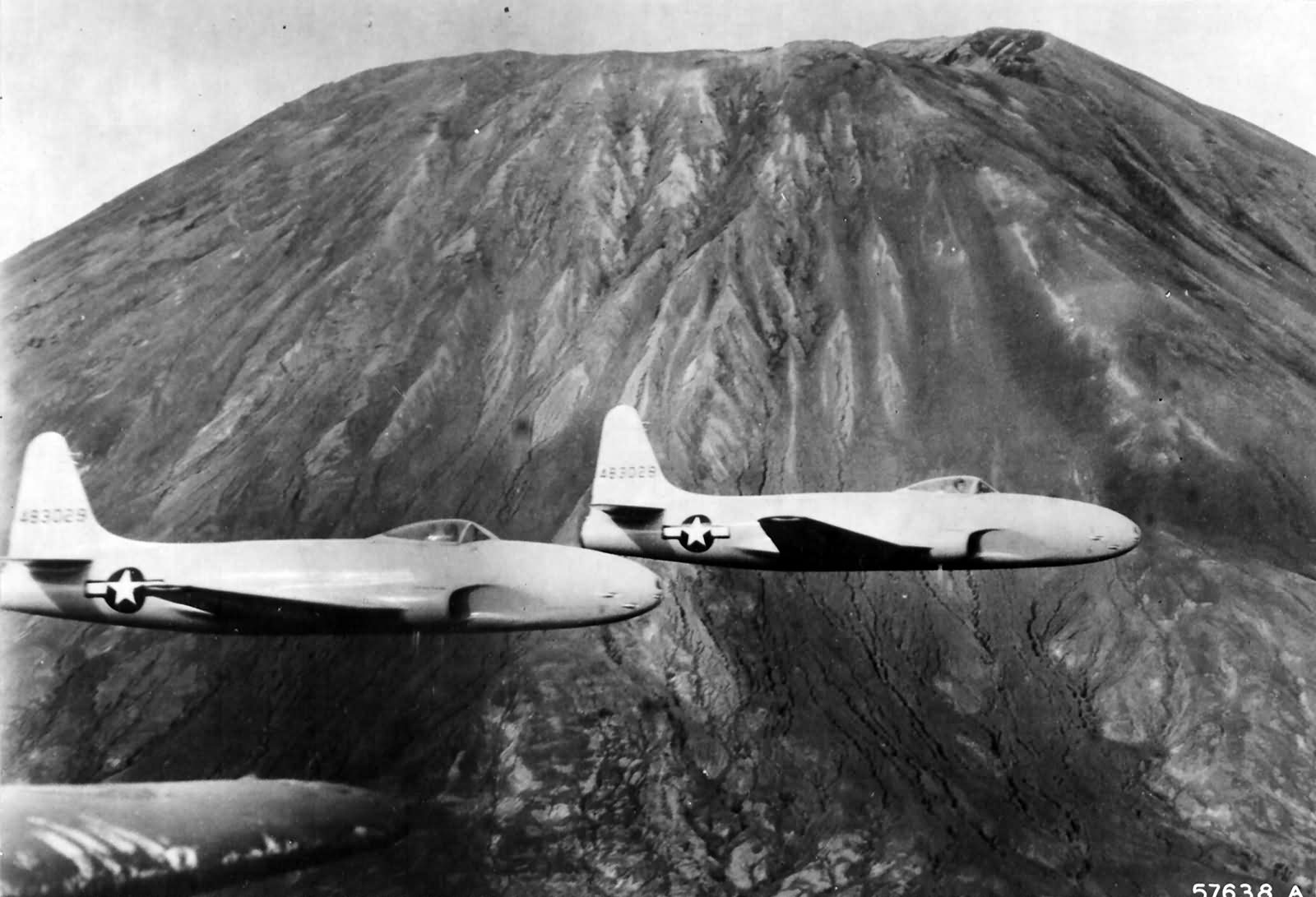 The prototype XP-80A, 44-83020, nicknamed Lulu-Belle, was first flown by test pilot Tony LeVier at Muroc Army Air Field (now known as Edwards AFB) 8 January 1944. The first YP-80A flew on 13 September 1944. Thirteen YP-80s were built before the aircraft was put into full production as the P-80A-1-LO.

On 28 January 1945, 44-83026 caught fire in flight. The airplane disintegrated and crashed at Bold, near Widnes, Cheshire, at 12:01 p.m. Its pilot, Wright Field test pilot Major Frederic Austin Borsodi, was killed.
The third YP-80A, 44-83027, was modified to install a prototype Rolls-Royce Nene B.41 engine. It crashed at Syerston, 14 November 1945. The airplane was damaged beyond repair.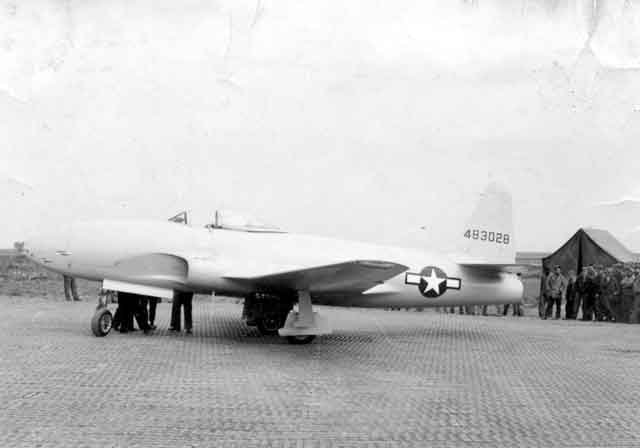 Both 44-83028 and 44-83029 were returned to the United States, 16 June 1945.-028 was latered converted to a pilotless drone. During a cross-country flight, -029 made a forced landing in rural West Virginia. The airplane was repaired and returned to service. It was destroyed in a crash near Brandenburg, Kentucky, 2 August 1945.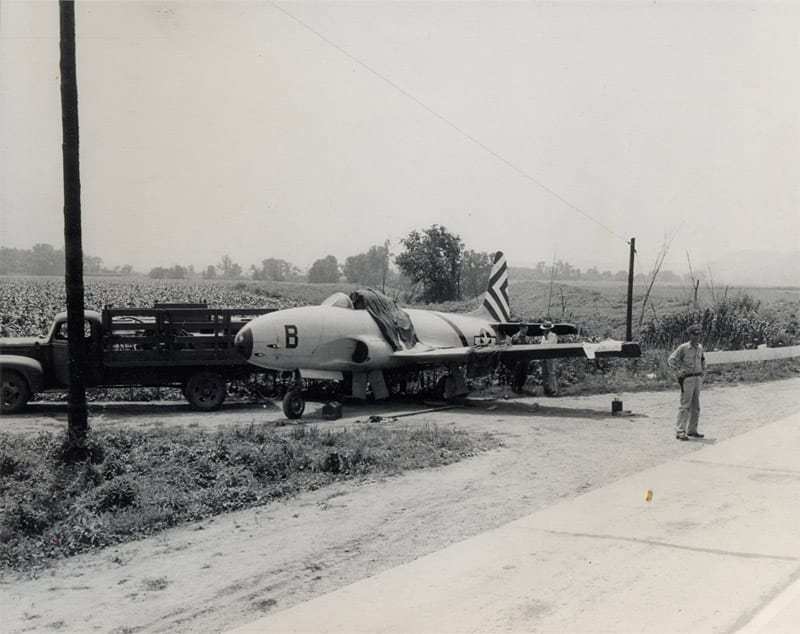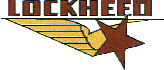 The Lockheed P-80-1-LO was the United States' first operational jet fighter. It was a single-seat, single engine airplane, designed by a team of engineers led by Clarence L. ("Kelly") Johnson. The prototype XP-80A, 44-83020, nicknamed Lulu-Belle, was first flown by test pilot Tony LeVier at Muroc Army Air Field (now known as Edwards AFB) 8 January 1944.
The P-80A was 34 feet, 6 inches (10.516 meters) long with a wingspan of 38 feet, 10.5 inches (37 feet, 7.5 inches with "clipped" wing tips) (11.849 or 11.468 meters) and an overall height of 11 feet, 4 inches (3.454 meters). The wings had 1° incidence with -1° 30° twist, and 3° 50′ dihedral. The leading edges were swept aft 9° 18′ 33″. The total wing area was 237.70 square feet (22.08 square meters). The P-80A weighed 7,920 pounds empty (3,593 kilograms) and had a maximum takeoff weight of 14,000 pounds (6,350 kilograms).

Early production P-80As were powered by either an Allison J33-A-9 or a General Electric J33-GE-11 turbojet engine. The J33 was a licensed version of the Rolls-Royce Derwent. It was a single-shaft turbojet with a 1-stage centrifugal compressor section and a 1-stage axial-flow turbine. The -9 and -11 engines were rated at 3,825 pounds of thrust (17.014 kilonewtons) at 11,500 r.p.m. They were 8 feet, 6.9 inches (2.614 meters) long, 4 feet, 2.5 inches (1.283 meters) in diameter and weighed 1,775 pounds (805 kilograms).
The P-80A-1 had a maximum speed of 510 miles per hour (821 kilometers per hour) at Sea Level, 520 miles per hour (837 kilometers per hour) at 20,000 feet (6,096 meters), and 495 miles per hour (797 kilometers per hour) at 40,000 feet (12,192 meters). The service ceiling was 45,000 feet (13,716 meters).
Several hundred of the early production P-80 Shooting stars had all of their surface seams filled, and the airplanes were primed and painted. Although this process added 60 pounds (27 kilograms) to the empty weight, the decrease in drag allowed a 10 mile per hour (16 kilometers per hour) increase in top speed. The painted surface was difficult to maintain in the field and the process was discontinued.
The P-80A Shooting Star was armed with six Browning AN-M3 .50-caliber aircraft machine guns mounted in the nose, with 300 rounds of ammunition per gun.
Frederic Austin Borsodi was born at Houston, Texas, 4 November 1916. He was the second of two sons of Victor Howard Borsodi, an immigrant from Austria and a government fuel contractor, and Lindsley Louise Snodgrass Borsodi.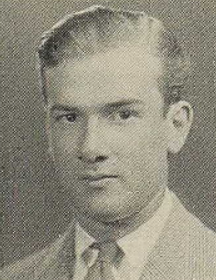 Borsodi studied at the Kincaid School, Houston, Texas, and The Hill School at Pottstown, Pennsylvania, where he graduated in 1935. He then attended the Sheffield Scientific School of Yale University in New Haven, Connecticut. In 1937, Borsodi traveled to England aboard RMS Queen Mary as a member of the Yale golf team. He graduated from Yale in 1939 with a bachelor of science degree.
Borsodi entered the United States Navy as an aviation cadet, 1 September 1939. He had brown hair and eyes, was 5 feet, 10 inches (1.78 meters) tall and weighed 160 pounds (72.6 kilograms). He trained as a pilot at the Naval Air Station, Pensacola, Florida, and was commissioned as an ensign, 15 May 1940.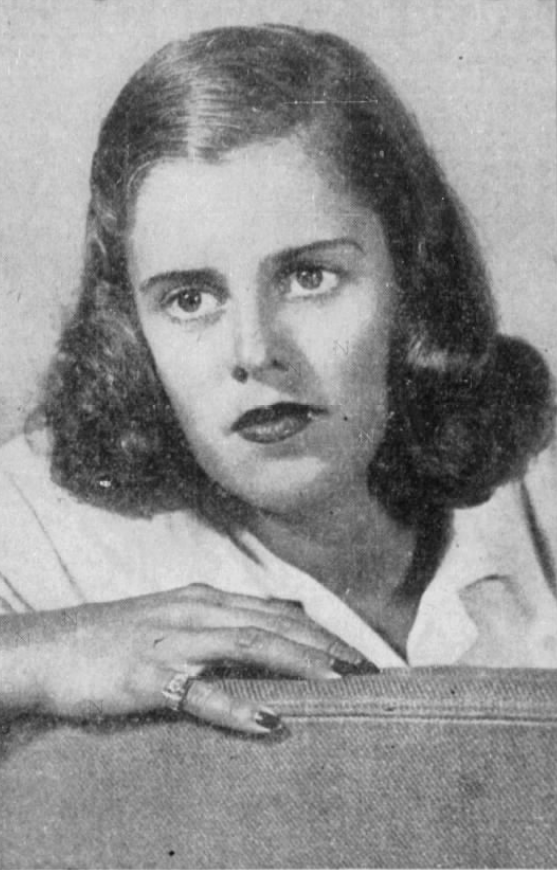 In January 1940, Aviation Cadet Borsodi became engaged to Miss Marcia Chase of Hartford, Connecticut. Miss Chase was a graduate of Smith College. Their wedding took place 8 June 1940 at the Asylum Hill Congregational Church in Hartford. They would have two daughters, Lindsley Chase and Barbara Chase Barsodi.
Ensign Borsodi was assigned to the battleship USS Nevada (BB-36), then based at Pearl Harbor, in July 1940. He and Mrs. Borsodi returned to the continental United States aboard SS Lurline, 25 September 1940.
On 12 April 1941, Ensign Borsodi was transferred to the Air Corps, United States Army, and commissioned a second lieutenant. Lieutenant Borsodi was assigned as an experimental test pilot at Pratt & Whitney Aircraft Corporation, from March to August 1941.
Borsodi was promoted to the rank of first lieutenant 12 November 1942.
Lieutenant Borsodi was assigned to the 86th Fighter Squadron, 79th Fighter Group, in North Africa during Operation Torch. During the Battle of the Mareth Line, in southern Tunisia, March 1943, Lieutenant Borsodi was flying a ground attack mission when his Curtiss-Wright P-40 was hit by anti-aircraft fire. On fire and unable to make it back to friendly lines, he was forced to bail out in the midst of the battle. A New Zealand tank crew rescued him and returned him to Allied lines.
Lieutenant Borsodi was promoted to captain, 10 April 1943. Captain Borsodi was credited with shooting down three enemy aircraft on 20 April 1943, including a Messerchmitt Bf 109 fighter and Junkers Ju 88 bomber. On 9 June 1943, he assisted in shooting down a fourth. He was awarded the Distinguished Flying Cross. Borsodi was promoted to major, 1 October 1943.
In November 1943, Major Borsodi returned to the United States, flying a captured enemy bomber. In January 1944, he was assigned as Chief, Fighter Test Branch, Air Technical Services Command, at Wright Field, Ohio.
Major Frederic Austin Borsodi, United States Army Air Forces, had been awarded the Distinguished Flying Cross with one oak leaf cluster (two awards); and the Air Medal with six oak leaf clusters (seven awards.) His remains were buried at the Cambridge American Cemetery and Memorial, Coton, Cambridgeshire, England.
© 2019, Bryan R. Swopes