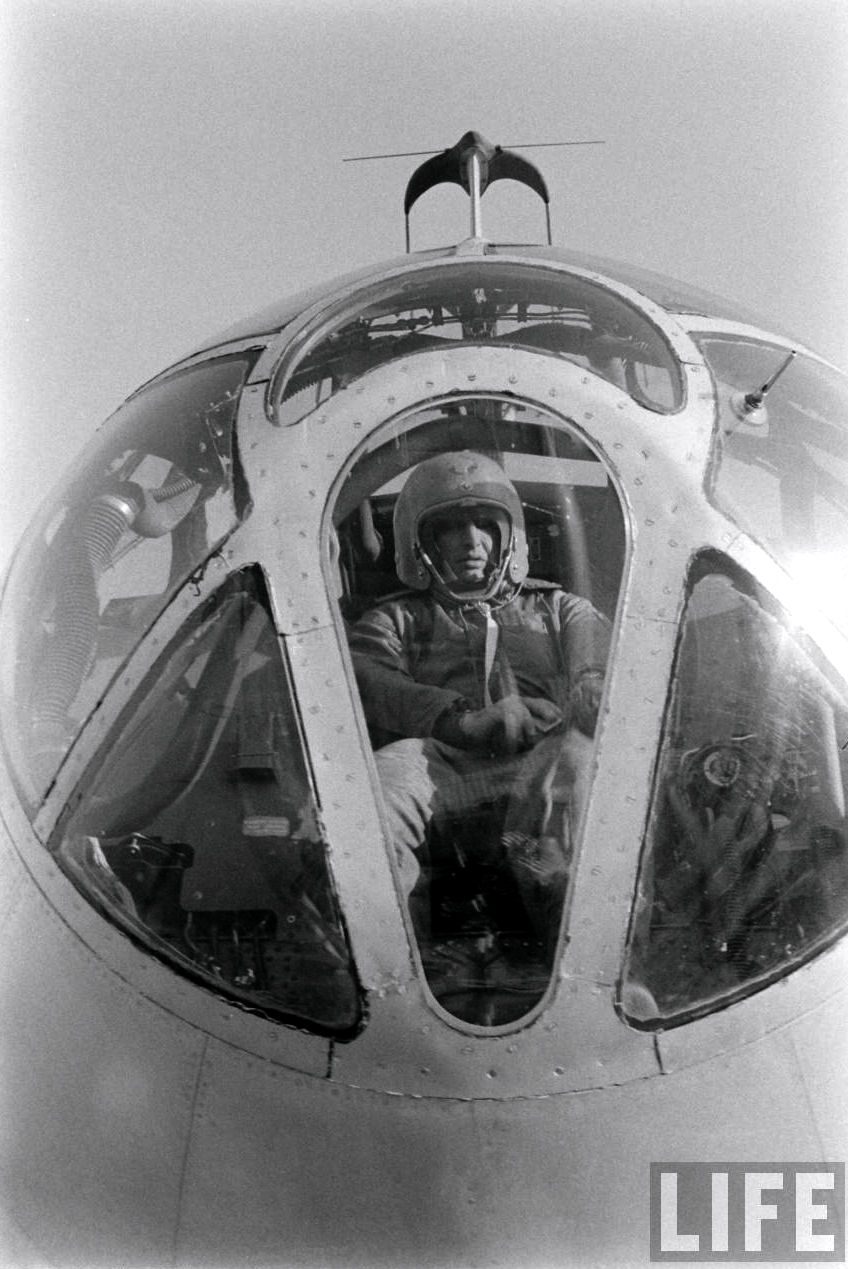 22 August 1953: After one successful glide flight with Bell Aircraft Corporation test pilot Skip Ziegler, the X-1D rocketplane, serial number 48-1386, was scheduled for its first powered flight with the Air Force project officer, Lieutenant Colonel Frank Kendall ("Pete") Everest.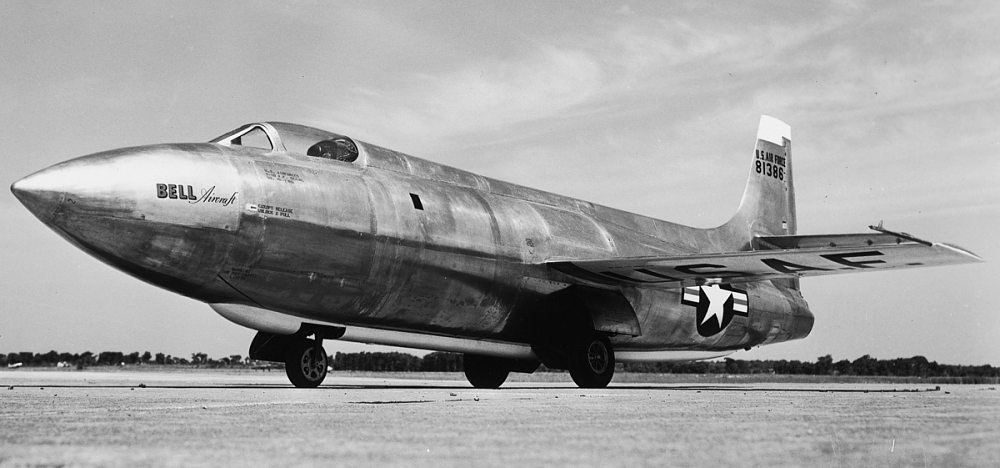 The Bell X-1D was one of four second-generation X-1 rocketplanes, each designed and built to investigate a different area of supersonic flight. The X-1D was instrumented for aerodynamic heating research.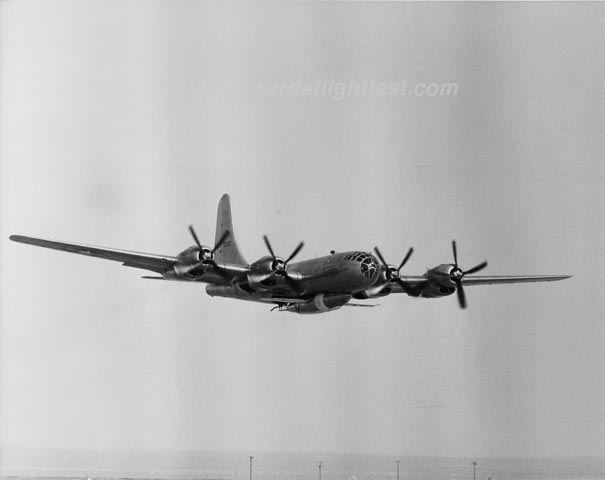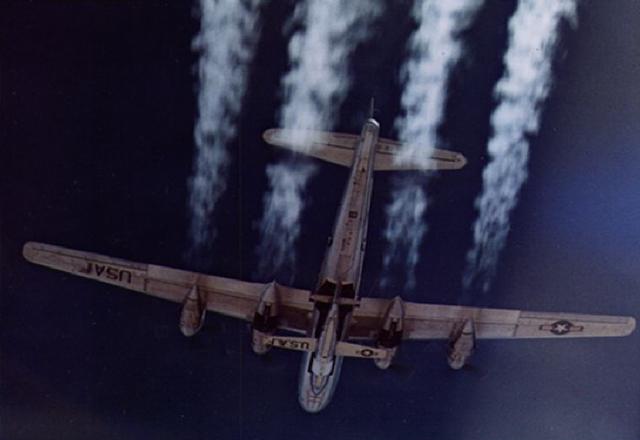 After being carried to altitude by the Boeing EB-50A Superfortress mothership, Pete Everest saw that the rocketplane's nitrogen pressure was dropping. (Pressurized nitrogen was used to push the ethyl alcohol/liquid oxygen propellant to the Reaction Motors XLR11-RM-5 engine.) With insufficient pressure, the X-1D's flight had to be cancelled. Everest tried to jettison the fuel so that a landing could be made safely. There was an internal explosion.
Fearing that a larger explosion or fire would jeopardize the bomber and its crew, Everest abandoned the X-1D, climbing up into the bomber. The X-1 was then dropped. It crashed onto the desert floor and exploded.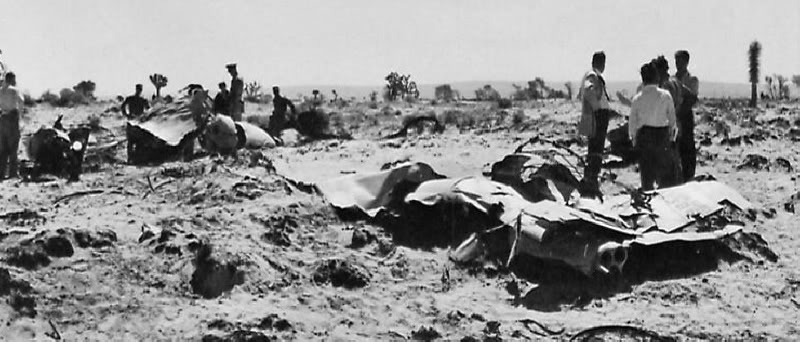 At first it was assumed that vapors from a fuel leak had exploded from contact with an electrical source inside the rocketplane. There had been three similar explosions which resulted in the destruction of the X-1A, X-1-3 and the number two Bell X-2. That explosion, which occurred while the X-2 was on a captive test flight near the Bell Aircraft Corporation Factory, Buffalo, New York, 12 May 1953, killed test pilot Skip Ziegler and flight test engineer Frank Wolko aboard the B-29 mothership.
Investigators discovered that leather gaskets which were used in the rocketplanes' fuel systems had been treated with tricresyl phospate (TCP). When this was exposed to liquid oxygen, an explosion could result. The leather gaskets were removed from the other rocketplanes and the explosions stopped.
Colonel Everest's close call was dramatized in the 1956 Toluca Productions motion picture, "Toward The Unknown," which starred Academy Award-winning actor William Holden as "Major Lincoln Bond," a fighter pilot, test pilot and former prisoner of war, all of which could describe Pete Everest.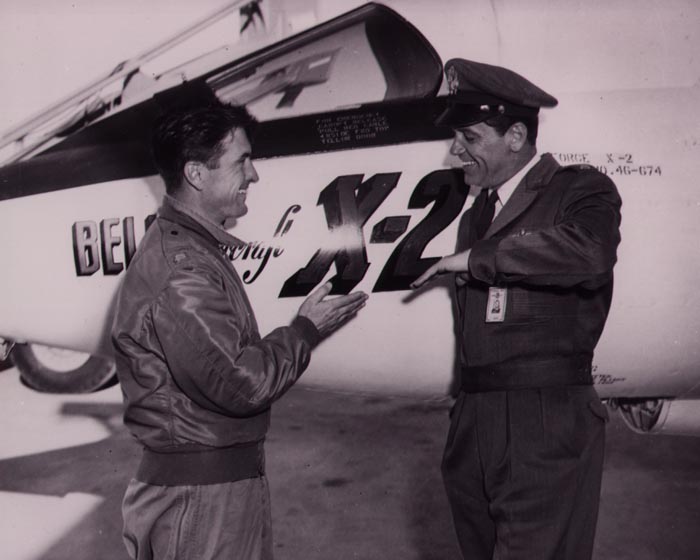 Frank Kendall ("Pete") Everest, Jr., was born 10 August 1920, at Fairmont, Marion County, West Virginia. He was the first of two children of Frank Kendall Everest, an electrician, and Phyllis Gail Walker Everest. He attended Fairmont Senior High School, Fairmont, West Virginia, graduating in 1938, and then Fairmont State Teachers College where he was a member of the Tau Beta Iota (ΤΒΙ) fraternity. Everest also studied engineering at the University of West Virginia in Morgantown.
Pete Everest enlisted as an aviation cadet in the United States Army Air Corps at Fort Hayes, Columbus, Ohio, 7 November 1941, shortly before the United States entered World War II. His enlistment records indicate that he was 5 feet, 7 inches (1.70 meters) tall and weighed 132 pounds (60 kilograms). Everest graduated from pilot training and was commissioned as a second lieutenant, Air Reserve, 3 July 1942.
Lieutenant Everest married Miss Avis June Mason in Marion County, West Virginia, 8 July 1942. They would have three children, Frank, Vicky and Cindy.
Lieutenant Everest was appointed first lieutenant, Army of the United States (A.U.S.), 11 November 1942. He was assigned as a Curtiss-Wright P-40 Warhawk fighter pilot. Everest flew 94 combat missions with the 314th Fighter Squadron, 324th Fighter Group, in North Africa, Sicily and Italy. He was credited with shooting down two Luftwaffe Junkers Ju-52 transports, 18 April 1943, and damaging a third. Everest was promoted to the rank of captain, A.U.S., 17 August 1943.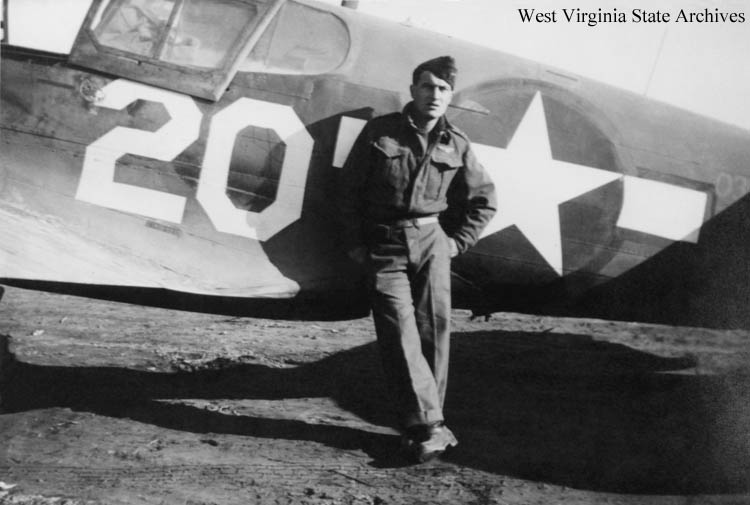 In 1944, Captain Everest was returned to the United States to serve as a flight instructor. He requested a return to combat and was then sent to the China-Burma-India theater of operations, commanding the 17th Provisional Fighter Squadron at Chenkiang (Zhenjiang), China, where he flew 67 missions in the North American P-51 Mustang, and shot down four Japanese airplanes. He was himself shot down by ground fire in May 1945. Everest was captured by the Japanese and suffered torture and inhumane conditions before being freed at the end of the war. He was promoted to the rank of major, A.U.S., 1 July 1945. He was returned to the control of the United States military 3 October 1945.
After the war, Major Everest was assigned as a test pilot at Wright-Patterson Air Force Base, Ohio, before going west to the Air Force Flight Test Center at Edwards Air Force Base, California.
Everest's permanent rank was advanced from second lieutenant, Air Reserve, to first lieutenant, Air Corps, 19 June 1947, with date of rank retroactive to 3 July 1945.
At Edwards, Pete Everest was involved in nearly every flight test program, flying the F-88, F-92, F-100 (he flew the YF-100A prototype to an FAI world speed record, 29 October 1953 ¹), F-101, F-102, F-104 and F-105 fighters, the XB-51, YB-52, B-57 and B-66 bombers. He also flew the pure research aircraft, the "X planes:" the X-1, X-1B, X-2, X-3, X-4 and X-5. Pete Everest flew the Bell X-1B to Mach 2.3, and he set an unofficial world speed record with the Bell X-2 at Mach 2.87 (1,957 miles per hour, 3,150 kilometers per hour), which earned him the title, "The Fastest Man Alive." He was the pilot on thirteen of the twenty X-2 flights.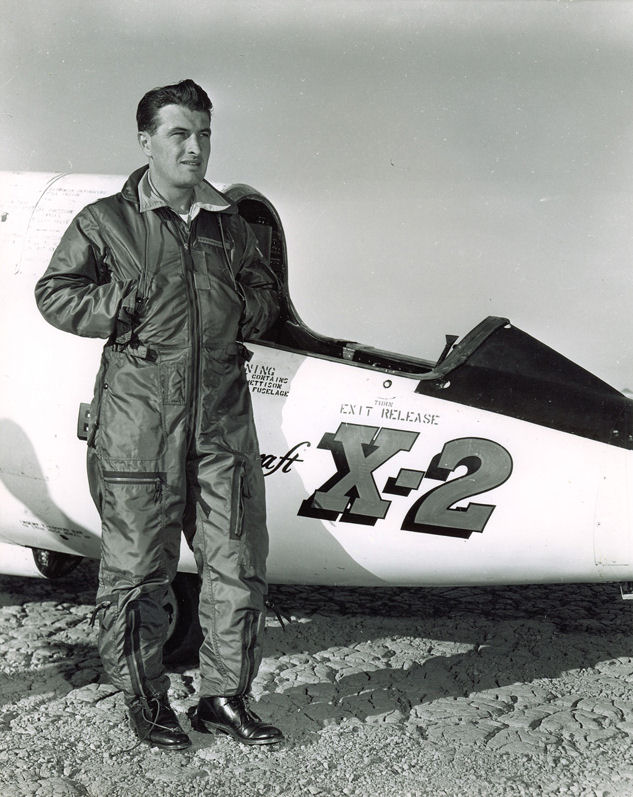 Frank Everest returned to operational assignments in March 1957, commanding the 461st Fighter Squadron, 36th Fighter Wing, equipped with the F-100 Super Sabre, at Hahn Air Base, Germany. Later, Colonel Everest commanded the 4453rd and 4520th Combat Crew Training Wings, and was assigned staff positions at the Pentagon. On 20 November 1963, Colonel Everest, commanding the 4453rd Combat Crew Training Squadron, flew one of the first two operational McDonnell F-4C Phantom II fighters from the factory in St. Louis to MacDill Air Force Base, Florida.
On 1 November 1965, Pete Everest was promoted to the rank of brigadier general. Between 1966 and 1972, General Everest flew 32 combat missions over Southeast Asia.
He served as commander of the Aerospace Rescue and Recovery Service from 1970 to 1973. He retired from the Air Force 1 March 1973 after 33 years of service. Pete Everest later worked as a test pilot for Sikorsky Aircraft.
During his military career, General Everest was awarded the Air Force Distinguished Service Medal; Legion of Merit with two oak leaf clusters (three awards); Distinguished Flying Cross with two oak leaf clusters (three awards); Purple Heart; Air Medal with one silver and two bronze oak leaf clusters (seven awards); Air Force Commendation Medal with one oak leaf cluster (two awards); Presidential Unit Citation with two bronze oak leaf clusters (three awards); Air Force Gallant Unit Citation; Prisoner of War Medal; American Campaign Medal; European-African-Middle Eastern Campaign medal with four bronze stars; Asiatic-Pacific campaign Medal with two bronze stars; World War II Victory Medal; national Defense Service Medal; Armed Forces Expeditionary Medal; Vietnam Service Medal; Air Force Longevity Service Award with one silver and two bronze oak leaf clusters (eight awards); Air Force Small Arms Expert Marksmanship Ribbon; and the Republic of Vietnam Campaign Medal with 1960– device. General Everest was rated as a Command Pilot, and a Basic Parachutist.
Brigadier General Frank Kendall Everest, Jr., United States Air Force, died at Tucson, Arizona, 1 October 2004, at the age of 84 years.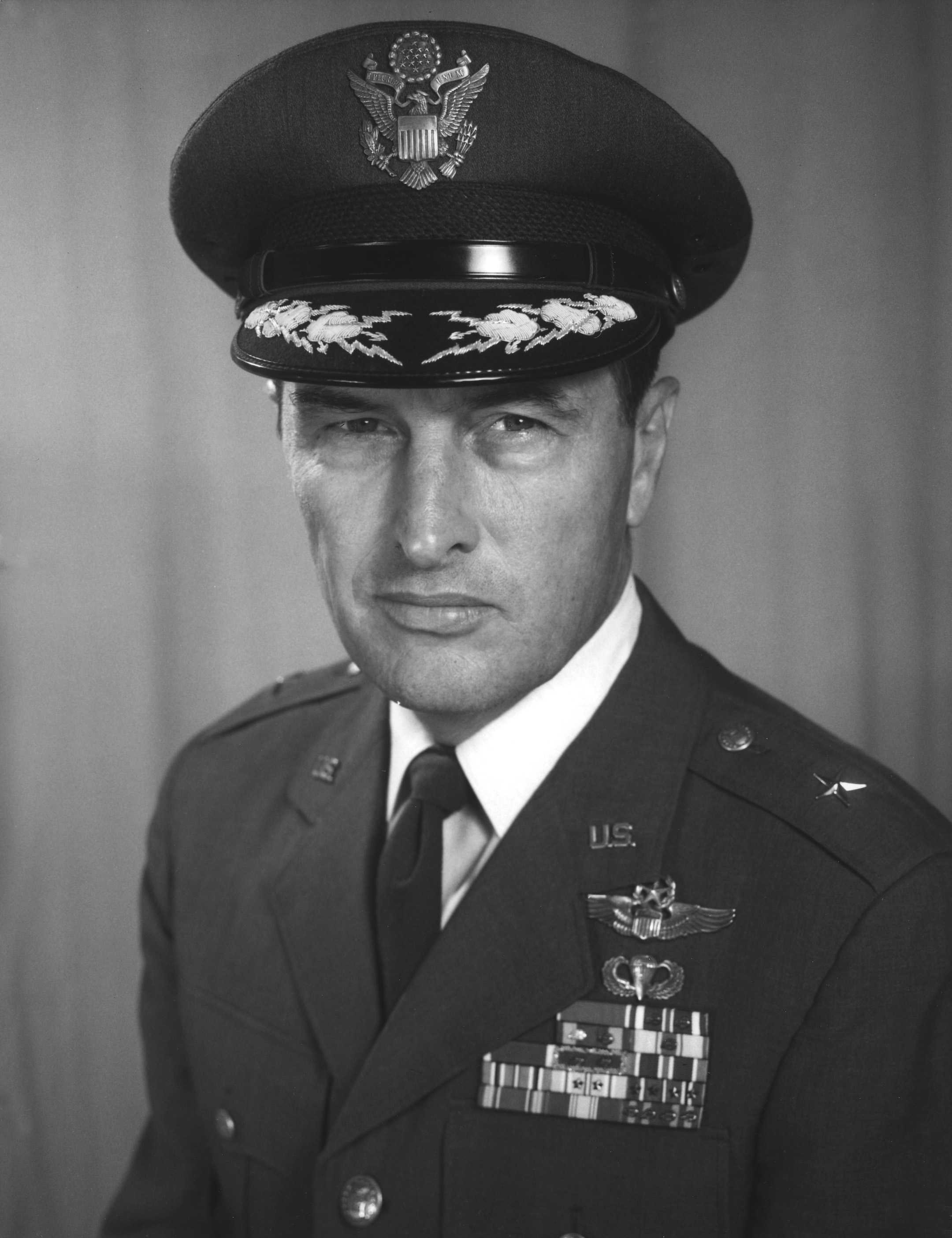 ¹ FAI Record File Number 8868: World Record for Speed Over a Straight 15/25 Kilometer Course, 1,215.298 kilometers per hour (755.151 miles per hour)
© 2017, Bryan R. Swopes