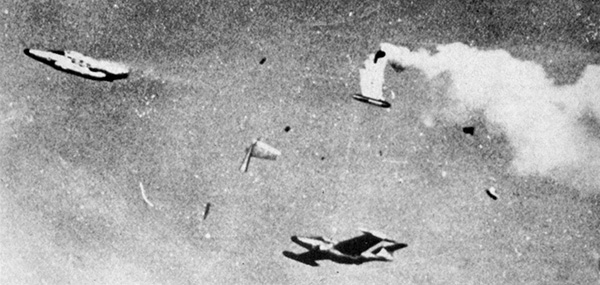 30 August 1952: At 4:40 p.m., a tragic accident occurred during a fly-by of two new United States Air Force Northrop F-89C Scorpion all weather interceptors at the International Aviation Exposition at Detroit, Michigan.
Two F-89Cs of the 27th Fighter Interceptor Squadron, 4711th Defense Wing, based at Griffis Air Force Base, Rome, New York, made a low-altitude, high speed pass in full view of 51,000 spectators, including General Hoyt S. Vandenberg, then serving his second term as Chief of Staff, United States Air Force. Suddenly, the left wing of the lead interceptor separated. The tail also broke away and the fighter crashed and exploded. In the resulting fire, the Scorpion's 20 millimeter cannon shells detonated.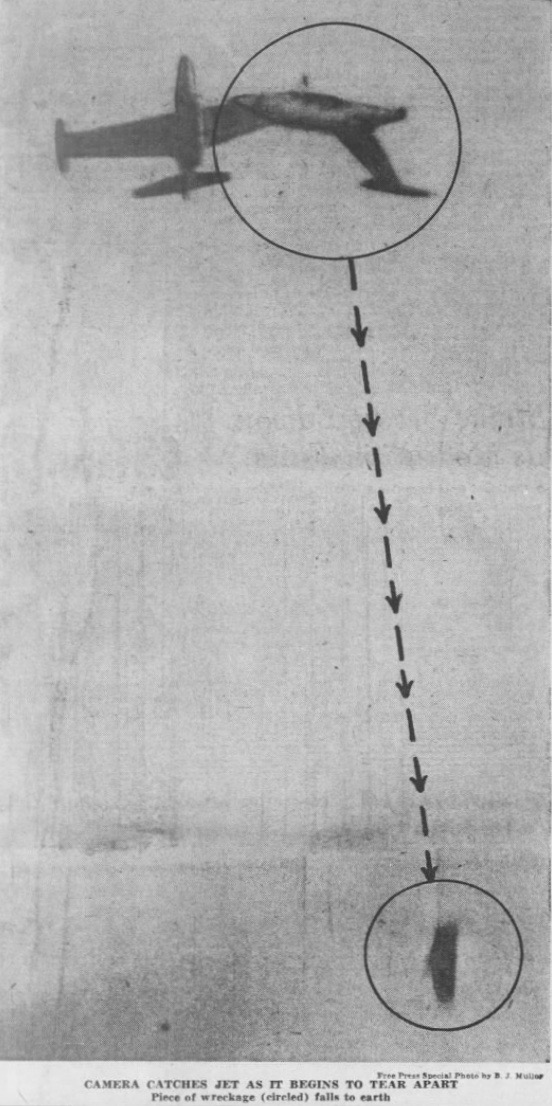 A local newspaper reported:
The crash occurred 4:40 p.m., toward the end of the day's show.
     Adams and Richter were swooping down over the field in a "fly-by," or speed run, Adams flying to one side and slightly to the rear of Recher.
     Suddenly, Adams' plane swerved to the right. A piece was seen to break off, then an instant later the right wing tore off.
     As the pilot struggled to gain altitude, the left wing and tail section ripped off, and the hurtling fuselage continued across the field. It crashed between the railroad tracks and the Willow Run Expressway.
     It ripped up tracks, fences and telephone lines. Heat from the burning wreck turned the rails cherry red.
     Two passenger trains, eastbound and westbound, screeched to a halt to avoid piling into the wreckage. Railroad service was delayed an hour until tracks were repaired. . .

     AIR FORCE OFFICIALS theorized that the crash was probably caused by turbulent air near the ground added to the stress put on the plane by the maneuver, plus the added thrust of the afterburners, devices which give added "push" to the jet.
Gen. Hoyt S. Vandenberg, Air Force chief of staff, said, "This is one of the strongest airplanes that has ever been built, but there are some things you just can't build against."
—The Detroit Free Press, Sunday, 31 August 1952, Vol.122, No. 118, Page 4, Columns 2–3
Major Donald E. Adams, a fighter ace who had won the Silver Star in Korea just months earlier, was killed, along with Captain Edward F. Kelly, Jr., the radar intercept officer. Five people on the ground were injured by falling wreckage.
The second F-89 was flown by Major John Recher and Captain Thomas Myslicki. They landed immediately at Selfridge Air Force Base.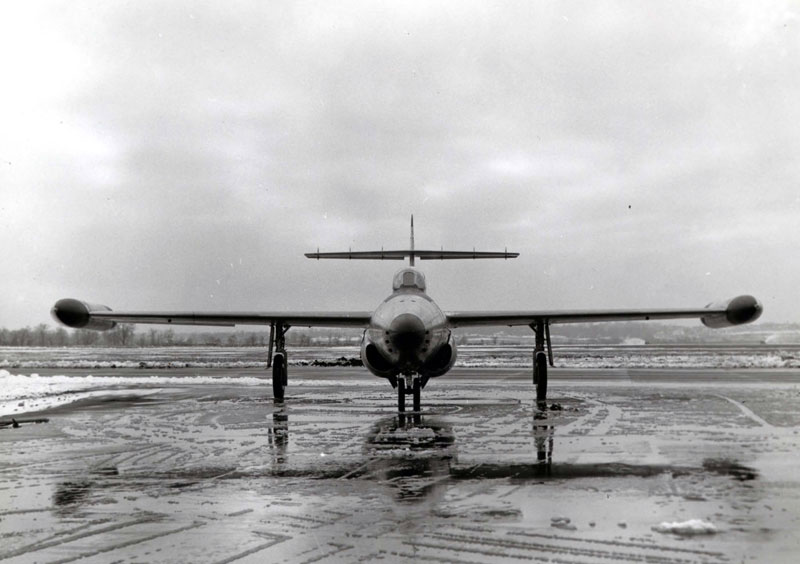 This was not the first wing failure in an F-89C, nor the last. The Air Force grounded the Scorpions and ordered Northrop to return the airplanes to the factory or to modification centers using the company's pilots. Northrop engineers began an intensive investigation to discover the cause of these catastrophic failures.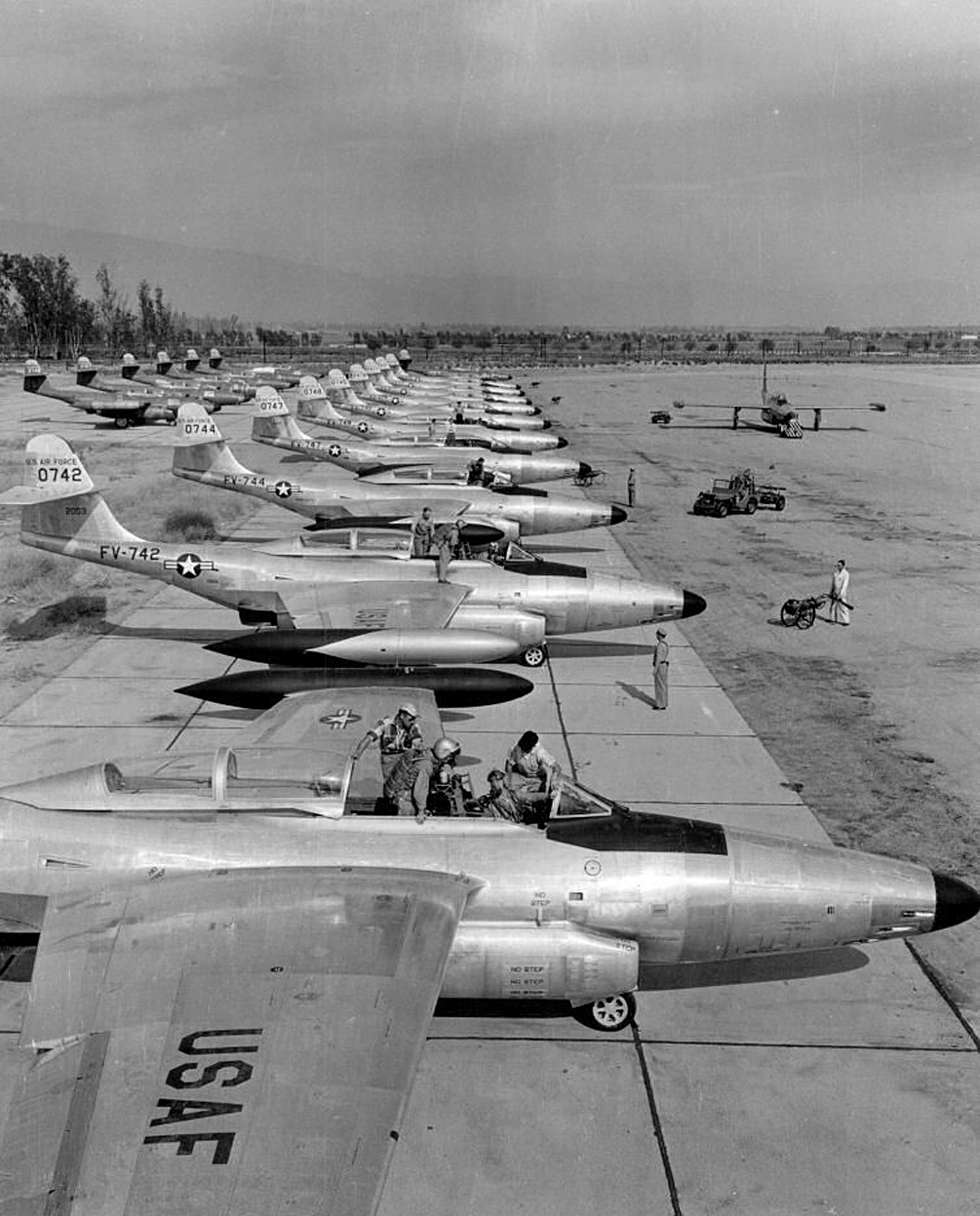 When designing the airplane, engineers tried to use materials that provided the greatest strength at the lightest weight. A new aluminum alloy had been used for the wing attachment fittings. This material had properties that weren't understood at the time, but when subjected to certain types of dynamic loads, it could fatigue and become brittle rapidly. It was also very sensitive to surface imperfections, such as scratches or machining marks, that could rapidly propagate fatigue fractures.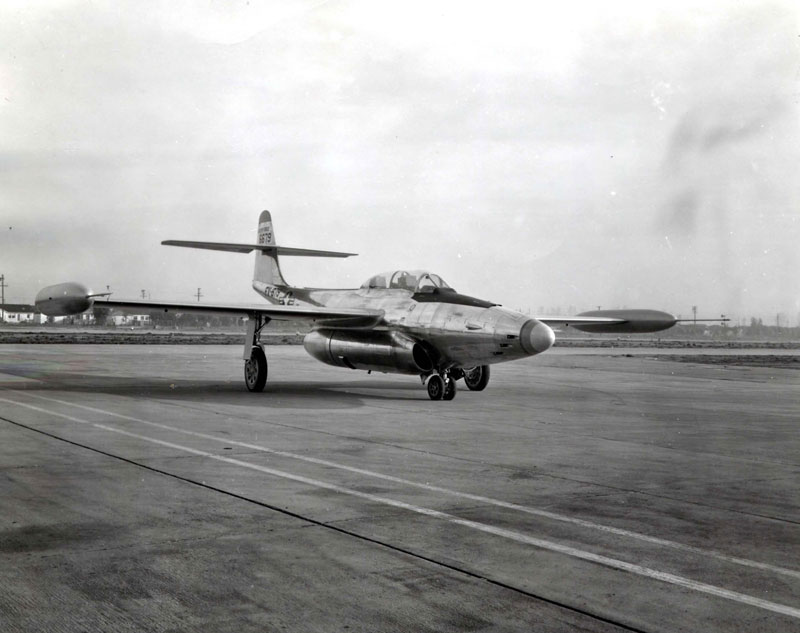 A second problem was that, under certain conditions, the Scorpion's wings could enter a sequence of rapidly increasing oscillations, actually twisting the wing. This occurred so quickly that a pilot was not likely to see it happening. The twisting motion focused on the wing attachment points, and resulted in a catastrophic failure.
Northrop redesigned the wing to reduce the oscillation, and replaced the aluminum attachment fittings with new ones made of forged steel.
The F-89 was returned to service and became a very reliable airplane.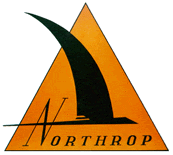 Major Adams' Scorpion, Northrop F-89C-30-NO 51-5781, was a two-place, twin-engine, all weather interceptor, designed as a replacement for the World War II-era Northrop P-61 Black Widow night fighter. It was operated by a pilot and a radar intercept operator. The F-89C was 53 feet, 5 inches (16.281 meters) long with a wingspan of 56 feet, 0 inches (17.069 meters) and overall height of 17 feet, 6 inches (5.334 meters). The wings' leading edges were swept aft 5° 8′. There was 1° dihedral, and the angle of incidence was 1° 30′. There was no twist. The total wing area was 638.0 square feet (59.27 square meters). The F-89C had an empty weight was 24,958 pounds (11,321 kilograms) and maximum takeoff weight of 37,619 pounds (17,064 kilograms).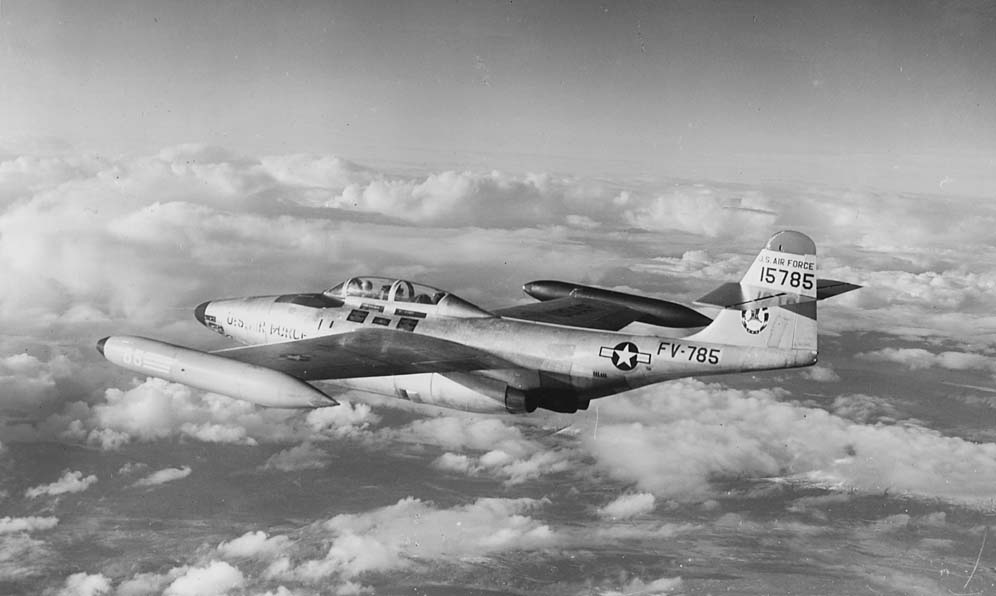 The F-89C was powered by two Allison J35-A-21B or J35-A-33A afterburning turbojet engines. The J35 was a single-spool, axial-flow turbojet with an 11-stage compressor section, 8 combustion chambers, and single-stage turbine. The J35-A-33 had a maximum continuous power rating of 4,800 pounds of thrust (21.35 kilonewtons) at 7,650 rpm. Its military power rating was 5,400 pounds of thrust (24.02 kilonewtons) at 8,000 r.p.m. (30-minute limit), and it produced a maximum 6,950 pounds (30.92 kilonewtons) at 8,000 r.p.m. with afterburner (5-minute limit). The J35-A-33A was 3 feet, 1 inch (0.940 meters) in diameter, 16 feet, 3.5 inches (4.953 meters) long, and weighed 2,725 pounds (1,236 kilograms).
It had a maximum speed of 547 knots (629 miles per hour/1,013 kilometers per hour) at 10,550 feet (3,216 meters). It could climb to 40,000 feet (12,192 meters) in 8.4 minutes, and 50,000 feet (15,240) in 17.5 minutes. The service ceiling was 51,550 feet (15,712 meters) and combat radius 297 nautical miles (342 statute miles/550 kilometers). The maximum ferry range was 768 nautical miles (884 statute miles (1,422 kilometers).
The interceptor was armed with six  M24A-1 20 mm autocannon in the nose, with 200 rounds of ammunition per gun.
Northrop Corporation built 1,050 F-89 Scorpions. 164 of these were F-89Cs. Variants produced after the F-89C deleted the six cannon in the nose and used aerial rockets instead. Scorpions served the Air Force and Air National Guard in the air defense role until 1969.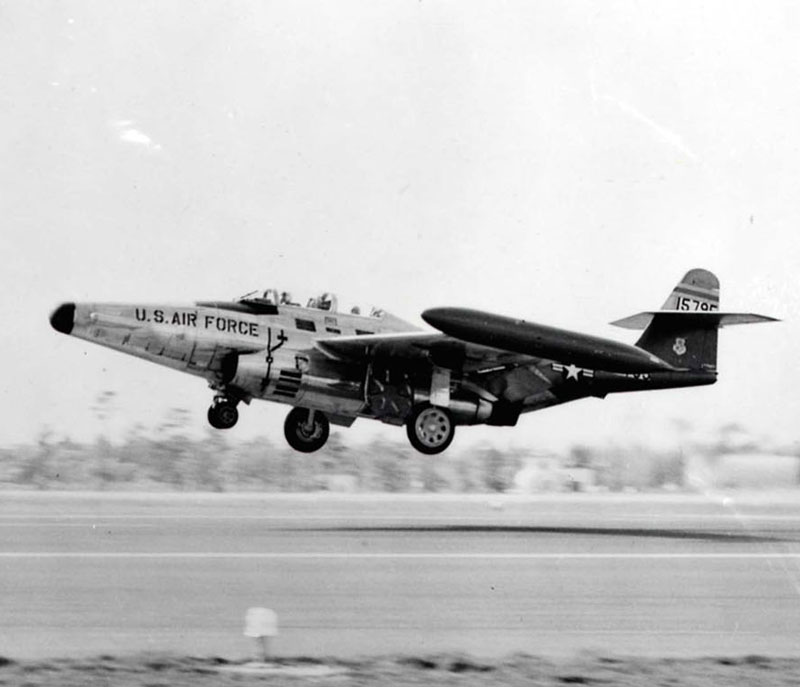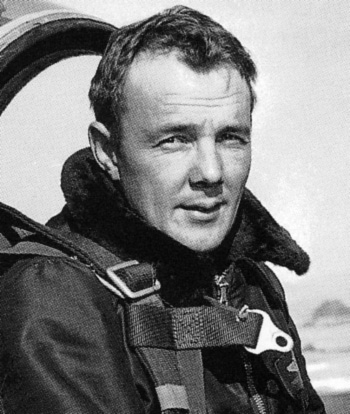 Donald Earl Adams was born 23 February 1921 at Canton, New York. He was the first of two sons of Alonzo Deys Adams, a wallpaper and paint salesman, and Mae C. Hurd Adams.
Adams attended Western State Teachers College, Kalamazoo, Michigan. He was a member of the baseball, boxing and wrestling teams.
After graduating from college, Adams enlisted as a private, Enlisted Reserve Corps, at Rochester, New York, 10 October 1942. He was 6 feet, 0 inches (1.83 meters) tall and weighed 155 pounds (70 kilograms). Private Adams was appointed an Aviation Cadet, 18 November 1942.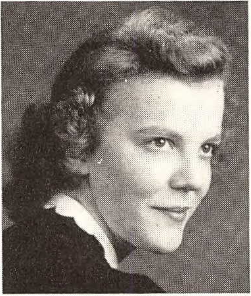 On 13 February 1943, at Montgomery, Alabama, Adams married Miss Mary Ann Lewark, the 21-year-old daughter of Mr. and Mrs. Glenn W. Lewark, and a graduate of Western Michigan College at Kalamazoo. They would have three children, Donald, Nancy and Steven.
On completion of flight training, Cadet Adams was commissioned as a Second Lieutenant, Army of the United States (A.U.S.), 30 August 1943.
Lieutenant Adams was assigned as a flight instructor until July 1944, when he underwent operational training as a P-51 Mustang fighter pilot.
Second Lieutenant Adams joined the 343rd Fighter Squadron, 55th Fighter Group, at RAF Wormingford (Air Force Station 131), Hertfordshire, in February 1945. He was assigned a North American Aviation P-51D-15-NA Mustang, 44-15372, with squadron markings CY R. He named his fighter Sweet Mary, after his wife. Adams is credited with destroying a Messerschmitt Bf 109 and Me 410 and damaging a second Bf 109, in strafing attacks on the afternoon of 9 April 1945, and a second Bf 109 damaged, 17 April 1945. He was promoted to First Lieutenant, A.U.S., 2 May 1945.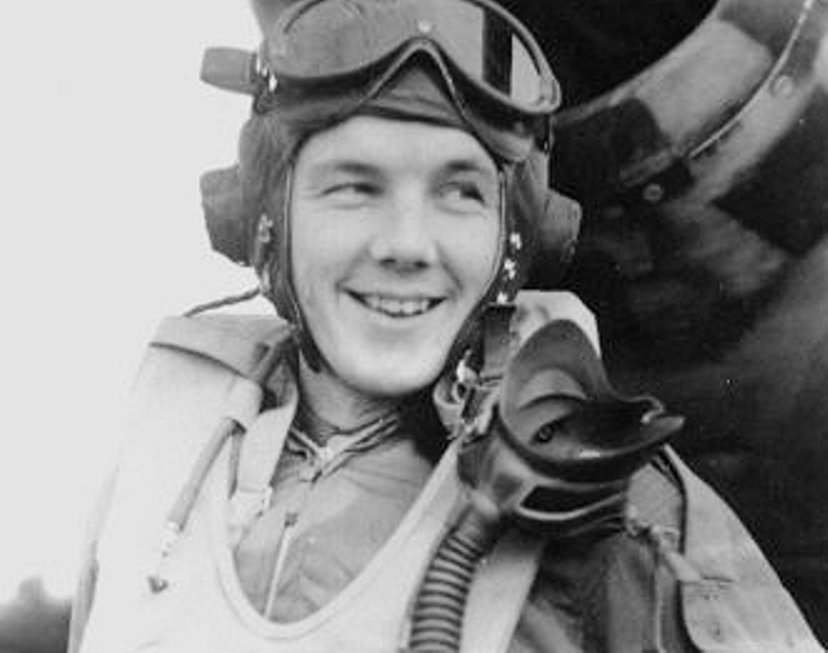 On 24 August 1946, Lieutenant Adams was appointed a second lieutenant, Field Artillery, with date of rank to 30 August 1943, his original commissioning date. In November 1946, Lieutenant Adams was assigned to the 307th Fighter Squadron, 31st Fighter Group, on occupation duty at Kitzigen Army Airfield in Bavaria. The 307th was one of the first units to be equipped with the Lockheed P-80A Shooting Star jet fighter. On 1 May 1947, Lieutenant Adams was transferred to the Air Corps.
Returning to the United States in June 1947, Lieutenant Adams was assigned to the 62nd Fighter Squadron, 56th Fighter Group, at Selfridge Air Force Base, near Mount Clemens, Michigan. The squadron flew P-80s and F-86 Sabres.
In October 1951, Major Adams joined the 16th Fighter-Interceptor Squadron, 51st Fighter-Interceptor Group, at Suwon Air Base (K-13), Republic of South Korea, flying the North American Aviation F-86 Sabre.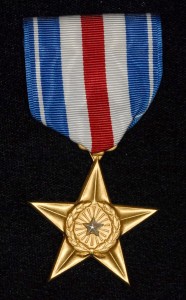 On 3 May 1952, Adams was leading a flight of six Sabres. He and his flight attacked a group of twenty Chinese MiG 15s. During the battle, he shot down the enemy flight leader and then the deputy flight leader and damaged three more enemy fighters, completely breaking up the enemy flight. He was awarded the Silver Star.
While flying the the 16th, Major Adams was credited with destroying 6½ enemy aircraft in aerial combat, and damaging another 3½. On his twentieth mission, he had just shot down a MiG 15 when he was attacked by four more. The enemy fighters chased Adams out over the Yellow Sea before he could break away. By this time, he was 250 miles (402 kilometers) from base with fuel remaining for just 100 miles (161 kilometers). He said, "I climbed to 45,000 feet [13,716 meters], shut of the engine and glided 150 miles [241 kilometers] before starting up again."
Adams flew 100 combat missions during the Korean War. He returned to the United States 16 June 1952, and in July, was assigned to the 27th Fighter-Interceptor Squadron, 4711th Defense Wing, Air Defense Command, at Griffis Air Force Base.
In addition to the Silver Star, Major Adams had been awarded the Distinguished Flying Cross, the Air Medal with one silver and two bronze oak leaf clusters (seven awards), the Presidential Unit Citation with one oak leaf cluster (two awards), the American Campaign Medal, European African-Middle Eastern Campaign Medal with three service stars, World War II Victory Medal, Army of Occupation Medal, National Defense Service Medal, Korean Service Medal with three service stars (three campaigns), the Air Force Longevity Service Award with one oak leaf cluster (ten years service), the Republic of Korea Presidential Unit Citation, the United Nations Service Medal for Korea, and the Republic of Korea War Service Medal.
Major Donald Earl Adams, United States Air Force, is buried at the Clinton Grove Cemetery, Mount Clemens, Michigan.
Edward F. Kelly, Jr., was born in New York, 5 May 1918. He was the first of four children of Edward F. Kelly, a pawn broker, and Agatha M. Tynan Kelly. Captain Kelly flew 69 combat missions in the Pacific during World War II. He was a resident of New York City.
© 2018, Bryan R. Swopes