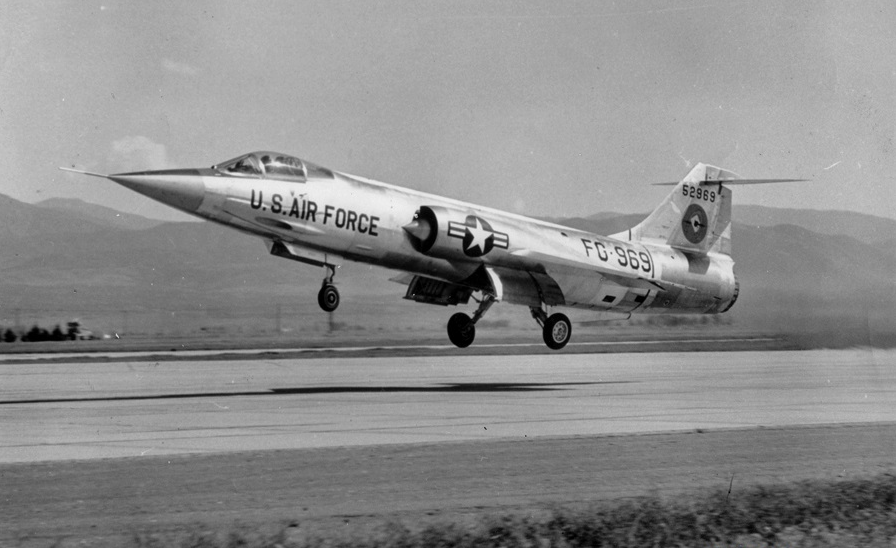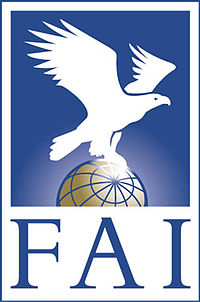 16 May 1958: At Edwards Air Force Base, in the high desert of southern California, Captain Walter W. Irwin, U.S. Air Force, set a Fédération Aéronautique Internationale (FAI) World Record for Speed Over a 15/25 Kilometer Straight Course when he flew a Lockheed F-104A Starfighter, serial number 55-2969, to 2,259.538 kilometers per hour (1,404.012 miles per hour). ¹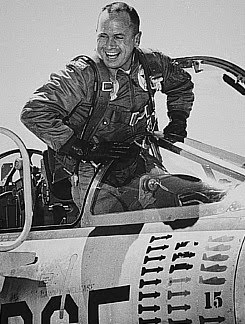 On the same day, Captain Irwin set two U.S. National Aeronautic Association time-to-altitude records by flying -969 to 3,000 meters in 41.8 seconds, and to 25,000 meters in 4 minutes, 26.03 seconds. It reached a peak altitude of 27,813 meters (91,246 feet).
Captain Irwin was part of a group of engineers and pilots awarded the Robert J. Collier Trophy by the National Aeronautic Association in 1958 for "the greatest achievement in aeronautics" because of their involvement in the Lockheed F-104 program.
Walter Irwin joined the U.S. Army Air Forces in 1943. He flew 86 combat missions during World War II.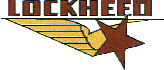 The Lockheed F-104A Starfighter was a single-place, single engine supersonic interceptor. It was designed by a team lead by the legendary Clarence L. "Kelly" Johnson.

The F-104A is 54.77 feet (16.694 meters) long with a wingspan of 21.94 feet (6.687 meters) and overall height of 13.49 feet (4.112 meters). The total wing area is just 196.1 square feet (18.2 square meters). At 25% chord, the wings are swept aft 18° 6′. They have 0° angle of incidence and no twist. The airplane has a very pronounced -10° anhedral. An all-flying stabilator is placed at the top of the airplane's vertical fin, creating a "T-tail" configuration.
The F-104A had an empty weight of 13,184 pounds (5,980.2 kilograms). The airplane's gross weight varied from 19,600 pounds to 25,300 pounds, depending on the load of missiles and/or external fuel tanks.
Internal fuel capacity was 896 gallons (3,392 liters). With Sidewinder missiles, the F-104A could carry two external fuel tanks on underwing pylons, for an additional 400 gallons (1,514 liters). If no missiles were carried, two more tanks could be attached to the wing tips, adding another 330 gallons (1,249 liters) of fuel.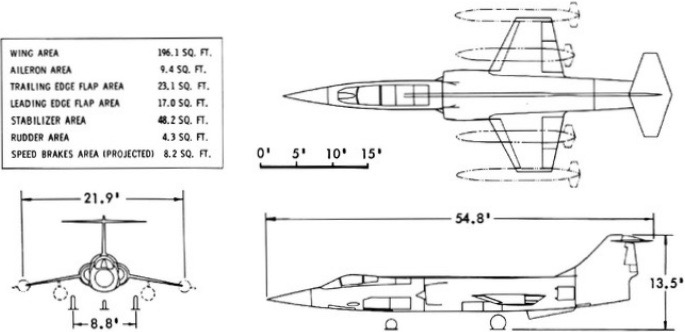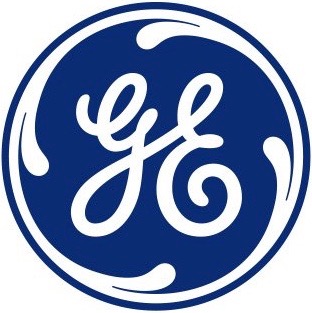 The F-104A was powered by a single General Electric J79-GE-3A engine, a single-spool axial-flow afterburning turbojet, which used a 17-stage compressor and 3-stage turbine. The J79-GE-3A is rated at 9,600 pounds of thrust (42.70 kilonewtons), and 15,000 pounds (66.72 kilonewtons) with afterburner. The engine is 17 feet, 3.5 inches (5.271 meters) long, 3 feet, 2.3 inches (0.973 meters) in diameter, and weighs 3,325 pounds (1,508 kilograms).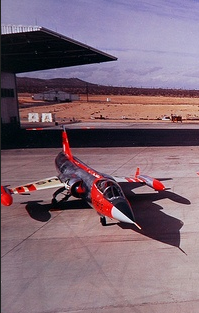 The F-104A had a maximum speed of 1,037 miles per hour (1,669 kilometers per hour) at 50,000 feet (15,240 meters). Its stall speed was 198 miles per hour (319 kilometers per hour). The Starfighter's initial rate of climb was 60,395 feet per minute (306.8 meters per second). The combat ceiling was 55,200 feet (16,825 meters) and the service ceiling was 64,795 feet (19,750 meters).
Armament was one General Electric M61 Vulcan six-barreled revolving cannon with 725 rounds of 20 mm ammunition. An AIM-9B Sidewinder heat-seeking air-to-air missile could be carried on each wing tip, or a jettisonable fuel tank with a capacity of 141.5 gallons (535.6 liters).
Lockheed built 153 of the F-104A Starfighter initial production version. A total of 2,578 F-104s of all variants were produced by Lockheed and its licensees, Canadair, Fiat, Fokker, MBB, Messerschmitt,  Mitsubishi and SABCA. By 1969, the F-104A had been retired from service. The last Starfighter, an Aeritalia-built F-104S ASA/M of the  Aeronautica Militare Italiana, was retired in October 2004.
55-2969 was one of the original pre-production Lockheed YF-104As, completed 20 August 1956. It was modified to the F-104A standard configuration and assigned to the 83rd Fighter Interceptor Squadron at Hamilton Air Force Base, near Novato, California.
On 22 August 1957 the Starfighter was damaged at Eglin Air Force Base, Florida. It was returned to Lockheed for repair and upgraded to F-104A-1. In May 1958, -969 and another Starfighter were sent to Edwards to attempt setting several speed and altitude records. They were both then returned to the 83rd FIS.
From August 1958 to August 1961, -969 was loaned to General Electric to test improvements to the J79 turbojet engine. While there, it was given the name Queenie, which was painted on the nose along with three playing cards.
In 1964 55-2969 was again returned to Lockheed for conversion to a QF-104A remote-controlled target drone. It was damaged by a AIM-9 Sidewinder missile on 28 September 1968, but was recovered, repaired and returned to service. On its 25th drone mission, 26 January 1971, Queenie was shot down by an experimental XAIM-4H Falcon air-to-air missile fired by an F-4E Phantom II.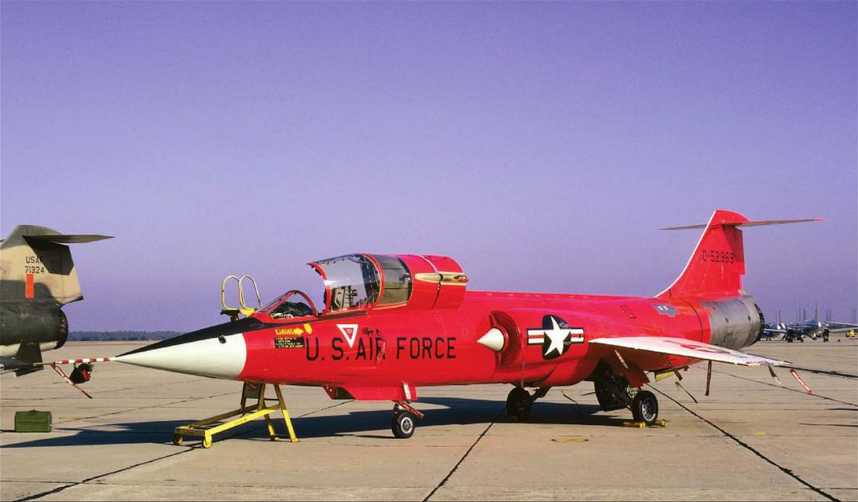 ¹ FAI Record File Number 9063
© 2019, Bryan R. Swopes
by