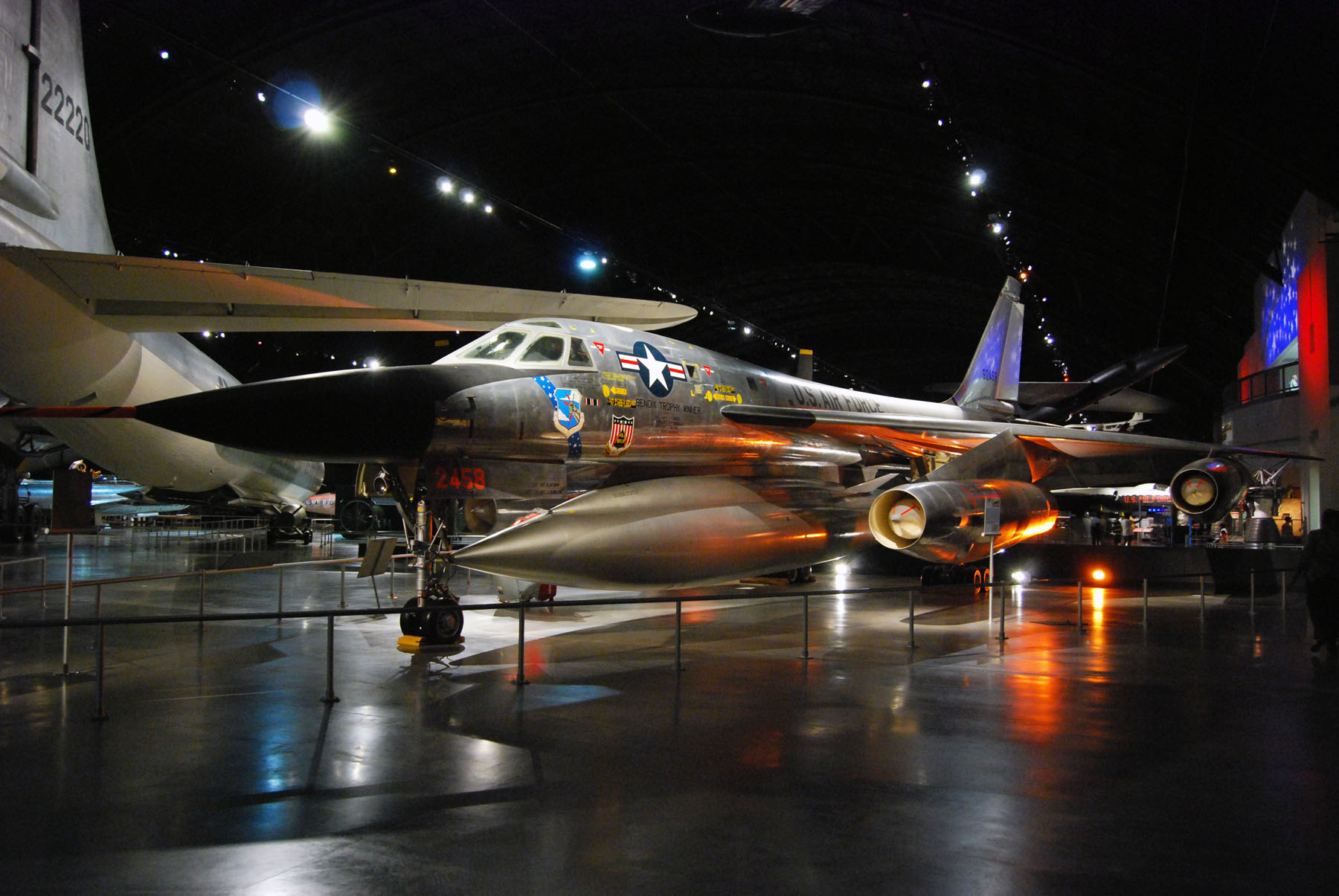 5 March 1962: Operation Heat Rise. Two Convair B-58 Hustler supersonic bombers from the 65th Bombardment Squadron, 43rd Bombardment Wing, Carswell Air Force Base, Texas, took off at sunrise and headed west to Los Angeles, California. Off the Pacific coast they refueled from a Boeing KC-135A Stratotanker, then headed east at maximum speed. They were to enter a radar starting gate at Los Angeles, but the radar did not pick them up so they returned to the tanker, topped off the fuel tanks again, then proceeded east once again. This time their entry was visually confirmed.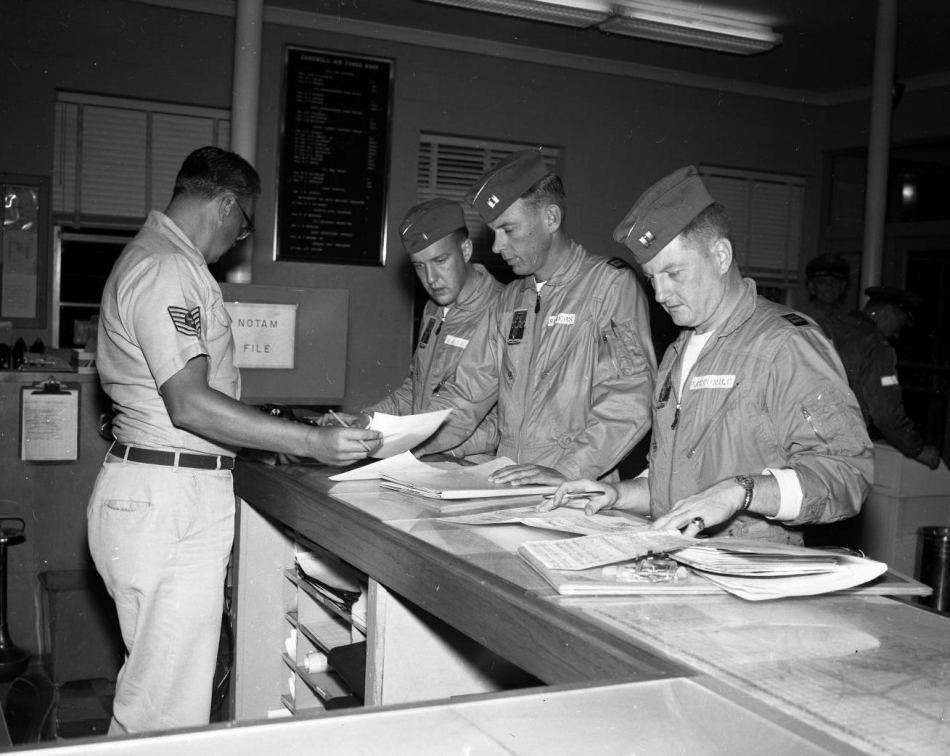 Both B-58s had been assigned a block altitude of Flight Level 250 to Flight Level 500 (between 25,000 and 50,000 feet, or 7,620 to 15,240 meters) by the Federal Aviation Administration, and all other aircraft were cleared from those altitudes along the course. The flight outbound from Los Angeles was at 50,000 feet (15,240 meters) at speeds above Mach 2.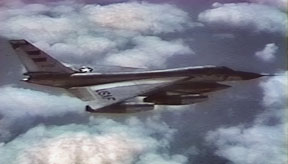 Under normal conditions, the maximum speed of the B-58 was limited to a skin temperature of 115 °C. (239 °F.) to prevent the aluminum honeycomb skin panels from delaminating. For this speed run, Convair engineers had authorized a temperature of 125 °C. (257 °F.), which would allow the two bombers to exceed 1,400 miles per hour (2,253 kilometers per hour). Sensors were placed in the skin to monitor the temperature rise (which gave the operation its name: "Heat Rise").
The first B-58, call sign "Tall Man Five-Five," had a problem with the navigation radar and had some difficulty locating their tanker, but finally were able to. The B-58s descended to 25,000 feet over Kansas for the third refueling and over a 21-minute period, took on 8,500 gallons (321,760 liters) of fuel, climbed back to 45,000 feet (13,716 meters) and then continued on to New York.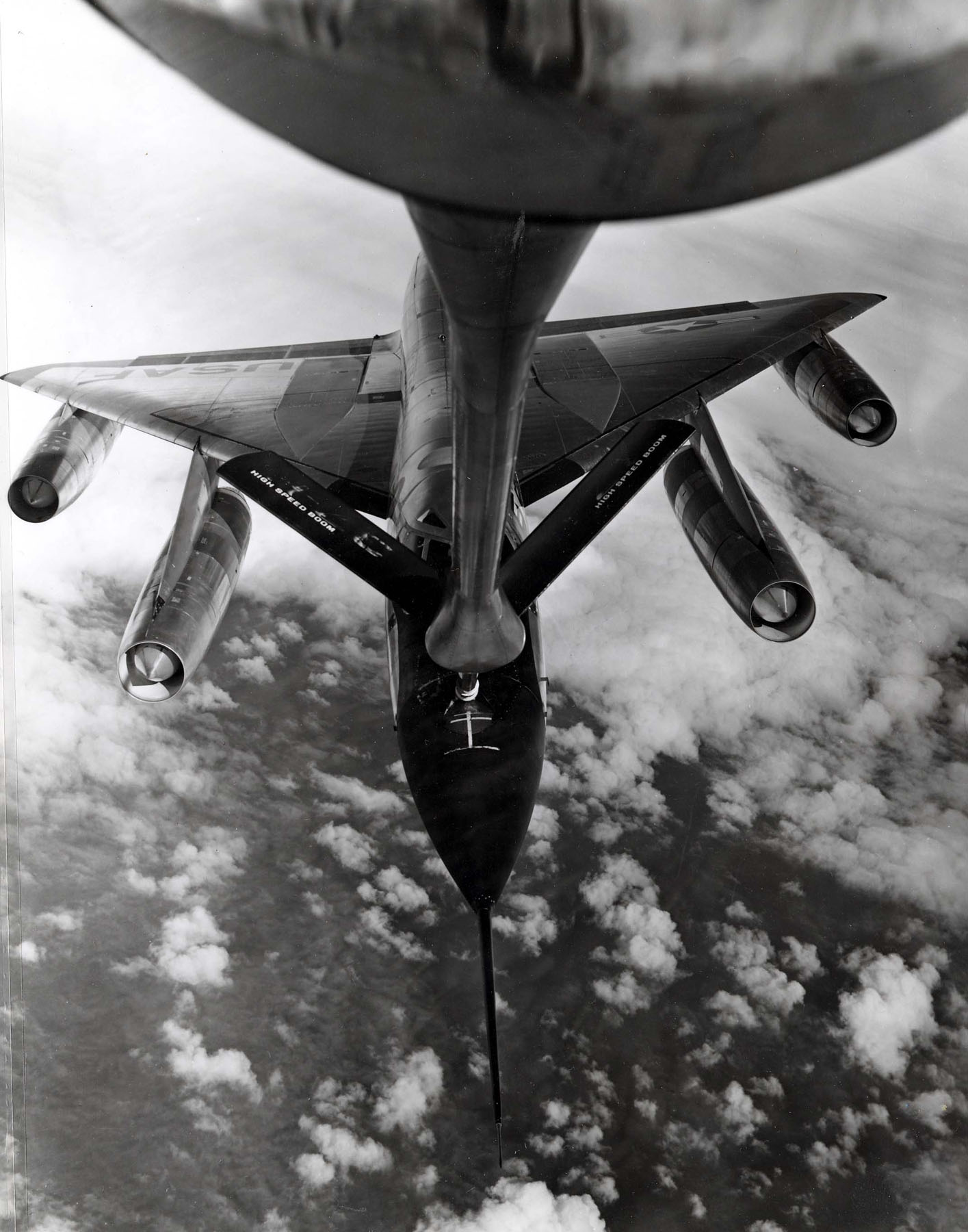 The Cowtown Hustler ¹ crossed the radar gate at New York with an elapsed time of 2:00:58.71 for the West-to-East flight, averaging 1,214.65 miles per hour (1,954.79 kilometers per hour). The second B-58, Tall Man Five-Six, was one minute behind.
Passing New York, the two B-58 Hustlers proceeded over the Atlantic Ocean and rendezvoused with tankers for a fourth aerial refueling, then headed back west to Los Angeles. Shortly after passing New York, Tall Man Five-Six developed mechanical troubles and had to withdraw from the round-trip record attempt.
Once again over Kansas, Cowtown Hustler refueled for a fifth time then continued back to Los Angeles. The East-to-West leg from New York to Los Angeles was completed in an elapsed time of 2:15:50.08, averaging 1,081.81 miles per hour (1,741.00 kilometers per hour).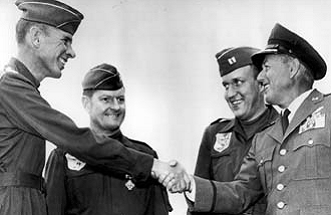 The total elapsed time, Los Angeles–New York–Los Angeles, was 4 hours, 41 minutes, 14.98 seconds (4:41:14.98), for an average speed of 1,044.97 miles per hour (1,681.71 kilometers per hour). The crew and the airplane established three National Aeronautic Association (NAA) U.S. national records for Speed Over A Recognized Course.
At Los Angeles, the flight crew, Captain Robert G. Sowers, Pilot, Captain Robert MacDonald, Navigator, and Captain John T. Walton, were congratulated by General Thomas S. Power, Chief of Staff, Strategic Air Command, and each airman was awarded the Distinguished Flying Cross.
For the eastbound transcontinental flight, the crew won the Bendix Trophy, and for "the most meritorious flight of the year," they were also awarded the Mackay Trophy. Their records still stand.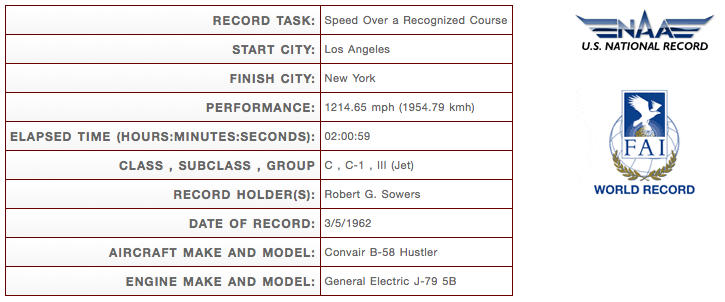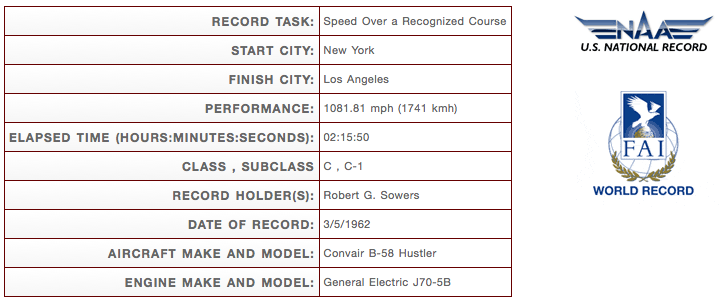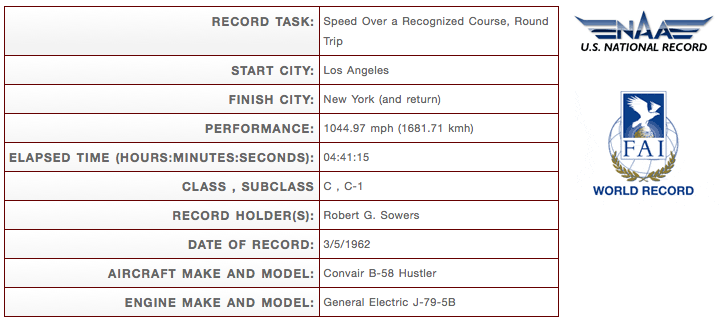 Reportedly, the U.S. Air Force received more than 10,000 damage claims for windows that were broken by the sonic booms created by the two B-58 Hustlers as they flew across the country.
Today, the record-setting, trophy-winning airplane, Convair B-58A-10-CF 59-2458, the Cowtown Hustler, is on display at the National Museum of the United States Air Force, Wright-Patterson Air Force Base, Ohio.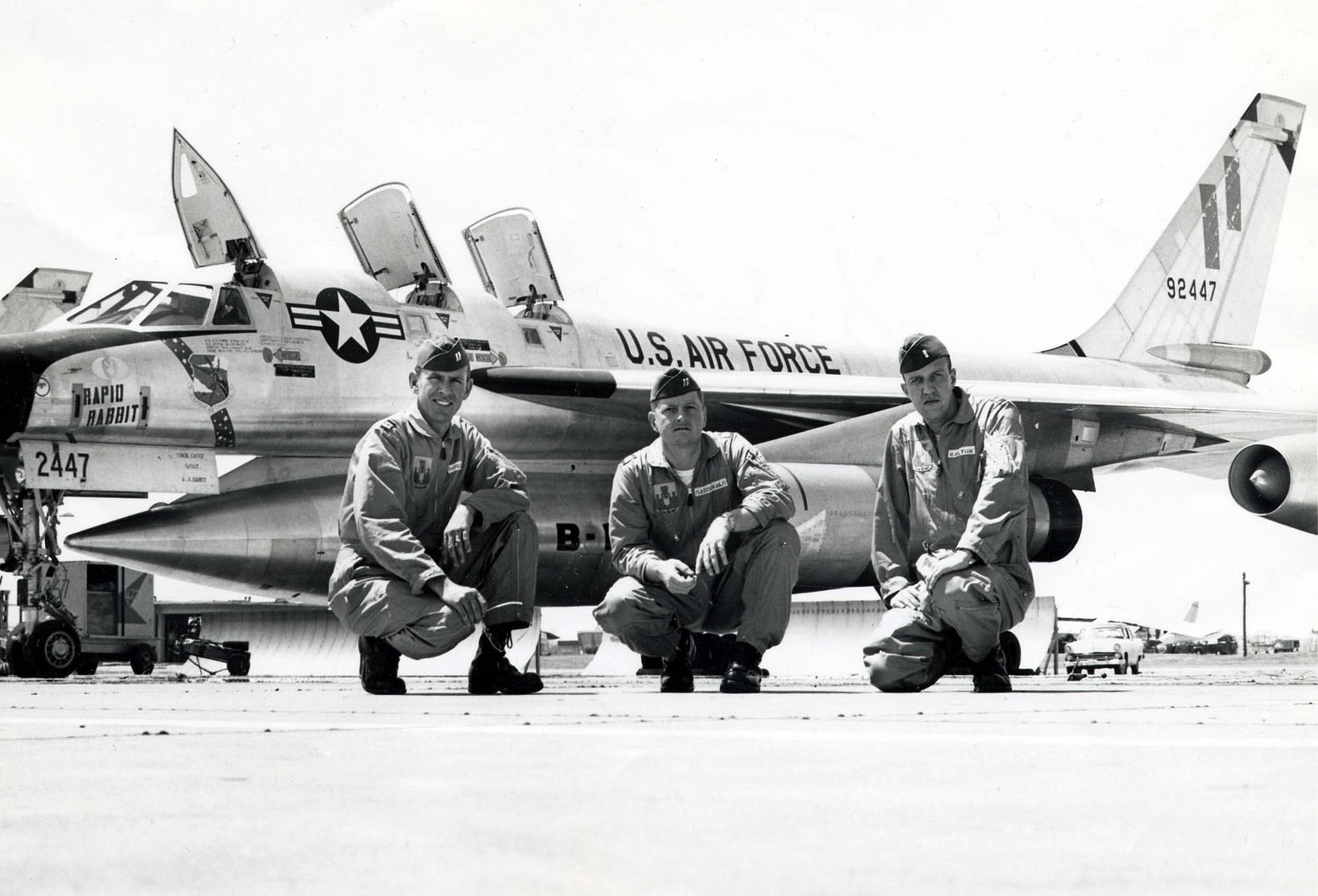 Later on the same day, Cowtown Hustler's sister ship, B-58A-10-CF 59-2459, crashed on takeoff from Carswell AFB. According to an article published in the Fort Worth Star-Telegram, "The speedy bomber veered to the right on the takeoff run, slammed through a 10-foot chain link fence and disintegrated atop an ammunition bunker, about 75 yards short of Lake Worth." Its crew, Captain Robert Eugene Harter, pilot, Captain Jack De Voll Jones, navigator, and First Lieutenant James Thomas McKenzie, defensive systems operator, were killed.² 59-2459 was the eleventh B-58 loss.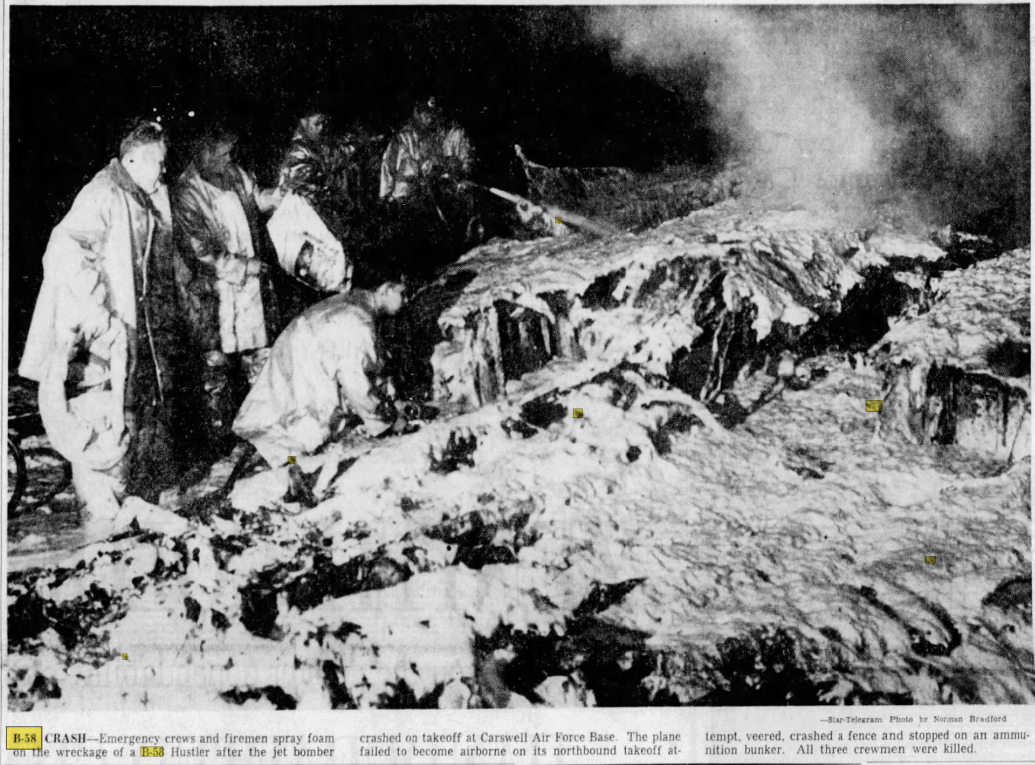 The Convair B-58A Hustler was a high-altitude Mach 2 strategic bomber which served with the United States Air Force from 1960 to 1970. It was crewed by a pilot, navigator/bombardier and a defensive systems operator, located in individual cockpits. The aircraft is a delta-winged configuration similar to the Convair F-102A Delta Dagger and F-106 Delta Dart supersonic interceptors.
The Hustler is 96 feet, 10 inches (29.515 meters) long, with a wing span of 56 feet, 10 inches (17.323 meters) and an overall height of 31 feet 5 inches (9.576 meters). The fuselage incorporates the "area rule" which resulted in a "wasp waist" or "Coke bottle" shape for a significant reduction in aerodynamic drag. The airplane's only control surfaces are two "elevons" and a rudder, and there are no flaps.
The B-58's delta wing has a total area of 1,542.5 square feet (143.3 square meters) and the leading edges are swept back at a 60° angle. The wing has an angle of incidence of 3° and 2° 14′ dihedral (outboard of Sta. 56.5).
The B-58A had an empty weight of 51,061 pounds (23161 kilograms), or 53,581 pounds (24,304 kilograms) with the MB-1 pod. The maximum takeoff weight was 158,000 pounds (71,668 kilograms).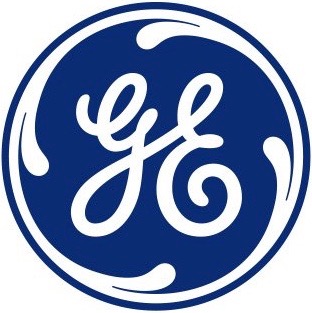 The B-58A was powered by four General Electric J79-GE-5 axial-flow afterburning turbojet engines, suspended under the wings from pylons. This was a single-shaft engine with a 17-stage compressor and 3-stage turbine. It had a Normal Power rating of 9,700 pounds of thrust (43.148 kilonewtons). The Military Power rating was 10,000 pounds (44.482 kilonewtons), and it produced a maximum 15,600 pounds (69.392 kilonewtons) at 7,460 r.p.m., with afterburner. The J79-GE-5 was 16 feet, 10.0 inches (5.131 meters) long and 2 feet, 11.2 inches (0.894 meters) in diameter. It weighed 3,570 pounds (1,619 kilograms).
The bomber had a cruise speed of 544 knots (626 miles per hour/1,007 kilometers per hour) and a maximum speed of 1,147 knots (1,320 miles per hour/2,124 kilometers per hour/Mach 2.00) at 67,000 feet (20,422 meters). The B-58A had a combat radius of 4,225 nautical miles (4,862 statute miles/7,825 kilometers). Its maximum ferry range was 8,416 nautical miles (9,685 statute miles/15,586 kilometers).
The B-58 weapons load was a combination of Mark 39, B43 or B61 thermonuclear bombs. The weapons could be carried in a jettisonable centerline pod, which also carried fuel. The four of the smaller bombs could be carried on underwing hardpoints. There was a General Electric M61 20 mm rotary cannon mounted in the tail, with 1,200 rounds of ammunition, and controlled by the Defensive Systems Officer.
116 were built and they served the Strategic Air Command until January 1970 when they were sent to Davis-Monthan AFB, Tucson, Arizona for long-term storage.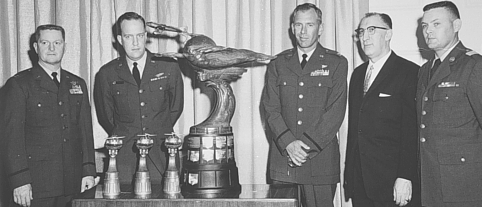 The 19 minute, 38 second video below is a General Dynamics informational film about Operation Heat Rise. This video clip is longer than the time it took Cowtown Hustler to fly from Los Angeles, California, to the Grand Canyon in Arizona.
¹ "Cowtown" is a nickname for Fort Worth, Texas, where the B-58s were based, as well as several other American cities.
² Fort Worth Star-Telegram, Tuesday, 6 March 1962, Page 1 Column 8, and Page 4, Column 3
© 2019, Bryan R. Swopes