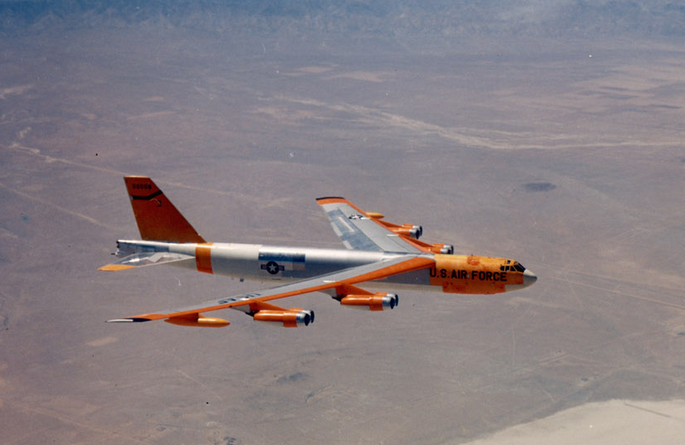 10 January 1964: This Boeing B-52H Stratofortress, serial number 61-023, flown by Boeing test pilot Charles F. ("Chuck") Fisher, was conducting structural testing in turbulence near East Spanish Peak, Colorado. The other crew members were pilots Richard V. Curry and Leo Coer, and navigator James Pittman. Dick Curry was flying the airplane and Chuck Fisher, the aircraft commander, was in the co-pilot's position. Pittman was on the lower deck.
The bomber was carrying two North American Aviation GAM-77 Hound Dog cruise missiles on pylons under its wings.
The Boeing B-52 Stratofortress had been designed as a very high altitude penetration bomber, but changes in Soviet defensive systems led the Strategic Air Command to change to very low altitude flight as a means of evading radar. This was subjecting the airframes to unexpected stresses. "Ten-Twenty-Three" (its serial number was 61-023, shortened on the vertical fin to "1023") had been returned to Boeing Wichita by the Air Force to be instrumented to investigate the effects of high-speed, low-altitude flight on the 245-ton bomber.
Flying at 14,300 feet (4,359 meters) and 345 knots (397 miles per hour, 639 kilometers per hour), indicated air speed, the airplane encountered severe clear air turbulence and lost the vertical stabilizer. Several B-52s had been lost under similar circumstances. (Another, a B-52D, was lost just three days later at Savage Mountain, Maryland.)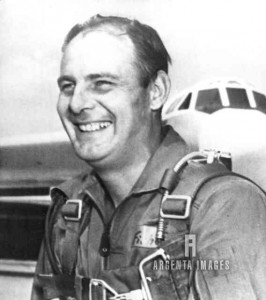 Chuck Fisher immediately took control of the B-52. He later reported,
"As the encounter progressed, a very sharp-edged blow which was followed by many more. We developed an almost instantaneous rate of roll at fairly high rate. The roll was to the far left and the nose was swinging up and to the right at a rapid rate. During the second portion of the encounter, the airplane motions actually seemed to be negating my control inputs. I had the rudder to the firewall, the column in my lap, and full wheel, and I wasn't having any luck righting the airplane. In the short period after the turbulence I gave the order to prepare to abandon the airplane because I didn't think we were going to keep it together."
A Boeing report on the incident, based on installed sensors and instrumentation aboard -023, said that the bomber had
". . . flown through an area containing the combined effects of a (wind) rotor associated with a mountain wave and lateral shear due to airflow around a mountain peak. . . Gust initially built up from the right to a maximum of about 45 feet per second [13.7 meters per second](TAS), then reversed to a maximum of 36 feet per second [11 meters per second] from the left, before swinging to a maximum of about 147 feet per second [44.8 meters per second] from the left followed by a return to 31 feet per second [9.5 meters per second]."
Fisher flew the bomber back to Wichita and was met by a F-100 Super Sabre chase plane. When the extent of the damage was seen, the B-52 was diverted due to the gusty winds in Kansas. Six hours after the damage occurred, Chuck Fisher safely landed the airplane at Eaker Air Force Base, Blythville, Arkansas. He said it was, "the finest airplane I've ever flown."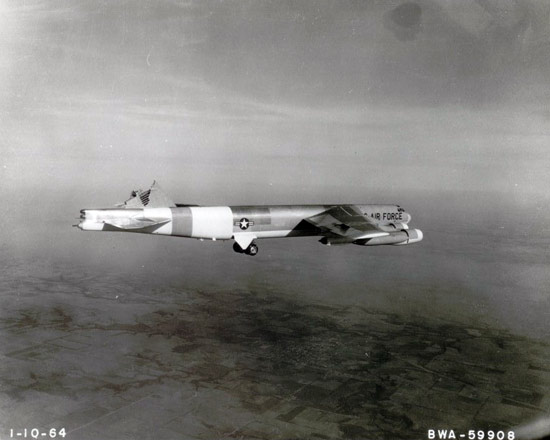 61-023 was repaired and returned to service. It remained active with the United States Air Force until it was placed in storage at Tinker Air Force Base, Oklahoma, 24 July 2008.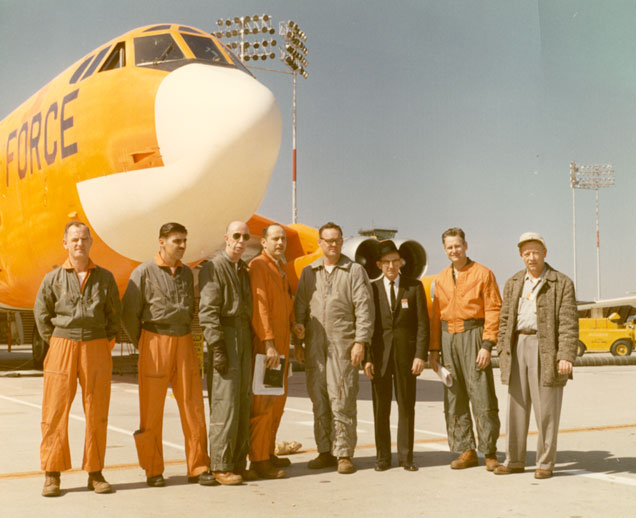 The B-52H is a sub-sonic, swept wing, long-range strategic bomber. It has a crew of five. The airplane is 159 feet, 4 inches (48.6 meters) long, with a wing span of 185 feet (56.4 meters). It is 40 feet, 8 inches (12.4 meters) high to the top of the vertical fin. Maximum Takeoff Weight (MTOW) is 488,000 pounds (221,353 kilograms).
There are eight Pratt & Whitney TF33-PW-3 turbofan engines mounted in two-engine pods suspended under the wings on four pylons. Each engine produces a maximum of 17,000 pounds of thrust (75.620 kilonewtons). The TF-33 is a two-spool axial-flow turbofan engine with 2 fan stages, 14-stage compressor stages (7 stage intermediate pressure, 7 stage high-pressure) and and 4-stage turbine (1 stage high-pressure, 3-stage low-pressure). The engine is 11 feet, 10 inches (3.607 meters) long, 4 feet, 5.0 inches (1.346 meters) in diameter and weighs 3,900 pounds (15,377 kilograms).
The B-52H can carry approximately 70,000 pounds (31,750 kilograms) of ordnance, including free-fall bombs, precision-guided bombs, thermonuclear bombs and cruise missiles, naval mines and anti-ship missiles.
The bomber's cruise speed is 520 miles per hour (837 kilometers per hour) and its maximum speed is 650 miles per hour (1,046 kilometers per hour) at 23,800 feet (7,254 meters) at a combat weight of 306,350 pounds. Its service ceiling is 47,700 feet (14,539 meters) at the same combat weight. The unrefueled range is 8,000 miles (12,875 kilometers).
With inflight refueling, the Stratofortress's range is limited only by the endurance of its five-man crew.
The B-52H is the only version still in service. 102 were built and as of June 2019, 76 are still in service. Beginning in 2013, the Air Force began a fleet-wide technological upgrade for the B-52H, including a digital avionics and communications system, as well as an internal weapons bay upgrade. The bomber is expected to remain in service until 2040.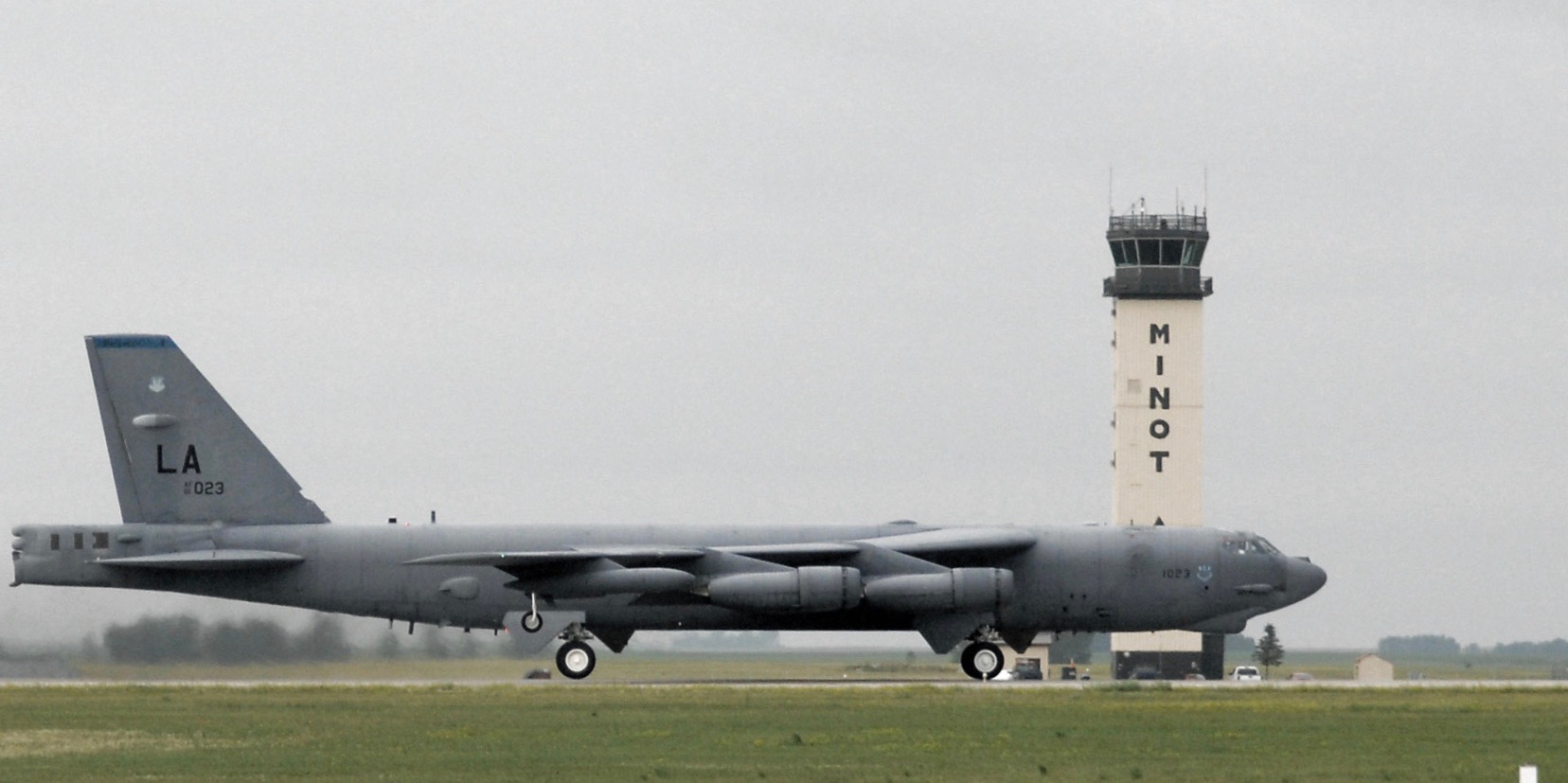 © 2016, Bryan R. Swopes