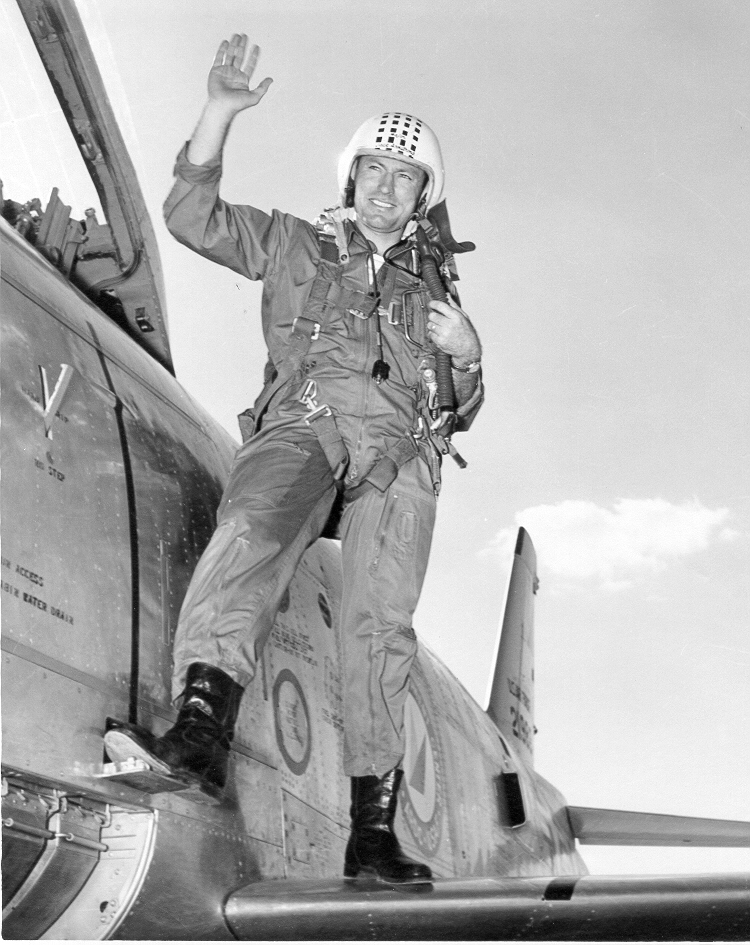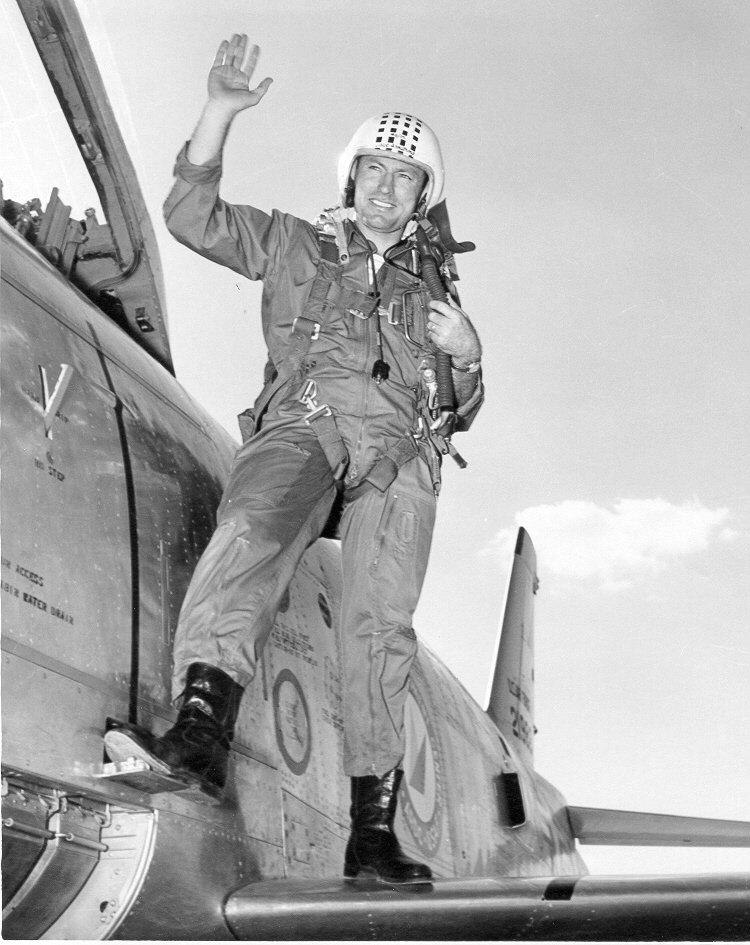 3 September 1954: At the Dayton Air Show, being held for the first time at the James M. Cox Municipal Airport, Major John L. ("Jack") Armstrong, U.S. Air Force, flew his North American Aviation F-86H-1-NH Sabre, 52-1998, to a Fédération Aéronautique Internationale (FAI) World Record for Speed Over a Closed Circuit of 500 Kilometers Without Payload, averaging 1,045.206 kilometers per hour (649.461 miles per hour). ¹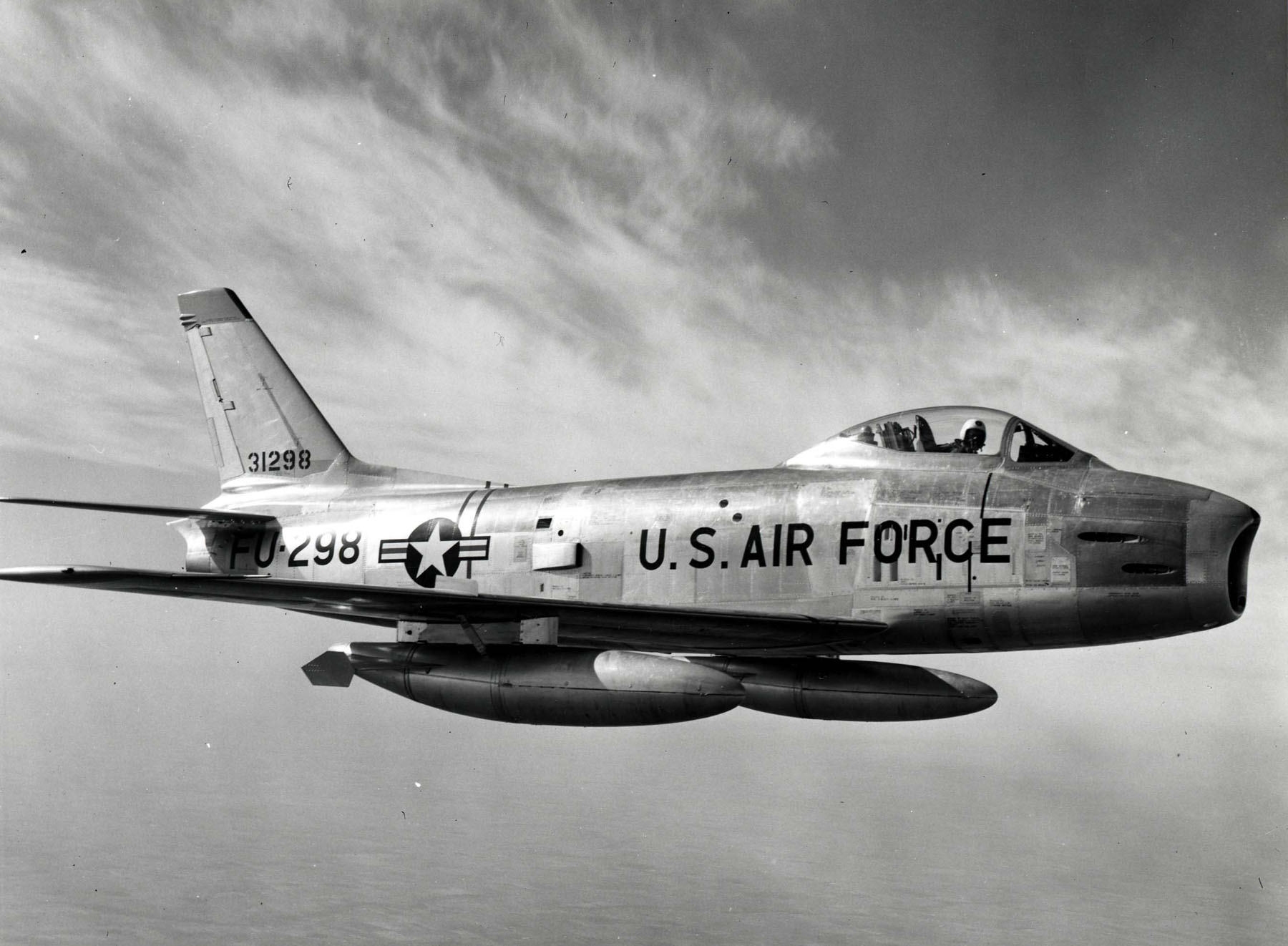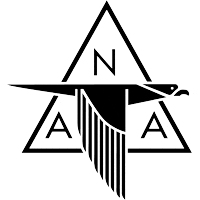 The North American Aviation F-86H was a fighter-bomber variant of the famous Sabre Jet day fighter. It was equipped with a much more powerful General Electric J73-GE-3 turbojet engine. The engine was larger that the J47 used in previous F-86 models, and this required a much larger air intake and airframe modifications. The fuselage was 6 inches deeper and two feet longer than the F-86F. This accommodated the new engine and an increase in fuel load. The tail surfaces were changed with an increase in the height of the vertical fin and the elevators were changed to an "all-flying" horizontal stabilizer. The first F-86Hs built retained the six Browning AN-M3 .50 caliber machine guns of the F-86F, but this was quickly changed to four Pontiac M39 20 millimeter revolver cannon.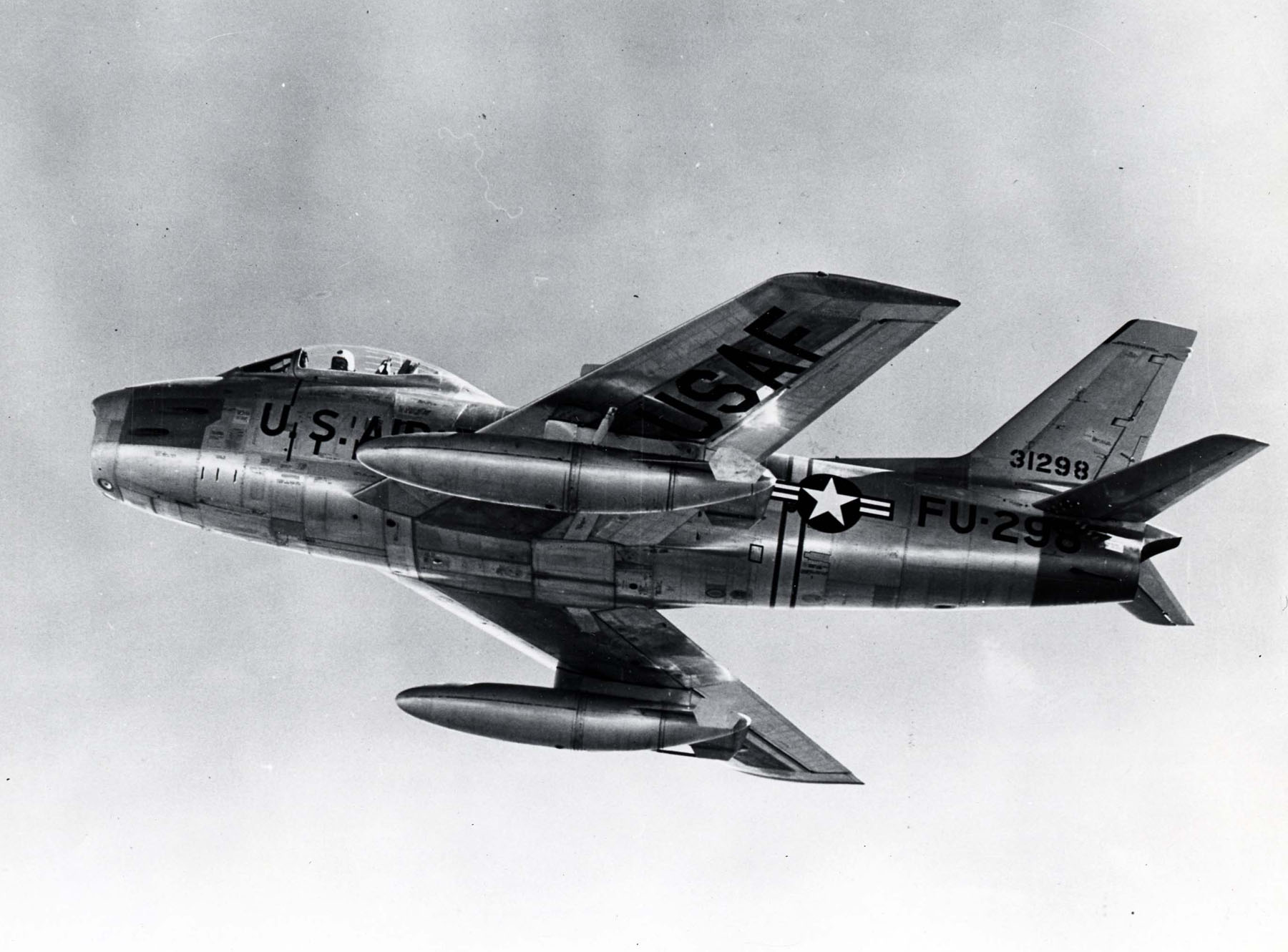 The F-86H Sabre was 38 feet, 10 inches (11.836 meters) long with a wingspan of 39 feet, 1 inch (11.913 meters) and overall height of 14 feet, 11 inches (4.547 meters). Empty weight was 13,836 pounds (6,276 kilograms) and gross weight was 24,296 pounds (11,021 kilograms).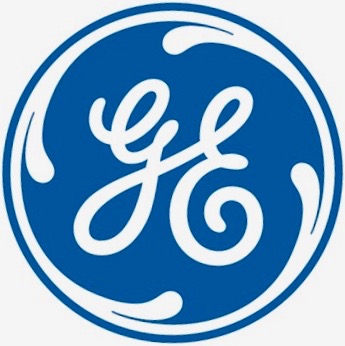 The F-86H was powered by a General Electric J73-GE-3D or -3E engine, a single-spool, axial-flow, turbojet engine, which used a 12-stage compressor section with variable inlet vanes, 10 combustion chambers and 2-stage turbine section. It produced 8,920 pounds of thrust (39.68 kilonewtons) at 7,950 r.p.m. (%-minute limit). The J73 was 12 feet, 3.2 inches (3.739 meters) long, 3 feet, 0.8 inches (0.935 meters) in diameter and weighed 3,650 pounds (1,656 kilograms).
The F-86H had a maximum speed of 601 knots (692 miles per hour/1,113 kilometers per hour) at Sea Level and 536 knots (617 miles per hour (993 kilometers) at 35,000 feet (10,668 meters). The fighter bomber had an initial rate of climb of 12,900 feet per minute (65.53 meters per second) and it could reach 30,000 feet (9,144 meters) in 5.7 minutes. The service ceiling was 50,800 feet (15,484 meters). With a full load of bombs, the F-86H had a combat radius of 350 nautical miles (402 statute miles/648 kilometers) at 470 knots (541 miles per hour (870 kilometers per hour). The maximum ferry range was 1,573 nautical miles (1,810 statute miles/2,913 kilometers).
F-86H Sabres (after the first ten production airplanes) were armed with four Pontiac M39 20 mm autocannon with 150 rounds of ammunition per gun. In ground attack configuration, it could carry a maximum bomb load of 2,310 pounds (1,048 kilograms), or one 12–24 kiloton Mark 12 "Special Store" that would be delivered by "toss bombing."
The F-86H Sabre became operational in 1954. 473 F-86H Sabres were built before production ended. By 1958 all that remained in the U.S. Air Force Inventory were reassigned to the Air National Guard. The last one was retired in 1972.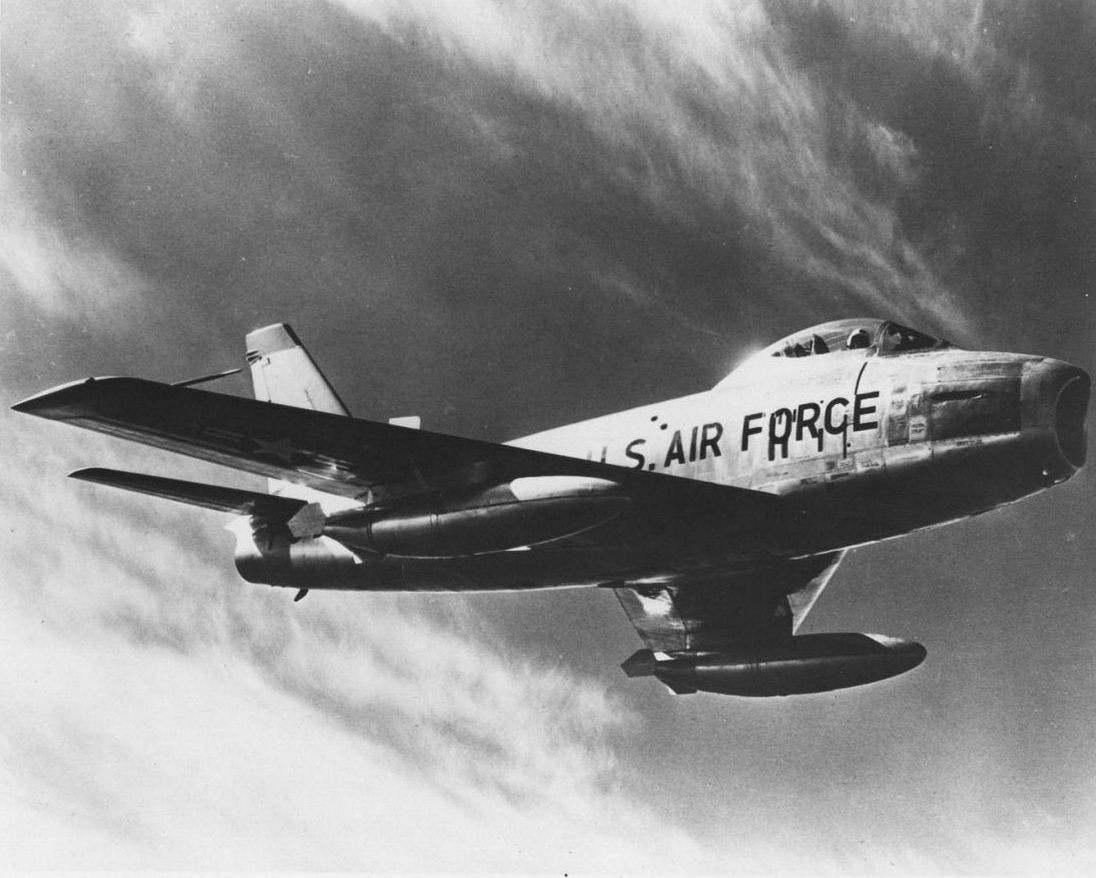 John Leroy Armstrong was born in Orange County, California, 19 July 1922. He was the fourth child of Milton Williams Armstrong, an engineer, and Olive M. Meyer Armstrong. As a child, he was called "Jake."
Major Armstrong had been a fighter pilot during World War II, flying Lockheed P-38 Lightnings, initially with the 554 Fighter Training Squadron, 496th Fighter Training Group.
On 13 March 1944, Armstrong made a forced landing at North Killingholme when his fighter ran out of fuel.
2nd Lieutenant Armstrong was assigned to the 79th Fighter Squadron, 20th Fighter Group based at RAF Kings Cliffe, Northamptonshire, England, 26 March 1944. He flew the Lockheed P-38 Lightning.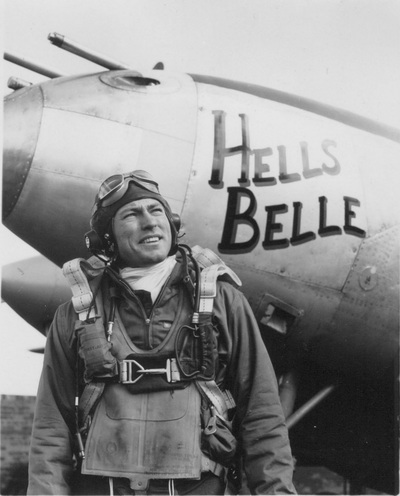 The 79th transitioned to the P-51 Mustang. Armstrong was promoted to first lieutenant 26 June 1944. He was officially credited with having destroyed one enemy Focke-Wulf Fw 190. On 28 August 1944, while flying his 30th combat mission, his North American Aviation P-51D-5-NA Mustang, 44-13791, Guardian Angel, was shot down by anti-aircraft gunfire while he was attacking a railway roundhouse at Bad Greuznach, Germany. Armstrong bailed out but was captured. He was held as a prisoner of war at Stalag Luft I at Barth, Western Pomerania. Armstrong was returned to U.S. military control in June 1945.
Major Armstrong had been awarded the Distinguished Flying Cross, the Air Medal with five oak leaf clusters (six awards), the Purple Heart, the Prisoner of War Medal, World War II Victory Medal, and the European-African-Middle Eastern Campaign Medal.
Two days after setting the speed record, Jack Armstrong was attempting to increase his record speed. The Sabre broke up in flight and Major Armstrong was killed.
John Leroy Armstrong's remains were buried at the Loma Vista Memorial Park, Fullerton, California, 11 September 1954.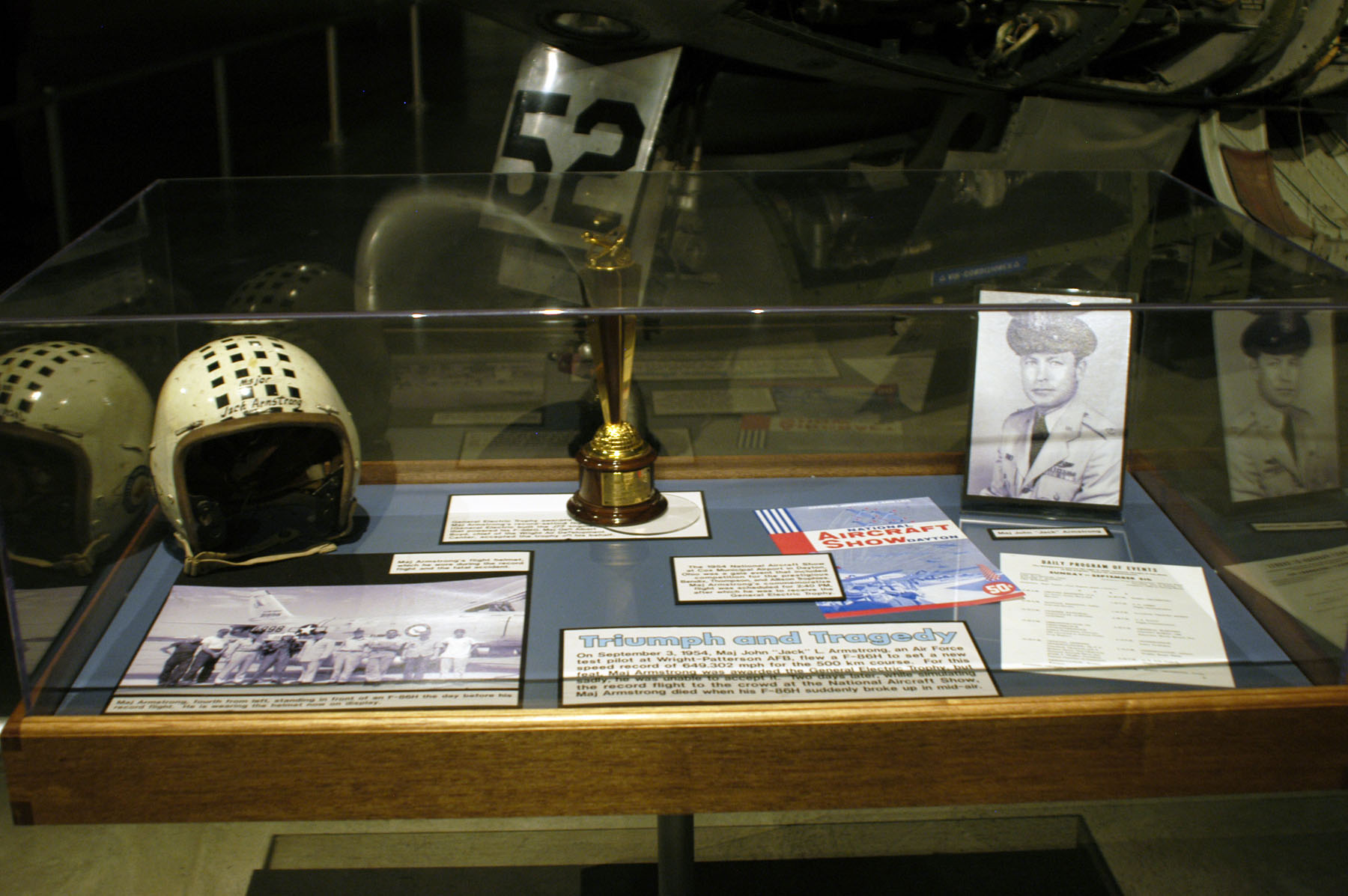 ¹ FAI Record File Number 8860
© 2018, Bryan R. Swopes