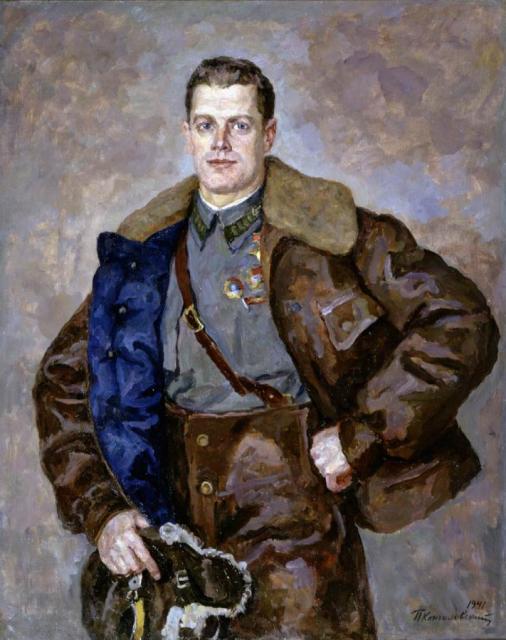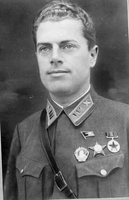 28 October 1936: Flying a four-engine Tupolev TB-3 bomber near Tchelcovo, U.S.S.R., Юмашев Андрей Борисович (Andrey Borisovich Yumashev, A.B. Yumashev, A. Youmachev, André Youmacheff), with a crewman named Kalachnikov, set a Fédération Aéronautique Internationale (FAI) World Record for Altitude With a 5,000 Kilogram (11,023 pounds) Payload, reaching 8,980 meters (29,462 feet).¹ This was the fourth world altitude record set by Yumashev with the TB-3.
The transport variant of the Tupolev TB-3 is identified as the ANT-6.
For the 28 October flight, Yumashev's airplane was powered by four air-cooled, supercharged, 30.104 liter (1,837 cubic inches) Shvetsov ASh-62 nine-cylinder radial engines, rated at 1,000 horsepower at 2,200 r.p.m., each. This engine was developed from the earlier Shvetsov M-25, which was a license-built version of the Wright Aeronautical Corporation R-1820 Cyclone.
The previous month, Andrey Yumashev had set three similar world records. At that time the TB-3 had been powered by four liquid-cooled, supercharged, 46.928 liter (2,863.7 cubic inches) displacement, Mikulin AM-34FRN 60° V-12 engines with gear reduction, rated at 1,200 horsepower at 2,000 r.p.m. Interestingly, this engine had a different piston stroke length for the left and right cylinder banks, resulting in different displacement for each bank. On 11 September, Yumashev had flown the TB-3 to an altitude of 8,116 meters (26,627 feet) with a 5,000 kilogram payload.² On 16 September, he reached 6,605 meters (21,670 feet) while carrying 10,000 kilograms (22,046.23 pounds).³ Finally, on 20 September the Andrey Yumashev and the TB-3, this time with crewman Cheverdinsky, reached 2,000 meters (6,562 feet) with a 12,000 kilogram (26,455.47 pounds) payload.⁴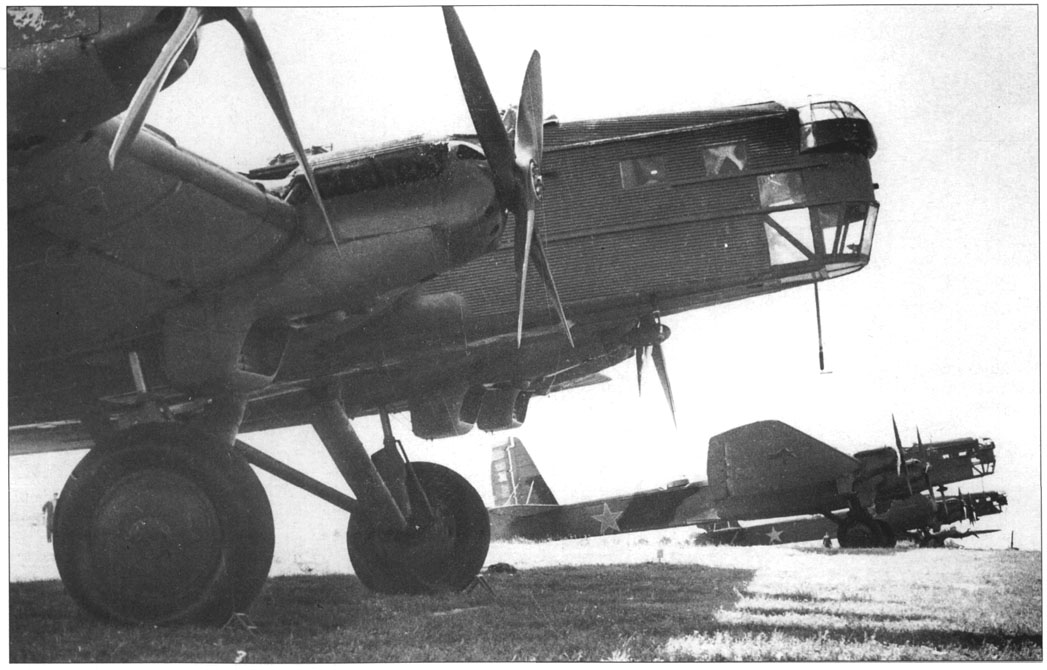 The Tupolev TB-3 was a four-engine heavy bomber built of a steel framework with corrugated steel skin panels. It had fixed landing gear. Initially, each main gear supported two wheels in a bicycle configuration. This was later changed to a single wheel and tire. While most were powered by liquid-cooled V-12 engines, various combinations of propellers were used. Some airplanes used wooden two-bladed propellers, while some used four-bladed propellers on the inner two engines. Later bombers used four-bladed propellers on all engines, while some ANT-6 transports used metal three-bladed variable-pitch propellers.
The first prototype had flown in 1930 and the TB-3 was in service until 1939, by which time it was obsolete. There were still more than 500 when the Great Patriotic War began in 1941. In addition to service as a heavy bomber, it also flew cargo and was a paratroop transport.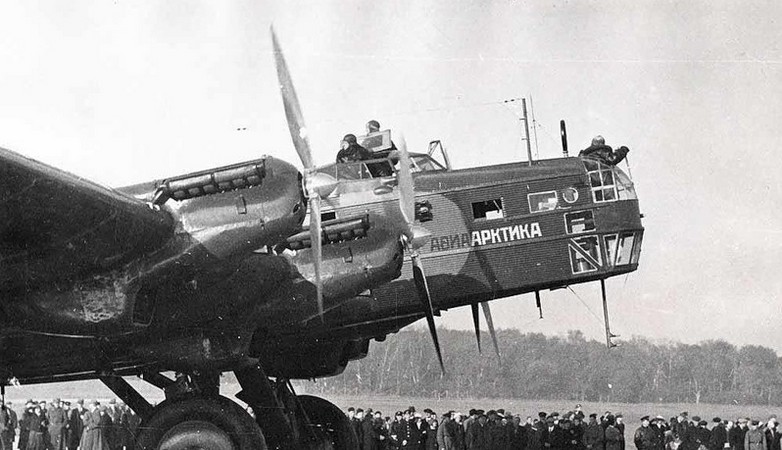 Major General Andrey Borisovich Yumashev was born at St. Petersburg, Russian Empire, in March 1902. He entered the army in 1918, serving with artillery units. In 1924 he trained as a pilot, serving as a combat pilot until 1927 when he became a test pilot at the Research and Testing Institute of the Air Force. Over the next ten years he tested fighters, bombers, and transports, and was appointed Test Pilot First Class.
In addition to the four payload-to-altitude world records above, from 12–14 July 1937 he was copilot of a Tupolev ANT-25 which flew from Moscow to San Jacinto, California, across the North Pole.⁵
Yumashev flew the Ilyushin DB-3 long-range bomber during the Soviet Finnish War of 1940 ("The Winter War.") During the Great Patriotic War, he commanded the 2nd Independent Fighter Aviation Squadron in defense of Moscow, then the 237th Fighter Regiment at the Kalinin Front. He served as deputy commander of the 3rd Air Force at the Kalinin Front and then the 1st Air Army on the Western Front. By the spring of 1943, he was in command of the 6th Fighter Air Corps at the Central front. By 1944, General Yumashev commanded the Eastern Front Air Defense and the Southern Front Air Defense. He participated in the attacks against Königsberg and Berlin at the end of World War II.
A. B. Yumashev retired from the Soviet military in 1946. He then went on to become an accomplished artist.
During his military service, General Yumashev was named Hero of the Soviet Union, twice was awarded the Order of Lenin, and five times the Order of the Red Banner. He was also awarded the Order of the Red Star.
Major General Andrey Borisovich Yumashev died at Moscow, Russia, U.S.S.R., 20 May 1988.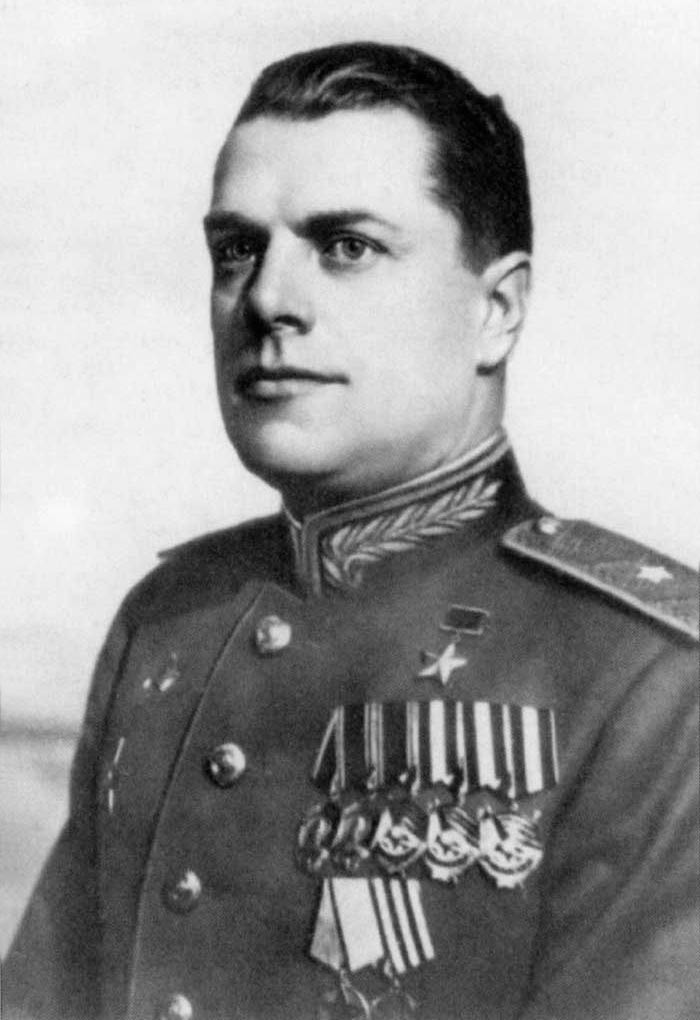 ¹ FAI Record File Number 8291
² FAI Record File Number 8209
³ FAI Record File Number 10412
⁴ FAI Record File Number 8730
⁵ FAI Record File Number 9300
© 2017, Bryan R. Swopes