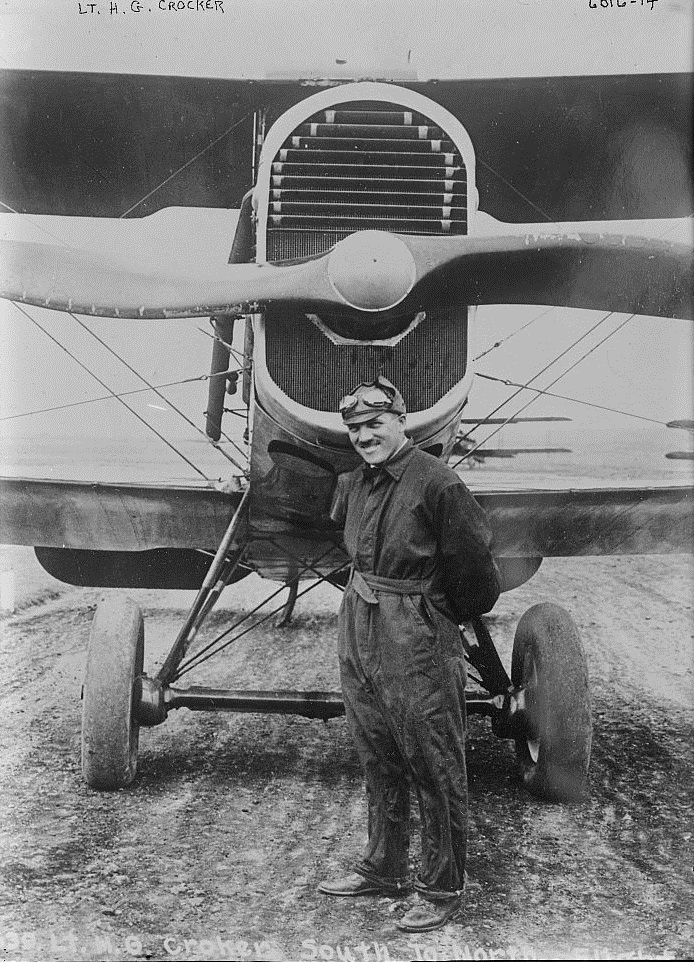 26 May 1923: 1st Lieutenant Harrison Gage Crocker, Air Service, United States Army, made the first South-to-North non-stop flight across the United States when he flew from the Gulf of Mexico to the U.S./Canada border near Gordon, Ontario.
Lieutenant Crocker's airplane was a modified DH-4B-1-S, serial number A.S. 22-353. This was the same airplane flown by Lieutenant James H. Doolittle on an East-to-West Transcontinental flight, 4 September 1922. The DH-4B-1-S had a 240 gallon (908.5 liter) main fuel tank and a 28 gallon (105.9 liter) reserve tank. It carried 24 gallons (90.9 liters) of lubricating oil for the engine.
Due to the heavy load, a long smooth airfield was necessary for the takeoff. Ellington Field, Houston, Texas, was selected, though it was farther south than other locations near the Gulf coastline.
Lieutenant Crocker took off from Ellington Field at 5:20 a.m., Central Time (0920 UTC) and turned toward the Gulf of Mexico. On reaching the Gulf, Crocker turned to the North, climbed to 1,800 feet (550 meters) at a speed of 97 miles per hour (156.1 kilometers per hour). Throughout the flight, he encountered low clouds and fog and rainstorms. He flew over, under, or through the clouds, depending on the circumstances. The storms forced him to deviate from his planned course several times.
According to Lieutenant Crocker's report of the flight,
The Canadian Border was touched about one mile from Gordon, Ontario, across from Trenton, Mich. at 4:49 p.m. central time, taking 11 hours and 29 minutes from Gulf to Border. The main tank supply gave out at 4:55 central time and the reserve was used for 20 minutes. Both mentally and physically fatigued, a landing at Selfridge Field was made at 5:15 p.m., making 11 hours and 55 minutes in the air.
—AIR SERVICE NEWS LETTER, Vol. VII, No. 13, 10 July 1923, at Page 2.
Harrison Gage Crocker was born at Wahpeton, Dakota Territory, 4 July 1888. He was the third of six children of William Goss Crocker, a county school superintendent, and Sarah Baird Purdon Crocker. He worked for his father as a printer at Lisbon, North Dakota.
After the United States had entered World War I, Harrison Crocker enlisted as a private in the Signal Enlisted Reserve Corps at Fort Omaha, Nebraska, 19 December 1917. He served as a private, first class, in the Aviation Section from 22 January to 18 October 1918, when he was discharged to accept a commission as a second lieutenant. This commission was vacated and Crocker was appointed a first lieutenant, Air Service, United States Army, 21 September 1920.
1st Lieutenant Crocker married Miss Ethel Toye at Northwood, Iowa, 1 December 1920. They had one son, Gage Houston Crocker, who would also serve as an officer in the Army Air Corps and U.S. Air Force. Mrs. Crocker died 14 September 1955. The following year, 20 October 1956, Colonel Crocker married Marjorie Bindley Johnston.
In 1926, Lieutenant Crocker was stationed in the Territory of the Canal Zone, Panama. He and Mrs. Crocker arrived there 10 April 1926, aboard the U.S. Army transport ship, USAT Cambrai.
On 1 October 1934, Lieutenant Crocker was promoted to the rank of captain, and a year later, 20 October 1935, to the temporary rank of major. This temporary rank became permanent 1 July 1940.
Major Crocker was promoted to lieutenant colonel (temporary), 15 July 1941 (permanent as of 11 December 1942).
Colonel Harrison Gage Crocker died at Los Gatos, California, 3 December 1964. He was buried at the Golden Gate National Cemetery, San Bruno, California.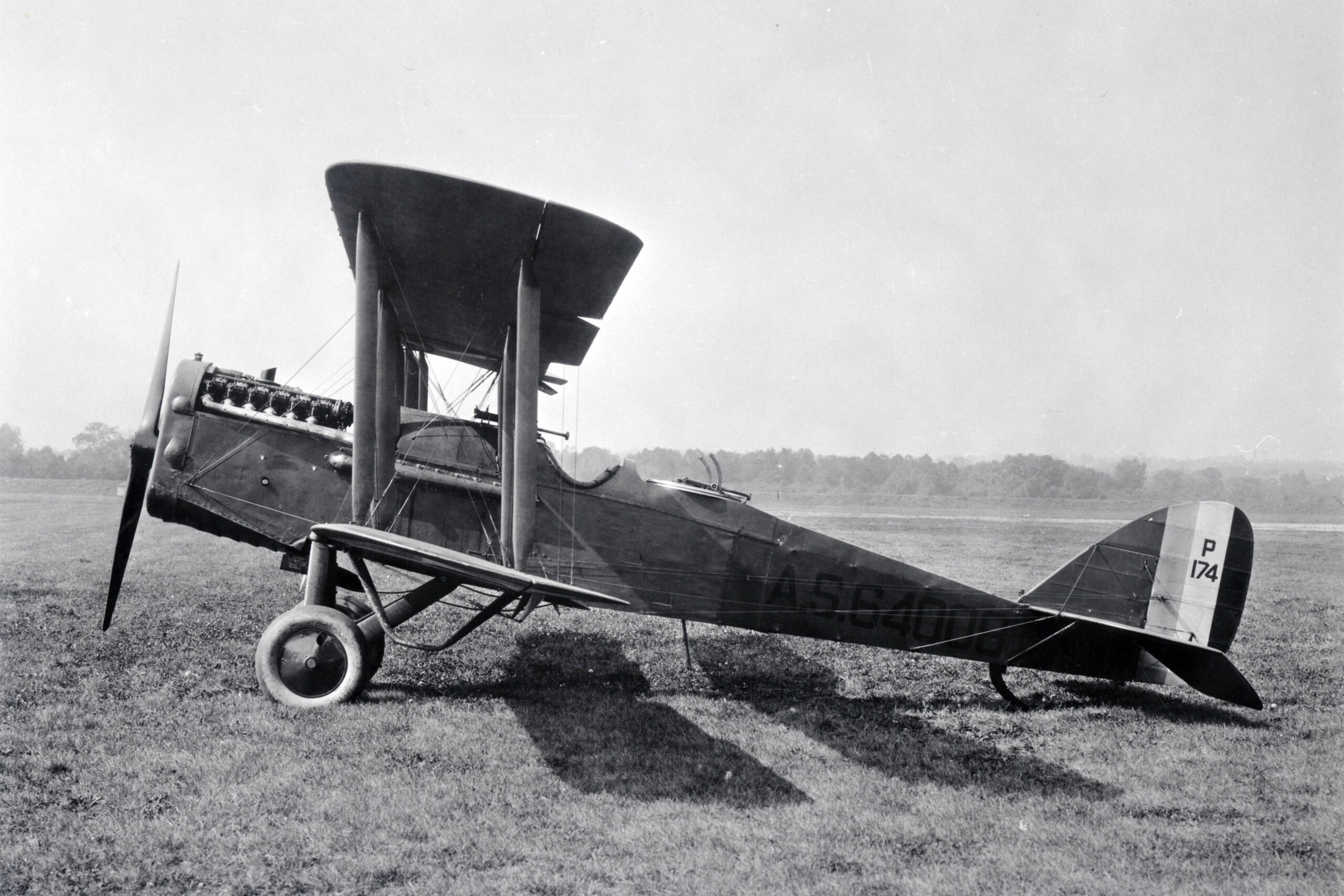 DH-4B-1-S A.S. 22-353 was a modified DH-4B. The Airco DH.4 was a very successful airplane of World War I, designed by Geoffrey de Havilland. It was a two-place, single-engine, two-bay biplane. Originally intended as a bomber, it served in virtually every capacity during World War I and the years following. It was built by several manufacturers in Europe and the United States.
The DH-4B was a rebuilt DH.4 with fuel capacity increased to 110 gallons (420 liters). The DH-4B was 30 feet, 6 inches (9.296 meters) long with a wingspan of 43 feet, 6 inches (13.259 meters) and height of 10 feet, 4 inches (3.150 meters). Loaded weight of the standard DH-4B was 3,557 pounds (1,613.4 kilograms).
In place of the Rolls-Royce Eagle VII V-12 of the British-built version, Army Air Service DH-4s were powered by a water-cooled, normally-aspirated, 1,649.336-cubic-inch-displacement (27.028 liter) Liberty L-12 single overhead cam (SOHC) 45° V-12 engine with a compression ratio of 5.4:1. The Liberty produced 408 horsepower at 1,800 r.p.m. The L-12 as a right-hand tractor, direct-drive engine. It turned turned a two-bladed fixed-pitch wooden propeller. The Liberty 12 was 5 feet, 7.375 inches (1.711 meters) long, 2 feet, 3.0 inches (0.686 meters) wide, and 3 feet, 5.5 inches (1.054 meters) high. It weighed 844 pounds (383 kilograms).
The Liberty L12 aircraft engine was designed by Jesse G. Vincent of the Packard Motor Car Company and Elbert J. Hall of the Hall-Scott Motor Company. This engine was produced by Ford Motor Company, as well as the Buick and Cadillac Divisions of General Motors, The Lincoln Motor Company (which was formed by Henry Leland, the former manager of Cadillac, specifically to manufacture these aircraft engines), Marmon Motor Car Company and Packard. Hall-Scott was too small to produce engines in the numbers required.
The DH-4B had a maximum speed of 128 miles per hour (206 kilometers per hour), service ceiling of 19,600 feet (5,974 meters) and range of 400 miles (644 kilometers).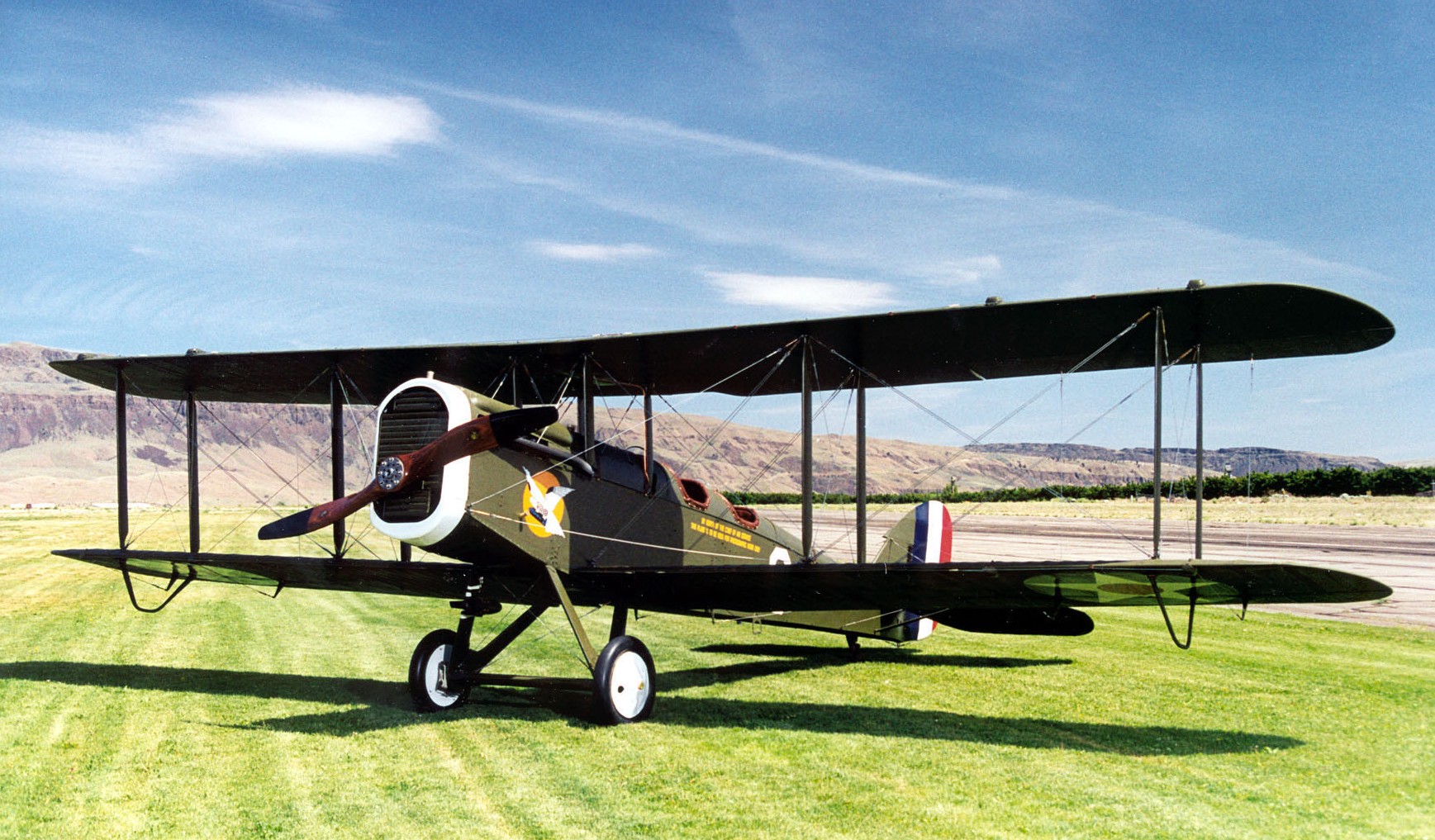 © 2017, Bryan R. Swopes