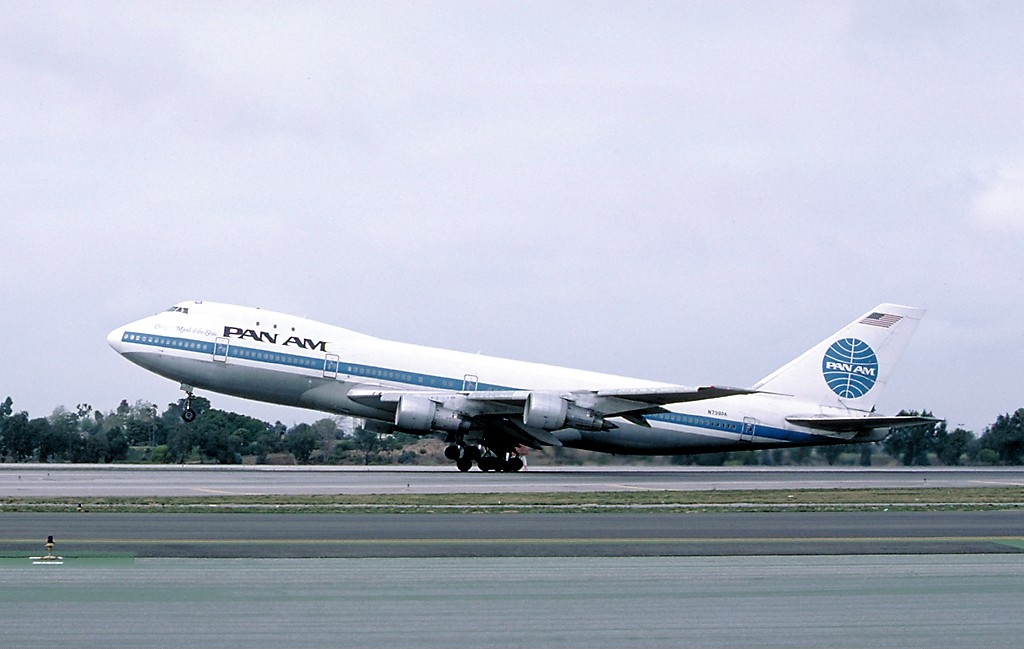 21 December 1988: Pan American World Airways' Flight 103 was a scheduled transatlantic passenger flight, originating at Flughafen Frankfurt am Main (FRA) with stopovers at London Heathrow Airport (LHR) and John F. Kennedy International Airport (JFK), with a final destination of Detroit Metropolitan Wayne County Airport (DTW).
The first leg from Frankfurt to London was flown with a Boeing 727. The transatlantic segment of Flight 103 was flown by a Boeing 747-121, N739PA, named Clipper Maid of the Seas. It departed Heathrow at 1825 hours UTC, with 16 crewmembers and 243 passengers. The 747 climbed to the north and leveled off at at 31,000 feet (9,449 meters) at 1856 hours.
At approximately 1903, a time bomb which had been placed inside luggage carried in the airliner's cargo hold detonated. Explosive decompression magnified the effects of the bomb. The airliner broke into five large sections and fell to the ground at the town of Lockerbie, Scotland.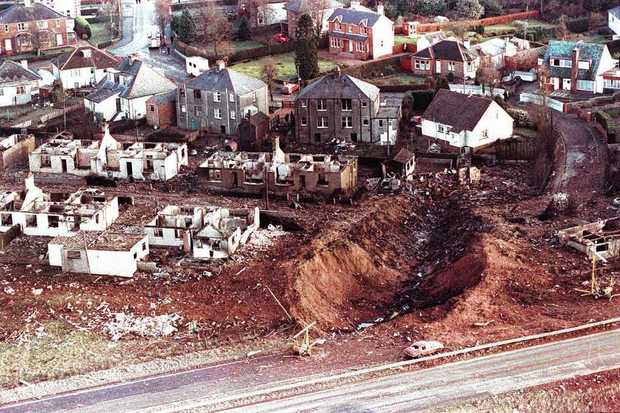 All 259 persons on board the 747 were killed, as were another 11 persons on the ground.
The time bomb is believed to have been placed aboard the airliner by agents of the Great Socialist People's Libyan Arab Jamahiriya, acting on orders of the Brotherly Leader and Guide to the Revolution of Libya, Muammar al-Gaddafi. One of these, Abdelbaset Ali Mohmed al-Megrahi, was convicted of 270 counts of murder in a Scottish criminal court seated in The Netherlands. The defense twice appealed the case, but prior to a decision in the second appeal, al-Megrahi dropped his appeal and asked to be released from jail because it was believed that he would very soon die of cancer. The Scottish court did release him and he returned to Libya on 14 August 2009, on board Colonel Gadaffi's personal aircraft. He reportedly died 20 May 2012.
Another suspect, Abu Agila Mohammad Mas'ud Kheir Al-Marimi, believed to have been the bomb maker, was recently taken into custody by the United States.
Boeing delivered N739PA to Pan American 15 February 1970. The airliner was originally named Clipper Morning Light. At the time of the bombing, it had accumulated 72,464 total flight hours.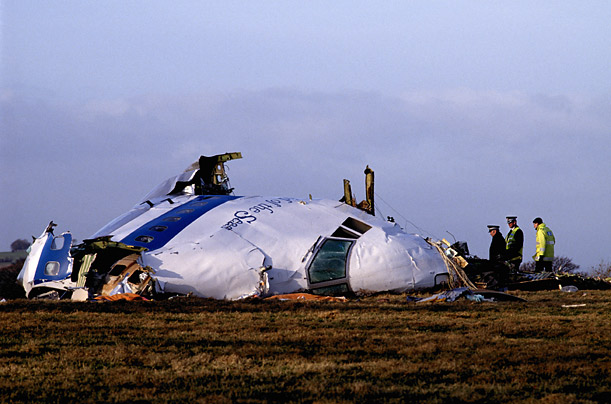 The 747-100 series was the first version of the Boeing 747 to be built. It was operated by a flight crew of three and was designed to carry 366 to 452 passengers. It is 231 feet, 10.2 inches (70.668 meters) long with a wingspan of 195 feet, 8 inches (59.639 meters) and overall height of 63 feet, 5 inches (19.329 meters). The interior cabin width is 20 feet (6.096 meters), giving it the name "wide body." Its empty weight is 370,816 pounds (168,199 kilograms) and the Maximum Takeoff Weight (MTOW) is 735,000 pounds (333,390 kilograms).
The 747-100 is powered by four Pratt & Whitney JT9D-7A high-bypass ratio turbofan engines. The JT9D is a two-spool, axial-flow turbofan engine with a single-stage fan section, 14-stage compressor (11 high- and 3 low-pressure stages) and 6-stage turbine (2 high- and 4 low-pressure stages). The engine is rated at 46,950 pounds of thrust (208.844 kilonewtons), or 48,570 pounds (216.050 kilonewtons) with water injection (2½-minute limit). This engine has a maximum diameter of 7 feet, 11.6 inches (2.428 meters), is 12 feet, 10.2 inches (3.917 meters) long and weighs 8,850 pounds (4,014 kilograms).
The 747-100 has a cruise speed of 0.84 Mach (555 miles per hour, 893 kilometers per hour) at 35,000 feet (10,668 meters). The maximum certificated operating speed is 0.92 Mach. The airliner's maximum range is 6,100 miles (9,817 kilometers).
The Boeing 747 has been in production for 51 years. 1,568 have been delivered as of 7 December 2021. 205 of these were the 747-100 series. The U.S. Air Force has selected the Boeing 747-8 as the next presidential transport aircraft.
© 2022, Bryan R. Swopes