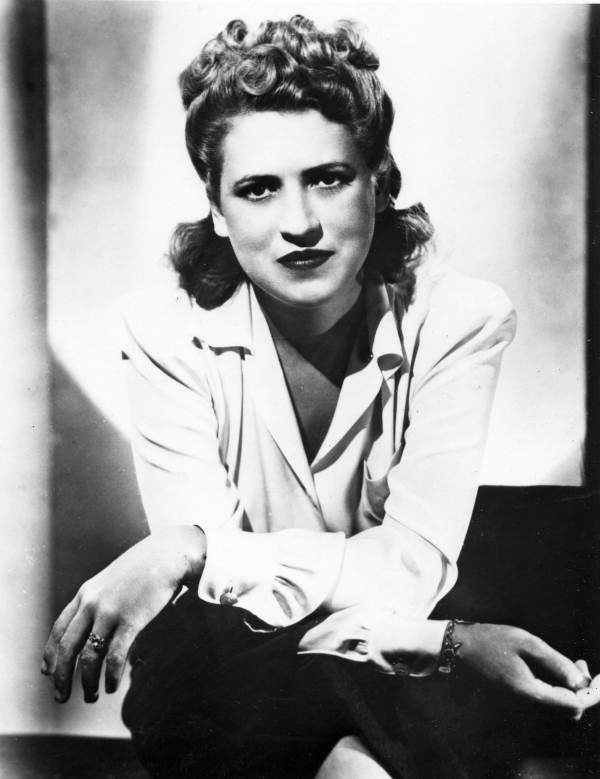 3 December 1937: Jackie Cochran flew a Seversky SEV-S1, NR18Y, a variant of the AP-7, from Floyd Bennett Field, Brooklyn, New York, to Miami, Florida, in 4 hours, 12 minutes, 27.2 seconds.
On the same day, Александр Николаевич Прокофьев-Северский (Alexander Nikolaievich Prokofiev de Seversky), the airplane's designer, flew a second AP-7-type airplane from New York to Havana, Cuba, in 5 hours, 3 minutes, 5 seconds.
The Miami Daily News reported:
. . . Jaqueline Cochran, 26-year-old New York woman flier, set a speed record of four hours and 12 minutes in a flight from New York City which ended at 3:21 p.m. yesterday at municipal airport. Averaging 278.13 miles an hour on her trip south, Miss Cochran beat the fastest time ever recorded either way between the two cities by eight minutes. That mark was set northbound by Howard Hughes. . .
. . . A New York-Havana non-stop flight record also was set yesterday when Maj. Alexander de Seversky flew the 1,350 miles in five hours and two minutes—two hours and one minute faster than Lieut. Commander Frank hawks' record of 1931. The new record-holder is expected to fly to Miami today.
— Miami Daily News, Vol. XLII, No. 358, Saturday, 4 December 1937, Page 1, Column 8, and Page 2, Column 5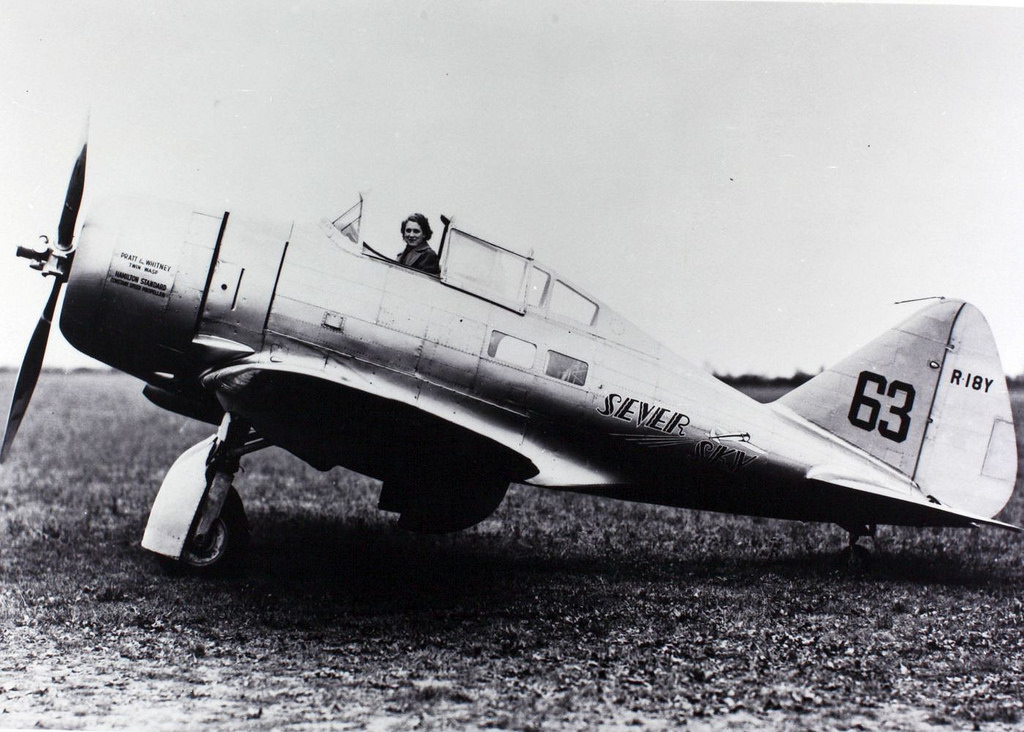 ". . . Sasha [de Seversky] became convinced that I could win the big New York-to-Miami air race coming up. What better rebuttal could he have than to have his plane flown 300 miles per hour [483 kilometers per hour] over a measured, timed course and to have it all done by a woman? The Army Air Forces were canceling further orders because they saw the airplane as dangerously faulty and not up to the specifications they had ordered.
"Sasha installed an extra gas tank in place of a seat for me. It wasn't very comfortable, but what was worse was that the plane had never been test-flown with a full load of gas. I took off and discovered that the center of gravity was somewhere in the nose. God, I nearly put that plane into the bay just south of what is now Kennedy Airport. It porpoised terribly for over an hour. . .
"I did get the nose up in time to avoid a swim, but until I burned out most of the fuel in the seat tank, I really had to hold on for a rough ride—up and down the sky. From Washington  D.C., on, the situation straightened out and I got the record Sasha wanted so badly. . . ."
—Jackie Cochran: An Autobiography, by Jacqueline Cochran and Maryann Bucknum Brinley, Bantam Books, New York, 1987, Pages 150–151.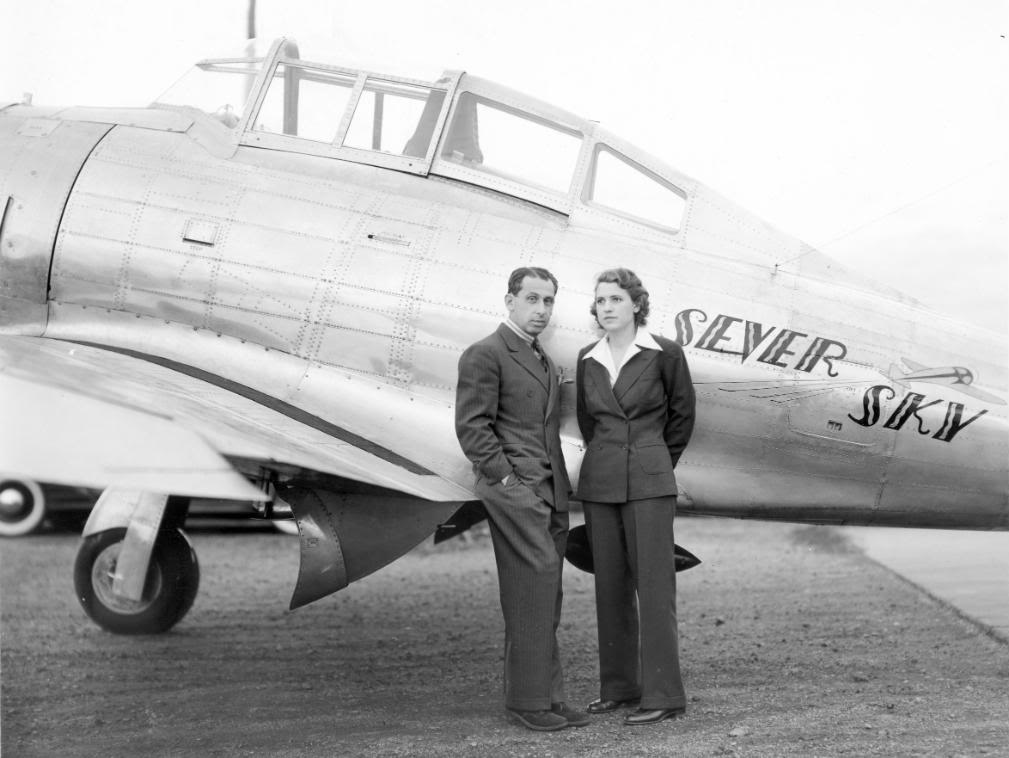 "On five different occasions I have landed after a speed flight with less than two minutes of fuel remaining and once—on a record flight from New York to Miami—my engine went dead just as my wheels touched the runway. This was because of a risk I had not considered. When I reached the destination, a squadron of Navy planes was in formation flight over the airport and I had to circle before landing."
—The Stars At Noon, by Jacqueline Cochran, Little, Brown and Company, Boston, 1954, Chapter IV at Page 72.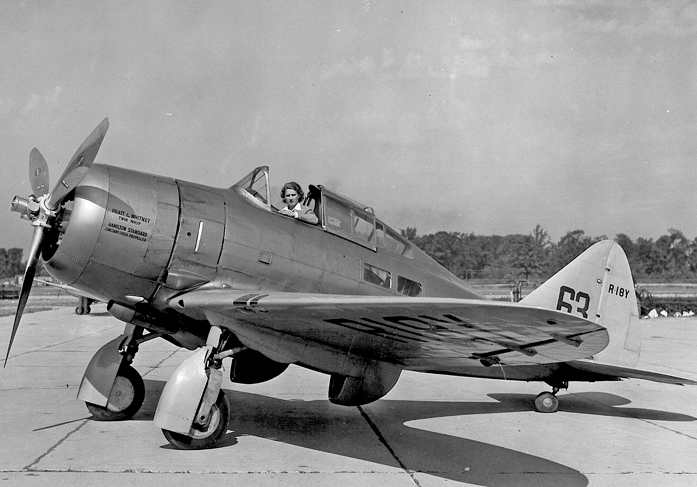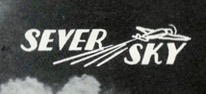 The AP-7 was an improved version of Major de Seversky's P-35A fighter, which was the U.S. Army Air Corps' first all-metal, single-engine airplane with an enclosed cockpit and retractable landing gear.
The airplane had been built as the SEV-2XP, a two-place monoplane with fixed landing gear, and powered by an air-cooled, supercharged 1,666.860-cubic-inch-displacement (27.315 liter) Wright Aeronautical Division GR1670 two-row, 14-cylinder radial engine.
The SEV-2XP was to be a second entry, along with the SEV-1XP, to enter a fly-off against the Curtiss 75 Hawk for the Air Corps fighter contract in 1935. It was damaged, though, while en route Wright Field. The prototype was rebuilt as a single-place airplane with retractable landing gear and a 1,000-horsepower Wright Cyclone GR-1820G4 nine-cylinder engine. In this configuration, the airplane was designated SEV-1XP.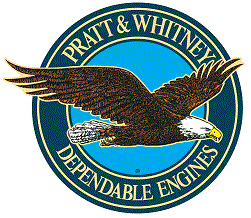 After the Air Corps demonstrations, which resulted in an order for 100 Seversky P-35s, NX18Y was again repowered, this time with an air-cooled, supercharged, 1,829.39-cubic-inch-displacement (29.978 liter) Pratt & Whitney Twin Wasp S1B3-G (R-1830-11) two-row 14-cylinder radial engine. The R-1830-11 had a compression ratio of 6.7:1 and was rated at 850 horsepower at 2,450 r.p.m. at 5,000 feet (1,524 meters), and 1,000 horsepower at 2,600 r.p.m. for take off. 87-octane aviation gasoline was required. The engine turned a three-bladed Hamilton-Standard controllable-pitch propeller through a 3:2 gear reduction. The R-1830-11 was 4 feet, 8.66 inches (1.439 meters) long with a diameter of 4 feet, 0.00 inches (1.219 meters), and weighed 1,320 pounds (599 kilograms).
With the Twin Wasp, NR18Y's designation was changed to SEV-S1. Frank Sinclair, Seversky's chief test pilot, flew it in the 1937 Bendix Trophy Race and the Thompson Trophy Race. (Jackie Cochran flew a Beech Staggerwing in the '37 Bendix, beating Sinclair and NX18Y by 33 minutes.) Sinclair went on to place fourth in the Thompson pylon race. The Seversky averaged 252.360 miles per hour (406.134 kilometers per hour).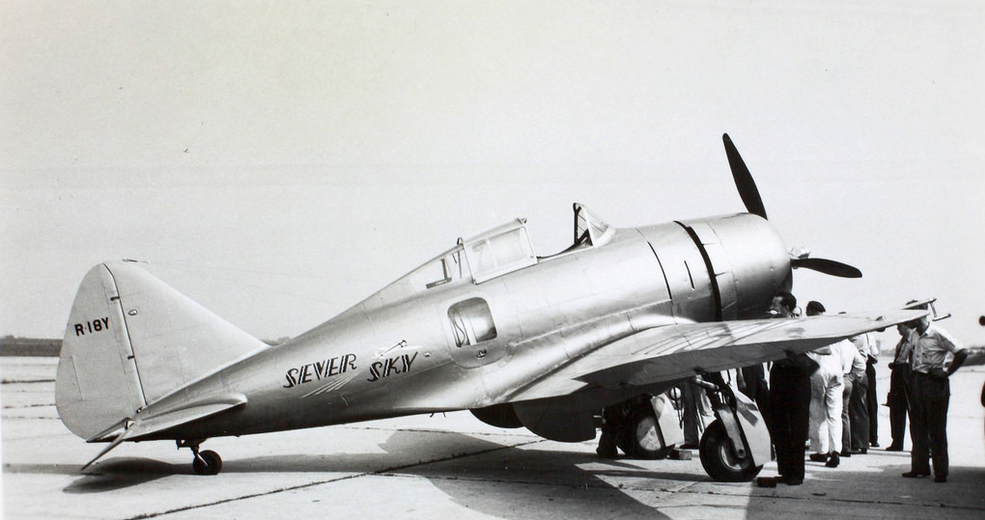 © 2018, Bryan R. Swopes
by