"Aviation in itself is not inherently dangerous. But to an even greater degree than the sea, it is terribly unforgiving of any carelessness, incapacity or neglect."
Probably every pilot, or aspiring pilot, has read these words in some form. The statement was made by Captain Alfred G. Lamplaugh, Principle Surveyor for The British Aviation Insurance Co., Ltd.
Captain Alfred Gilmer Lamplugh, C.B.E., F.R.Ae.S, M.I.Ae.S., M.C.A.I., F.R.G.S.—nicknamed "Lamps"— was well known and respected in aviation circles in the United Kingdom. He was one of the great (though largely unkown) personalities of the aviation world.
The Journal of the Royal Aeronautical Society reported: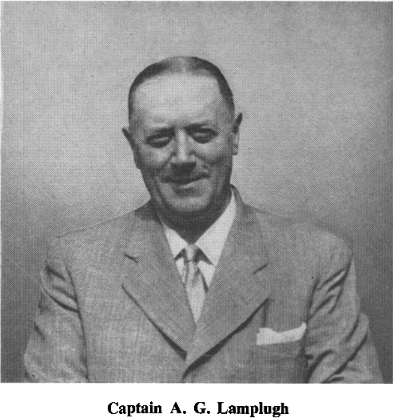 THE DEATH OF CAPTAIN A. G. LAMPLUGH on 15th December 1955, at only sixty years of age is a grievous blow to aviation and one that I personally feel most deeply, for our activities in the aeronautical world brought us together on frequent occasions over a period of many years.
     Captain Alfred Gilmer Lamplugh, C.B.E., F.R.Ae.S., M.C.A.I., F.R.G.S., had been Underwriter and Principal Surveyor of the British Insurance Co. Ltd. since its formation until his retirement and election to its board of directors in September last.
     He was educated at King Edward's School and Queen's College, Birmingham. His interests were technical rather than scholastic, however, and he served an apprenticeship with a firm of motor engineers. In 1913 he learned to fly and obtained one of the very early "B" licenses.
     The Great War came and he went into the army, to be seconded later to the R.F.C. He served in that corps and the R.A.F. until 1919.
     It was abroad, in China, that he gained his first experience in insurance. Then home once more, he became Underwriter to the British Aviation Insurance Group, later British Aviation Insurance Co. Ltd., and was introduced to aviation insurance, this group in those days being the only body to undertake such work.
     His interest in almost every aspect of things aeronautical was enormous and far beyond a merely professional one. This interest—and his great abilities—were reflected in the number of positions, mainly honorary in nature, which he filled with success and in many cases for long periods.
     He was a member of the Committee of the Royal Aero Club for nearly thirty years; a memmer of the Council of the Air Registration Board since its inception; an honorary member of the British Airline Pilots' Association; a member of the International Union of Aviation Insurers; Chairman of the Aviation Insurance Offices Association; and President of the London Gliding Club. In 1943 he was Chairman of the Independent Committee on the Future of Civil Aviation.

     He did much for flying, both in these capacities and in other ways, not least by his services in the field of insurance. It was in recognition of this that he was appointed a Companion of the order of the British Empire.
     "Lamps" made it his business and his pleasure to be at the heart of aeronautical activities, not only getting to know people, but getting to know them well. He was a familiar figure at aviation gatherings of every sort since the early 'twenties and will be missed by very many of us indeed.
SIR FREDERICK HANDLEY PAGE
J. Laurence Pritchard writes:
     I have a great affection for "Lamps," and I am glad to be able to express it in the JOURNAL of the Society, of which he was a good friend.
     On September 14, last year, he wrote to me, in reply to a letter of mine about a project of his, "It would be nice to have some stabilizing influence like yours in the show and it was kind of you to write. Your interest has bucked me up a lot."
     "Lamps" must have known that his chance of carrying out his idea was very small indeed, but his magnificent courage would never allow him not to try, whatever the odds were. I shall always be glad that I was the first to reply to his suggestion, for he was the first to listen to any suggestion of mine when he was on the Council of the Society, and its Honorary Treasurer.
     "Lamps" joined the Society in 1924, and became an Associate Fellow two years later. In 1929 he was made a Fellow.
     On the Council, to which he was first elected in 1933, he was a tower of strength with his direct comments, which were always listened to, and generally agreed upon. It was a tribute to his practical and sane outlook that the year he was elected to the Council, he was asked to serve on the Finance Committee, upon which he served until 1947.
     He was Honorary Treasurer in those difficult years 1941–46 when Councils and Committees were not able to give close consideration to the affairs of the Society, and I wanted what help I could get.
     "Lamps" often dropped in casually in those days, talked about any difficulties I may have had, and just as casually went out saying, All right, chaps, it'll be done." It was. Few appreciated how quietly he kept up others' morale, how shrewdly he summed up all those with whom he came in contact.
     During the War he once gave me a lift in his car into the West Country. Those were the days when all sign posts had been obliterated, post office and village signs blotted out; and driving was difficult. Yet he drove with great assurance, often on minor roads, while we talked of everybody and everything. In his car he had a small portable wireless set, given him in New York, so that he could hear the news wherever he happened to be. Fixed below the dashboard was an aeroplane compass.
     "That's how I find my way," he replied cheerily, when I complimented him on his knowledge of all the by-roads.
     When the offices of the Guild of Air Pilots were destroyed I agreed to find room for their staff at 4 Hamilton Place. "Lamps" was one of the Wardens of the Guild and often came in to see how things were going. One day a bomb dropped in Hyde Park and blew in some of the office windows. I had given very definite orders that the moment the sirens sounded their warning all curtains were to be drawn and staff were to keep away from the windows.
     I went round the building, and as I walked up the stairs to the Guild of Air Pilots' room Lamplugh followed me. He had dashed round to see how things were. One of the girls was sitting in front of her typewriter by a window, the blind not drawn. For disobeying the orders upon which her life might have depended she got no praise but was told sharply where to sit in the future. I expected "Lamps" to say something to me about the way I spoke to someone not on the Society's staff. All he said was, as we walked away, "Good show, chaps."
     I believe that when someone tries to assess the personalities of those early years of aviation, that of Alfred Gilmer Lamplugh will rank very highly indeed, for he had the courage and vision when both were required in full measure.

***************
Alfred Gilmer Lamplugh was born at Garton on the Wolds, East Riding of Yorkshire, England, 19 October 1895.  He was the first of three children of Sydney Augustus Lamplugh and Ellen Cecile Gilmer Lamplugh. His younger brother, Air Mechanic 1st Class Sidney Clifford Lamplugh, was killed 6 March 1917, when the airplane on which he was an observer entered a spin and crashed shortly after takeoff. His sister, Joan Frances Mary Elinor Lamplugh, M.B., Ch.B., was a physician and surgeon who ran two medical missions in Rhodesia.
Alfred Lamplugh had apprenticed with the Austin Motor Company. He learned to fly in 1913, and he received Air Ministry B License No. 155.
He enlisted in the 4th Hussars, British Army, on 1 September 1914 and on 22 January 1915 received a commission as a Temporary Second Lieutenant, 8th Battalion, North Staffordshire Regiment. Infantry. He was transferred ("seconded") to the Royal Flying Corps 12 August 1916. He was trained to fly at the Military School, Birmingham, in a Maurice Farman biplane. Lieutenant Lamplugh received an aviator's certificate from the Royal Aero Club, 8 December 1916.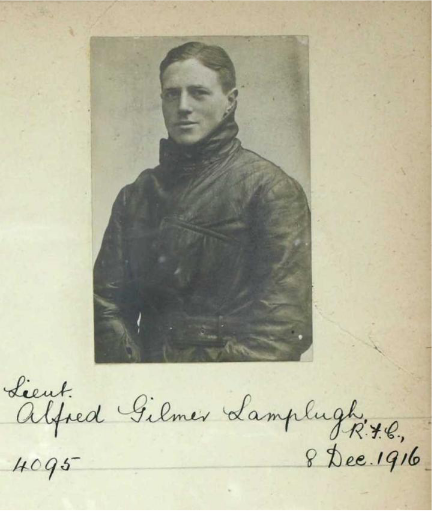 He was assigned to the 5th Reserve Squadron. (The R.F.C. became the Royal Air Force on 1 April 1918.) Lieutenant Lamplaugh was deployed to Mesoptamia and according to one source, served as a pilot for T. E. Lawrence ("Lawrence of Arabia").He was promoted to captain 2 August 1919. On 24 October 1919, Captain Lamplugh was appointed Flying Officer, Royal Air Force.
Flying Officer Alfred Lamplugh married Miss Marie Emily Hugo at King's Norton, Worcestershire, in December 1919. They would have two sons, Alfred Brian Hugo Lamplugh and Beric Clifford Gordon Lamplugh.
On 29 January, Lamplugh, then employed as an insurance manager, saild aboard S.S. Adriatic from Southampton to New York, arriving there 8 February 1920. He crossed the North American continent by railroad, then sailed across the Pacific to Hong Kong. Mrs. Lamplugh joined him later. They returned to England with their son Brian aboard S.S. Carnarvonshire, arriving 6 March 1923.
In 1922, Flying Officer Lamplugh was transferred to the Reserve of Air Force Officers, in which he remained until relinquishing his commission 30 December 1938. He was permitted to retain his rank.
In the King's Birthday Honours, 13 June 1946, Lamplugh was appointed a Commander of the Most Excellent Order of the British Empire.
Alfred Lamplugh died at Marylebone, London, England, 15 December 1955. The following day, he was posthumously appointed Officier de l'Ordre de Leopold II by Belgium.
© 2020, Bryan R. Swopes