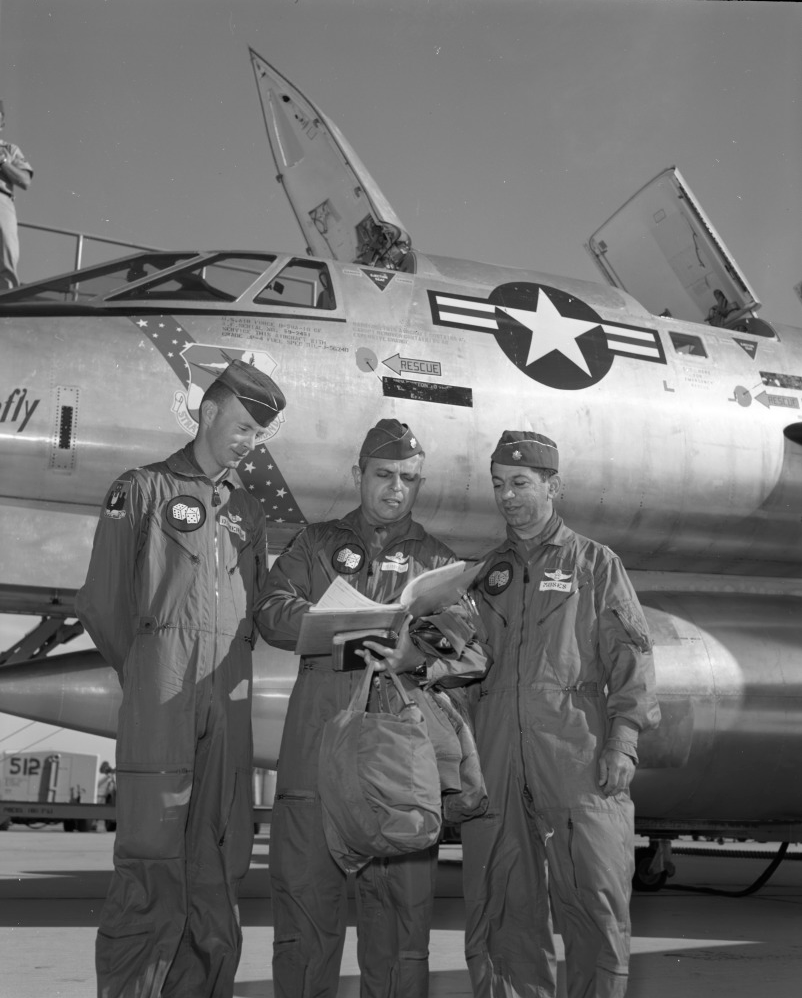 In 1930, aviation pioneer Louis Charles Joseph Blériot established the Blériot Trophy, to be awarded to an aviator who demonstrated flight at a speed of 2,000 kilometers per hour (1,242.742 miles per hour) for 30 minutes. The technology to accomplish this was three decades in the future.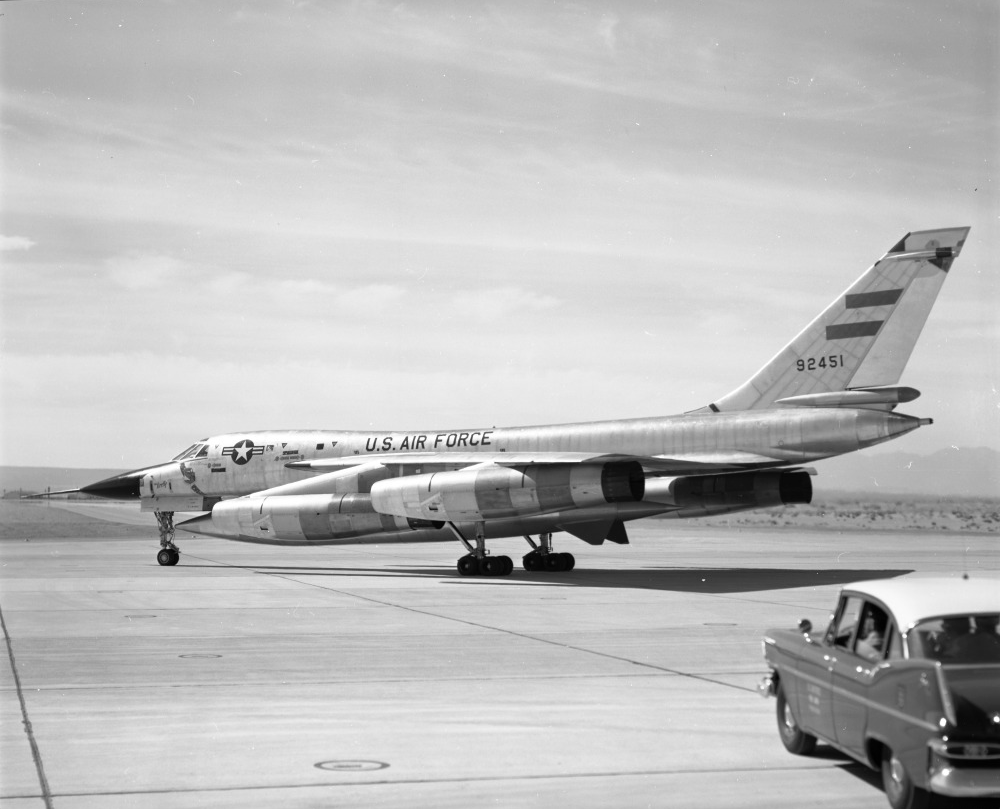 On 10 May 1961, a U.S. Air Force/Convair B-58A-10-CF Hustler, serial number 59-2451, The Firefly, did just that. Flown by a crew consisting of Aircraft Commander, Major Elmer E. Murphy, Navigator, Major Eugene Moses, and Defensive Systems Officer, First Lieutenant David F. Dickerson, the Mach 2+ Strategic Air Command bomber flew 669.4 miles (1,077.3 kilometers) in 30 minutes, 43 seconds. Their average speed was 1,302.07 miles per hour (2,095 kilometers per hour).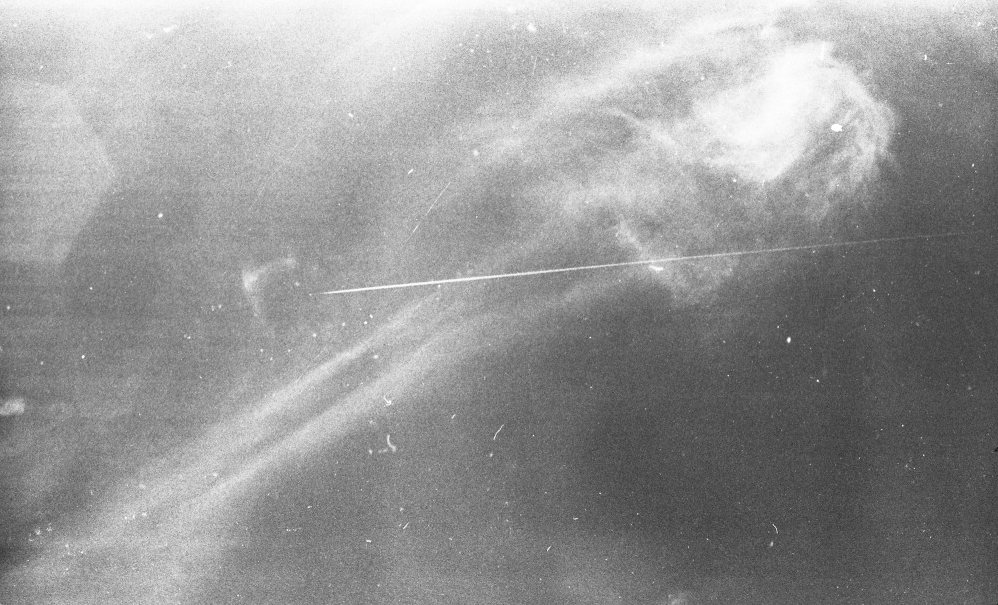 The black and white marble trophy was presented to the B-58 crew by Alice Védères Blériot, widow of Louis Blériot, at Paris, France, 27 May 1961. It is on permanent display at the McDermott Library of the United States Air Force Academy, Colorado Springs, Colorado.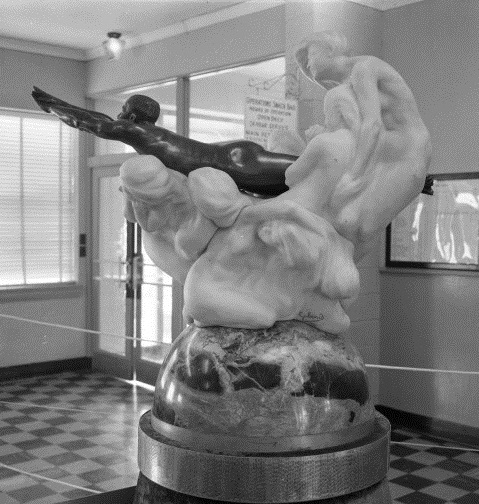 The Convair B-58 Hustler was a high-altitude, Mach 2+ strategic bomber which served with the United States Air Force from 1960 to 1970. It was crewed by a pilot, navigator/bombardier and a defensive systems operator located in individual cockpits. The aircraft has a delta-winged configuration similar to Convair's F-102A Delta Dagger and F-106 Delta Dart supersonic interceptors.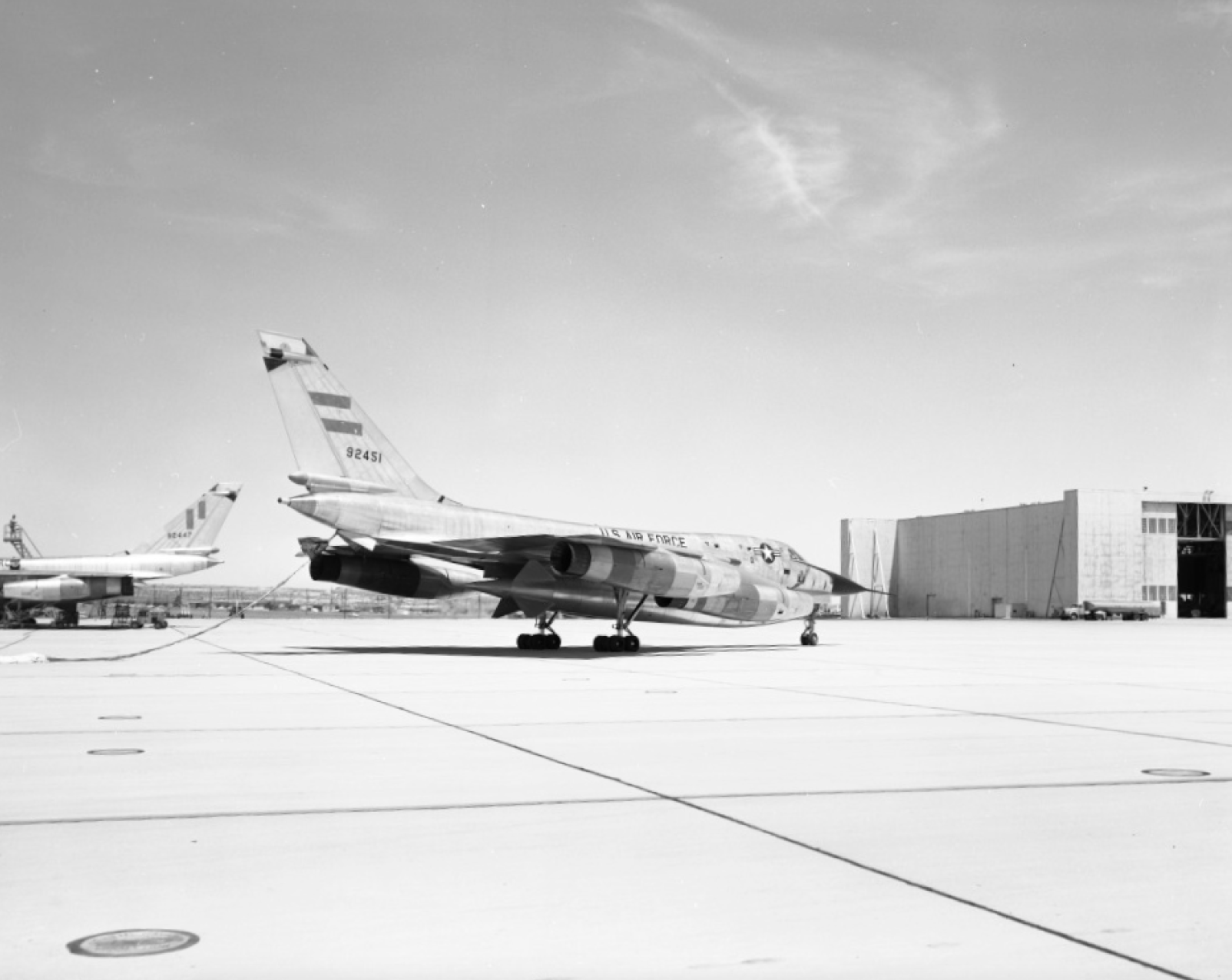 The Hustler is 96 feet, 10 inches (29.515 meters) long, with a wing span of 56 feet, 10 inches (17.323 meters) and overall height of 31 feet 5 inches (9.576 meters). The wings' leading edge is swept back at a 60° angle and the fuselage incorporates the "area rule" which resulted in a "wasp waist" or "Coke bottle" shape for a significant reduction in aerodynamic drag. The airplane's only control surfaces are two "elevons" and a rudder. There are no flaps.
The B-58's delta wing has a total area of 1,542.5 square feet (143.3 square meters) and the leading edges are swept back at a 60° angle. The wing has an angle of incidence of 3° and 2° 14′ dihedral (outboard of Sta. 56.5).
The B-58A had an empty weight of 51,061 pounds (23161 kilograms), or 53,581 pounds (24,304 kilograms) with the MB-1 pod. The maximum takeoff weight was 158,000 pounds (71,668 kilograms).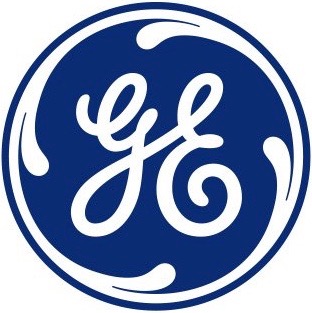 The B-58A was powered by four General Electric J79-GE-5 axial-flow afterburning turbojet engines, suspended under the wings from pylons. This was a single-shaft engine with a 17-stage compressor and 3-stage turbine. It had a Normal Power rating of 9,700 pounds of thrust (43.148 kilonewtons). The Military Power rating was 10,000 pounds (44.482 kilonewtons), and it produced a maximum 15,600 pounds (69.392 kilonewtons) at 7,460 r.p.m., with afterburner. The J79-GE-5 was 16 feet, 10.0 inches (5.131 meters) long and 2 feet, 11.2 inches (0.894 meters) in diameter. It weighed 3,570 pounds (1,619 kilograms).
The bomber had a cruise speed of 544 knots (626 miles per hour/1,007 kilometers per hour) and a maximum speed of 1,147 knots (1,320 miles per hour/2,124 kilometers per hour) at 67,000 feet (20,422 meters). The B-58A had a combat radius of 4,225 nautical miles (4,862 statute miles/7,825 kilometers). Its maximum ferry range was 8,416 nautical miles (9,685 statute miles/15,586 kilometers).
The B-58 weapons load was a combination of Mark 39, B43 or B61 thermonuclear bombs. The weapons could be carried in a jettisonable centerline pod, which also carried fuel. The four of the smaller bombs could be carried on underwing hardpoints. There was a General Electric M61 20 mm rotary cannon mounted in the tail, with 1,200 rounds of ammunition, and controlled by the Defensive Systems Officer.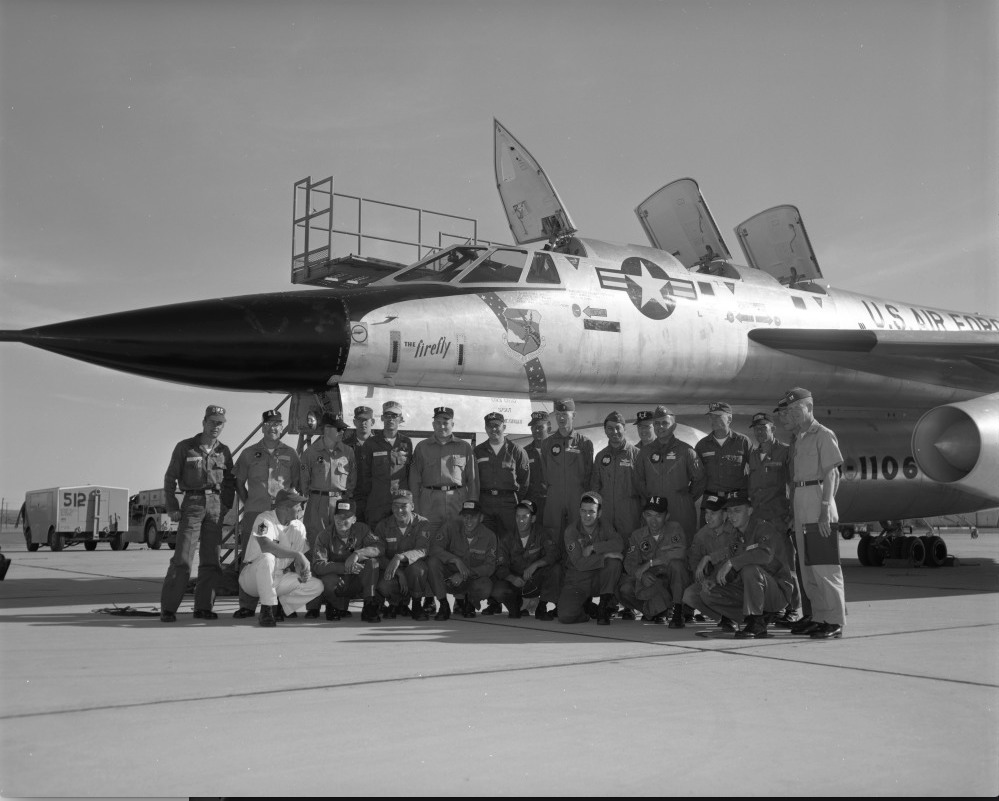 On 26 May 1961, The Firefly, flown by a different aircrew, set a speed record by flying New York to Paris, while enroute to the Paris Air Show, a distance of 3,626.46 miles in 3 hours, 19 minutes, 58 seconds, for an average of 1,089.36 mph.
Convair built 116 B-58s between 1956 and 1961. They were retired by 1970.
On 3 June 1961, the Blériot Trophy-winning crew of Murphy, Moses and Dickerson departed Le Bourget Airport aboard 59-2451 for the return trip to America. The B-58 crashed five miles from the airport. All three men were killed and the aircraft totally destroyed.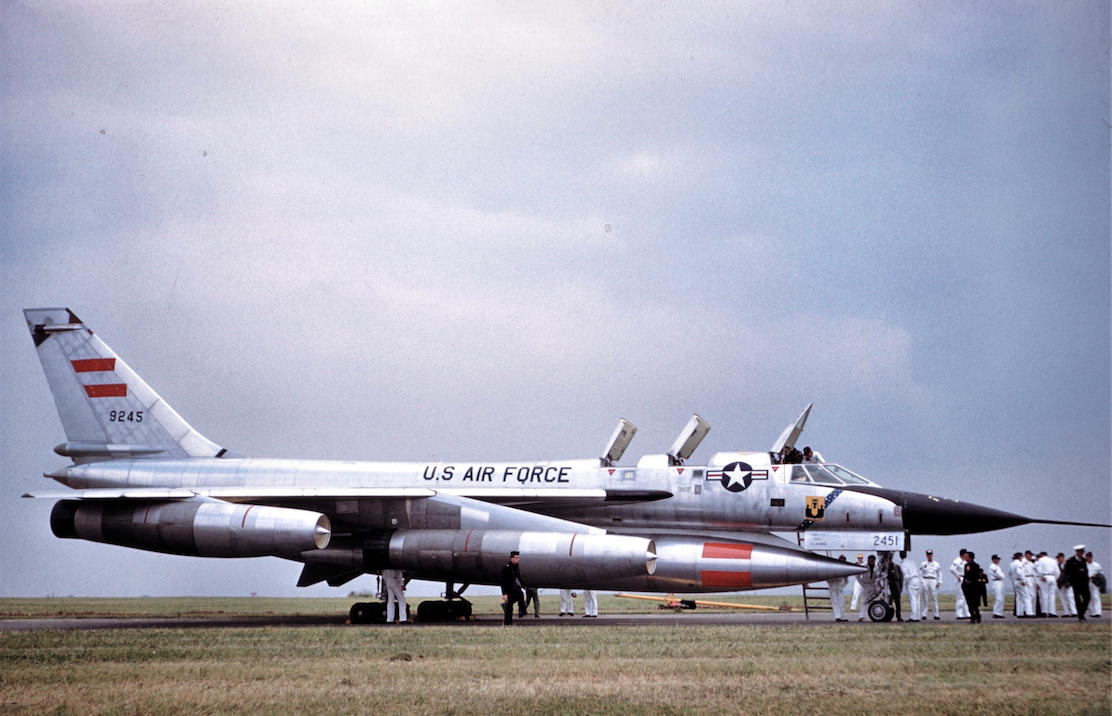 General Dynamics contributed an extensive collection of photographs of the speed run to the San Diego Air and Space Museum, which holds them in its Archives.
A 1961 Air Force film covering the event and the presentation of the Blériot Trophy can be seen on You Tube at https://youtu.be/0D_n8YRodII
© 2018, Bryan R. Swopes