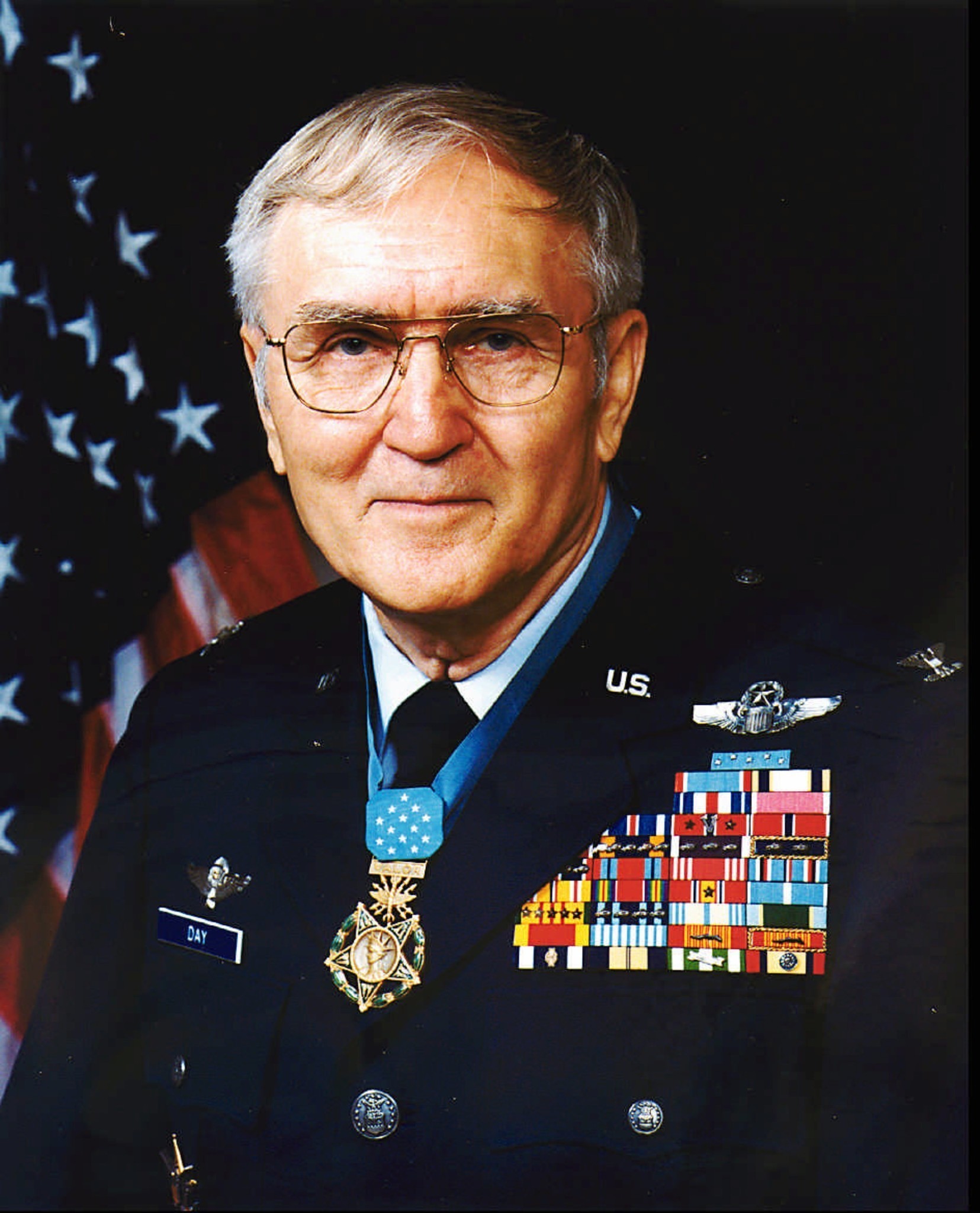 Colonel George Everette Day, United States Air Force
MEDAL OF HONOR
Rank and organization: Colonel (then Major), U.S. Air Force, Forward Air Controller Pilot of an F-100 aircraft.
Place and date: North Vietnam, August 26, 1967.
Entered service at: Sioux City, Iowa.
Born: February 24, 1925, Sioux City, Iowa.
Citation: On 26 August 1967, Col. Day was forced to eject from his aircraft over North Vietnam when it was hit by ground fire. His right arm was broken in 3 places, and his left knee was badly sprained. He was immediately captured by hostile forces and taken to a prison camp where he was interrogated and severely tortured. After causing the guards to relax their vigilance, Col. Day escaped into the jungle and began the trek toward South Vietnam. Despite injuries inflicted by fragments of a bomb or rocket, he continued southward surviving only on a few berries and uncooked frogs. He successfully evaded enemy patrols and reached the Ben Hai River, where he encountered U.S. artillery barrages. With the aid of a bamboo log float, Col. Day swam across the river and entered the demilitarized zone. Due to delirium, he lost his sense of direction and wandered aimlessly for several days. After several unsuccessful attempts to signal U.S. aircraft, he was ambushed and recaptured by the Viet Cong, sustaining gunshot wounds to his left hand and thigh. He was returned to the prison from which he had escaped and later was moved to Hanoi after giving his captors false information to questions put before him. Physically, Col. Day was totally debilitated and unable to perform even the simplest task for himself. Despite his many injuries, he continued to offer maximum resistance. His personal bravery in the face of deadly enemy pressure was significant in saving the lives of fellow aviators who were still flying against the enemy. Col. Day's conspicuous gallantry and intrepidity at the risk of his life above and beyond the call of duty are in keeping with the highest traditions of the U.S. Air Force and reflect great credit upon himself and the U.S. Armed Forces.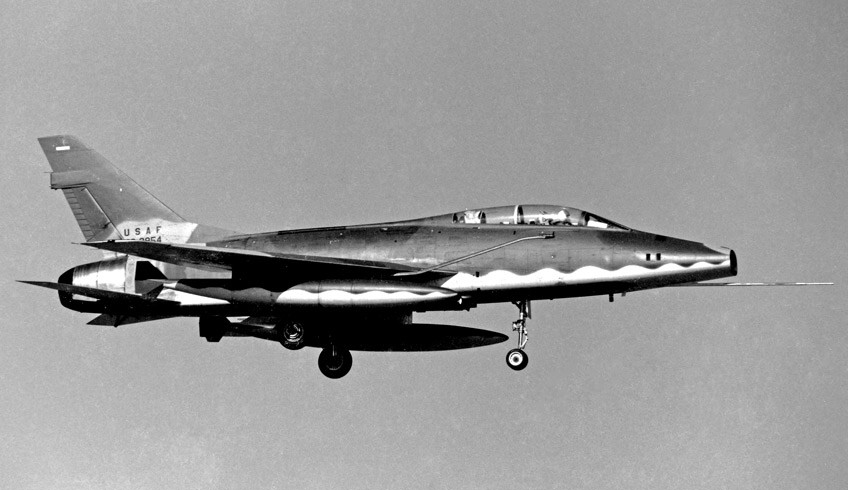 George Everette Day was born at Sioux City, Iowa, 24 February 1925. He was the second child of John Edward Day, a laborer, and Christina Marie Larson Day, an immigrant from Denmark.
George Day attended Central High School in Sioux City. During his senior class year, he dropped out of school immediately following the attack on Pearl Harbor that brought the United States into World War II. On 10 December 1941, Day enlisted as a private in the United States Marine Corps Reserve. After training, he was assigned to the Seacoast Artillery Group, 16th Defense Battalion, Fleet Marine Force. Day was deployed to the Pacific 23 May 1943. He then was sent to Johnston Island as a member of the Marine Defense Force. Johnston Island was one of four small islands of an atoll, approximately 860 miles southwest of the island of Hawaii. It was an important refueling point for airplanes and submarines. Corporal Day remained there throughout the war. He returned to the United States 9 November 1945 and was released from service 24 November 1945.
George Day enlisted in the United States Army Reserve, 11 December 1946. He served with the Iowa National Guard for three years while attending college. He studied at Morningside College, a private liberal arts college in Sioux City, earning a bachelor of science degree, and then the University of South Dakota School of Law, at Vermillion, South Dakota, graduating with the degree of Juris Doctor. He was admitted to the State Bar of South Dakota in 1949.
Also in 1949, Day married Miss Doris Merline Sørensen, also from Sioux City, and the daughter of Norwegian immigrants. They would later adopt four children.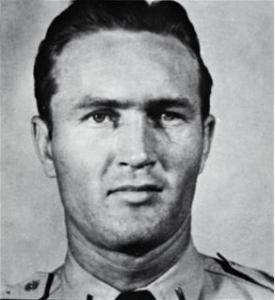 On 17 May 1950, Day was commissioned as a second lieutenant in the Iowa Air National Guard. Ten months later, Lieutenant Day was placed on active duty and entered pilot training with the U.S. Air Force. He began his flight training at Goodfellow Air Force Base, Texas, and then moved on to Hondo and Big Springs Air Force Bases. Training was conducted in the Lockheed T-33A Shooting Star.
During the Korean War, Lieutenant Day flew the Republic F-84G Thunderjet fighter-bomber with the 559th Fighter-Escort Squadron (redesignated the 559th Strategic Fighter Squadron in 1953) based at Bergstrom Air Force Base, Texas. The squadron's mission was to provide fighter escort for the Strategic Air Command's Convair B-36 intercontinental bombers. Day was promoted to Captain in February 1953, and was temporarily assigned to Chitose Air Base, on the island of Hokkaido, Japan.
While stationed with the 55th Fighter-Bomber Squadron, 20th Fighter-Bomber Wing, at RAF Weathersfield, England, on 11 June 1957 Captain Day was flying a training mission in a Republic F-84F-45-RE Thunderstreak, serial number 52-6724. The fighter's Wright J65 turbojet engine exploded at about 500 feet (152 meters). He ejected but as his parachute failed to open. Day survived by penetrating a pine forest, and decelerating through a 30 foot (9 meters) tree. The wing transitioned to the North American Aviation F-100 Super Sabre shortly after this incident.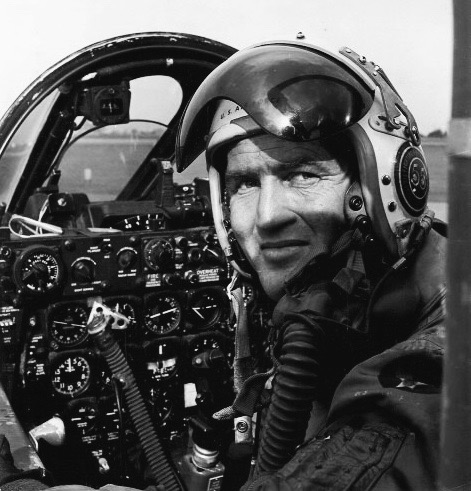 Major Day was assigned commander of the Reserve Officers Training Corps (R.O.T.C) unit at St. Louis University and was an assistant professor of aerospace science. While there, in 1964, Major Day earned a master of arts degree.
Volunteering for duty in Southeast Asia, in April 1967, Major Day was assigned to the 309th Tactical Fighter Squadron, 31st Tactical Fighter Wing, at Tuy-Hoa Air Base, Republic of South Vietnam.
Major Day was then assigned as the first commander of an experimental forward air controller unit ("Commando Sabre"): Detachment 1, 416th Tactical Fighter Squadron, 37th Tactical Fighter Wing, at Phù Cát Air Base. The new forward air controller unit had four aircraft and 16 pilots. The pilots flew using the call sign, "Misty." (According to the National Museum of the United States Air Force, Major Day was a fan of Johnny Mathis' 1959 record, "Misty.")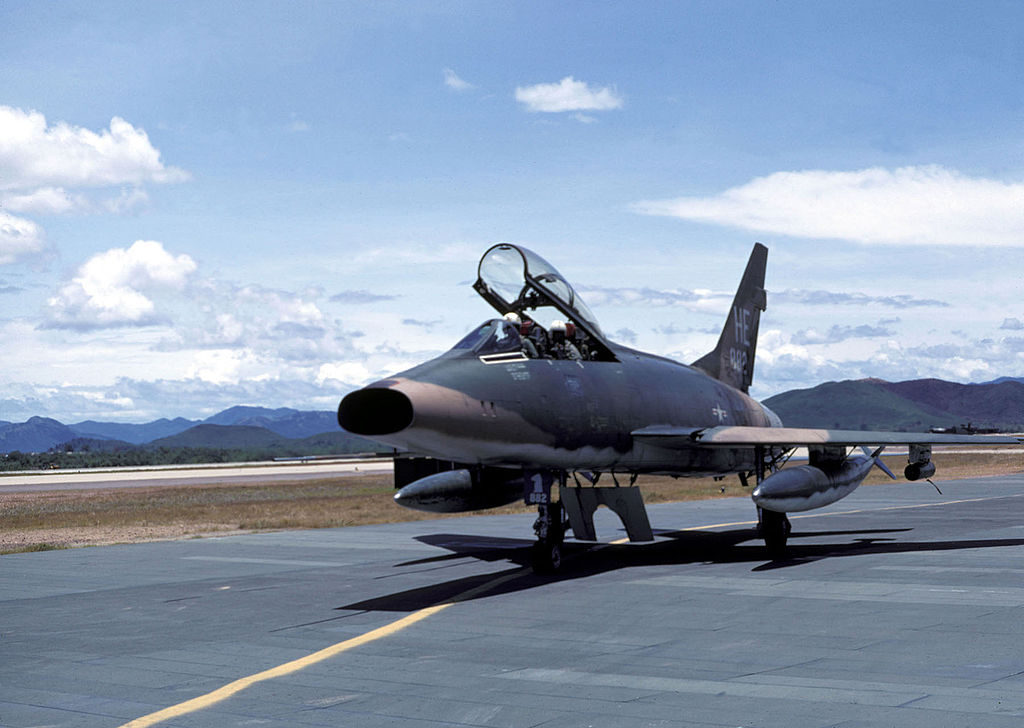 On his 26th Commando Sabre mission, Easter Sunday, 26 March1967, Major Day was flying as the Forward Air Controller ("FAC") in the back seat of a North American Aviation F-100F Super Sabre, serial number 56-3954. The pilot was Captain Corwin M. Kippenhan.
Day and Kippenhan were supporting Republic F-105 Thunderchief fighter bombers on an attack against an enemy surface-to-air missile battery near Thon Cam Son, north of the Demilitarized Zone ("the DMZ") in the Democratic Republic of Vietnam. Their Super Sabre was hit by 37 millimeter antiaircraft fire, and the two men were forced to eject.
Captain Kippenham was rescued by "Jolly Green 28," a Sikorsky HH-3E Jolly Green Giant, serial number 66-13281, from the 37th Aerospace Rescue and Recovery Squadron based at Da Nang, South Vietnam. The rescue helicopter was damaged and driven off by enemy 57 millimeter gunfire. The pilot, Captain Charles Raymond Dunn, was awarded the Silver Star (his second). The copilot, Captain Walter R. Blackwell, flight engineer, Frederic M. Halbert, and pararescueman ("PJ") Joseph M. Duffy, were each awarded the Distinguished Flying Cross. An AP press photographer, Johnny Griffith, was also aboard the HH-3E during the rescue.
Jolly Green 28 could not make contact with Major Day. Day was seriously injured following the ejection. His right arm was broken and his left knee was dislocated. He was captured by the enemy. Five days later, he escaped. Over a 10 day period he made his way, bare-footed, more than 25 miles (40 kilometers) across the DMZ into South Vietnam. He was discovered by Viet Cong guerillas and was shot, with wounds to his left thigh and left hand.
Major Day suffered the most brutal conditions while he was held as a Prisoner of War. He was imprisoned for 2,028 days, before being released 14 March 1973. During his imprisonment, the Air Force promoted him to lieutenant colonel, and then colonel.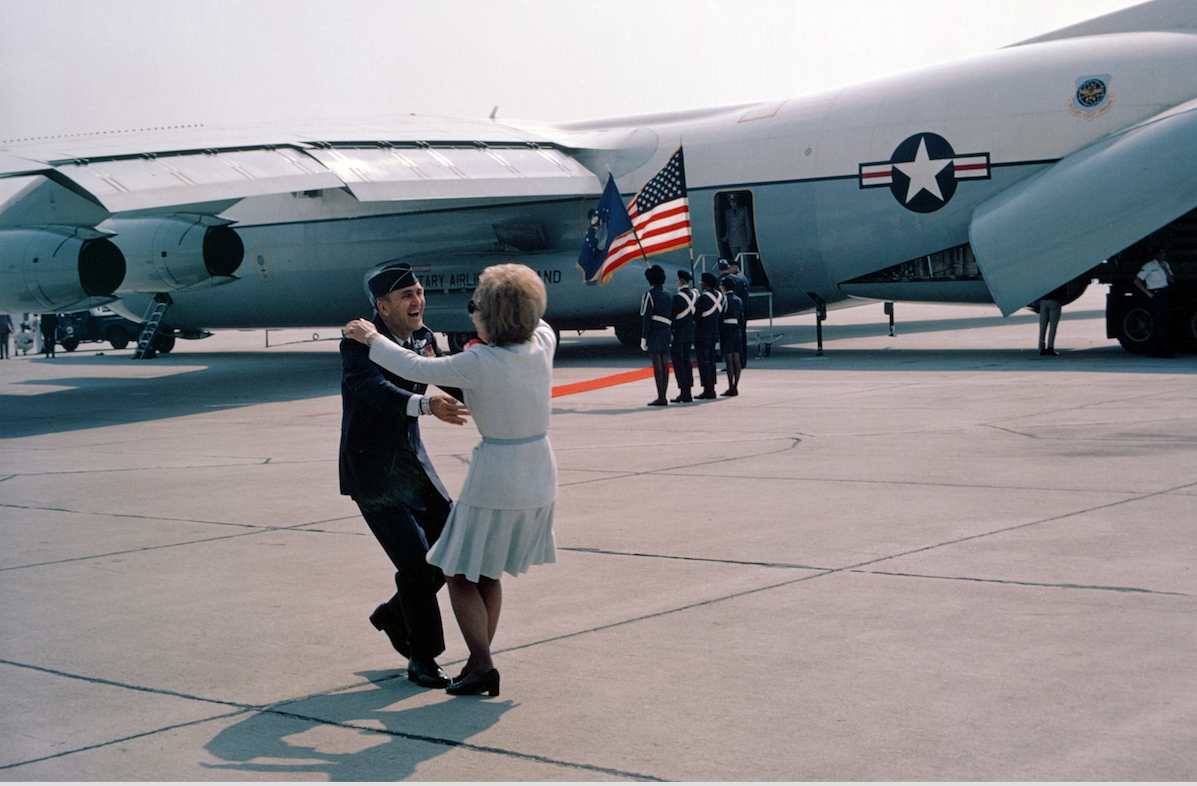 Explaining how he was able to withstand the years of torture, isolation, poor nutrition and lack of medical care, Colonel Day said,
"I am, and have been all my life, a loyal American. I have faith in my country, and am secure in the knowledge that my country is a good nation, responsible to the people of the United States and responsible to the world community of nations. I believed in my wife and children and rested secure in the knowledge that they backed both me and my country. I believe in God and that he will guide me and my country in paths of honorable conduct. I believe in the Code of Conduct of the U.S. fighting man. I believe the most important thing in my life was to return from North Vietnam with honor, not just to return. If I could not return with my honor, I did not care to return at all. I believe that in being loyal to my country that my country will be loyal to me. My support of our noble objectives will make the world a better place in which to live."
—Colonel George Everette Day, United States Air Force, quoted by The Super Sabre Society.

After his return to the United States, Colonel Day spent a year trying to recover from his injuries and poor health. He then returned to flight status, transitioned to the McDonnell F-4E Phantom II at Luke Air Force Base in Arizona, and was appointed vice commander of the 33rd Tactical Fighter Wing at Eglin Air Force Base, Florida.
In a presentation at the White House, 4 March 1976, Gerald R. Ford, 38th President of the United States, presented the Medal of Honor to Rear Admiral James B. Stockdale, United States Navy, who had been to most senior American officer held by North Vietnam, and to Colonel Day.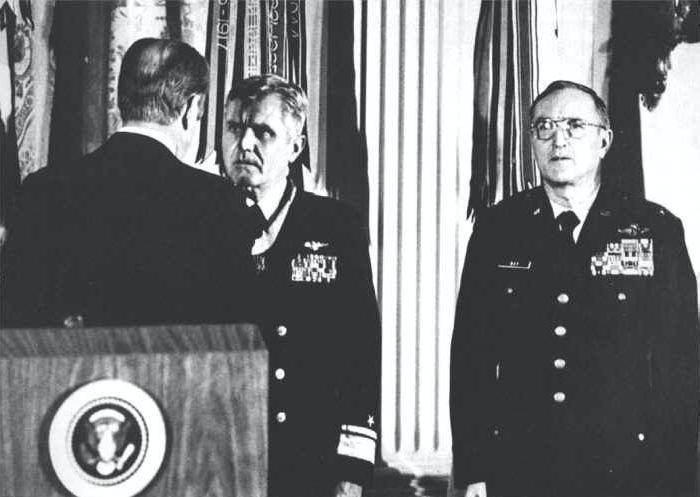 Colonel Day retired from the United States Air Force in February 1977. He then practiced law in Fort Walton Beach, Florida. He is the author of two books, Return With Honor and Duty, Honor, Country.
Colonel Day was rated a Command Pilot with over 8,000 flight hours.
In addition to the Medal of Honor, during his military career, Colonel Day was awarded the Air Force Cross; the Distinguished Service Medal; the Silver Star; the Legion of Merit; the Bronze Star with "V" device and three oak leaf clusters (three awards for valor); the Purple Heart with three oak leaf clusters (four awards); the Defense Meritorious Service Medal; the Air Medal with one silver and four bronze oak leaf clusters (nine awards); Presidential Unit Citation with two oak leaf clusters (three awards); Air Force Outstanding Unit Award with "V" device and three oak leaf clusters (three awards for valor); Prisoner of War Medal, Army Good Conduct Medal; American Campaign Medal; Asiatic-Pacific Campaign Medal; World War II Victory Medal; National Defense Service Medal with bronze star (Korean War and Vietnam War); Korean Service Medal; Vietnam Service Medal with two silver and three bronze campaign stars (all 18 campaigns); Air Force Longevity Awards with four oak leaf clusters (20 years); Armed Forces Reserve Medal; Small Arms Expert Marksmanship Ribbon; National Order of Vietnam, Knight; United Nations Service Medal; Anh Dũng Bội Tinh (Vietnam Gallantry Cross) with palm (the highest of four levels); Vietnam Gallantry Cross Unit Citation; Chiến Dịch Bội Tinh (Republic of Vietnam Campaign Medal); and the Vietnam Master Parachutist Badge.
According to the Air Mobility Command Museum, Colonel Day "is the second-most decorated military member in American history, General Douglas MacArthur being first."
Colonel George Everette Day, United States Air Force (Retired), died at his home in Shalimar, Florida, 27 July 2013, at the age of 88 years. He is buried at the Barrancas National Cemetery, Pensacola, Florida.
In the Defense Authorization Act of 2017, Colonel Day was advanced to the rank of Brigadier General, United States Air Force (Retired).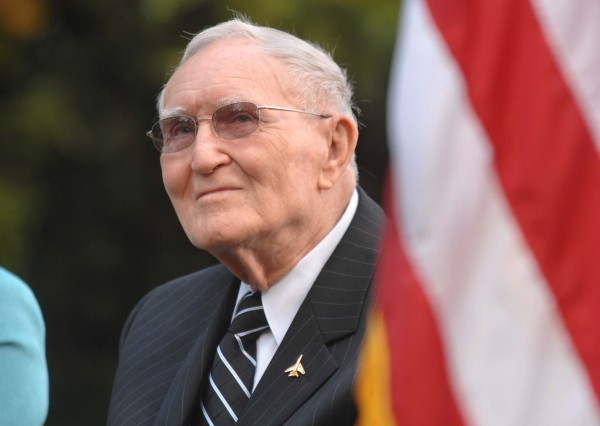 © 2017, Bryan R. Swopes