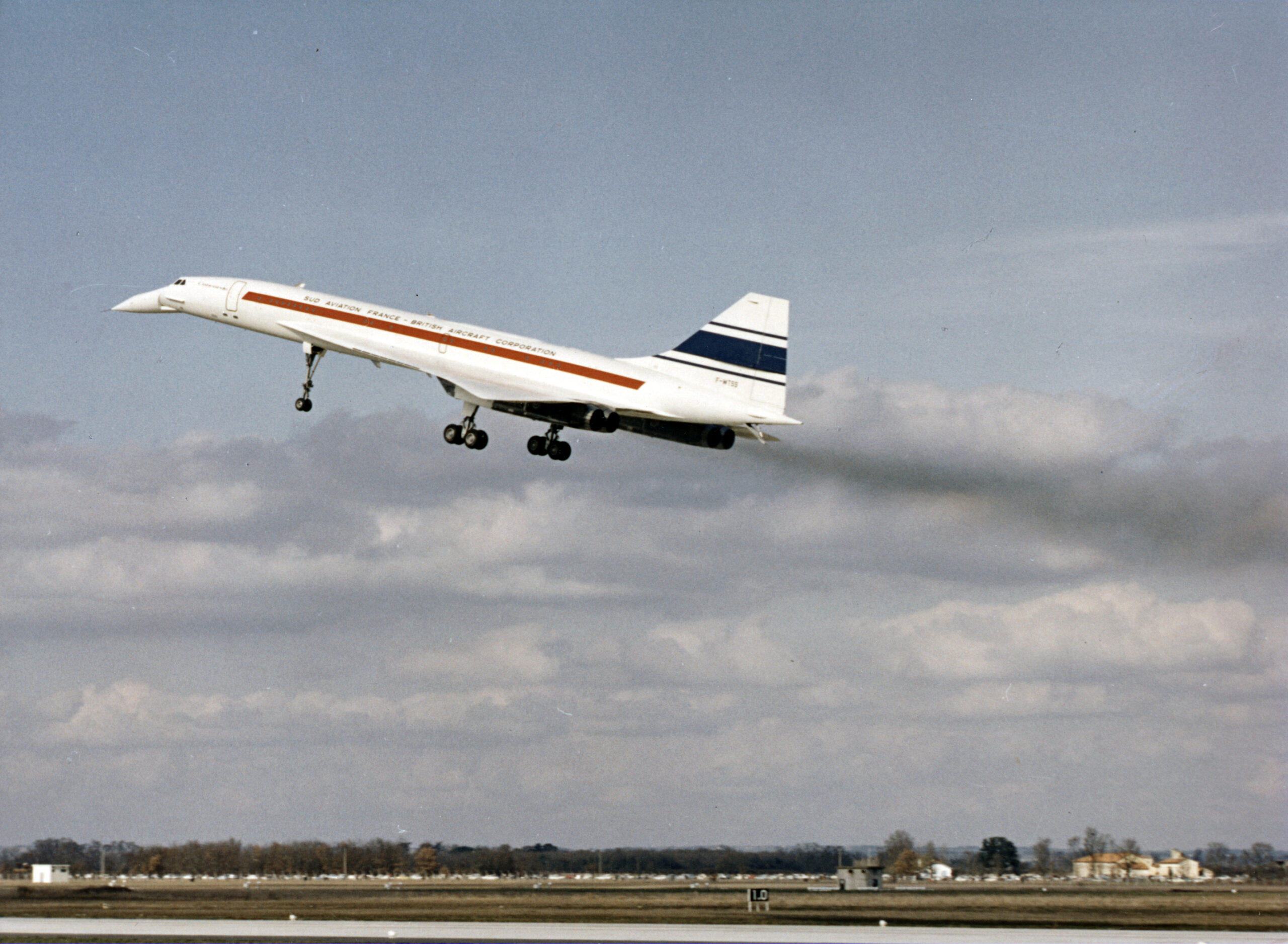 2 March 1969: Just three weeks after the prototype Boeing 747, City of Everett, made its first flight at Seattle, Washington, the first supersonic airliner prototype, Aérospatiale-BAC Concorde Aircraft 001, registration F-WTSS, made its first flight, taking off from Runway 33 at the Aéroport de Toulouse-Blagnac, Toulouse, France.
On the flight deck were André Édouard Marcel Turcat, Henri Perrier, Michel Retif and Jacques Guinard.
The flight lasted 27 minutes. Throughout the flight, the "droop nose" and landing gear remained lowered.
Concorde was the only commercial airliner capable of cruising at supersonic speeds.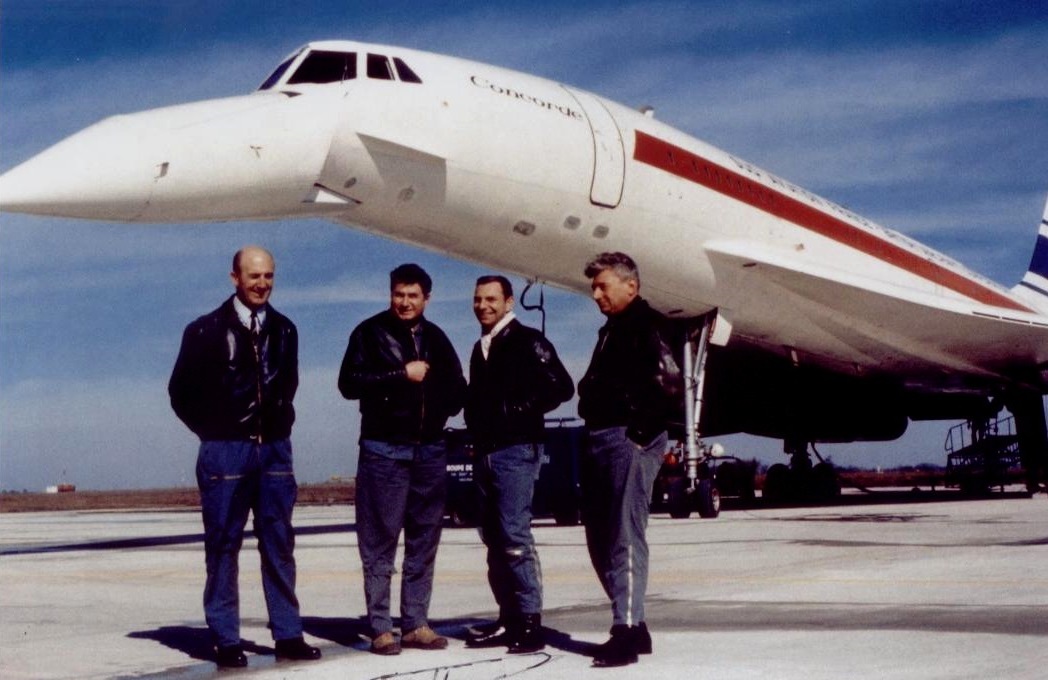 There were two Concorde prototypes (the British Aerospace Corporation built Concorde 002) followed by two pre-production developmental aircraft and sixteen production airliners.
Concorde 001 is 51.80 meters (169 feet, 11.4 inches) long, with a wingspan of 23.80 meters (78 feet, 1 inch). Its fuselage has a maximum height of 3.32 meters (10 feet, 10.7 inches) and maximum width of 2.88 meters (9 feet, 5.4 inches) max internal height 1.96 m (6 feet, 5.2 inches). The prototype's empty weight is 78,700 kilograms (173,504 pounds), and the maximum takeoff weight is 185,000 kilograms (407,855 pounds). (Pre-production and production Concorde weights and dimensions vary.)

The Concorde is powered by four Rolls-Royce/SNECMA Olympus 593 Mk.610 engines. The Mk. 610 is a two-spool, axial-flow turbojet with afterburner. The compressor section as 14 stages (7 low- and 7 high-pressure stages). Two-stage turbine has 1 high- and 1 low-pressure stage. The engine has a maximum continuous power rating of 28,800 pounds of thrust (128.11 kilonewtons). It is rated at 37,080 pounds (164.94 kilonewtons) for takeoff (5 minute limit). During takeoff, the afterburners produce approximately 20% of the total thrust. The Olympus 593 Mk.613 is 1.212 meters (3.976378 feet) in diameter, 4.039 meters (13.251312 feet)long, and weighs 3,175 kilograms (7,000 pounds).
Production Concordes were certified for a maximum operating cruise speed of Mach 2.04, and a maximum operating altitude of 60,000 feet (18.288 meters). The maximum range 3,900 was nautical miles (4,488 statute miles/7,223 kilometers).
Concorde 001 made 397 flight during flight testing. It accumulated a total of 812 hours, 19 minutes of flight time, of which 254 hours, 49 minutes were supersonic.
Today, Concorde 001 is displayed at the Musée de l'Air et de l'Espace, Aéroport de Paris – Le Bourget.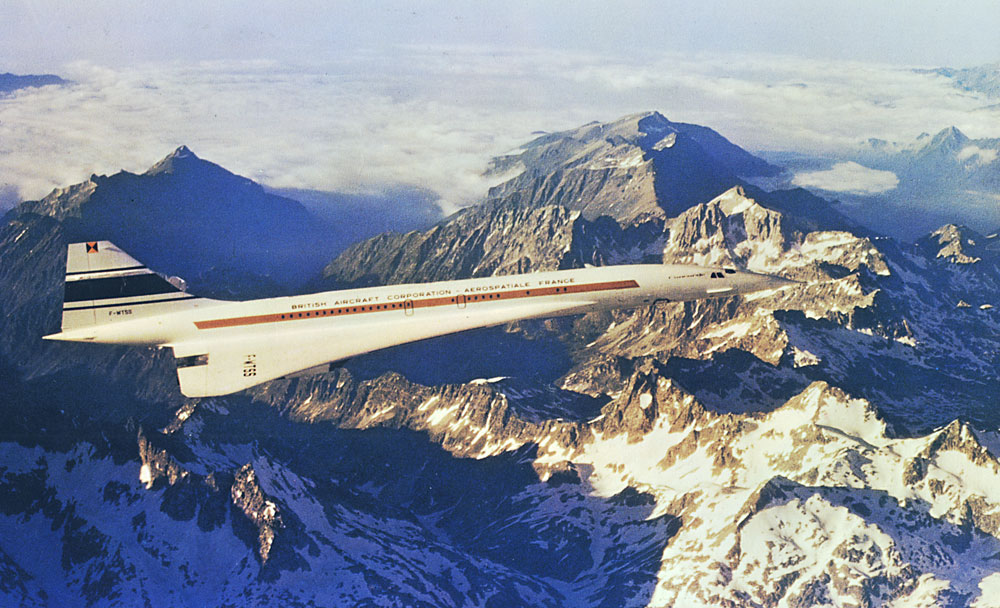 André Édouard Marcel Turcat was born 23 October 1921 at Marseille, Bouches-du-Rhône, Provence-Alpes-Côte d'Azur, France. André was the son of Emile Gaston Turcat and Claire Victoria Jeane Marie Françoise Fleury Turcat. His uncle, Léon Turcat, was co-founder of Ateliers de Construction d'Automobiles Turcat-Méry SA, a manufactuers of grand prix race cars. He was educated at l'École Polytechnique in Palaiseau, a suburb southwest of Paris.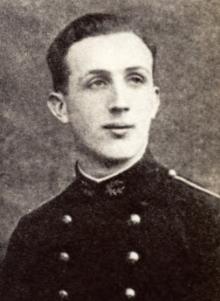 During World War II, Turcat served in the Forces Aériennes Françaises Libres, (the  Free French Air Force).
On the day that World War II ended in Europe, 8 May 1945, André Turcat married Mlle Elisabeth Marie ("Julie") Borelli in Marseille. They would have four children. One, a daughter, died in infancy.
Andre Turcat remained in the Armée de l'air after the war. He flew the Douglas C-47 Skytrain during the First Indochina War. He was awarded the Croix de Guerre des théâtres d'opérations extérieures.
In 1950, Turcat was admitted to the École du personnel navigant d'essais et de réception (EPNER), the test pilot school at Brétigny-sur-Orge, France. He served as director of EPNER, 1952–53.
In 1954, Major Turcat resigned from the Armée de l'air and became the chief test pilot at Société Française d'Etude et de Construction de Matériel Aéronautiques Spéciaux (SFECMAS) (later, Nord-Aviation), flight-testing the Nord 1500 Griffon. He made the first flight of the Nord 1500-01 Griffon, 20 September 1955. He flew the Griffon II, a mixed-propulsion aircraft powered by a turbojet and a ramjet engine, beginning with its first flight, 23 January 1957.
Flying a Griffon, Turcat set three Fédération Aéronautique Internationale (FAI) World Records for Time to Altitude, 16 February 1957: 6,000 meters, 1:17.05;¹ 9,000 meters, 1:33.75;² and 12,000 meters, 2:17.70.³
Turcat reached Mach 2.19 with the Griffon II, for which he was awarded the Harmon Trophy for 1958. The trophy was presented by Richard M. Nixon, 37th President of the United States.
On 25 February 1959, Turcat flew the Griffon II to set an FAI World Record for Speed Over a Closed Circuit of 100 Kilometers, with an average speed of 1,643.00 kilometers per hour (1.015.32 miles per hour).⁴ The Académie des Sports awarded him its Prix Robert Peugeot for the greatest feat accomplished by French athletes in motorsports.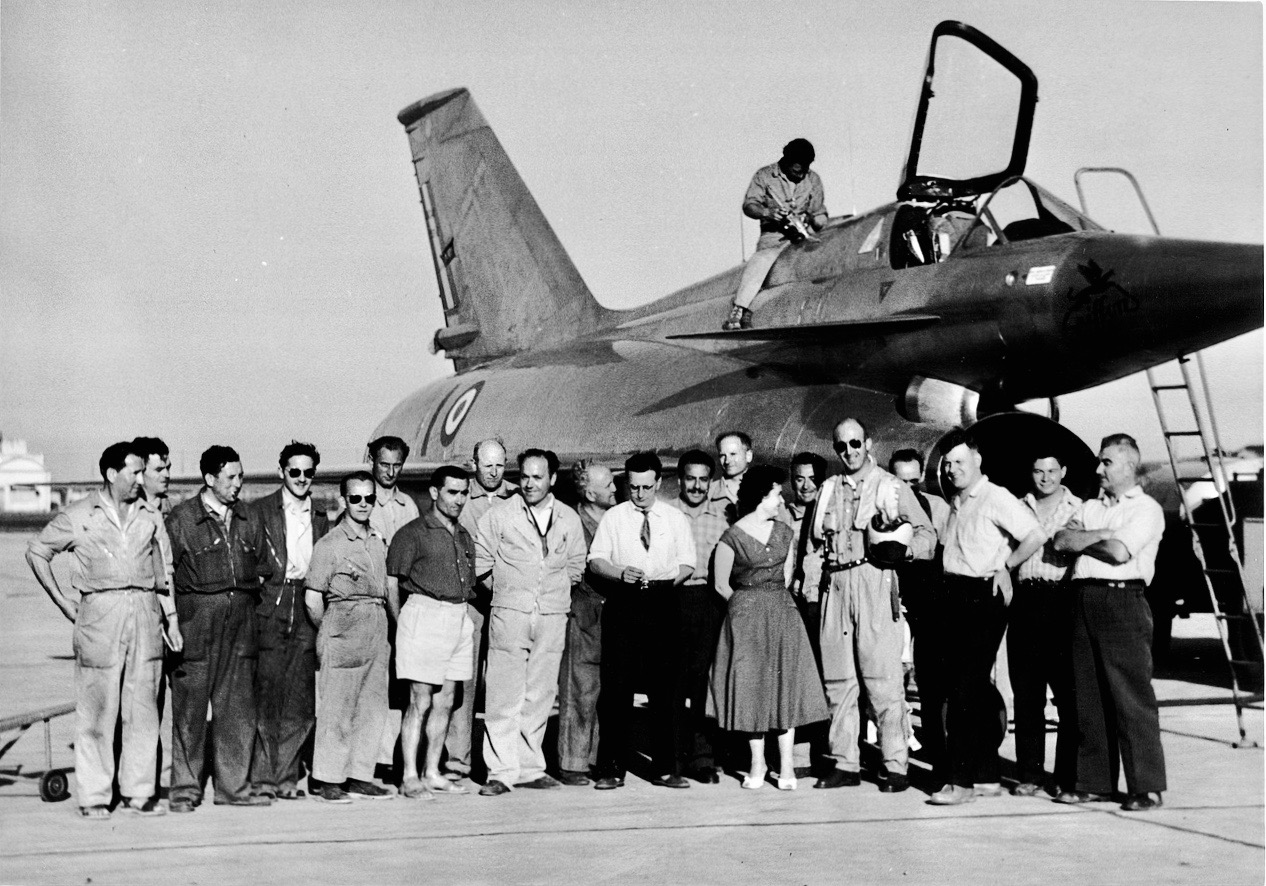 Turcat joined Sud-Aviation as chief pilot for the Concorde.
Turcat and British Aerospace chief test pilot Ernest Brian Trubshaw, C.B.E., M.V.O., shared the 1970 Harmon Trophy, and in 1971, the Iven C. Kincheloe Award of the Society of Experimental Test Pilots, Iven C. Kincheloe Award for their outstanding professional accomplishments in flight testing.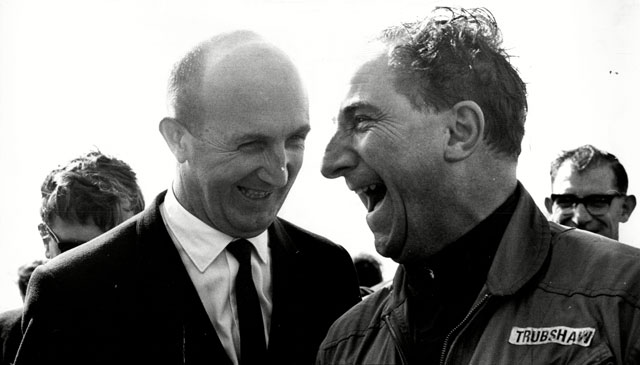 After 740 flight hours in Concorde, Andre Turcat retired from Aérospatiale, 31 March 1976. He never flew an airplane again.
As a politician, M. Turcat served as deputy mayor of Toulouse, 1971–77; and as a member of the European Parliament, 1980–81.
In 1983, Turcat founded l'Académie nationale de l'air et de l'espace (ANAE) and served as its first president.
In 1990 Turcat earned a doctorate degree in the study of Christian art. He was the author of Pilote d'essais (Ciels du monde t.1); Concorde: Essais d'hier, betailles d'aujourd'hui, 30 and de réve; Les plus beaux textes de la Bible; Moi, Etienne Jamet, alias Esteban Jamete: Sculpteur français de la Renaissance en Espagne comdamné par l'Inquisition; and Une épopeé française.
During his aviation career, Turcat flew more than 6,500 hours in 110 different aircraft. He had been awarded the Médaille de l'Aéronautique. The United Kingdom had appointed him Commander of the Most Excellent Order of the British Empire (C.B.E.). In 2005 Andre Turcat was named Grand Officier Ordre national de la Légion d'honneur.
André Édouard Marcel Turcat died at his home in Aix-en-Provence, 3 January 2016 at the age of 94 years.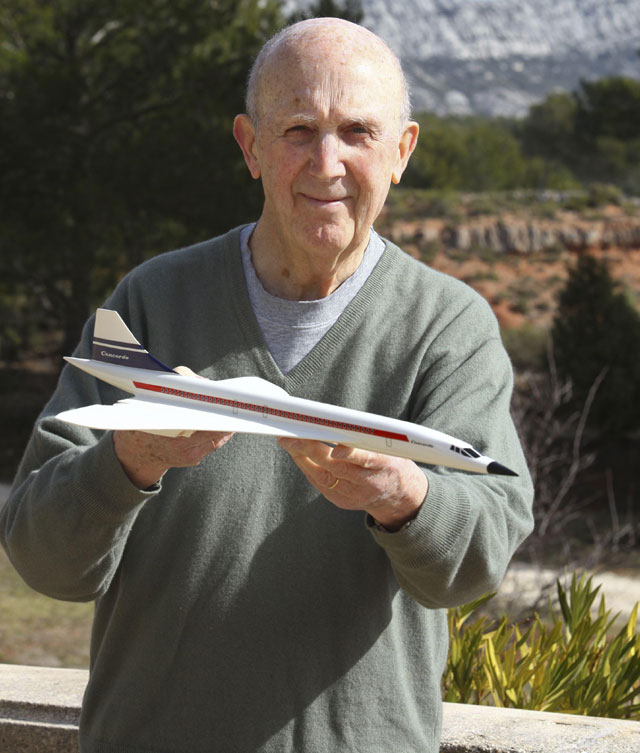 ¹ FAI Record File Number 8611
² FAI Record File Number 8612
³ FAI Record File Number 8613
© 2019, Bryan R. Swopes