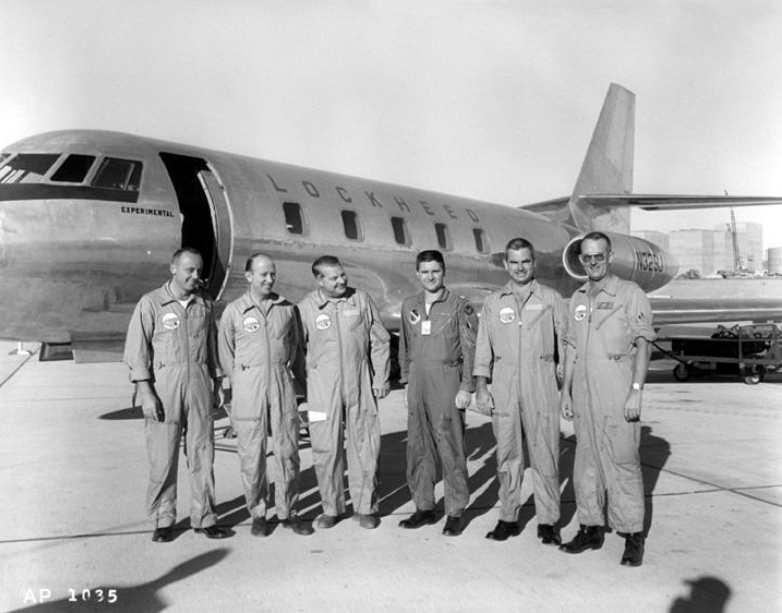 4 September 1957: At 8:58 a.m., the first prototype Lockheed JetStar, N329J, c/n 1001, took off from Edwards Air Force Base in the high desert of Southern California. In the cockpit were Lockheed test pilots Ray J. Goudey, pilot, with Bob Schumacher, co-pilot. After a 39 minute flight, the JetStar landed back at Edwards. Test pilot Tony LeVier flew chase in a Lockheed T2V-1 SeaStar, an advanced naval variant of the Lockheed T-33A Shooting Star.
The Los Angeles Times reported:
New JetStar Plane Takes to Air Ahead of Deadline
     Lockheed's new JetStar turbine-powered utility transport was test-flown for 39 minutes yesterday out of Edwards Air Force Base.
     With Pilots Ray Goudey and Robert Schumacher at the controls, the twin-engine, 10-passenger jet lifted off the runway just two minutes ahead of a deadline set 241 days ago when engineering started on the 500-m.p.h. aircraft.
     The pilots described the flight as "silky smooth" and added the JetStar showed ample speed, responsive handling and remarkably low sound levels in both cabin and cockpit.
Easy of Access
     A unique feature of the swept-wing plane is the location of its Bristol Orpheus engines (totaling 10,000 thrust pounds) mounted in pods on both sides of the rear fuselage aft of the wing. This position places them well clear of passengers and fuel areas and permits an uncluttered wing configuration and easy accessibility for maintenance.
The new transport is 58 feet long, spans 53 feet (with a 34-deg. sweep angle) measures 21 feet in over-all height and incorporates a horizontal stabilizer mounted high on teh vertical fin and clear of jet exhaust.
1700-Mile Range
     Pressurized and designed for a range of 1700 miles and a cruising altitude of 40,000 feet, the JetStar was designed and built with Lockheed funds after the Air Force reported a need for a small, fast transport for utility passenger and cargo work and trainer operations.
     Expansion of the project beyond the prototype stage depends on military acceptance of the plane.
—Los Angeles Times, Vol. LXXVI, Thursday Morning, September 5, 1957, at Page 15, Columns 1 and 2
Two CL-329 JetStar prototypes were built at the Lockheed plant at Burbank, California. All production aircraft were built at Lockheed Marietta in Georgia.
The Lockheed CL-329 JetStar was 58 feet, 10 inches (17.932 meters) long with a wingspan of 53 feet, 8 inches (16.3358 meters) and height of 20 feet, 6 inches (6.248 meters). It had a wing area of 523.00 square feet (48.59 square meters). The CL-329 had an empty weight of 15,139 pounds (6,867 kilograms) and gross weight of  38,841 pounds (17,618 kilograms).
The JetStar I wing leading edges were swept 33° (30° sweep at ¼-chord). The had 2° dihedral and an aspect ratio of 5.3. The wings incorporated a leading edge flap and double-slotted trailing edge flap. For roll control, the wing used ailerons. There were no spoilers. The vertical fin could pivot fore and aft to change the horizontal stabilizer's angle of incidence.

The CL-329 was powered by two Bristol Siddeley Engines Ltd. Orpheus BOr.3 Mk.803 turbojet engines. (These were produced as the Wright TJ37A1.) The Mk. 803 was rated at 4,130 pounds of thrust (18.37 kilonewtons), and 4,850 (21.57 kilonewtons) at Sea Level for takeoff; later, BOr.3 Orpheus Mk.810D engines were installed These were rated at 4,850 pounds (21.57 kilonewtons.) Each engine had a dry weight of 990 pounds (449 kilograms).
The second JetStar prototype would be powered by four Pratt & Whitney JT12 engines.
The CL-329 had a cruise speed of 613 miles per hour (987 kilometers per hour). Its maximum speed was630 miles per hour (1,014 kilometers per hour), or 0.92 Mach. The airplane's ceiling was 52,000 feet (15,850 meters), and its range was 1,725 miles (2,776 kilometers).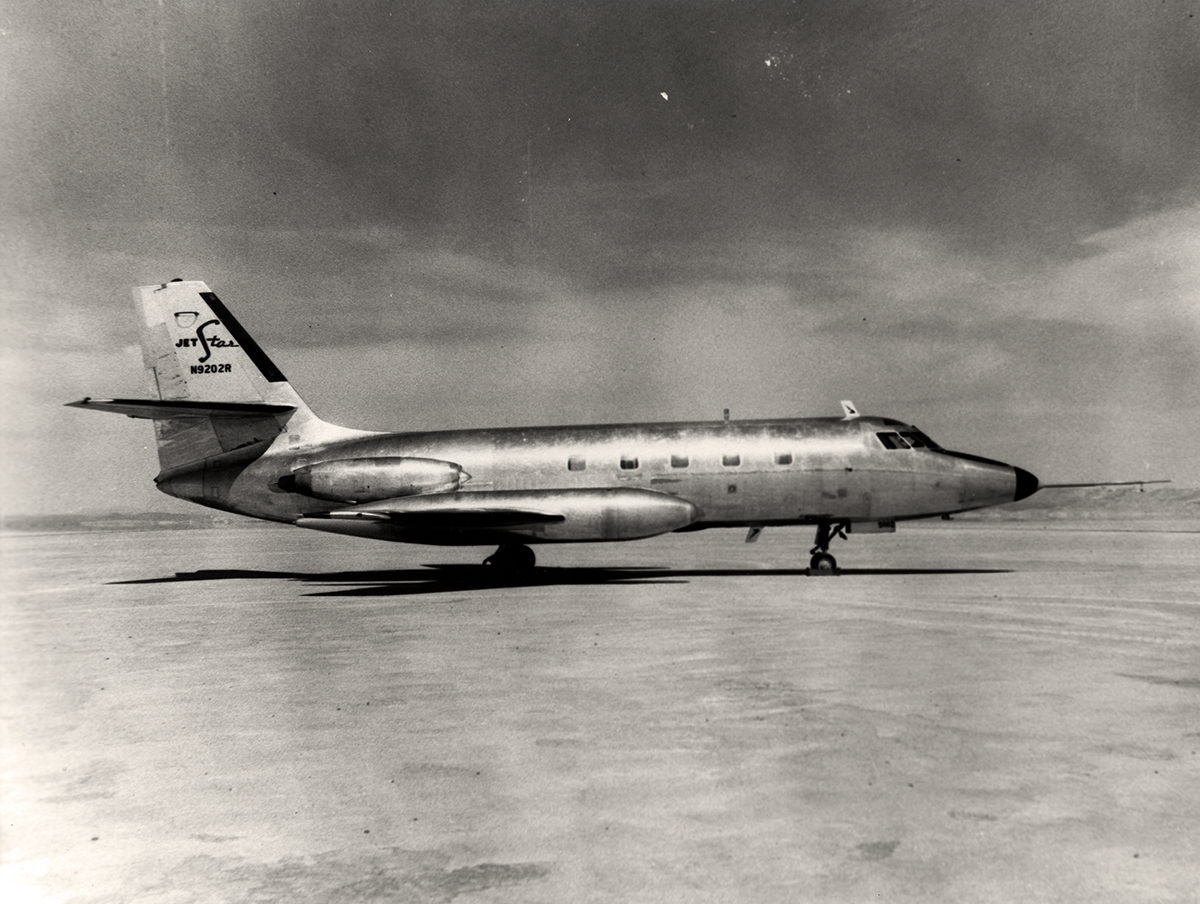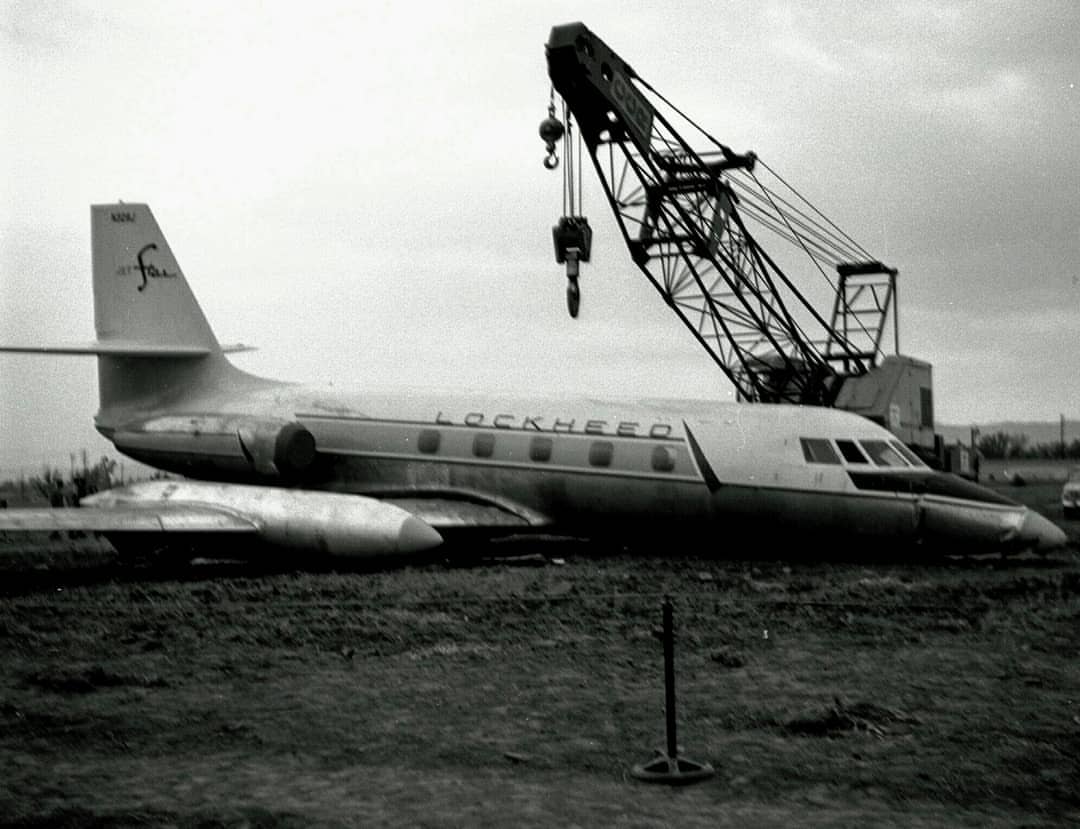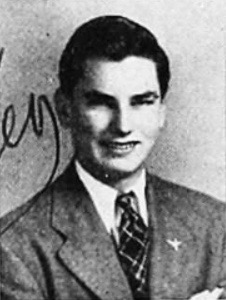 Ray Jewett Goudey was born at Los Angeles, California, 25 September 1921. He was the first of six children of Raymond Freeman Goudey, a municipal sanitation engineer, and Gladys Ellen Jewett Goudey. Ray attended John Marshall High School in Los Angeles, graduating in 1940.
Ray Goudey learned to fly in 1937. He earned his commercial and flight instructor licenses in 1939, and Airline Transport Pilot license in 1943.
From 1940 through 1942, Goudey was a flight instructor for United Flying Schools at Vail Field, Montebello, California.
On 25 September 1942, Ray Goudey registered for Selective Service (conscription). He was described as having a dark complexion, black hair and hazel eyes. Goudey was 5 feet, 11 inches (1.80 meters) tall and weighed 150 pounds (68 kilograms).
Ray J. Goudey was commissioned an ensign, United States Navy, 22 June 1943. During World War II, he served as an acceptance pilot for the Navy at the Grumman, Chance Vought, and Curtiss production plants, and the Naval Aircraft Factory.
Lieutenant (j.g.) Ray Goudey married Mrs. Crystal Relph Tanner, 12 December 1945. They would have six children. They divorced in April 1966.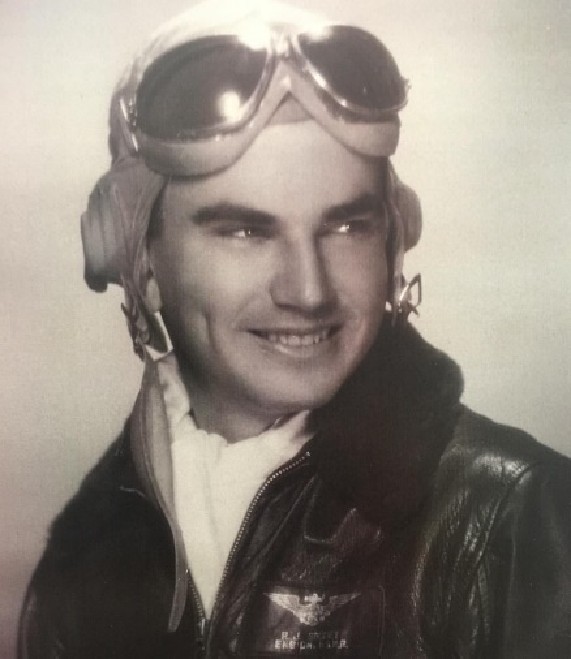 Lt. (j.g.) Goudey was promoted to lieutenant, 19 November 1948.
Ray Goudey was hired as a test pilot for Lockheed in 1952.
Goudey married Jeanette Nelson in Reno, Nevada, 29 September 1993.
Ray Goudey flew 258 different aircraft, including 74 Lockheed models. He was the third pilot to fly the Lockheed XF-104 Starfighter, and was the development test pilot for that program. Goudey flew the XF-104 to Mach 1.75 in 1954. He conducted flight tests of the F-80A and T-33A Shooting Star and the F-94 Starfire interceptor. He flew the Lockheed U-2 for more than 2,200 hours. He served as an engineering test pilot on the Lockheed L-188 Electra, the RC-121 Warning Star, the P-3A and P-3B Orion maritime patrol bomber, and the S-3A Viking anti-submarine warfare aircraft. Goudey was also a helicopter pilot, flying Lockheed's CL-475, XH-51A, CL-126 and L-286, and the AH-56A Cheyenne compound attack helicopter. Goudey conducted most of the flight testing of the S-3A Viking. He was involved in many Skunk Works programs, including the Have Blue stealth fighter prototype.
Goudey had in excess of 23,708 flight hours. (He was not allowed to log approximately 1,000 hours flown while working with the Central Intelligence Agency.)
Ray Jewett Goudey died 28 February 2019 at the age of 97 years. His remains were interred at the Arlington National Cemetery, Arlington, Virginia.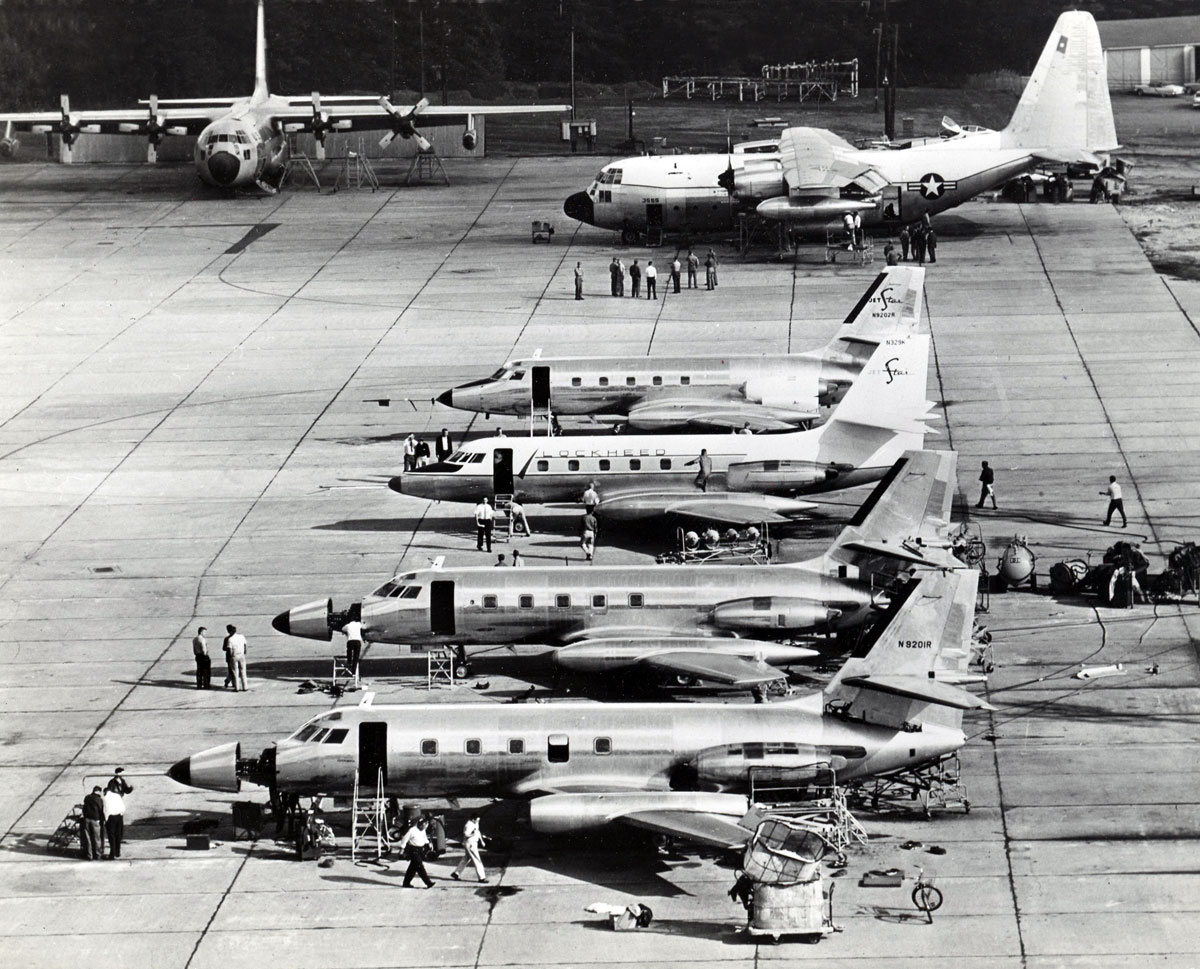 © 2023, Bryan R. Swopes