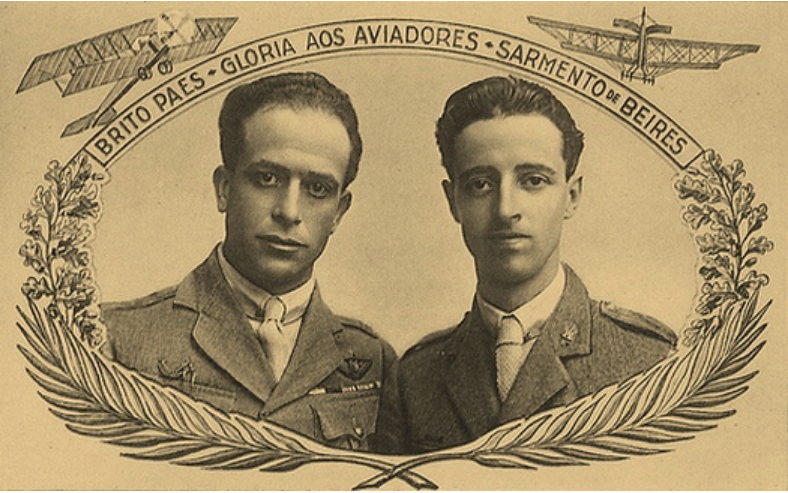 7 April 1924: At 6:02 a.m., local time, Major de Infanteria aviador António Jacinto da Silva Brito Pais and tenente de Engenharia José Manuel Sarmento de Beires departed Vila Nova Milfontes on the western coast of Portugal, enroute to Macau, the Portuguese colony on the southeast coast of China. This was intended as a step toward an eventual around-the-world flight, a reminder of the Portuguese voyages of discovery of the 15th and 16th centuries.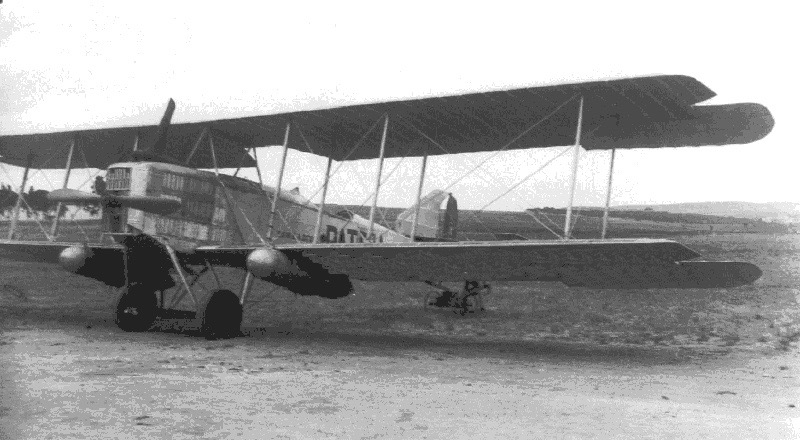 Their route of flight was:
Stage 1: 7 April, Vila Nova Milfontes, Portugal, to Málaga, Andalusia, Spain. 4 hours, 30 minutes (4:30).
Stage 2: 9 April, Málaga to Oran, French Algeria. 2:45.
Stage 3: 12 April, Oran to Tunis, French Tunisia. 6:50.
Stage 4: 14 April, Tunis to Tripoli, Italian Libya. 6:50.
Stage 5: 16 April, Tripoli to Al-Khums, Italian Libya. 4:00.
Stage 6: 18 April, Al-Khums to Benghazi, Italian Libya. 6:18.
Stage 7: 20 April, Benghazi to Cairo, Kingdom of Egypt. 9:15.
Stage 8: 23 April, Cairo to Riyaq, Greater Lebanon. 5:10.
Stage 9: 26 April, Riyaq to Baghdad, Kingdom of Iraq. 6:00.
Stage 10: 27 April, Baghdad to Bushehr, Persia. 6:05.
Stage 11: 2 May, Bushehr to Bandar Abbas, Persia. 4:31.
Stage 12: 3 May, Bandar Abbas to Chabahar, Persia. 3:30.
Stage 13: 4 May, Chabahar to Karachi, Sindh. 6:29.
Stage 14: 7 May, Karachi to N. 26° 13′, E. 72° 58″ (near Pipar Road, Jodhpur, Rajputana). 5:20.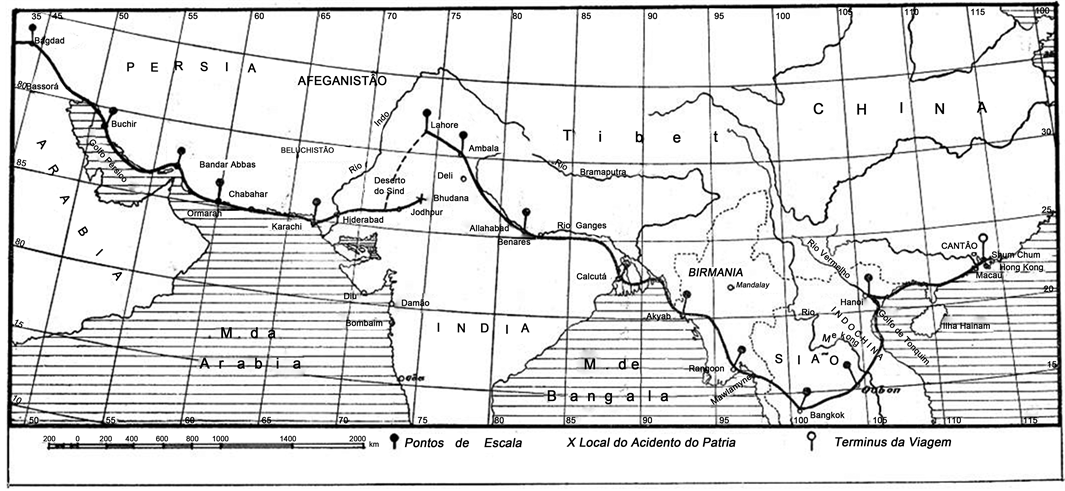 On 7 May, Pátria departed Karachi (in what is now Pakistan) at 6:18 a.m., enroute to Agra, British India. During the flight, water used as engine coolant began leaking from the radiator and the engine temperature started to rise, requiring a reduction in power. Eventually, the airplane was unable to maintain altitude and the crew began a gradual descent. Near the village of Pipar Road, they sighted an open field that seemed suitable for landing. Just before touchdown the airplane was caught by a gust of wind and crashed. The crew received only minor injuries, but their airplane was heavily damaged. It was impractical to repair so far from a major city, so it was abandoned.
Brito Pais, Sarmento de Beires and Gouveia walked back to Karachi, where they continued their journey by train.
The wreck of Pátria was eventually shipped back to Portugal. Its Renault 12 Fe V-12 engine is in the collection of the Museo do Ar at Base Aérea de Sintra, Sintra, Portugal.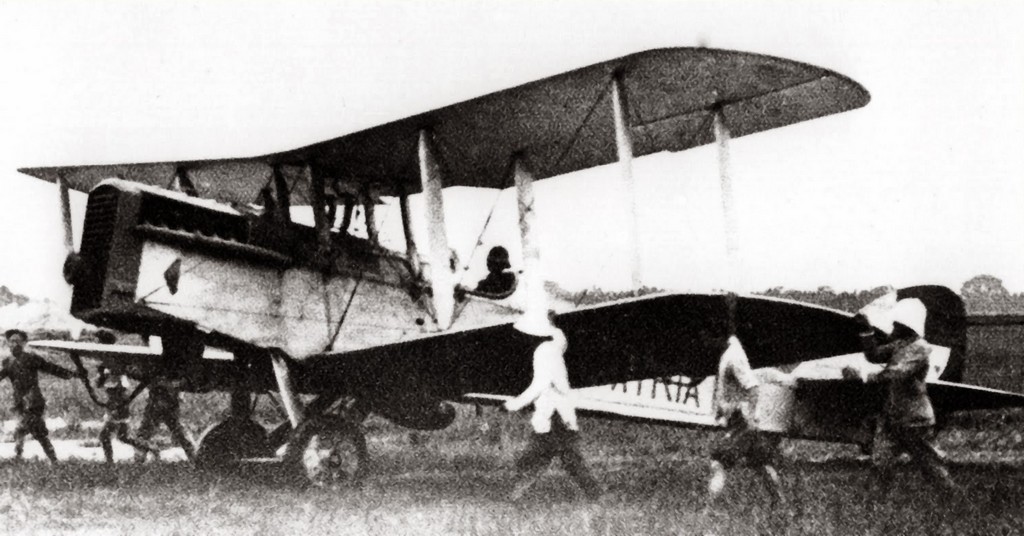 Several weeks later, they acquired another airplane, a 1920 de Havilland DH.9A powered by a Liberty L-12 engine, which they named Pátria II.
Pátria II could carry only two, so Gouveia had to continue by train. In 10 additional stages, Brito Pais and Sarmento de Beires finally arrived at Macau, 20 June 1924, but after overflying the city, crashed inside Chinese territory. The two aviators, again not seriously hurt, had to walk until they reached the British colony of Hong Kong. Their journey covered 16,760 kilometers (10,414 miles) in 117 hours, 41 minutes flight time.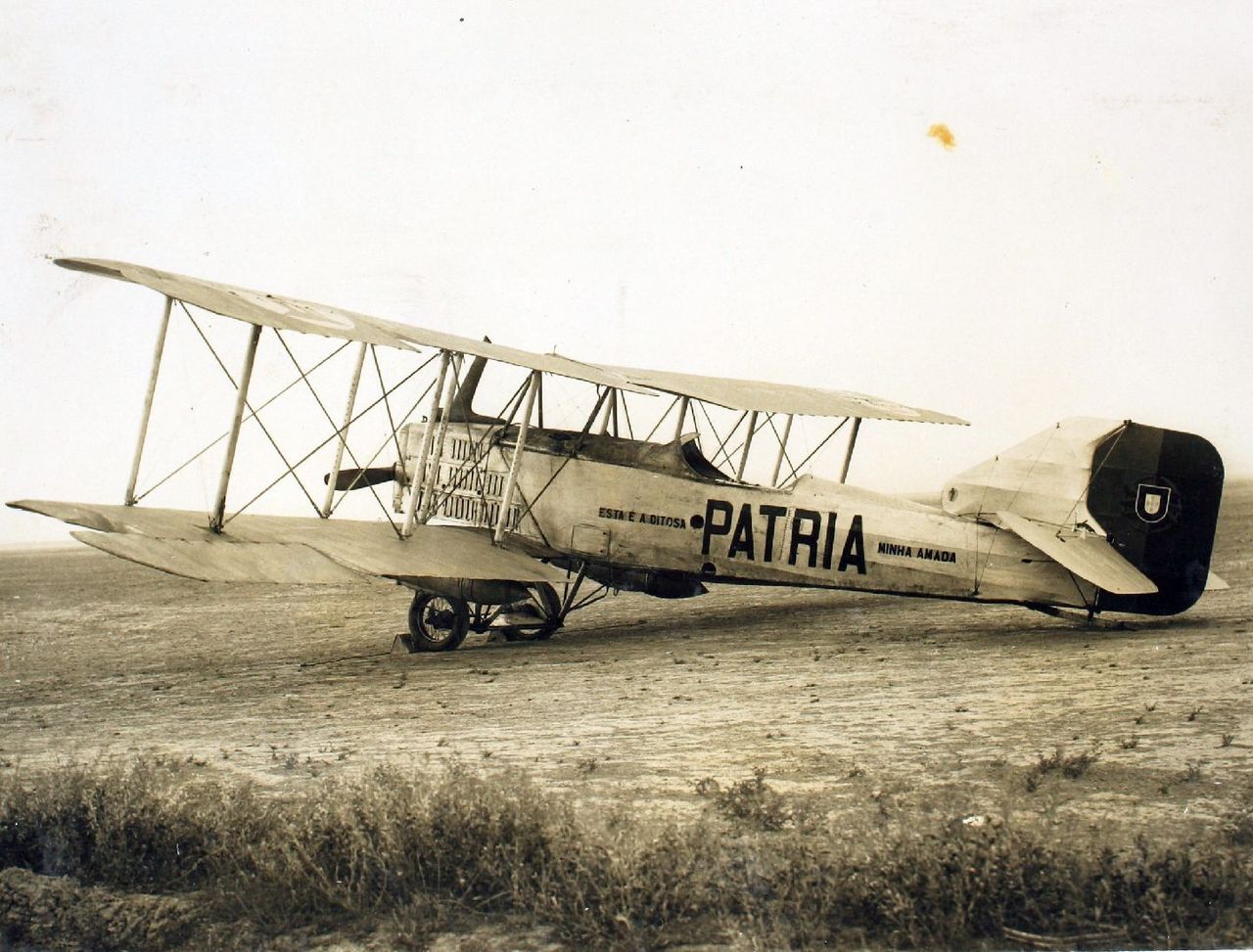 The airplane used for the first half of this journey was an Avion Bréguet Type 16 Bn. 2 (also designated Bre. 16 Bn. 2), a military aircraft produced by France. The airplane had been purchased by the government of Portugal for a series of long-range flights based on the recommendation of Brito Pais and Sarmento de Beres, both officers in the Serviço Aeronáutico Militar, Portugal's military air service. It was built in France by the Société Anonyme des Ateliers d'Aviation Louis Bréguet and shipped, knocked down, to Amadora, near Lisbon, where it was assembled. It made its first flight 22 September 1921.
Brito Pais named the airplane Pátria. The phrase, ESTA É A DITOSA PÁTRIA MINHA AMADA, was painted on both sides of the fuselage. This is a line from a poem, Os Luisíades, written by Luís Vaz de Camõs and published in 1572. Translated, it means, "This is my beloved Homeland."

In November, the new airplane was seriously damaged in a storm. Repairs were not begun until June 1922. On 28 June 1923, the Bre. 16 crashed, but was again repaired and made its next flight 26 October 1923.
The Bréguet Type 16 Bn. 2 is a single-engine, two-place, three-bay biplane, designed toward the end of World War I as a night bomber. It had fixed, two-wheel landing gear with a tail skid. The Bre. 16 Bn. 2 was 9.550 meters (31 feet, 4 inches) long, with a wingspan of 17.000 meters (55 feet, 9.3 inches), and chord of  2.350 meters (7 feet, 8.5 inches). The wings were of equal span. The upper wing was staggered slightly behind lower wing. Both upper and lower wings are equipped with ailerons. The wings are swept aft approximately 3°. The lower wing has no dihedral, while the upper wing has approximately 3° dihedral.  Wing area is variously reported as 72, 73.5 or 75.50 square meters (775, 791.1 or 812.68 square feet). The bomber had an empty weight of 1,268 kilograms (2,862 pounds) and gross weight of 2,398 kilograms (5,287 pounds). Bréguet informed Brito Pais and Sarmento de Beires that the Type 16's structure was capable of safely supporting 2,719.5 kilograms (5,995.5 pounds) total weight.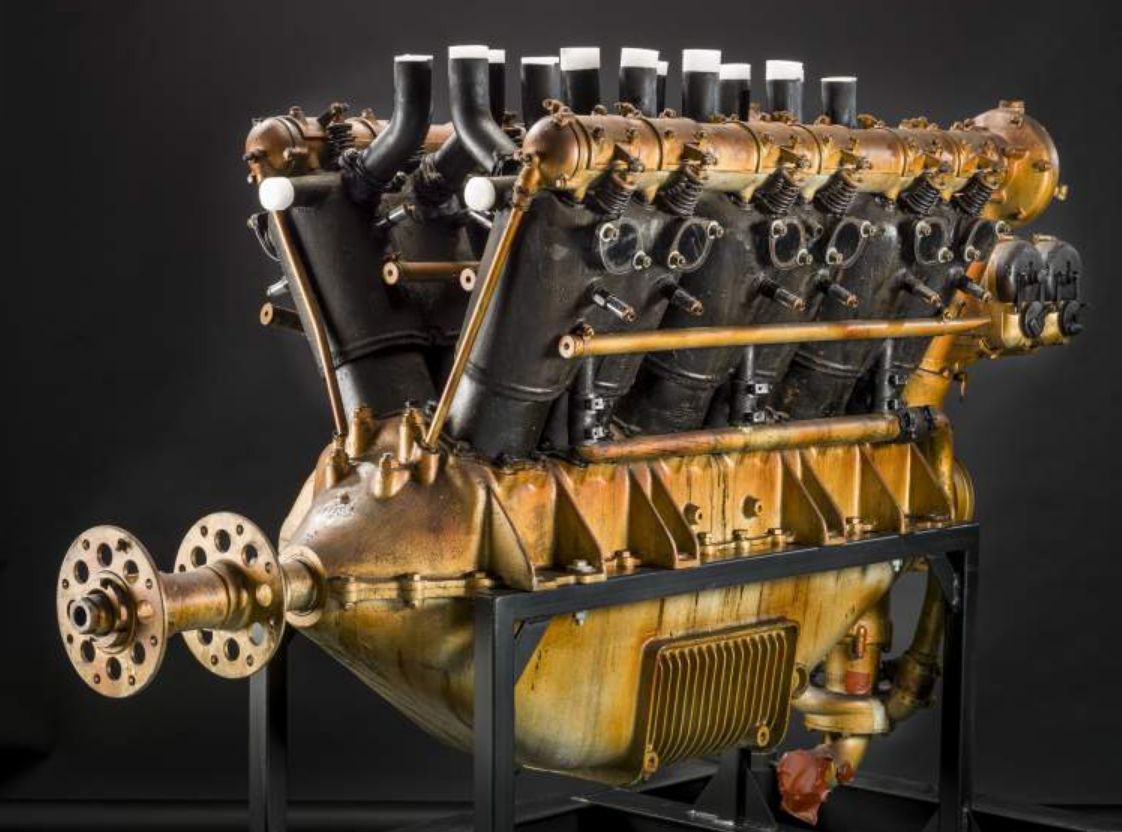 The Type 16 was powered by a water-cooled, normally aspirated, 22.089 liter (1,347.973 cubic inch Renault 12 Fe, a 50° single-overhead-cam, direct-drive V-12 engine with 2 valves per cylinder and a compression ratio of 5.0:1. The 12 Fe produced 305 chavel vapeur (301 horsepower) at 1,550 r.p.m., and 312 chavel vapeur (308 horsepower) at 1,600 r.p.m. The engine was 2.057 meters (6 feet, 9 inches) long, 1.124 meters (3 feet, 8.25 inches) wide and 1.372 meters (3 feet, 8.8 inches) high. It weighed 369 kilograms (813.5 pounds).
The Bre. 16 Bn. 2 had a cruise speed of 140 kilometers per hour (87 miles per hour) and maximum speed of 160 kilometers per hour (99 miles per hour) at Sea Level. Its service ceiling was 4,600 meters (15,092 feet), and normal range was 900 kilometers (559 miles).
Approximately 200 Type 16 airplanes were built.
© 2017, Bryan R. Swopes