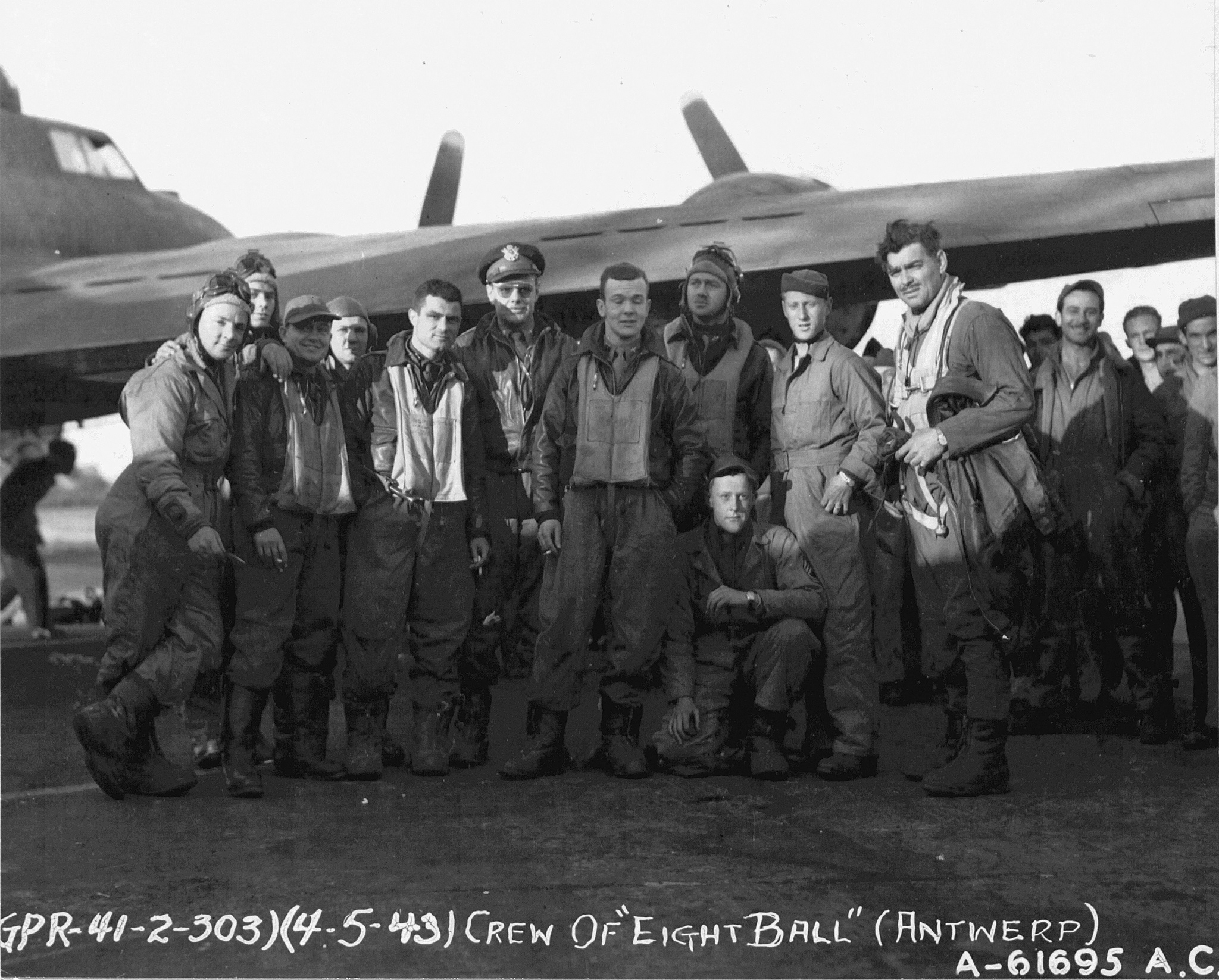 4 May 1943: VIII Bomber Command Mission No. 54 was an attack on the Ford and General Motors assembly plants at Antwerp, Belgium. 79 B-17s of the 1st Bombardment Wing were assigned, with another 33 bombers staging a diversion off the coast. Each B-17 was loaded with five 1,000-pound (453.6-kilogram) high explosive bombs. Between 1839–1843 hours, 65 B-17s had reached the target and dropped 161.5 tons (146.5 metric tons) of bombs from an altitude of 23,500 feet (7,163 meters). Results were considered very good.
Sixteen B-17s were damaged by anti-aircraft artillery and German fighters, with 3 American airmen wounded. Gunners on board the bombers claimed ten enemy fighters destroyed and one damaged. They expended 21,907 rounds of .50-caliber machine gun ammunition. The total duration of the mission was 4 hours, 30 minutes.
The lead ship of a composite group made up from squadrons from the 91st, 303rd and 305th Bombardment Groups, was Boeing B-17F-27-BO Flying Fortress 41-24635. It had been named The 8 Ball Mk. II by its crew, led by Captain William R. Calhoun, Jr. (Captain Calhoun's first The 8 Ball, 41-24581, had been damaged beyond repair, 20 December 1942.)
The The 8 Ball Mk. II was assigned to the 359th Bombardment Squadron, 303rd Bombardment Group (Heavy), at RAF Polebrook (Air Force Station 110), in Northamptonshire, England.
For Mission No. 54, Captain Calhoun was the aircraft commander while Lieutenant Colonel W.A. Hatcher, the newly-assigned commander of the 351st Bombardment Group (Heavy), flew as co-pilot.
After the mission, Captain Calhoun said, "It was a good mission as far as I am concerned. My bombardier, Captain Robert Yonkman, told me that the bombing was really something."
Lieutenant Colonel Hatcher said, "It was my second raid and it was a hell of a lot better than the first one which was Bremen. They tell me that the bombing was perfect. I am learning a lot each time."
The 8 Ball Mk II was slightly damaged on this mission. Navigator 1st Lieutenant Joseph Strickland reported, "A 20 mm shell cut my flying boot almost in half. . . I believe it was as good bombing as we have done. Never saw so many fighters in my life. Both ours and the Germans."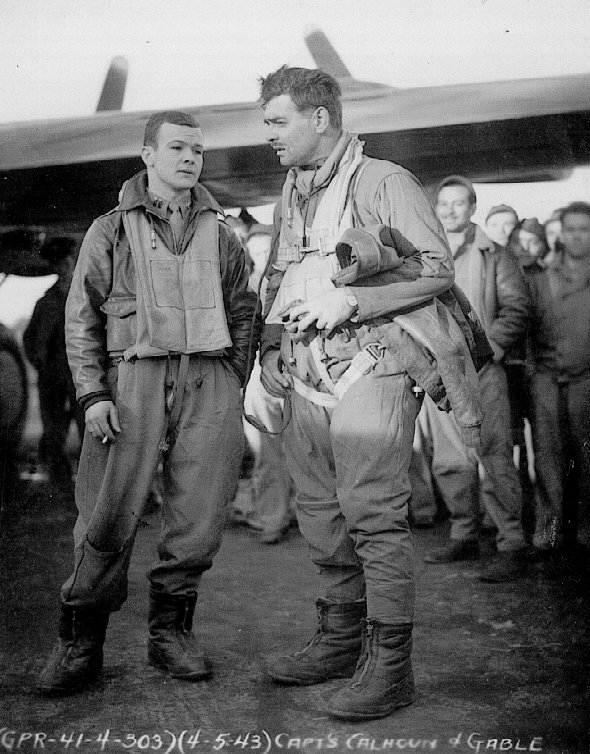 Also on board The 8 Ball Mk II was Captain William Clark Gable, Air Corps, United States Army. After his wife, Carole Lombard, had been killed in an airliner crash, 16 January 1942, the world-famous movie actor enlisted in the U.S. Army Air Corps, intending to become an aerial gunner on a bomber. Soon after enlisting, though, he was sent to Officer Candidate School and after graduating was commissioned a second lieutenant.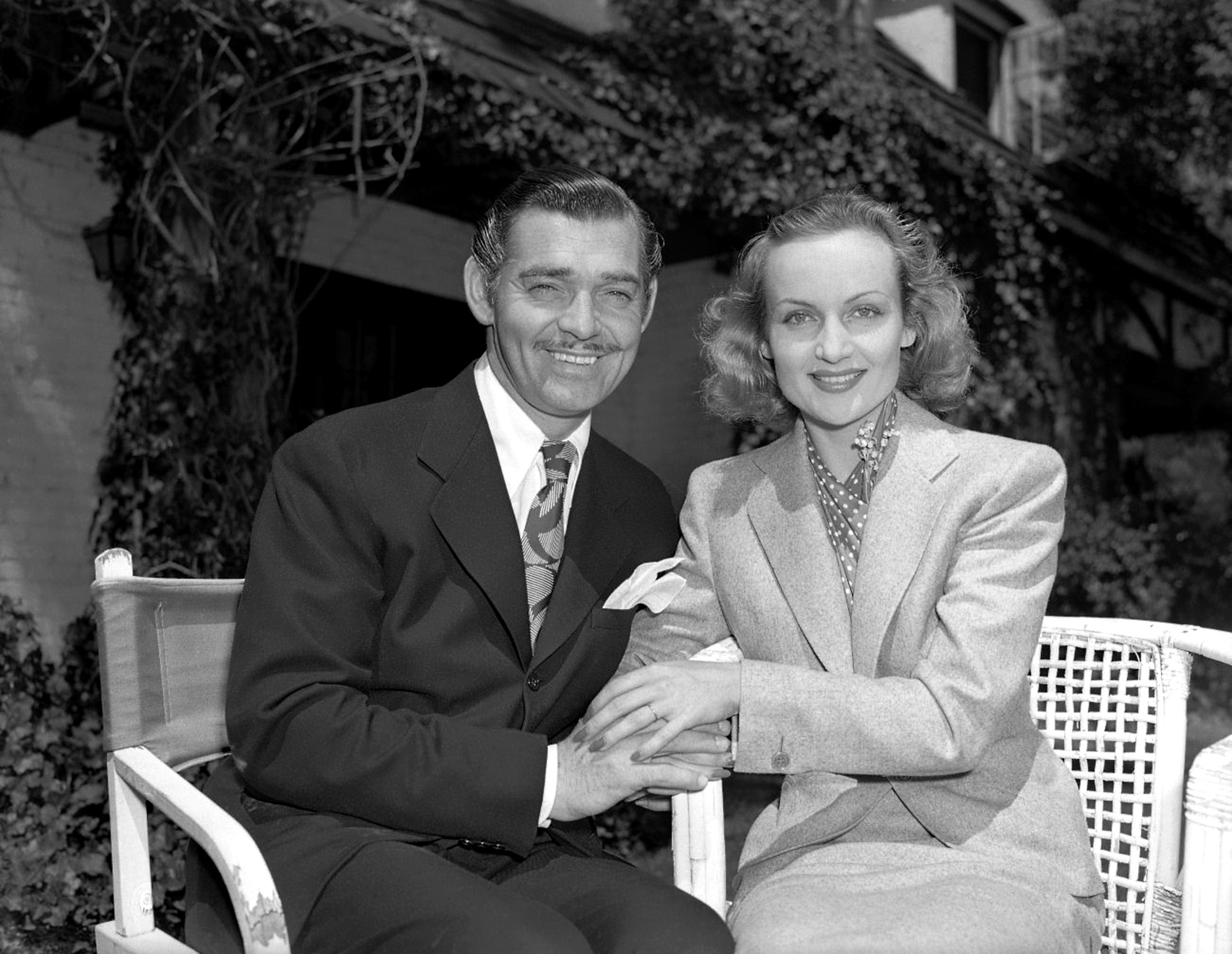 Lieutenant General Henry H. Arnold, Commanding General, U.S. Army Air Forces, assigned Lieutenant Gable to make a recruiting film about gunners in combat. Gable was then sent to aerial gunnery school and following that, to photography training. He was placed in command of a 6-man film unit and assigned to the 351st Bombardment Group (Heavy) as they went through training and were sent on to the 8th Air Force England.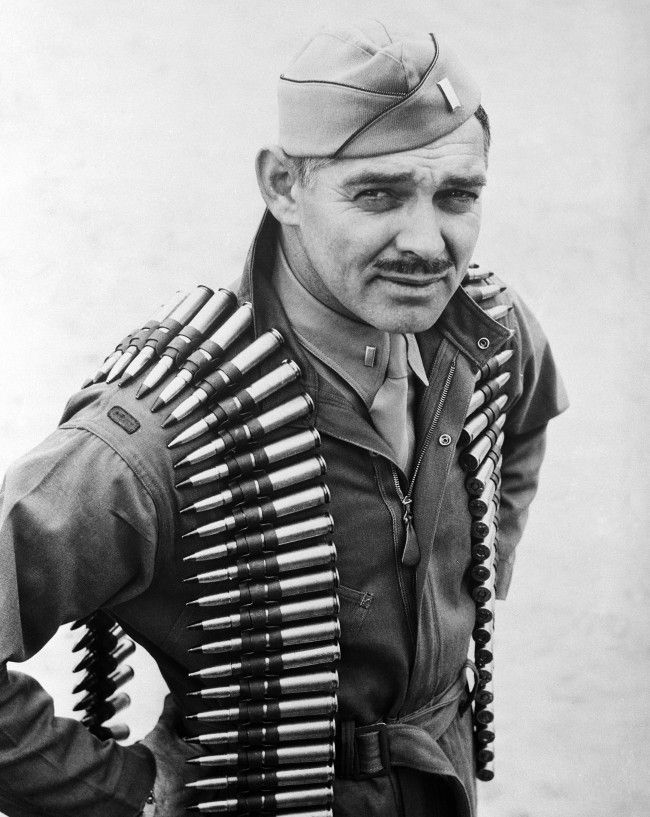 Clark Gable, now a captain, wanted to film aboard a bomber with a highly experienced combat crew, so both he and his group commander, Lieutenant Colonel Hatcher, flew with Captain Calhoun's crew.
The mission of 4 May 1943 was Gable's first combat mission. As a qualified gunner he manned a Browning AN-M2 .50-caliber machine gun.
Gable's recruiting film was completed several months later. It was titled, "Combat America."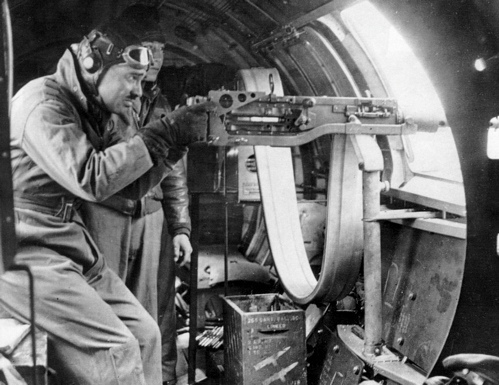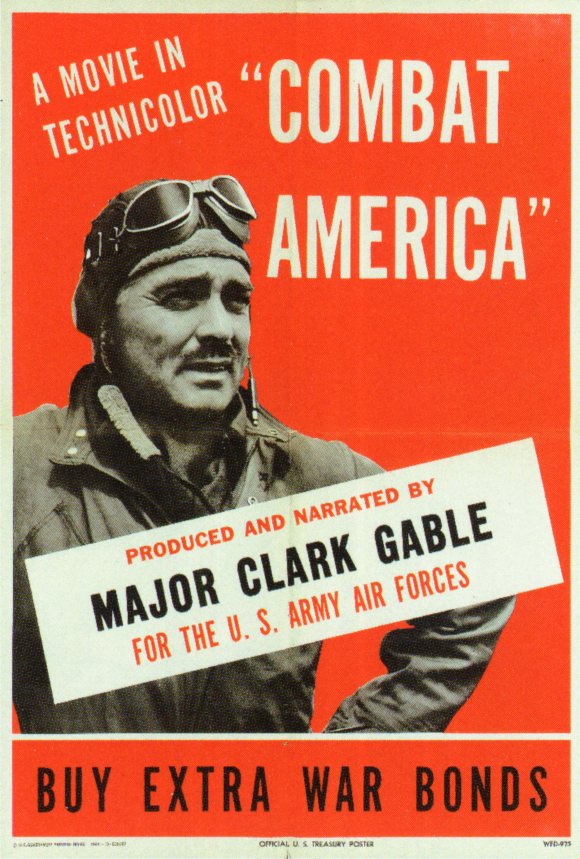 Colonel William Rodwell Calhoun, Jr., United States Air Force, was born at Birmingham, Alabama, 10 November 1919. He was the son of William R. Calhoun, a proof reader, and Mabel Lee Ferguson Calhoun.  He graduated from Howard University, Birmingham, Alabama (now, Samford University) in 1941 with an A.B. (Bachelor of Arts) degree.
William Calhoun entered the Army Air Corps as an aviation cadet at Montgomery, Alabama, 26 August 1941. At that time, Calhoun was 5 feet, 7 inches (170 centimeters) tall and weighed 136 pounds (61.7 kilograms). He trained as a pilot at Brooks Army Airfield, Texas, as a member of Class 41-I. Calhoun completed flight training and was commissioned a second lieutenant, 12 December 1941. He was promoted to first lieutenant, 1 February 1942.
Lieutenant Calhoun was assigned to the 359th Bombardment Squadron (Heavy), 303rd Bombardment Group (Heavy) as a B-17 Flying Fortress pilot. He was promoted to captain, 22 September 1942. He and his crew arrived at Station 107 (RAF Molesworth, Cambridgeshire, England) 20 October 1942 aboard their Boeing B-17F-25-BO Flying Fortress, 41-24581, The 8 Ball.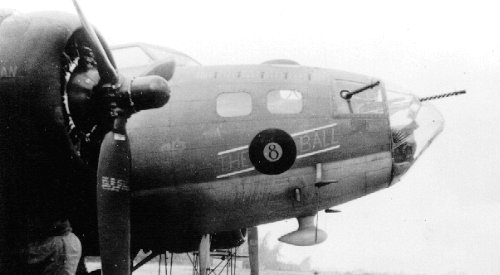 Two months later, 20 December 1942, during a bombing mission to Ronilly-sur-Seine, France, The 8 Ball was heavily damaged. Arriving over England, Captain Calhoun ordered the crew to bail out, then he and co-pilot Major Eugene Romig crash landed the bomber at RAF Bovington, Hertfordshire. The airplane was damaged beyond repair.
Captain Calhoun commanded the 359th Bombardment Squadron from 6 March to 22 November 1943. He was promoted to major, 5 June 1943. He was next assigned as Director of Operations and Executive Officer of the 41st Combat Bombardment Wing (Heavy).
Major Calhoun completed his 25-mission combat tour on 19 August 1943. He then volunteered for a second tour. Calhoun was promoted to the rank of lieutenant colonel, 28 December 1943, at the age of 24 years. The silver oak leaves, insignia of his new rank, were pinned on by Captain Gable. His final combat mission of World War II, his 32nd, took place 28 July 1944. He remained at the 41st Bombardment Wing until 23 December 1944.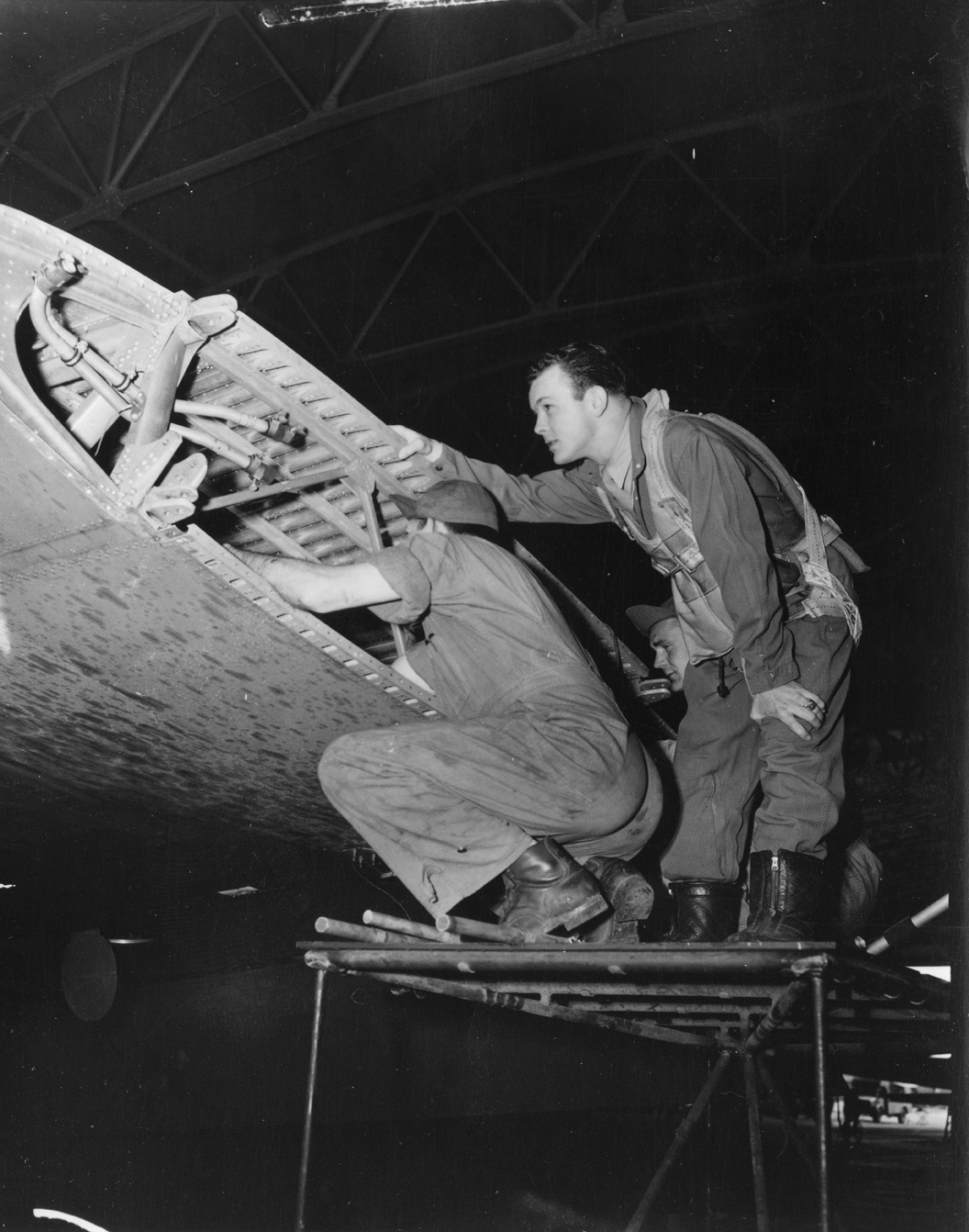 Following World War II, Lieutenant Colonel Calhoun commanded the 6th Troop Carrier Squadron and the 374th Troop Carrier Group. On 5 December 1948, while flying a Douglas C-54 Skymaster from Okinawa to Spokane, Washington, Calhoun was forced to ditch the airplane in the Pacific Ocean, about 1,200 miles (1,931 kilometers) southwest of Hawaii, when two of the airplane's engines failed. 33 of the 37 on board the transport survived. Colonel Calhoun and his crew spent 40 hours in two life rafts before being rescued by the U.S. Navy escort carrier, USS Rendova (CVE-114).
Colonel Calhoun married Dondena Hardin, 17 November 1950. They had two children, but divorced in 1974. Colonel Calhoun married his second wife, Virginia Ruth Smith, 14 May 1983.
Colonel Calhoun served as deputy commander of the 11th Bombardment Group (Heavy) and commander, 26th Bombardment Squadron (Heavy). He was then assigned as Director of Operations 19th Air Division; Director of Operations Eighth Air Force; and served in the Directorate of Operations, United States Air Force.
Colonel Calhoun was the base commander of Larson Air Force Base, Moses Lake, Washington, and vice commander of the 4170th Strategic Wing. He next commanded the 4128th Strategic Wing, later redesignated the 461st Bombardment Wing (Heavy), at Amarillo, Texas, followed by the 379th Bombardment Wing (Heavy).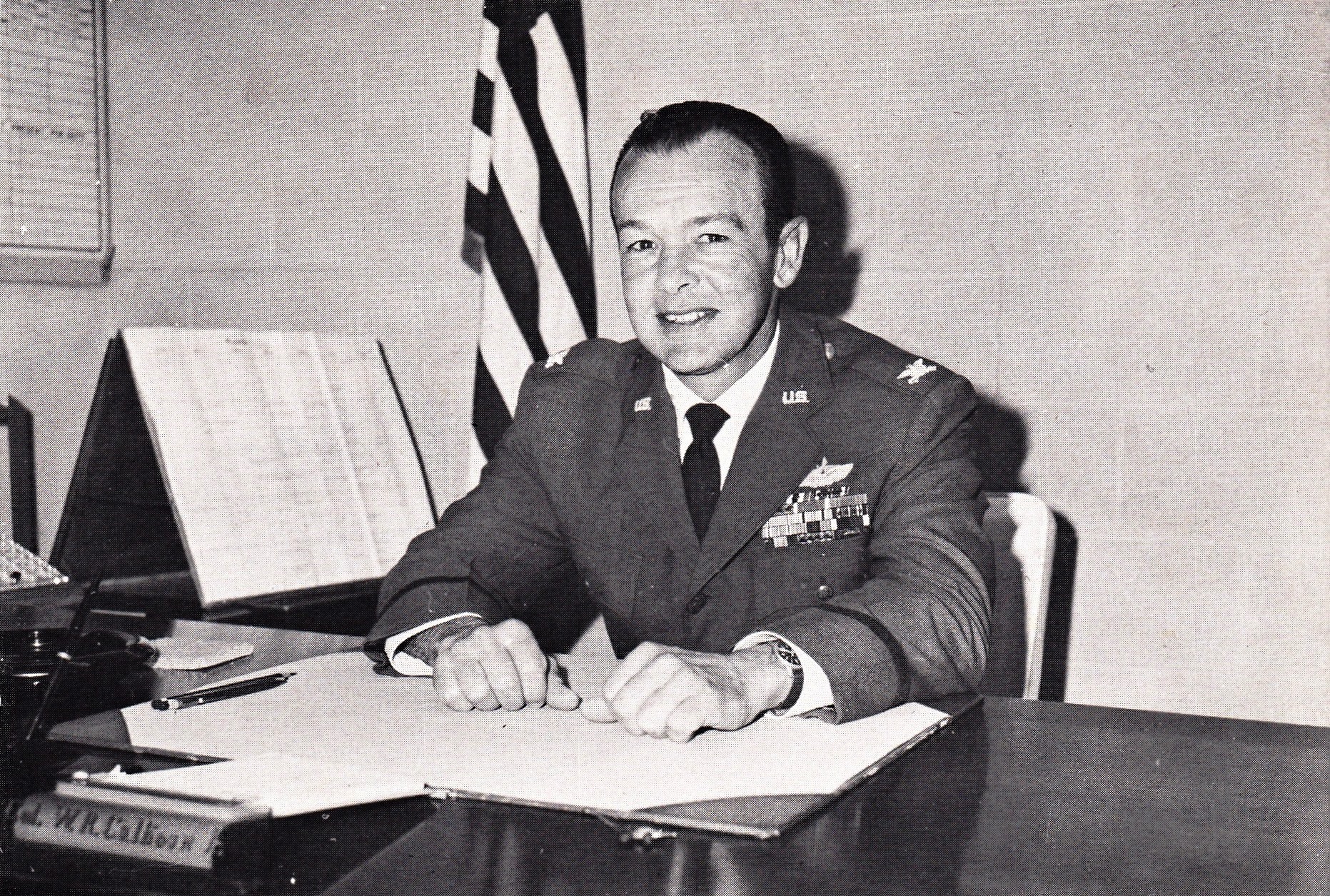 During his career with the United States Air Force, Colonel Calhoun was awarded the Silver Star with oak leaf cluster (two awards); the Distinguished Flying Cross with three oak leaf clusters (four awards); The Air Medal with four oaks leaf clusters (five awards); The Purple Heart; the Presidential Unit Citation; and the Croix de Guerre.
Colonel William R. Calhoun, Jr., United States Air Force, died at Fort Worth, Texas, 20 March 1991 at the age of 72 years. He was buried at Greenwood Memorial Park in Fort Worth.
The bomber flown by Colonel Calhoun 4 May 1943, Boeing B-17F-27-BO Flying Fortress 41-24635, The 8 Ball Mk. II, was scrapped 8 February 1945.
© 2018, Bryan R. Swopes