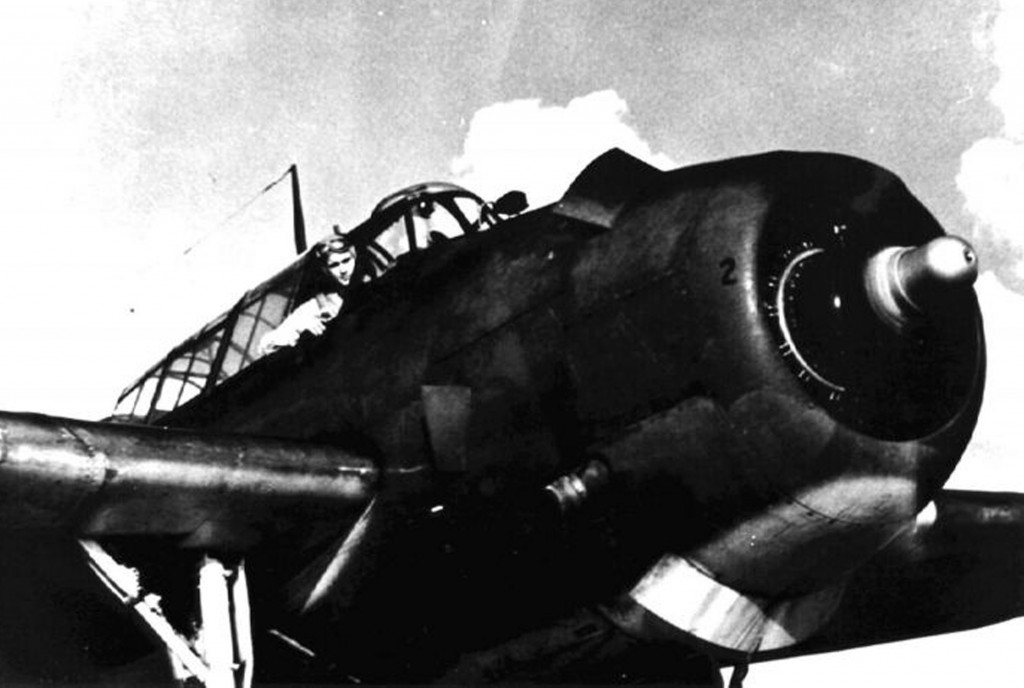 2 September 1944: Lieutenant (Junior Grade) George Herbert Walker Bush, United States Naval Reserve, led a flight of four TBF/TBM Avenger torpedo bombers of Torpedo Squadron 51 (VT-51), from the Independence-class light aircraft carrier USS San Jacinto (CVL-30), against a radio transmission station on the island of Chichi-Jima.
The Avenger had a crew of three. Along with Lt (j.g.) Bush were Lt. (j.g.) William G. White, USNR, gunner, and radio operator ARM 2/c John Lawson Delaney, USNR.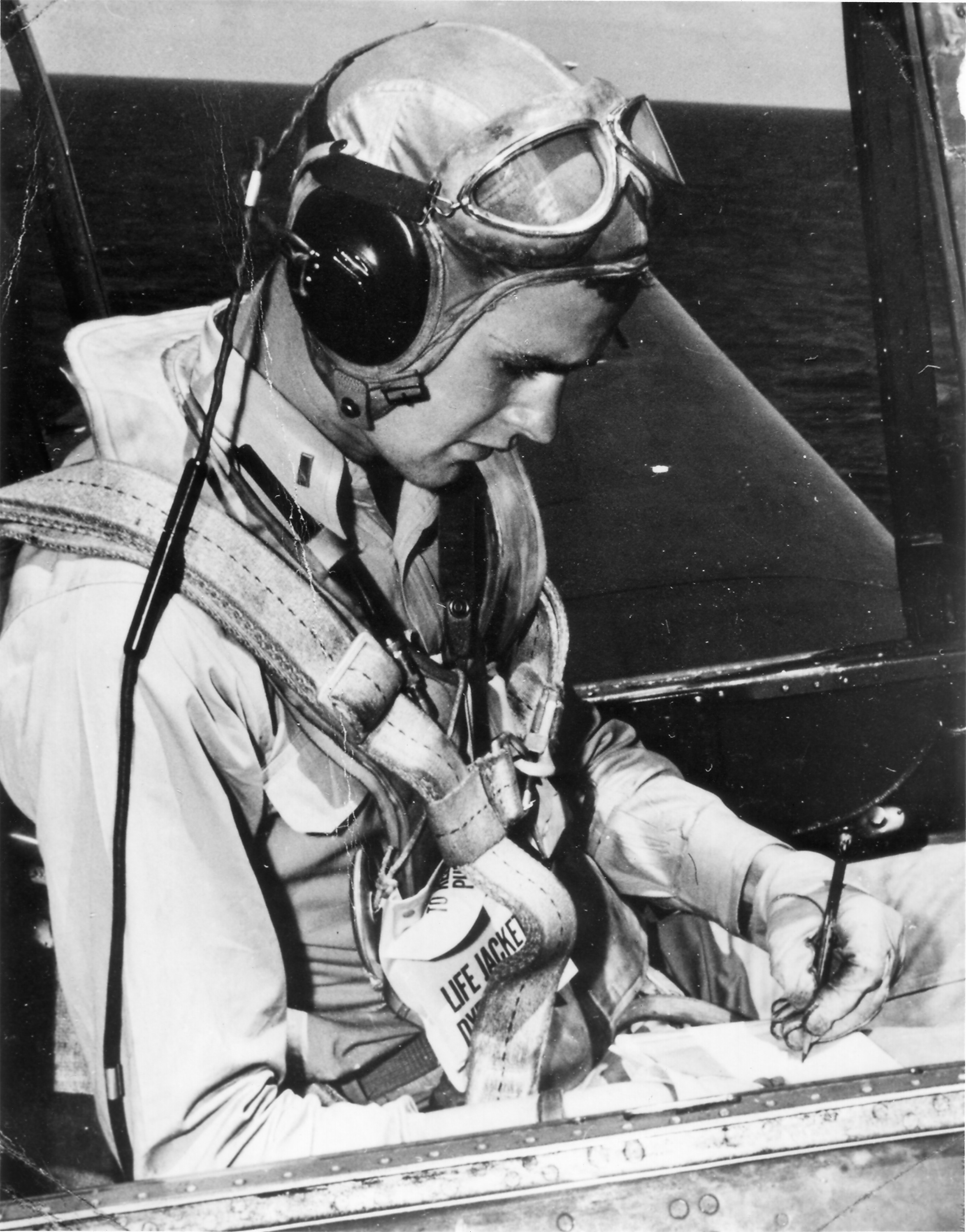 Each airplane was armed with four 500-pound¹ general purpose bombs. The flight was joined by eight Curtiss-Wright SB2C Helldiver dive bombers of VB-20, escorted by twelve Grumman F6F-5 Hellcat fighters of VF-20, from USS Enterprise (CV-6).
Chichi-Jima is the largest island in the Ogasawara Archipelago of the Bonin Islands, approximately 150 miles (240 kilometers) north of Iwo Jima and 620 miles (1,000 kilometers) south of Tokyo, Japan. The United States Hydrographic Survey described the island in 1920 as "very irregular in shape," approximately 4¼ miles (7.2 kilometers) long and 2 miles (3.2 kilometers) wide. The area of the island is presently given as 23.45 square kilometers (9.05 square miles). Its highest point is 326 meters (1,070 feet) above Sea level. The island has a small sea port where midget submarines were based beginning in August 1944. Chichi-Jima was heavily garrisoned with 20,656 Imperial Japanese Army and Navy personnel, and 2,285 civilian workers.²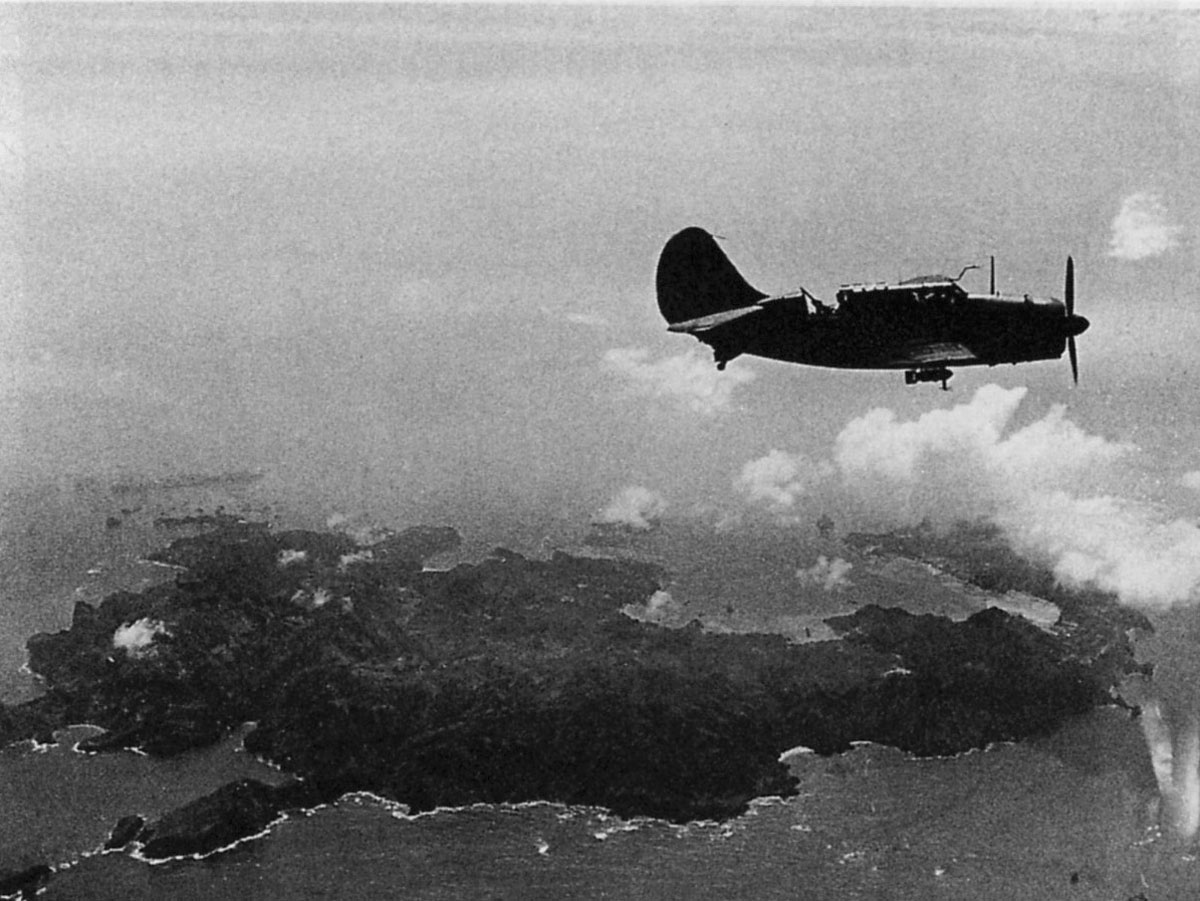 Lieutenant Bush's flight was scheduled for a time over target of 0825–0830. They encountered heavy antiaircraft fire and Bush's Avenger was hit. With the torpedo bomber on fire, Bush continued the attack and later reported good results. Unable to return to the aircraft carrier, he flew away from the island to limit the risk of capture of the crew by the enemy when they bailed out.
Bush and one other crewman (which one is not known) bailed out. While Bush parachuted safely, the second crewman's parachute never opened. The third crewman went down with the airplane. Both Lieutenant White and Radioman Delaney were killed.
The Gato-class fleet submarine USS Finback (SS-230) was stationed near the island on lifeguard duty during the attack. At 0933, Finback was notified of an aircraft down nine miles northeast of Minami-Jima.  Escorted by two F6F fighters, the submarine headed for the location. At 1156, Finback picked up Lt. Bush, floating in his life raft. A search for White and Delaney was unsuccessful. Their bodies were not recovered.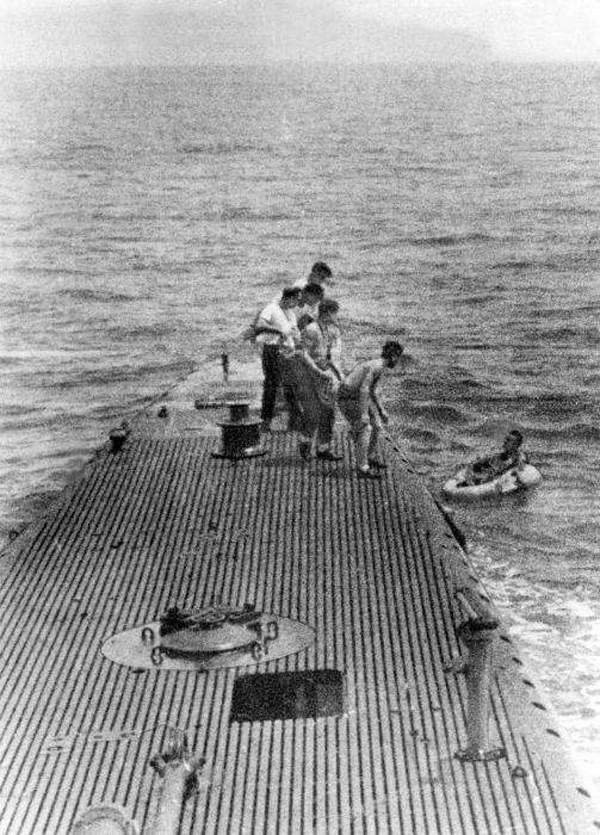 (Later that same day, Finback, while submerged, towed a second pilot and his life raft away from Magane-Iwa, as he held on to the sub's periscope.)
Lieutenant Bush and the other rescued pilots remained aboard for the remainder of Finback's war patrol (her tenth), and were then returned to Pearl Harbor. In November he rejoined San Jacinto for operations in the Philippines.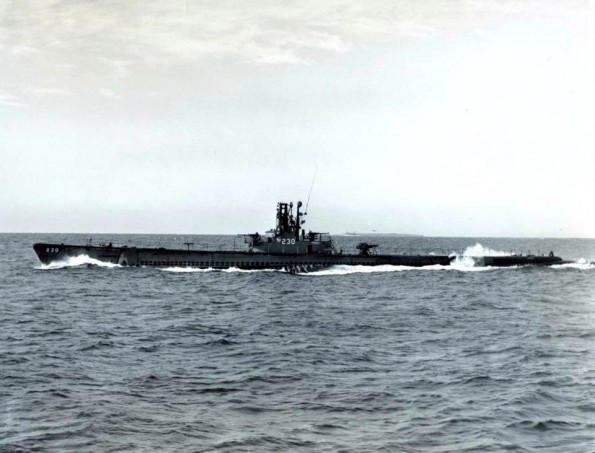 George Herbert Walker Bush was born at Milton, Massachusetts, 12 June 1924, the son of Prescott Sheldon Bush and Dorothy Walker Bush. He attended high school at the Phillips Academy in Andover, Massachusetts.
One day after his 18th birthday, 13 June 1942, Bush enlisted as a seaman, 2nd class, in the United States Naval Reserve. He was appointed an aviation cadet and underwent preflight training at the University of North Carolina, Chapel Hill. He was honorably discharged 8 June, and commissioned as an ensign, United States Naval Reserve, 9 June 1943. At the age of 19 years, 2 days, he became the youngest Naval Aviator in history. (His age record was broken the following month by Ensign Charles Stanley Downey, who was commissioned 16 July 1943 at the age of 18 years, 11 months, 14 days.)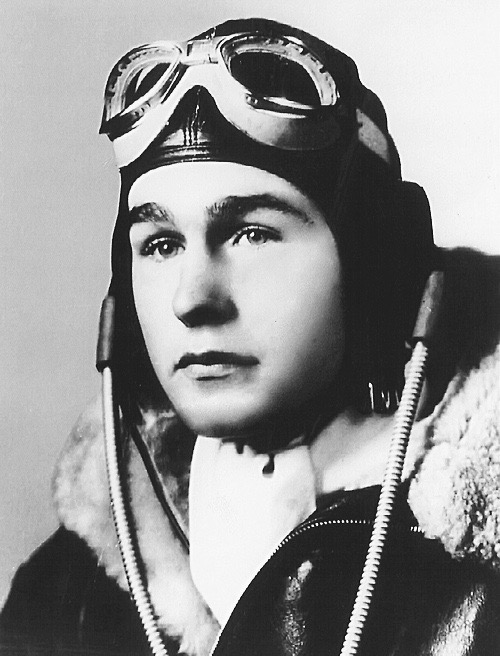 Ensign Bush continued flight training at NAS Pensacola, Florida, and then the Carrier Qualification Training Unit, NAS Glenville, Illinois. After training with the Atlantic Fleet, Ensign Bush was assigned to Torpedo Squadron Fifty-One (VT-51), in September 1943. He was promoted to lieutenant (junior grade), 1 August 1944.
After leaving San Jacinto, Bush was assigned to NAS Norfolk, Virginia, from December 1944 to February 1945. He then joined Torpedo Squadron Ninety-Seven (VT-97) and then VT-153.
Lieutenant (j.g.) Bush was released from active duty on 18 September 1945, retaining his commission. He was promoted to lieutenant 16 November 1948. On 24 October 1955, Lieutenant Bush resigned from the U.S. Navy.
During World War II, George H. W. Bush flew 58 combat missions. He flew a total of 1,221 hours and made 126 carrier landings. He was awarded the Distinguished Flying Cross, the Air Medal with two gold stars (three awards), and the Presidential Unit Citation.
He would later become the forty-first President of the United States of America.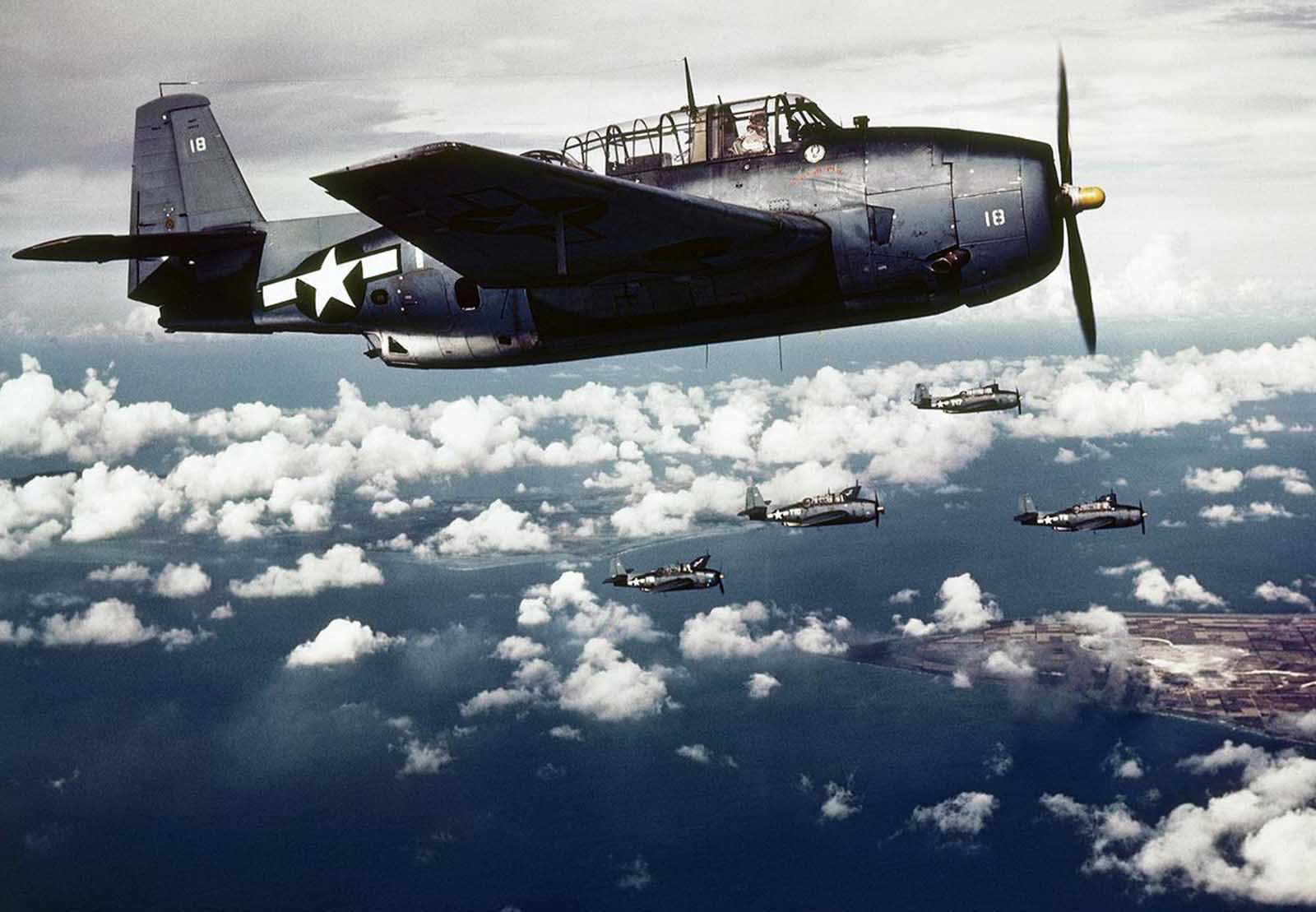 The airplane flown by Lt. (j.g.) Bush on 2 September 1944 was a General Motors TBM-1C Avenger torpedo bomber, Bu. No. 46214. This was a licensed variant of the Grumman TBF-1C Avenger, built by the General Motors Corporation Eastern Aircraft Division at Linden, New Jersey.
The Avenger was designed by Robert Leicester Hall, Chief Engineer and Test Pilot for the Grumman Aircraft Engineering Corporation, Bethpage, New York. The prototype XTBF-1 made its first flight 1 August 1941. It was a large single-engine aircraft, operated by a crew of three (pilot, radio operator and ball turret gunner). It was equipped with folding wings for storage on aircraft carriers. Production of the torpedo bomber began with the opening of a new manufacturing plant, Sunday, 7 December 1941. The first production Avenger was delivered to the U.S. Navy in January 1942.
The TBF-1 and TBM-1 were 40 feet, 11 inches (12.471 meters) long, with a wingspan of 54 feet, 2 inches (16.510 meters) and overall height of 16 feet, 5 inches (5.004 meters). The airplane had an empty weight of 10,545 pounds (478 kilograms), and its maximum gross eight was 17,895 pounds (8,117 kilograms). The Avenger was the largest single-engine aircraft of World War II.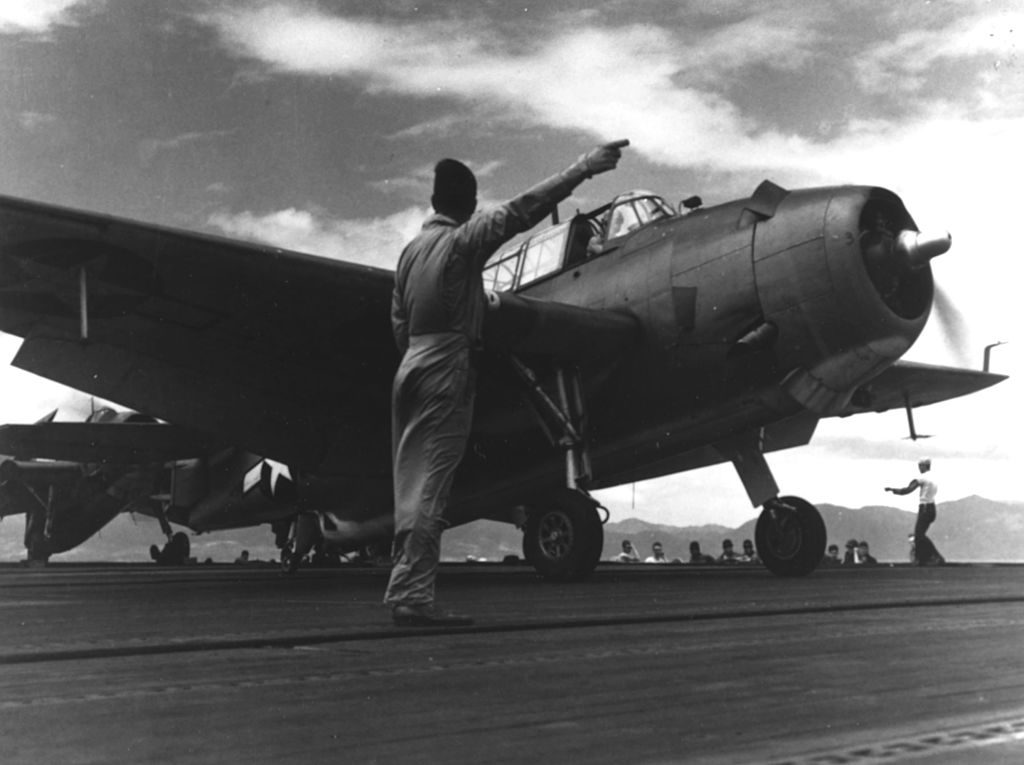 The Avenger was powered by one of several variants of the Wright Aeronautical Division Cyclone 14 (R-2600): GR2600B698 (R-2600-8 and -8A); GR2600B676 (R-2600-10); and 776C14B31. The R-2600 was series of air-cooled, supercharged, 2,603.737-cubic-inch-displacement (42.688 liter), two-row 14-cylinder radial engines. The engines used in the Avengers all had a compression ratio of 6.9:1, supercharger ratios of 7.06:1 and 10.06:1, and propeller gear reduction ratio of 0.5625:1.
The R-2600-8, -8A and -10 had Normal Power ratings of 1,500 horsepower at 2,400 r.p.m. at Sea Level, and 1,700 horsepower at 2,600 r.p.m. for takeoff. The R-2600-20 was rated at 1,600 horsepower at 2,400 r.p.m., and 1,900 horsepower at 2,800 horsepower, respectively.
Dimensions and weights varied. The R-2600-8 and -8A were 64.91 inches (1.649 meters) long. The -10 was 74.91 inches (1.903 meters) long, and the length of the -20 was 66.08 inches (1.678 meter). The R-2600-8 and 8A and -10 were 54.26 inches (1.378 meters) in diameter. The -20 was 54.08 inches (1.374 meters). The -8 and -8A both weighed 1,995 pounds (905 kilograms). The -10 weighed 2,115 pounds (959 kilograms) and the -20 weighed 2,045 pounds (928 kilograms).
The engines drove a three-bladed Hamilton Standard Hydromatic constant-speed propeller.
The TBF/TBM had a cruise speed of 147 miles per hour (237 kilometers per hour) and maximum speed of 276 miles per hour (444 kilometers per hour) at 16,500 feet (5,029 meters). The service ceiling was 30,100 feet (9,174 meters). Its maximum range was 1,010 miles (1,625 kilometers).
The Avenger was armed with one air-cooled Browning AN-M2 .50-caliber machine gun mounted in each wing, firing forward. Another .50-caliber machine gun was installed in an electrically-operated dorsal ball turret. In the ventral position was a Browning M2 .30-caliber aircraft machine gun in a flexible mounting.
The primary weapon of the Avenger was carried in an enclosed weapons bay. It could be armed with one Mk. 13 aerial torpedo, ³ or up to 2,000 pounds (907 kilograms) of bombs.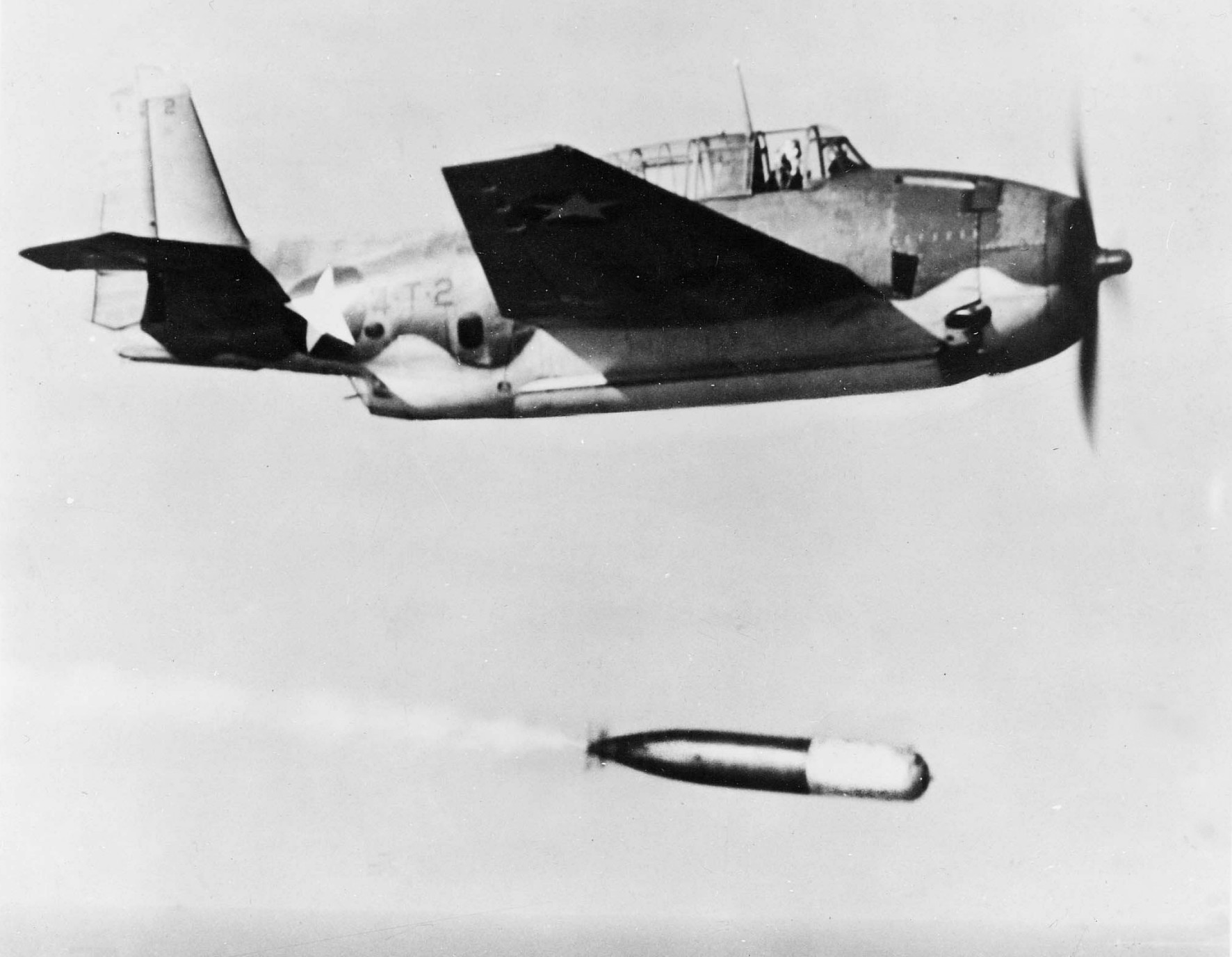 The Grumman Aircraft Engineering Corporation produced TBF Avengers from Early 1942 until 1943, when production was taken over by the General Motors Corporation Eastern Aircraft Division. Grumman produced 2,290 TBFs, while Eastern built 9,836 TBMs.
Lieutenant Bush's aircraft carrier, USS San Jacinto (CVL-30), was an Independence-class light carrier. It had been started by the New York Shipbuilding Corporation as a Cleveland-class light cruiser, USS Newark (CL-100), but was converted during construction. Construction took 11 months and the ship was launched 26 September 1943. It was commissioned 15 November 1943.
The carrier was 622.5 feet (189.7 meters) long, with a beam of 71.5 feet (21.8 meters) and draft of 26 feet (7.9 meters). It had a full load displacement of 15,100 long tons (16,912 short tons, or 15,342 metric tons). The ship was powered by steam turbines producing 100,000 horsepower and driving four shafts. San Jacinto was capable of a maximum 31.6 knots (36.4 miles per hour, or 58.5 kilometers per hour).
San Jacinto had a complement of 1,549 men, and carried 45 airplanes. For defense, it was armed with 28 Bofors 40 millimeter anti-aircraft guns and 40 Oerlikon 20 millimeter autocannon.
San Jacinto was decommissioned 1 March 1947 and was later scrapped.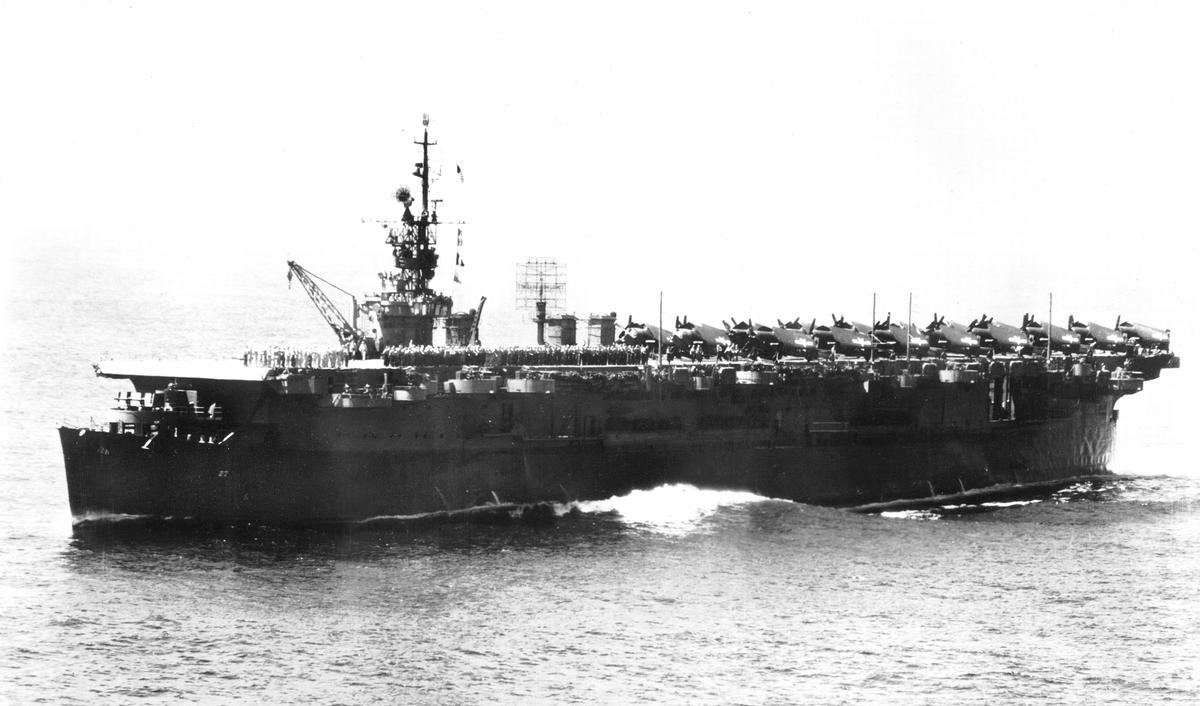 On 7 October 2006, the tenth and final Nimitz-class supercarrier was christened USS George H.W. Bush (CVN-77) in honor of President Bush's service to his country.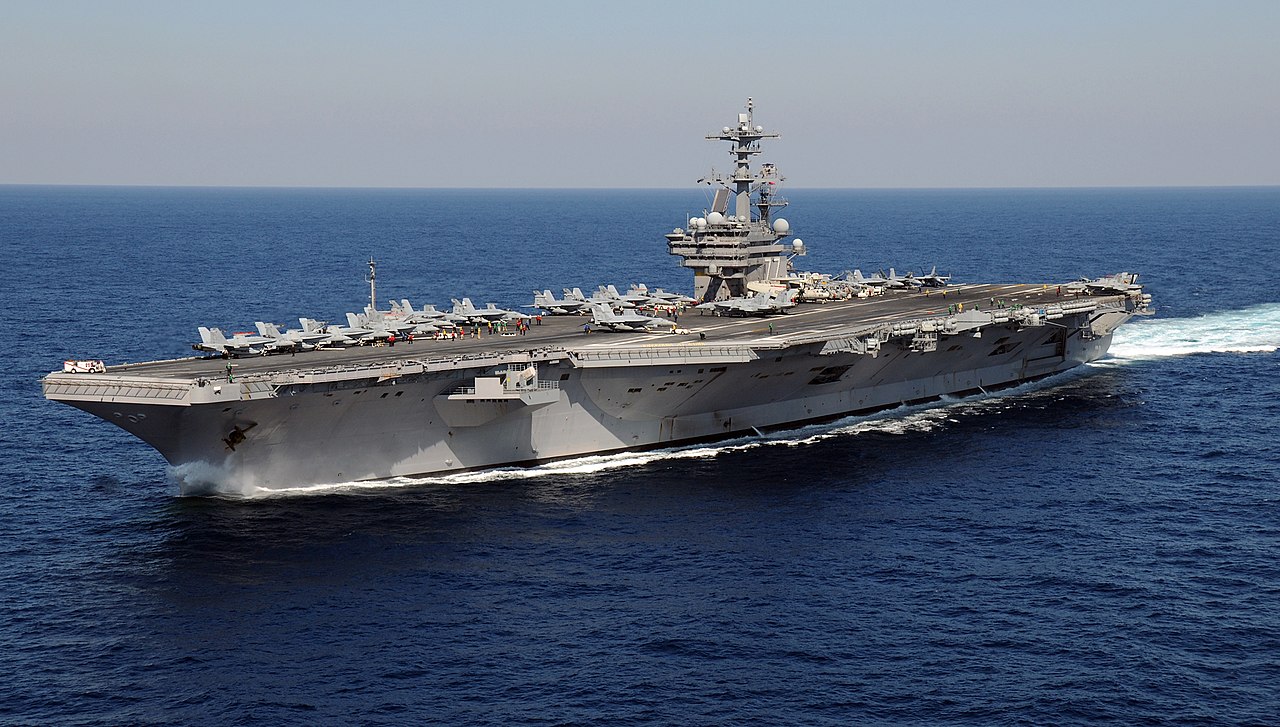 ¹ The most common U.S. 500-pound general purpose bomb of World War II was the AN-M64. Nominally a 500-pound (227 kilogram) bomb, the munition actually weighed from 516.3 to 535.4 pounds (234.2 to 242.9 kilograms), depending on the explosive used. It contained 266 pounds (120.7 kilograms) of TNT, or 258.5 pounds (117.3 kilograms) of a 50/50 TNT and Amatol mixture. For easy identification, these were marked with a single 1-inch (2.54 centimeter) wide yellow band painted at the nose and tail. Composition B bombs, which were marked with two yellow identification bands, contained 272.7 pounds (123.7 kilograms) of explosive, while the heaviest was filled with 278.3 pounds (126.2 kilograms) of Tritonal. This variant was marked with three yellow bands. The bomb, without fins or fuses, was 36 inches (0.914 meters) long. The overall length was 59.16 inches (1.503 meters), including nose and tail fuses. The maximum diameter was 10.9 inches (0.277 meters).
² Personnel numbers as of 3 September 1945.
³ The U.S. Navy Torpedo, Mark 13, was a gyroscopically-steered single-speed anti-ship torpedo designed to be dropped from aircraft. It was 13 feet, 8.55 inches (4.180 meters) long, 1 foot, 10.42 inches (0.570 meters) in diameter and weighed 1,949 pounds (884 kilograms) ± 20 pounds (9 kilograms). The warhead contained a 400 pound (181 kilogram) TNT explosive charge.  The Mk. 13 was driven by a two-stage alcohol-fueled geared steam turbine, turning 10,983 r.p.m., with the coaxial counter-rotating propellers turning 1,150 r.p.m. It was capable of running at 33.5 knots (38.6 miles per hour, or 62.0 kilometers per hour), with a range of 6,300 yards (5.8 kilometers). This same type torpedo was used by the U.S. Navy's PT boats late in the war.
Thanks to regular TDiA reader Joolz Adderly for suggesting this topic.
© 2017, Bryan R. Swopes