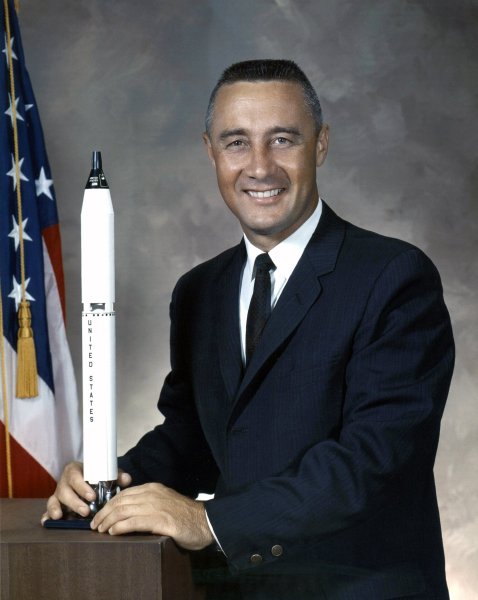 3 April 1926: Virgil Ivan Grissom was born at Mitchell, Indiana, the second of five children. Upon graduation from high school during World War II, he enlisted in the U.S. Army. After the war, he went to Purdue University and earned a Bachelor of Science Degree in engineering, then joined the U.S. Air Force and was trained as a fighter pilot. He flew 100 combat missions in the North American Aviation F-86 Sabre during the Korean War. He attended a one year program at the Air Force Institute of Technology and earned a second Bachelor's degree in aircraft engineering. Next he went to the test pilot school at Edwards AFB. After completion, he was assigned as a fighter test pilot at Wright-Patterson AFB.
One of 508 pilots who were considered by NASA for Project Mercury, Gus Grissom was in the group of 110 that were asked to attend secret meetings for further evaluation. From that group, 32 went on with the selection process and finally 18 were recommended for the program.  Grissom was one of the seven selected.
Major Grissom was the second American to "ride the rocket" aboard Mercury-Redstone 4. He named his space capsule Liberty Bell 7.  Next he orbited Earth as commander of Gemini III along with fellow astronaut John Young. He was back-up commander for Gemini VI-A, then went on to the Apollo Program.
As commander of AS-204 (Apollo I), LCOL Virgil I. Grissom, USAF was killed along with Ed White and Roger Chafee during a test on the launchpad, 27 January 1967.
Gus Grissom was an Air Force Command Pilot with over 4,600 hours flight time. He was the first American astronaut to fly into space twice.
© 2015, Bryan R. Swopes
by