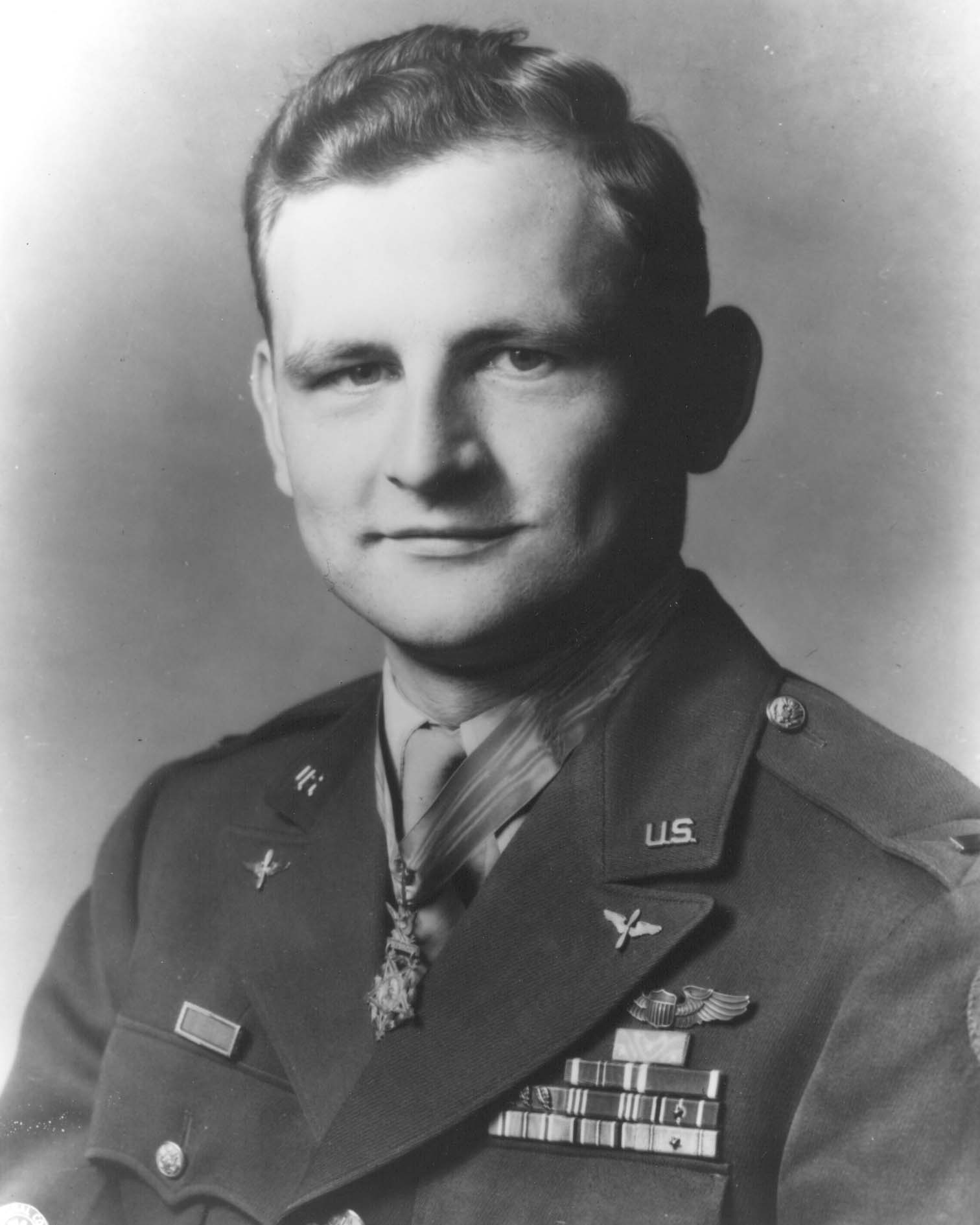 MEDAL OF HONOR
First Lieutenant Edward Stanley Michael
United States Army Air Forces
Rank: First Lieutenant, U.S. Army Air Corps
Organization: 364th Bombardment Squadron, 305th Bombardment Group (H), 8th Air Force
Place and Date: Over Germany, 11 April 1944
Entered Service: Chicago
Born: 2 May 1918, Chicago, Ill.
General Orders: War Department. General Orders No. 5. January 15, 1945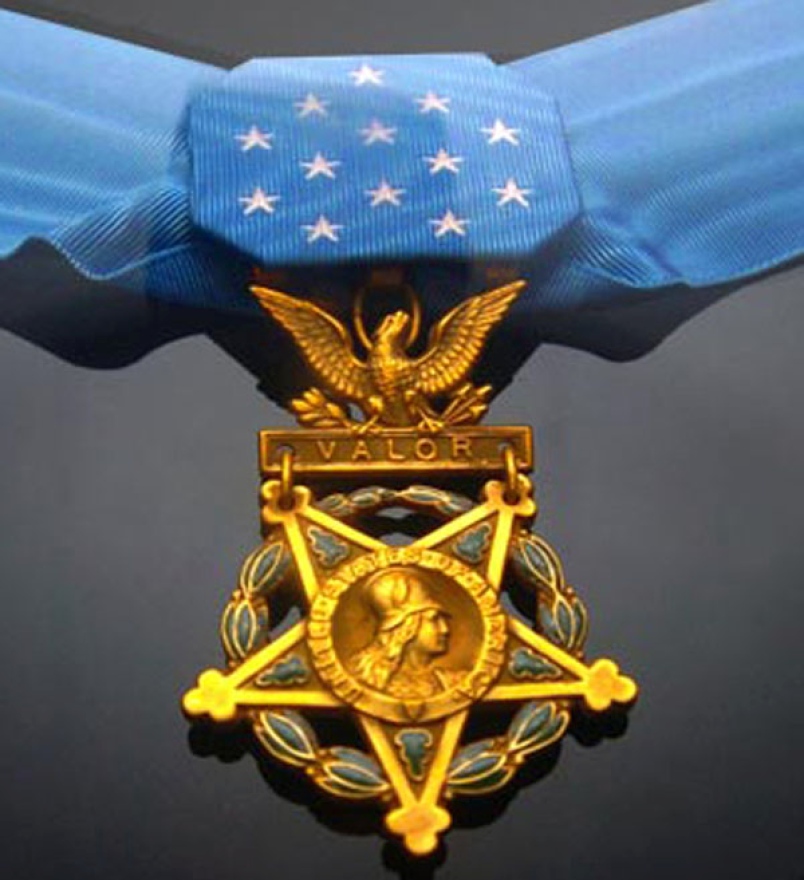 Citation: The President of the United States of America, in the name of Congress, takes pleasure in presenting the Medal of Honor to First Lieutenant (Air Corps) Edward Stanley Michael, United States Army Air Forces, for conspicuous gallantry and intrepidity above and beyond the call of duty while serving as pilot of a B-17 aircraft on a heavy bombardment mission to Germany, April 11, 1944. The group in which 1st Lt. Michael was flying was attacked by a swarm of fighters. His plane was singled out and the fighters pressed their attacks home recklessly, completely disregarding the Allied fighter escort and their own intense flak. His plane was riddled from nose to tail with exploding cannon shells and knocked out of formation, with a large number of fighters following it down, blasting it with cannon fire as it descended. A cannon shell exploded in the cockpit, wounded the copilot, wrecked the instruments, and blew out the side window. 1st Lt. Michael was seriously and painfully wounded in the right thigh. Hydraulic fluid filmed over the windshield making visibility impossible, and smoke filled the cockpit. The controls failed to respond and 3,000 feet were lost before he succeeded in leveling off. The radio operator informed him that the whole bomb bay was in flames as a result of the explosion of 3 cannon shells, which had ignited the incendiaries. With a full load of incendiaries in the bomb bay and a considerable gas load in the tanks, the danger of fire enveloping the plane and the tanks exploding seemed imminent. When the emergency release lever failed to function, 1st Lt. Michael at once gave the order to bail out and 7 of the crew left the plane. Seeing the bombardier firing the navigator's gun at the enemy planes, 1st Lt. Michael ordered him to bail out as the plane was liable to explode any minute. When the bombardier looked for his parachute he found that it had been riddled with 20mm fragments and was useless. 1st Lt. Michael, seeing the ruined parachute, realized that if the plane was abandoned the bombardier would perish and decided that the only chance would be a crash landing. Completely disregarding his own painful and profusely bleeding wounds, but thinking only of the safety of the remaining crewmembers, he gallantly evaded the enemy, using violent evasive action despite the battered condition of his plane. After the plane had been under sustained enemy attack for fully 45 minutes, 1st Lt. Michael finally lost the persistent fighters in a cloud bank. Upon emerging, an accurate barrage of flak caused him to come down to treetop level where flak towers poured a continuous rain of fire on the plane. He continued into France, realizing that at any moment a crash landing might have to be attempted, but trying to get as far as possible to increase the escape possibilities if a safe landing could be achieved. 1st Lt. Michael flew the plane until he became exhausted from the loss of blood, which had formed on the floor in pools, and he lost consciousness. The copilot succeeded in reaching England and sighted an RAF field near the coast. 1st Lt. Michael finally regained consciousness and insisted upon taking over the controls to land the plane. The undercarriage was useless; the bomb bay doors were jammed open; the hydraulic system and altimeter were shot out. In addition, there was no airspeed indicator, the ball turret was jammed with the guns pointing downward, and the flaps would not respond. Despite these apparently insurmountable obstacles, he landed the plane without mishap.

By 11 April 1944, four of Lt. Michael's original crew had been replaced. For the six remaining, Eight Air Force Mission 298 would be their twenty-sixth combat mission. (The combat tour had just been increased from 25 missions to 30.)
On that day, 917 B-17 Flying Fortress and B-24 Liberator heavy bombers, along with an escort of 819 P-38 Lightning, P-47 Thunderbolt and P-51 Mustang fighters were dispatched to strike aircraft production centers in Germany. The mission was divided into three sections. Lieutenant Michael's B-17 was one of the 341 in the first section, and one of the 127 which were assigned to attack a ball bearing plant at Stettin, Germany (now, Szczecin, Poland).
While on the approach to the target, Bertie Lee came under continuous attack by enemy fighters. The airplane was heavily damaged and several crew members, including Lieutenant Michael, were severely wounded. Two engines were out and several incendiary bombs in the bomb bay caught fire.
When Michael found that he was unable to jettison the bomb load, he ordered his crew to bail out. Four gunners and the airplane's navigator jumped. The flight engineer/top turret gunner was badly injured and could not put on his parachute. Lieutenant Michael put on the 'chute for him, and as he jumped, Michael pulled the parachute's rip cord.
All of those who escaped from Bertie Lee were captured and held as prisoners of war. One was so badly injured, though, that Germany repatriated him to the United States.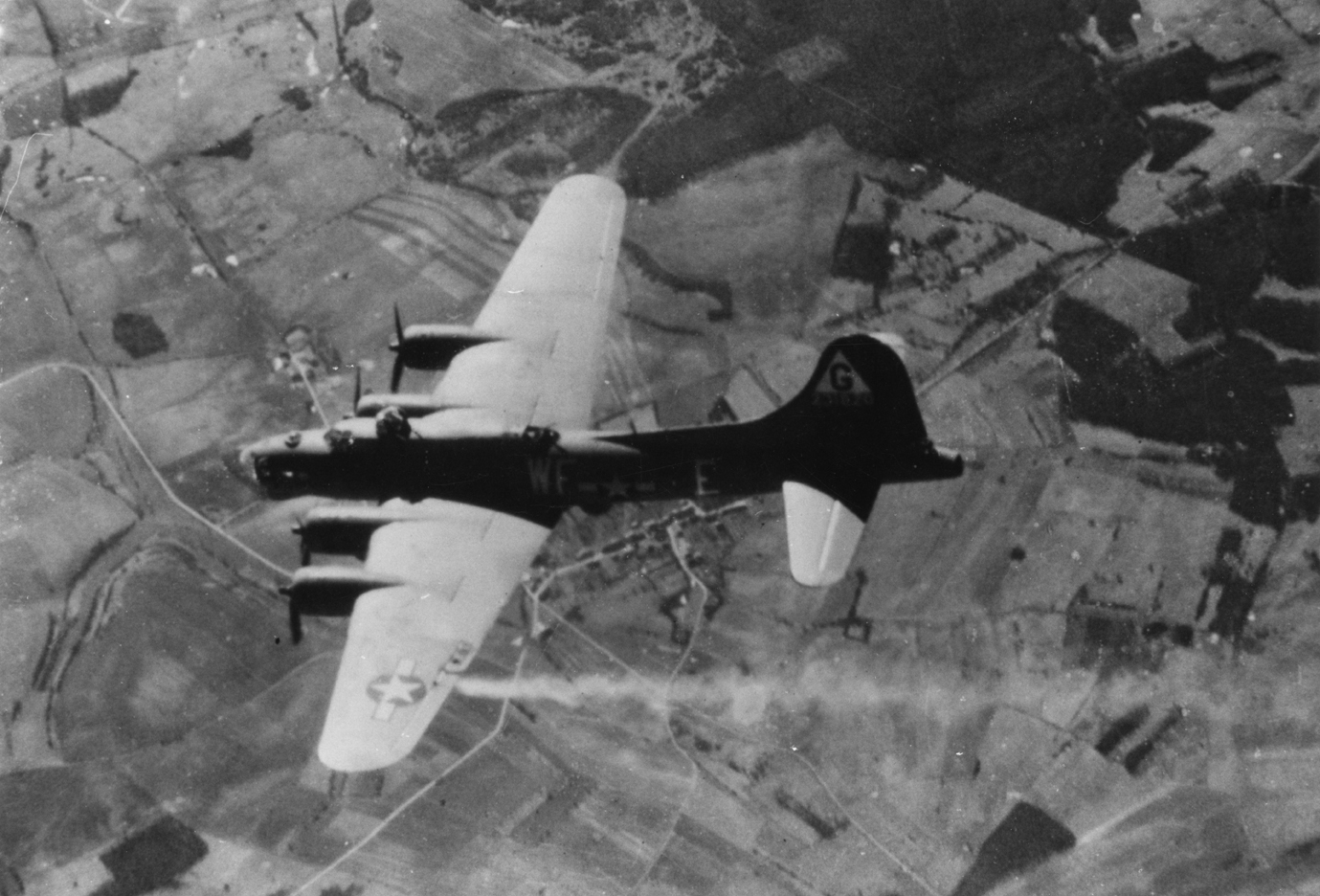 Of the original aircraft sent on the mission, 52 B-17s were lost, 4 (including Bertie Lee) were damaged beyond repair, and another 313 damaged. 12 B-24s were lost, 1 damaged beyond repair, and 63 damaged. Seven of the P-47s were shot down and 16 damaged. Nine P-51s were shot down and 13 damaged. The P-38s were unscathed.
19 U.S. airman were listed as Killed in Action, 31 wounded, and 668 missing in action.
Gunners and fighter pilots claimed 124 enemy fighters shot down.
Mission 298 was one of the worst single-day losses of World War II.
1st Lieutenant Michael was hospitalized for months while he recovered from his wounds, and was sent back to the United States to recover.
The Medal of Honor was presented to 1st Lieutenant Edward S. Michael by Franklin Delano Roosevelt, 32nd President of the United States of America, in a ceremony at The White House, Washington, D.C., 10 January 1945.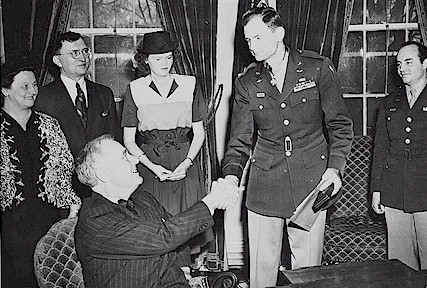 Edward Stanley Michael was born at Chicago, Illinois, 2 May 1918. He was the son of Stanley William Michael and Lillian Harriet Konior Michael. He attended Chicago High School, graduating in 1936. By 1940, Edward Michael was employed as a machinist.
On 2 November 1940, Michael enlisted as a private in the Air Corps, United States Army. He was 5 feet, 10 inches tall and weighed 148 pounds. He served at Wheeler Field, Honolulu, Territory of Hawaii, and was present during the air attack of 7 December 1941. Private First Class Michael was appointed an aviation cadet, 5 June 1942. He graduated from flight training and was commissioned as a second lieutenant, Air Reserve, 12 April 1943. He trained as a multi-engine pilot at Douglas Army Airfield, in Cochise County, Arizona, and then underwent training as a B-17 Flying Fortress pilot at Geiger Army Airfield, Spokane, Washington.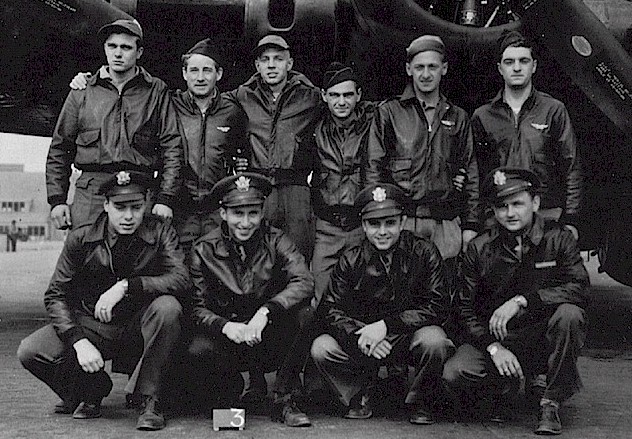 2nd Lieutenant Michael married Miss Bertie Lee Parks, whom he had met while training in Arizona, at Geiger Field, on 21 October 1943. He would later name his B-17G 42-37931, Bertie Lee, in her honor. They would divorce in 1956.
Michael was promoted to the rank of 1st Lieutenant, Army of the United States (A.U.S.), 25 Jan 1944.
Lieutenant Michael remained in the Air Corps following the War. On 5 July 1946 his wartime Army of the United States rank was converted to 1st Lieutenant, United States Army Air Forces, with date of rank effective 12 April 1946.
Captain Michael returned to flight status ferrying aircraft from Love Field, Dallas, Texas, and was the assigned to Fort Totten, Washington, D.C., for air transport operations. When the United States Air Force was established as a separate military service in 1948, Captain Michael was transferred.
Michael graduated from the Air University at Maxwell Field, Montgomery, Alabama, in April 1949. He was next assigned to the 1729th Air Transport Squadron, Military Air Transport Service (M.A.T.S.) at Hill Air Force Base, Utah, and remained there for three years. In September 1952, Captain Michael was assigned as operations officer of the 1503rd Air Support Squadron at NAS Agana, Guam, in the Marianas Islands, followed by assignment to the 1500th Air Base Wing, Hickam Air Force Base, Honolulu, Hawaii.
In 1957, Major Michael was trained as a B-47 Stratojet pilot at McConnell Air Force Base, near Wichita, Kansas, then served with the 4347th Combat Training Wing at McConnell.
Major Michael married his second wife, Ms. Louise Erdman, 21 November 1958, at Salt Lake City, Utah.
Major Michael was promoted to the rank of lieutenant colonel, 1 August 1963.
Lieutenant Colonel Edward Stanley Michael retired from the United States Air Force on 12 February 1971, after 30 years of military service.
In addition to the Medal of Honor, during his military service Lieutenant Colonel Michael was awarded the Distinguished Flying Cross; the Purple Heart; the Air Medal with four oak leaf clusters (five awards); the Air Force Commendation Medal; Army Commendation Medal; Presidential Unit Citation; Air Force Gallant Unit Citation; Army Good Conduct Medal; American Defense Service Medal; American Campaign Medal; Asiatic-Pacific Campaign Medal with one bronze service star; European-African-Middle East Campaign Medal with bronze campaign star; World War II Victory Medal; Army of Occupation Medal; National Defense Servce Medal with bronze star (two awards); and the Air Force Training Ribbon with one silver and one bronze oak leaf cluster (six awards).
Edward Stanley Michael died at Fairfield, California, 10 May 1998, at the age of 76 years. He was buried at Evergreen Cemetery, Springville, Utah.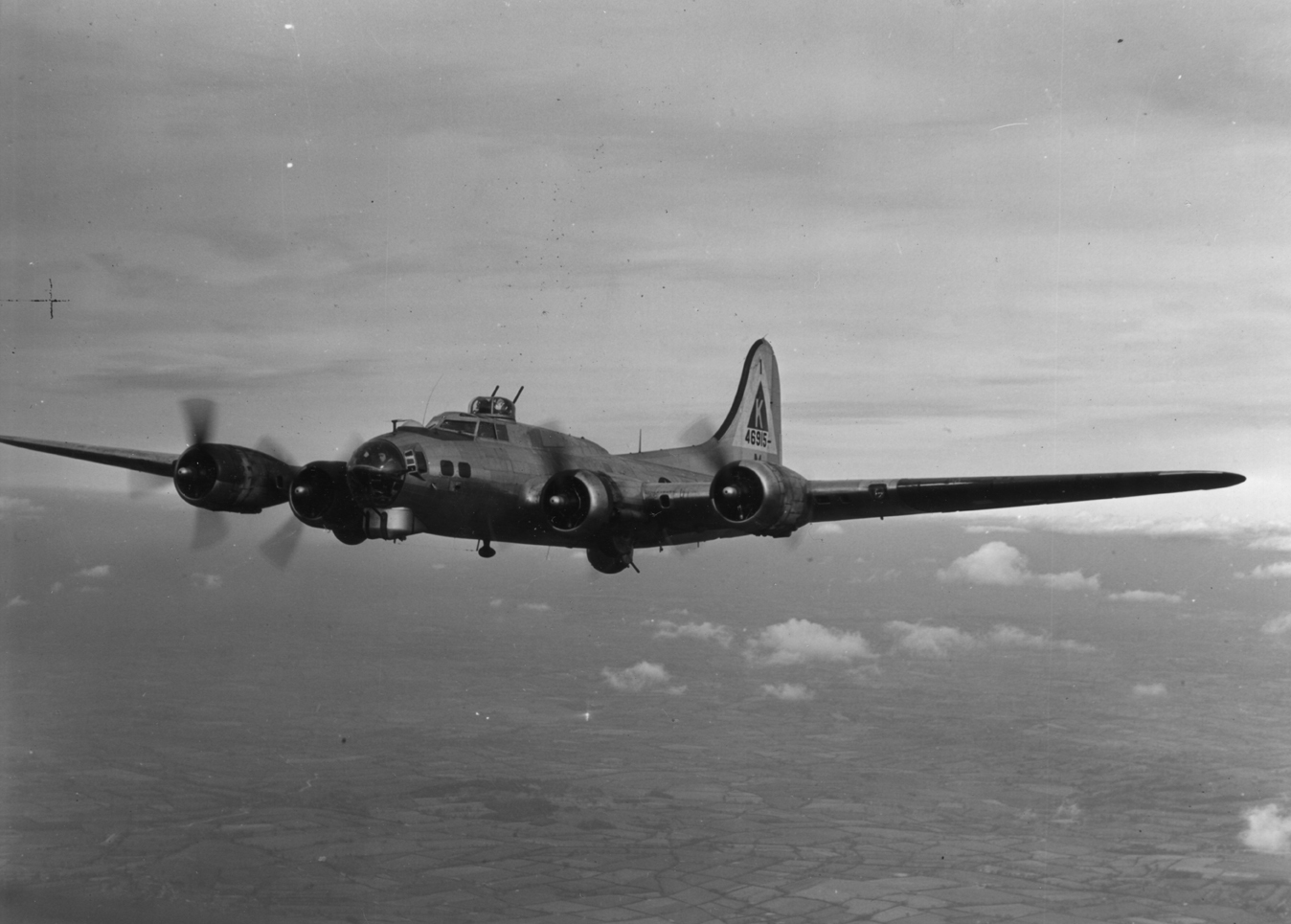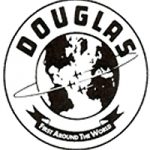 Bertie Lee was a B-17G-20-DL Flying Fortress, 42-37931 (Douglas serial number 8897), built by the Douglas Aircraft Company at Long Beach, California, in October 1943. It was delivered to Denver, Colorado, on 13 October. On 5 November 1943, the B-17 was flown to Grand Island Army Air Field, Nebraska; then to Bangor, Maine on 7 November. It was flown across the Atlantic Ocean to England, arriving at RAF Chelveston (USAAF Station 105) on 5 January 1944. The bomber was assigned to the 364th Bombardment Squadron (Heavy), 305th Bombardment Group (Heavy) and given the fuselage identification markings WF-D.
When 42-37931 was assigned to Lieutenant Michael and his combat crew, he named the airplane Bertie Lee, after his wife.
Bertie Lee was damaged beyond repair when it crash-landed at RAF Grimsby on 11 April 1944. It was later scrapped.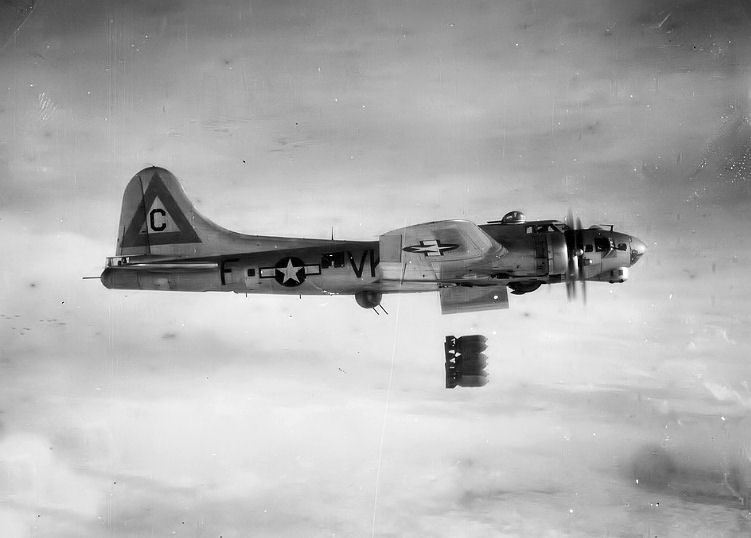 © 2018, Bryan R. Swopes