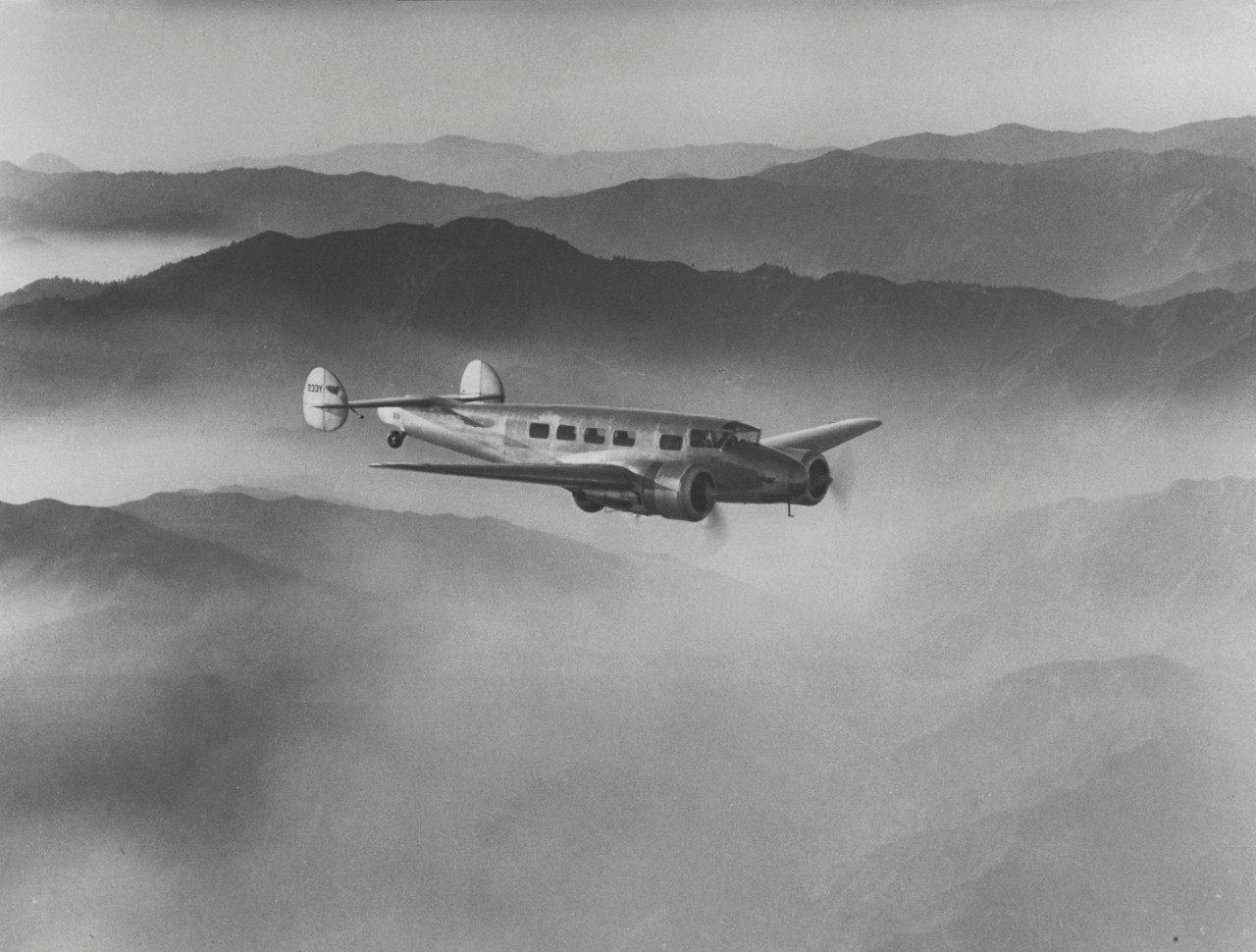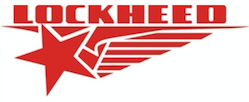 23 February 1934: Test pilot Marshall Headle, Chief Pilot in Charge of Flight Operations for Lockheed Aircraft Company, took the prototype Lockheed Model 10 Electra, serial number 1001, registered NX233Y, for its first flight at United Airport, Burbank, California (which soon became United Air Terminal, then Lockheed Air Terminal and is now the Hollywood-Burbank Airport, BUR).
The Lockheed Model 10 Electra was designed as a 10-passenger commercial transport and was a contemporary of the Boeing Model 247. This was Lockheed's first all-metal airplane. The Electra had two engines, a low wing and retractable landing gear. An engineering team led by Hall L. Hibbard worked on the airplane.
A young engineer, Clarence L. ("Kelly") Johnson, an assistant aerodynamicist at the University of Michigan, performed the wind tunnel tests on scale models of the proposed design and recommended changes to the configuration, such as the use of two vertical fins mounted at the outboard ends of the horizontal stabilizer. This became a design feature of Lockheed airplanes into the 1950s and included the Model 14 Super Electra/Hudson, Model 18 Lodestar/PV-1 Ventura, the P-38 Lightning fighter and the L-1649 Starliner, which was produced until 1958. Johnson would become the leader of Lockheed's legendary  "Skunk Works."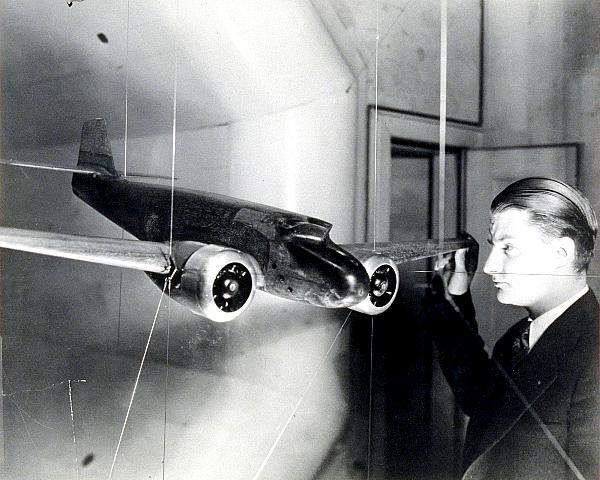 The prototype Electra was was used for certification testing. During a full-load test at Mines Field (now, LAX, Los Angeles International Airport) the Electra's landing gear malfunctioned. Babe Headle flew the airplane back to Burbank and made a one-wheel landing. The prototype was slightly damaged but quickly repaired.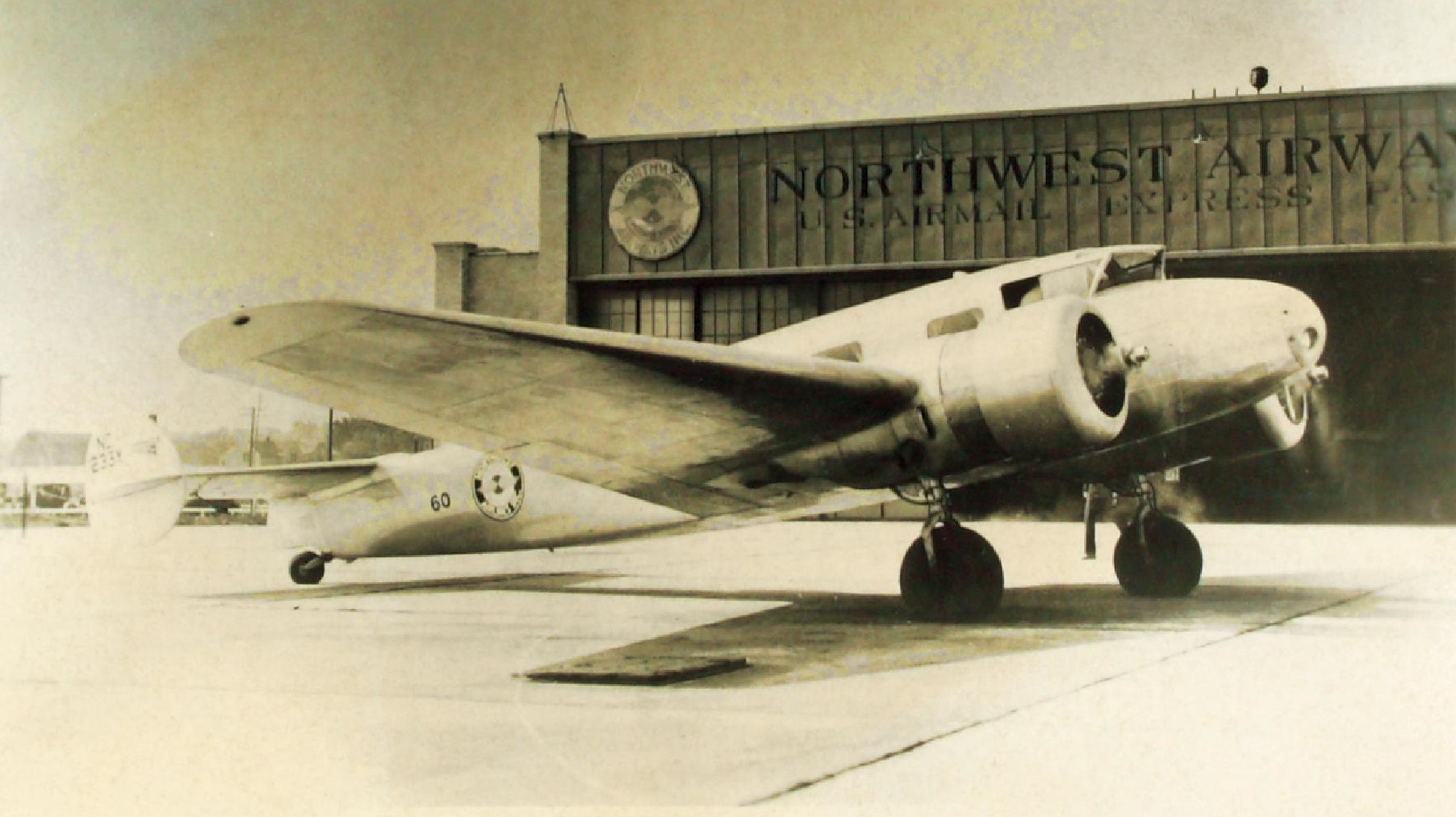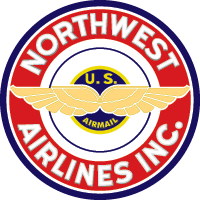 After testing was competed the prototype Electra was delivered to Northwest Airways, Inc., at St. Paul, Minnesota, 31 December 1934. The experimental registration was changed to a standard registration, NC233Y, and it was assigned the Northwest fleet number 60.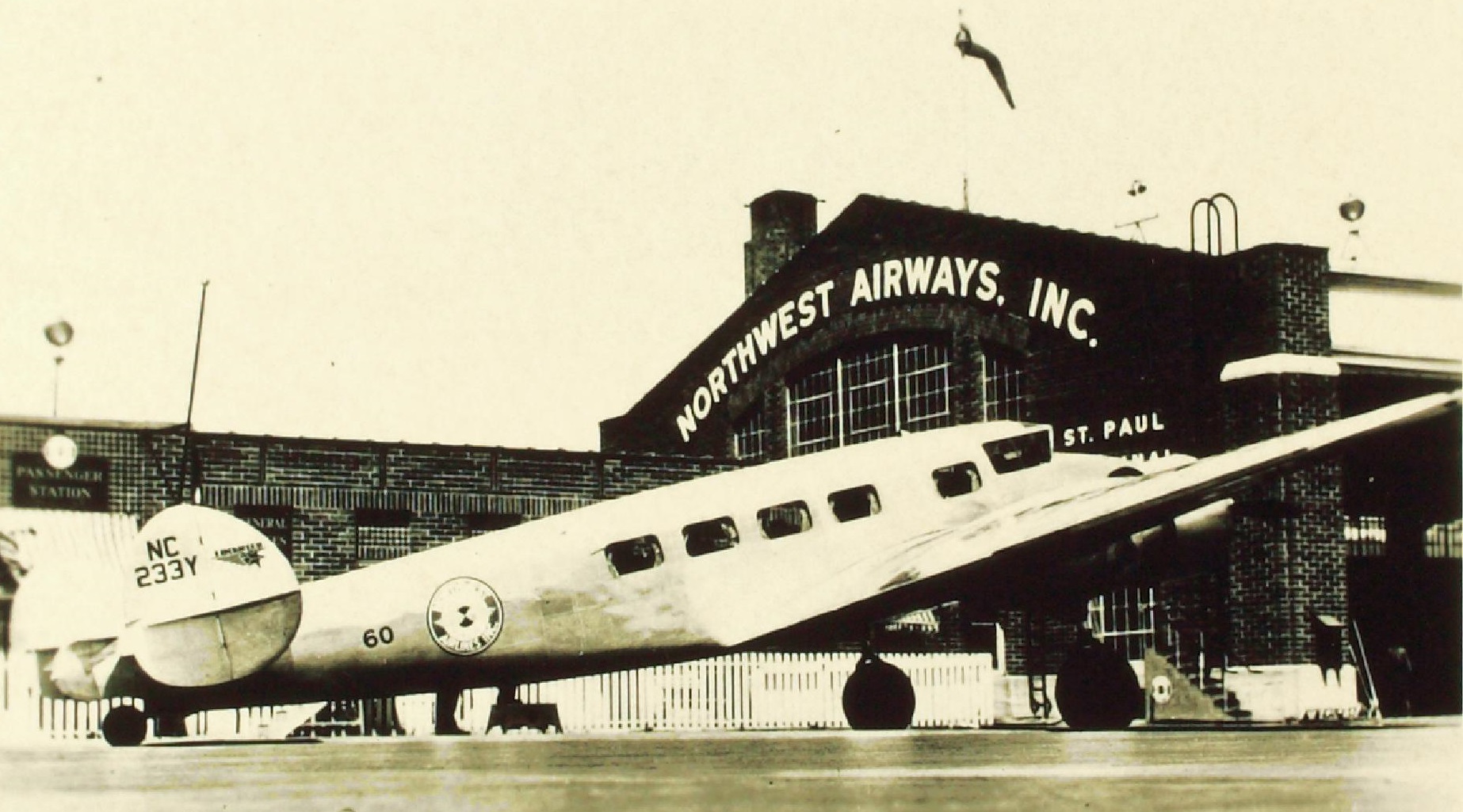 Like the Boeing 247, the Electra was originally produced with a forward-slanting windshield to prevent instrument light reflection during night flights. This resulted in ground lighting reflections, though, and was changed to a standard, rearward slant with the fifth production airplane. NC233Y was modified by Northwestern's maintenance staff.
Lockheed built 147 Model 10s in various configurations. The first production variant was the Model 10A. It was 38 feet, 7 inches (11.760 meters) long with a wingspan of 55 feet (16.764 meters), and height of 10 feet, 1 inch (3.073 meters). The wings had a total area of 458.3 square feet (42.6square meters). Their angle of incidence was 0°, and there were 5° 34′ dihedral.
The airplane had an empty weight of 5,455 pounds (2,474 kilograms) and a gross weight of 9,000 pounds (4,082 kilograms).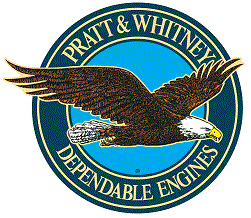 The Model 10A was powered by two air-cooled, supercharged, 986.749-cubic-inch-displacement (16.170 liters) Pratt & Whitney Wasp Jr. SB  9-cylinder radial engines with a compression ratio of 6:1. They were rated at 400 horsepower at 2,200 r.p.m at 5,000 feet (1,524 meters), and 450 horsepower at 2,300 r.p.m. for takeoff, using 87-octane gasoline. The SB engines were direct-drive and turned two-bladed Smith variable-pitch propellers. The Wasp Jr. SB was 3 feet, 6.59 inches (1.056 meters) long, 3 feet, 11.75 inches (1.162 meters) in diameter, and weighed 645 pounds (293 kilograms). The engines were covered by NACA cowlings.
The airplane had a cruise speed of 190 miles per hour (306 kilometers per hour) at 5,000 feet (1,524 meters) and maximum speed of 215 miles per hour (346 kilometers per hour) at 8,000 feet (2,438 meters). The service ceiling was 20,000 feet ( meters) and the range at cruise speed was 750 miles (1,207 kilometers).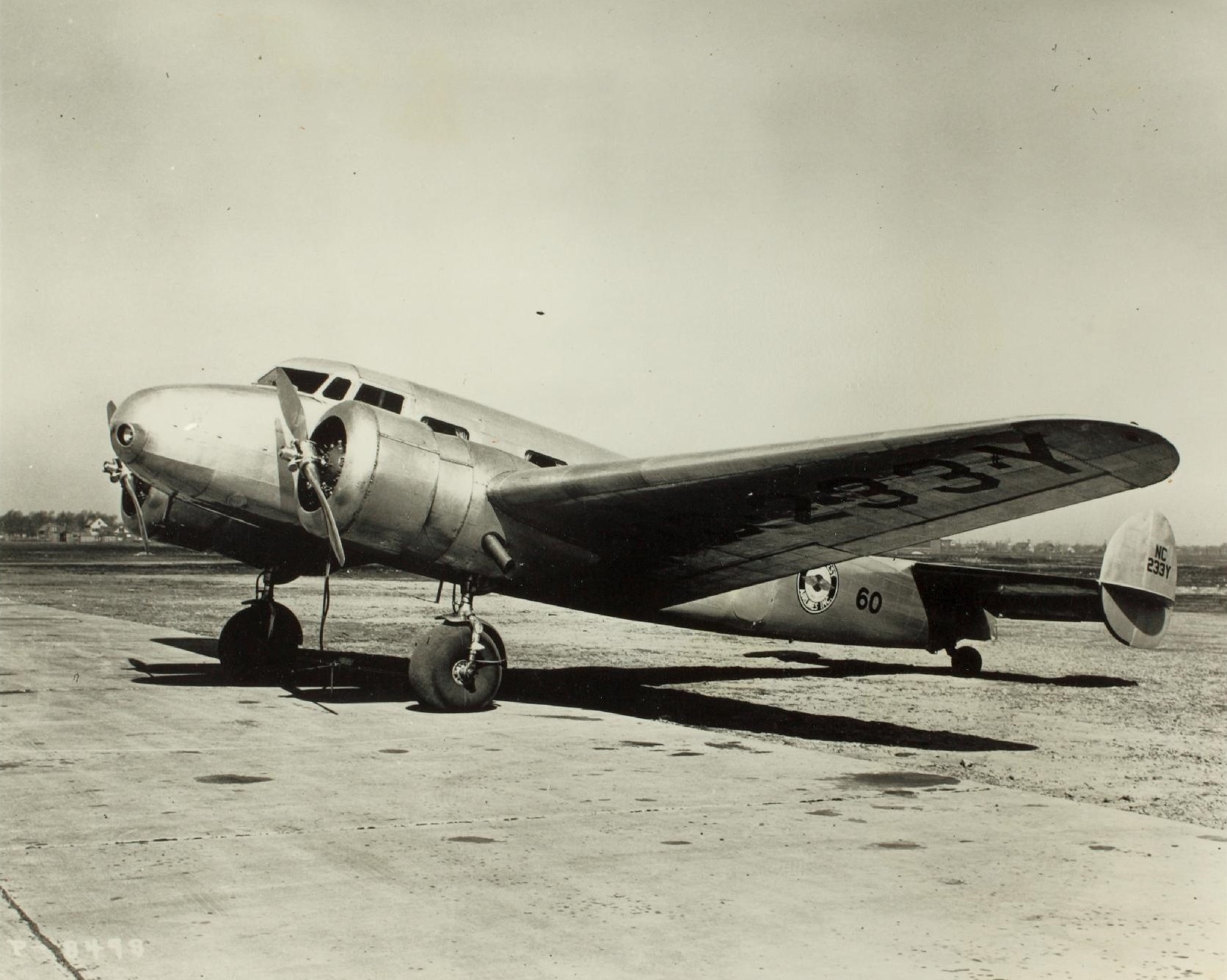 Newsreel footage of the Lockheed Model 10 prototype's first flight, by cinematographer Alfred Dillimtash Black for Fox Movietone News, is in the collection of the Moving Image Research Collections, University of South Carolina, University Libraries, and can be viewed at:
http://mirc.sc.edu/islandora/object/usc%3A9629
The Electra was "the Lisbon plane" in the  classic 1942 motion picture, "Casablanca," which starred Humphrey Bogart, Ingrid Bergman, Paul Henreid and Claude Rains.
Probably the best-known Lockheed Electra is the Model 10E Special, NR16020, which was built for Amelia Earhart for her around-the-world flight attempt in 1937. She took delivery of the airplane on her 39th birthday, 24 July 1936.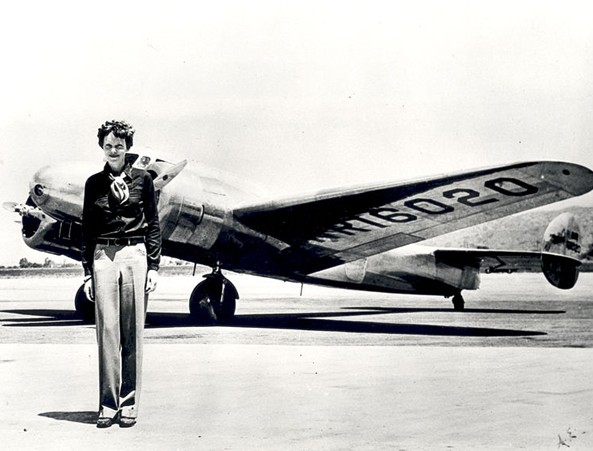 The prototype Lockheed Model 10 later carried U.S. registrations NC2332, NC17380, and Canadian registration CF-BRG. It was placed in service with the Royal Canadian Air Force with the serial number 7652. One of 15 Lockheed Electras in RCAF service during World War II, it was destroyed by fire at RCAF Station Mountain View, Prince Edward County, Ontario, Canada, 14 October 1941.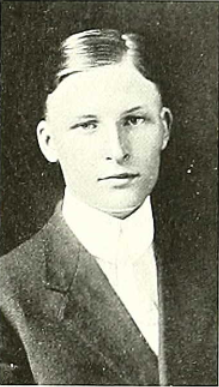 Marshall Headle was born 21 March 1893 at Winthrop, Massachussetts, United States of America, He was the third child of Edwin Charles Headle, a clergyman, and Clarendo Yeomans Headle. He attended Winthrop High School before going on to the Massachussetts Agricultural College at Bolton. He graduated in 1912 with a Bachelor of Science degree (B.Sc.) in Floriculture.
Headle enlisted in the United States Army in 1917, and attended aviation ground school at the Massachusetts Institute of Technology (M.I.T.). His flight training took place at Tours, France. He held the rank of First Lieutenant, Air Service of the American Expeditionary Force, United States Army. Lieutenant Headle served as a flight instructor at Tours and at the 2nd Aviation Instruction Center.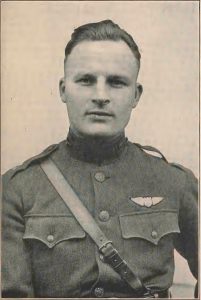 From 1919 to 1922, Headle was attached to the United States Embassy in Paris, France. He then returned to the United States.
Marshall Headle enlisted as a private in the United States Marine Corps, 25 October 1924. He served with the Marines in China as an airplane crew chief and aviator. He was promoted to gunnery sergeant (Gy.Sgt.). He returned to the United States in 1928, and resigned from the Marine Corps to become a civilian pilot.
In 1929, Headle married Dorothea Evelyn Breeder.  They had two children, Marshall Ronald Headle, born in 1932, and Michele Ann Headle. (Mrs. Headle died in Honolulu, Hawaii, 25 May 2010, at the age of 99 years.)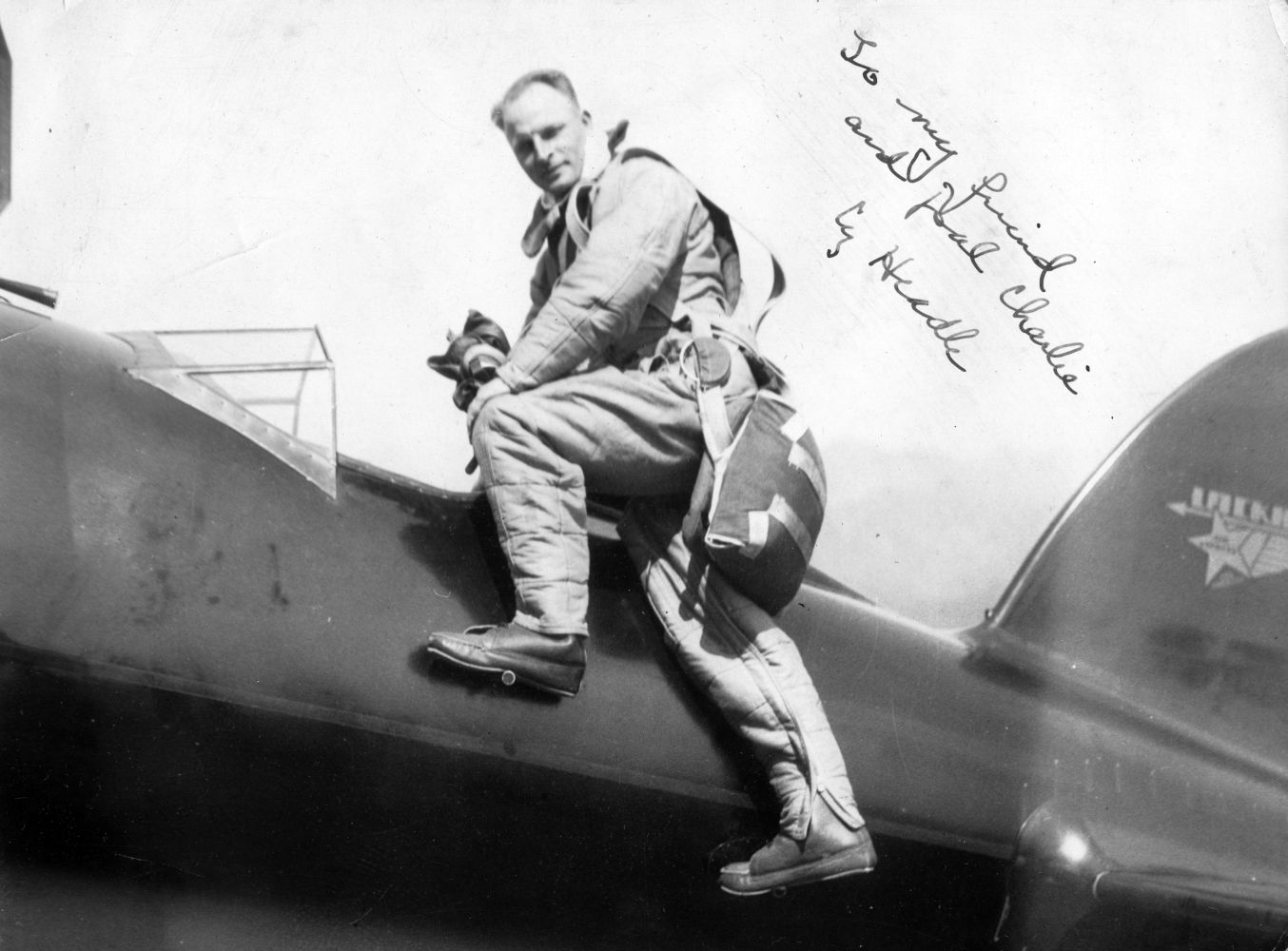 Headle joined Lockheed in 1929, as chief pilot, flight operations. On 30 October 1929, Headle made the first flight of the all-metal Detroit-Lockheed DL-2 Sirius.
In 1930, Headle attempted to set a world altitude record with a 500 kilogram (1,102 pounds) payload, flying a Lockheed Vega. He used a pressurized tank of oxygen with a flexible tube.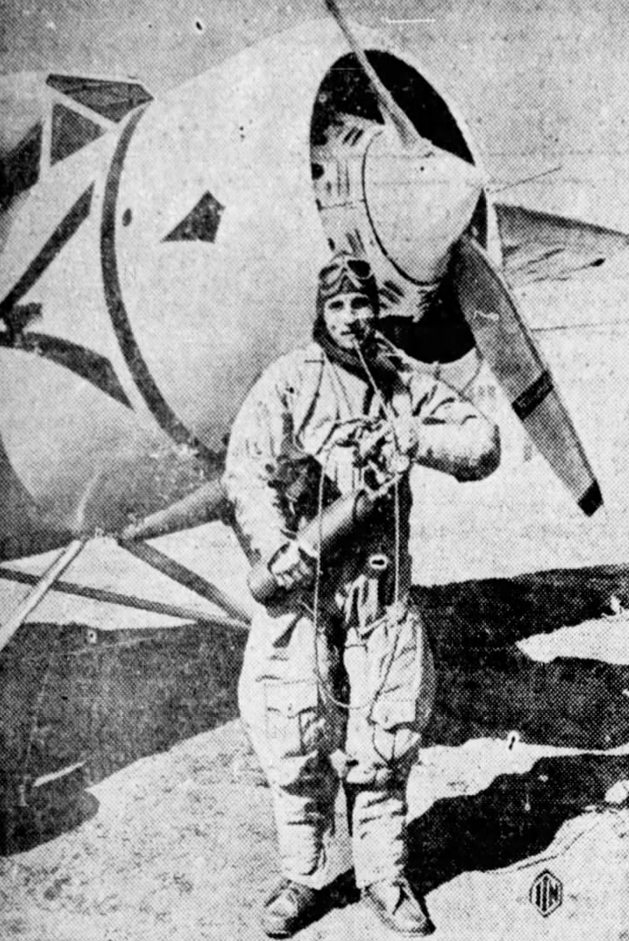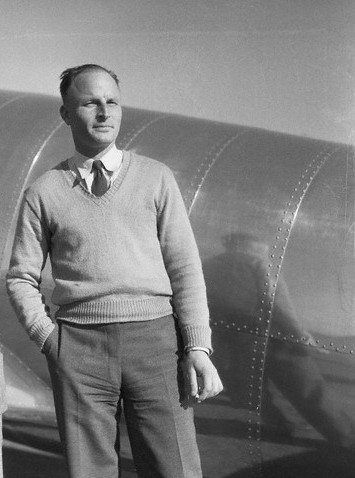 In 1931, he took the Model 9 Orion, NX960Y, on its first flight.
In 1933, became the company's chief test pilot, succeeding Wiley Post. He also traveled world-wide demonstrating Lockheed's airplanes.
Headle also made the first flight of Gerard Vultee's Vultee V-1A single-engine airliner, 19 February 1933.
On 29 July 1937, he made the first flight of the Lockheed Model 14 Super Electra. The Model 14 fuselage was stretched, resulting in the Model 18 Lodestar. Headle, with Louis Upshaw, took the prototype, NX17385, for its first flight, 21 September 1939. The Lodestar would be developed into the Lockheed Ventura bomber.
On 16 September 1940, Headle made the first flight of the Lockheed YP-38 service test prototype. Headle was featured in magazine and billboard advertisements for Camel cigarettes in 1941.
In 1941, he was injured in an altitude chamber accident and was no longer able to fly.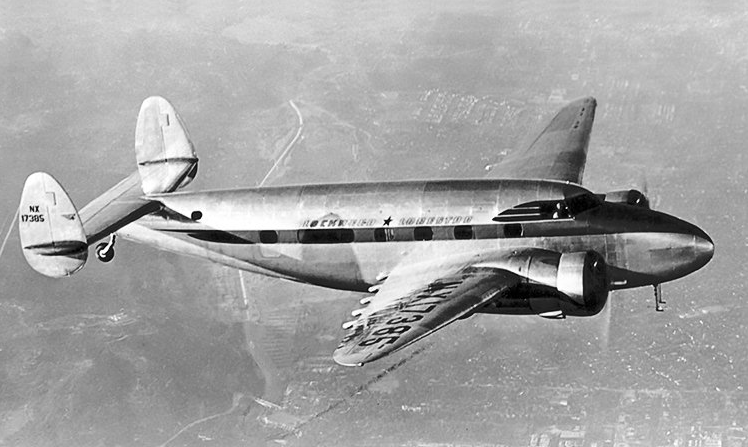 Marshall Headle died 14 May 1945 at the age of 52 years. He was buried at the Valhalla Memorial Cemetery, Burbank, California.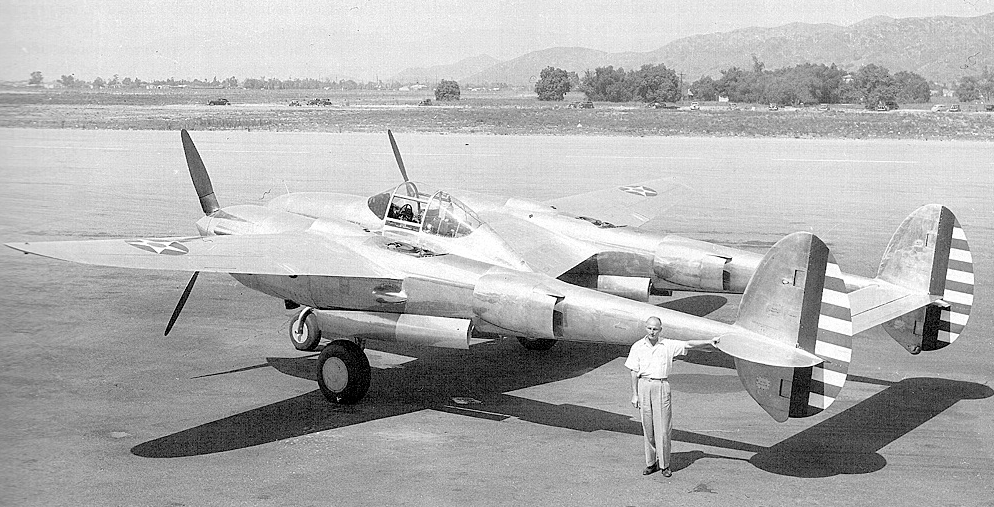 © 2019, Bryan R. Swopes