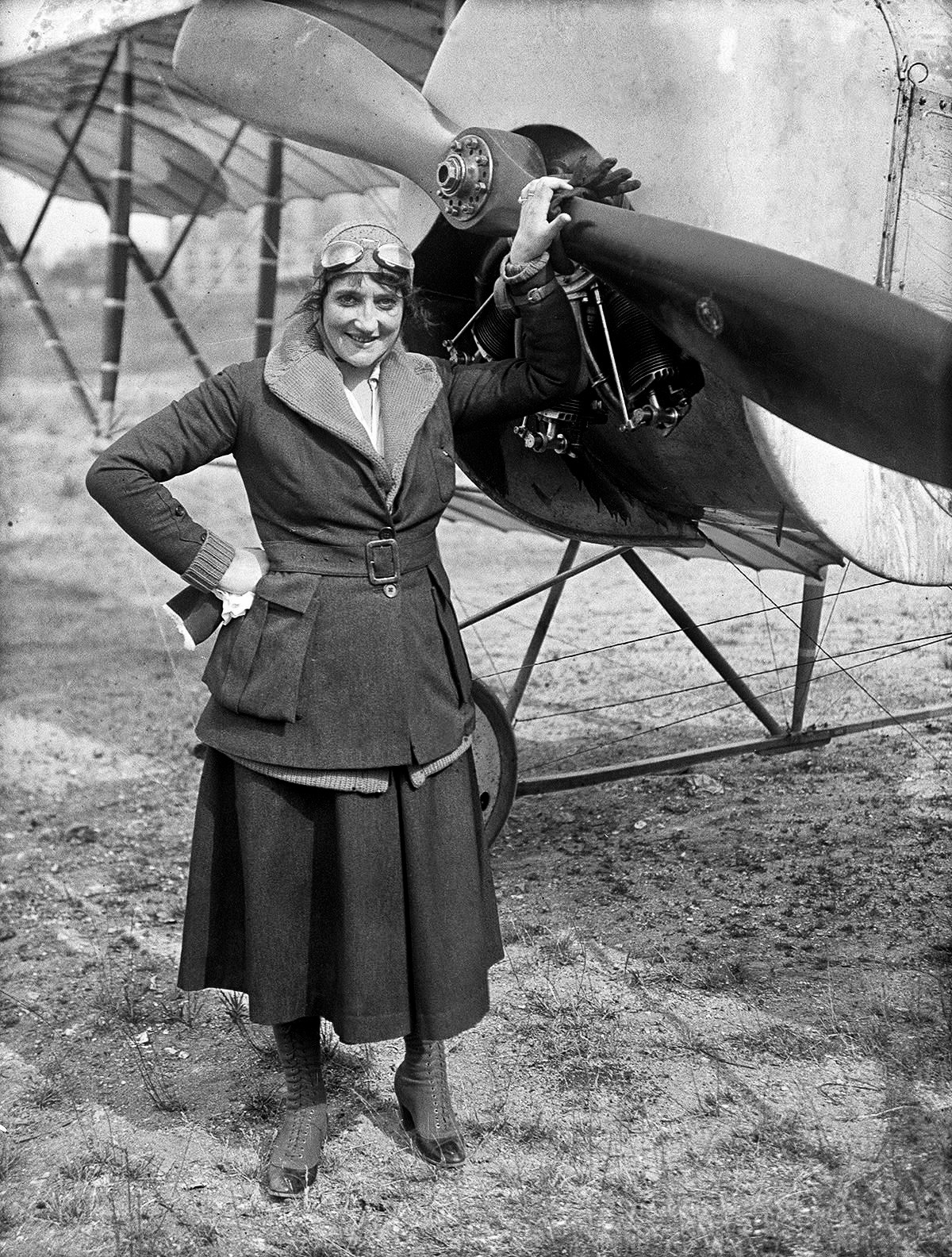 18 July 1919: Élise Léontine Deroche was at Le Crotoy in northern France, co-piloting an experimental airplane, a civil variant of the Caudron G.3. The aircraft suddenly pitched down and crashed, killing Deroche and the pilot, M. Barrault. Mme Deroche was 36 years old.
According to a notice in Flight,
"What happened is not very clear, but it would seem that the machine in which she was flying overturned during a trial flight. Baroness de la Roche was killed instantly and the pilot, Barrault, died very shortly afterwards."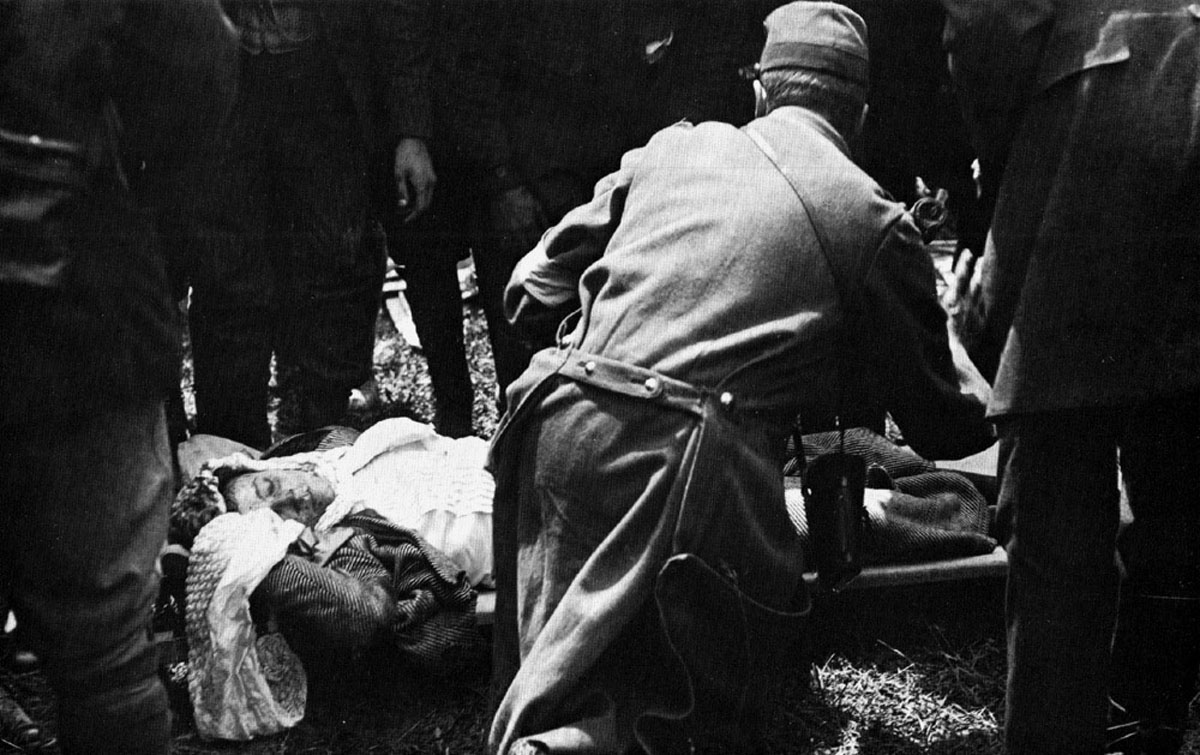 Élisa Léontine Deroche was born 22 August 1882 at nº 61, Rue de la Verrerie, in the 4e arrondissement, Paris, France. She was the daughter of Charles François Deroche, a plumber, and Christine Calydon Gaillard Deroche. In her early life she had hoped to be a singer, dancer and actress. Mlle. Deroche used the stage name, "Raymonde de Laroche."
Mlle. Deroche married M. Louis Léopold Thadome in Paris, 4 August 1900. They divorced 28 June 1909.
She had a romantic relationship with sculptor Ferdinand Léon Delagrange, who was also one of the earliest aviators, and it was he who inspired her to become a pilot herself. They had a son, André, born in 1909. Delagrange was killed in an airplane accident in 1910. They never married.
After four months of training at Chalons, under M. Chateu,¹ an instructor for Voison,  Mme Deroche made her first solo flight on Friday, 22 October 1909. On 8 March 1910, Élisa Léontine Deroche was the first woman to become a licensed pilot when she was issued Pilot License No. 36 by the Aéro-Club de France.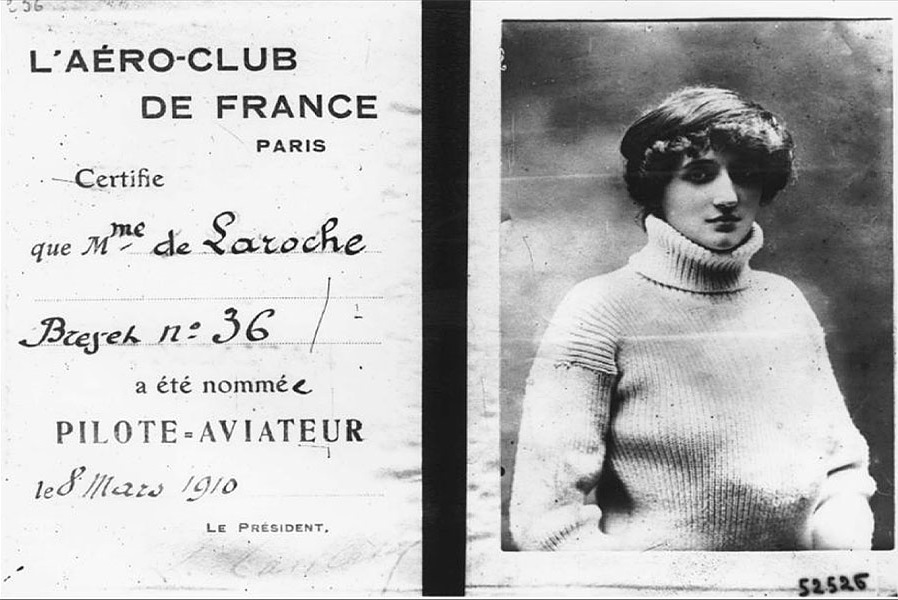 In a 30 October 1909 article about her solo flight, Flight & The Aircraft Engineer referred to Mme. Deroche as "Baroness de la Roche." This erroneous title of nobility stayed with her in the public consciousness. Deroche participated in various air meets, and on 25 November 1913, made a non-stop, long-distance flight of four hours duration, for which she was awarded the Coupe Femina by the French magazine, Femina.
On 20 February 1915, Mme. Deroche married Jacques Vial at Meudon, Hauts de Seine, Île-de-France, France.
During World War I she was not allowed to fly so she served as a military driver.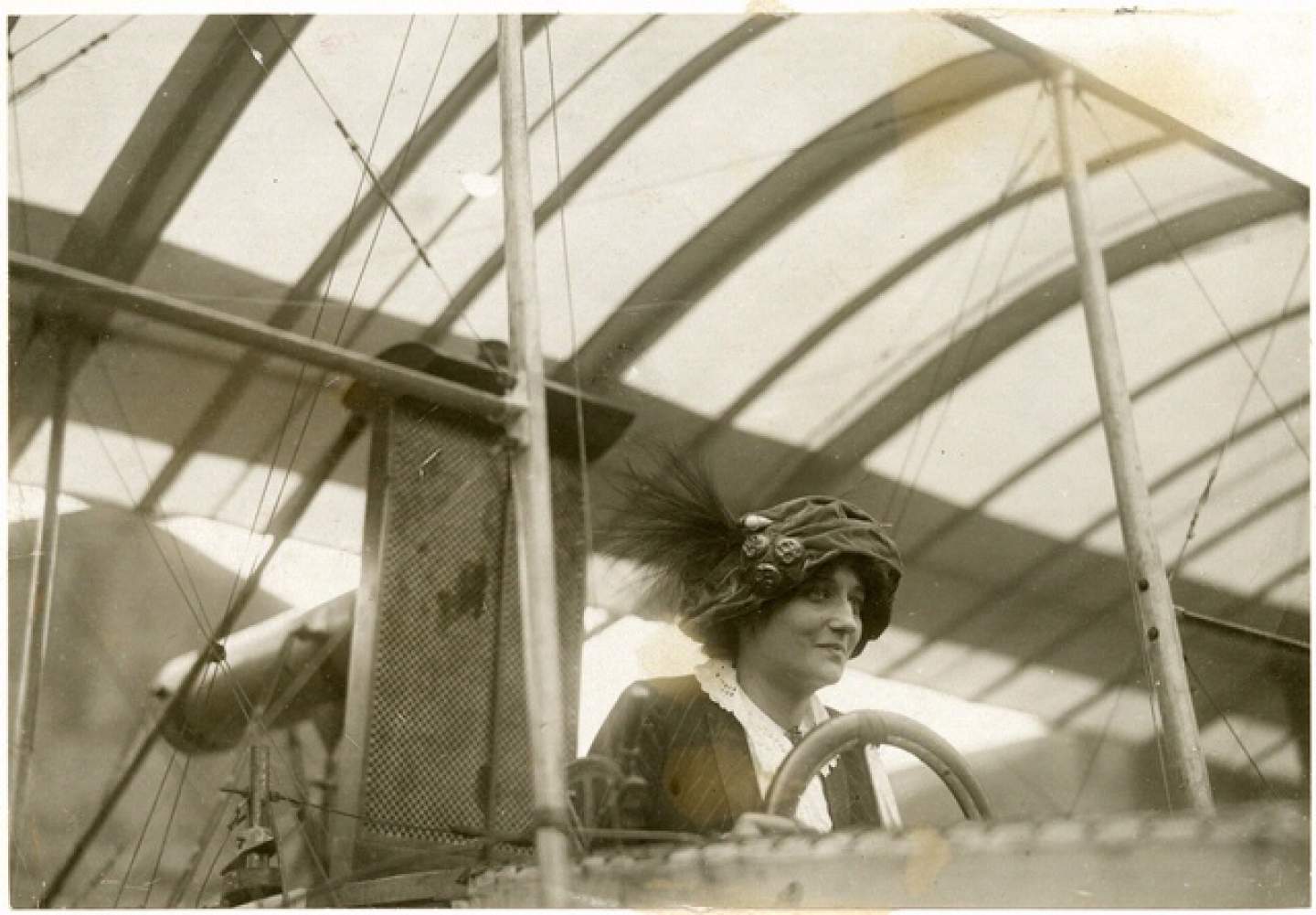 Many sources report that Mme Deroche set two altitude records at Issy-les Moulineaux in June 1919, just weeks before her death. One, for example, is said to have been 5,150 meters (16,896 feet), 12 June 1919. The Fédération Aéronautique Internationale (FAI), however, did not recognize records set by women until 28 June 1929.
Élisa Léontine Deroche was buried at the Cimetière du Père-Lachaise, Paris, France.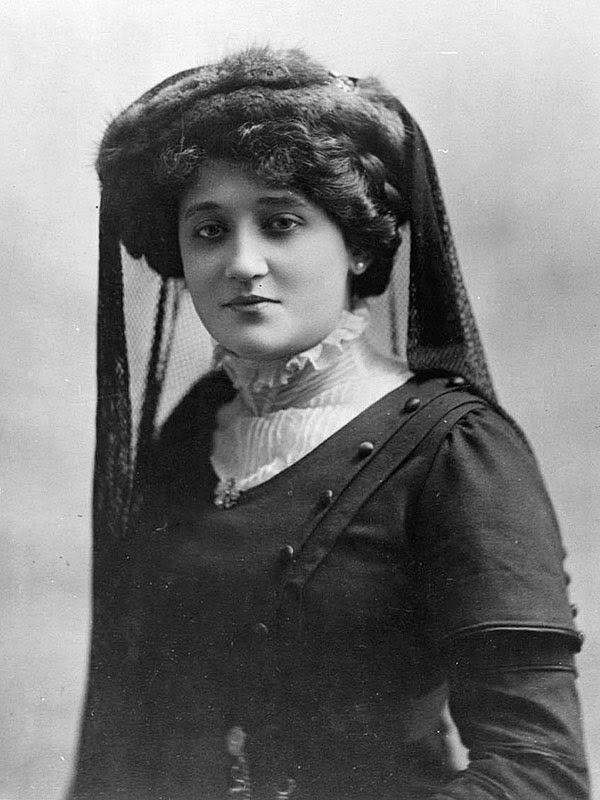 ¹ Sous Lieutenant Jean Pie Hyacinthe Paul Jerome Casale, Marquis de Montferato
© 2018, Bryan R. Swopes