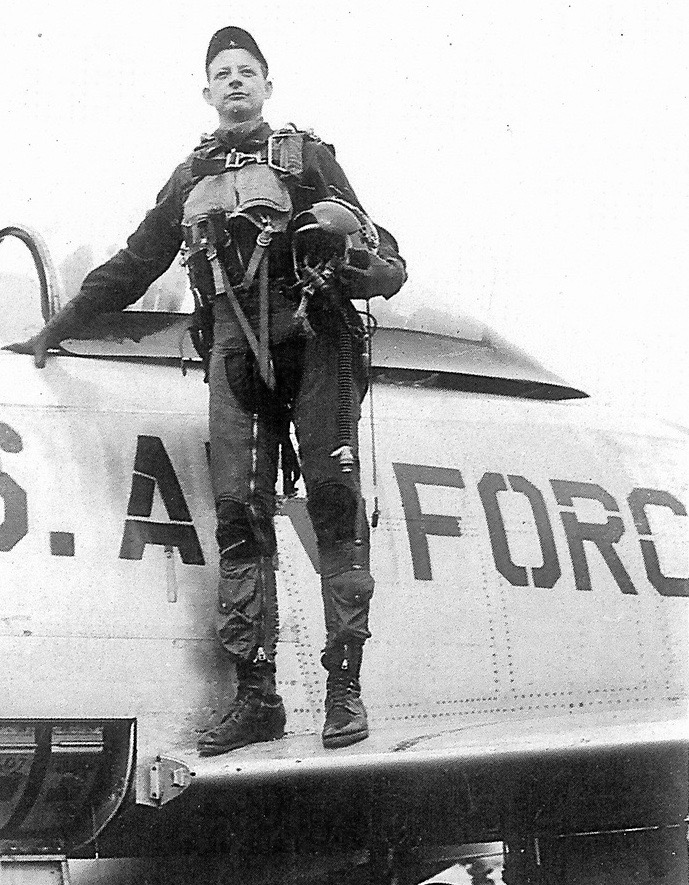 10 January 1956: First Lieutenant Barty Ray Brooks, United States Air Force Reserve, a pilot assigned to the 1708th Ferrying Wing, Detachment 12, at Kelly Air Force Base, Texas, along with two other pilots from the same unit, Captain Rusty Wilson and Lieutenant Crawford Shockley, picked up three brand new F-100C Super Sabre fighters at the North American Aviation Inc. assembly plant at Air Force Plant 42, Palmdale, California. It was to be a short flight, as these three jets were being taken to nearby George Air Force Base, Adelanto, California, only 42.5 miles (68.4 kilometers) to the east. Brooks was flying F-100C-20-NA, serial number 54-1907.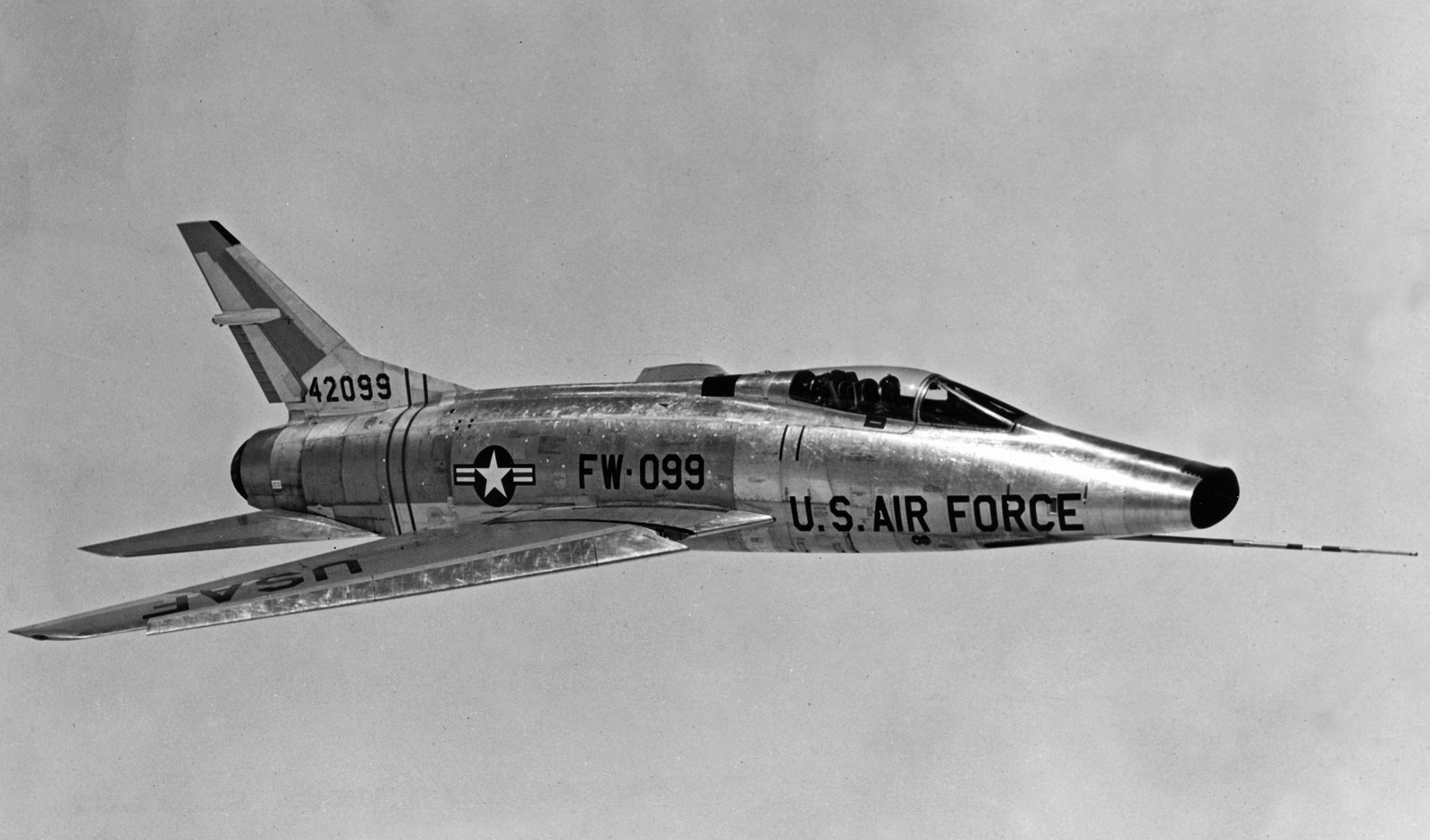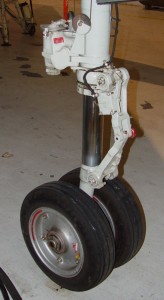 The brief flight was uneventful until the pilots lowered the landing gear to land at George AFB. One of the other pilots saw that the scissors link joining the upper and lower sections of the nose gear strut on Brooks' Super Sabre was loose. Concerned that he would not be able to steer the fighter after touching down, Brooks diverted to Edward Air Force Base, 36 miles (57 kilometers) to the northwest, where a larger runway and more emergency equipment was available. Captain Wilson escorted Lieutenant Brooks to Edwards.
The F-100C Super Sabre had no flaps and required a high speed landing approach. Lieutenant Brooks had only 674 total flight hours as a pilot, and just 39 hours in the F-100.
During his final approach to the runway Brooks allowed the fighter to slow too much and the outer portion of the wings stalled and lost lift. This shifted the wings' center of lift forward, which caused the airplane to pitch up, causing even more of the outer wing to stall.
Lieutenant Brooks fought to regain control of the airplane, but he was unable to. At 4:27 p.m., Pacific Standard Time, the F-100 crashed on the runway and exploded. Barty Ray Brooks was killed.
Edwards Air Force Base is the center of flight testing for the U.S. Air Force. In preparation for a test later that afternoon, the base film crews had their equipment set up along the runway and captured the last seconds of Brook's flight on film. This is the most widely seen crash footage, and is still in use in pilot training. It is named "The Sabre Dance."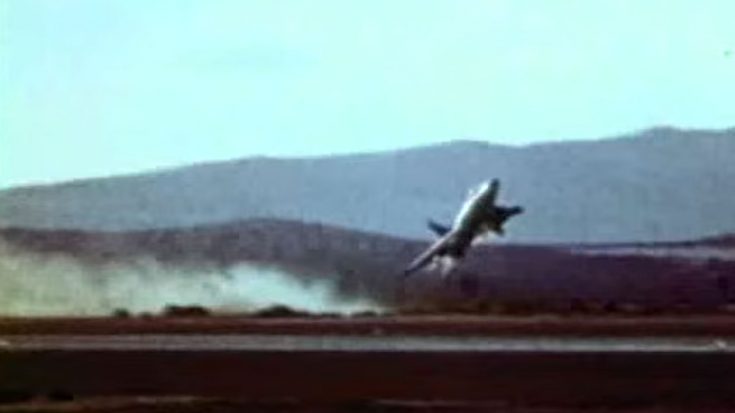 Barty Ray Brooks was born in Martha Township,  Oklahoma, 2 December 1929. He was the third child of Benjamin Barto Brooks, a farmer, and Maye Henry Brooks. The family later moved to Lewisville, Texas. Brooks graduated from Lewisville High School in 1948, then studied agriculture at Texas A&M University, College Station, Texas.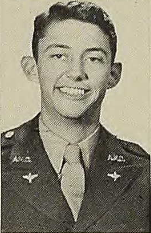 While at Texas A&M, Brooks was a member of the Reserve Officers Training Corps (R.O.T.C.). On graduation, 30 May 1952, Brooks was commissioned as a second lieutenant, United States Air Force Reserve.
Lieutenant Brooks was trained as a pilot at Columbus Air Force Base, Mississippi, and Laredo Air Force Base, Texas. In 1954, he was assigned to the 311th Fighter Bomber Squadron, 58th Fighter Bomber Group, Taegu Air Base (K-2), Republic of South Korea. Brooks flew the Republic F-84 Thunderjet and North American Aviation F-86 Sabre. When he returned to the United States he was assigned to the 1708th Ferrying Wing.
The remains of 1st Lieutenant Barty Ray Brooks were interred at the Round Grove Cemetery, Lewisville, Texas.
The article, "The Deadly Sabre Dance," by Alan Cockrell is highly recommended:
http://www.historynet.com/deadly-sabre-dance.htm
© 2018, Bryan R. Swopes