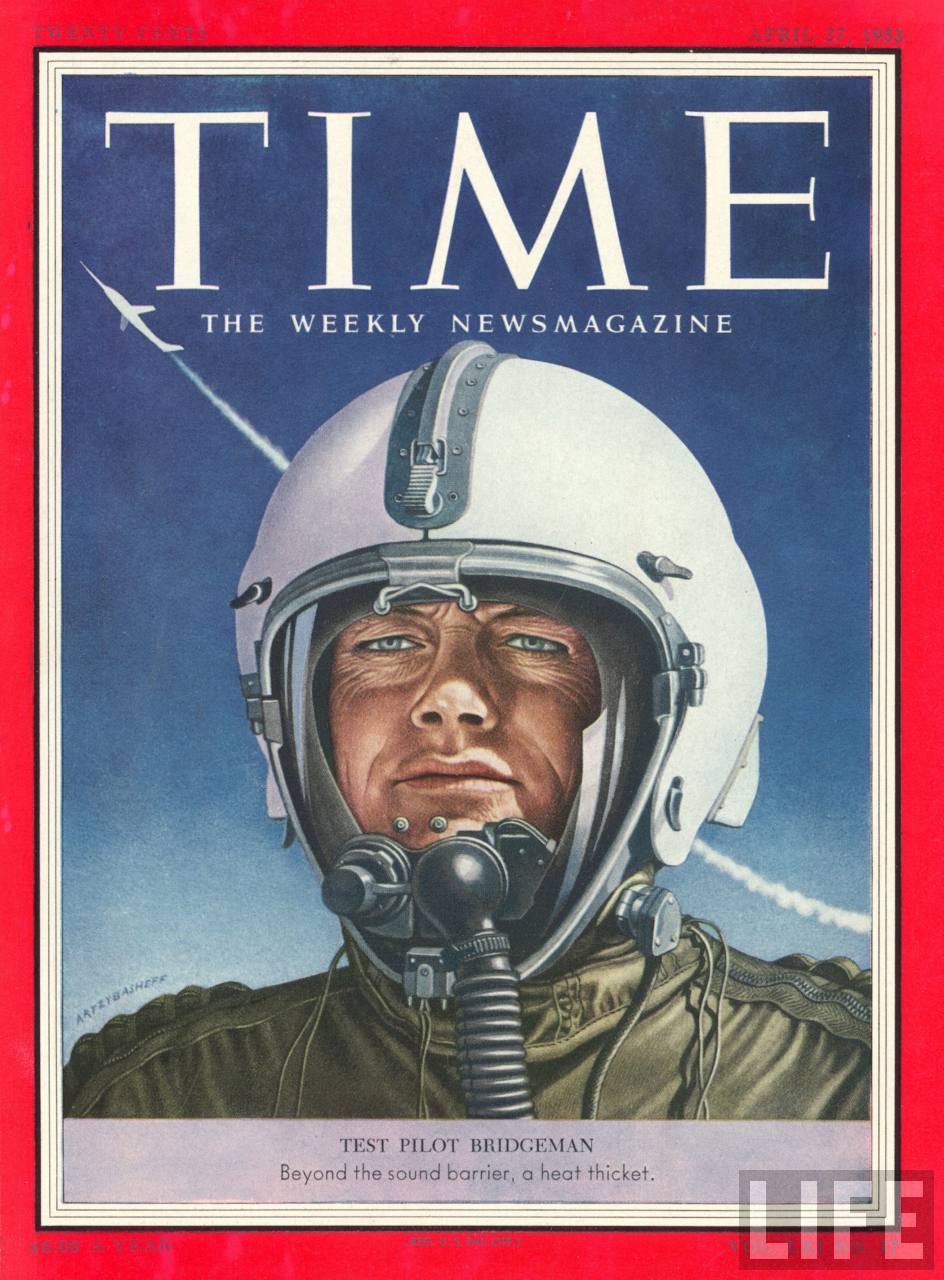 15 August 1951: Just 8 days after he set an unofficial world speed record of Mach 1.88 (1,245 miles per hour; 2,033.63 kilometers per hour), Douglas Aircraft Company test pilot William Barton ("Bill") Bridgeman flew the rocket-powered United States Navy/National Advisory Committee on Aeronautics (NACA) Douglas D-558-II Skyrocket, Bu. No. 37974, to a world record altitude at Edwards Air Force Base in the high desert of Southern California.
The Skyrocket was airdropped at 34,000 feet (10,363 meters) from a highly-modified U.S. Navy P2B-1S Superfortress, Bu. No. 84029. The mother ship was a U.S. Air Force Boeing B-29-95-BW Superfortress, 45-21787, transferred to the Navy and flown by another Douglas test pilot, George R. Jansen.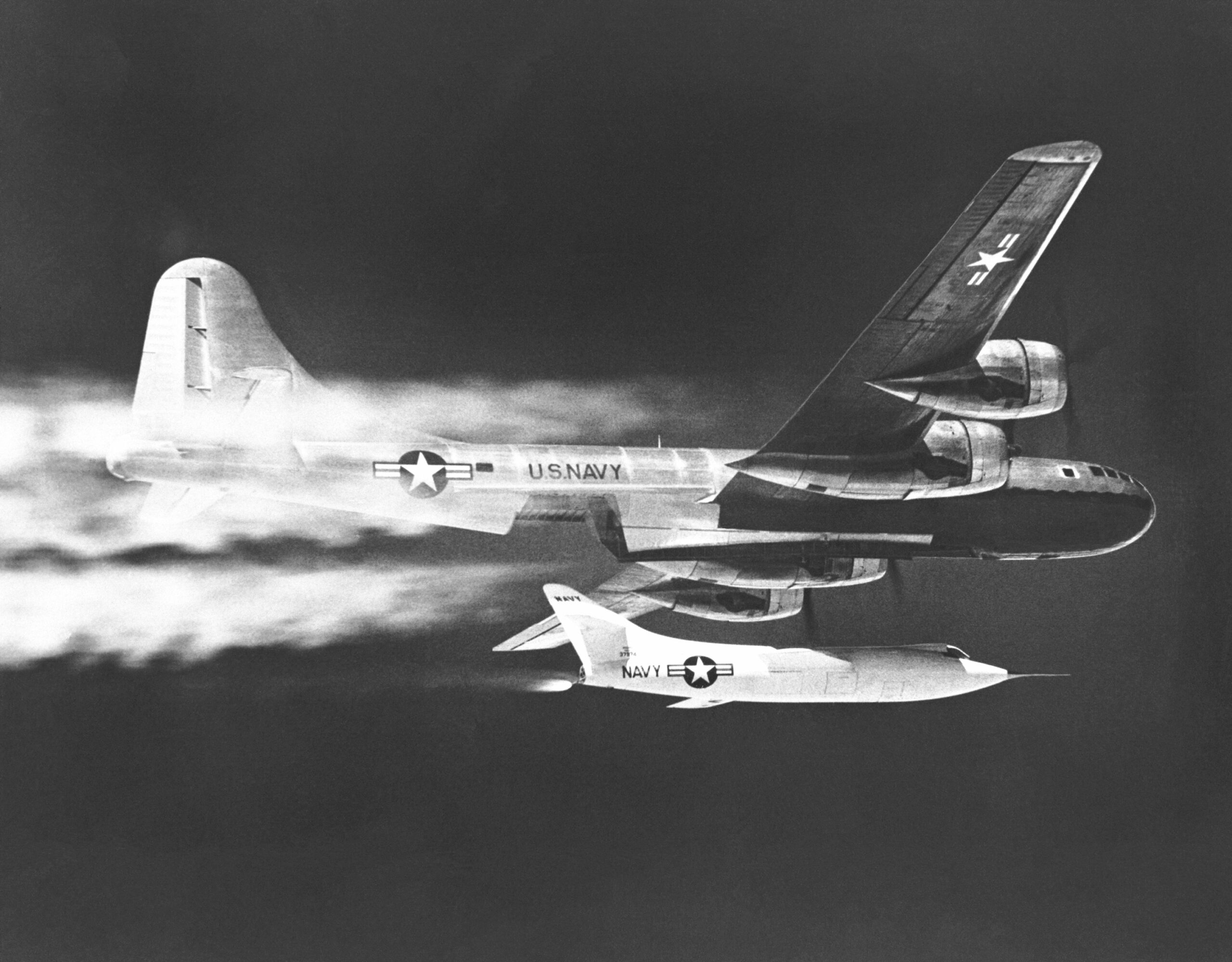 The flight plan was for Bridgeman to fire the rocket engine and allow the Skyrocket to accelerate to 0.85 Mach while climbing. The Skyrocket was powered by a Reaction Motors LR8-RM-6 engine, which produced 6,000 pounds of thrust. As the rocketplane continued to accelerate to Mach 1.12, the test pilot was to pull up, increasing the angle of climb while holding an acceleration rate of 1.2 Gs. This would result in a constantly increasing angle of climb. When it reached 50°, Bridgeman was to maintain that, climbing and accelerating, until the rocket engine ran out of fuel.
Initially, the plan was to continue climbing after engine shutdown until the D-558-II was approaching stall at the highest altitude it could reach while on a ballistic trajectory. There were differing expert opinions as to how it would behave in the ever thinner atmosphere. On the morning of the flight, Douglas' Chief Engineer, Ed Heinemann, ordered that Bridgeman push over immediately when the engine stopped.
Bill Bridgeman stuck to the engineers' flight plan. As the Skyrocket accelerated through 63,000 feet (19,200 meters), it started to roll to the left. He countered with aileron input, but control was diminishing in the thin air. The next time it began there was no response to the ailerons. Bridgeman found that he had to lower the Skyrocket's nose until it responded, then he was able to increase the pitch angle again. At 70,000 feet (21,336 meters), travelling Mach 1.4, he decided he had to decrease the pitch angle or lose control. Finally at 76,000 feet (23,165 meters), the engine stopped. Following Heinemann's order, Bridgeman pushed the nose down and the D-558-II went over the top of its arc at just 0.5 G.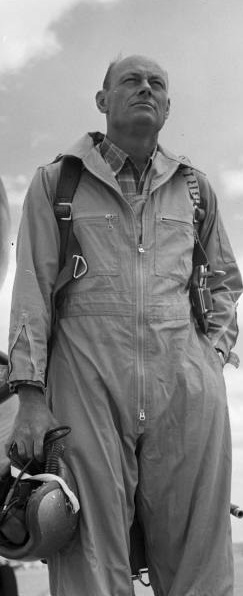 "In the arc she picks up a couple of thousand feet. The altimeter stops its steady reeling and swings sickly around 80,000 feet. The altitude is too extreme for the instrument to function.
"Eighty thousand feet. It is intensely bright outside; the contrast of the dark shadows in the cockpit is extreme and strange. It is so dark lower in the cockpit that I cannot read the instruments sunk low on the panel. The dials on top, in the light, are vividly apparent. There seems to be no reflection. It is all black or white, apparent or non-apparent. No half-tones. It is a pure, immaculate world here.
"She levels off silently. I roll right and there it is. Out of the tiny windows slits there is the earth, wiped clean of civilization, a vast relief map with papier-mâché mountains and mirrored lakes and seas. . . .
"It is as if I am the only living thing connected to this totally strange, uninhabited planet 15 miles below me. The plane that carries me and I are one and alone."
—The Lonely Sky, William Bridgeman with Jacqueline Hazard, Castle and Company LTD, London, 1956, Chapter XXII at Page 268.
After the data was analyzed, it was determined that William Bridgeman and the Douglas Skyrocket had climbed to 79,494 feet (24,230 meters), higher than any man had gone before. This was the last flight that would be made with a Douglas test pilot. The rocketplane was turned over to NACA, which would assign it the number NACA 144.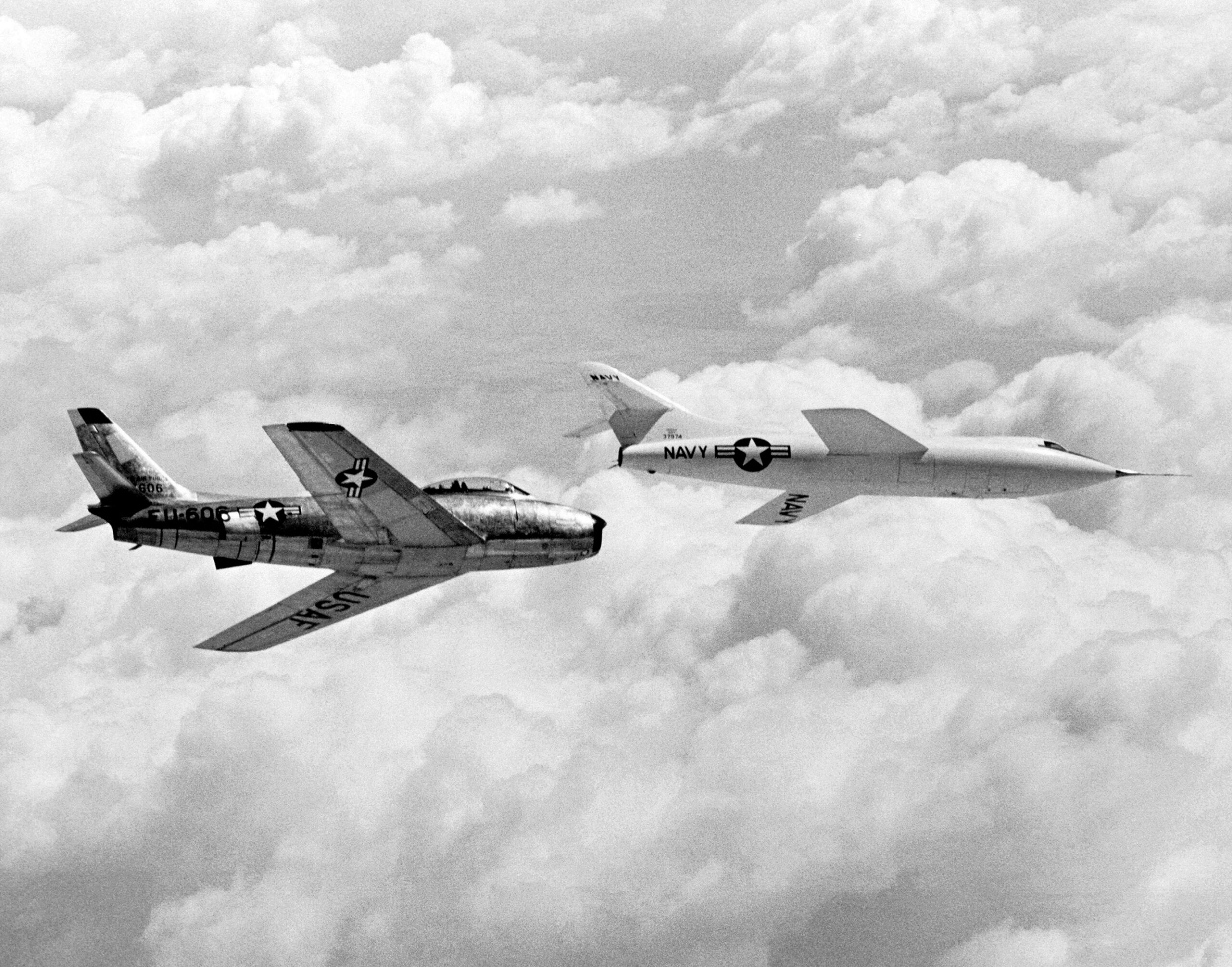 Bill Bridgeman had been a Naval Aviator during World War II, flying the Consolidated PBY Catalina and PB4Y (B-24) Liberator long range bombers with Bombing Squadron 109 (VB-109), "The Reluctant Raiders." Bridgeman stayed in the Navy for two years after the war, then he flew for Trans-Pacific Air Lines in the Hawaiian Islands and Pacific Southwest Airlines in San Francisco, before joining Douglas Aircraft Co. as a production test pilot, testing new AD Skyraiders as they came off the assembly line at El Segundo, California. He soon was asked to take over test flying the D-558-2 Skyrocket test program at Muroc Air Force Base.
The D-558-II Skyrocket was Phase II of a planned three phase experimental flight program. It was designed to investigate flight in the transonic and supersonic range. It was 46 feet, 9 inches (14.249 meters) long with a 25 foot (7.62 meter) wing span. The wings were swept back to a 35° angle. The Skyrocket was powered by a Westinghouse J34-WE-40 11-stage axial-flow turbojet engine, producing 3,000 pounds of thrust, and a Reaction Motors LR8-RM-6 four-chamber rocket engine, which produced 6,000 pounds of thrust. The rocket engine burned alcohol and liquid oxygen.
There were three D-558-2 Skyrockets. Between 4 February 1948 and 28 August 1956, they made a total of 313 flights. Bill Bridgeman's speed and altitude record-setting Skyrocket, Bu. No. 37974, NACA 144, is in the collection of the Smithsonian Institution National Air and Space Museum.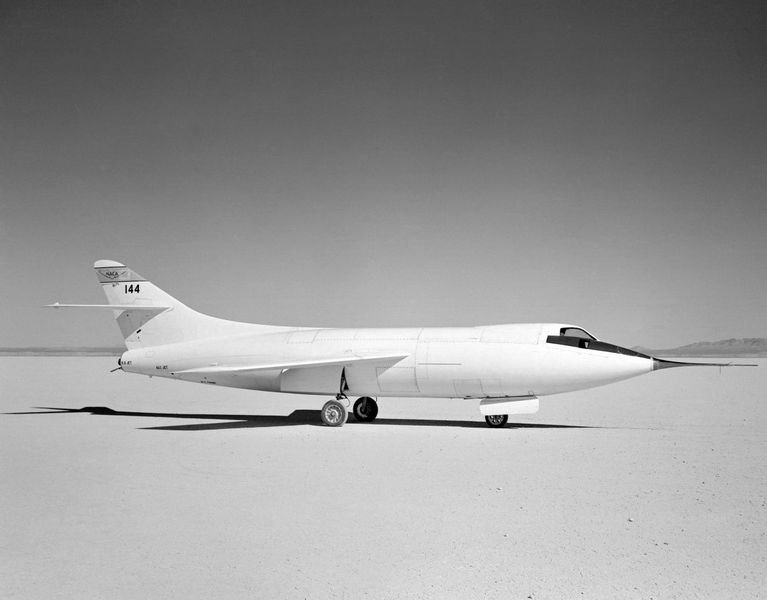 © 2016, Bryan R. Swopes