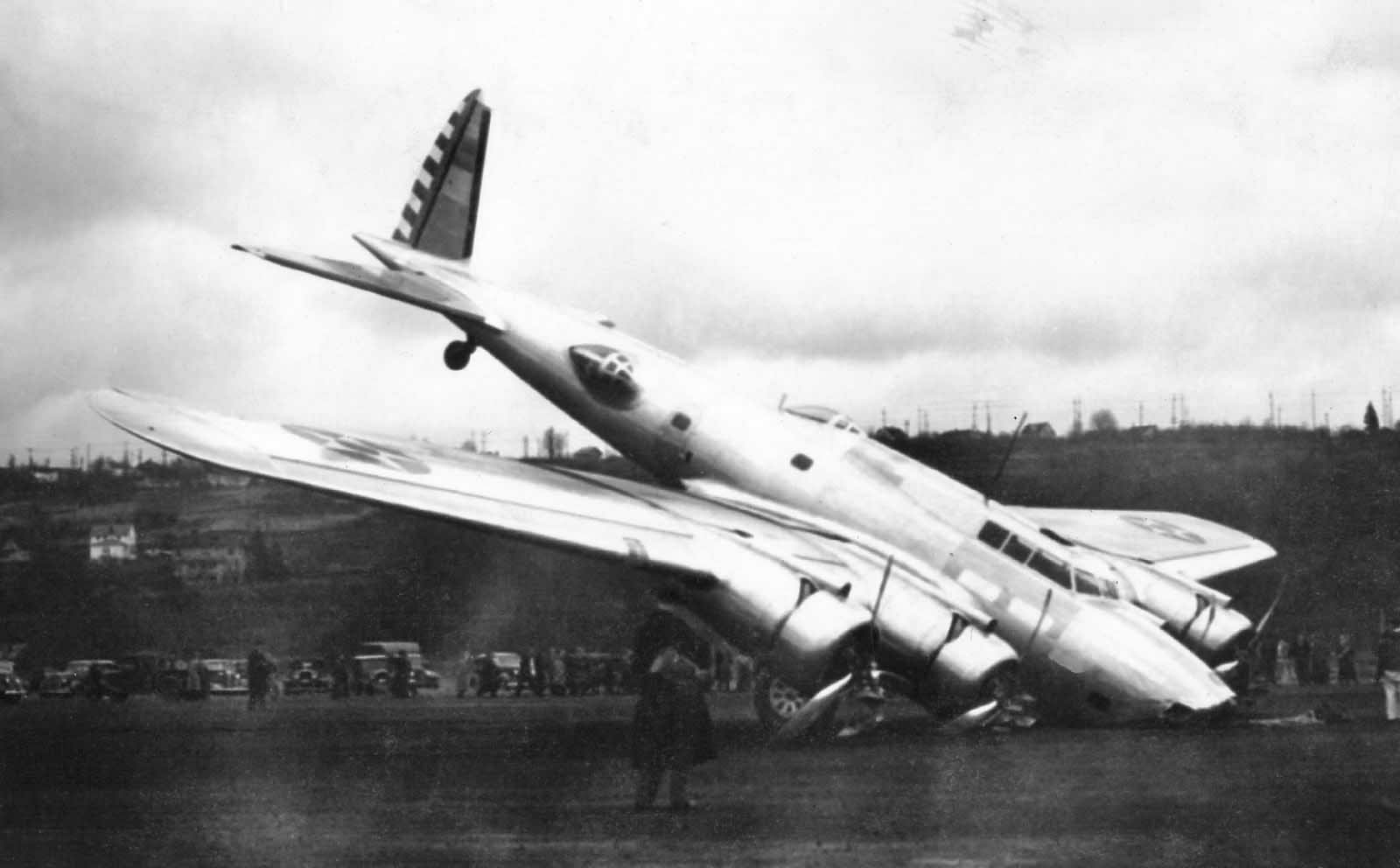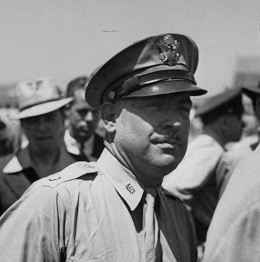 7 December 1936: On landing at Boeing Field, Seattle, Washington, after its third test flight, the first Boeing YB-17, 36-149, nosed over. The pilot was Lieutenant Colonel Stanley M. Umstead, U.S. Army Air Corps, who was considered to be the Army's most experienced and capable pilot.
When the airplane touched down, the main wheels locked and after skidding a short distance, the B-17 nosed over. The bomber's brakes had welded. No injuries were reported. 36-149 suffered moderate damage.
Boeing repaired the bomber. On 11 January 1937, the YB-17 was  flown to Wright Field, Dayton, Ohio, for continued testing. 36-149 was then assigned to the 2nd Bombardment Group at Langley Field, Virginia, 1 March 1937. In October 1940 the bomber was transferred to the 19th Bombardment Group at March Field, California. On 11 February 1942 it was transferred to the Air Park at Amarillo Army Air Field, a B-17 training base in Texas. 36-149 was written off 11 December 1942.
A contemporary newspaper article reported the incident:
Landing from a test flight in Seattle, Wash., the new 16 ton army bombing plane YB-17 nosed over and was badly damaged. Capt. E.R. McReynolds, an army air corps observer who was aboard, said the air brakes locked, preventing the landing wheels from rolling when the plane touched the ground. It was reported subsequently in Washington, D.C. that the accident might result in suspending construction of 13 bombing planes of similar type pending an investigation. The YB-17, largest land plane ever built in America, was designed to carry a ton of bombs and had a cruising range of 3,000 miles.
—Chicago Sunday Tribune, 13 December 1936, Part 2, Page 8, Column 8.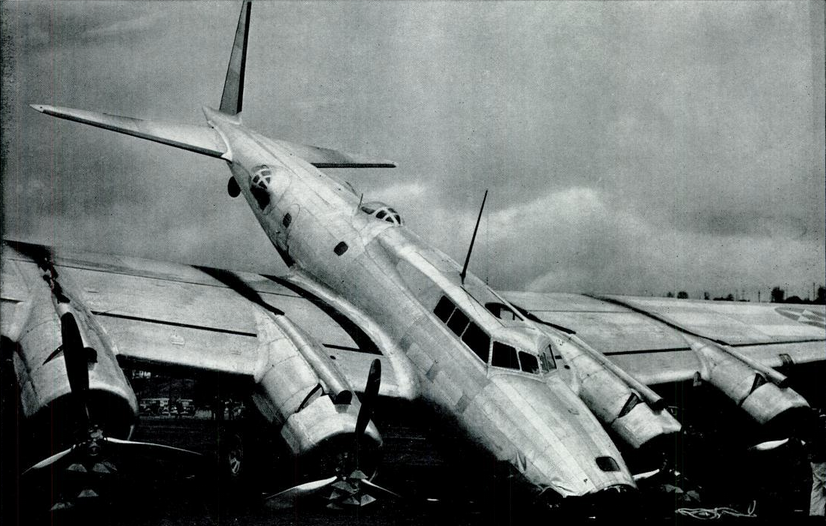 The YB-17 had several improvements over the Model 299, which was retroactively designated XB-17. There was a long carburetor intake on top of the engine nacelles which visually distinguishes the YB-17 from the follow-on YB-17A. The main landing gear has one strut rather than the two of the Model 299.
The Boeing Model 299B, designated YB-17 by the Army Air Corps, was 68 feet, 4 inches (20.828 meters) long with a wingspan of 103 feet, 9⅜ inches (31.633 meters) and the overall height was 18 feet, 4 inches (5.588 meters). It had an empty weight of 24,465 pounds (11,097 kilograms), gross weight of 34,880 pounds (15,821 kilograms) and maximum takeoff weight of 42,600 pounds (19,323 kilograms).
Instead of the Pratt & Whitney engines installed on the 299, the YB-17 had four air-cooled, supercharged 1,823.129-cubic-inch-displacement (29.875 liter) Wright Aeronautical Division Cyclone 9 R-1820G5 (R-1820-39) nine-cylinder radial engines with a compression ratio of 6.45:1. They turned three-bladed Hamilton Standard constant-speed propellers through a 16:11 gear reduction drive, in order to match the engines' effective power range with the propellers. The R-1820-39 was rated at 805 horsepower at 2,100 r.p.m., at Sea Level, and 930 horsepower at 2,200 r.p.m., at Sea Level, for takeoff. The R-1820-39 was 45-7/16 inches (1.154 meters) long and 54¼ inches (1.378 meters) in diameter, and weighed 1,198 pounds (543.4 kilograms).
The cruise speed was 217 miles per hour (349 kilometers per hour) and the maximum speed was 256 miles per hour (412 kilometers per hour) at 14,000 feet (4,267 meters). Its service ceiling was 30,600 feet (9,327 meters) and the maximum range was 3,320 miles (5,343 kilometers).
The YB-17 could carry 8,000 pounds (3,629 kilograms) of bombs. Defensive armament consisted of five .30-caliber air-cooled machine guns.
© 2016, Bryan R. Swopes
by