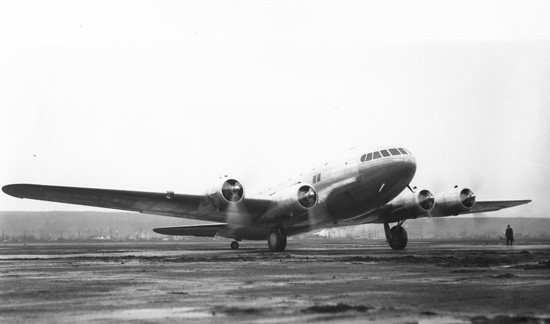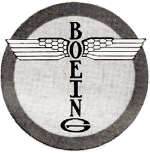 31 December 1938: Boeing Model 307 Stratoliner NX19901 made its first flight at Boeing Field, Seattle, Washington. The test pilot was Eddie Allen, with co-pilot Julius A. Barr.
The Model 307 was a four-engine commercial airliner that used the wings, tail surfaces, engines and landing gear of the production B-17B Flying Fortress heavy bomber. The fuselage was circular in cross section to allow for pressurization. It was the first pressurized airliner and because of its complexity, it was also the first airplane to include a flight engineer as a crew member.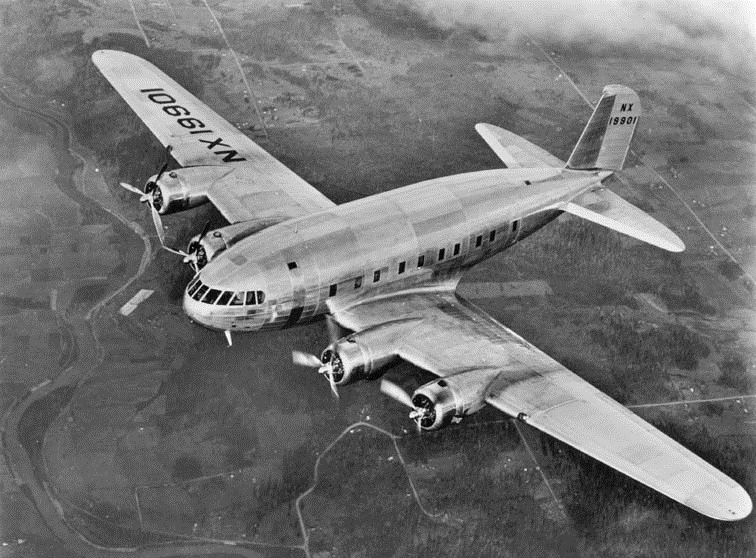 The Associated Press news agency reported:
     SEATTLE, Dec. 31—(AP)—The world's first plane, designed for flying in the sub-stratosphere, the new Boeing "Stratoliner", performed "admirably" in a 42-minute first test flight in the rain today.
     The big ship, with a wingspread of 107 feet, three inches, climbed to 4,000 feet, the ceiling, and cruised between here, Tacoma and Everett. Speed was held down to 175 miles an hour.
     "The control and stability and the way it handled were very nice," Edmund T. Allen, pilot, said. "She performed admirably."
     The 33-passenger ship was built to fly at altitudes of 20,000 feet.
     No more tests are planned until next week. The supercharging equipment for high altitude flights will be installed later.
—Arizona Republic, Vol. IL, No. 228, Sunday, 1 January 1939, Page 2, Column 4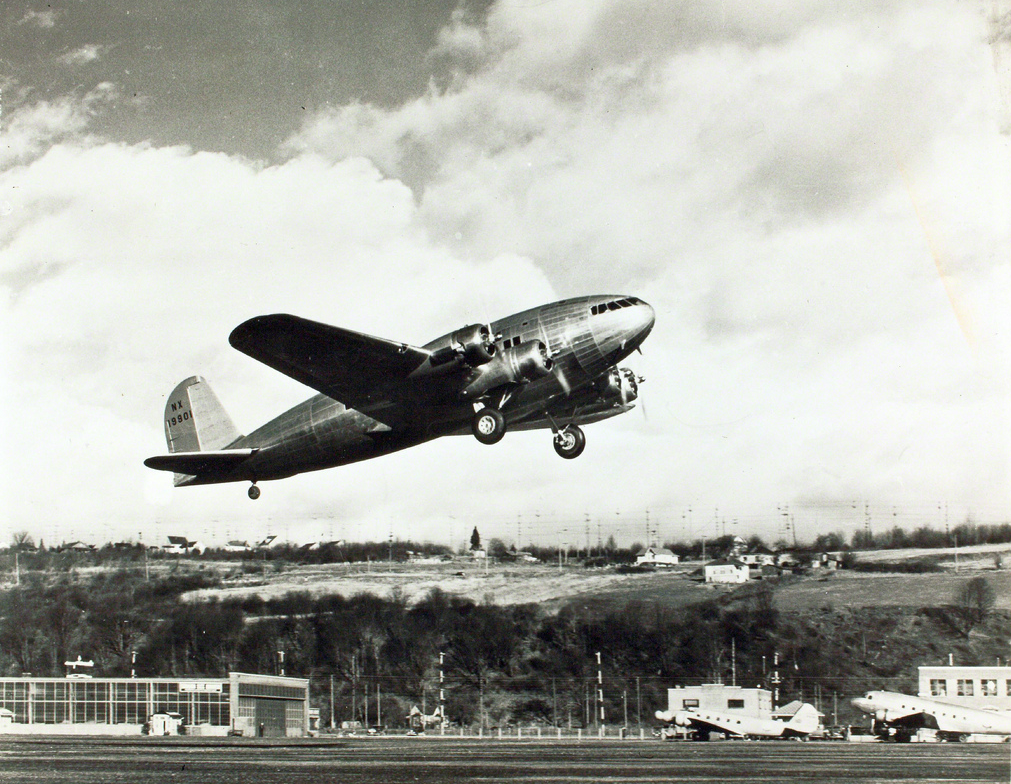 Giant 'Stratoliner" Wheeled From Factory, On First Flight
SEATTLE, Dec. 31—(AP)—The newest thing in aviation—a giant, 33-passenger stratoliner named and built by Boeing Aircraft Company—met enthusiastic approval of its test pilot today after preliminary test runs.
     Scarcely 24 hours after it left the factory, the newest Boeing plane tested its wings yesterday. Test Pilot Edmund T. Allen taxied the plane along the ground, gunned it a bit and flew it in the air a short time at an altitude from 15 to 30 feet.
     Allen did not class the short hop as the ship's maiden flight, which he said formally remained to be made, probably within a week.
     He said the big ship, minus general airplane characteristics, would not require any super-airports as the demonstration showed it would be able to take off and land at any ordinary-sized field.
     The stratoliner has four 1,100-horsepower motors which will enable it to cruise at an altitude of four miles at a speed of more than four miles a minute.
     Most unusual feature of the silver colored plane is the shape of the cabin, which bears a distinct resemblance to a metal dirigible. The cabin is circular throughout its length of 74 feet, four inches.
     The shape was adopted because of the necessity of sealing the cabin so passengers can enjoy low-level atmospheric conditions while soaring at high altitudes. The door, instead of opening outwards, is opened from the inside, so that the higher air pressure in the cabin will keep it sealed.
     The stratoliner's wings compare in design with the Boeing flying fortresses but because of the larger cabin, the wing span is 107 feet, three inches, greater than that of the bombers, the new plane's height is 17 feet, three inches.
     "Outside of scientific and engineering circles the substratosphere has been generally regarded as something far away and mystical, but now it is being brought 'down to earth,' C. L. Engtvedt, president of Boeing said.
     "The stratoliner will fly below the true stratosphere, but above the heavy air belt that brews surface weather conditions. Here we get most of the benefits of the stratosphere without getting into complex problems of flight in the extremely rare atmosphere and low temperature of the true stratosphere," he said.
     Engtvedt predicted stratosphere type planes would lend a tremendous stimulus to the growth of air transportation.
     The first three stratoliners are being built for pan-American airways. Six more are in the course of construction for buyers whose identity has not been announced.
—Eugene Register-Guard, Vol. 95, No. 1, January 1, 1939 at Page 3,  Columns 5 and 6
On March 18, 1939, during its 19th test flight, the Stratoliner went into a spin, then a dive. It suffered structural failure of the wings and horizontal stabilizer when the flight crew attempted to recover. NX19901 was destroyed and all ten persons aboard were killed.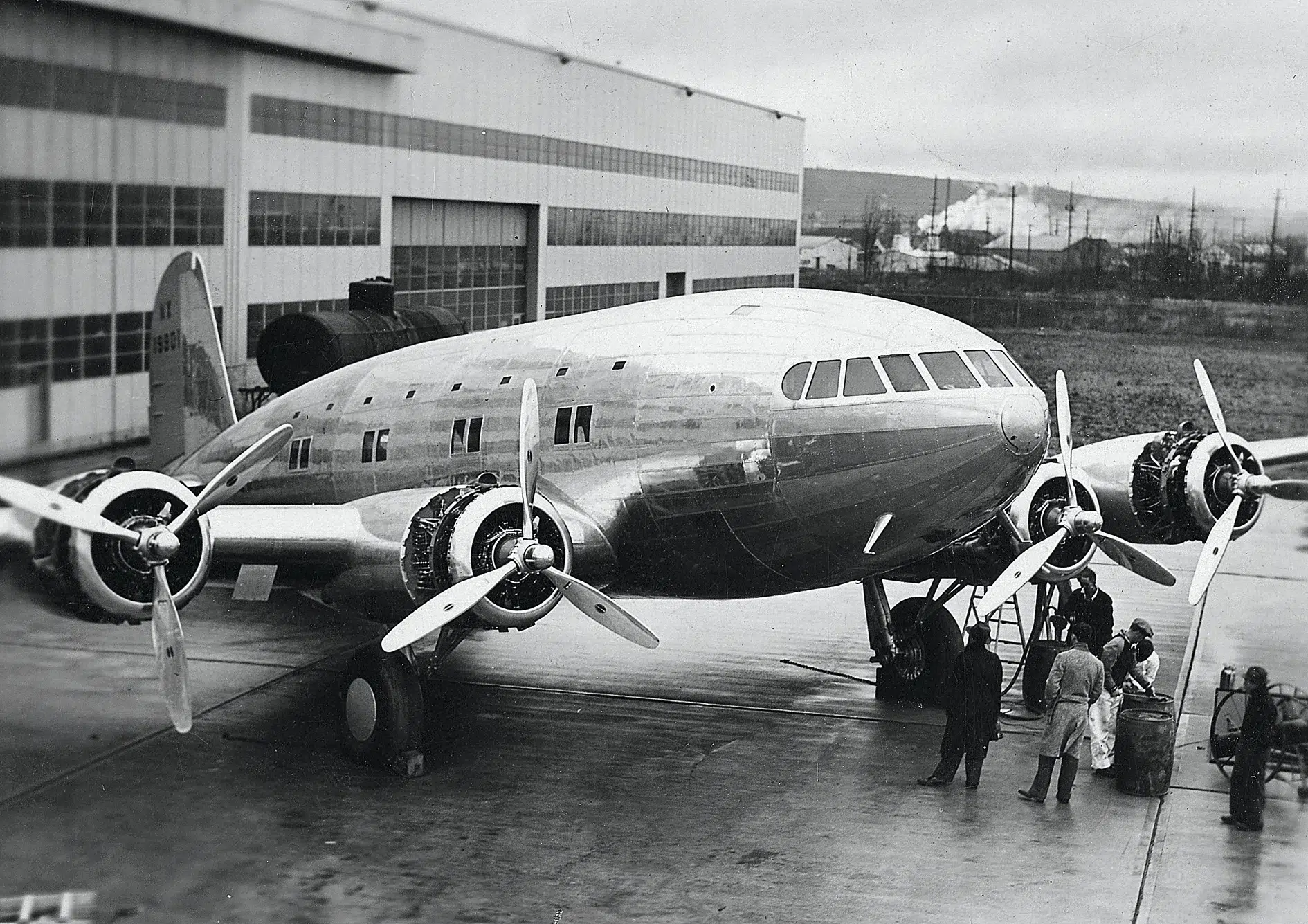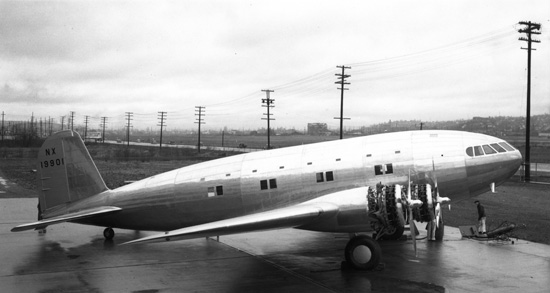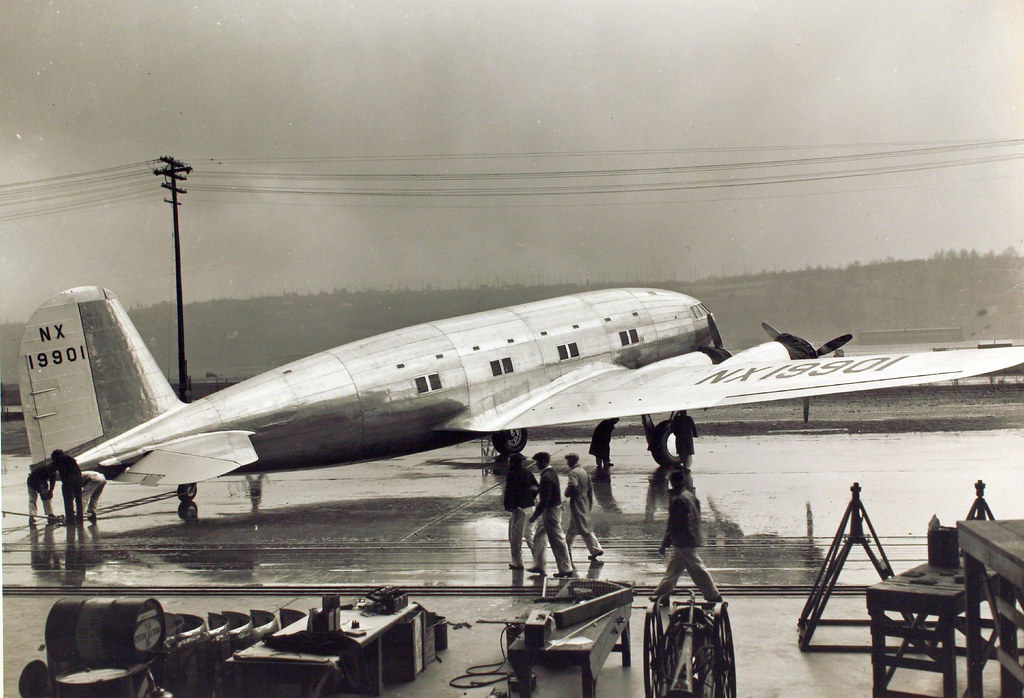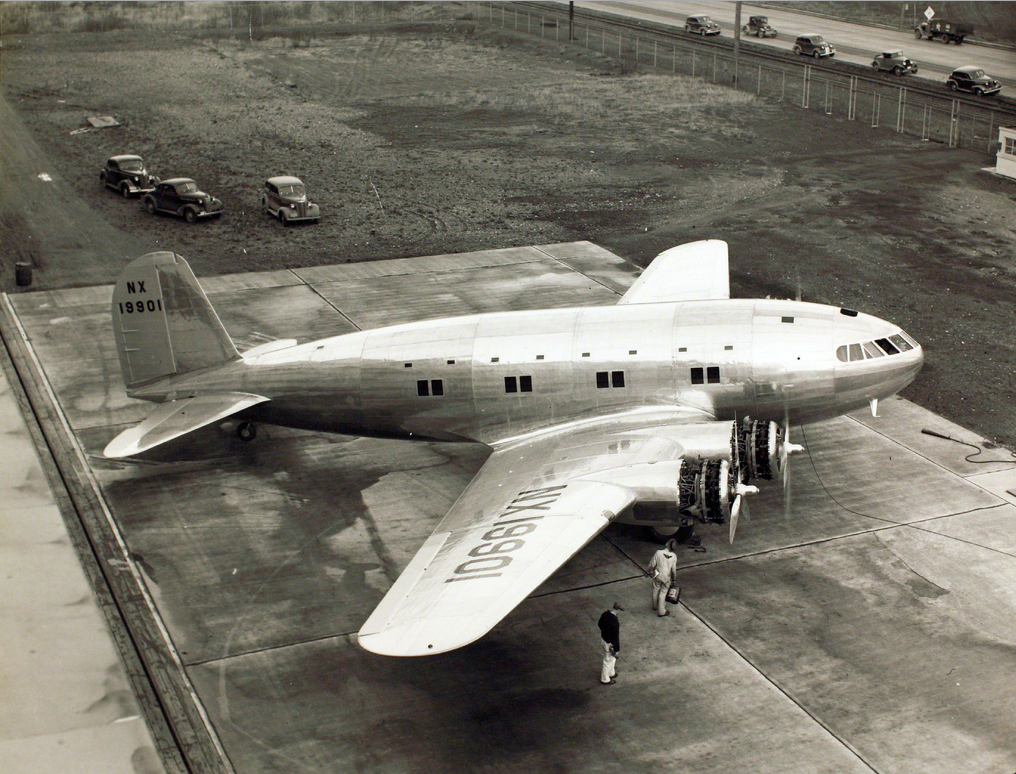 The Boeing Model 307 was operated by a crew of five and could carry 33 passengers. It was 74 feet, 4 inches (22.657 meters) long with a wingspan of 107 feet, 3 inches (32.690 meters) and overall height of 20 feet, 9½ inches (6.337 meters). The wings had 4½° dihedral and 3½° angle of incidence. The empty weight was 29,900 pounds (13,562.4 kilograms) and loaded weight was 45,000 pounds (20,411.7 kilograms).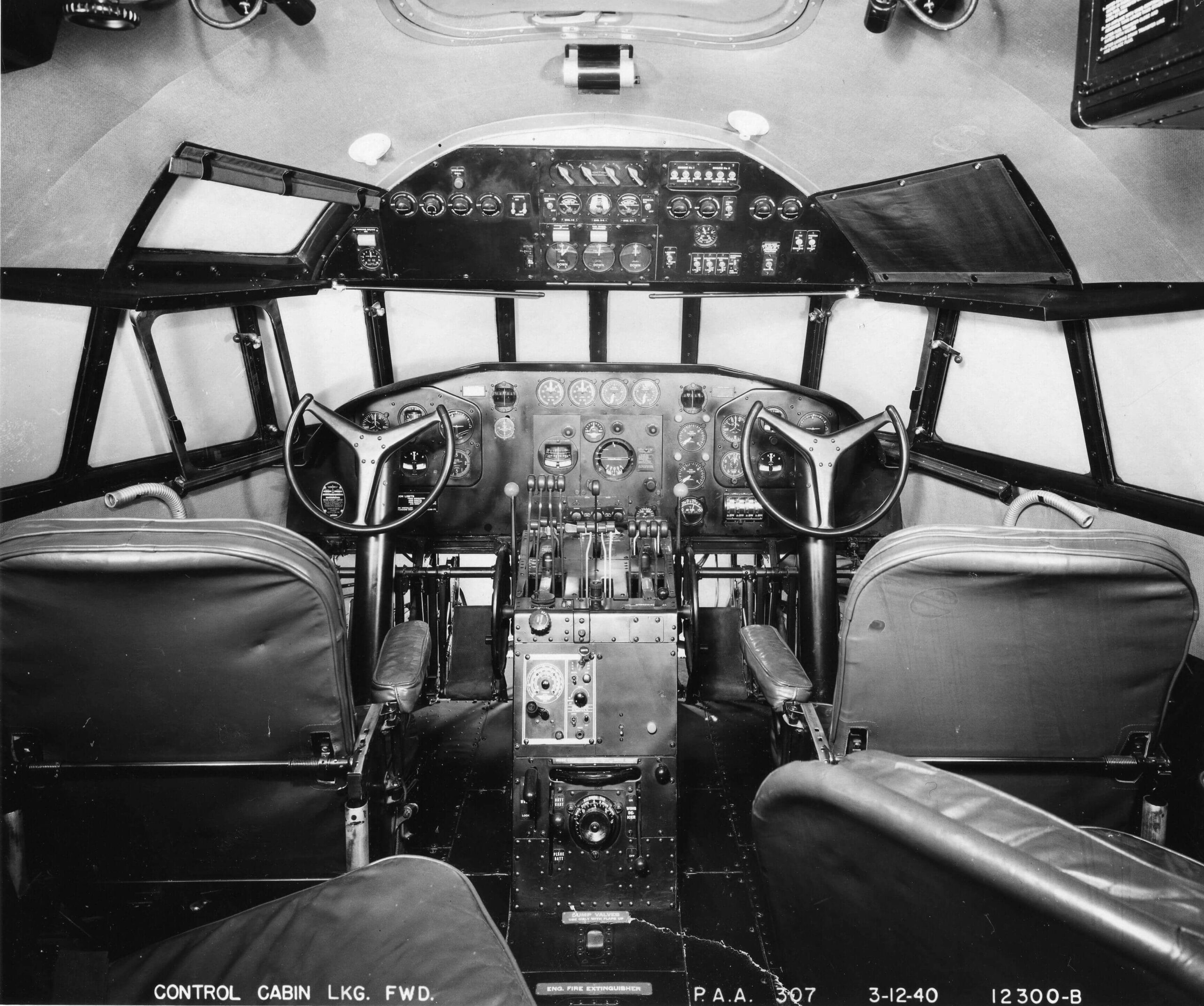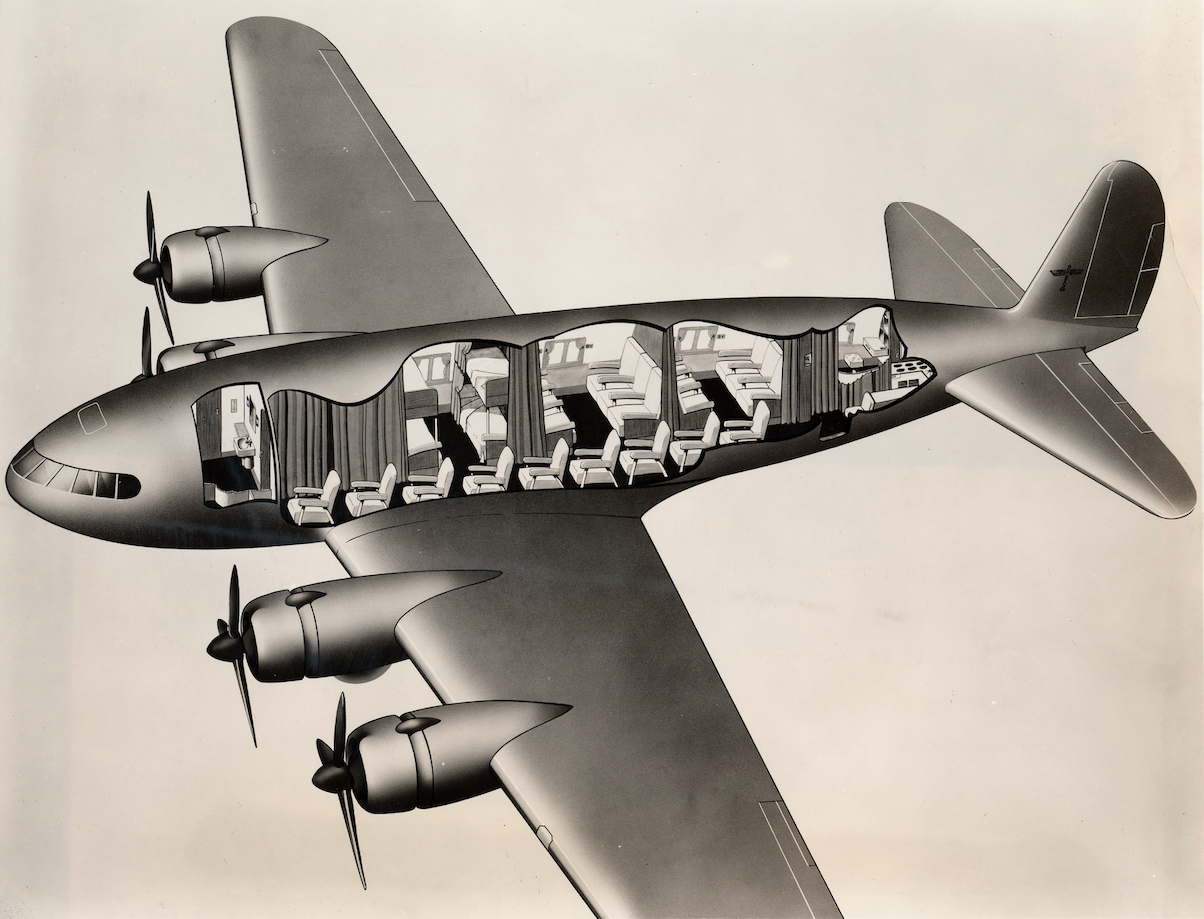 The airliner was powered by four air-cooled, geared and supercharged, 1,823.129-cubic-inch-displacement (29.875 liter) Wright Cyclone 9 GR-1820-G102 9-cylinder radial engines with a compression ratio of 6.7:1, rated at 900 horsepower at 2,200 r.p.m., and 1,100 horsepower at 2,200 r.p.m. for takeoff. These drove three-bladed Hamilton-Standard Hydromatic propellers through a 0.6875:1 gear reduction in order to match the engine's effective power range with the propellers. The GR-1820-G102 was 4 feet, 0.12 inches (1.222 meters) long, 4 feet, 7.10 inches (1.400 meters) in diameter, and weighed 1,275 pounds (578 kilograms).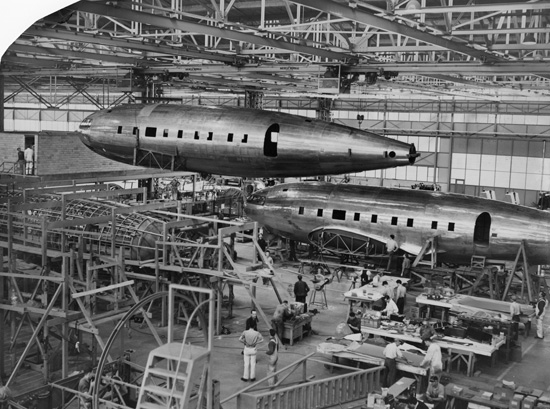 The maximum speed of the Model 307 was 241 miles per hour (388 kilometers per hour) at 6,000 feet (1,828.8 meters). Cruise speed was 215 miles per hour (346 kilometers per hour) at 10,000 feet (3,048 meters). The service ceiling was 23,300 feet (7,101.8 meters).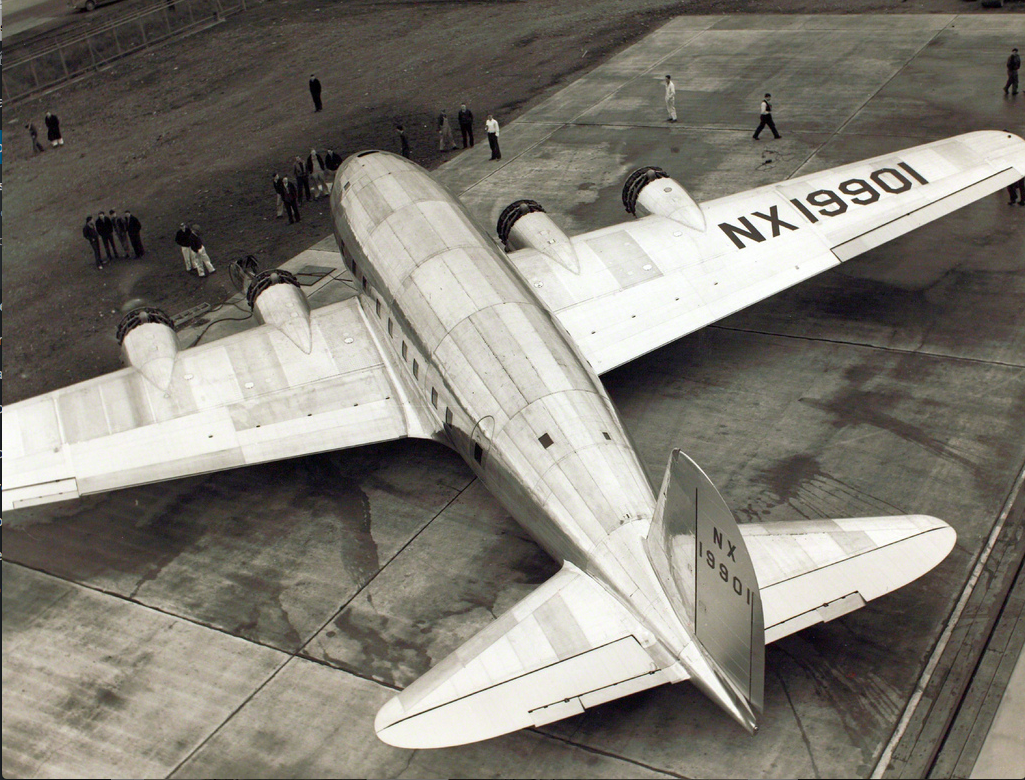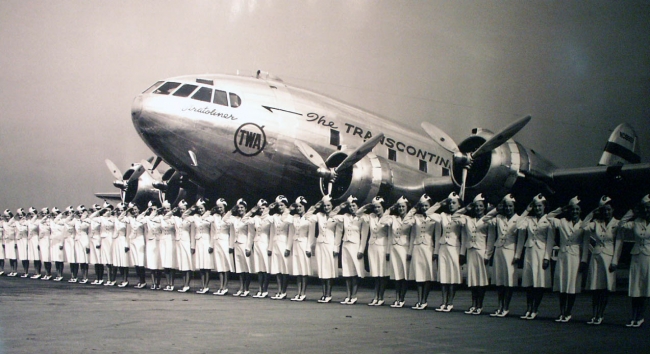 As a result of the crash of NX19901, production Stratoliners were fitted with a vertical fin similar to that of the B-17E Flying Fortress.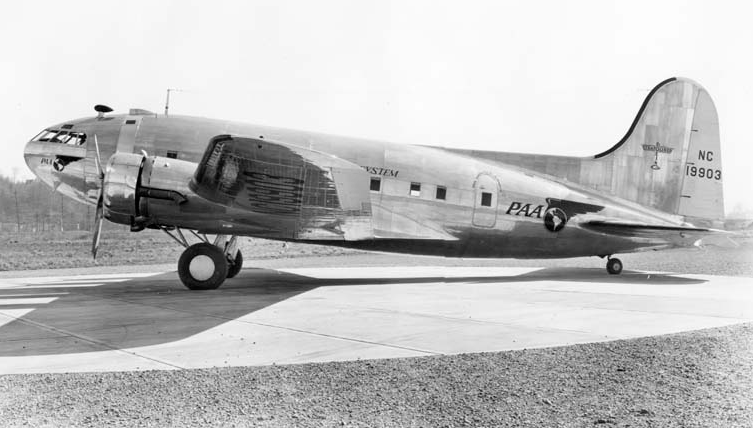 During World War II, TWA sold its Stratoliners to the United States government which designated them C-75 and placed them in transatlantic passenger service.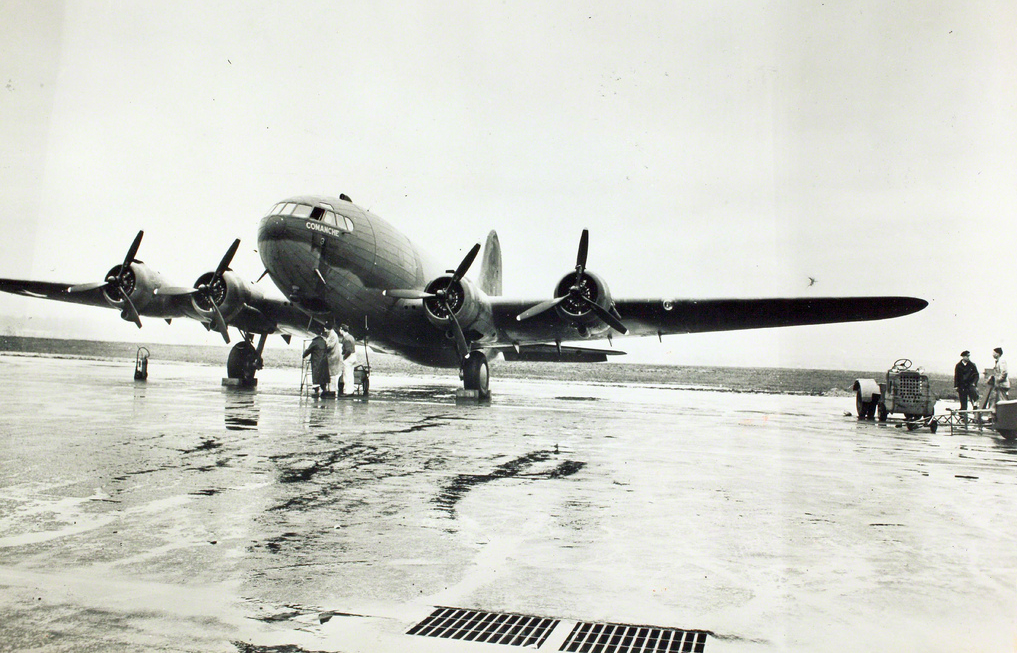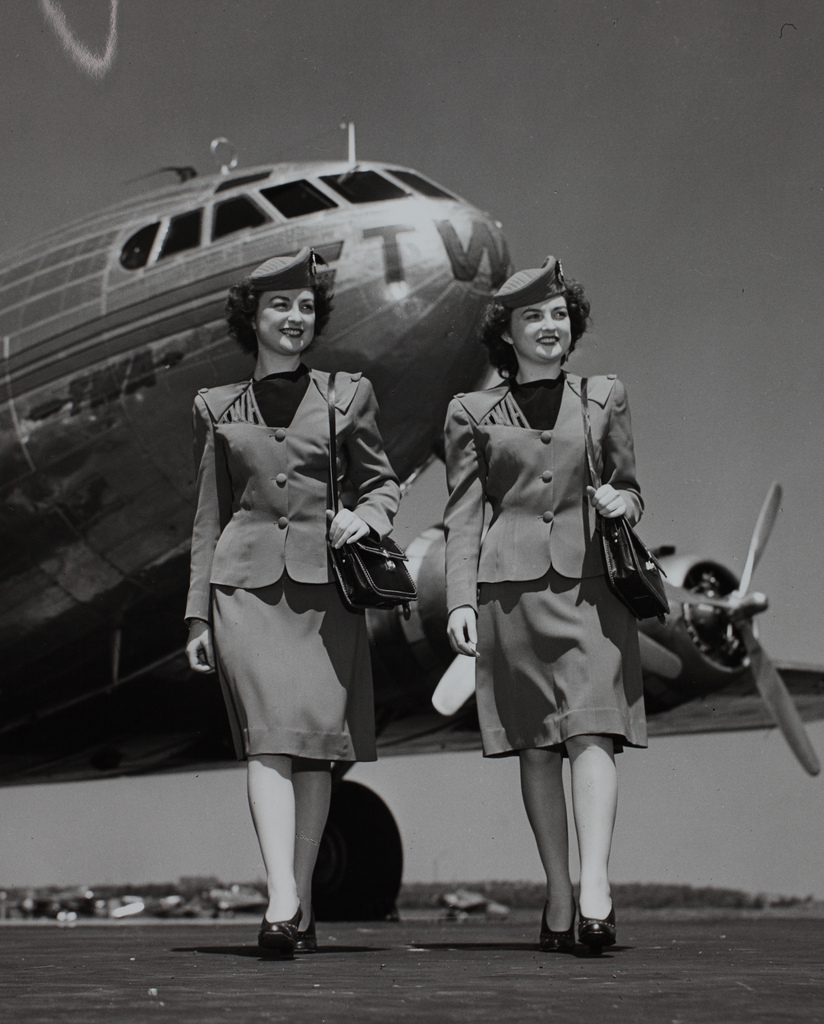 In 1944, the 307s were returned to TWA and they were sent back to Boeing for modification and overhaul. The wings, engines and tail surfaces were replaced with those from the more advanced B-17G Flying Fortress. The last one in service was retired in 1951.
Of the ten Stratoliners built for Pan Am and TWA, only one remains. Fully restored by Boeing, NC19903 is at the Stephen F. Udvar-Hazy Center of the Smithsonian Institution.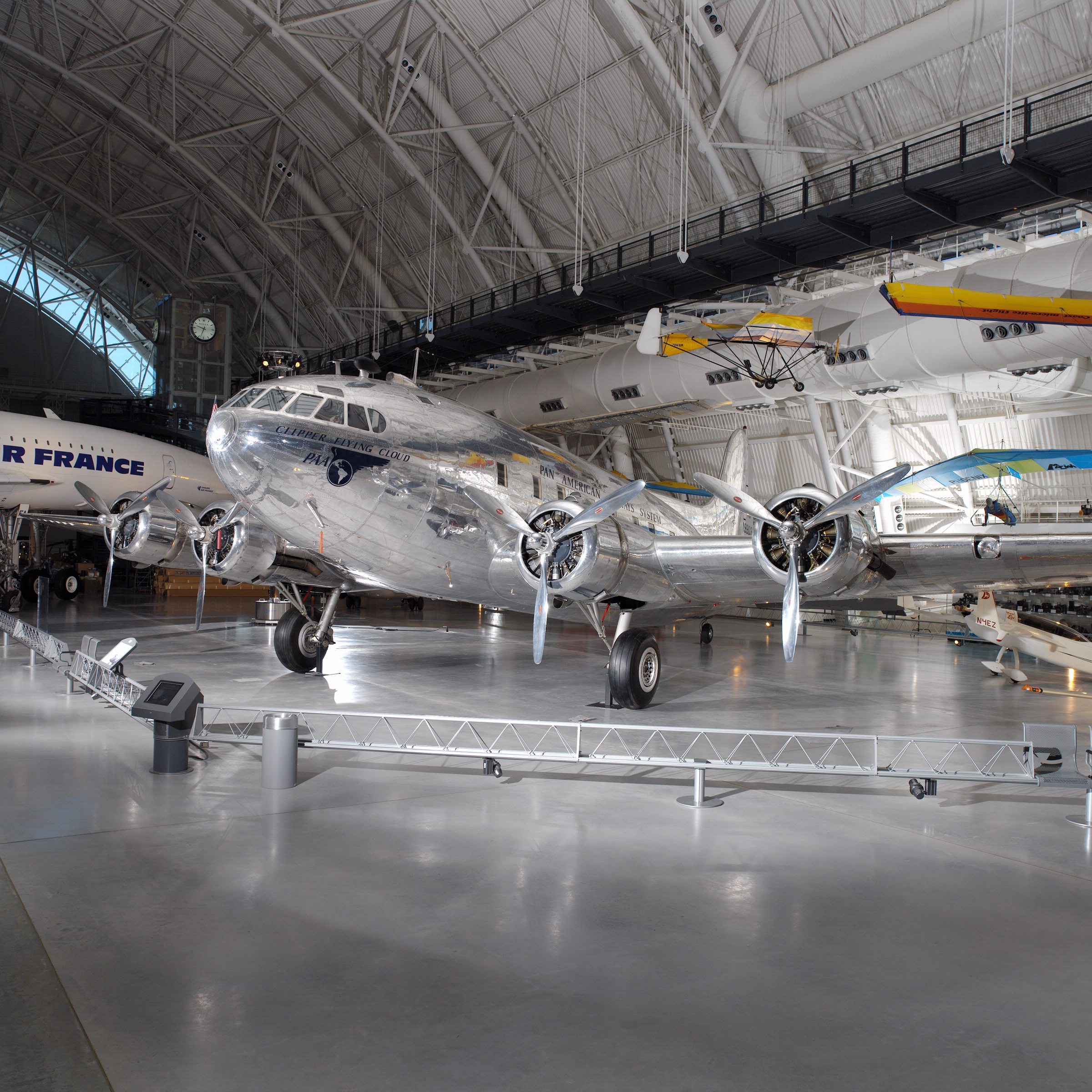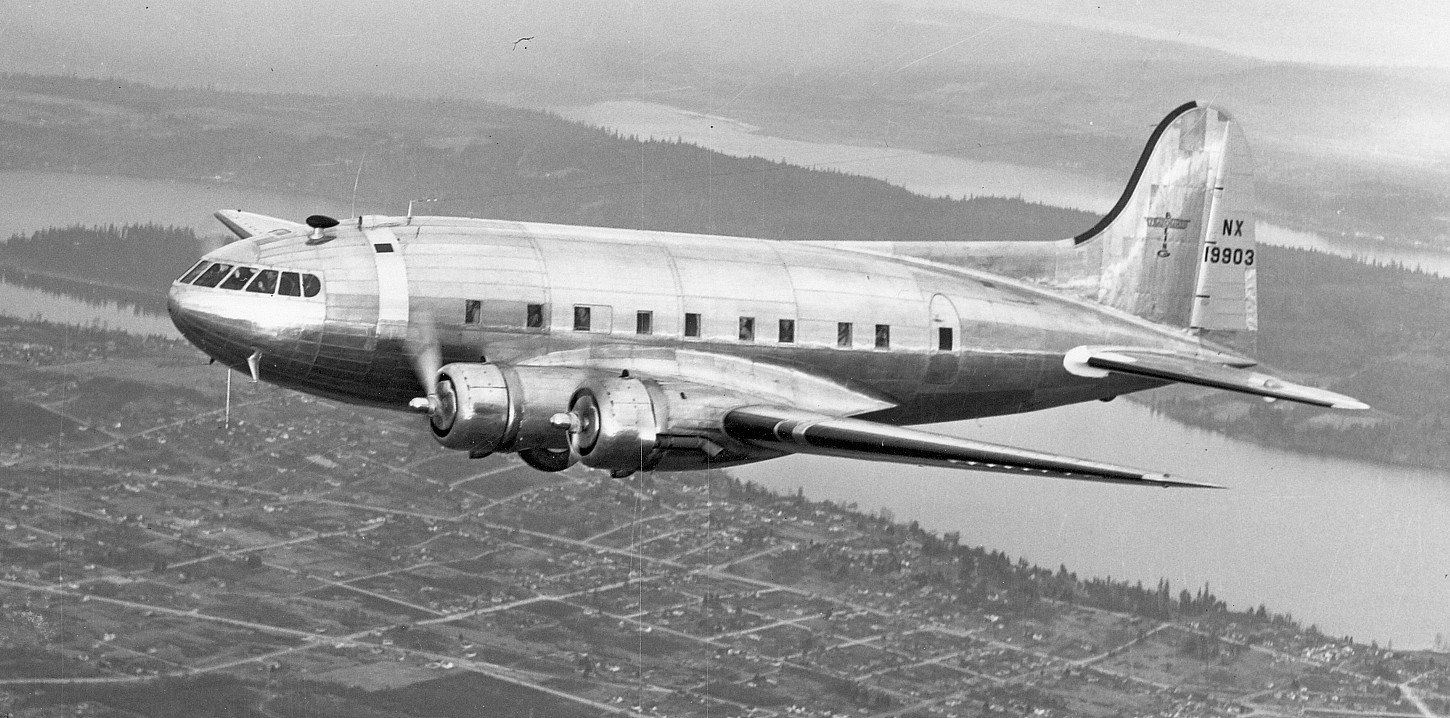 © 2019, Bryan R. Swopes