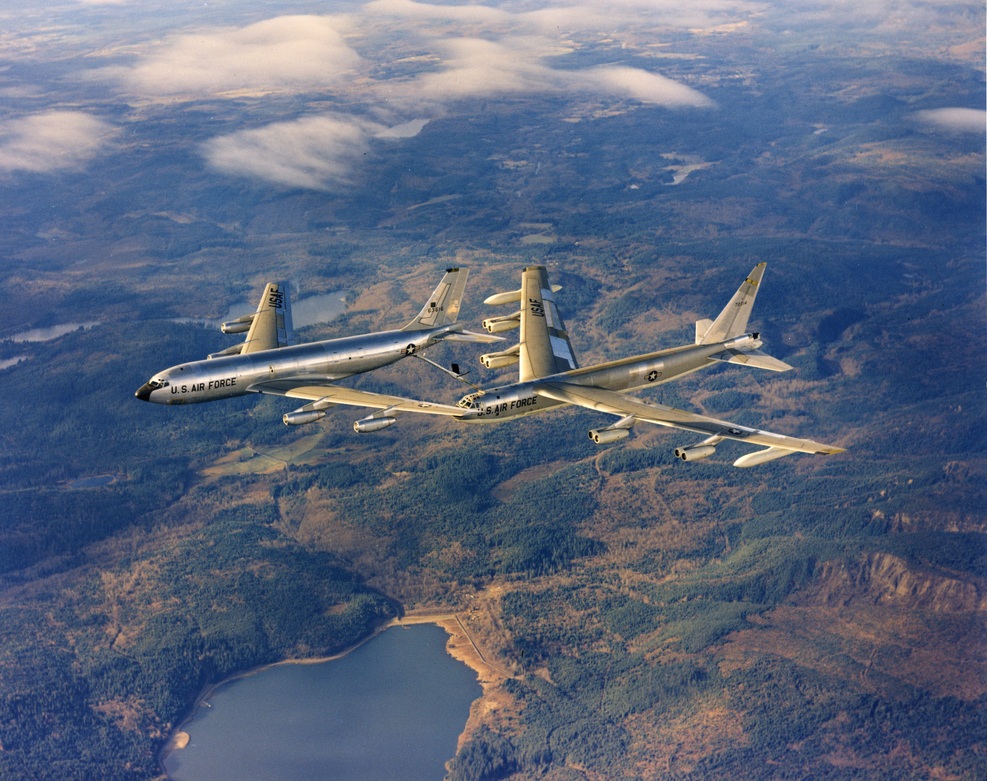 30 December 1964: The United States Air Force accepted the last of 732 Boeing KC-135 Stratotankers: KC-135A serial number 64-14840. The new tanker was assigned to the 380th Air Refueling Squadron at Plattsburgh Air Force Base, New York, 12 January 1965.
As of 14 May 2018, 396 KC-135s were still in service with the United States Air Force: 153 active duty, 72 Air Force Reserve, and 171 Air National Guard. It is estimated that the fleet is 33% through their design lifetime limits.
Built as an aerial refueling tanker to support the U.S. Air Force fleet of B-52 Stratofortress strategic bombers, an initial order for 24 tankers was soon increased to 250. Eventually 732 KC-135As were built by Boeing, and an additional 81 of other versions.
With the company internal designation of Model 717, the KC-135 was developed from the Model 367-80 proof-of-concept prototype, the "Dash Eighty." The Stratotanker is very similar in appearance to the Model 707 and 720 airliners but is structurally a different aircraft. It is also shorter than the 707 and has a smaller diameter fuselage.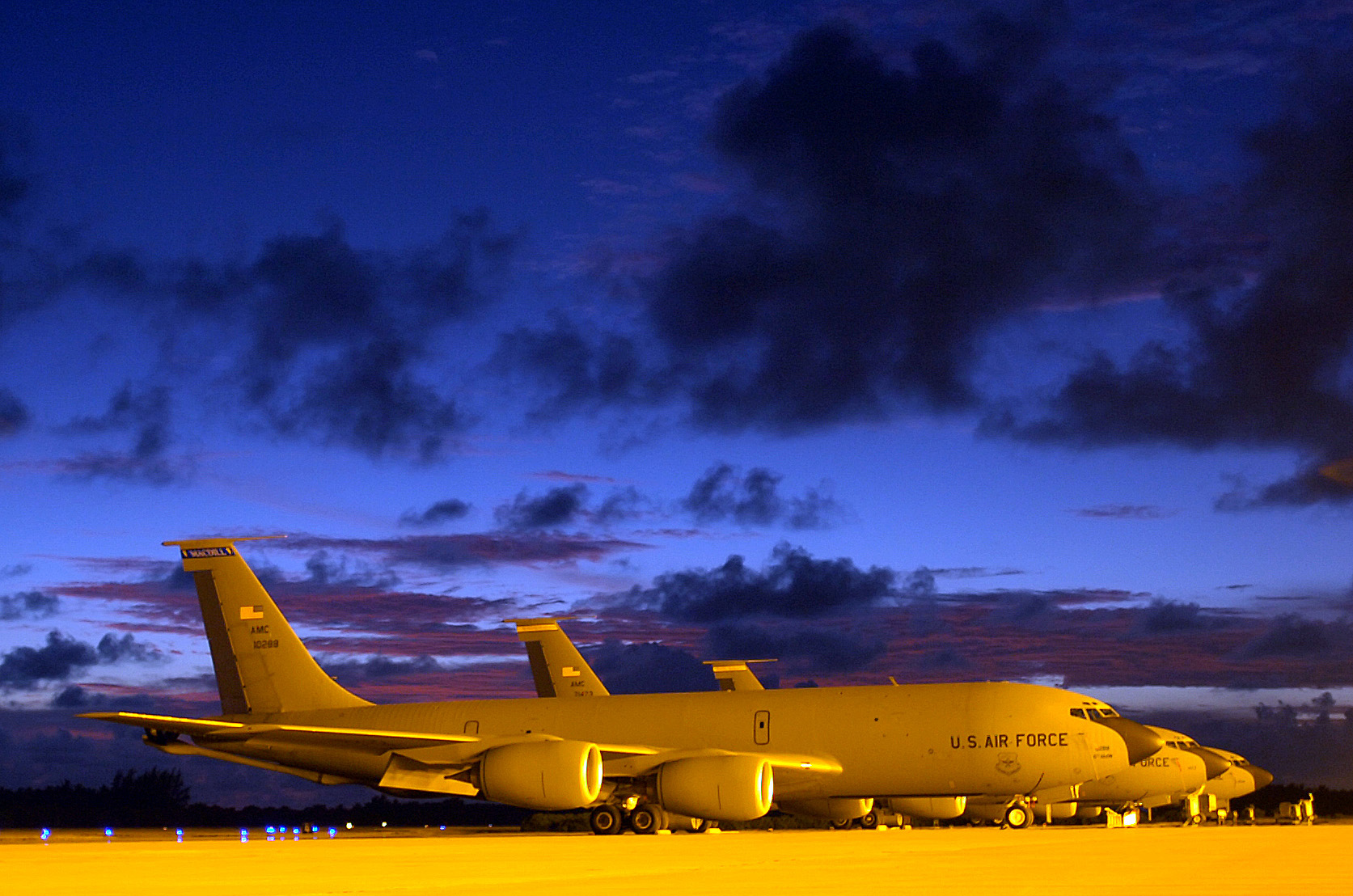 The Stratotanker was originally operated by a flight crew of four: pilot, co-pilot, navigator and refueling boom operator. Upgrades over the decades have simplified operation and the crew has been reduced to two pilots and the boom operator.
The KC-135R is 136 feet, 3 inches (41.529 meters) long (156 feet/47.549 meters with fueling boom extended), with a wingspan of 130 feet, 10 inches (39.878 meters), and overall height of 41 feet, 8 inches (12.700 meters). Its maximum takeoff weight is 322,500 pounds (146,284 kilograms).
The Stratotanker can carry up to 200,000 pounds (90,718 kilograms) of fuel for inflight refueling. It can also be configured to carry 83,000 pounds (37,648 kilograms) of cargo, or 80 passengers.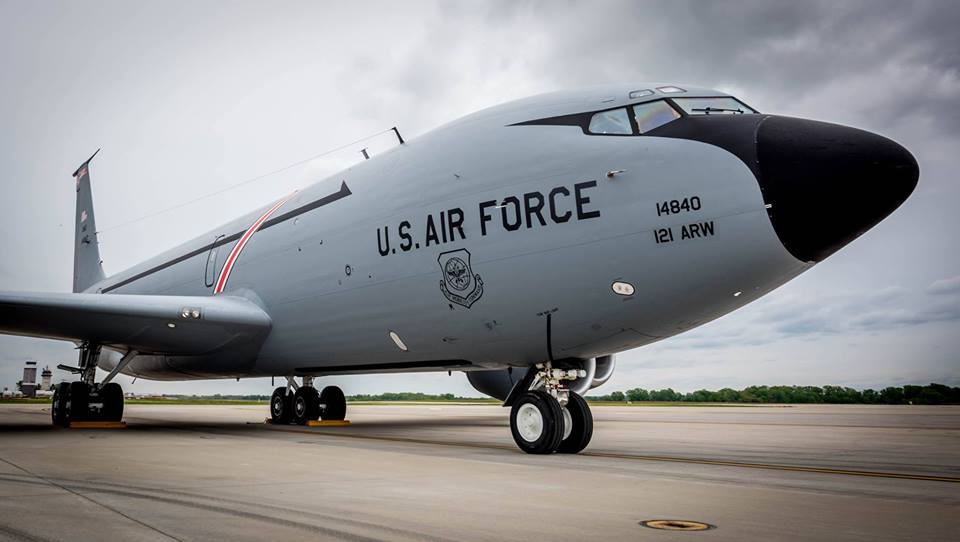 The KC-135A was originally powered by four Pratt & Whitney J57-P-59W turbojet engines producing 13,750 pounds of thrust (61.163 kilonewtons) for takeoff, using water injection. The fleet has been re-engined with more efficient CFM International CFM56-2B1 (F108-CF-100) engines. Modified airplanes are designated KC-135R. The CFM56-2 is a two-spool, axial-flow, high-bypass turbofan with a single fan stage, 12-stage compressor section (3 low pressure and 9 high pressure stages), annular combustor, and a 5-stage turbine (1 high pressure and 4 low pressure stages). The engine is rated at 21,634 pounds of thrust (96.233 kilonewtons).
The tanker has a maximum speed of 350 knots (402 miles per hour/648 kilometers per hour) below 26,500 feet (8,077 meters), and 0.90 Mach when above that altitude. It has a range of 1,500 miles (2,424 kilometers) when carrying 150,000 pounds (68,039 kilograms) of transfer fuel. The service ceiling is 50,000 feet (15,200 meters).
The newest Stratotanker in service with the United States Air Force, KC-135R 64-14840 is 58 years old. It is presently assigned to the 121st Air Refueling Wing, Ohio Air National Guard.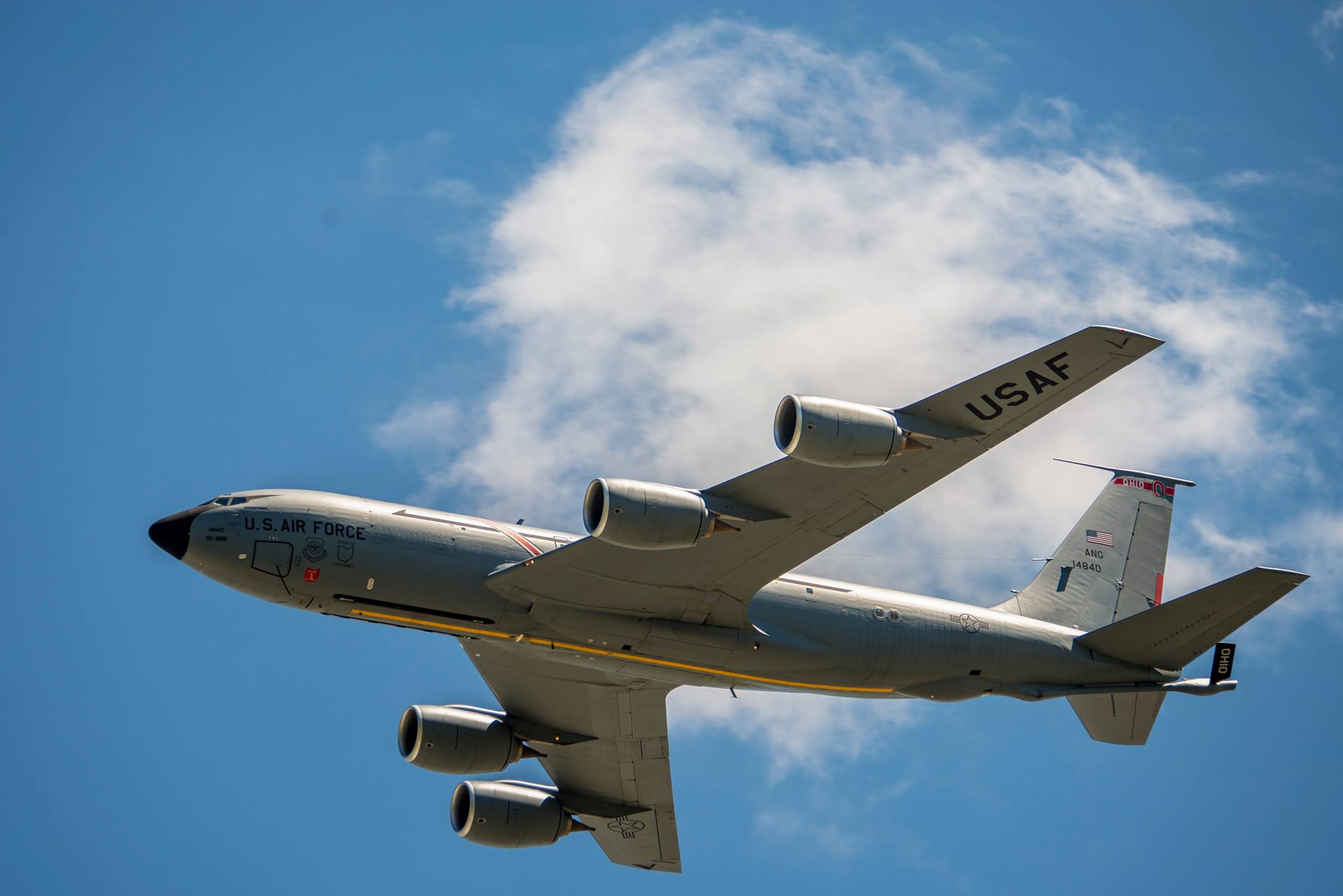 © 2018, Bryan R. Swopes