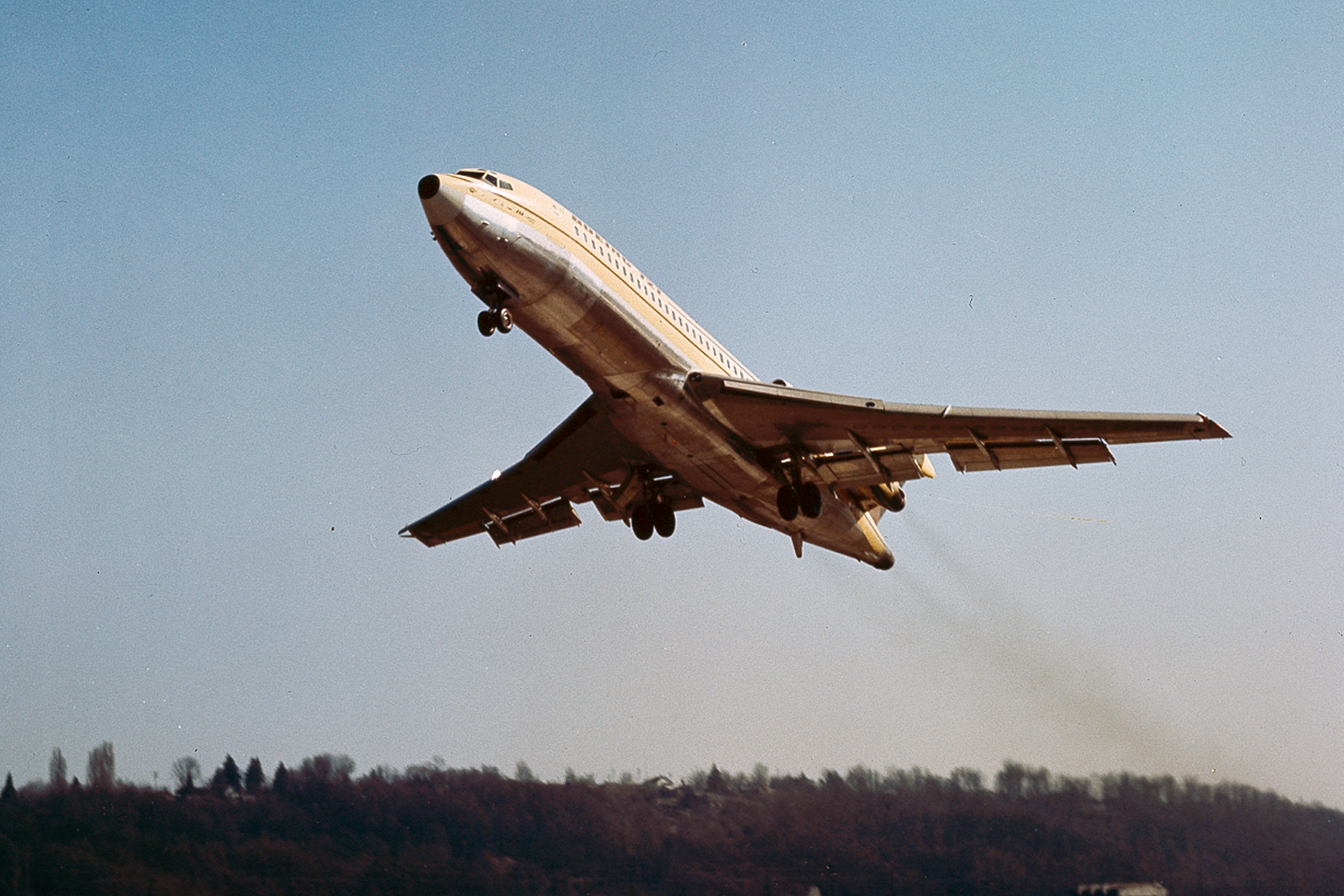 9 February 1963: Boeing's Chief Test Pilot, Samuel Lewis ("Lew") Wallick, Jr., made the first flight of the prototype Boeing Model 727 jet airliner, N7001U (c/n 18293), from Renton Municipal Airport, Renton, Washington. Richards Llewellyn ("Dix") Loesch, Jr., was the airliner's co-pilot, and Marvin Keith ("Shuly") Shulenberger was the flight engineer.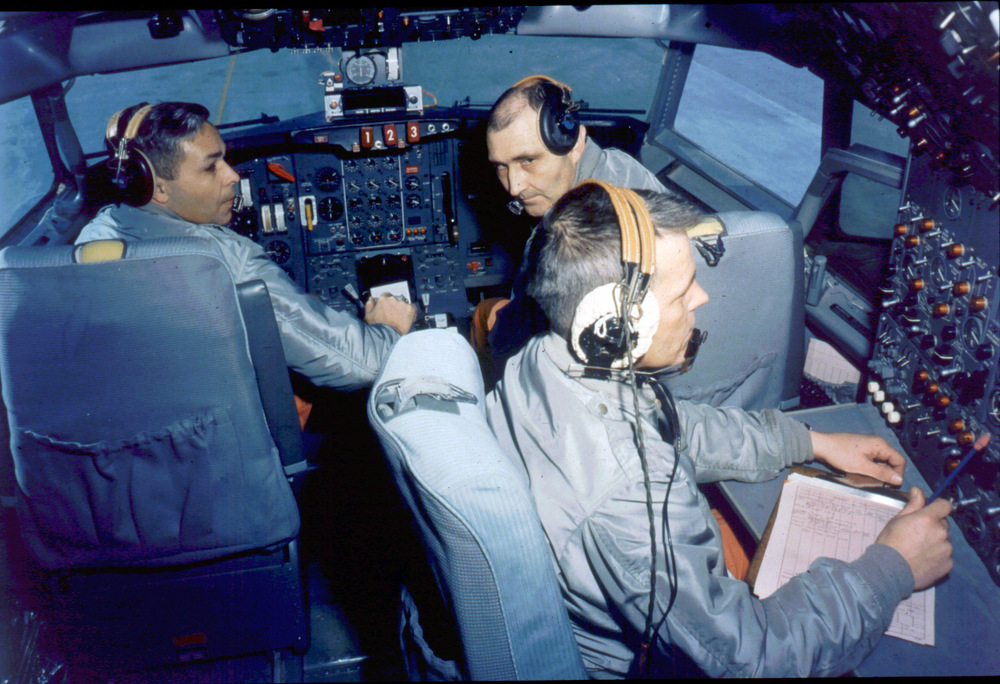 The 727 remained airborne for 2 hours, 1 minute, and landed at Paine Field, Everett, Washington.
N7001U had been rolled out at Renton on 27 November 1962. It was painted lemon yellow and copper-brown, similar to the paint scheme of the Model 367-80 prototype, eight years earlier.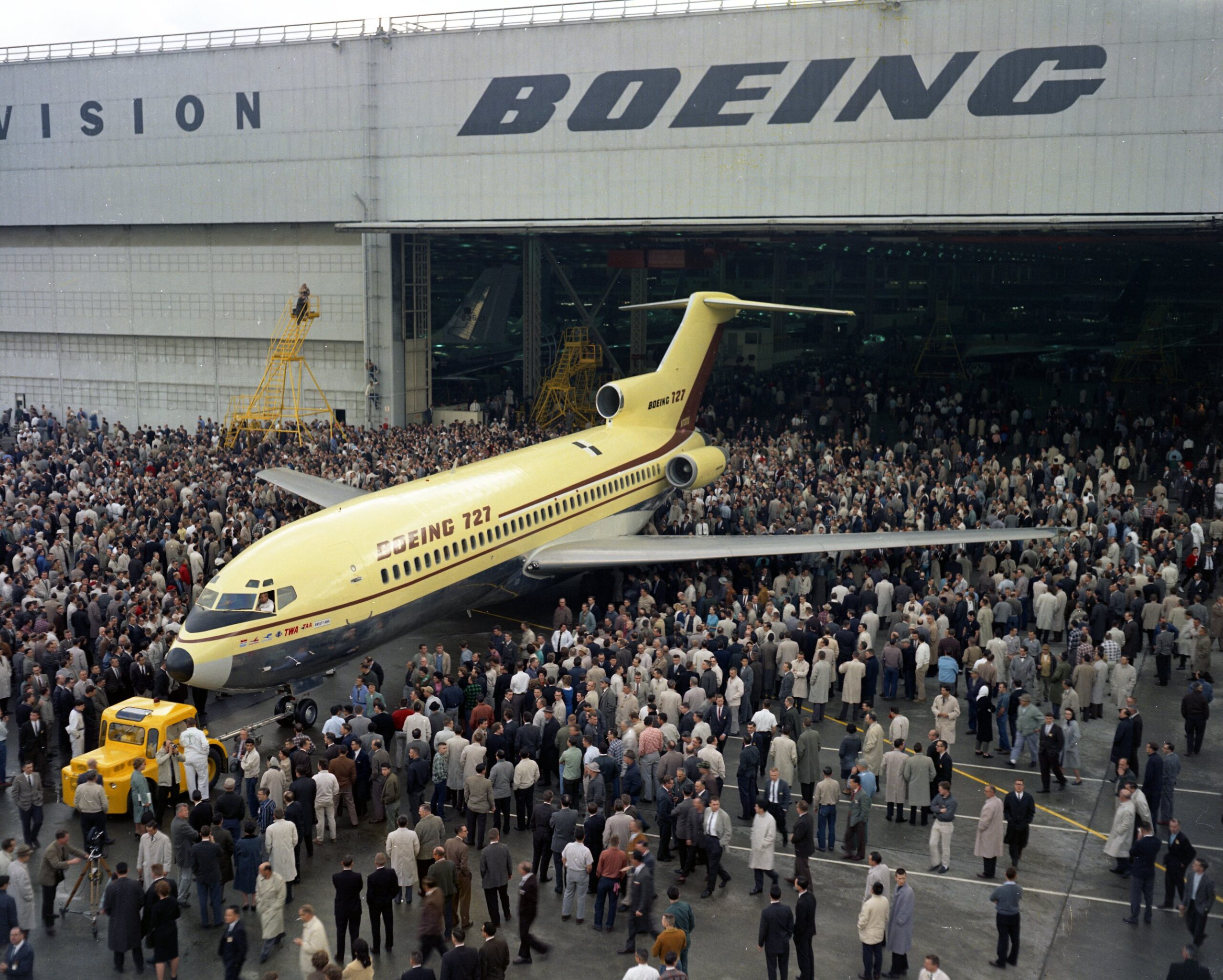 After completing the flight test and certification program, N7001U was delivered to United Air Lines, 6 October 1964. United operated N7001U for 27 years before retiring after 64,495 flight hours, and 48,060 takeoffs and landings.
In 1991, United Air Lines donated the 727 to The Museum of Flight, Seattle, Washington. N7001U has been restored and is currently on display. According to the Museum, United purchased the 727 for $4,400,000, and during its service life, it generated more that $300,000,000 in revenue.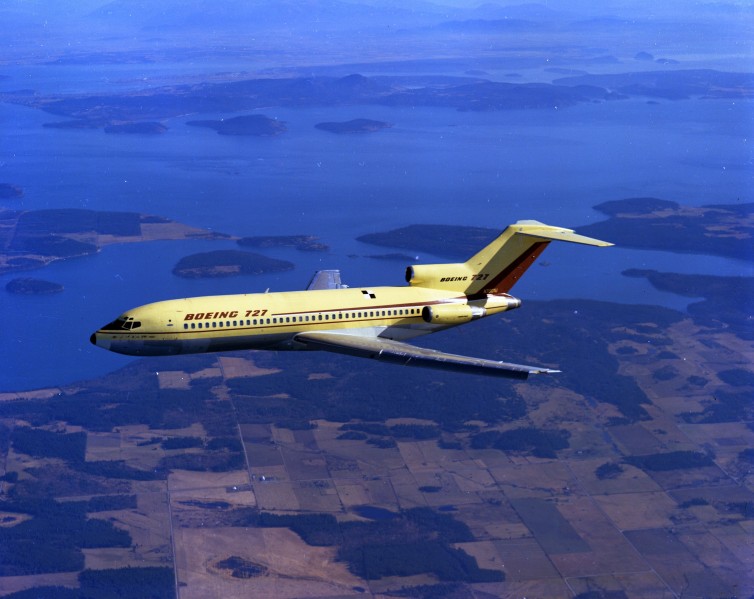 N7001U is a Model 727-22, now considered to be a 727-100 series aircraft. The Boeing 727 is a swept-wing, three-engine, medium-range jet airliner intended for operations at smaller airports than could be serviced by the 707. It was operated by a flight crew of three and could carry up to 131 passengers. The airliner was 133 feet, 2 inches (40.589 meters) long with a wingspan of 108 feet (32.918 meters) and overall height of 34 feet, 3 inches (10.439 meters). Empty weight was 87,696 pounds (39.8000 kilograms) and maximum ramp weight was 170,000 pounds (77,200 kilograms).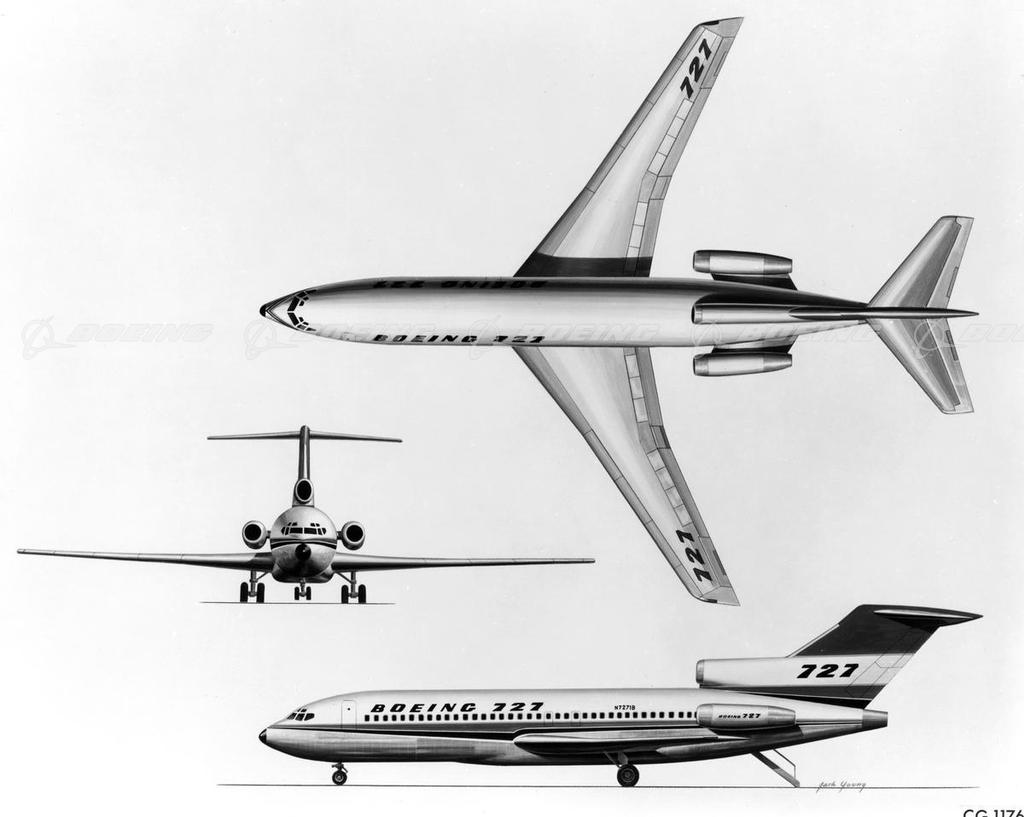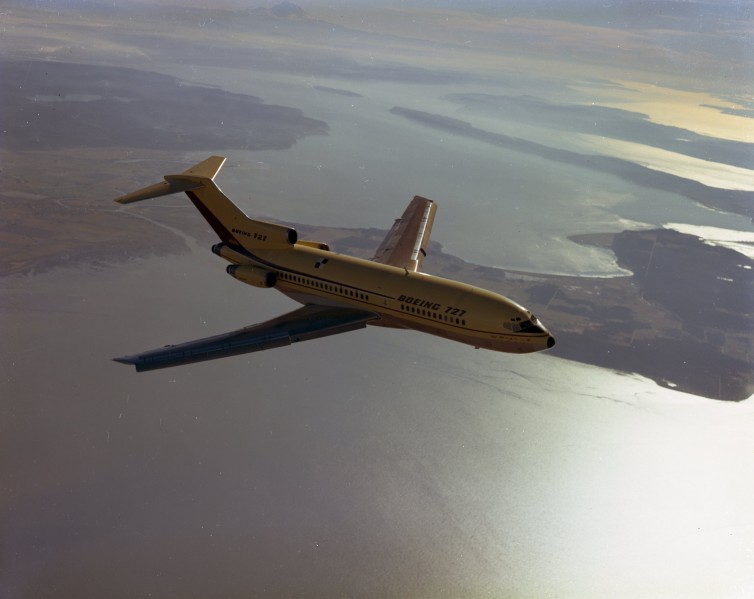 Power was supplied by three Pratt & Whitney JT8D-series turbofan engines rated from 14,000 to 14,500 pounds of thrust (62.275–64.499 kilonewtons), depending on the specific version. The JT8D was a two-spool engine with a 2-stage fan section, 13-stage compressor (6 low- and 7 high-pressure stages), nine combustion chambers and a 4-stage turbine (1 high- and 3 low-pressure stages). The JT8D-1 was 3 feet, 6.5 inches (1.080 meters) in diameter, 10 feet, 3.5 inches (3.137 meters) long, and weighed 3,096 pounds (1,404 kilograms). Two of the engines were in nacelles at either side of the aft fuselage, and the third was mounted in the tail. Its intake was above the rear fuselage at the base of the vertical fin.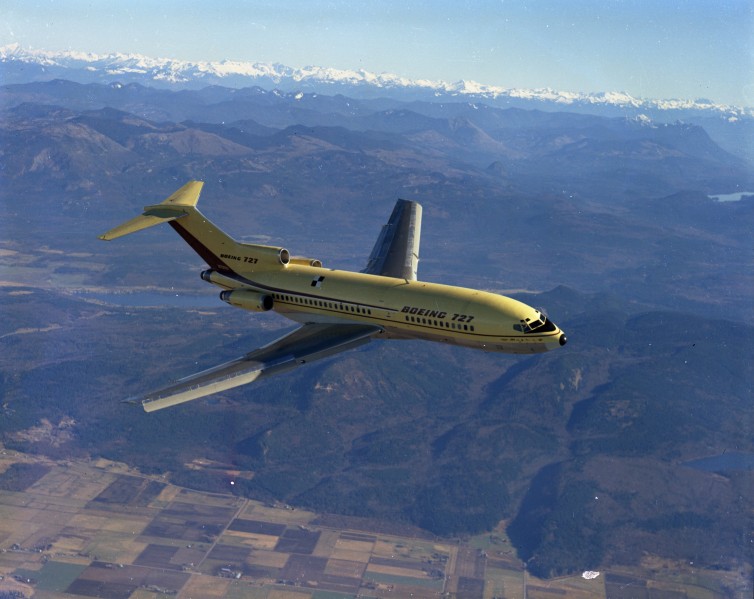 The Boeing 727s were very fast airliners with a maximum speed in level flight of 549 knots (632 miles per hour/1,017 kilometers per hour). The Design Cruise Speed (VC) was 530 knots (610 miles per hour/981 kilometers per hour) at 25,000 feet (0.88 Mach). The airplane was certified with a Maximum Mach Number (MMO) of 0.92 Mach (this was later reduced to 0.90 Mach). (During flight testing, a Boeing 727 achieved 0.965 Mach in level flight.) The airliner's service ceiling was 37,400 feet (11,400 meters) and the range was 2,600 nautical miles (2,992 statute miles/4,815 kilometers).
Boeing had expected to sell approximately 250 727s. (200 were needed for the manufacturer to cover its costs.) In production from 1962 to 1984, Boeing built 1,832 Model 727s, making it one of the most successful airliners in history.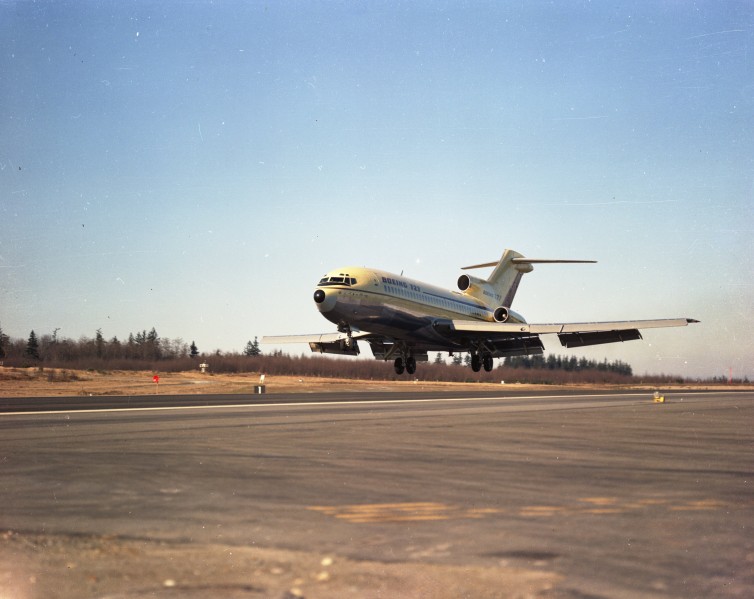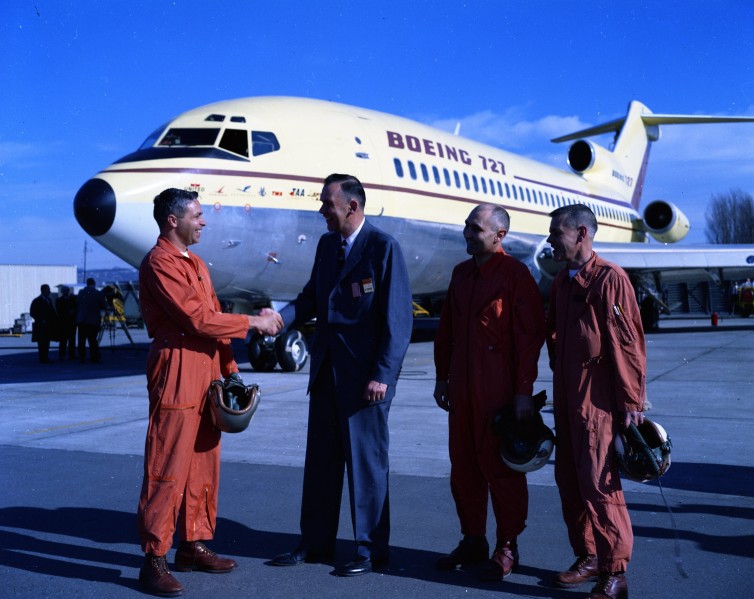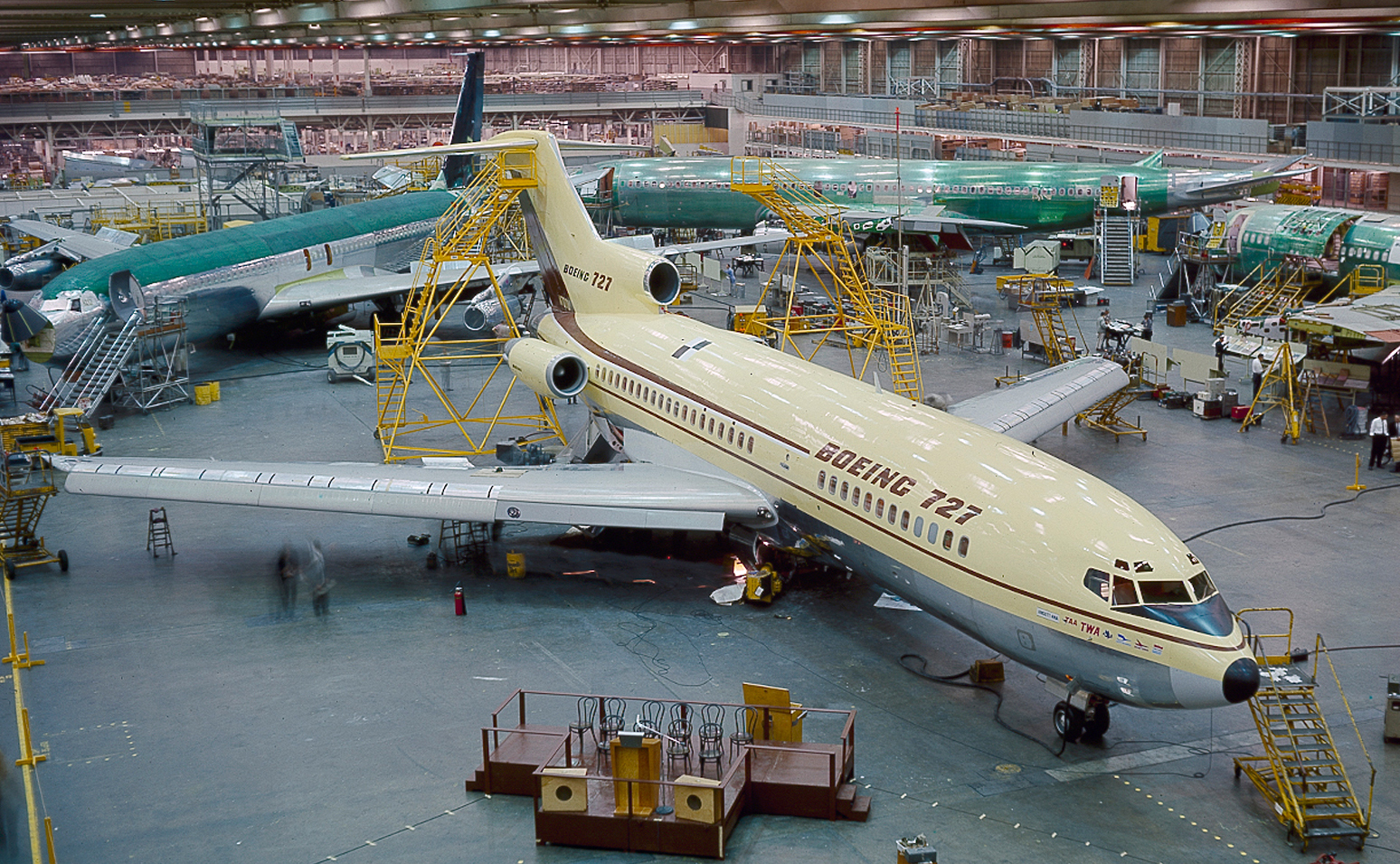 © 2019, Bryan R. Swopes