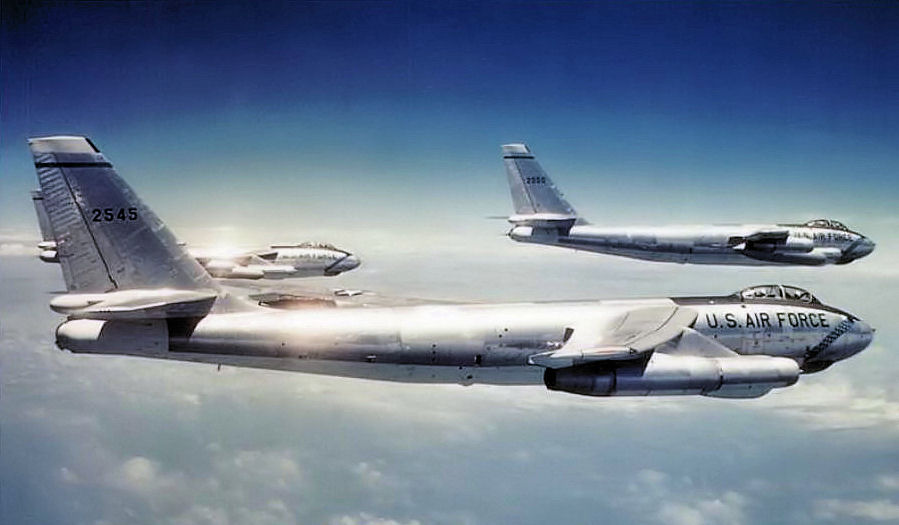 4 September 1955: Three Boeing B-47 Stratojet strategic bombers raced from March Air Force Base near Riverside, California, to Philadelphia International Airport, Philadelphia, Pennsylvania, in competition for the General Electric Trophy. They departed from March Field at ten minute intervals beginning at 3:30 a.m. Pacific Standard Time (11:30 UTC).  The winning bomber was the third to takeoff.
The winning airplane, B-47B-50-BW 51-2314, assigned to the 443d Bombardment Squadron (Medium), 320th Bombardment Wing (Medium), 15th Air Force, completed the 2,337 miles (3,761 kilometers) course in 3 hours, 57 minutes, 59.2 seconds, averaging 589.294 miles per hour (948.377 kilometers per hour).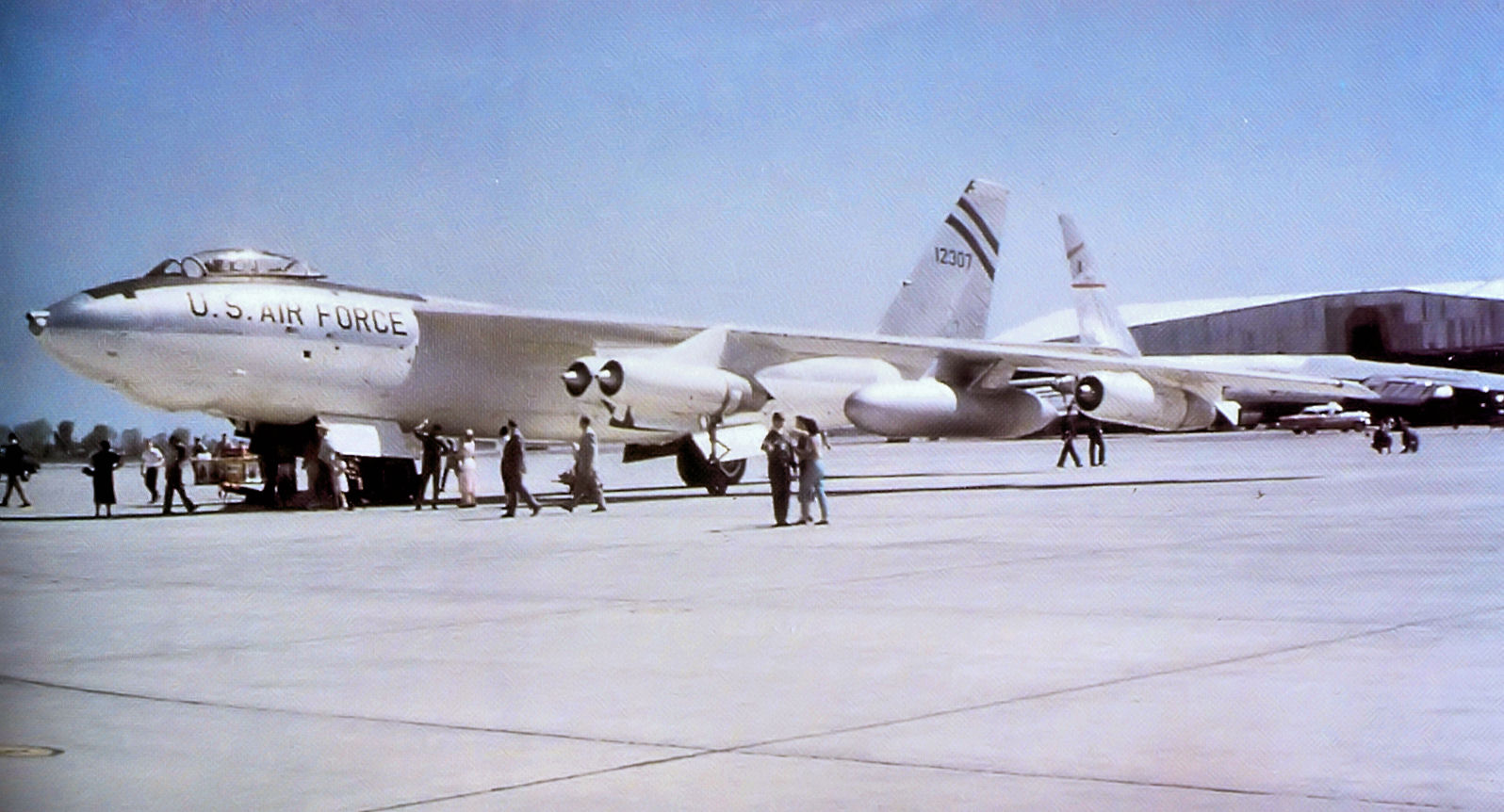 The second-place B-47, (probably an RB-47E) from the 3rd Strategic Reconnaissance Squadron, 26th Strategic Reconnaissance Wing, Lockbourne AFB, located east of Columbus, Ohio, finished with an average speed of 585.263 miles per hour (941.890 kilometers per hour). The third-place Stratojet, assigned to the 306th Bombardment Wing (Medium), MacDill AFB, near Tampa, Florida, finished with a speed of 584.167 miles per hour (940.127 kilometers per hour). (B-47s of the 306th were featured prominently in the 1955 motion picture, "Strategic Air Command.")
A crowd of spectators, estimated to number about 60,000, was present to see the finish of the race.
The race was timed by officials of the National Aeronautic Association. The chief timer was Roger Wolfe Kahn.¹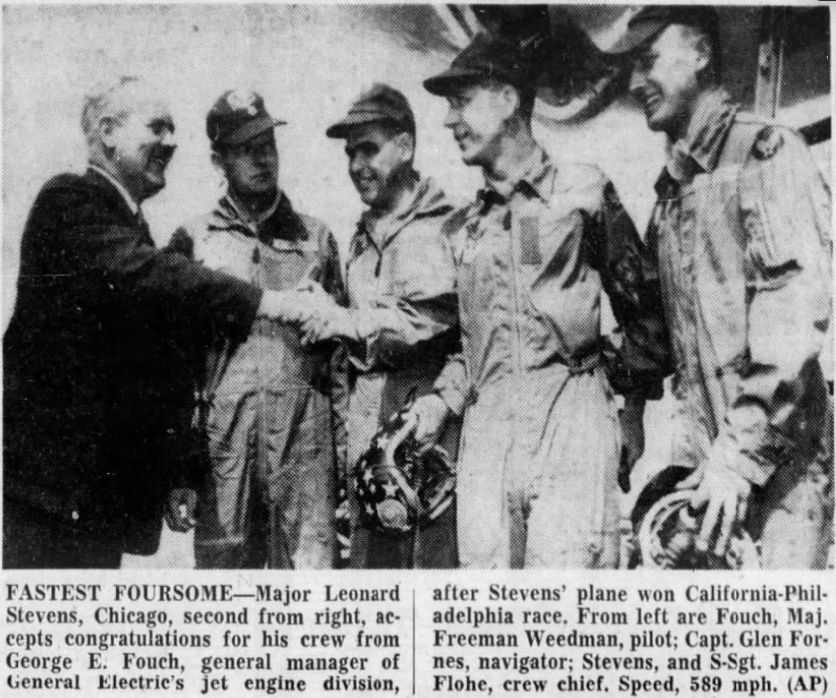 The winning four-man crew consisted of Major Leonard J. Stevens, aircraft commander; Major Freeman J. Weedman, co-pilot; Captain Glenn J. Fornes, navigator; and Staff Sergeant James P. Flohe, crew chief. The second-place B-47 was flown by Maj. William E. Yingling, aircraft commander; Lieutenant Herbert M. Plynter, co-pilot; Captain Joseph D. Brown, navigator; and Airman 1st Class P. J. Clemons, crew chief. The third-place bomber was flown by Lieutenant Colonel Warren H. Smith, Jr., aircraft commander; Captain John S. Schrader, co-pilot, Major John E. Terry, navigator; and Master Sergent Carlton Spiers, crew chief.
On the same day, four North American Aviation F-100C Super Sabres competed in the Bendix Trophy Race from George AFB, California, to Philadelphia. The average speed of the fourth-place Super Sabre was slower than that of all three B-47s, and 23.843 miles per hour (38.372 kilometers per hour) slower than the GE Trophy winning B-47. (It should be noted, though, that the F-100s had to make two fuel stops during their cross-country flight, while the B-47s flew the course non-stop.)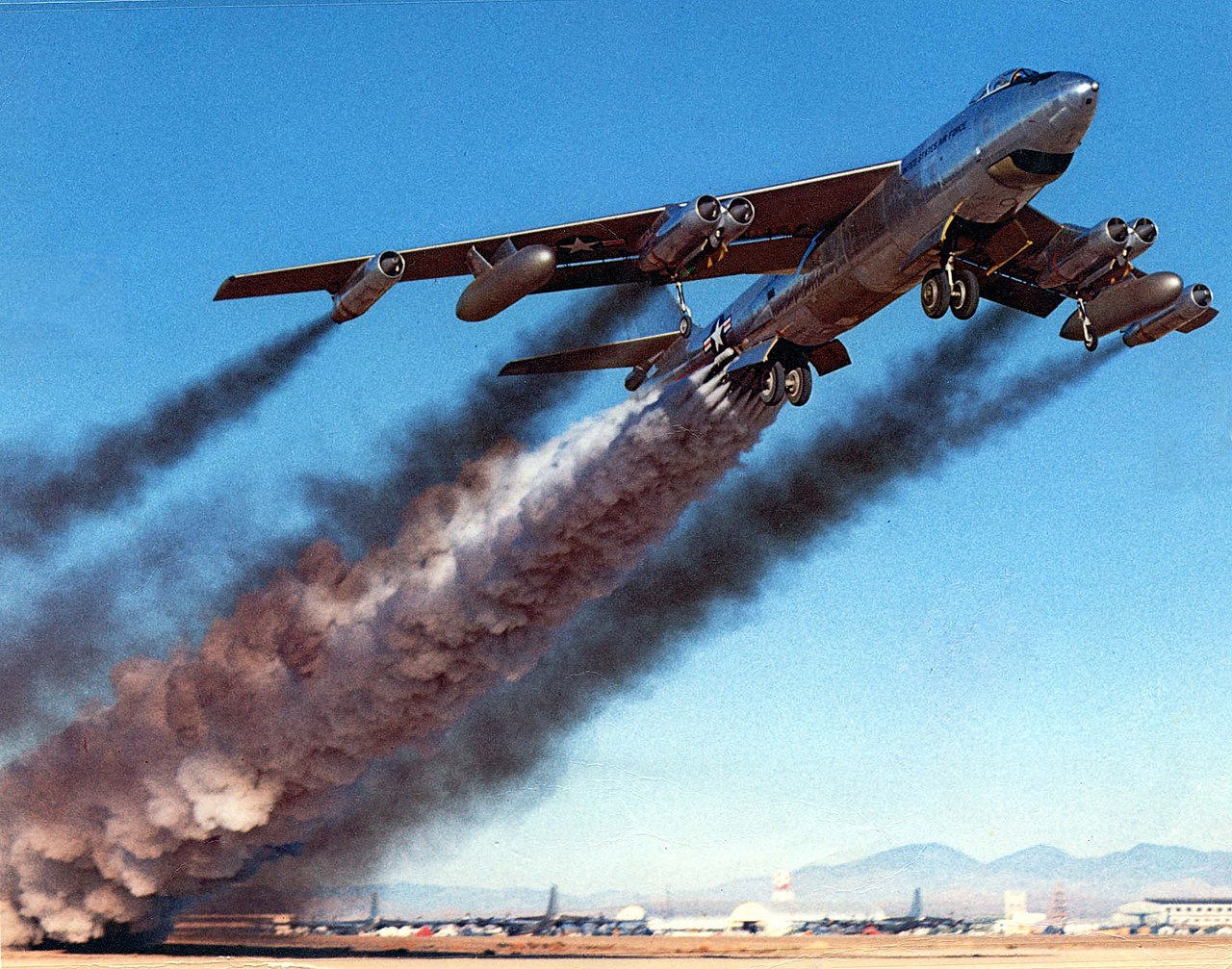 Designed by Boeing, the Stratojet was a high-subsonic-speed strategic bomber and reconnaissance aircraft, in service from 1951 until 1977. The B-47 could fly higher and faster than jet fighters of the time, and it was also highly maneuverable. The B-47 was flown by a two pilots in a tandem cockpit. A navigator/bombardier was at a station in the nose.
The Boeing B-47B Stratojet was the first full-production model. The B-47B is 106 feet, 10 inches (32.563 meters) long with a wingspan of 116 feet, 0 inches(35.357 meters), and an overall height of 27 feet, 11 inches (8.509 meters). The wings are shoulder-mounted with the leading edges swept aft to 36° 37′. Their angle of incidence is 2° 45′ and there is no dihedral. (The wings are very flexible, showing marked anhedral on the ground and flexing upward when in flight.) The B-47B has an empty weight of 78,102 pounds (35,426 kilograms), and a maximum takeoff weight of 185,000 pounds (83,915 kilograms). The maximum in-flight weight (after air refueling) was 221,000 pounds (100,244 kilograms).
From 1953 to 1957, the B-47B fleet underwent an extensive modification program which brought them up to the B-47E configuration.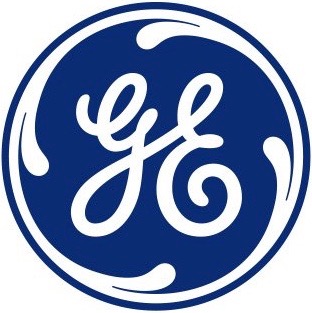 The B-47B was originally powered by six General Electric J47-GE-11 turbojet engines in four nacelles mounted on pylons below the wings. All B-47Bs after serial number 51-2046 were equipped with J47-GE-23 engines. The airplanes built with the -11 engines were retroffitted with the -23s. Under the modification and upgrade program, the -23s were replaced by the J47-GE-25. This engine has a 12-stage axial-flow compressor, eight combustion chambers, and single-stage turbine. The J47-GE-25 is rated at 5,970 pounds of static thrust at Sea Level, at 7,950 r.p.m. and 1,250 °F. (677 °C.) turbine outlet temperature (TOT). (7,200 pounds of thrust with water injection). It has a maximum diameter of 3 feet, 1 inch (0.940 meters), length of 12 feet, 0 inches (3.658 meters) and weighs 2,653 pounds (1,203 kilograms).
The B-47B was also equipped with solid-fuel rocket engines (JATO) located in the aft fuselage. These produced a maximum 33,000 pounds of thrust (146.8 kilonewtons) for 14 seconds.
The B-47B Stratojet had a cruise speed of 433 knots (498 miles per hour/802 kilometers per hour), and maximum speed of 528 knots (608 miles per hour/978 kilometers per hour) at 16,300 feet (4,968 meters). The service ceiling was 42,100 feet (10,333 meters) and combat ceiling 40,800 feet (12,436 meters).
The combat radius of the B-47B was 1,704 nautical miles (1,961 statute miles/3,156 kilometers) with a 10,000 pound (4,536 kilograms) bomb load. Two jettisonable underwing fuel tanks could carry 1,780 gallons (6,738 liters) each. The maximum ferry range was 3,861 nautical miles (4,443 statute miles (7,151 kilometers).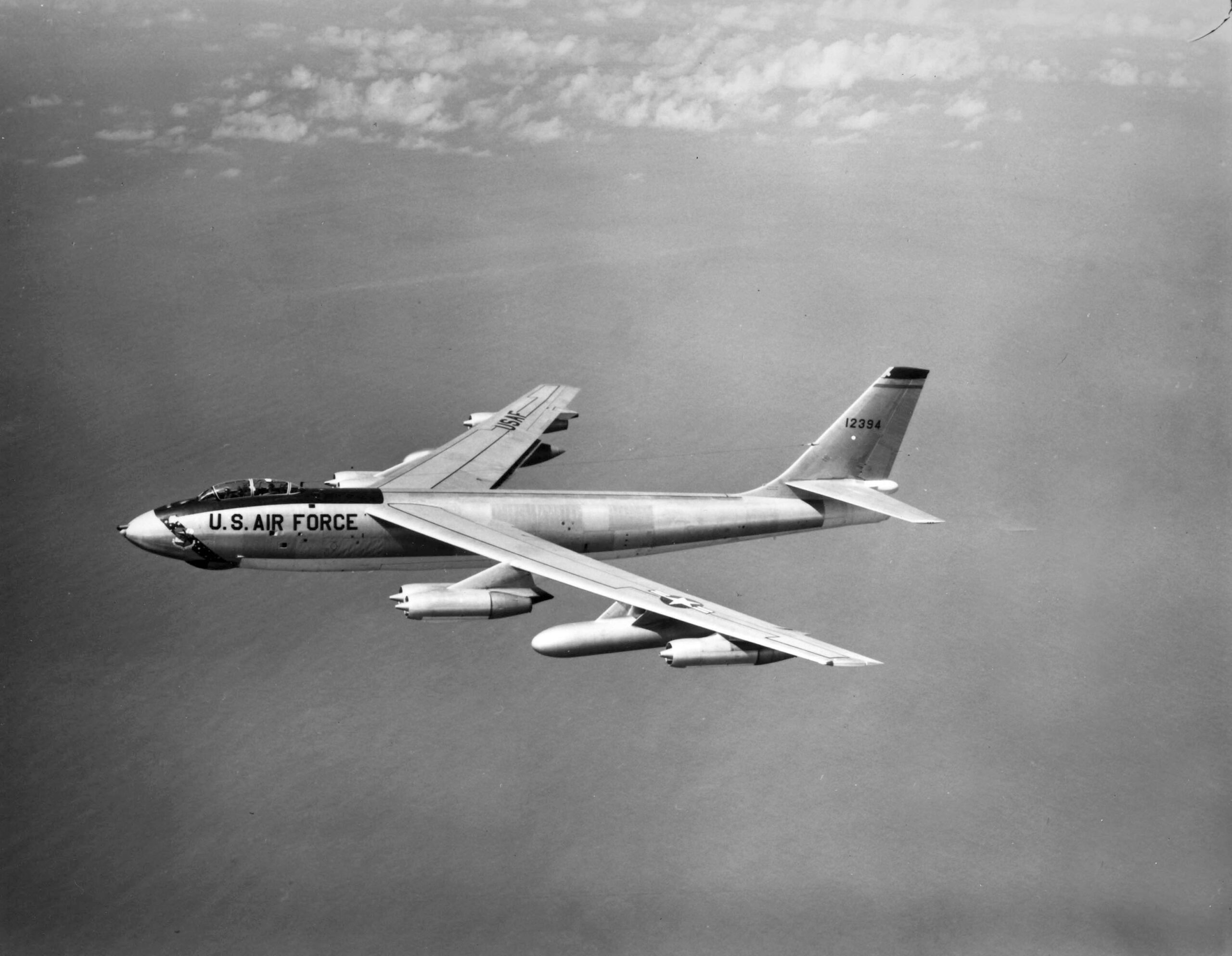 For defense the B-47B was armed with two Browning AN-M3 .50-caliber machine guns in a remotely-operated tail turret, with 600 rounds of ammunition per gun. The co-pilot acted as the gunner using an optical sight. The machine guns were later replaced by two M24A1 20 mm autocannons and radar control.
The maximum bomb load of the B-47B was 18,000 pounds (8,165 kilograms). The B-47 could carry two 7,600 pound (3,447 kilogram) Mark 15 two-stage radiation implosion thermonuclear bombs, each with an explosive yield of up 3.8 megatons, depending on the version, or a single 10,670 pound (4,808 kilogram) B-41 three-stage, 25 megaton bomb.
Beginning in 1953, the B-47B fleet underwent an extensive modification program which brought them up to the B-47E configuration.
A total of 2,032 B-47s were built by a consortium of three aircraft manufacturers: Boeing Airplane Company, Wichita, Kansas; Douglas Aircraft Company, Tulsa, Oklahoma; Lockheed Aircraft Company, Marietta, Georgia. 399 of these were B-47Bs.
The Stratojet is one of the most influential aircraft designs of all time and its legacy can be seen in almost every jet airliner built since the 1950s: the swept wing with engines suspended below and ahead on pylons. The B-47 served the United States Air Force from 1951 to 1977. From the first flight of the Boeing XB-47 Stratojet prototype, 17 December 1947, to the final flight of B-47E 52-166, was 38 years, 6 months, 1 day.
The General Electric Trophy winner, B-47B 51-2314, was sent to The Boneyard at Davis-Monthan Air Force Base, Tucson, Arizona, 16 December 1960.
This Day in Aviation would like to express great thanks to Mr. A. W. Greenfield, Director, Contest & Records Board, National Aeronautic Association, for his help in researching this article.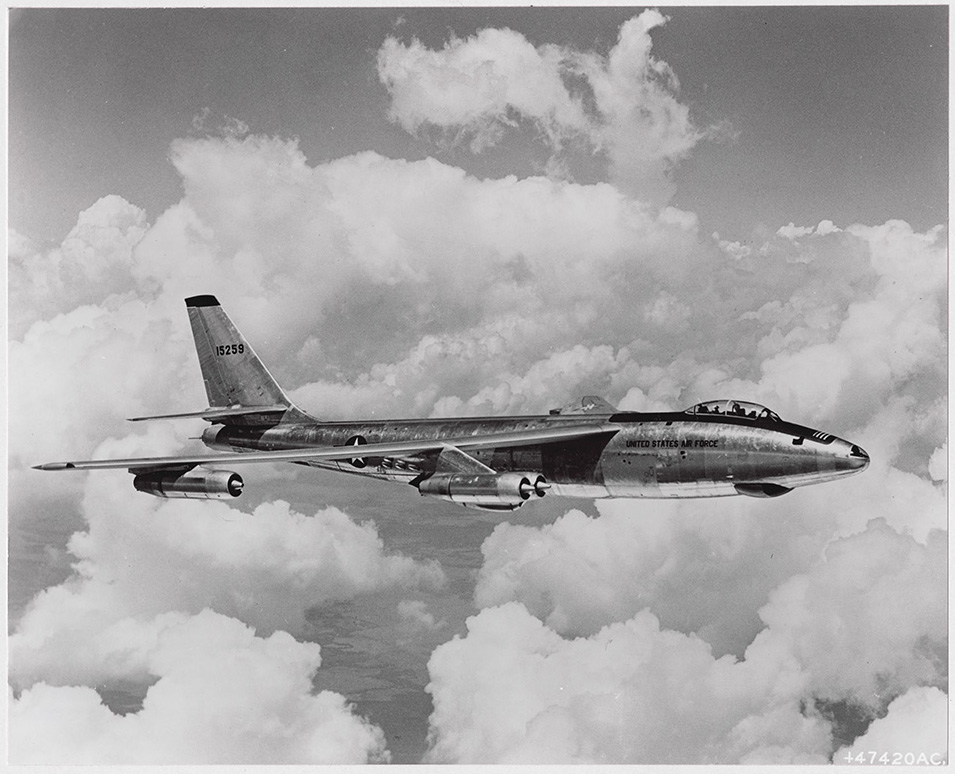 ¹ Roger Wolff Kahn (19 October 1907–12 July 1962) was a jazz musician, composer and band leader. He was featured on the cover of TIME Magazine, 19 September 1927. Kahn also had a life-long interest in aviation. In 1933, he became a test pilot for the Grumman Aircraft Engineering Corporation. Following World War II, as director of Grumman's Department of Service and Product Support, he flew a custom-built Grumman G-58B, a civilian version of the Grumman F8F-2 Bearcat. He was the vice president of the Institute of Aeronautical Sciences, and served as chairman of the National Aeronautic Association. He had logged more than 7,000 flight hours.