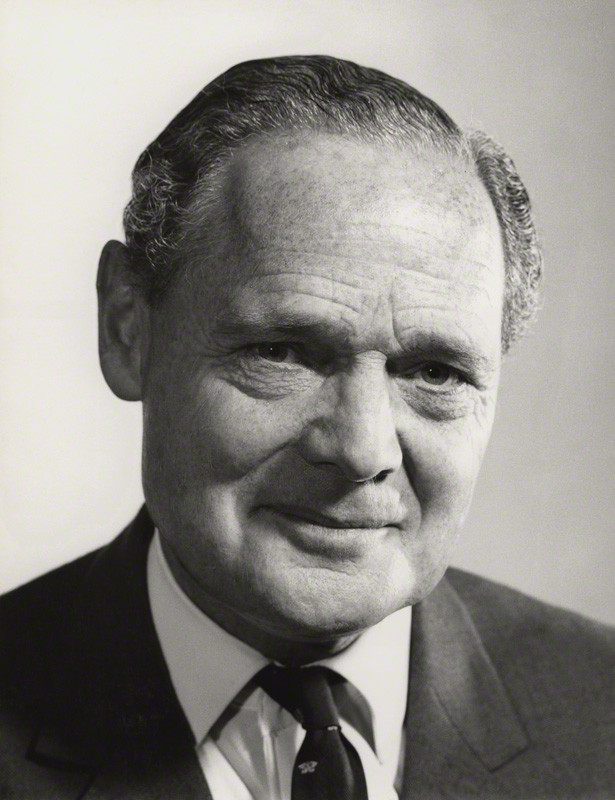 "On 14 December 1931, Douglas Bader flew to Woodley airfield near Reading. After lunch someone said, 'I bet you won't roll at nought feet.' Bader did, and the graceful little Bulldog ended up in a shapeless ball of twisted metal. After hovering at death's door Bader lost both legs. At Cranwell he remembered the Commandant had admonished him, 'The RAF needs men, not schoolboys.' Now he was neither, and the RAF would not need him anymore."
—Duel of Eagles by Group Captain Peter Wooldridge Townsend, CVO, DSO, DFC and Bar, RAF, Castle Books, Edison, New Jersey, 2003. Chapter 6 at Page 82.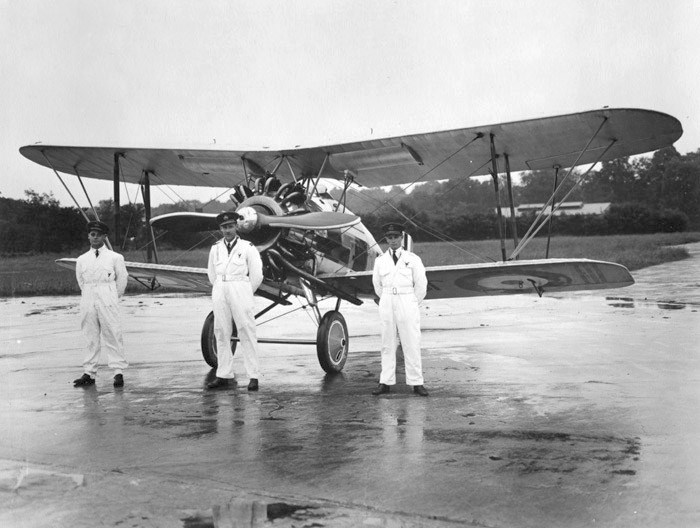 Pilot Officer Douglas Robert Steuart Bader, Royal Air Force, caught the wingtip of his Bristol Bulldog Mk.IIA, K-1676, and crashed at Woodley Aerodrome, approximately four miles east of Reading, Berkshire, England. The airplane was damaged beyond repair.
Bader suffered major injuries requiring amputation of his right leg, followed by amputation of his left leg several days later. He was fitted with prosthetic legs with which he was soon able to walk without assistance. Pilot Officer Bader was medically retired and received a 100% disability pension.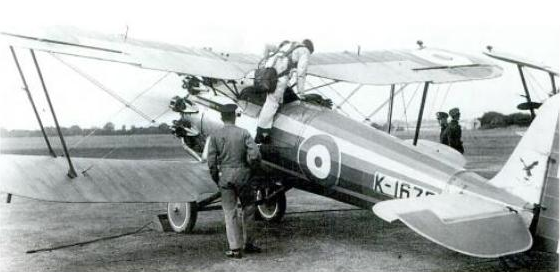 In 1939, feeling that war with Germany was imminent, Bader applied to the Air Ministry for reinstatement. He was turned down, but was told that if there was a war his request might be reconsidered.
The Air Ministry did reconsider Douglas Bader's request for reinstatement and after a medical evaluation and other tests, he was sent to refresher flight training where he was evaluated as "Exceptional," a very rare qualification.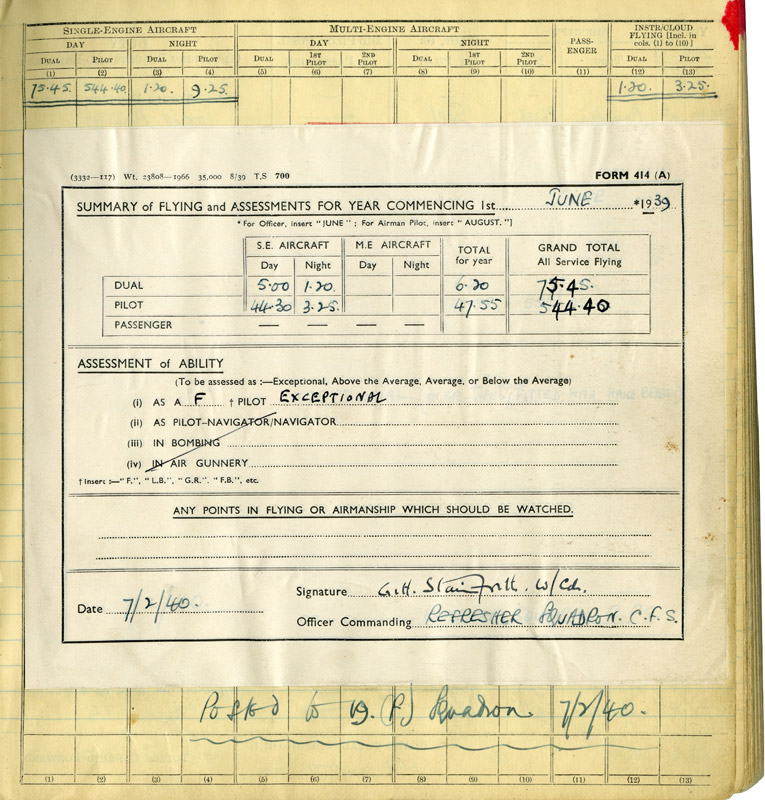 Group Captain Sir Douglas R. S. Bader, Royal Air Force, C.B.E., D.S.O. and Bar, D.F.C. and Bar, F.R.Ae.S., D.L., a legendary fighter pilot of the Royal Air Force during World War II, was born at St. John's Wood, London, England. He joined the Royal Air Force in 1928 as a cadet at the Royal Air Force College Cranwell and was commissioned as a Pilot Officer in July 1930.
Credited with more than 20 aerial victories while flying Hawker Hurricane and Supermarine Spitfire fighters, Bader was himself shot down while flying his Spitfire Mk Va, serial W3185, marked "D B". His prosthetic legs caught in the cockpit and made it difficult for him to escape, but he finally broke free and parachuted to safety.
Bader was captured and held as a prisoner of war. He was initially held at a hospital in occupied France and it was there that he met and became a life long friend of Adolf Galland, also a legendary fighter pilot—but for the other side! After arrangements were made for replacement legs, Bader escaped. He was recaptured and taken to the notorious Offizierslager IV-C at Colditz Castle where he was held for three years.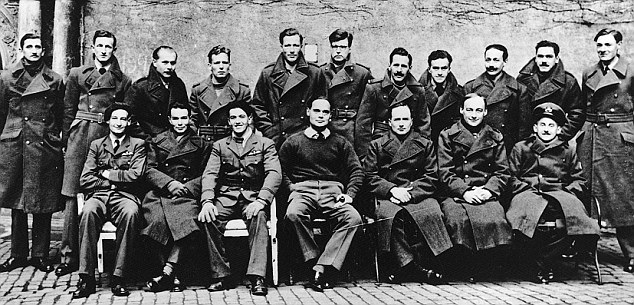 Douglas Bader is the subject of Reach For The Sky, a biography by Paul Brickhill, and a movie based on that book which starred Kenneth More.
Sir Douglas was invested Knight Bachelor, 12 June 1976, for his service to the disabled. He died suddenly of a heart attack, 5 September 1982.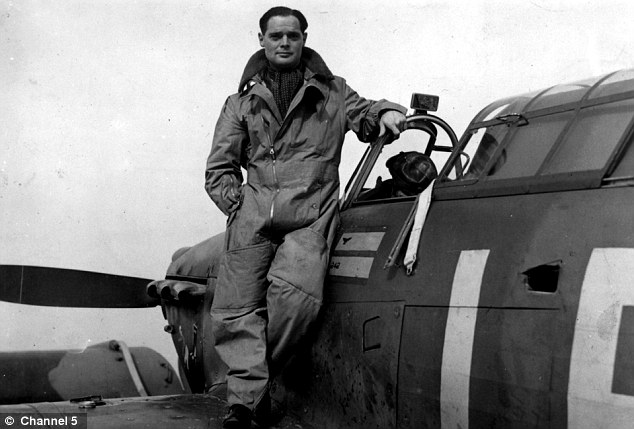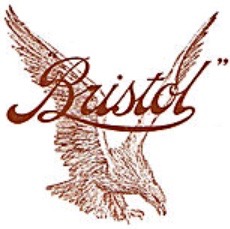 The Bristol Type 105 Bulldog was a single-place, single-engine biplane fighter which served with the Royal Air Force from 1928 to 1938. It was constructed of a riveted framework of rolled steel strips. The forward fuselage was covered with light weight sheet metal, while the wings and aft fuselage were covered with doped fabric. The Bulldog Mk.IIA was 25 feet, 2 inches (7.671 meters) long with a wingspan of 33 feet, 10 inches (10.312 meters) and height of 8 feet, 9 inches (2.667 meters). It had and empty weight of 2,222 pounds (1,008 kilograms) and maximum takeoff weight of 3,660 pounds (1,660 kilograms).
The Bristol Bulldog Mk.IIA was powered by an air-cooled, supercharged, 1,752.79-cubic-inch-displacement (28.72 liter) Bristol Jupiter VIIF nine-cylinder radial engine which was rated at 440 horsepower up to 12,000 feet (3,658 meters). This was a left-hand tractor engine which drove a wooden two-bladed fixed-pitch propeller through a 2:1 gear reduction.
The airplane had a maximum speed of 174 miles per hour (280 kilometers per hour) at 10,000 feet (3,048 meters) and a service ceiling of 29,300 feet (8,931 meters).
The Bristol Bulldog Mk.IIA was armed with two synchronized Vickers .303-caliber machine guns with 600 rounds of ammunition per gun.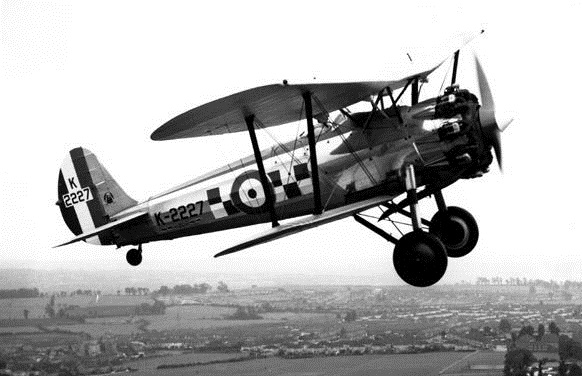 © 2018, Bryan R. Swopes