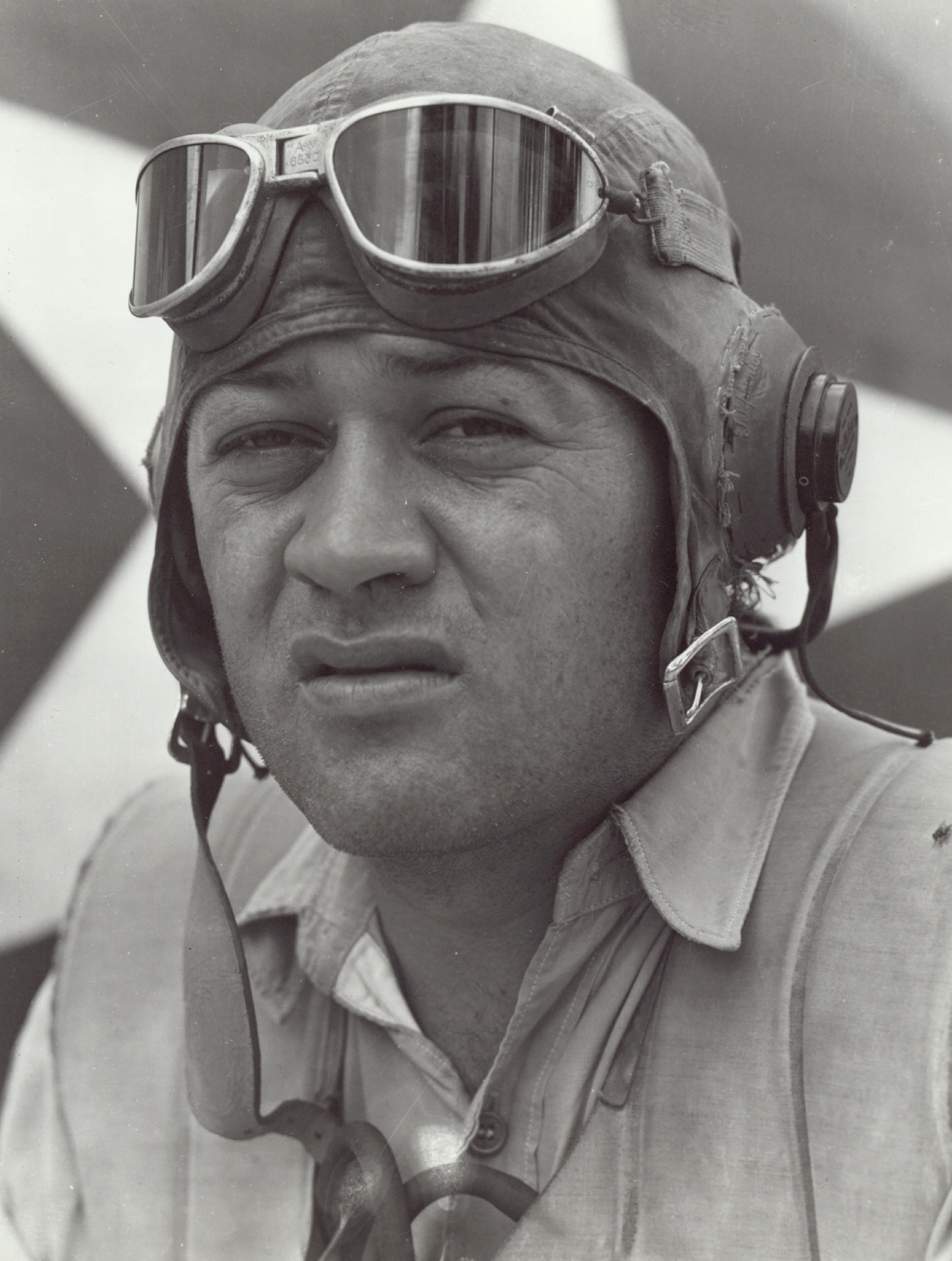 3 January 1944: Major Gregory Boyington, United States Marine Corps Reserve, commanding VMF-214 at Bouganville, Solomon Islands, led 48 fighters in an attack against the Japanese naval base at Rabaul on the island of New Britain in the Bismarck Archipelago.
Flying a Vought-Sikorsky F4U-1 ¹ Corsair, Bu. No. 17915, Boyington shot down four enemy airplanes, bringing his total score to 28.² He was then himself shot down.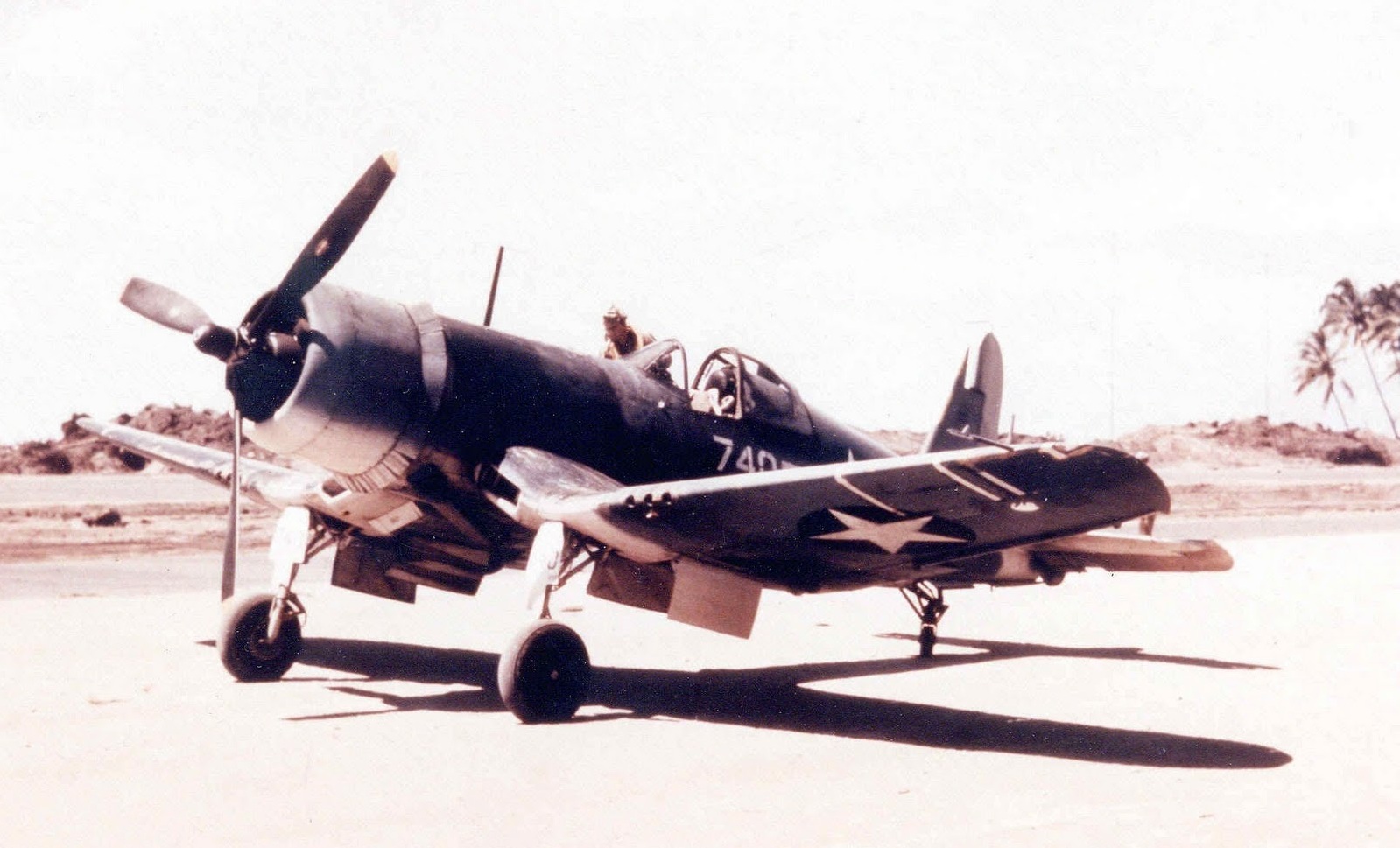 Wounded by bullets and shrapnel and with his Corsair on fire, Boyington parachuted to the ocean only 100 feet (30 meters) below. He was rescued by the Imperial Japanese Navy submarine I-181 a few hours later, and was eventually taken to Japan and imprisoned for the next 20 months under the harshest conditions.

Believed to have been killed, Major Boyington was "posthumously" awarded the Medal of Honor by President Franklin D. Roosevelt.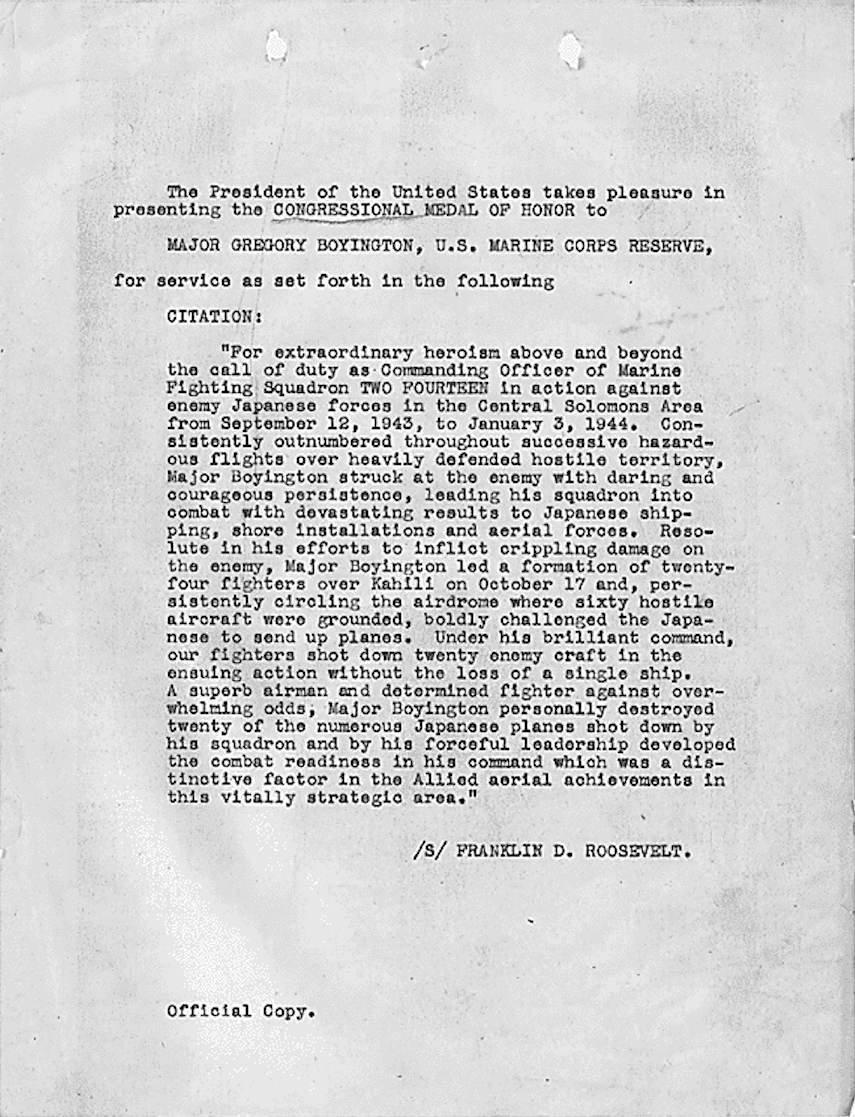 Gregory Boyington was born 4 December 1912 at Coeur d'Alene, Idaho. He was the son of Charles Barker Boyington, a dentist, and Grace Barnhardt Gregory Boyington.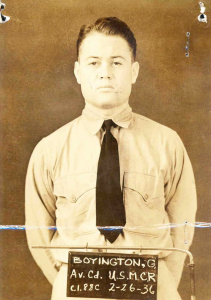 Boyington studied aeronautical engineering at the University of Washington in Seattle. He was a member of the school's boxing team. He graduated in 1934 and then went to work at Boeing Aircraft Company.
Gregory Boyington (then known as Gregory Hallenbeck, after his stepfather) married Miss Helene Marie Wickstrom at the Plymouth Congregational Church, Seattle, Washington, 29 July 1934. They would have three children, Janet, Gregory and Gloria, but divorced in 1941. (Boyington was awarded custody of their children by a court in 1942. While Boyington was overseas, the children lived with his parents.)
Greg Boyington had been in the Reserve Officers Training Corps during college, and had served as an officer in both the Coastal Artillery Corps, United States Army, and the U.S. Marine Corps Reserve.
On 13 June 1935, Boyington enlisted as a private in the U.S. Marine Corps. He was accepted as an aviation cadet 11 February 1936, and trained as a Naval Aviator at NAS Pensacola, Florida. He graduated and was commissioned as a second lieutenant, United States Marine Corps Reserve, 2 July 1937. Boyington was promoted to first lieutenant, 1 July 1940. He served with the fleet until 1941.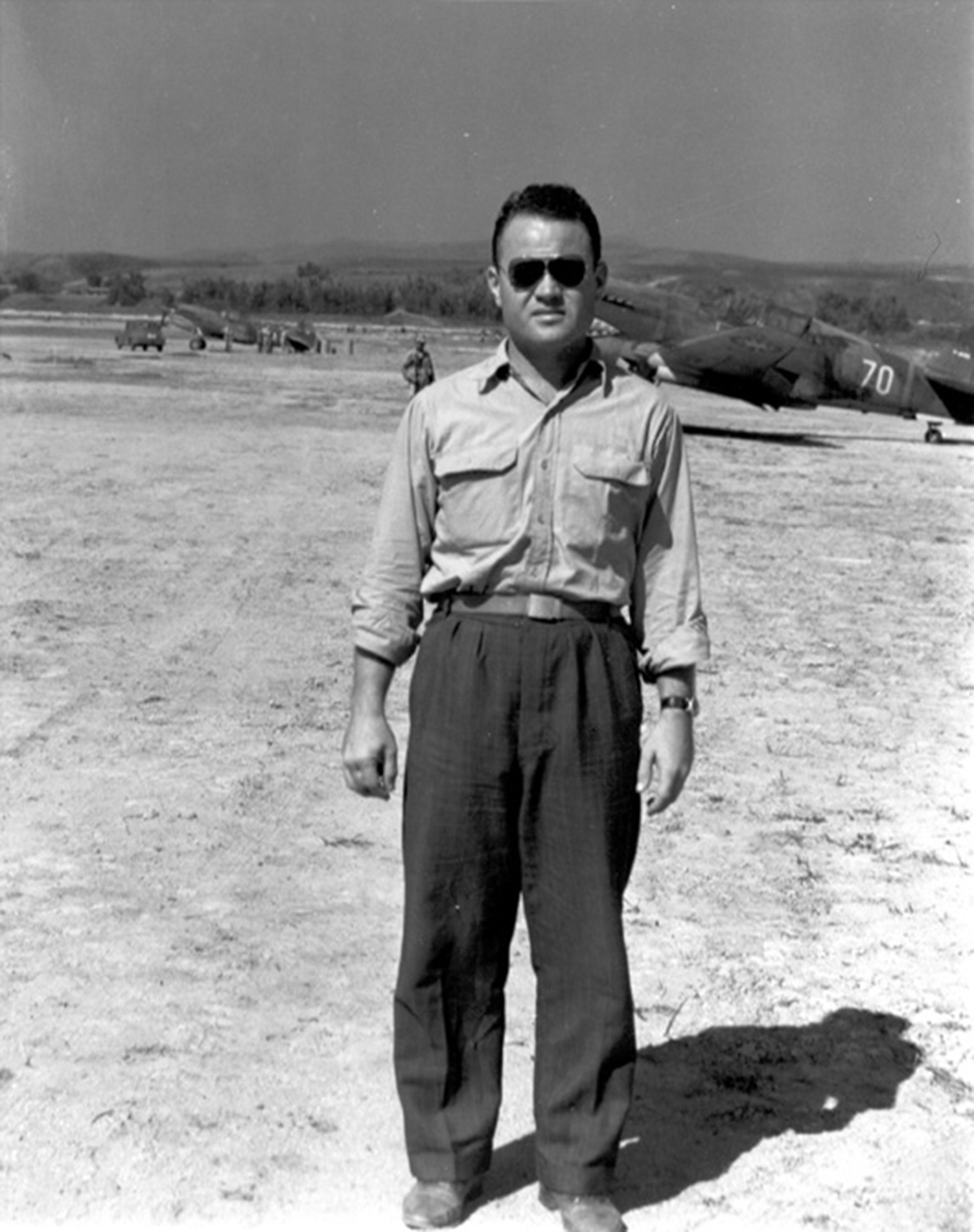 Lieutenant Boyington resigned from the Marine Corps 27 August 1941, when he joined the 1st American Volunteer Group in Burma, better known as the "Flying Tigers." The AVG was fighting in defense of China in the Second Sino-Japanese War. Flying the Curtiss-Wright Hawk 81-A3, Boyington claimed six enemy aircraft destroyed (though he is officially credited with 3.5) in combat.
In 1942, Greg Boyington returned to the United States and was reinstated in the Marine Corps with the rank of major. After serving with several squadrons in administrative positions, he was placed in command of Marine Fighter Squadron Two Hundred Fourteen (VMF-214, "Black Sheep"), a squadron based in the Solomon Islands. Older than most of the pilots in his squadron, he was given the nickname, "Pappy."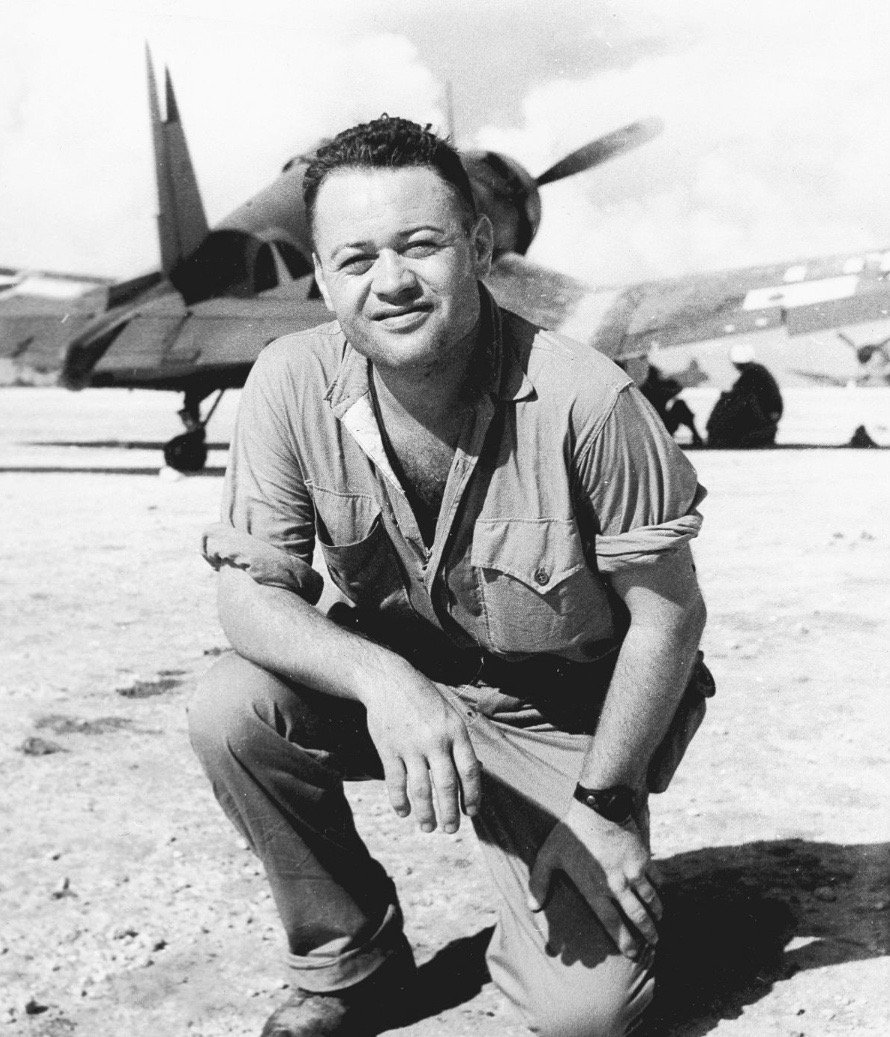 During an 84-day period, VMF-214 pilots destroyed or damaged 203 enemy airplanes. Eight of these pilots became aces, with a total of 97 confirmed air-to-air kills.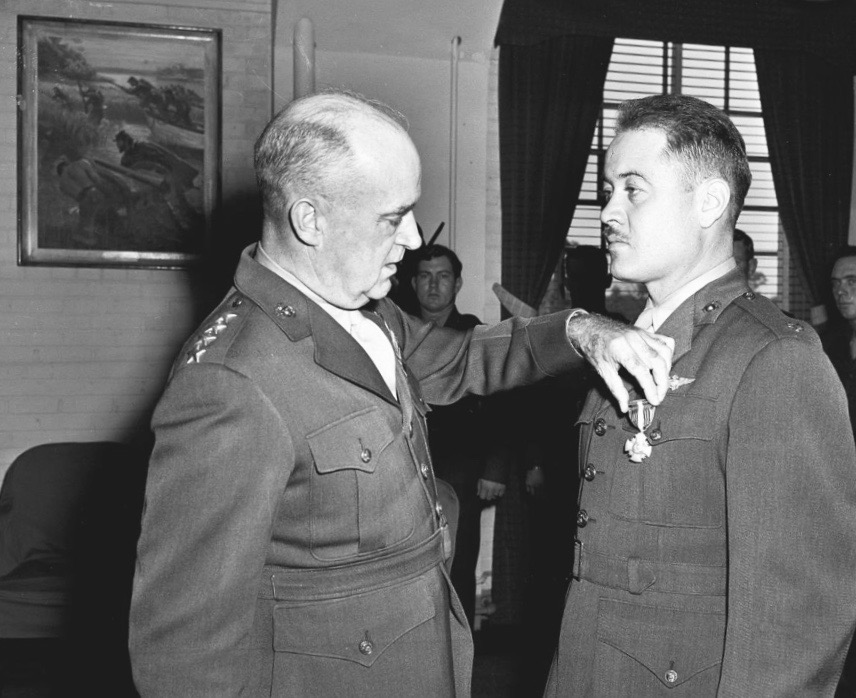 Following his repatriation to the United States, Major Boyington was presented with the Navy Cross by General Alexander Archer Vandergrift, Commandant of the Marine Corps, 4 October 1945. The following day he was presented the Medal of Honor by President Harry S. Truman in a ceremony at the White House.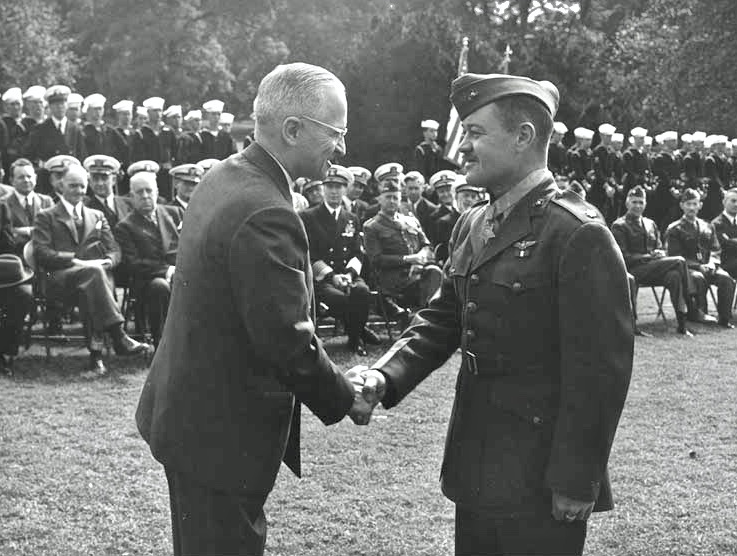 Lieutenant Colonel Boyington married Mrs. Frances Baker (née Frances Reiman) at Las Vegas, Nevada, 8 January 1946. They divorced 13 October 1959.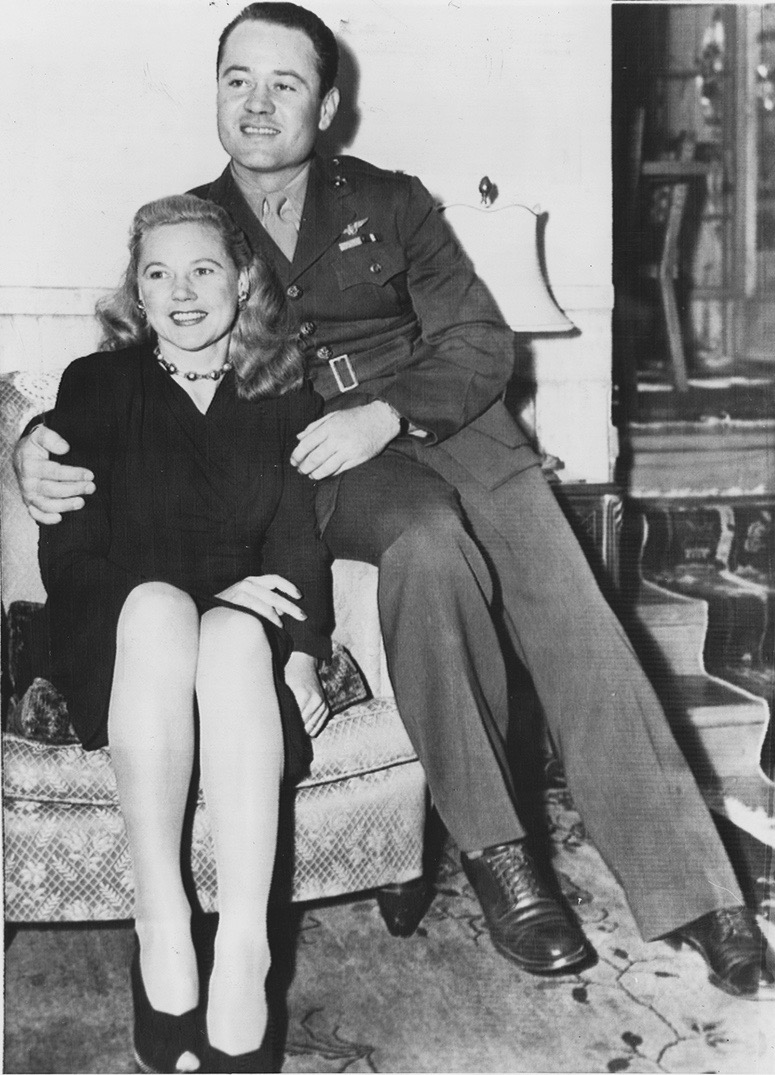 Gregory Boyington retired from the United States Marine Corps on 1 August 1947 with the rank of Colonel. For the rest of his life, he would struggle with depression and alcoholism.
Boyinton's autobiography, Baa, Baa, Black Sheep, was published by G.P. Putnam, New York, in 1958. He also wrote a novel, Tonya, which was published by Bobbs-Merrill Co., Indianapolis, Indiana, in 1960.
Boyington married his third wife, Mrs. Dolores Tees Shade (also known by her stage name, Dee Tatum), at Denver, Colorado, 27 October 1959; Las Vegas, Nevada, 16 February 1960; and Los Angeles, California, 22 December 1960. (There had been concern over the legality of the first two marriages due to the status of the couple's divorces.) This marriage also ended in divorce, in 1972.
On 4 August 1975, Pappy Boyington married his fourth wife, Mrs. Josephine Wilson Moseman.
For his service during World War II, Colonel Gregory Boyington, United States Marine Corps, was awarded the Medal of Honor, the Navy Cross, Purple Heart Medal, Presidential Unit Citation with bronze star (two awards), Prisoner of War Medal, American Defense Service Medal with bronze star, American Campaign Medal, Asiatic-Pacific Campaign Medal with silver star, and the World War II Victory Medal.
Colonel Gregory Boyington, United States Marine Corps (Retired), died at Fresno, California, 11 January 1988, at the age of 75 years. He is buried at the Arlington National Cemetery.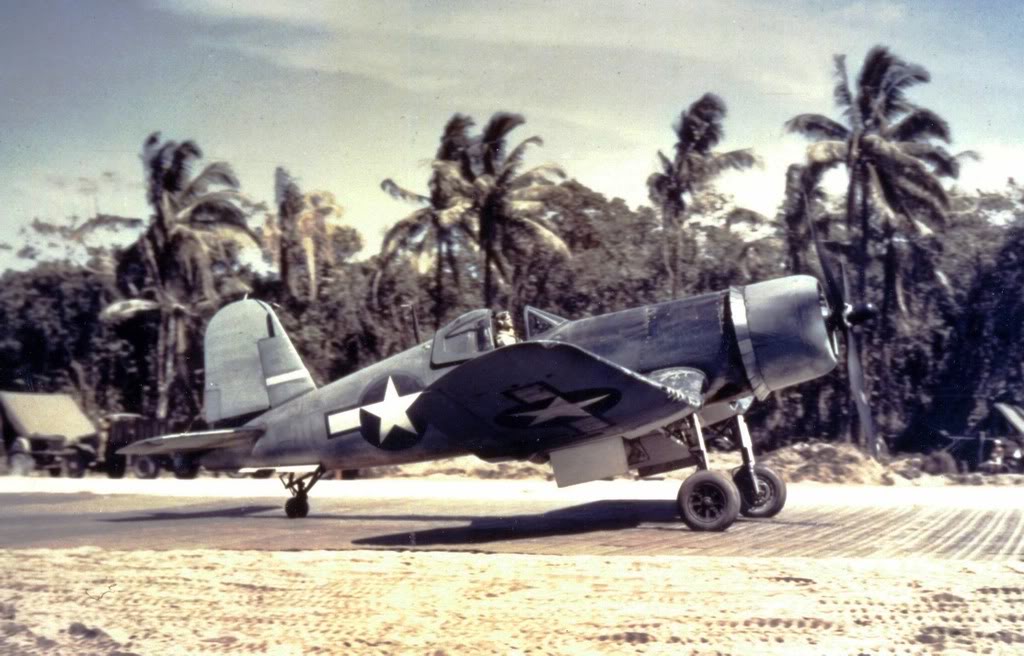 VMF-214  flew the Vought-Sikorsky Aircraft Division F4U-1 Corsair. The Corsair was designed by Rex Buren Beisel, and is best known for its distinctive inverted "gull wing," which allowed sufficient ground clearance for its 13 foot, 4 inch (4.064 meter) diameter propeller, without using excessively long landing gear struts. The prototype XF4U-1, Bu. No. 1443, had first flown 29 May 1940, with test pilot Lyman A. Bullard in the cockpit.
The F4U-1 was 33 feet, 4.125 inches (10.163 meters) long with a wingspan of 40 feet, 11.726 inches (12.490 meters) and overall height (to top of propeller arc) of 15 feet, 0.21 inches (4.577 meters). The wings' angle of incidence was 2°. The outer wing had 8.5° dihedral and the leading edges were swept back 4°10′. With its wings folded, the width of the F4U-1 was reduced to 17 feet, 0.61 inches (5.197 meters), and increased the overall height to 16 feet, 2.3 inches (4.935 meters). When parked, the Corsair's 13 foot, 4 inch (4.064 meter) propeller had 2 feet, 1.93 inches (65.862 centimeters) ground clearance, but with the fighter's thrust line level, this decreased to just 9.1 inches (23.1 centimeters). The F4U-1 had an empty weight of 8,982 pounds (4,074.2 kilograms) and gross weight of 12,162 pounds (5,516.6 kilograms).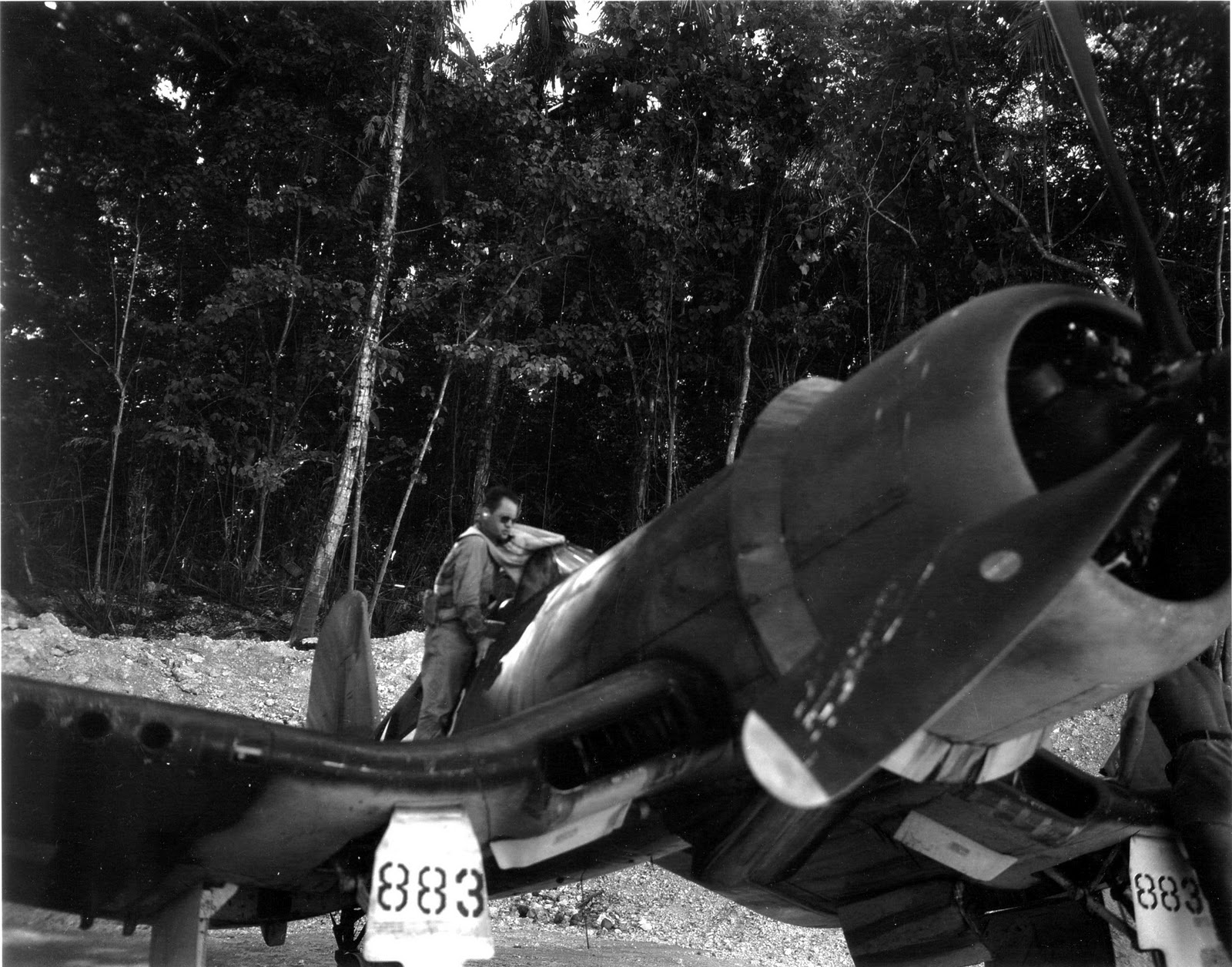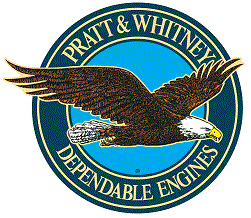 The F4U-1 variant of the Corsair was powered by an air-cooled, supercharged, 2,804.4-cubic-inch-displacement (45.956 liter) Pratt & Whitney Double Wasp SSB2-G (R-2800-8) two-row, 18-cylinder radial engine, with a compression ratio of 6.65:1. The R-2800-8 had a normal power rating of 1,675 horsepower at 2,550 r.p.m. and 44.0 inches of manifold pressure (1.490 bar) at 5,500 feet (1,676 meters); 1,550 horsepower at 21,500 feet (6,553 meters); and 2,000 horsepower at 2,700 r.p.m. with 54.0 inches of manifold pressure (1.829 bar) for takeoff. The engine turned a three-bladed Hamilton Standard Hydromatic constant-speed propeller with a diameter of 13 feet, 4 inches (4.064 meters) through a 2:1 gear reduction. The R-2800-8 was 7 feet, 4.47 inches (2.247 meters) long, 4 feet, 4.50 inches (1.334 meters) in diameter and weighed 2,480 pounds (1,125 kilograms).
The F4U-1 had a cruise speed of 186 miles per hour (299 kilometers per hour) at Sea Level. Its maximum speed at Sea Level was 365 miles per hour (587 kilometers per hour). During flight testing, an F4U-1 reached 431 miles per hour (694 kilometers per hour) at 20,300 feet (6,187 meters) with War Emergency Power. The service ceiling was 38,200 feet (11,643 meters) and its maximum range was 1,510 miles (2,430 kilometers) with full main and outer wing tanks.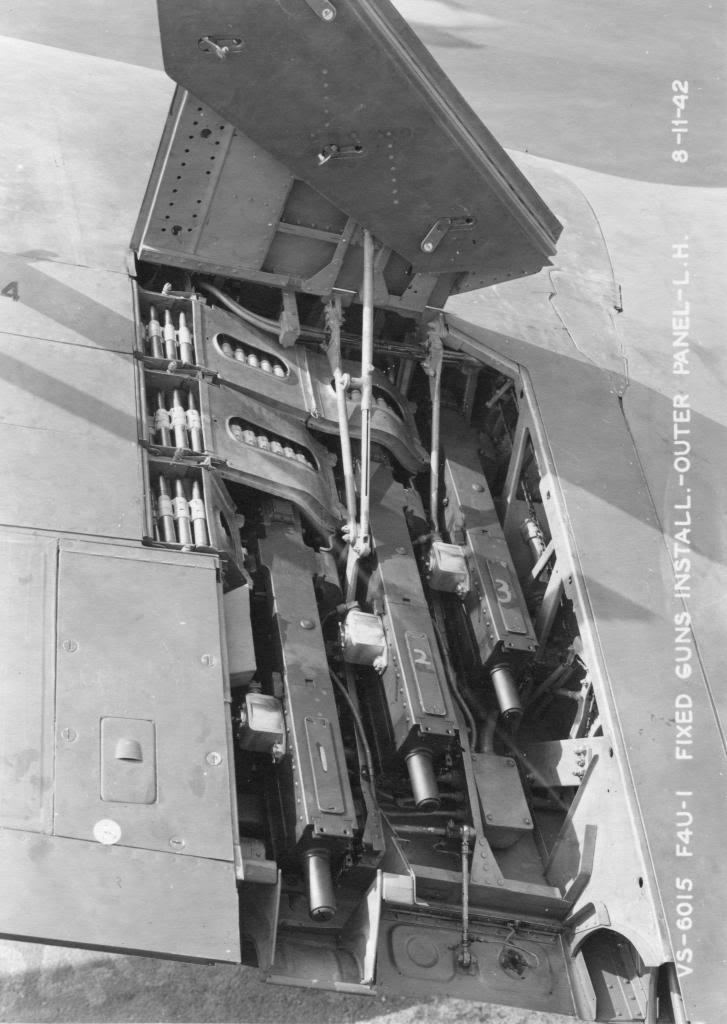 The Corsair was armed with six air-cooled Browning AN-M2 .50-caliber machine guns, three in each wing, with 400 rounds of ammunition per gun.
A total of 12,571 Corsairs were manufactured by the Vought-Sikorsky Aircraft Division (F4U-1), Goodyear Aircraft Corporation (FG-1D) and Brewster Aeronautical Corporation (F3A-1). The Corsair served the U.S. Navy and Marine Corps in World War II and the Korean War. Corsairs also served in other countries' armed forces. Its last known use in combat was in Central America in 1969.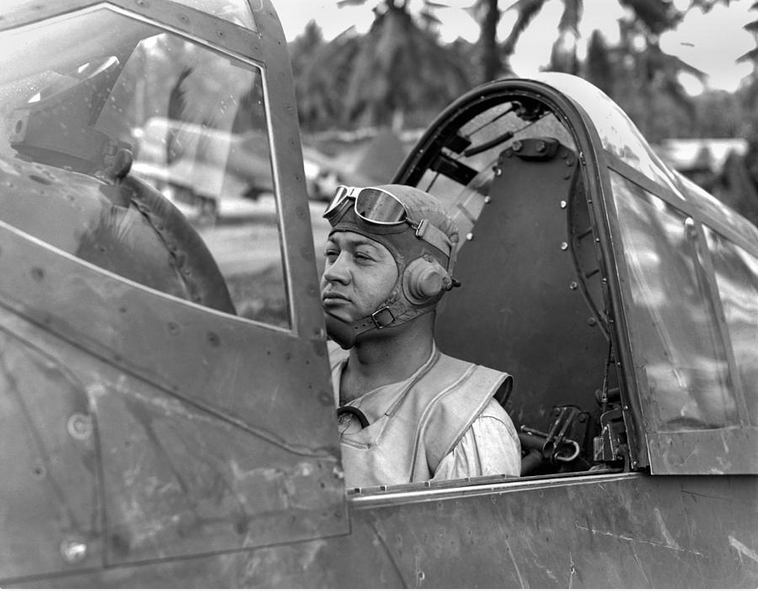 ¹ Boyington's Corsair is usually identified as a "F4U-1A." F4U-1A is not an official U.S. Navy designation, but is commonly used to distinguish late production F4U-1 Corsairs with their blown plexiglas canopies and other improvements from the earlier "bird cage" Corsairs.
² The United States Marine Corps History Division biography of Colonel Boyington states that he was "credited with the destruction of 28 Japanese aircraft. . . ."
© 2019, Bryan R. Swopes