19 May 1949: Martin JRM-3 Mars, Marshall Mars, United States Navy Bureau of Aeronautics serial number (Bu. No.) 76822 flew from the Alameda Naval Air Station on the east shore of San Francisco Bay, to San Diego Bay, a distance of approximately 450 miles (725 kilometers). On board, in addition to the flight crew of 7, were 301 passengers.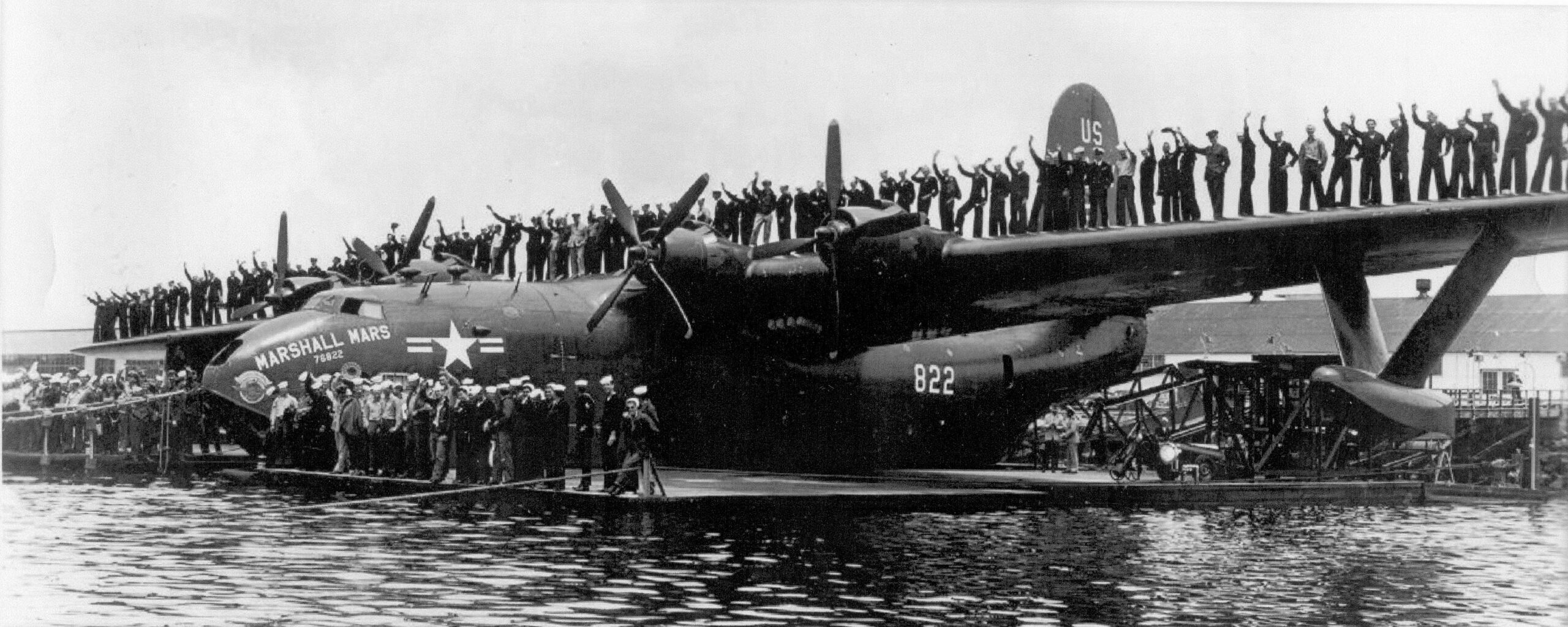 The Associated Press wire service reported the story:
NAVY'S BIG FLYING BOAT MARSHALL MARS CARRIES 301 PERSONS
SAN FRANCISCO, May 19—(AP)—The Navy's big flying boat Marshall Mars carried a record load of 301 passengers—plus seven crewmen—on a flight to San Diego today.
It had never carried more than 269 passengers before.
The 1:52 p.m. takeoff, from the naval air station at Alameda, across the bay, was uneventful.
Today's passengers are personnel of Air Group 5, Alameda Naval Air Station, who are being transferred to San Diego. Mattresses on the floor were provided for men unable to find seats.
—Wilmington Morning Star, Friday, 20 May 1949, Page 1, Column 4.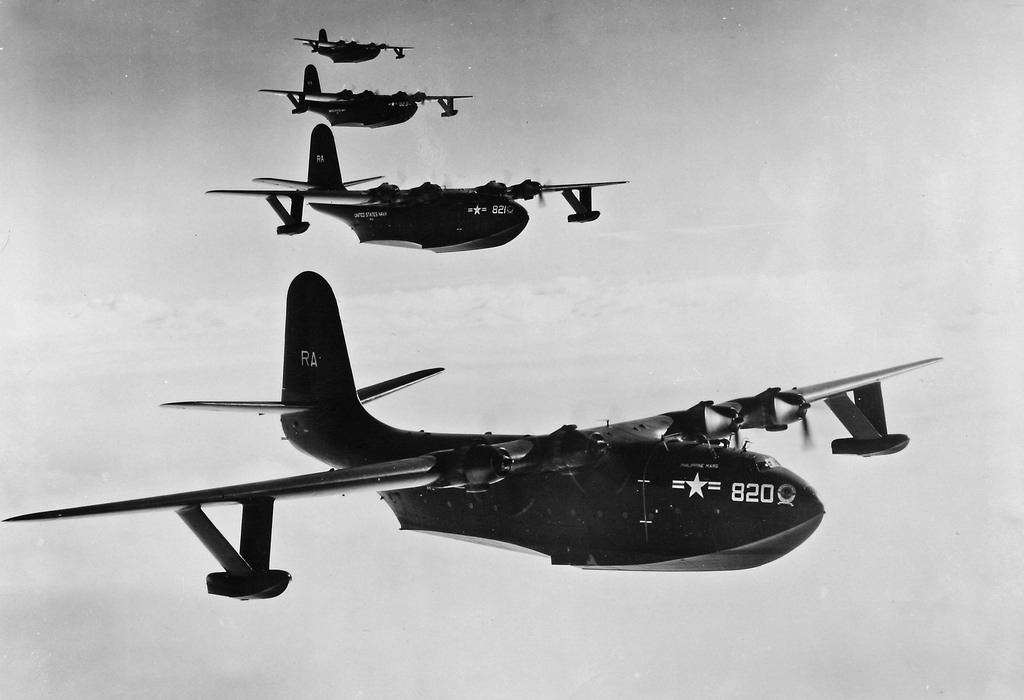 The Martin JRM Mars was a large four-engine flying boat transport built by the Glenn L. Martin Company for the U. S. Navy. Only five were built, four designated JRM-1, with the last one being a JRM-2. Each airplane was given an individual name derived from the names of island chains in the Pacific Ocean: Marianas Mars, Hawaii Mars, Philippine Mars, Marshall Mars and Caroline Mars. These airplanes were used to transport personnel and cargo between the West Coast of the United States and the Hawaiian Islands. All were upgraded to JRM-3.
The Martin JRM-3 Mars had a normal crew of 4, with accommodations for a relief crew. It was designed to carry 133 combat troops or 32,000 pounds (14,515 kilograms) of cargo. It was 120 feet, 3 inches (36.652 meters) long with a wingspan of 200 feet (60.960 meters) and height of 38 feet, 5 inches (11.709 meters). The flying boat had an empty weight of 80,701 pounds (36,605.4 kilograms). The maximum takeoff weight (MTOW) was 165,000 pounds (74,842.7 kilograms).
A NASA publication states, "A zero-lift drag coefficient of 0.0233 and a maximum lift-drag ratio of 16.4 made the JRM the most aerodynamically efficient of any of of the flying boats. . . ."

The Martin Mars was powered by four air-cooled, supercharged, direct-fuel-injected, 3,347.662-cubic-inch-displacement (54.858 liter) Wright Aeronautical Division R-3350-24WA (Cyclone 18 825C18BD1) (also known as the Duplex-Cyclone), a two-row 18-cylinder radial engines with a compression ratio of 6.70:1 and water/alcohol injection. This engine has a normal power rating of 2,000 horsepower at 2,400 r.p.m at 5,500 feet (1,676 meters) and 1,800 horsepower at 2,400 r.p.m. at 15,000 feet (4,572 meters). The engine's takeoff power rating is 2,500 horsepower at 2,900 r.p.m. 100/130 octane aviation gasoline was required. The engines drove four-bladed 16 foot, 8 inch (5.080 meter) Curtiss Electric variable-pitch propellers through a 0.375:1 gear reduction. (After modification to the JRM-3, the propellers on the inboard engines were reversible.) The R-3350-24WA is 6 feet, 8.58 inches (2.047 meters) long, and 4 feet, 6.13 inches (1.375 meters) in diameter. Its dry weight is 2,822 pounds (1,280 kilograms).
The JRM-3 had a cruise speed of 135 knots (155 miles per hour/250 kilometers per hour) and a maximum speed of 211 knots (243 miles per hour/391 kilometers per hour) at 15,600 feet (4,755 meters). The service ceiling was 19,700 feet (6,005 meters) and its range was 3,790 nautical miles (4,361 miles per hour/7,019 kilometers) at 135 knots.
On 5 April 1950, Marshall Mars had an engine fire and made an emergency landing off Diamond Head, Hawaii. The crew was rescued but the airplane exploded and sank. The wreck was discovered on the sea floor in August 2004.
The remaining airplanes were later converted to fire fighting airplanes in Canada. Only two remain.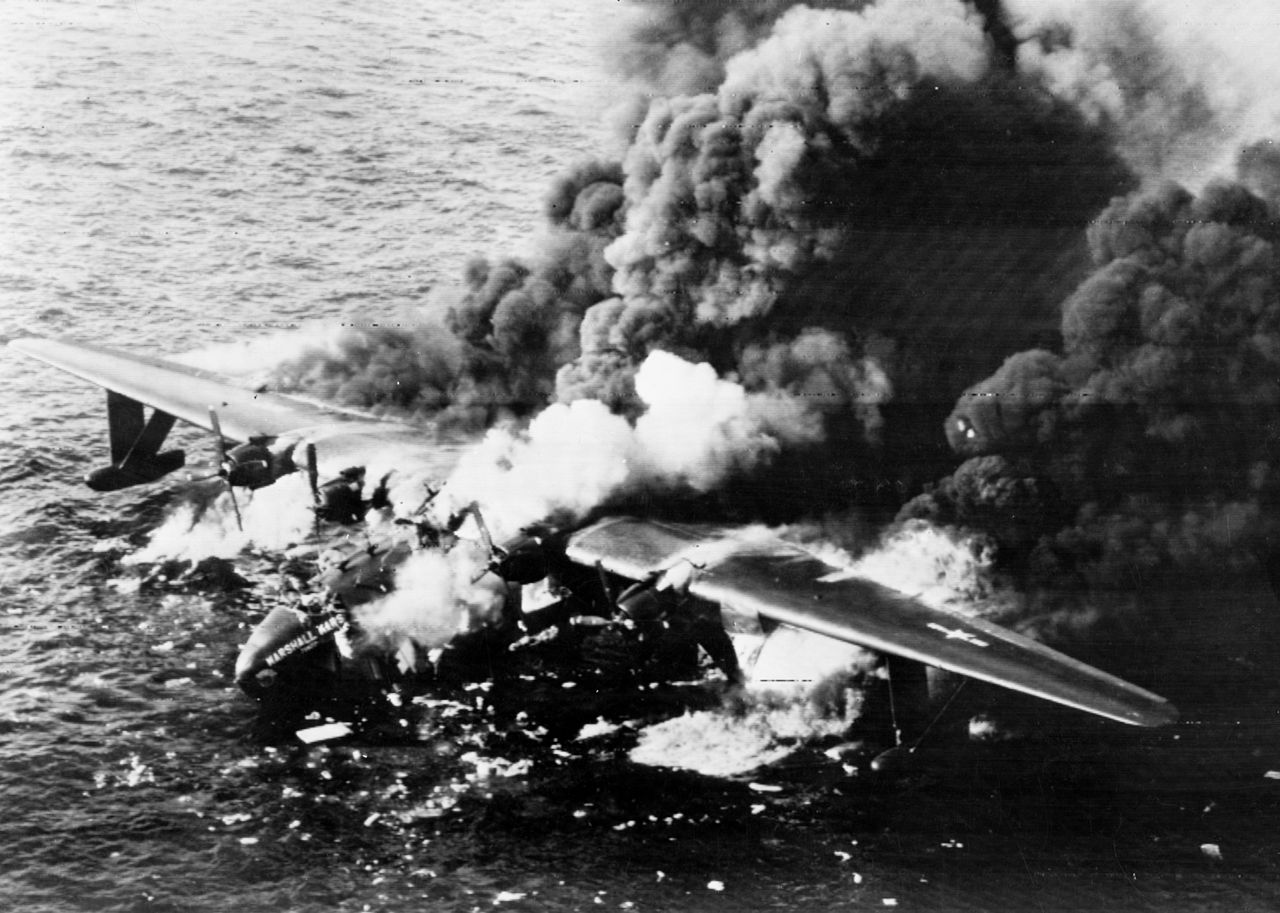 © 2020, Bryan R. Swopes