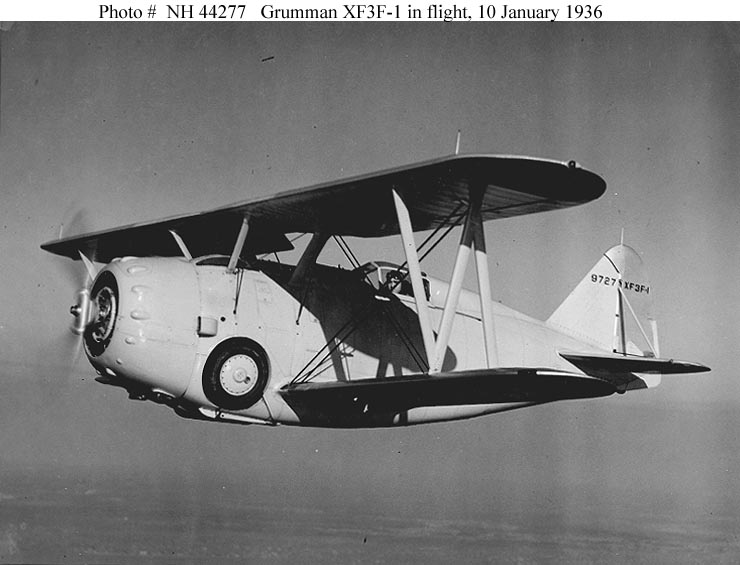 20 March 1935: At Farmingdale, New York, test pilot James H. ("Jimmy") Collins took the Grumman Aircraft Engineering Corporation's prototype XF3F-1, Bu. No. 9727, for its first flight. Collins made three flights that day.
[According to serial number authority, Joe Baugher, three XF3F-1 prototypes had the same manufacturer's serial number, 257, and the same U.S. Navy Bureau of Aeronautics serial number, 9727. Two of them were destroyed during flight testing.]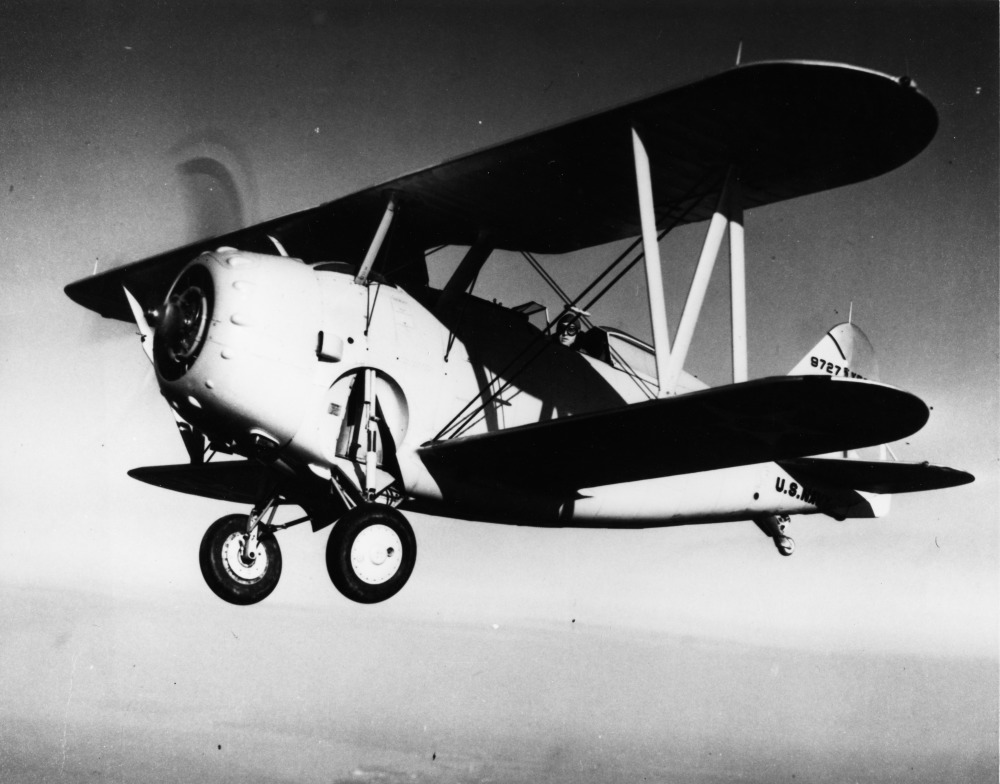 The XF3F-1 was a prototype fighter built for the United States Navy. It was a single-place, single-bay, wire-braced biplane with retractable landing gear. The airplane was of all metal construction. It was a development of the F2F, then in production.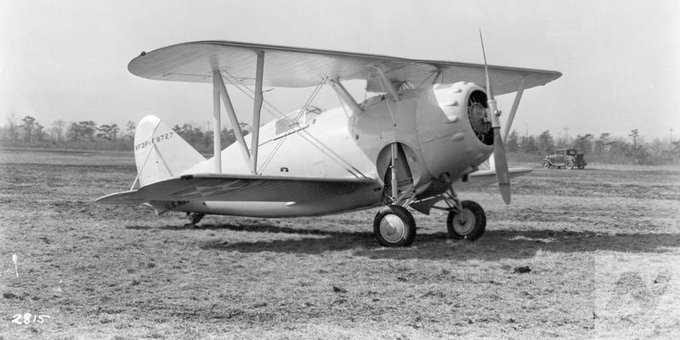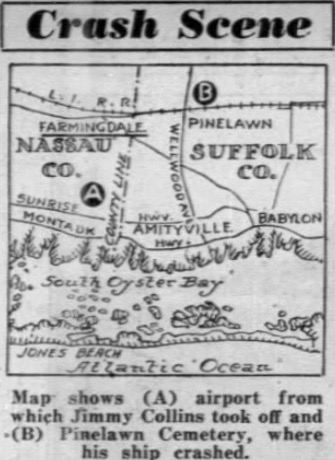 Collins  had performed nine dive tests of the XF3F-1. He began the tenth and final test at 6:05 p.m., 22 May 1935. After climbing to 20,000 feet (6,096 meters), he put the biplane into a full power, vertical dive. At a speed of 400 miles per hour (644 kilometers per hour), he pulled out of the dive at 8,000 feet (2,438 meters) but the airplane's propeller and wings were torn off. An accelerometer indicated that the airplane had sustained a force of 14 gs. The airplane crashed into the Pinelawn Cemetery.
Witnesses at the scene (which included Collins' sister, Mrs. Elizabeth Collins Joyhard) said that Collins was still alive when he was pulled from the wreckage. He is reported to have said, "Pull me out boys. I'm all through. Never mind wiping my face, I'm done." ¹
For these tests, he was to have been paid $1,500. On his last day, he had told friends that he planned to stop flying and pursue a career as an aviation writer.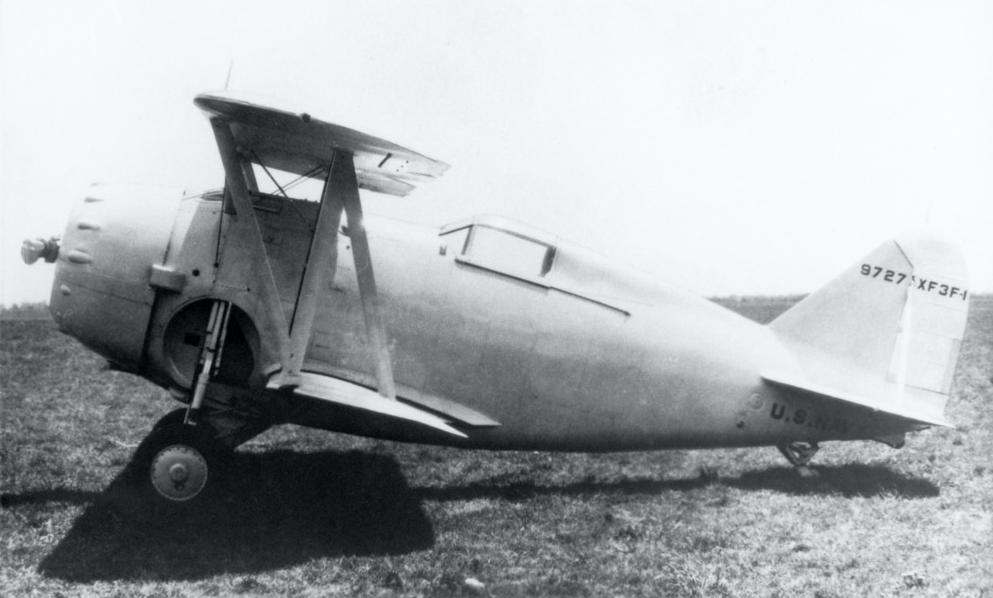 The XF3F-1 used the same engine as the production F2F-1: An air-cooled, supercharged 1,534.94 cubic inch (25.15 liter) Pratt & Whitney S1A2 Twin Wasp Jr. (R-1535-72) two-row, 14-cylinder radial. This was a direct drive engine with a compression ratio of 6.75:1 requiring 87-octane gasoline. The supercharger impeller ratio was 12:1. The R-1535-72 was rated at 650 horsepower (485 kilowatts) at 2,200 r.p.m. at 7,500 feet (2,286 meters), and 700 horsepower (522 kilowatts) at 2,250 r.p.m. for takeoff.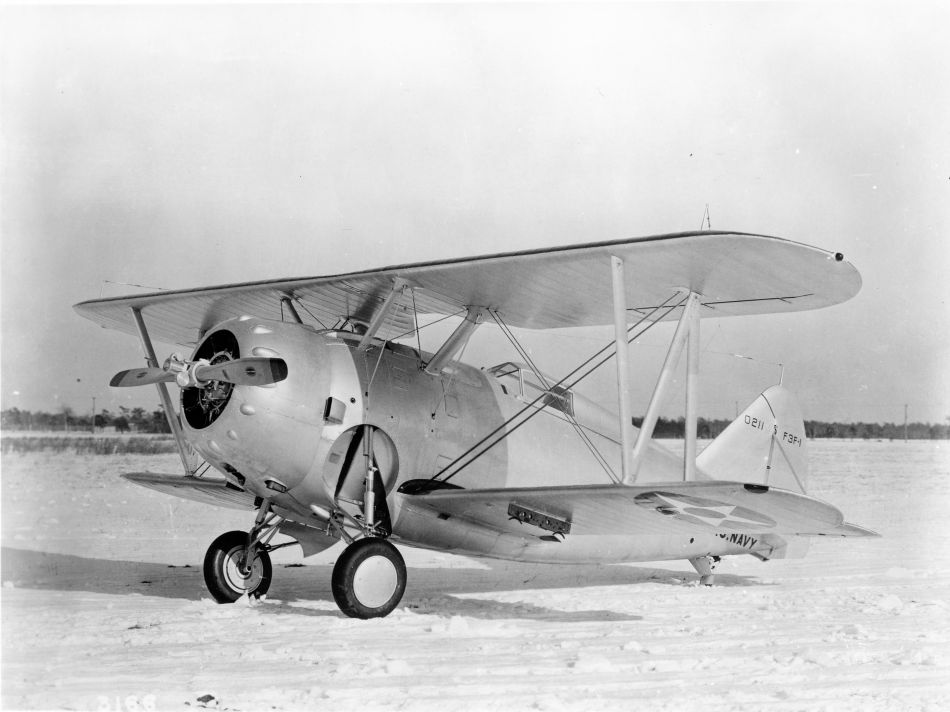 The production F3F-2 was 23 feet, 2 inches (7.061 meters) long with a wingspan of 32 feet (9.754 meters) and height of 9 feet, 4 inches (2.845 meters). The total wing area was 260 square feet (25.16 square meters). It had an empty weight of 3,285 pounds ( 1,490 kilograms), and maximum takeoff weight of 4,795 pounds (2,175 kilograms). Unlike the XF3F-1, the F3F-2 was powered by a Wright R-1820-22 rated at 950 horsepower. It had a maximum speed of 264 miles per hour (425 kilometers per hour) at 15,000 feet (4,572 meters), Its maximum rate of climb was 2,750 feet per minuted (14 meters per second), and the service ceiling was 33,200 feet (10,119 meters). It had a range of 980 miles (1,577 kilometers). The F3F-2 was armed by a .30-caliber Browning M1919 machine gun with 500 rounds of ammunition, and a .50-caliber Browning M2 machine gun with 200 rounds.
In August 1935 the U.S. Navy contracted for 54 F3F-1s. The first one was delivered 29 January 1936. A total of 147 F3Fs were built between 1935 and 1938. The F3F was the U.S. Navy's last biplane fighter. The type was retired in 1943.
James H. Collins was born 25 April 1904, the second child of John Collins, an Irish immigrant to the United States, and Ella E. Ray Collins. His father died when Jimmy was four years old, and his mother, when he was 11. He then lived with an aunt and uncle.
Collins attended Central High School, Akron, Ohio, and worked nights at the B.F. Goodrich rubber factory. After graduating, he enrolled at the University of Akron. He was a member of the Lambda Delta Chi (ΛΔΧ) fraternity.
In 1924, Collins entered the U.S. Army Air Service Primary Flying School at Brooks Field, San Antonio, Texas, and then went on to the Advanced Flying School at Kelly Field, also in San Antonio. He was in the same class as Charles A. Lindbergh. After graduating, he was commissioned a second lieutenant in the New York National Guard, and assigned to the 102nd Observation Squadron, 27th Division Air Service, at Miller Field, Staten Island, New York.
During the Great Depression, Collins' service with the New York National Guard did not provide full time employment. He had to work at other jobs, which included returning to B.F. Goodrich. In 1925, he  briefly returned to the University of Akron, then volunteered for six months active duty with the 94th Pursuit Squadron at Selfridge Field, Harrison, Michigan. He served as assistant engineering and operations officer. He was then commissioned as a lieutenant in the regular Air Service, United States Army. He was assigned as an instructor at March Field, near Riverside, California and back at Brooks Field.
Unable to complete a formal university degree, Collins decided to gain the equivalent of a liberal arts degree through self study. It was around this time that he became a communist. He considered emigrating to the Union of Soviet Socialist Republics.
In 1927, Lieutenant Collins resigned his commission. He then worked as an inspector for the Department of Commerce, the federal agency overseeing civil aviation in the United States. That was followed by employment as chief test pilot for the Curtiss Aeroplane and Motor Company, Hammondsport, New York.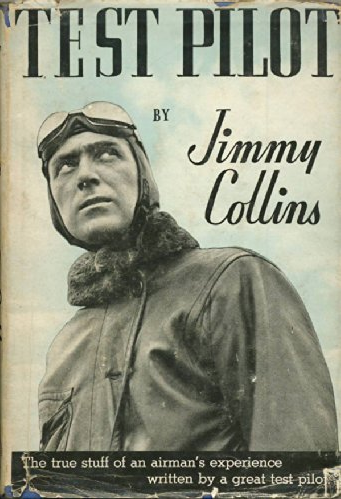 In 1932, Jimmy Collins married Miss Dolores Lacy. They would have two children, Darr, named after a friend of Jimmy's, and Susan Ann Collins. With the depression ongoing, Collins often lived away from his family, having sent them to live with his older sister in Oklahoma. By doing dive tests, he had hoped to earn enough money to bring them back to New York.
James H. Collins' remains were cremated at the Fairfield Mortuary, Garden City, New York, then spread from an airplane over the Atlantic Ocean off Jones Beach at 6:05 p.m., 29 March 1935.
Jimmy Collins was the author of Test Pilot, published after his death by The Sun Dial Press, Garden City, New York.
¹ Daily News, Vol. 16, No. 232, Saturday, 23 March 1935, Page 6, Column 1
© 2023, Bryan R. Swopes