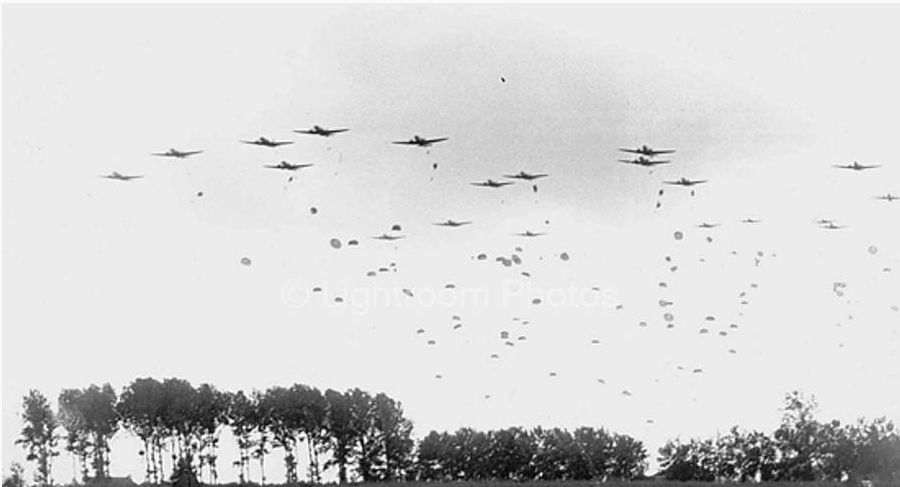 19 September 1944: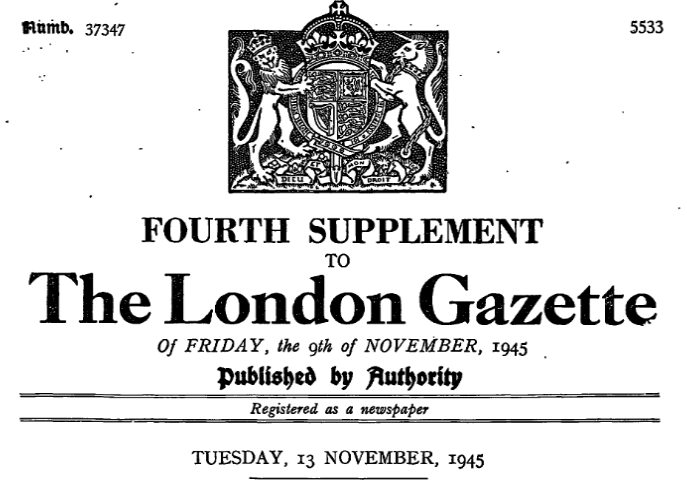 Air Ministry, 13th November, 1945.
     The KING has been graciously pleased to confer the VICTORIA CROSS on the undermentioned officer in recognition of most conspicuous bravery:—
Flight Lieutenant David Samuel Anthony LORD, D.F.C. (49149), R.A.F., 271 Sqn. (deceased).
Flight Lieutenant Lord was pilot and captain of a Dakota aircraft detailed to drop supplies at Arnhem on the afternoon of the 19th September, 1944. Our airborne troops had been surrounded and were being pressed into a small area defended by a large number of anti-aircraft guns. Air crews were warned that intense opposition would be met over the dropping zone. To ensure accuracy they were ordered to fly at 900 feet when dropping their containers.
While flying at 1,500 feet near Arnhem the starboard wing of Flight Lieutenant Lord's aircraft was twice hit by anti-aircraft fire. The starboard engine was set on fire. He would have been justified in leaving the main stream of supply aircraft and continuing at the same height or even abandoning his aircraft. But on learning that his crew were uninjured and that the dropping zone would be reached in three minutes he said he would complete his mission, as the troops were in dire need of supplies.
By now the starboard engine was burning furiously. Flight Lieutenant Lord came down to 900 feet, where he was singled out for the concentrated fire of all the anti-aircraft guns. On reaching the dropping zone he kept the aircraft on a straight, and level course while supplies were dropped. At the end of the run, he was told that two containers remained.
Although he must have known that the collapse of the starboard wing could not be long delayed, Flight Lieutenant Lord circled, rejoined the stream of aircraft and made a second run to drop the remaining supplies. These manoeuvres took eight minutes in all, the aircraft being continuously under heavy anti-aircraft fire.
His task completed, Flight Lieutenant Lord ordered his crew to abandon the Dakota, making no attempt himself to leave the aircraft, which was down to 500 feet. A few seconds later, the starboard wing collapsed and the aircraft fell in flames. There was only one survivor, who was flung out while assisting other members of the crew to put on their parachutes.
By continuing his mission in a damaged and burning aircraft, descending to drop the supplies accurately, returning to the dropping zone a second time and, finally, remaining at the controls to give his crew a chance of escape, Flight Lieutenant Lord displayed supreme valour and self-sacrifice.
—Fourth Supplement to The London Gazette, 13 November 1945, No. 37347 at Page 5533.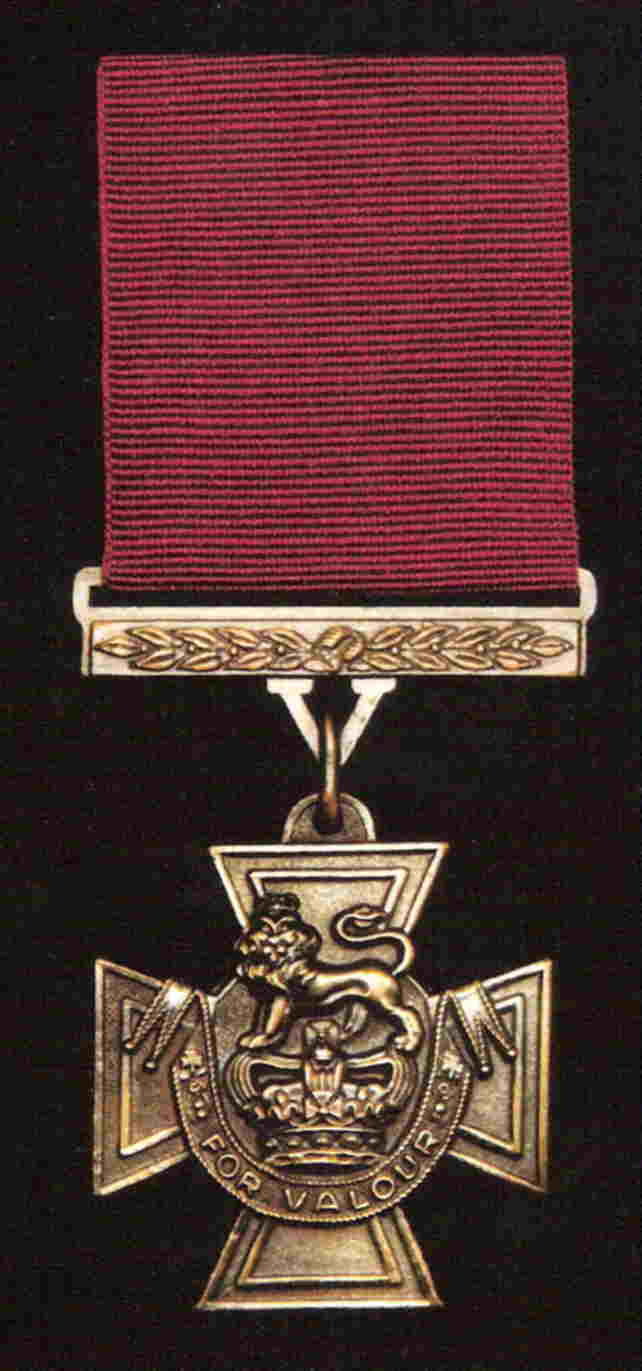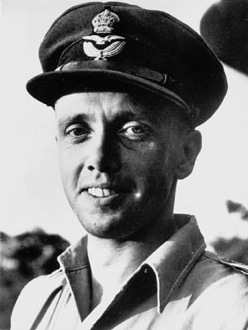 David Samuel Anthony Lord was born in the city of Cork, Ireland, 18 October 1913, the son of Warrant Officer Samuel Beswick Lord, Royal Welsh Fusiliers, and Mary Ellen Miller Lord. He was raised in Ireland, British India and Wales. Lord was educated at St. Mary's College, a seminary in Aberystwyth, Ceredigion, Wales, and the University of Wales in Cardiff.
David and his brother Frank enlisted in the Royal Air Force 6 August 1936. In 1938 he was promoted to corporal and requested an assignment to flight training. He trained as a pilot at RAF Uxbridge, and on completion, 5 April 1939, was promoted to sergeant.
Sergeant Lord was assigned to No. 31 Squadron, a bomber/transport unit then based at Lahore, Punjab, in what is now Pakistan. The squadron was equipped with Vickers Type 264 Valentia biplane transports, but early in World War II these were replaced by more modern Douglas DC-2s. The squadron flew in Iraq, Syria, Iran and Eqypt. Lord was promoted to Flight Sergeant, 1 April 1941. In June 1941, Lord's Dakota was severely damaged by attacking German fighters and he was forced to crash land. Along with his passengers and crew, Lord safely returned to friendly lines.
Flight Sergeant Lord was appointed a warrant officer, 1 October 1941. In 1942, Temporary Warrant Officer Lord returned to operations in India, where he flew "the Hump," the aerial supply line to China over the Himalaya Mountains. He was appointed to the commissioned rank of Pilot Officer on probation (emergency), 12 May 1942, and then promoted to Flying Officer.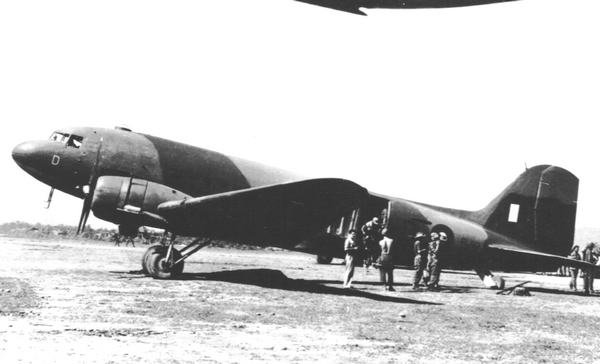 In The London Gazette, 16 July 1943, it was announced that Flying Officer Lord had awarded the Distinguished Flying Cross for his actions in Burma.
Flying Officer Lord was reassigned to No. 271 Squadron, based at RAF Down Ampney, Wiltshire, England, flying the Dakota Mk.III. He was promoted to Flight Lieutenant, 2 June 1944, and flew in the airborne assault of Normandy, on the night of 5–6 June 1944. On 1 September 1944, Flight Lieutenant Lord was commended by George VI for valuable service in the air.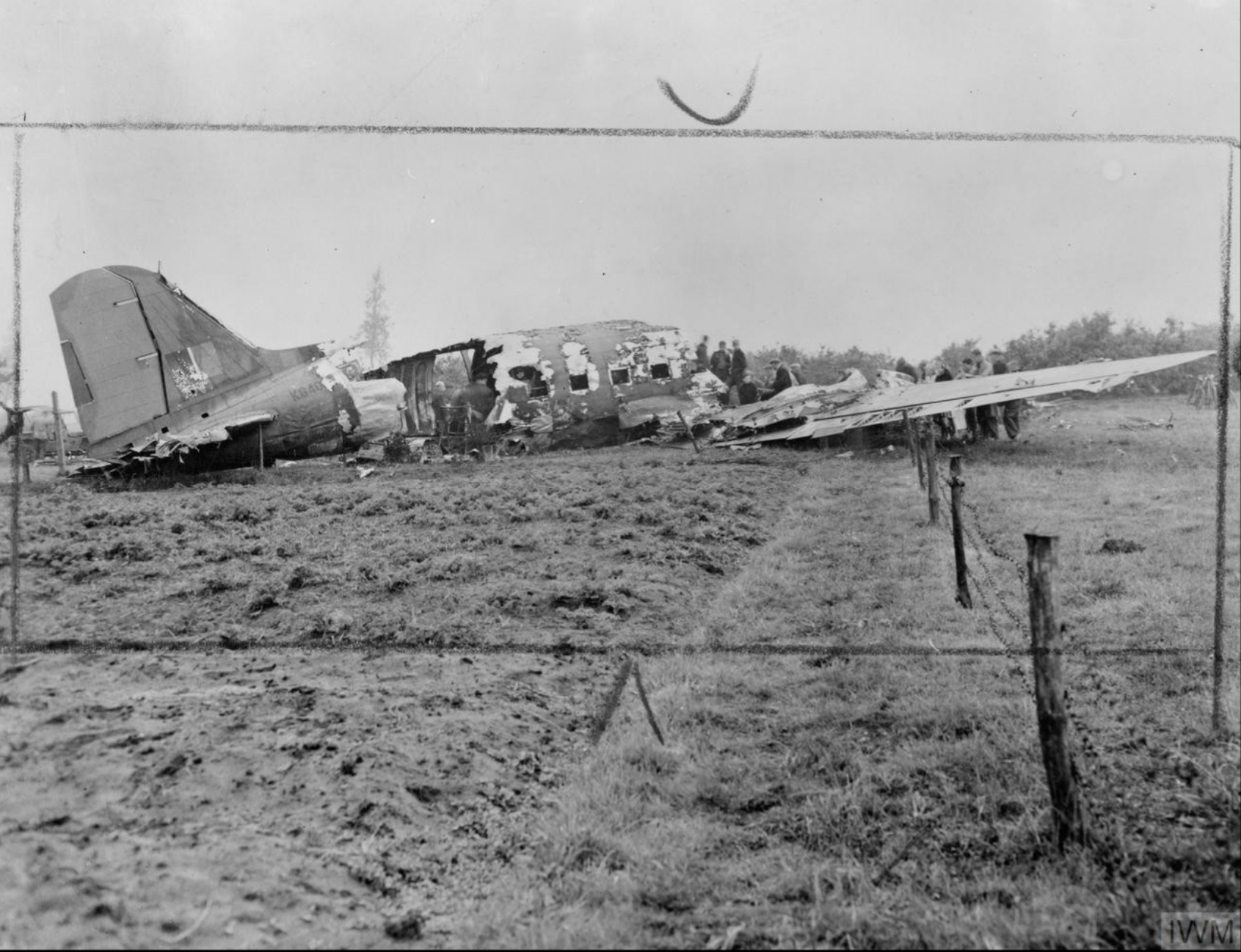 Only one member of Lord's crew, the navigator, Flight Lieutenant Harold King, survived. The others were buried next to the wreck of their Dakota, at Wolfheze, just northeast of Arnhem, The Netherlands. Following the war, their remains were moved to the Arnhem Oosterbeek War Cemetery.
Flight Lieutenant King was captured and spent the remainder of the war at Stalag Luft I, a prisoner of war camp at Barth, Western Pomerania. When he was repatriated, he reported what had happened on the 19 September 1944 mission.
After investigation, the Victoria Cross was posthumously awarded to Flight Lieutenant David Samuel Anthony Lord, D.F.C.  His parents received his Victoria Cross at an investiture at Buckingham Palace on 18 December 1945.
Flight Lieutenant David Samuel Anthony Lord, V.C., D.F.C., was the only member of the Royal Air Force Transport Command to be awarded the Victoria Cross during World War II.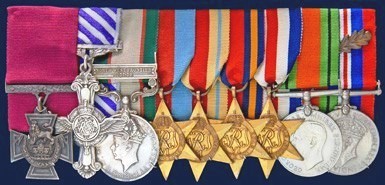 Flight Lieutenant Lord's airplane was a Douglas Dakota Mk.III, the Royal Air Force designation for the U.S. Army Air Forces' Douglas C-47A Skytrain. It was built in January 1944 at the Midwest City Douglas Aircraft Plant, adjacent to the Oklahoma City Air Depot (now, Tinker Air Force Base) at Oklahoma City, OK. Douglas gave it the company serial number 12383. It was a C-47A-5-DK Skytrain with the serial number 42-92568. The airplane was one of the 5,354 built by Midwest City. The plant turned out 13 C-47s each day and produced more than half of the Skytrains built during World War II.
42-92569 was delivered to the U.S.A.A.F. on 24 January 1944. The Skytrain was turned over to Royal Air Force at Dorval Airport, Montreal, Quebec, Canada, 4 February 1944, and assigned the RAF identification KG 374. It was then flown across the North Atlantic to the United Kingdom, 17 May 1944. KG 374 was assigned to No. 271 Squadron, 10 June 1944, and the squadron identification YS L.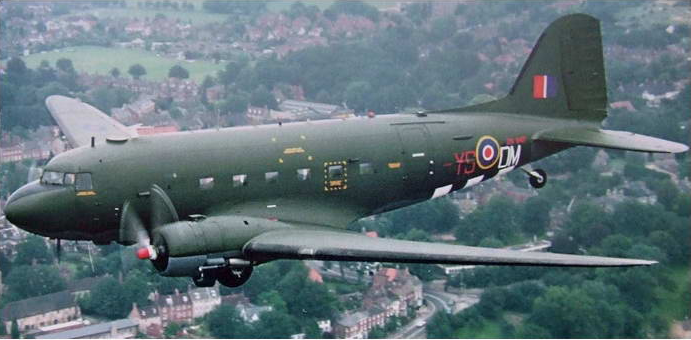 The Douglas C-47 Skytrain is an all-metal, twin-engine, low-wing monoplane transport with retractable landing gear. It was operated by a minimum flight crew of two pilots, a navigator and a radio operator. The airplane's control surfaces are covered with doped-fabric. The primary differences between the civil DC-3 and military C-47 airframes was the addition of a cargo door on the left side of the fuselage and a strengthened floor in the cabin.
The C-47 is 64 feet, 5½ inches (19.647 meters) long with a wingspan of 95 feet (28.956 meters) and height of 17 feet (5.182 meters). Empty weight of the C-47A is 17,257 pounds (7,828 kilograms) and the maximum takeoff weight is 29,300 pounds (13,290 kilograms).
The C-47A was powered by two 1,829.39-cubic-inch-displacement (29.978 liter) air-cooled, supercharged R-1830-92 (Pratt & Whitney Twin Wasp S1C3-G) two-row 14-cylinder radial engines with a compression ratio of 6.7:1. These were rated at 1,060 horsepower at 2,550 r.pm., up to 7,500 feet (2,286 meters), maximum continuous power, and 1,200 horsepower at 2,700 r.p.m. at Sea Level for takeoff. Each engine drives a three-bladed Hamilton Standard Hydromatic constant-speed full-feathering propeller with a diameter of 11 feet, 6 inches (3.505 meters) through a 16:9 gear reduction. The R-1830-92 is 48.19 inches (1.224 meters) long, 61.67 inches (1.566 meters) in diameter, and weighs 1,465 pounds (665 kilograms).
The C-47 has a cruising speed of 185 miles per hour (298 kilometers per hour) at 10,000 feet (3,048 meters) and service ceiling of 24,100 feet (7,346 meters).
The C-47 could carry 6,000 pounds (2,722 kilograms) of cargo, or 28 fully-equipped paratroopers. Alternatively, 14 patients on stretchers could be carried, along with three attendants.
KG 374 crashed at Wolfheze, The Netherlands, about 6 miles (10 kilometers) northwest of Arnhem. Fragments of the wreckage are in the collection of the Imperial War Museum.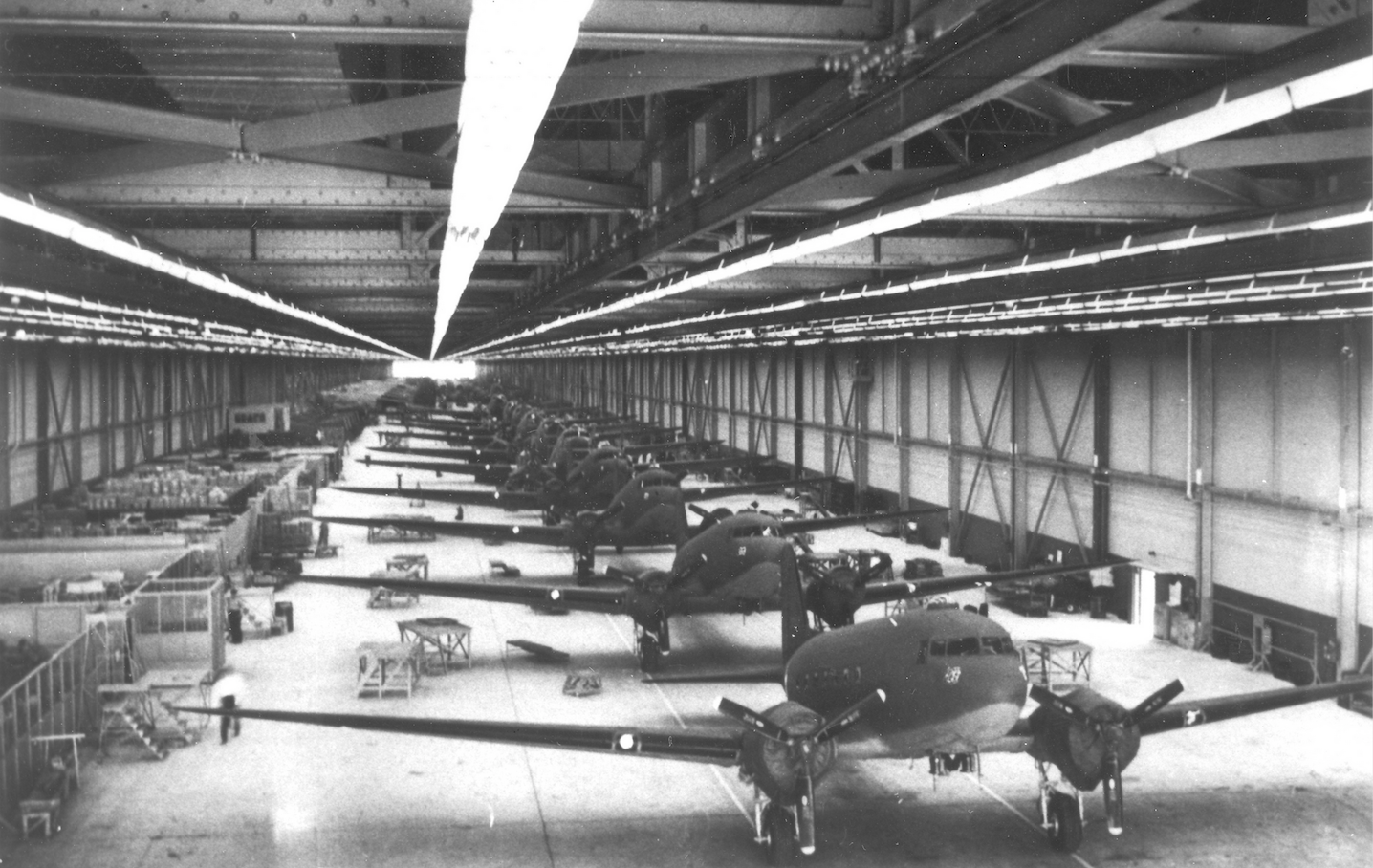 © 2018, Bryan R. Swopes