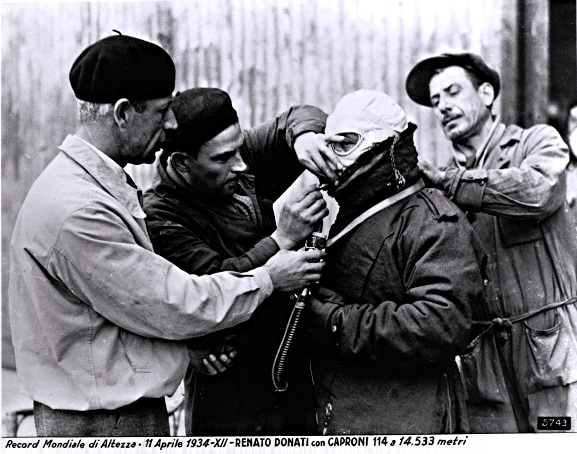 11 April 1934: Commander Renato Donati of Italy's Regia Aeronautica flew a modified Caproni Ca.114 two-place biplane from Montecielo Airport, outside Rome, to a Fédération Aéronautique Internationale (FAI) World Record altitude of 14,433 meters (47,352 feet).¹
At such high altitudes, airman must not only be provided with oxygen, but it must be under positive pressure. In this photograph, Commander Donati is being prepared for the flight with a special pressurized suit made of "gutta percha" (a type of rubberized fabric).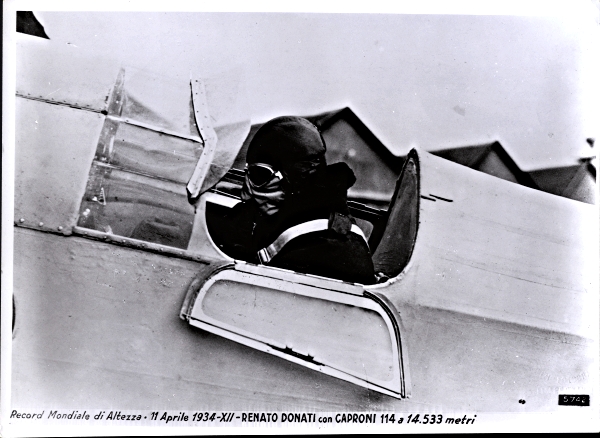 The Chicago Daily Tribune reported:
     ROME, April 11.—Renato Donati, 40 year old Italian war ace, hung up a world's altitude record today when he spiraled his specially constructed Caproni airplane nine miles up into the skies of Rome, to the very limit of the earth's air envelope.
     Seventy-five minutes after he took off from the Monticello airport on his Icarian adventure Donati dropped back onto the field. He collapsed from the nervous and physical shock of sucah a swift change of atmospheric conditions, for his instruments registered a height of 14,500 meters [47,560 feet] and temperature of 66 degrees below zero, Centigrade [67.3 degrees below zero Fahrenheit]. With medical aid Donato quickly recovered. . .

—Chicago Daily Tribune, Volume XCIII.—No. 88, Thursday 12 April 1934, Page 11, column 1. Article written by David Darrah, Chicago Tribune Press Service.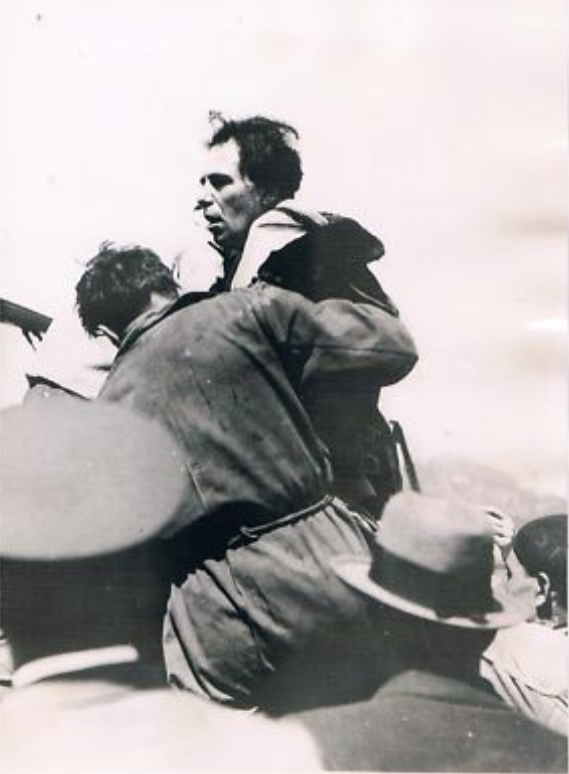 The Società Italiana Caproni, Milano Ca.114 (also identified as the Caproni Ca. 113 Alta Quota) was developed from the Ca.113 trainer.  It was powered by a British-built Bristol Pegasus, the same type used by the Houston Mount Everest Flying Expedition to fly over Mount Everest the previous week. It was an air-cooled, supercharged, 1,752.79-cubic-inch-displacement (28.72 liter) nine-cylinder radial engine, with a compression ratio of 5.3:1. It had a Normal Power rating of 525 horsepower at 2,000 r.p.m. at 11,000 feet (3,353 meters), and produced a maximum of 575 horsepower at 2,300 r.p.m. at 13,000 feet (3,962 meters). It drove a four-blade ground-adjustable metal propeller.
The production Ca.113 was a single-engine, two-place, two-bay biplane with fixed landing gear, built in Italy and at Caproni's subsidiary in Bulgaria. The airplane was designed to be aerobatic. It first flew in 1931. It was constructed of steel tubing and wood, covered wit aluminum sheet and doped fabric. The Ca.113 was  24 feet, 5 inches (7.442 meters) long with a wingspan of 34 feet, 5 inches (10.490 meters) and height of 9 feet, 2 inches (2.794 meters). The lower wing was staggered behind the upper. It had an empty weight of 1,797 pounds (815 kilograms) and gross weight of 2,348 pounds (1,065 kilograms).
The Ca.113 was powered by a license-built Alfa Romeo engine developed from the Bristol Pegasus.
The Ca.113 had a maximum speed of 143 miles per hour ( kilometers per hour), and was capable of climbing to 13,000 feet (3,962 meters) in 15 minutes.
The following year, Commander Donati's Ca.114 (Ca.113 R, equipped with a Alfa Romeo Pegasus S.2 engine) was flown by aviatrix Contessa Carina Negrone, to a women's record altitude of 12,043 meters (39,511 feet).²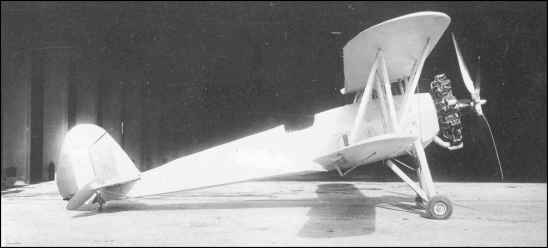 ¹ FAI Record File Number 8170
² FAI Record File Number 12166
© 2017, Bryan R. Swopes
by