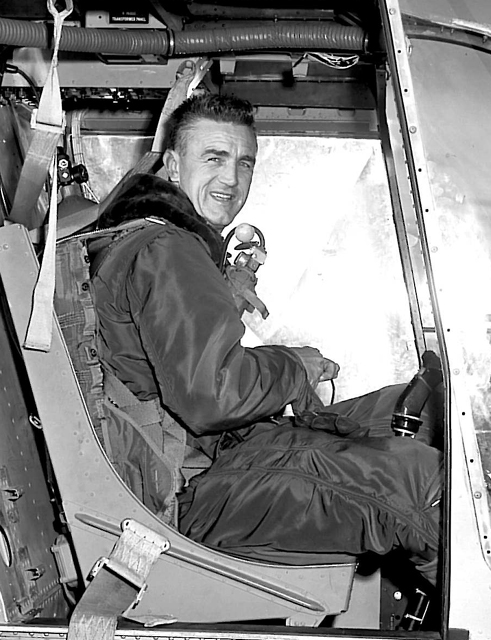 18–24 October 1961: Lieutenant Colonel Francis Melvin ("Blackie") Carney, United States Air Force, flying a Kaman HH-43B Huskie, 60-0263, set a series of four Fédération Aéronautique Internationale (FAI) world flight records at Bloomfield, Connecticut.
On 18 October 1961, Lieutenant Colonel Carney set an FAI World Record for Altitude Without Payload when he flew 60-0263 to 10,010 meters (32,841 feet).¹ The following week, on 24 October 1961, Colonel Carney set three more world records, flying the HH-43B to 3,000 meters (9,853 feet) in 2 minutes, 41.5 seconds;² 6,000 meters (19,685 feet) in 6 minutes 49.3 seconds;³ and to 9,000 meters (29,528 feet) in 14 minutes, 31 seconds.⁴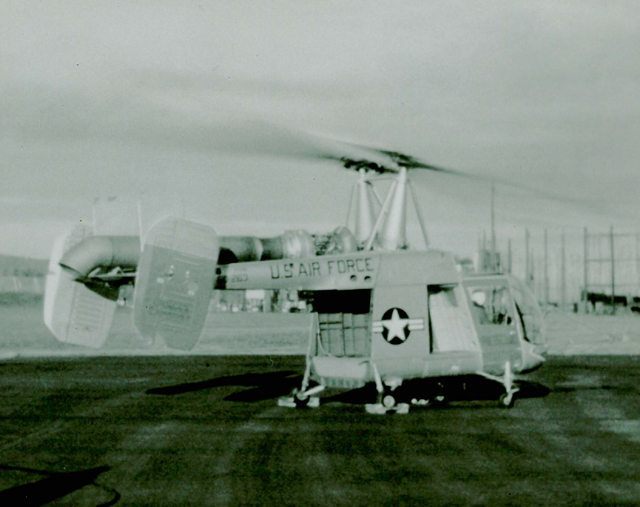 This same helicopter, flown by Captain Walter G. McMeen, set an FAI World Record for Altitude with a 1000 kilogram Payload to an altitude of 8,037 meters (26,368 feet) over the Kaman plant at Bloomfield, Connecticut, 25 May 1961.⁵ The following summer, Captain Richard H. Coan set an FAI World Record for Distance Over a Closed Circuit Without Landing of 1,055.16 kilometers (655.65 miles) at Mono Lake, California;⁶ Captain Chester R. Radcliffe, Jr., set an FAI World Record for Distance Without Landing when he flew it from Hill Air Force Base, Utah, to Springfield, Minnesota, a distance of 1,429.80 kilometers (888.44 miles), 5 July 1962.⁷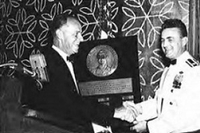 In 1962, Lieutenant Colonel Carney, then commanding the 3638th Flying Training Squadron (Helicopter), U.S. Air Force, was awarded the American Helicopter Society (now, the Vertical Flight Society) Frederick L. Feinberg Award "For the establishment of four new world records for helicopters on 18 and 24 October, 1961. The records established were the maximum altitude for a Class EID helicopter and three time-to-climb records for all types of helicopters."
Francis Melvin Carney was born at Roxborough, Pennsylvania, 14 November 1921. He was the son of Francis Jerome Carney, an electrician, and Maggie May Ferguson Carney. His father died in 1929.
Carney registered for Selective Service (conscription), 16 February 1942. He was described as having a light complexion with brown hair and blue eyes. He was 6 feet (1.83 meters) tall and weighed 165 pounds (73 kilograms). Three days earlier, 13 February 1942, he had enlisted in the Army of the United States (AUS) at the U.S. Customs House, Philadelphia, Pennsylvania.
On 12 March 1942, Carney was assigned as an Aviation Cadet, Air Corps, and began flight training. On completion of training, he was commissioned as a second lieutenant, Air Reserve, 22 April 1943.
Lieutenant Carney married Miss Eleanor May Childs, circa 1944. They would have four children, Eric Lance Carney, Ronald Jerome Carney, Randall Wayne Carney, and Robin Carney.
Lieutenant Carney received a permanent commission as a first lieutenant, Air Corps, United States Army, 10 October 1947, with date of rank retroactive to 22 April 1946. When the United States Air Force was established as a separate military service, 1st Lieutenant Carney was transferred from the U.S. Army to the U.S. Air Force.
In 1952 Captain Carney transitioned to helicopters.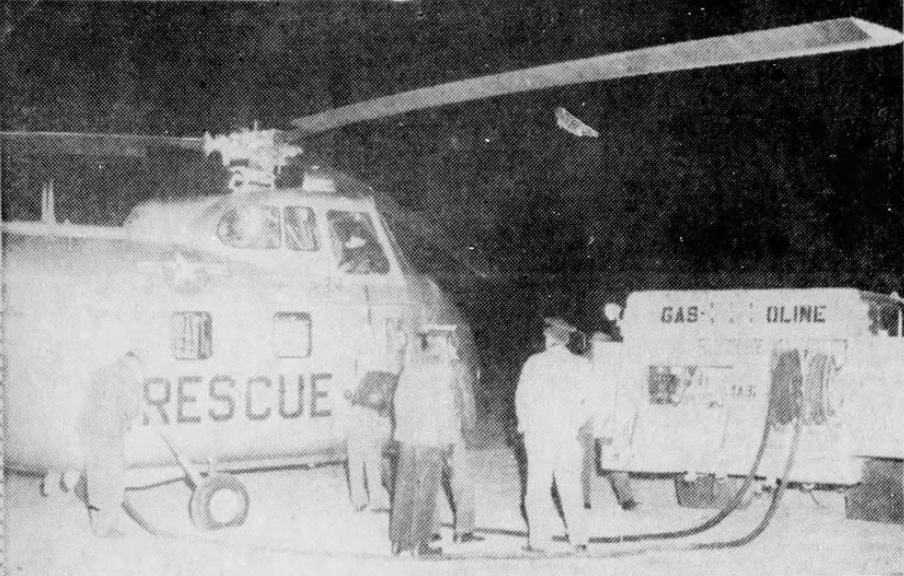 On 27 March 1955, Major Carney flew one of two Sikorsky H-19 Chickasaw helicopters of the 363rd Tactical Reconnaissance Wing, Shaw Air Force Base, Sumter, South Carolina, in the nighttime rescue of 93 men, women, and children from several tiny islands in Lake Marion, near Eutawville, South Carolina. A sudden increase in wind raised 4 foot waves on the lake, endangering them. One of the islands was too small to land, so Carney's co-pilot, Captain Robert L. Hess (also reported as Warren C. Hess), climbed down to help lift victims aboard. Major Carney, Captain Hess, 1st Lieutenant Ronald L. Ingraham, pilot of the second H-19, and several others received the Air Force Commendation Medal, presented 29 March by Major General Edward Julius Timberlake, Jr., commanding Ninth Air Force.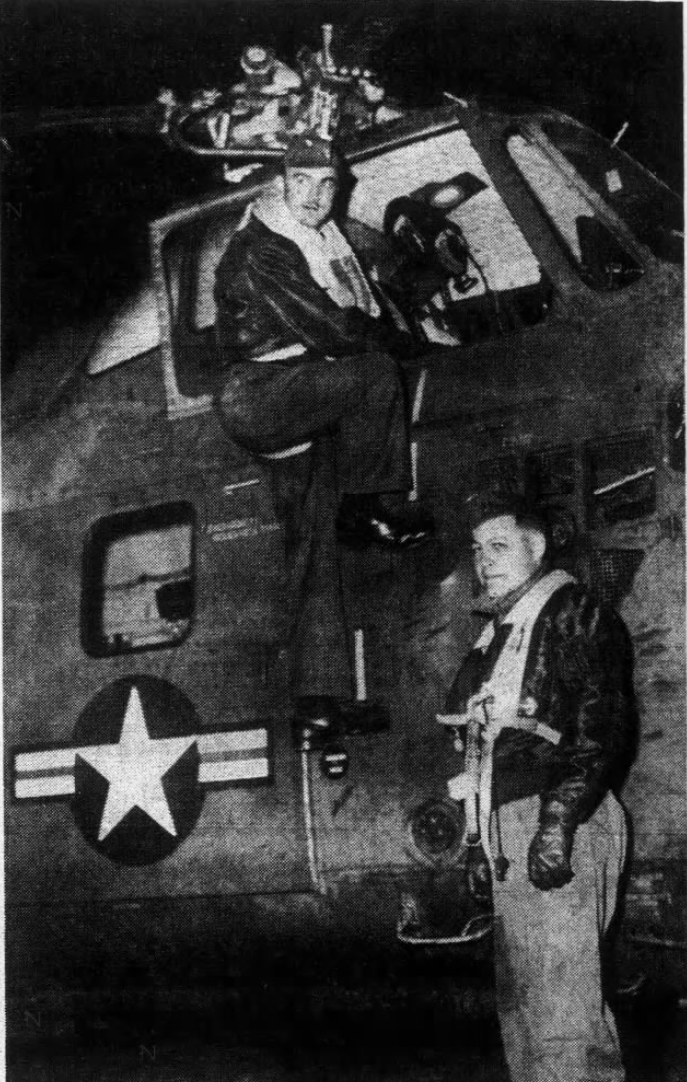 In 1955 Major Carney was assigned as commanding officer, 24th Helicopter Squadron at Sewart Air Force Base, Smyrna, Tennessee, flying the Piasecki H-21B Work Horse, providing troop carrier support to US Army; flew to CA 10 October 1956 deployed to Tachikawa Air Base, Japan, aboard the Casablanca-class utility aircraft carrier USS Corregidor (CVU-58).
Lieutenant Colonel Carney commanded the 3638th Flying Training Squadron (Helicopter), 3635th Combat Crew Training Wing (Advanced) at Stead AFB, Reno, Nevada, 1959–1964. Initially, pilots were trained in the H-19B and H-21B helicopters. In 1964, Carney deployed to Vietnam.
Lieutenant Colonel Carney retired from the U.S. Air Force, 20 September 1965. During his 23 years of military service, he had flown as a fighter pilot in World War II and the Korean War, and a helicopter pilot during the Vietnam War. He had been awarded the Distinguished Flying Cross.
Following his retirement for the Air Force, Carney served as Chief Pilot, Carson Helicopters, Inc., Perkasie, Pennsylvania, then in 1984, he opened a helicopter flight school at Quakertown Airport (UKT), Pennsylvania, using two Hiller UH-12C three-place helicopters.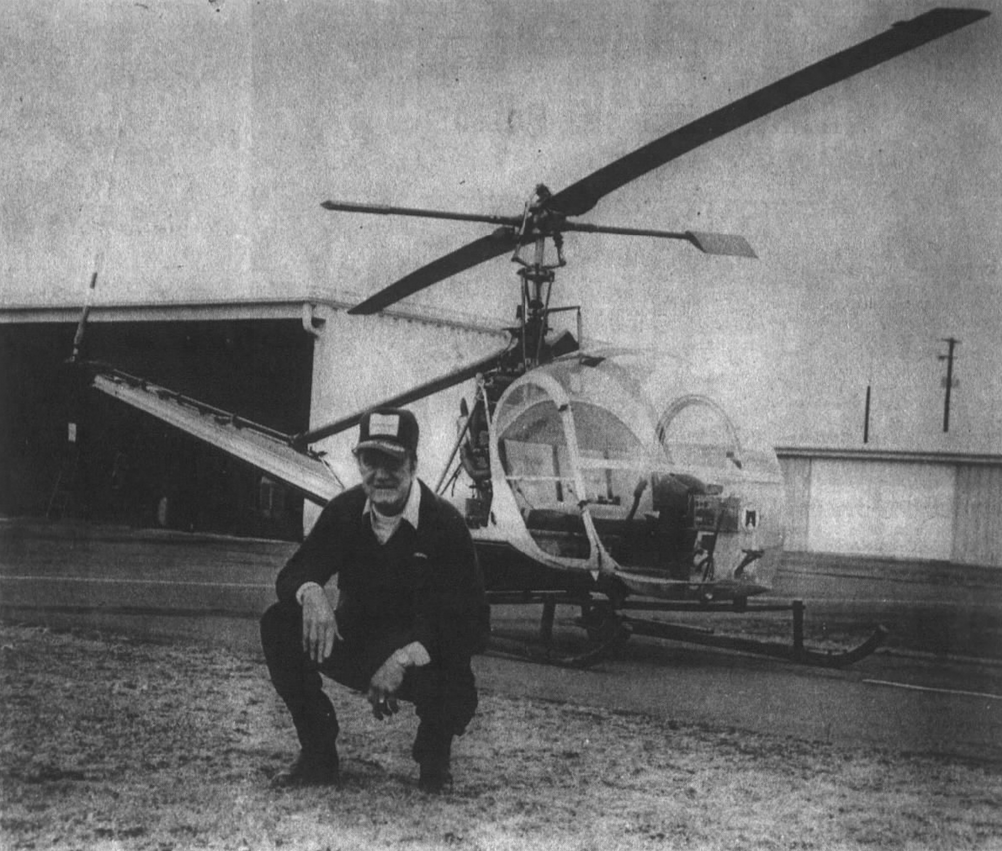 28 June 1994, Carney was flying his green and white 1947 Piper PA-12 Supercruiser, N3807M (s/n 12-2729). While on approach to the Flying M Aerodrome (P91), Heidelberg Township, Germansville, Pennsylvania, he was caught in a downdraft. His airplane flipped over on landing. Carney suffered one fractured vertebrae in his neck and two in his lower back lower back. He was transported by ambulance and admitted to the Lehigh Valley Hospital, Lehigh Township, Pennsylvania, where he remained in stable condition.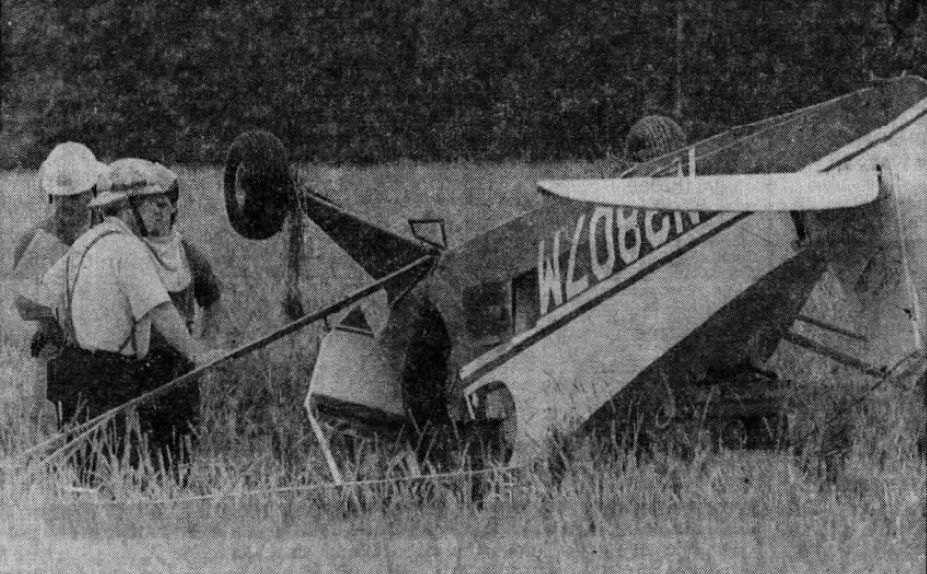 Lieutenant Colonel Carney died at Bedminster, Pennsylvania, 30 July 1996. His remains were interred at White Marsh Memorial Park, Prospectville, Pennsylvania.

The Kaman Aircraft Corporation Huskie was used by the U.S. Air Force, U.S. Navy and Marine Corps, primarily for short range rescue operations. It was operated by two pilots and two rescue crewmen.
A turboshaft engine drove a unique system of counter-rotating and intermeshing rotors to provide lift, thrust and directional control. The counter-rotation cancelled the torque effect so no anti-torque, or tail, rotor was necessary. This allowed all of the engine's power to drive the main rotor system.
The fuselage of the H-43B was 25 feet, 2 inches (7.671 meters) long. Each rotor had a diameter of 47 feet, 0 inches (14.326 meters). It's height was 15 feet, 6½ inches (4.737 meters). The helicopter's empty weight was 4,470 pounds (2,028 kilograms) and its maximum gross weight was 8,800 pounds (3,992 kilograms).⁸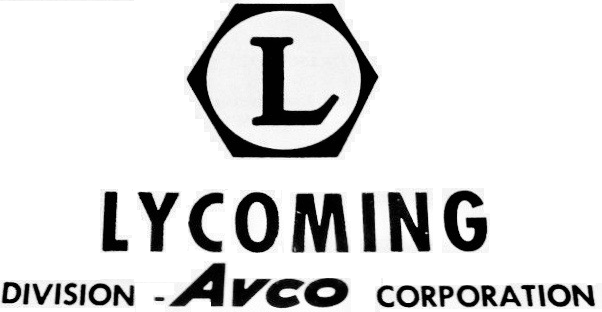 The H-43B was powered by one Lycoming T53-L-1B turboshaft engine, rated at 860 shaft horsepower at 21,510 r.p.m. The engine uses a 5-stage axial-flow, 1 stage centrifugal-flow, compressor with a single stage gas producer turbine and single-stage power turbine. A reverse-flow combustion section allows significant reduction in the the engine's total length. The power turbine drives the output shaft through a 3.22:1 gear reduction. The T53-L-1 is 3 feet, 11.8 inches (1.214 meters) long and 1 foot, 11.0 inches (0.584 meters) in diameter. It weighs 460 pounds (209 kilograms).
The Huskie's economical cruise speed was 98 miles per hour (158 kilometers per hour), and the maximum speed was 120 miles per hour (193 kilometers per hour). Its hover ceiling out of ground effect (HOGE) was 18,000 feet (5,486 meters), and in ground effect (HIGE) was 20,000 feet (6,096 meters) and it had a range of 235 miles (378 kilometers).
With the call sign Pedro, the HH-43 was a rescue helicopter that served in combat during the Vietnam War.
The record-setting Kaman HH-43B Huskie 60-0263 was last assigned to Detachment 3, 42nd Aerospace Rescue and Recovery Squadron, Kirtland Air Force Base, New Mexico. It is in the collection of the National Museum of the United States Air Force, Wright-Patterson Air Force Base, Ohio.
¹ FAI Record File Number 1870
² FAI Record File Number 13135
³ FAI Record File Number 13056
⁴ FAI Record File Number 13137
⁵ FAI Record File Number 1258
⁶ FAI Record File Number 13154
⁷ FAI Record File Number 13208
⁸ Maximum overload gross weight is 9,150 pounds (4,150 kilograms) at a load factor of 2.0
© 2020, Bryan R. Swopes