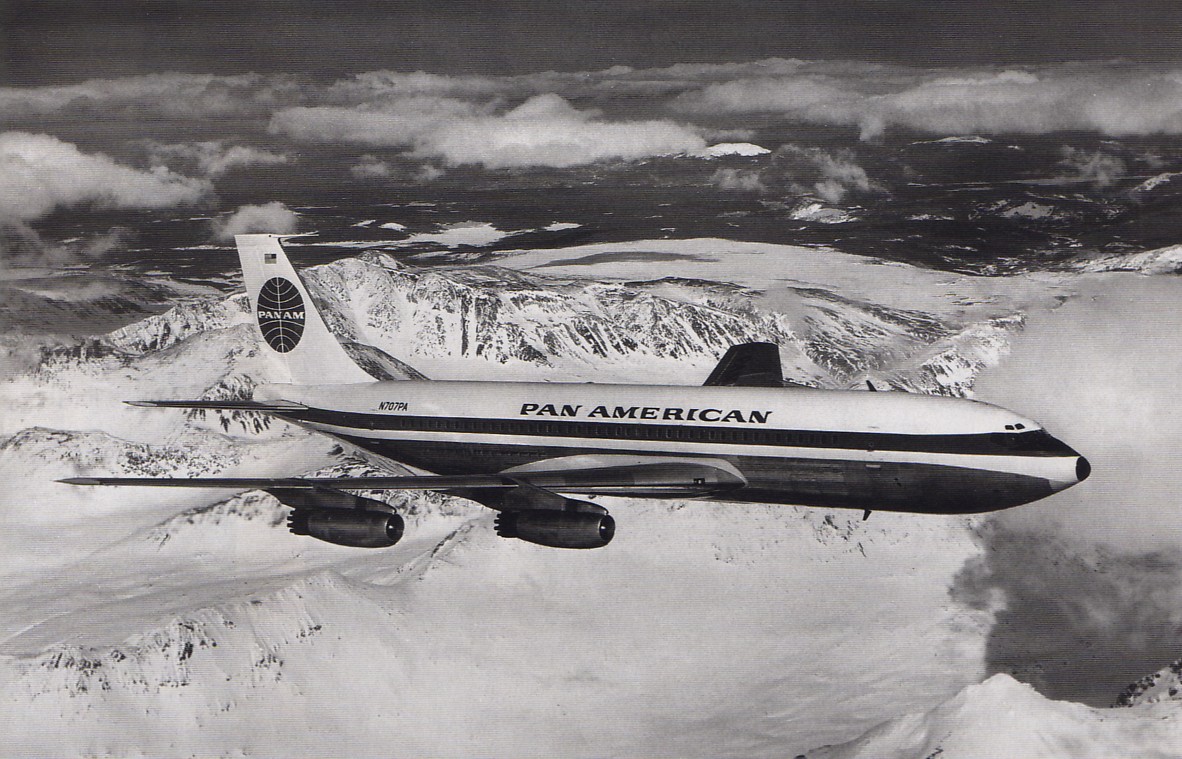 10 December 1958: Using a Boeing 707 leased from Pan American World Airways, National Airlines became the first U.S. airline to operate jet airliners within the United States.
Pan American's Clipper America, N710PA, a Boeing 707-121, departed Idlewild Airport (IDL), New York City, New York, at 9:54 a.m., Eastern Standard Time, bound for Miami International Airport (MIA), Florida, 949 nautical miles (1,092 statute miles/1,756 kilometers) to the south-southwest. The National Airlines pilots were Captain Roger Whittacker and Captain David B. Gannon. The airliner carried 102 passengers.
N710PA arrived at Miami at 12:39 p.m. Departing Miami at 2:13 p.m., returned to New York and touched down at Idlewild at 4:52 p.m. The 707 was flown on a scheduled Pan Am flight that night.
A contemporary news magazine article discussed the lease arrangement: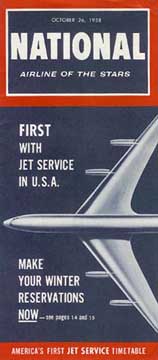 "Monday, Dec. 08, 1958: One of the few U.S. airlines climbing out of the labor fog last week was National Airlines, whose routes stretch along the Atlantic Coast to Florida. On Dec. 10 National will inaugurate the first domestic jet airliner service with daily flights on the rich New York-Miami run. Using 600-m.p.h. Boeing 707s under a complicated lease-stock deal with Pan American, which already flies jets across the Atlantic, National will make the 1,100-mile run in 2 hr. 15 min. To make sure that it can fly jets, National signed contracts with its pilots, flight engineers and mechanics running into 1960. National is paying well to be the first domestic jet operator. Plans call for three 707s under lease around the first of the year, each one costing an estimated $216,000 per month to operate and maintain. To sweeten the kitty. National has also agreed to a stock exchange that, if CAB approves, will eventually give Pan Am a big voice in its affairs. In a $16 million swap, the two lines will exchange 400,000 shares of stock, and Pan Am will get a two-year option to buy another 250,000 shares of National stock at $22.50 per share. The effect would be to give National a minor (6%) interest in Pan American, while Pan Am could gain 36% of National if it exercises its option. . . ."
— TIME Magazine, 8 December, 1958
American Airlines was the first domestic carrier to fly its own Boeing 707s, with the first flight from Los Angeles to new York, 25 January 1959.
National Airlines was a domestic carrier, founded in 1930. Pan Am acquired the airline 7 January 1980.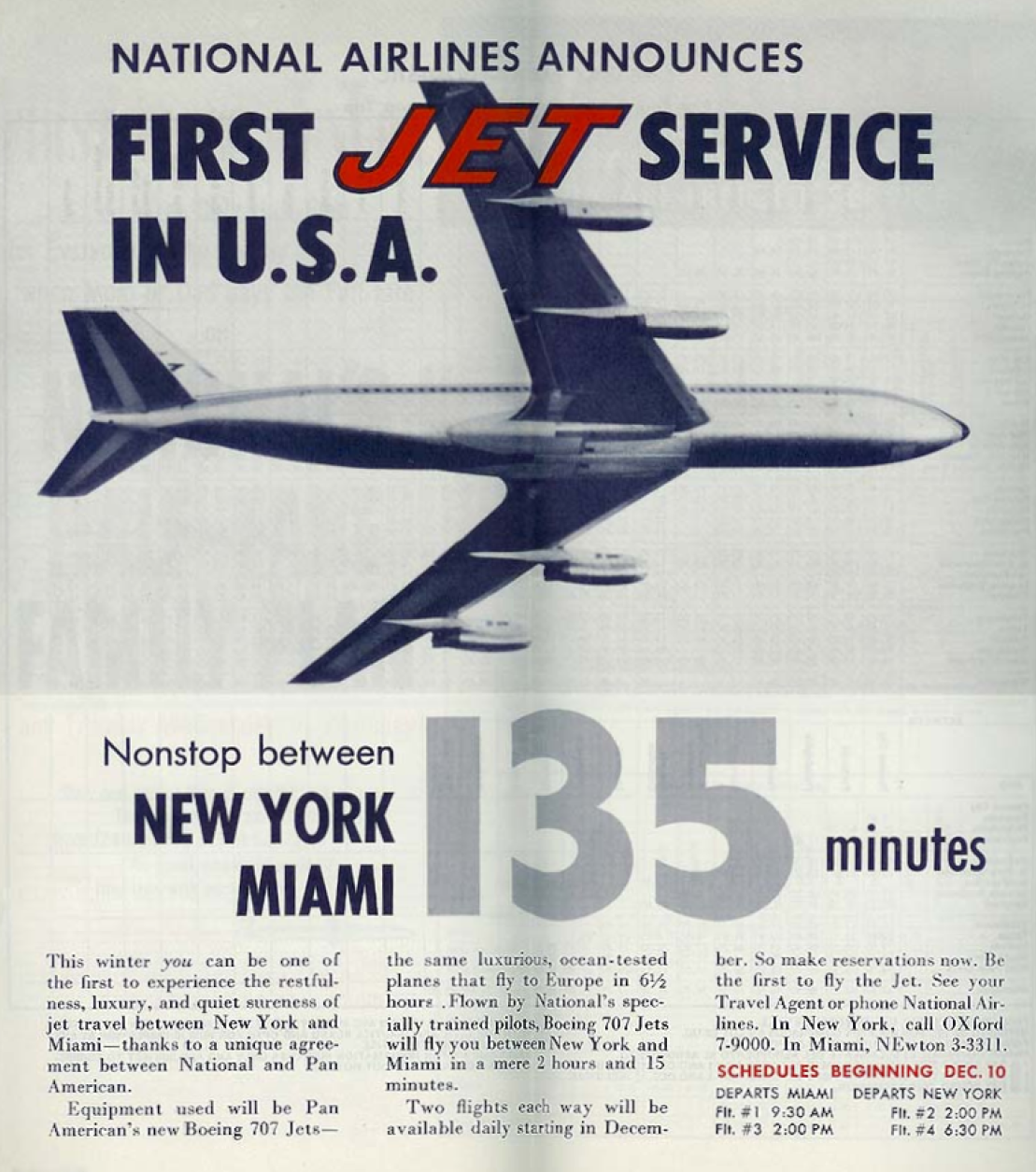 The Boeing 707 was developed from the earlier Model 367–80, the "Dash Eighty."

The Boeing Model 707-121 was a four-engine jet transport with swept wings and tail surfaces. The leading edge of the wings were swept at a 35° angle. The airliner had a flight crew of four: pilot, co-pilot, navigator and flight engineer.
The 707-121 was 145 feet, 1 inch (44.221 meters) long with a wing span of 130 feet, 10 inches (39.878 meters). The top of the vertical fin stood 42 feet, 5 inches (12.929 meters) high. The 707 pre-dated the "wide-body" airliners, having a fuselage width of 12 feet, 4 inches (3.759 meters). The airliner's empty weight is 122,533 pounds (55,580 kilograms). Maximum take off weight is 257,000 pounds (116,573 kilograms).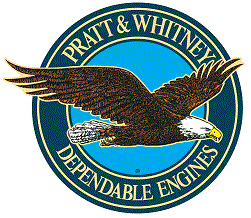 The first versions were powered by four Pratt & Whitney Turbo Wasp JT3C-6 turbojet engines, producing 11,200 pounds of thrust (49.82 kilonewtons), and 13,500 pounds (60.051 kilonewtons) with water injection. This engine was a civil variant of the military J57 series. It was a two-spool axial-flow turbojet engine with a 16-stage compressor and 2 stage turbine. The JT3C-6 was 11 feet, 6.6 inches (3.520 meters) long, 3 feet, 2.9 inches (0.988 meters) in diameter, and weighed 4,235 pounds (1,921 kilograms).
At MTOW, the 707 required 11,000 feet (3,352.8 meters) of runway to take off.
The 707-121 had a maximum speed of 540 knots (1,000 kilometers per hour). It's range was 2,800 nautical miles (5,185.6 kilometers).
N710PA, c/n 17589, was delivered to Pan American 29 September 1958. It was later renamed Clipper Caroline. In 1965, the airliner was upgraded to the 701-121B configuration. After being sold by Pan Am, it served with a number of different companies. It was scrapped in 1984.
Note: Thanks to regular TDiA reader Tom Facer for suggesting this post.
© 2018, Bryan R. Swopes