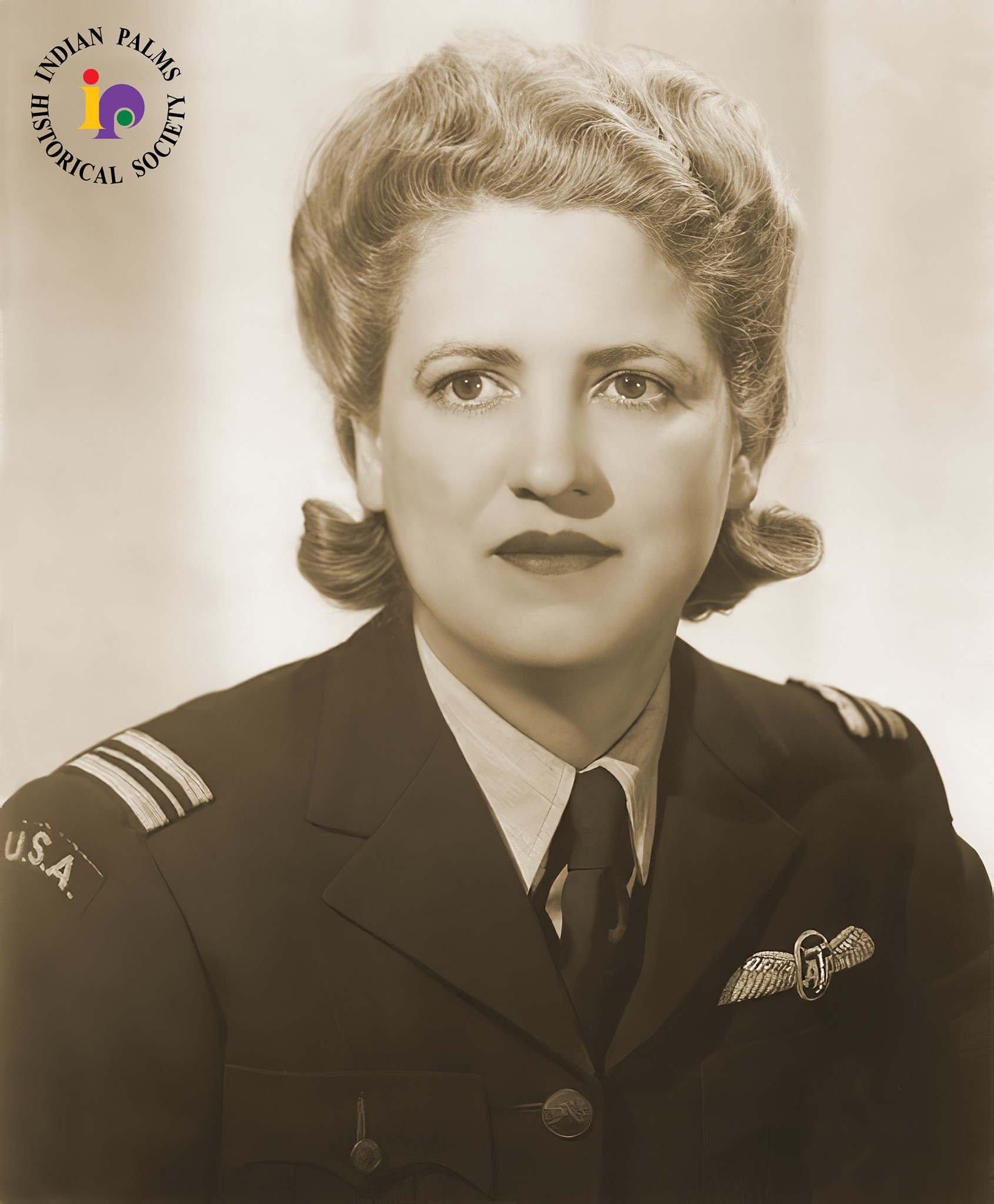 17–19 June 1941: Jacqueline ("Jackie") Cochran was the first woman to fly a bomber across the Atlantic Ocean when she ferried a Lockheed Hudson from Canada to Scotland. The airplane was a twin-engine Lockheed Model 414 Hudson Mk.V (LR), Royal Air Force identification AM790 (Lockheed serial number 414-2872).
Recognizing that the War would require all available pilots, the United Kingdom's Lord Beaverbrook and the United States Army Air Forces Chief of Staff, Major General Henry Harley ("Hap") Arnold, felt the need to demonstrate that civilian women could serve as pilots of military aircraft in non-combat situations. Jackie Cochran, a famous record-setting pilot, was selected for the assignment.
Cochran had previously served as a Flight Captain ¹ with the Royal Air Force Air Transport Auxiliary. After a period of six months, she had returned to the United States at the request of General Arnold, where she served on his staff.
For this ferry flight, Captain Edgar Grafton Carlisle, Jr.,² was assigned as her navigator. The Hudson also carried a radio operator, today only remembered as Coates. Royal Canadian Air Force authorities felt that Miss Cochran was not physically strong enough to operate the Hudson's hand brakes. The arrangement between her and the R.C.A.F. was that she would be allowed to fly the bomber as First Officer, but that Captain Carlisle would make all takeoffs and landings.³
Cochran, Carlisle and Coates departed Montréal, Québec, at 1920 G.M.T., 17 June, en route to Gander, Newfoundland. They flew 931 statute miles (1498 kilometers) in 5 hours, 4 minutes before landing at 0024 G.M.T., 18 June, and remained there overnight.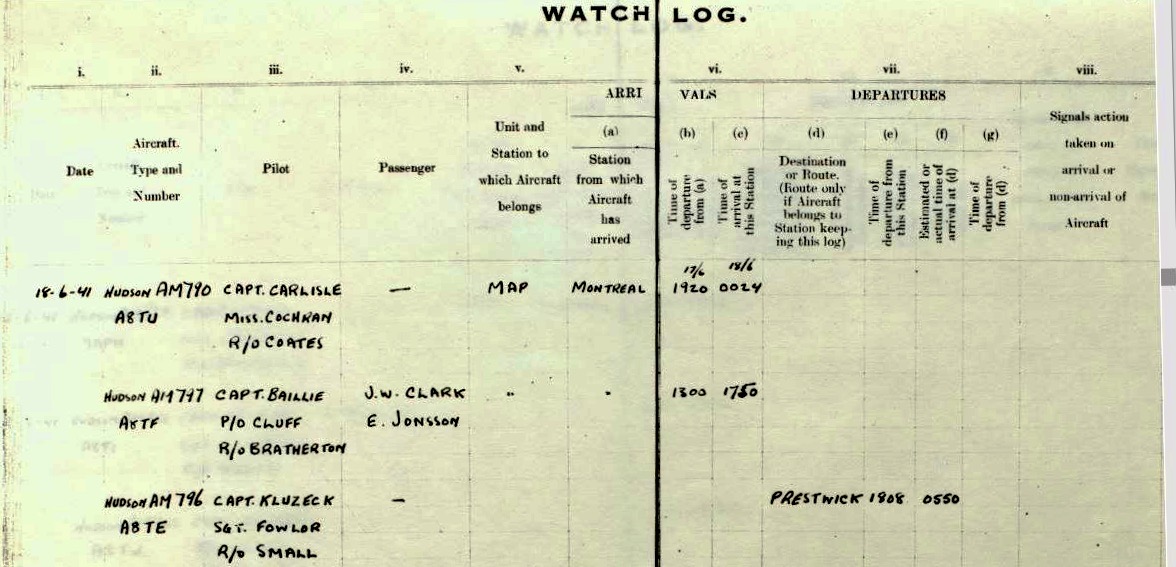 The following evening, 18 June, at 1857 G.M.T., they took off to fly across the North Atlantic Ocean, a distance of 2,122 statute miles (3,415 kilometers).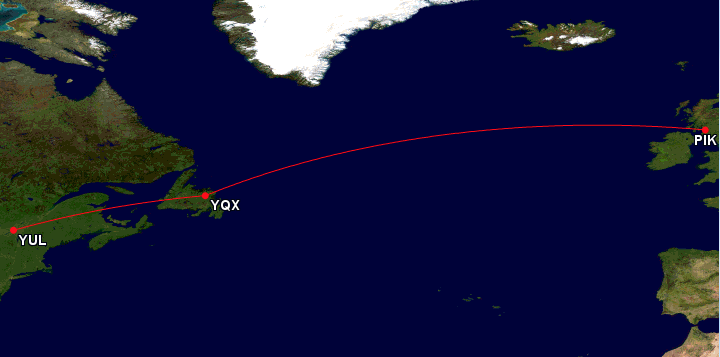 In her autobiography, Cochran wrote: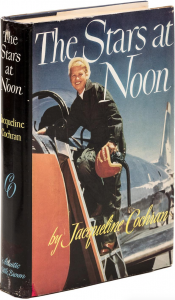 Flying the ocean at night didn't mean much. We were above an overcast and hardly saw water. But just before daylight, we were heard or spotted by radar and suddenly through the darkness tracer bullets came up in front and around us. There was sudden consternation on board. Carlisle rushed up to me and the radio operator came running out of his compartment with his Very pistol. He opened a hatch and by firing a certain colored bullet gave the signal of the day but this really served no purpose because the light could not have been seen from the surface of the water anyway and the firing at us was probably coming from a German submarine or one of our own friendly ships. I thought maybe the pilots in the mass meeting in Montreal were right after all and the Germans were going to make a test case of me. Anyway, the tracer bullets stopped almost as soon as they started and no noticeable damage was done to the plane. After daylight, a hole opened up in the overcast and we saw a ship burning at sea, but could do nothing about it except to make a report by radio because we had no fuel to spare to enable us to go down and cruise around. Then we caught sight of the coast of Ireland in the distance and it kept creeping up on us and growing larger and larger and more friendly. From off the coast of Ireland to Prestwick, Scotland, was a tortuous air route. The route went one way and then another—without any real pattern—and the route was changed daily to make it difficult for enemy planes or submarines to intercept. At the end of twelve hours, we came to a stop on the runway. Carlisle, under the regulation, made the landing.

—The Stars at Noon, by Jacqueline Cochran, Little, Brown and Company, Boston and Toronto, 1954. Chapter VI, Pages 102–103
They arrived at Prestwick, Scotland, at 0605 G.M.T., 19 June, after a flight of 11 hours, 8 minutes.
Jackie Cochran would go on to form the Women Airforce Service Pilots (WASPs).
The image below shows the Hudson ferried by Jackie Cochran in service later in the War. It is painted in the Coastal Command camouflage scheme.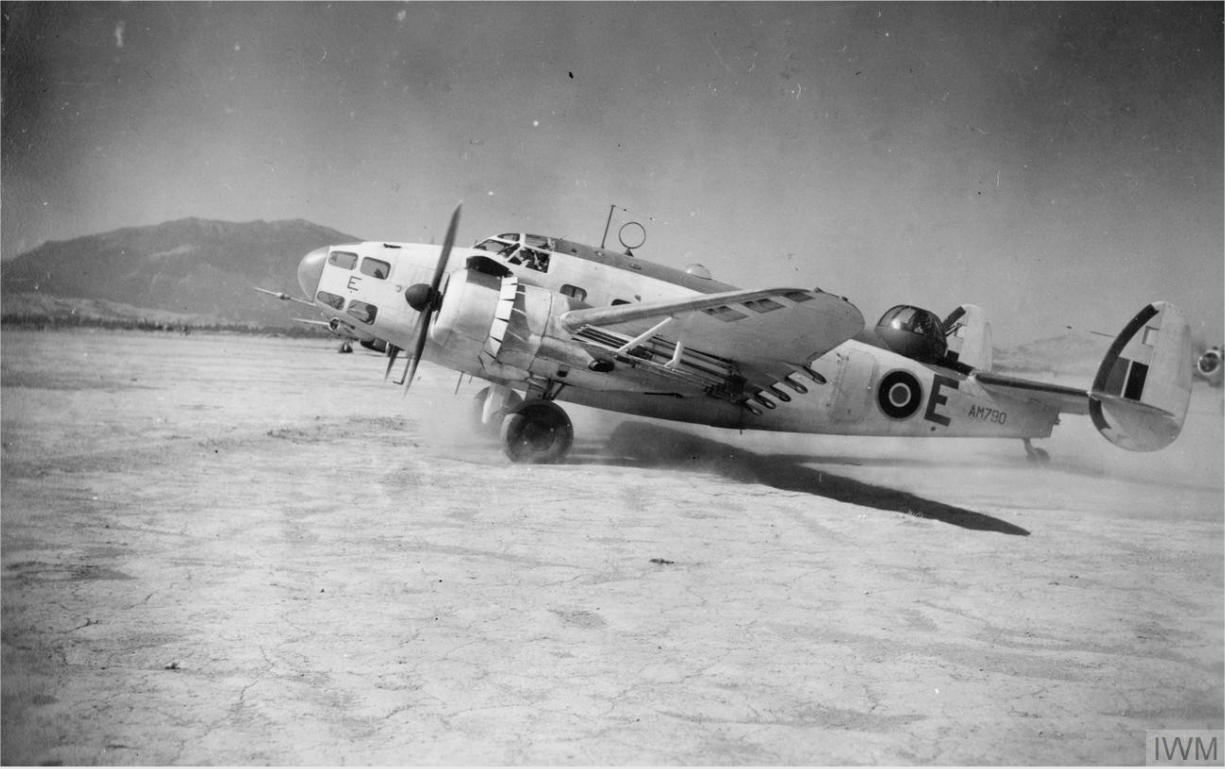 The Lockheed Hudson was a twin engine light bomber developed by Lockheed from its Model 14 Super Electra civil transport. Both types were designed by the legendary Clarence L. ("Kelly") Johnson. The B-14L prototype made its first flight 10 December 1938 from the Union Air Terminal at Burbank, California. It was flown by two Royal Air Force officers, Squadron Leader James Addams and Squadron Leader Randle. The prototype (also identified as Model 214-40-01) was purchased by Great Britain and assigned the R.A.F. identification N7205.
The Hudson flown by Cochran, AM790, was an improved Model 414, Hudson Mk.V. This was identical to the earlier Mk.III, with the substitution of Pratt & Whitney R-1830-S3C4-G Twin Wasp engines. The bomber was flown by a single pilot, with a navigator/bombardier, radio operator and gunner.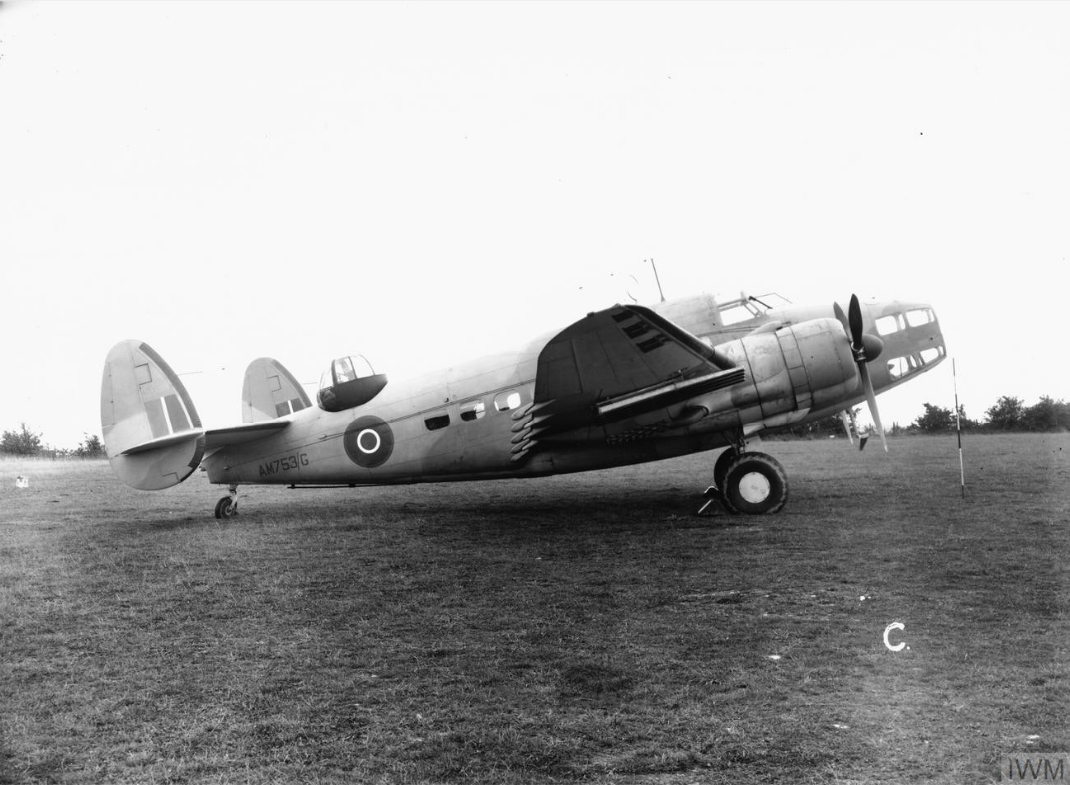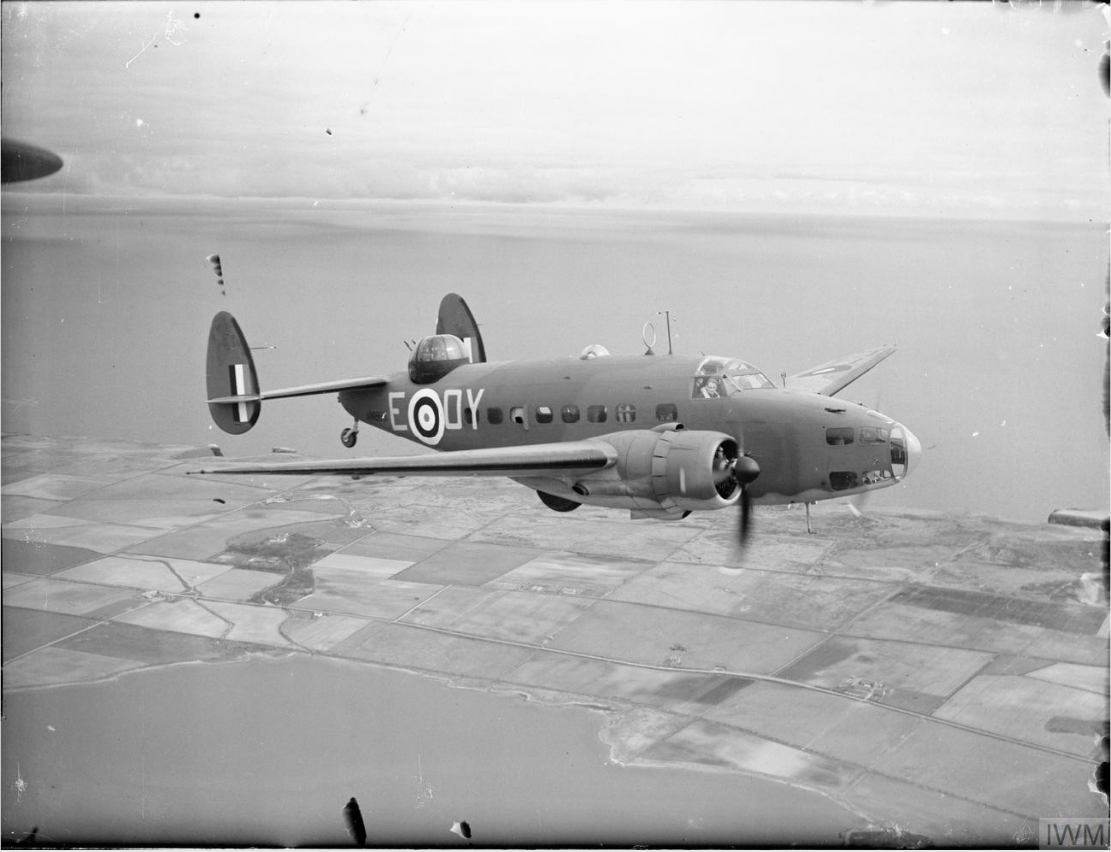 The Hudson Mk.V was 44 feet 3⅞ inches (13.513 meters) long with a wingspan of 65 feet, 6 inches (19.964 meters) and height of 11 feet, 10 inches (3.607 meters). It had a maximum gross weight of 20,000 pounds (9,072 kilograms).
The Mk.V was equipped with two air-cooled, supercharged 1,829.4-cubic-inch-displacement (29.978 liter) Pratt & Whitney Twin Wasp S3C4-G (R-1830-61) two-row fourteen-cylinder radial engines with a compression ratio of 6.7:1. These had a normal power rating of 1,100 horsepower at 2,550 r.p.m. to 6,200 feet (1,890 meters) and 1,000 horsepower at 2,550 r.p.m at 12,500 feet (3,810 meters). The takeoff/military power rating was 1,200 horsepower at 2,700 r.p.m. to 4,900 feet (1,494 meters) and 1,050 horsepower at 13,100 feet (3,993 meters). The engines turned three-bladed propellers though a 16:9 gear reduction. They were 5 feet, 3.48 inches (1.612 meters) long, 4 feet, 0.19 inches (1.224 meters) in diameter, and weighed 1,495 pounds (678 kilograms).
The Hudson had a cruise speed of 220 miles per hour (354 kilometers per hour, and maximum speed of 246 miles per hour (396 kilometers per hour) at 6,500 feet (1,981 meters). Its service ceiling was 25,000 feet (7,620 meters).
The Hudson was designed to carry four 250 pound (113 kologram) or six 100 pound (45 kilogram) bombs. It was armed with two forward-firing .303 Browning Machine Gun Mk.II mounted in the nose and operated by the pilot, with another two .303s on flexible mounts at the waist position, and 2 additional Mk.IIs in a power-operated Bolton Paul dorsal turret. Eight rockets could be carried under the wings.
409 Hudson Mark Vs were built. 207 of these were a long range variant, the Hudson Mk.V(LR).
During World War II, Hudson Mk.V(LR) AM790 served with No. 500 and No. 608 Squadrons, both units of the Coastal Command, Royal Air Force.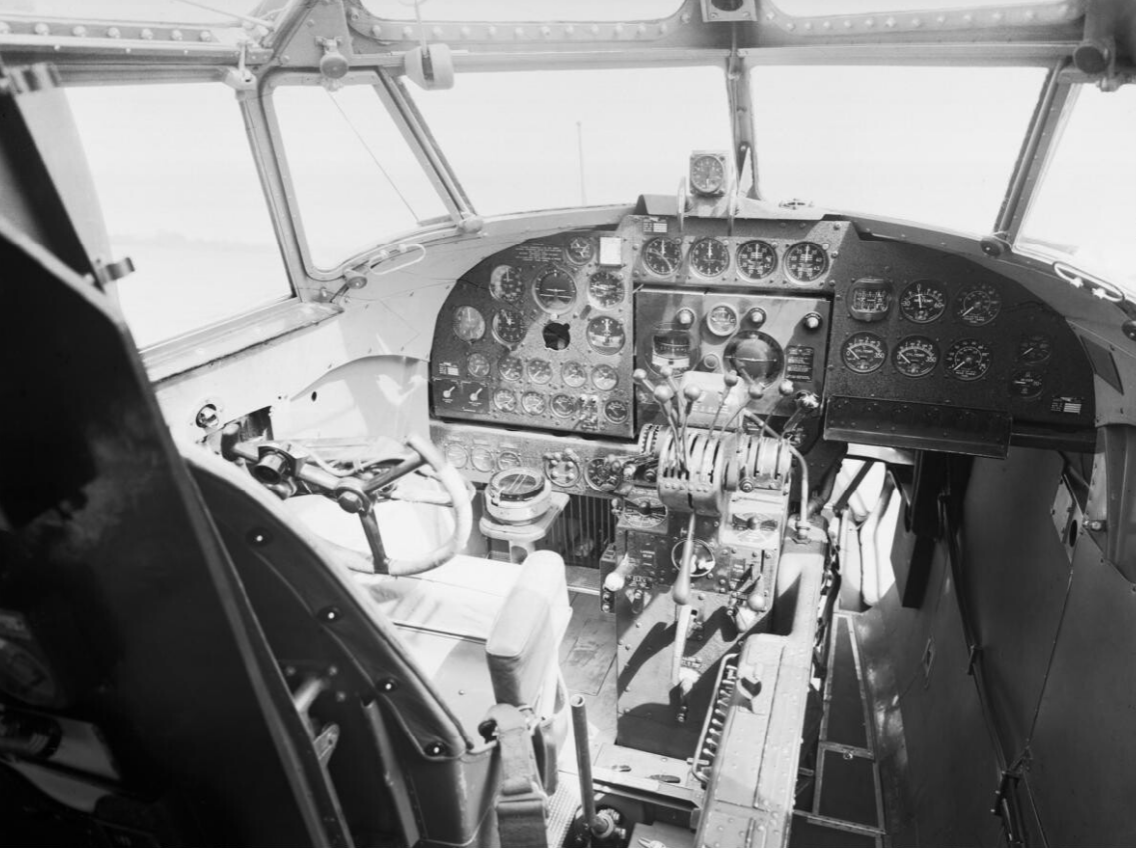 ¹ An ATA Flight Captain was an equivalent rank to a Royal Air Force Squadron Leader.
² Edgar Grafton Carlisle, Jr., was born 17 October 1908, at Baltimore, Maryland, and was a citizen of the United States. He was the first of six children of Edgar Grafton Carlisle and Elizabeth Henderson Spafford Carlisle. A former resident of Swarthmore, Pennsylvania, Carlisle was a 1928 graduate of the University of Pennsylvania.
He entered the United States Army as an aviation cadet at Kelly Field, Bexar, Texas, earning his reserve officer's commission and aviator's wings in 1930. He served as a lieutenant in the 28th Division Aviation Unit, Pennsylvania National Guard and commanded the 103rd Photo Section.
Carlisle married the former Miss Lillian Matarose Baker at Narberth, Pennslyvania, 9 January 1933. They would have two children.
Carlisle entered the Royal Air Force Ferry Command in September 1940. To do so, he was required to resign his reserve commission in the United States Army. In the King's New Year's Honors List, 1 January 1942, Captain Edgar Grafton Carlisle, R.A.F.F.C., was invested an Officer of the Most Excellent Order of the British Empire (Honorary). The insignia of this honor was presented at Government House, 3 February 1942, by Lord Athlone, Governor General of the Dominion of Canada.
Following the War, Carlisle worked in the banking industry. He also taught Aerial Navigation at the University of Vermont.
Edgar Grafton Carlisle, Jr., O.B.E., died at Burlington, Vermont, 27 March 1994.
³ Jackie wrote: "The moment the plane became airborne Carlisle, having complied with instructions as to take-off, turned the single set of controls over to me." —The Stars at Noon, by Jacqueline Cochran, Little, Brown and Company, Boston and Toronto, 1954 Chapter VI at Page 102
⁴ Bo Rizzo was  an Allied airfield in Sicily.
© 2021, Bryan R. Swopes