18 August 1911: At 6:30 a.m., the Royal Aircraft Factory F.E.2 prototype took off with its designer, Geoffrey de Havilland,¹ at the controls. He made the short flight from Farnborough to Laffan's Plain where he made a series of takeoffs and landings.
The airplane was a single-engine, two-place, two-bay biplane with a pusher propeller. The crew, a pilot and an observer/gunner, were in an open nacelle, with the engine aft, and an open tail boom.
The F.E.2 was 28 feet (8.5 meters) long with a wing span of 33 feet (10.0 meters). The total wing area was 340 square feet (31.6 square meters). It weighed 1,200 pounds (544 kilograms), loaded, and had a maximum speed of 47.5 miles per hour (76.4 kilometers per hour). The F.E.2 prototype, in its original configuration, was powered by an air-cooled Gnome 7-cylinder rotary engine which produced 50 horsepower.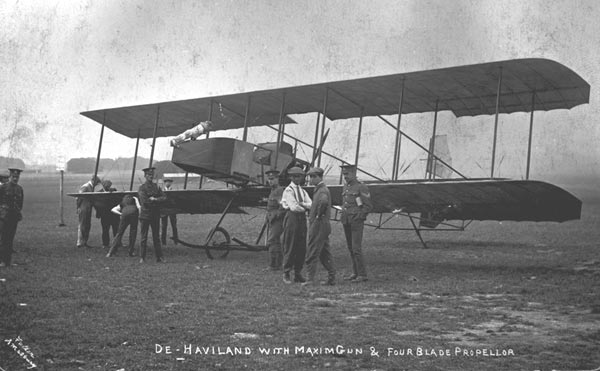 In 1913, the F.E.2 prototype was redesigned and rebuilt with an air-cooled Renault V-8 engine, rated at 70 horsepower, driving a four-bladed fixed-pitch propeller. The wings were identical to those of the the B.E.2A. The Renault-powered F.E.2 variant was 30 feet, 0 inches (9.144 meters) long with a wingspan of 42 feet, 0 inches (12.802 meters). The wings had a chord of 6 feet, 4 inches (1.930 meters). The wing area increased to 425 square feet (39.5 square meters). The gross weight was now 1,865 pounds (846 kilograms). The F.E.2 (Renault) had a maximum speed of 67 miles per hour (108 kilometers per hour) and a service ceiling of 5,500 feet (1,676 meters).
At about 11:45 a.m., Monday, 23 February 1914, test pilot Roland Campbell Kemp (R.Ae.C. Aviator's Certificate No. 80) was flying the F.E.2 at about 500 feet (152 meters). Also on board was a passenger, Ewart Temple Haynes. The wind was estimated at 30 miles per hour (13 meters per second). After about five minutes, the prototype entered a steep—but not heavily banked—right-hand spiral descent and crashed near Wittering, Chichester. The airplane "was completely wrecked." Haynes was killed. Kemp was seriously injured and had no memory of the day.
The Accidents Investigation Committee of the Royal Aero Club was "of the opinion that there is no positive evidence to show why the accident occurred, but such evidence as is available points to the conclusion that the most probable cause was that the pilot's foot slipped over the rudder bar, and that he thus lost control." ²
After another redesign, the first production variant of de Havilland's biplane was the F.E.2A, a three-bay biplane with a water-cooled Green six-cylinder inline engine, rated at 100 horsepower. This airplane was 32 feet, 3 inches (10.135 meters) long, with a wingspan of 47 feet, 8 inches (14.529 meters). The chord was decreased to 5 feet, 6 inches (1.676 meters). The F.E.2A's gross weight was 2,680 pounds (1,216 kilograms). It had a maximum speed of 75 miles per hour (121 kilometers per hour) and ceiling of 6,000 feet (1,829 meters). Twelve F.E.2As were built.
Modified for a 120 horsepower Beardmore 6-cylinder engine with a 9-foot-diameter propeller (2.7 meters), the airplane was designated F.E.2B, or Fighter Mark I. The wingspan increased 1 inch to 47 feet, 9 inches (14.554 meters). The airplane had an overall height of 12 feet, 7½ inches (3.848 meters). The wings had a 3° 30′ angle of incidence and were not staggered. There was 4° dihedral. Gross weight increased to 2,827 pounds (1,282 kilograms). Its maximum speed was 73 miles per hour (117 kilometers per hour), and the service ceiling was 9,000 feet (2,743 meters). These were first used in France during World War I.
The B.E.2B was also built with a 160 horsepower Beardmore engine. The series continued with the F.E.2C and a Rolls-Royce powered F.E.2D. Dimensions remained constant, though the angle of incidence was increased to 4°.
The F.E.2 and F.E.2.A were armed with Maxim machine guns. The B.E.2B and later models had one or two .303-caliber Lewis guns.
A total of 1,939 F.E.s were built.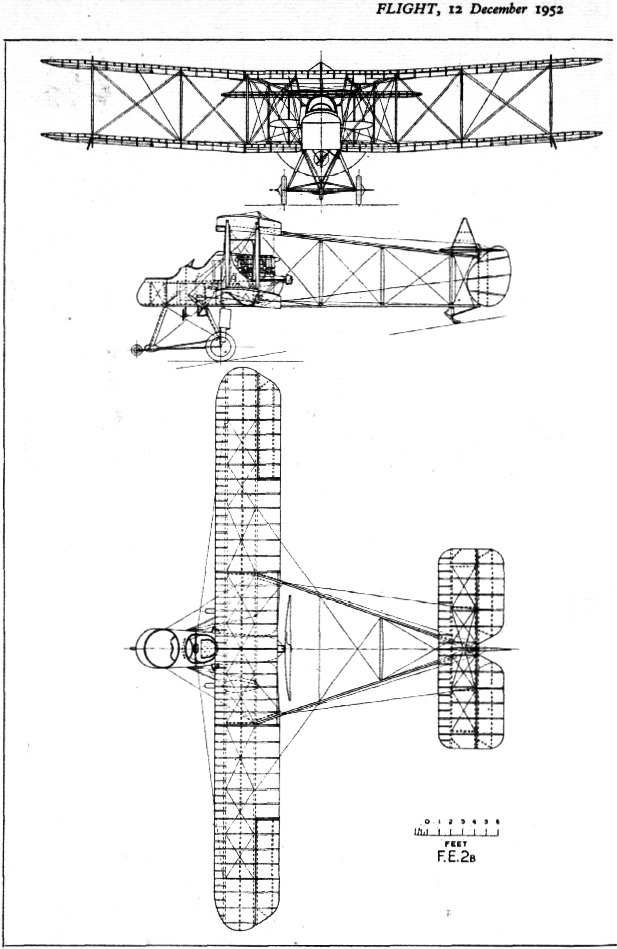 The Royal Flying Corps initially used the F.E.2 (most sources say that "F.E." stood for Farnham Experimental, ³ meaning that it was a pusher configuration) as a scouting and reconnaissance airplane.
On 16 October 1912, Geoffrey de Havilland was appointed Second Lieutenant (on probation), Royal Flying Corps, Military Wing, antedated to 2 September 1912. He was promoted to Lieutenant, 5 August 1914. Captain de Havilland was appointed  Officer of the Most Excellent Order of the British Empire (O.B.E.), 7 June 1918. He was awarded the Air Force Cross, 1 January 1919.
De Havilland soon founded his own aircraft design and manufacturing company, the de Havilland Aircraft Company. He would later be known as Captain Sir Geoffrey de Havilland, O.M., C.B.E., A.F.C., R.D.I., F.R.Ae.S.
¹ Many sources, including The Peerage, Person Page – 55358, identify Sir Geoffrey as "Geoffrey Raoul de Havilland." As his son is known as Geoffrey Raoul de Havilland, Jr., that would seem reasonable, and may even be correct. However, his birth registration (England & Wales Civil Registration Birth Index, January, February, and March 1883, at Page 149, Column 1), marriage banns and certificates for both marriages, numerous announcements in The London Gazette, contemporary news articles, and his civil death registration do not include any middle name.
² Accidents Investigation Committee of the Royal Aero Club, Report No. 26
³ "Fighting Experimental" —J.M. Bruce, M.A., in Flight, No. 2290, Vol. LXII, Friday, 12 December 1952 at Page 728
© 2018, Bryan R. Swopes