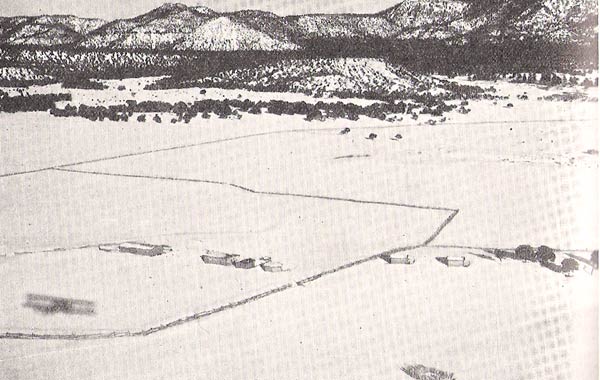 17 January 1932: The 11th Bombardment Squadron, U.S. Army Air Corps, commanded by 1st Lieutenant Charles H. Howard and based at March Field, Riverside, California, flew six Curtiss B-2 Condor bombers to drop food and supplies to the Navajo reservation near Winslow, Arizona. A severe winter storm had isolated the community and caused the deaths of thousands of livestock.
More than 30,000 pounds (13,600 kilograms) of food was dropped to support the 20,000 people of the Navajo and Hopi nations effected by the winter storms.
Lieutenant Howard and the 11th Bombardment Squadron won the Mackay Trophy for the most meritorious flight of the year. This was the first time that the Mackay was awarded to a group.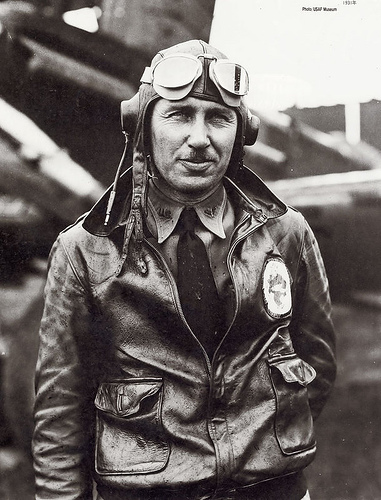 Charles Harold Howard was born at Ashland, Oregon, 29 December 1892. He was the first of two children of Charles B. Howard, a telegraph operator, and Mary Ann Kincaid Howard.
Howard enlisted as a private in the Signal Corps, United States Army, 23 November 1917. He served with Company C, 322nd Field Signal Battalion, and the Aviation Section, Signal Corps. He was commissioned as a second lieutenant, Air Service, 7 November 1918.
In 1920, Lieutenant Howard was an instructor at the Air Service Flying School at Love Field, Dallas, Texas. In a reorganization of the Air Service, his commission was vacated 15 September 1920 and he was appointed a second lieutenant, Air Service, with date of rank retroactive to 1 July 1920. Howard was promoted to first lieutenant, 30 August 1924.
Captain Howard was killed in an aircraft accident near Bryan Mill, Texas, 25 October 1936. His remains were buried at the Mountain View Cemetery, Ashland, Oregon. Howard Air Force Base, Panama, was named in his honor.
The following is excerpted from the Davis-Monthan Aviation Field Register web site:
The Air Corps Newsletter of November 1, 1936 reports his passing and summarizes his flying career:
"An airplane accident on the night of October 25th, near Bryan's Mill, Texas, cost the lives of Captain Charles H. Howard and Corporal Edward N. Gibson, Air Corps, both of whom were stationed at Langley Field, VA.
"Captain Howard, who enlisted in the Aviation Section, Signal Corps, during the World War, was an efficient and capable officer, an expert pilot, and was particularly well versed in the field of radio communications.
". . . after serving for a brief period with Company C, 322nd Field Signal Battalion, Fort Lewis, Washington, he was transferred to Kelly Field, Texas, where he served with the 84th Aero Squadron. . .
"During the next four years, Captain Howard's duties related mainly to radio communications. . . 
"In January 1926, Captain Howard was transferred to the Panama Canal Department, where he served for three years, being on duty with the 7th Observation Squadron at France Field for two years, and with the 25th Bombardment Squadron in the remaining year.
"From Panama, Captain Howard was transferred to Rockwell Field, Calif., when he was assigned to the 11th Bombardment Squadron. He also served as Communications Officer of the 7th Bombardment Group. Later, when the Squadron was transferred to March Field, Calif., he was placed in command thereof."
It was during this time that he and his crew won the Mackay Trophy.
"During the summer of 1934, Captain Howard piloted one of the B-10 Bombardment planes in the Army Alaskan Flight, from Washington, D.C., to Fairbanks, Alaska, and return. This aerial expedition of ten B-10 airplanes was commanded by Brigadier General Henry H. Arnold. The flight was completed according to a prearranged schedule in exactly one month. In addition to his duties as pilot, Captain Howard served as Assistant Communications Officer of the expedition. . .
"Captain Howard had to his credit over 4,000 hours flying time. He was the author of various articles dealing most interestingly and convincingly with subjects in which he particularly specialized – Bombardment Aviation and Radio Communications."
—Davis-Monthan Aviation Field Register http://www.dmairfield.com/index.php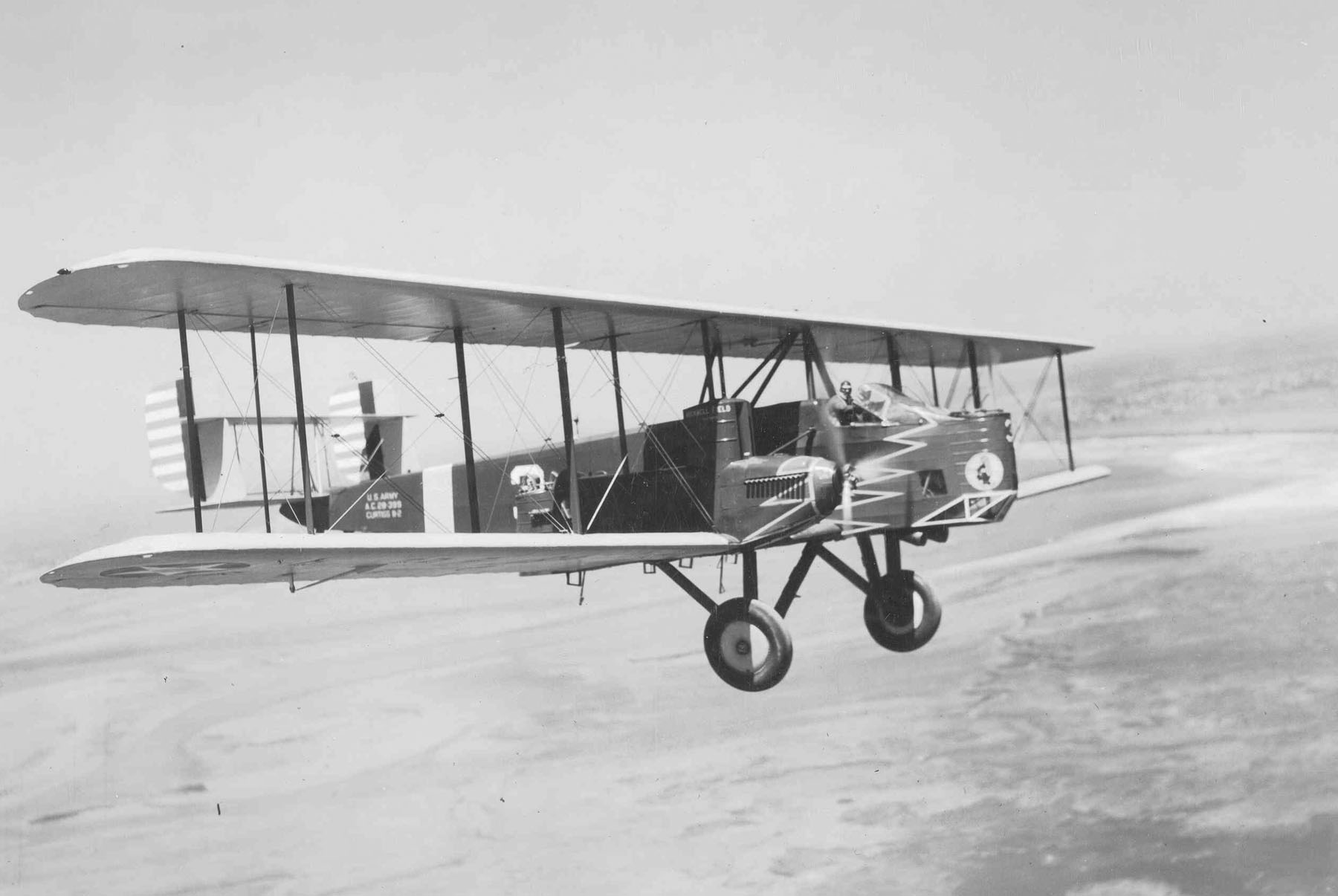 The Curtiss B-2 Condor was a large (by contemporary standards) twin-engine biplane bomber, operated by a crew of five. It was 47 feet, 4.5 inches (14.440 meters) long with a 90 foot (27.432 meter) wingspan and overall height of 16 feet, 6 inches (5.029 meters). The airplane had an empty weight of 9,300 pounds (4,218.4 kilograms) and loaded weight of 16,591 pounds (7,525.6 kilograms).
The B-2 was powered by two liquid-cooled, normally-aspirated 1,570.381-cubic-inch-displacement (25.734 liter) Curtiss Conqueror V-1570-7 DOHC 60° V-12 engines producing 633 horsepower at 2,450 r.p.m., each, driving three-bladed propellers.
The bomber had a maximum speed of 132 miles per hour (212 kilometers per hour) at Sea Level and a range of 805 miles (1,296 kilometers).
Although the Condor's service ceiling was 16,140 feet (4,920 meters), Lieutenant Howard flew one to 21,000 feet (6,400 meters) while conducting an experiment in cosmic ray research for Dr. Robert Andrews Millikan of Caltech, Pasadena, California. ("Service ceiling" is the altitude above which an aircraft can no longer maintain at least a 100 feet per minute/0.5 meters per second rate of climb.)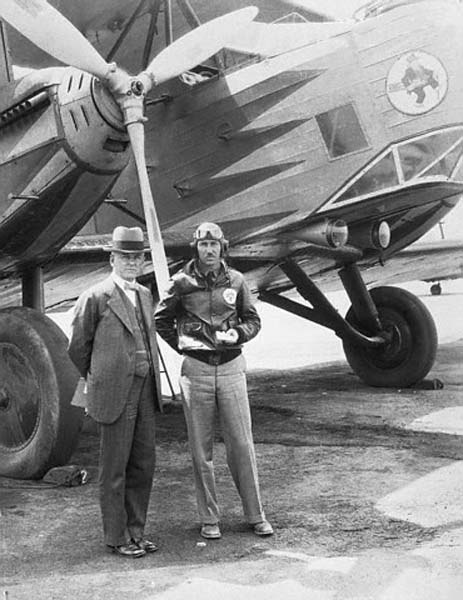 Defensive armament consisted of six .30-caliber Lewis machine guns, with gunners' positions at the nose and behind each engine. The B-2 could carry 2,500 pounds (1,134 kilograms) of bombs.
Including the XB-2 prototype, 13 B-2s were built, and a single B-2A. They were removed from service by 1934 as more modern designs became available.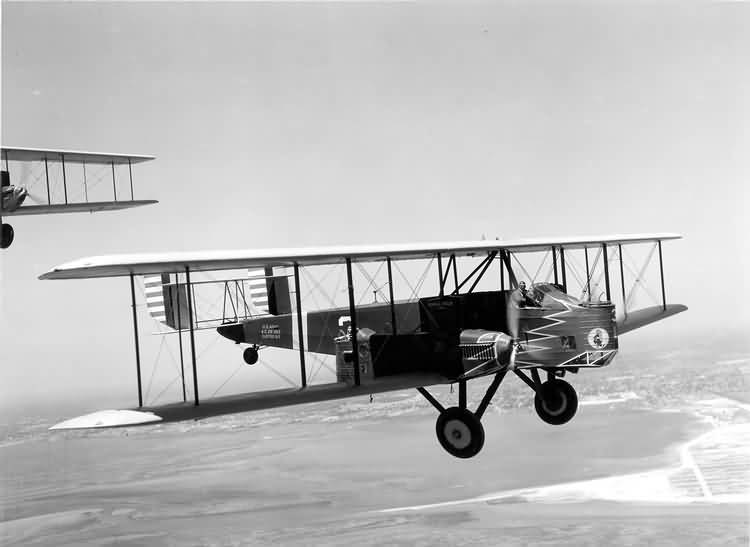 © 2019, Bryan R. Swopes